Jinpachi (West Hollywood, CA)
Jinpachi Restaurant
8711 Santa Monica Blvd, West Hollywood, CA 90069
310.358.9134
Thu 03/20/2014, 07:25p-10:50p

Jinpachi's one of those sushi spots that have been on my radar for years, but which I'd just never gotten around to trying. I'd first heard about the place after
FoodDigger
(remember them?) held their first blogger dinner there back in '08 (the halcyon days of the scene). It's the work of Hirotaka "Taka" Fujita, a fourth-generation chef who named the restaurant after an ancestor of his, Jinpachi Kishi. Kishi ran a catering business in Japan back in the day, which was also called Jinpachi.
About the Chef
: Hirotaka Fujita, thus, was born into the family business, which his father Sadao ran at the time. From an early age, he knew that he wanted to cook, and began his formal training at age 16, working both for the original Jinpachi as well as other restaurants in the area. Three years later, however, his dad came down with diabetes, and the family shuttered the catering company due to his ailment, driving Fujita to leave the field for two years. In 1995, he visited an old friend who had settled in Florida, and decided at that moment that he wanted to get back into the biz Stateside. He worked for a while in Florida, then relocated to Los Angeles, landing a gig at Nobu Malibu after meeting Chef
Matsuhisa
himself. Fujita was impressed by Nobu's melding of international influences into Japanese cuisine, but eventually made his way to Takao in Brentwood, which was started in 1996 by another Matsuhisa alum, Takao Izumida. Following, he worked for Hiro Nishimura at his eponymous Nishimura in WeHo before debuting Jinpachi in April 2006.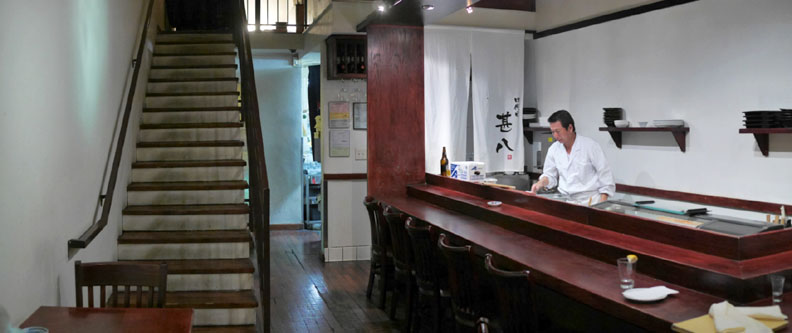 Jinpachi's a small, narrow restaurant, swathed in dark cherry, holding a nine-seater bar and a couple tables on the ground floor, along with a larger area upstairs meant for groups.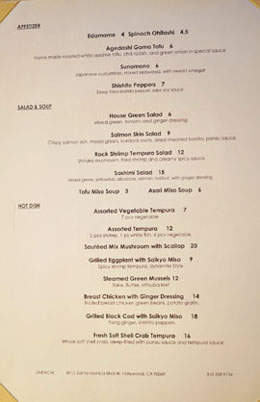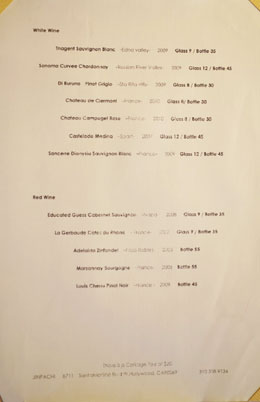 As for the menu, we opted to go omakase at $150 a head, natch. However, you can easily do both
nigiri
,
makizushi
, and even a few "new style" sashimi dishes à la carte (ostensibly inspired by the Chef's time at Nobu), and there's also a limited hot menu too. To drink, we found a fairly decent sake list, as well as a smattering of wines and beers. Click for larger versions.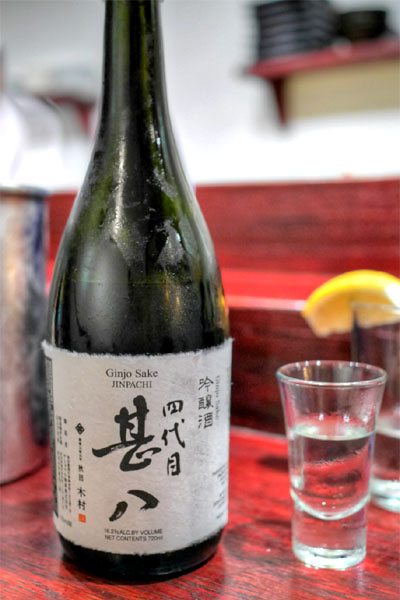 Starting with sake, we had a bottle of the
Jinpachi, Ginjo, Akita [$65]
, which, as the name implies, is specially made for the restaurant. It was a really solid choice, very clean and crisp on the palate, with a floral, fruity character joined by an undercurrent of booziness toward the back end.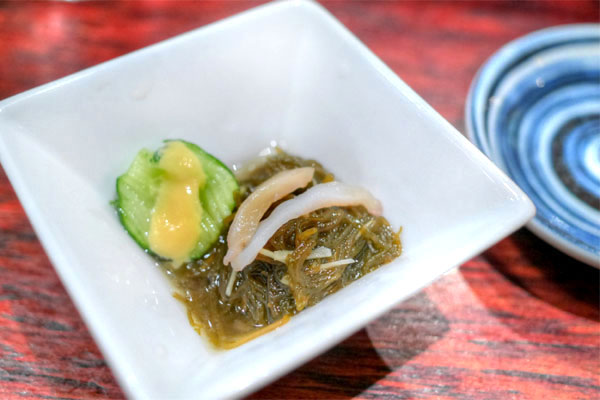 1: Mozuku
We commenced with a small bowl of slippery
mozuku
, paired with slivers of jumbo clam and crunchy cucumber. This was a real celebration of acid and vinegar, the zesty taste of the seaweed the star, balanced by the mildness of
kyuri
.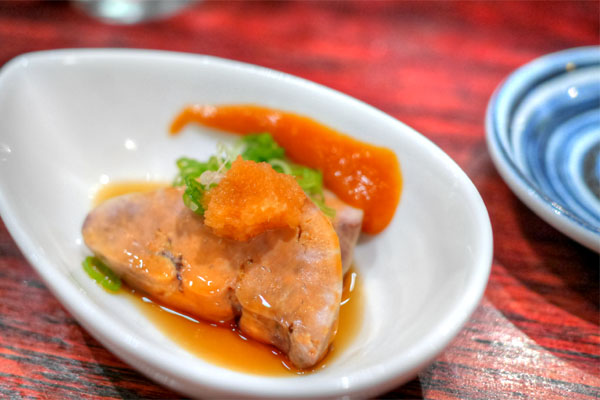 2: Ankimo
Next was a superb presentation of ankimo that found the liver wonderfully creamy, yet subtle, with a growing salinity and earthiness that was set off beautifully by the scallions. The best part? The smear of spicy-sweet miso on the side, a perfect complement to the monkfish.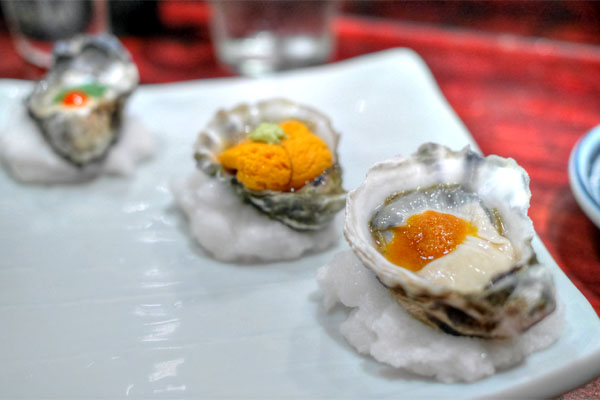 3: Kumamoto
Oysters came in a set of three. Going front to back, I started with the ginger-topped variation, which conveyed a really nice depth that wasn't nearly as piercing or as bright as I would've thought--a great complement to the Kumamoto. The uni-ponzu version, meanwhile, had the richness of the urchin leading to a whisper of wasabi burn on the end. My favorite, though, had a wonderful sort of red chili paste, which paired gorgeously with the oyster and aromatic herb on top.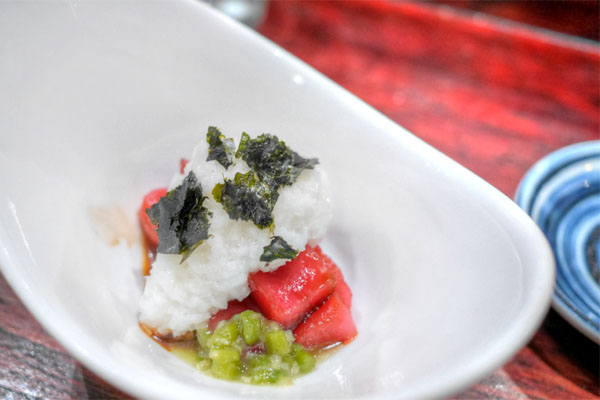 4: Magurozuke
Marinated blue fin came with
nagaimo
and chopped wasabi. The combination of the rich, savory tuna and the piquant wasabi was spot on, moderated by the mild mountain yam while the flecks of nori added an ocean-y, umami-laced finish to the course.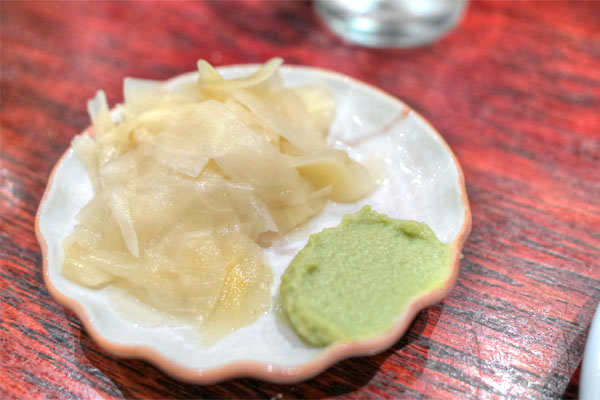 Out came the ginger and wasabi, which signaled the start of our parade of sushi.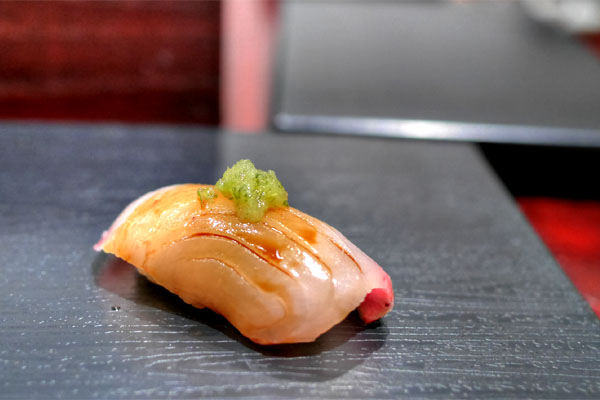 5: Shima Aji
Japanese yellowjack or striped jack was lovely with its excellent texture and elegant taste, wonderfully amped up by a topping of savory onion. A very promising start to things.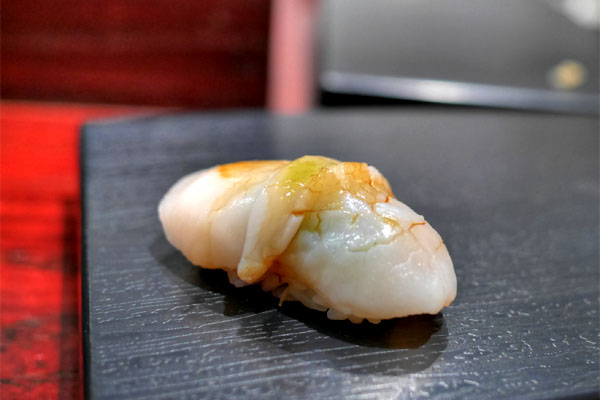 6: Hotate
Jumbo scallops came from Japan and were appropriately supple, with a sweetness to them that paired in stellar fashion with the minty kick of shiso and just a whisper of creeping heat. A favorite of ours.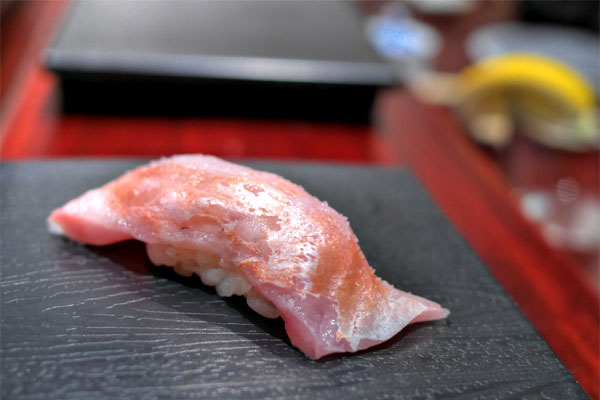 7: Kinmedai
Next came golden eye snapper, which really had a nice bite to it, along with an undertone of sourness balanced by tiny jolts of salt.
7: Mebachi
Big eye tuna was super clean, super slick, though it didn't display as much character as the bluefin.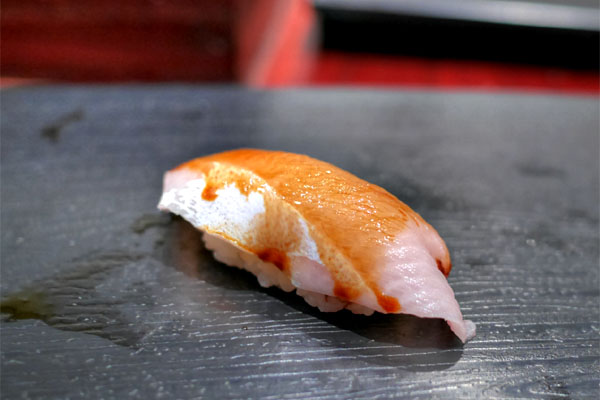 9: Hamachi Hara
One of the heftiest pieces of sushi was the yellowtail belly, which was even fattier, even richer than your typical cut. The soy was essential here for balance.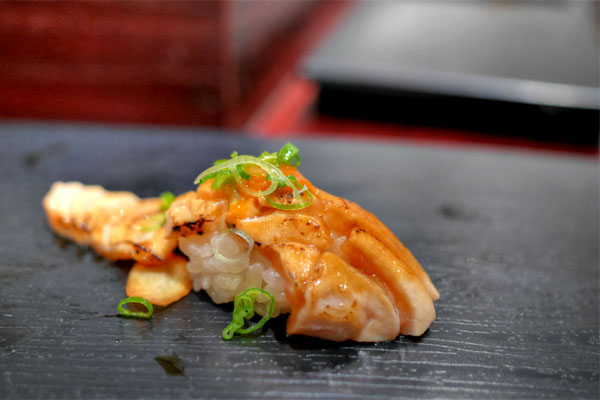 10: Sake Tataki
Seared salmon arrived oily and delicious, with a great char character and a hit of pungent goodness from the accompanying garlic chip.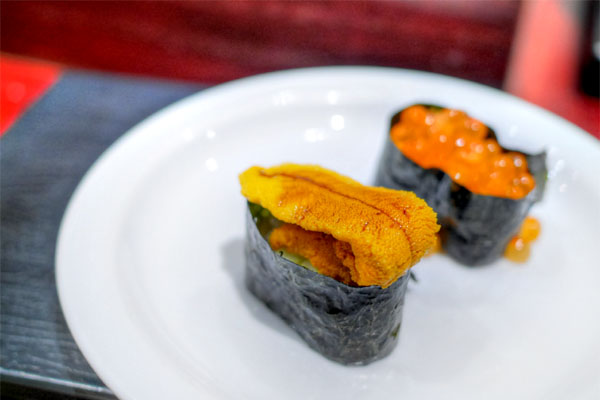 11: Uni/Ikura
Some egg-on-egg action going on here. Uni came from Santa Barbara and was suitably creamy and lush, but with a sharp ocean-y bent to it that went superbly with the seaweed. The salmon roe was on point as well, arriving super smoky and literally bursting with briny goodness.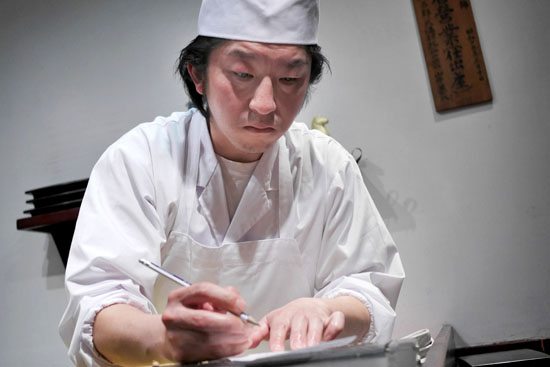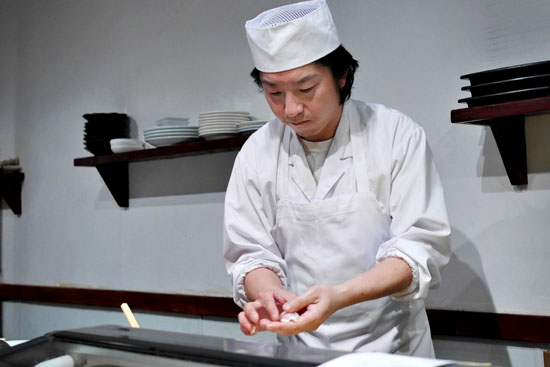 Our
itamae
this evening was Chef Hideyuki, a 24-year veteran of the biz, though he doesn't quite look it. Hide-san's been at Jinpachi for one-and-a-half years, and prior, worked at Izaka-ya by Katsu-ya in Manhattan Beach.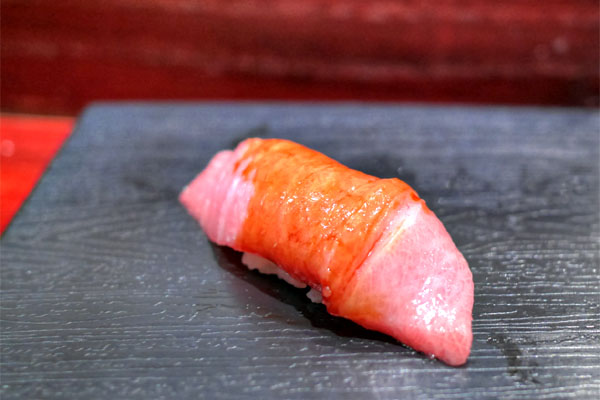 12: Otoro
O-toro was of the Spanish variety and was a winner, nearing melt-in-your-mouth status with its unabashedly fattiness, tempered only by the brush of soy on top.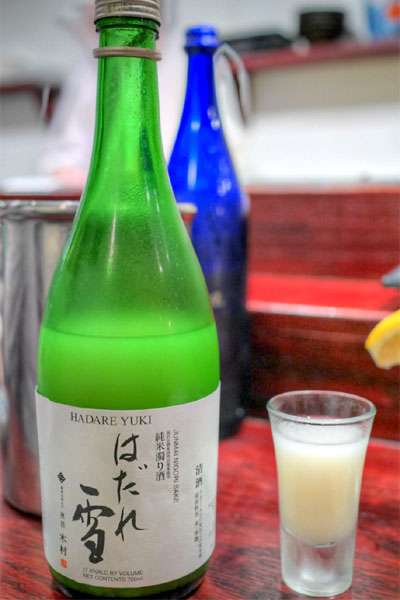 Our next sake was of the unfiltered type, the
Hadareyuki "Nigori", Junmai Ginjyo, Akita [$45]
. This one was quite viscous, and showed off a rice-y sort of sweetness up front that led to a touch of alcoholic heat on the close. Quite nice though.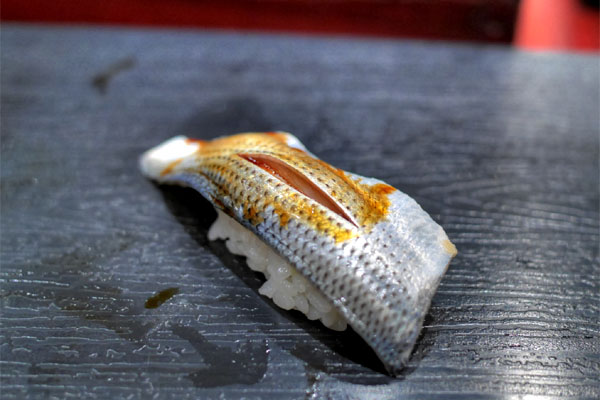 13: Kohada
Gizzard shad from Japan was the fishiest item of the night, and firm in body, with its strong taste evened out by a focused hit of acid.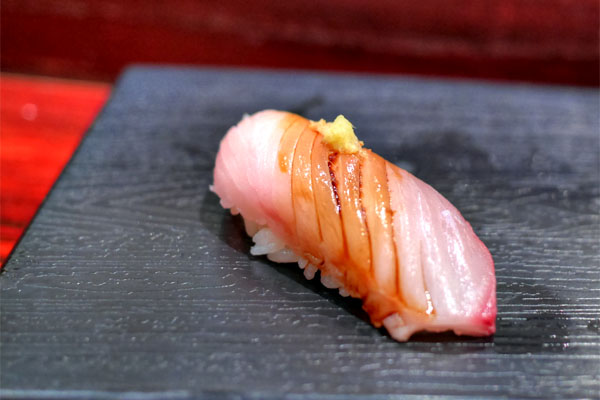 14: Sawara
Described by Hide-san as king mackerel, Japanese sawara was a great example of the ingredient, with a subtle, restrained fishiness seamlessly integrated with notes of ginger and wasabi.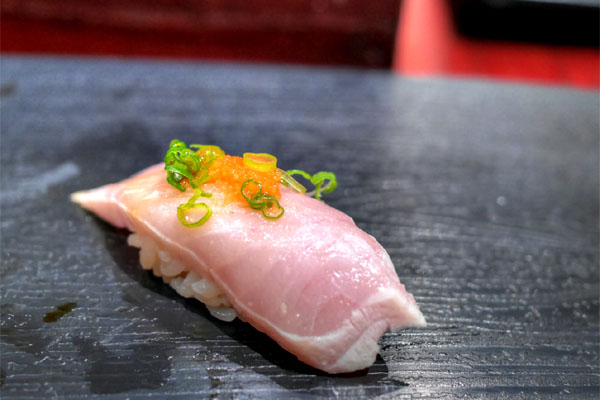 15: Binnaga Maguro
Albacore was almost unbelievably soft, with a straightforward savor enhanced by its tangy accompaniments.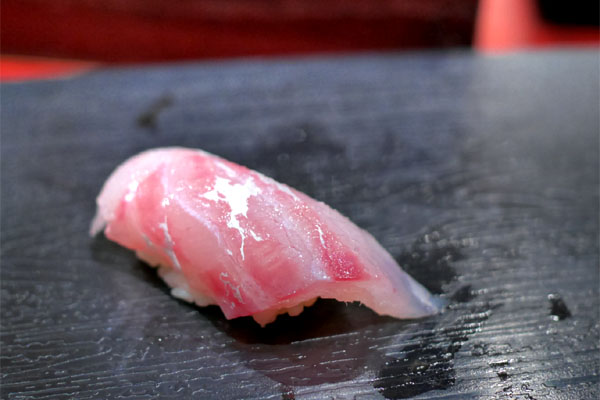 16: Tai
Red snapper conveyed a great bit of chew to it, and was smartly brightened up by contrasting nuances of salt and citrus.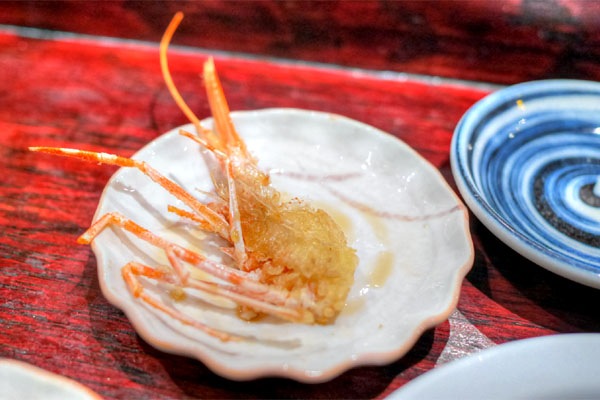 17: Ebi Atama
Deep-fried shrimp always manages to satisfy, and this preparation was as crunchy and tasty as you'd expect, with a pleasant tartness from the drizzle of sauce on top.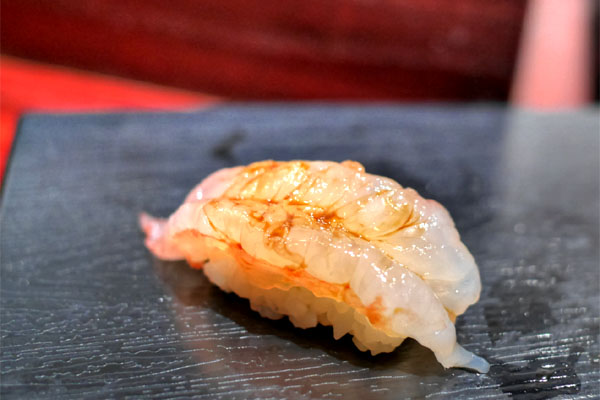 18: Amaebi
And then came the body, a shining example of translucent Santa Barbara sweet shrimp that was so fresh, so clean, with a wonderful snappiness to boot.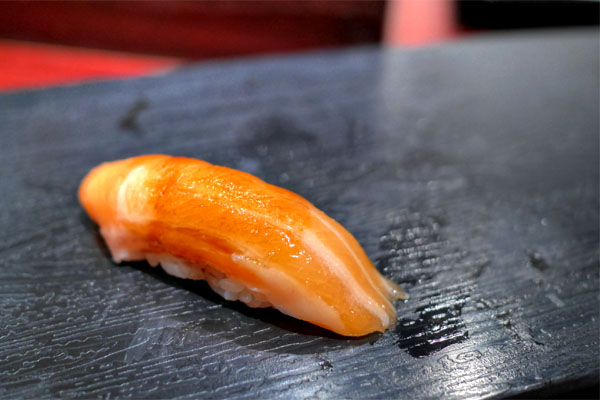 19: Sake Hara
Salmon belly was something else, coming out utterly fatty and luxurious, with a soft, supple consistency to it that was almost toro-like.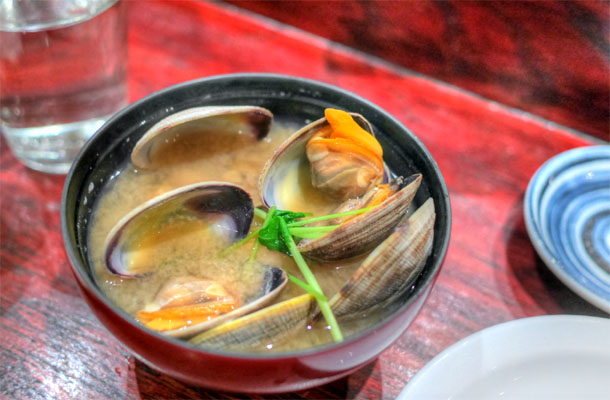 20: Asari no Misoshiru
A miso soup featuring clam was hot and hearty and comforting, the super ocean-y notes of the
asari
a great pair to the dish's classic umami-laden relish. However, errant bits of sand in the clams did mar the experience somewhat.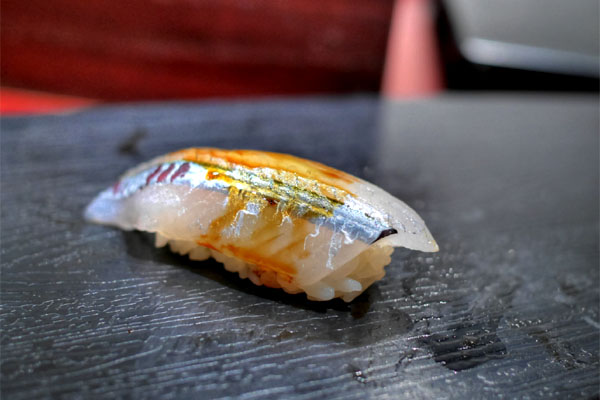 21: Sayori
Needlefish was one of the prettier
nigiri
we had, and displayed a palpable fishy quality initially that gradually went away, fading to the character of the
shari
.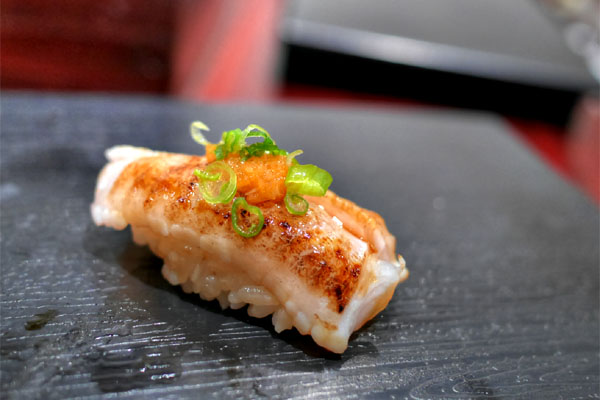 22: Engawa Tataki
Halibut fin is always a treat, but I don't think I'd ever had a seared version before. That's too bad, because it was excellent: slightly chewy to the bite, and with a beautiful balance of char and tang.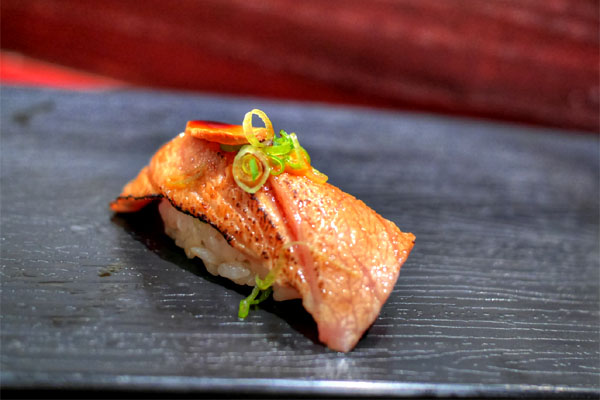 23: Toro Tataki
Seared toro was as extravagant as you'd want--downright
unctuous
if you will, a blend of fat and char and fish that satisfies in a base sort of way. The garlic chip added an interesting element to the fray, but wasn't strictly needed.
24: Anago/Tamago Maki
Our first hand roll was something that I'd never seen before, commingling both tamago and anago. It really worked though, with the hot eel and cool egg providing a contrast in terms of both taste and temperature while pickle-y bits imparted crunch and acid to the mix.
We moved on to beer at this point, specifically the
Hitachino Nest Red Rice [$12]
. I quite liked it, with its apparent malt character and rice-y sort of quality setting the stage for an intriguing, almost olive-like taste.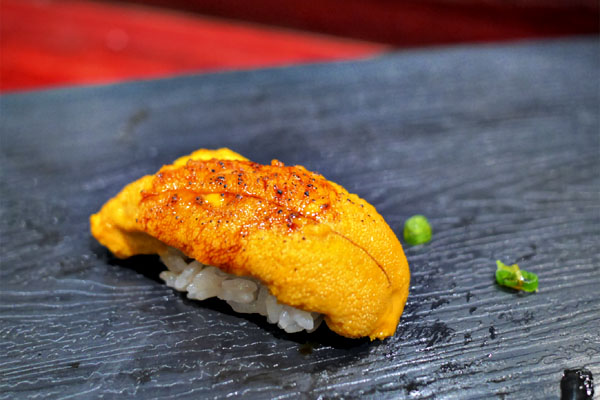 25: Uni Tataki
Seared uni was also a rarity, something I'd only had at
Opus
before. It was absolutely lovely, the inherent sweetness of the roe an excellent base for the smoky, savory notes present. One of my dining companions even likened this to "charred butter."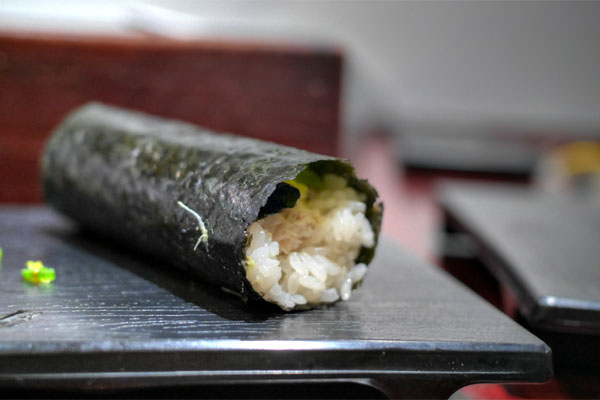 26: Watarigani Maki
Then came the ubiquitous blue crab hand roll, the classic cool, saccharine salinity of the crab proudly displayed, but with the added creaminess of avocado adding further lushness to the course.
For dessert, we had our pick from the two items below, made by Pastry Chef Tomoko Okabe, Taka's wife. She worked at both
Nobu
and
Spago
prior, and also helps with Jinpachi's hot kitchen as well.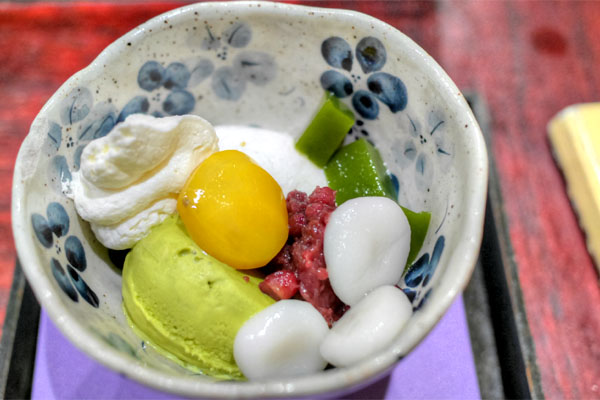 27: Parfait
The Jinpachi parfait was basically an
anmitsu
, a commixture of ice cream, mochi, jelly, red bean, and chestnuts that blended a bevy of disparate tastes and textures into a semi-cohesive, semi-sweet whole.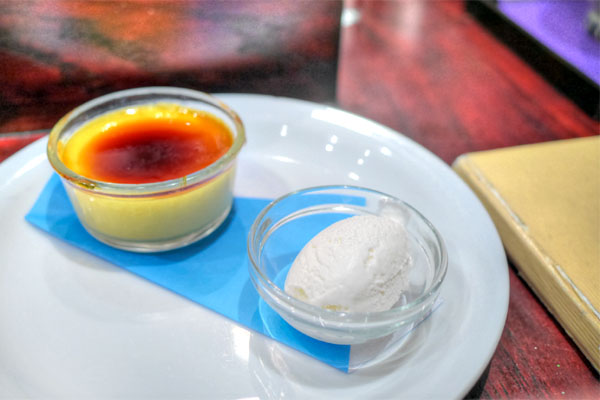 28: Cream Cheese Pudding
Last up was an eggy, sugary pudding topped with a super sticky, bittersweet caramelized layer, the whole amalgam paired with a delightful quenelle of vanilla ice cream.
It took me years to make it out to Jinpachi, but the restaurant was worth the wait, delivering a meal that stood with some of the top places in the City. I honestly wasn't expecting such a quality experience, but the food really spoke for itself. You should probably add this place to your sushi to-try list if you haven't already.