Din Tai Fung (Taipei, Taiwan)
Ding Tai Fung - Xinyi
No. 194, Section 2, Xinyi Rd, Daan District, Taipei City, Taiwan 106
+886.2.2321.8927
www.dintaifung.com.tw
Mon 04/21/2014, 06:45p-08:25p

I ended my brief stay in Taiwan with a visit to the country's most well-known culinary export, legendary soup dumpling house Din Tai Fung. There are, of course, numerous branches of the restaurant in the country, but given how rarely I'm here, a trip to the original, 1985 location was called for.
A brief history
: DTF traces its roots back to founder Yang Pin Ying, born 1927 in Shanxi, China. He was a military man in his youth, but quickly tired of the lifestyle and wished to seek out better opportunities in Taiwan (the island had been freed of Japanese rule following the end of WWII). He landed in Taiwan in the middle of 1948, his visit there made permanent the next year when the Communists overwhelmed Nationalists forces on the mainland. In Taipei, Yang became a delivery boy for the Heng Tai Fung cooking oil company, which was run by a family from Shanghai. He eventually moved his way up in the business, and, at the age of 28, married one of his coworkers there, the Taiwan-born Li Pam Mae. Heng Tai Fung ended up folding a few years later, and in 1958, Yang and his wife founded their own oil business, naming it Din Tai Fung. The business ran well for some time, and the couple was even able to move to a larger location on Xinyi Road, but eventually languished after tinned oil became popular. As a result, Yang hired a Shanghainese chef in 1972 and began selling dumplings. The business took off, and the Yangs soon shut down their cooking oil operations and focused squarely on making
xiaolongbao
, launching a dedicated restaurant at the site in 1985.
Din Tai Fung's popularity continued to rise during this period, and diners around the world began to take notice. The first international location opened in Japan in 1996, and in 2000, the company, now run by son Yang Chi Hua, incorporated and opened itself to outside investors. DTF also opened a central kitchen in Taipei's Zhonghe District that year, and, flush with new capital, began its expansion into a worldwide chain. Yang Chi Hua's younger brother Guo Hua "Frank" Yang debuted Din Tai Fung's first US branch in 2000, set in Arcadia, CA. The restaurant was a smashing success (a second opened nearby in 2008 to alleviate the crowds), and more locations followed in China (2001), Singapore (2003), Indonesia (2005), South Korea (2005), Malaysia (2007), Hong Kong (2008), Australia (2008), and Thailand (2011). The outposts in Hong Kong have even been awarded Michelin stars continuously since 2009. More recently, Din Tai Fung launched a branch at Americana at Brand in Glendale last November, and another in Seattle's University Village in December.

We arrived and were, unsurprisingly, met with crowds. Talk to the ladies out front, get a number, and wait to be called (note the numbers displayed on the screen, representing various table sizes).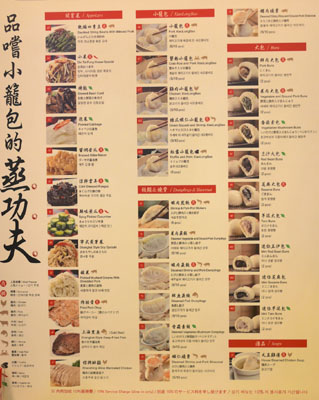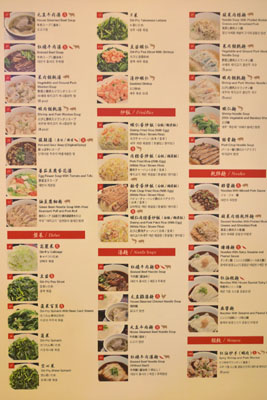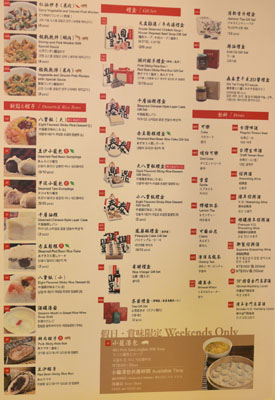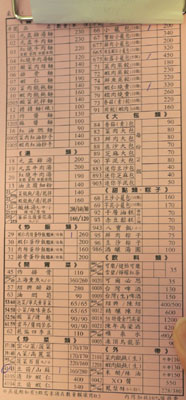 The menu is posted in large format outside, and in the interest of expediency, we were instructed to pre-order via the form shown above. The overall selection here is larger than what you get in the US, though it's missing certain items such as the chow mein style dishes possible Stateside. Click for larger versions.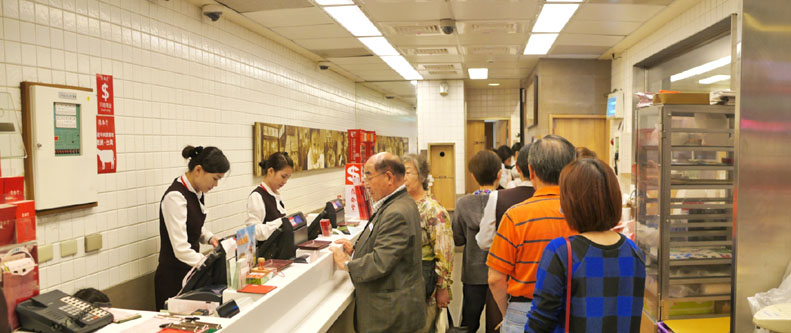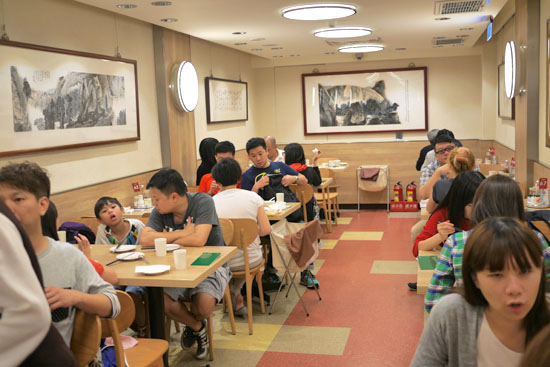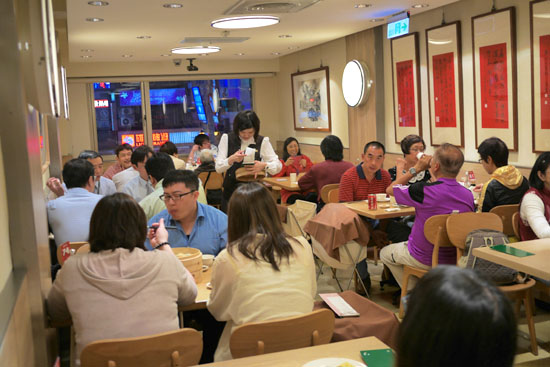 Din Tai Fung occupies the bulk of a four-story building. The kitchen and the registers are downstairs, while the various dining rooms are up above.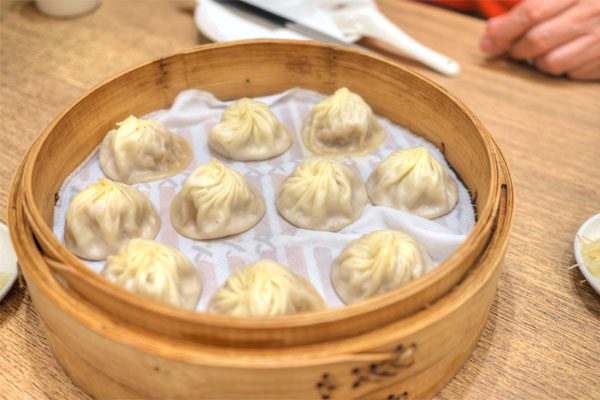 #66 - Pork XiaoLongBao (10 pcs) [NT$200]
We began, of course, with Din Tai Fung's signature XLB, and they didn't disappoint with their bursts of juicy, porky goodness, encased in thin, yet substantial skins that managed to stay together despite my rough handling of them. Tasty alone, but better with a dash of vinegar and a few strands of the included ginger to even things out a tad.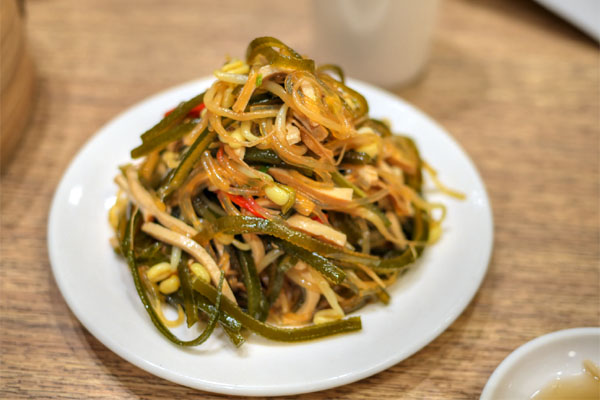 #54 - Din Tai Fung House Special [NT$65]
The restaurant's signature starter was a winner as well, a mix of bean curd, sprouts, and seaweed that conveyed a great combination of tastes and textures tied together by a vinegar-y dressing.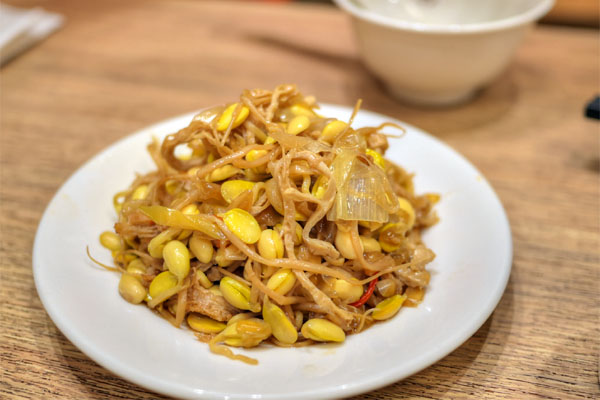 #60 - Shanghai Style Soy Sprouts [NT$65]
Soybean sprouts were on point as well, crunchy and clean with the bits of what I believe was bean curd adding further interest to the dish.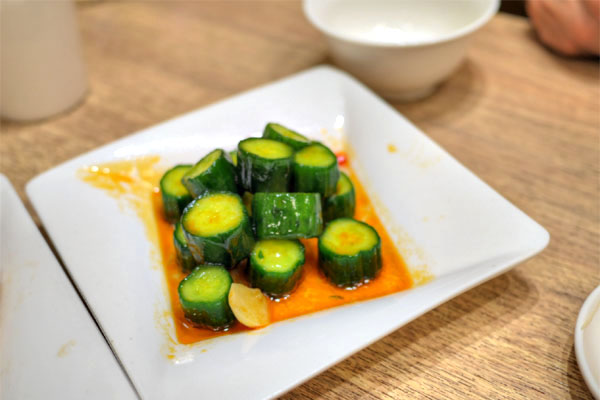 #58 - Spicy Pickled Cucumber [NT$65]
Cucumbers were appropriately crisp, their tartness joined by a subtle undercurrent of heat that I quite appreciated.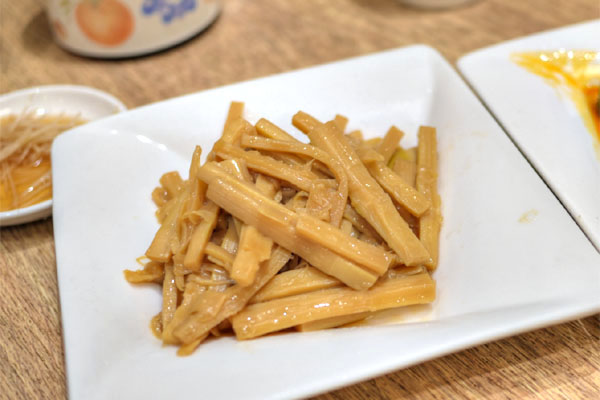 Bamboo didn't seem to be on the menu, but was just what you'd want: crisp, crunchy, with slight tang to it.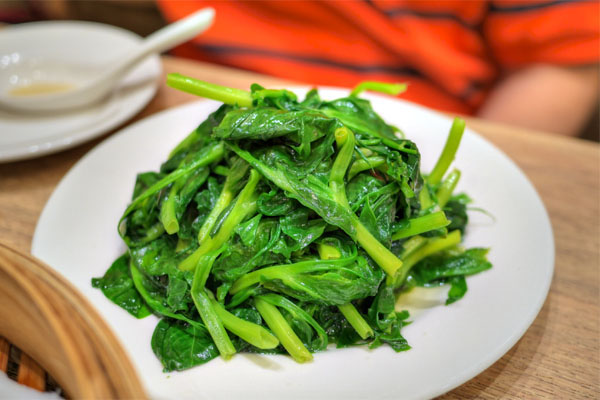 #41 - Stir-Fry Pea Shoot [NT$360]
I'm a big fan of stir-fried pea shoots, and these definitely lived up to my expectations, delivering the bright, astringent flavors of the veggie alongside an overarching, garlicky savoriness.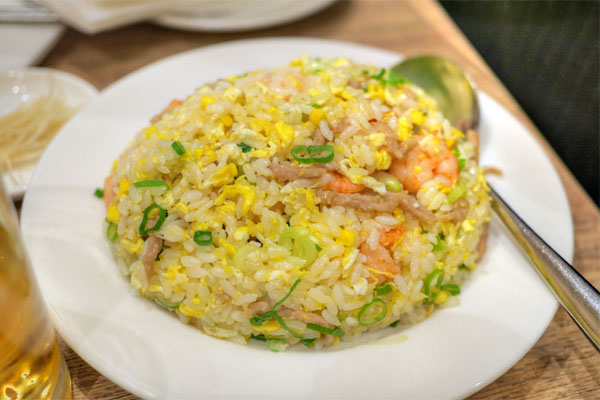 #29 - Shrimp and Pork Fried Rice (With Egg) (White Rice) [NT$260]
I'd heard great things about Din Tai Fung's fried rice, and while it was a really straightforward presentation, the dish certainly delivered, a model preparation of the classic that had everything properly in place.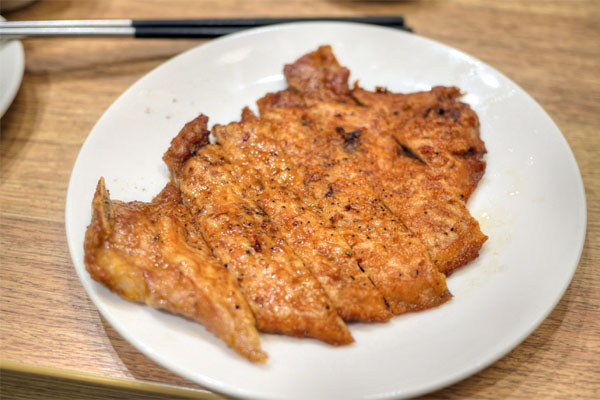 #45 - Fried Pork Chop [NT$110]
The pork chop formed a natural accompaniment to the fried rice, a simple, but satisfying cut of meat replete with a well-placed bit of char.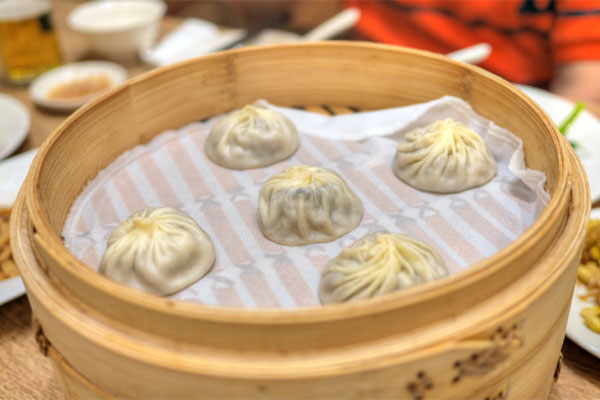 #676 - Truffle and Pork XiaoLongBao (5 pcs) [NT$450]
Naturally, given my penchant for truffle, these were a must-order as well. They showed off all the goodness of the aforementioned pork XLB, but with the additional, earthy, fragrant smack of black truffle that really pervaded the dumplings. Delicious.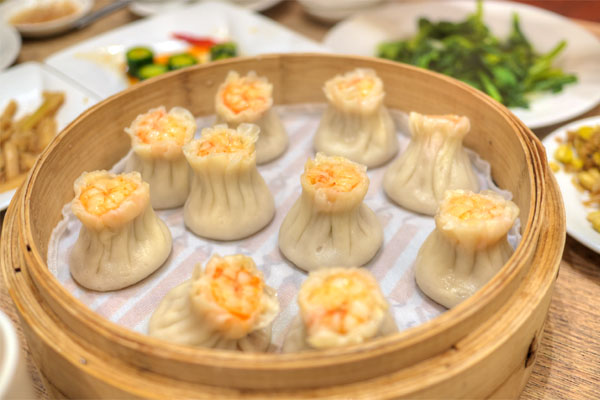 #78 - Steamed Shrimp and Pork Shiaomai (10 pcs) [NT$330]
The restaurant's take on
siumai
was also quite enjoyable, though I'd definitely go for the XLB over these, as I found them more delicate, their flavors more focused.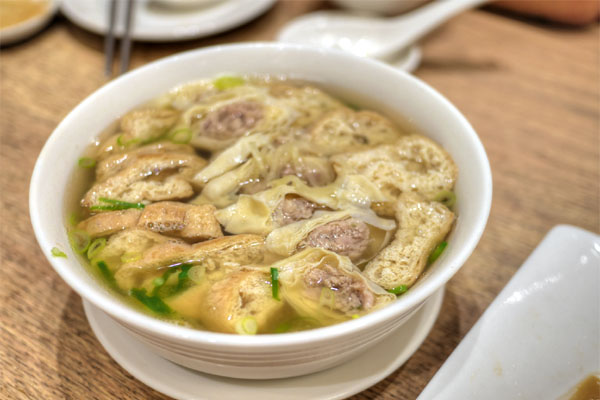 #13 - Green Bean Noodle Soup With Fried Beancurd Puff and Pork Roll [NT$140]
For me, the bean curd was the star of the show here, giving the course a great textural component to pair with the tasty bits of pork, both elements brought together by that light, yet flavorful broth.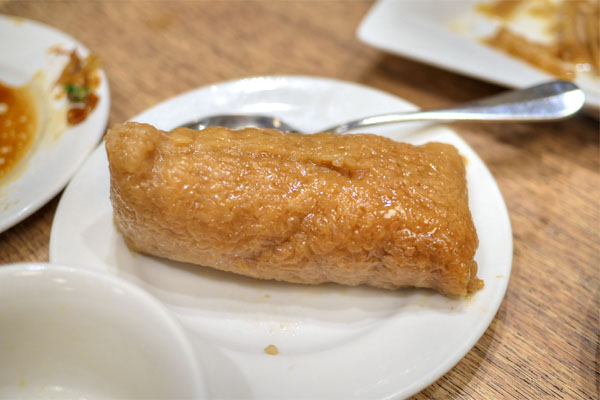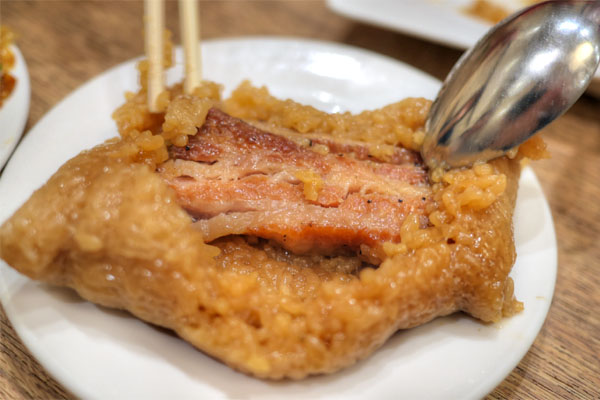 #95 - Pork Sticky Rice Bun [NT$75]
DTF's
zhongzi
were probably the best I've had, the sticky, slightly sweet filling of glutinous rice melding with the pork wonderfully.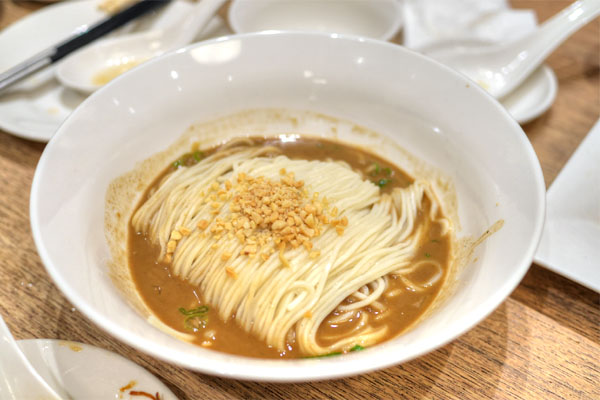 #1205 - Noodles with Sesame and Peanut Sauce [NT$100]
The combination of sesame and peanut gave these noodles a sweet, nutty quality that served to counteract some of the stronger, more savory flavors at play during this meal.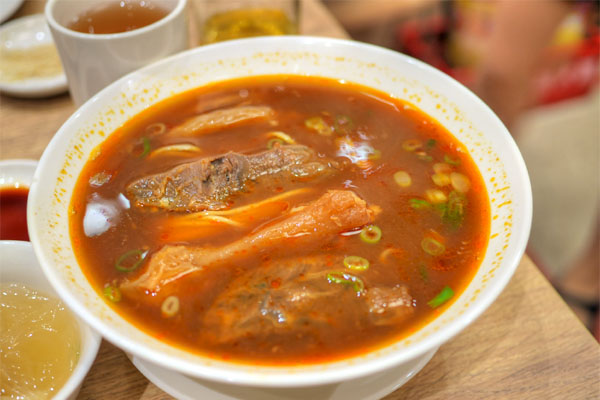 #03 - Braised Beef Noodle Soup [NT$220]
The
niu rou mian
is a gotta have as well, a pretty classic rendition of the dish featuring both hearty slices of beef and gelatinous hunks of tendon, all set in a rich, deep broth, the noodles serving as the perfect moderating element to the dish.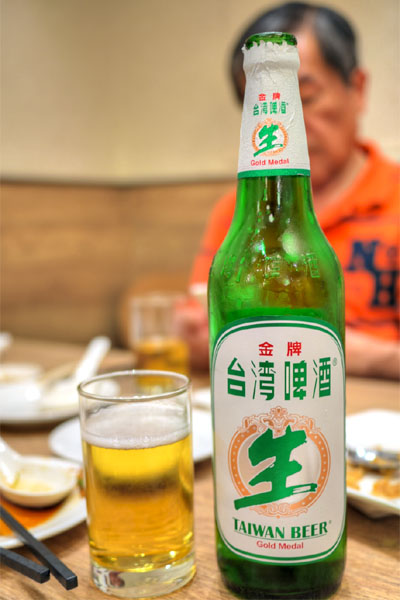 The drink of choice? A fizzy, refreshing
Gold Medal Taiwan Beer
.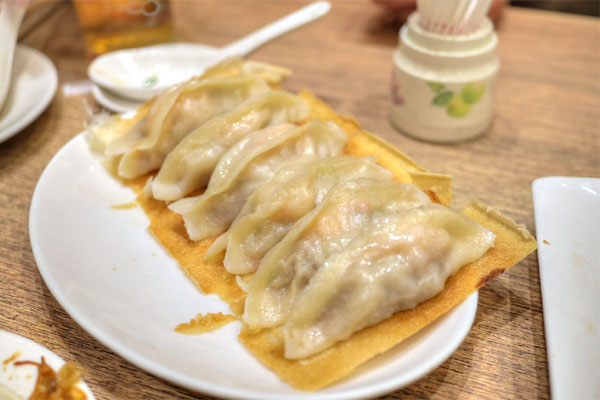 #91 - Shrimp & Pork Pot Stickers (6 pcs) [NT$160]
Guotie
were to my liking as well, coming out delightfully crisp, juicy, and with a strong briny flavor from the shrimp that I rather liked.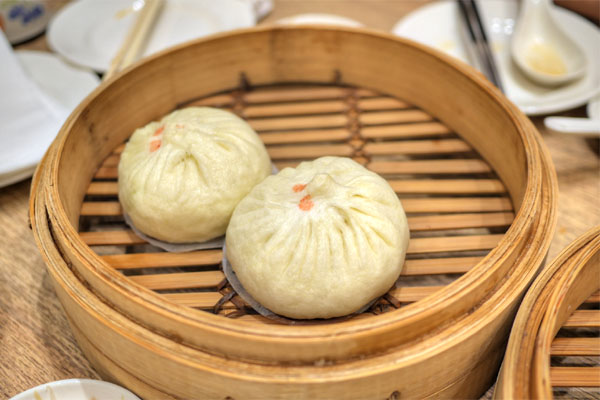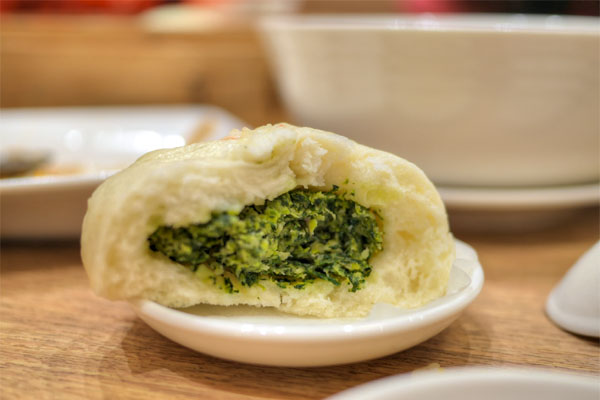 #82 - Vegetable and Ground Pork Buns (2 pcs) [NT$80]
Baozi
were appropriately light and fluffy, though I would've liked more porky goodness here to temper the bitter, almost bracing veggies.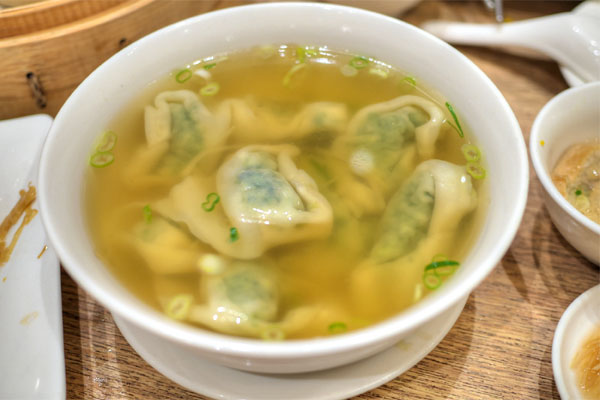 #21 - Vegetable and Ground Pork Wonton Soup [NT$140]
Wontons deftly brought together contrasting flavors of savory pork and slightly astringent veggies in a soft, succulent package, nicely finished by the clean, yet toothsome broth.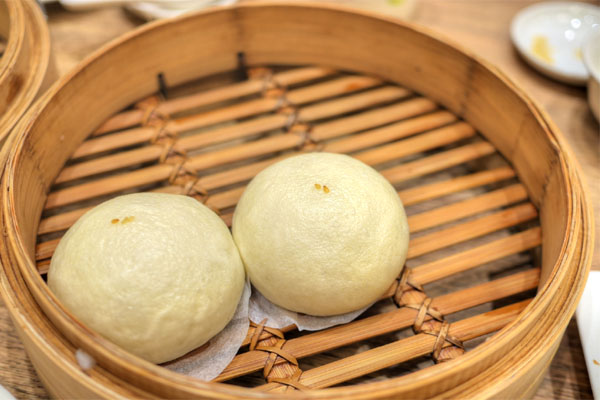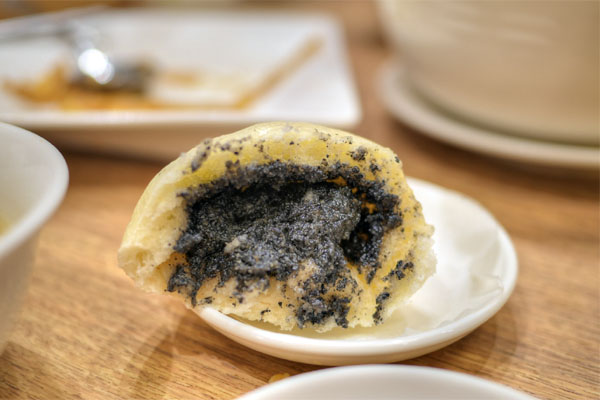 #89 - Sesame Buns (2 pcs) [NT$70]
Dessert comprised sesame
bao
, which were quite nice, their sweet, dark, gritty character balanced by the comparatively mild buns.

A peek into Din Tai Fung's dumpling making operation on the way out.
Amazingly, I actually haven't been any of the Din Tai Fungs back here in Los Angeles, so I don't have a basis for reference as to how the original compares. However, the food here really was quite good save for a few nits, and I can certainly see how the place is so popular. The XLB, of course, were spot on, but a lot of the other dishes really delivered as well. Maybe I should go give the Arcadia (or Glendale) location a go...