Menu MBK (Washington, DC)
Menu MBK: Kitchen
405 8th St NW, Washington, DC 20004
202.347.7491
www.menumbk.com
Sat 04/05/2014, 06:15p-08:20p

One of the more notable DC openings of late is Penn Quarter's Menu MBK, a multi-level production from Chef/Owner Frederik De Pue. The space comprises a
Market
on the ground floor stocked with various gourmet products as well as food and drink to-go. Meanwhile, the third and fourth floors are home to
BistroBar
, a casual bistro concept, while the second level
Kitchen
features a six-seater counter serving a monthly-changing prix fixe menu.
About the Chef
: Born in 1977 in Ghent, Belgium, Frederik De Pue started his culinary training at age 15 at the Hotel School Ter Duinen, graduating five years later with a good number of
stages
under his belt. Following, he went to work for Alain Ducasse at Le Louis XV in Monte Carlo, then transitioned to Alain Chapel in Lyon, becoming sous chef by age 21. A year later, in 1998, he moved back to Brussels, landing at Yves Mattagne's Sea Grill, where he stayed for three years. De Pue came to Washington in 2001 as Executive Chef for the ambassador of the European Commission Delegation, and during that five year stint, cooked for a number of heavyweights in the diplomatic arena. Interestingly, in 2002, he opened a restaurant and waffle company out in Lima, Peru, where his former wife was from (the business was sold a couple years later).
The Chef left his job with the ambassador and launched 42° Catering in 2007, then started consulting at a number of places in the area, including shuttered downtown wine bar The Reserve. It was there where he met Miles Gray in 2009, and the two collaborated on Smith Commons, which opened the following year. De Pue eventually struck out on his own, and debuted Table in January 2013 in DC's Shaw neighborhood. This was followed by seafooder Azur in the Penn Quarter, but the place quickly faltered, and ended up closing within six months. Not one to give up on the space (which also held José Andrés's Cafe Atlantico,
Minibar
, and America Eats Tavern), De Pue revamped the building at turned it into Menu MBK, which launched in January.
Day-to-day operations, meanwhile, are headed by 29-year-old Chef de Cuisine Keith Cabot, a Virginia native who spent time early on at The Barn at Blackberry Farm in Walland, Tennessee. He also cooked for Thomas Keller for four years, mostly at
Ad Hoc
but also at
Bouchon
in Yountville. In DC, Cabot notably worked at
Johnny Spero
's place Suna, and most recently served as sous chef at Table.

The view from Menu's kitchen counter.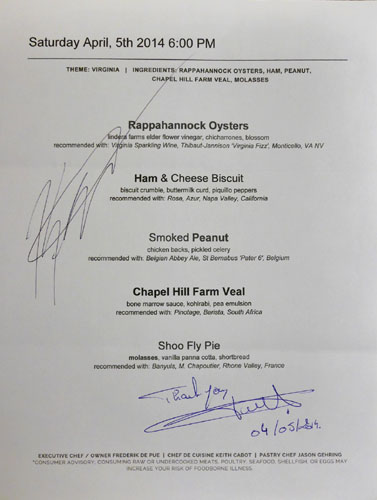 MBK's menu for April was largely the work of Chef Cabot, featuring ingredients from his home state of Virginia. The five-courser was priced at $65 a head, with beverage pairings tacking on an additional $45. Click for a larger version.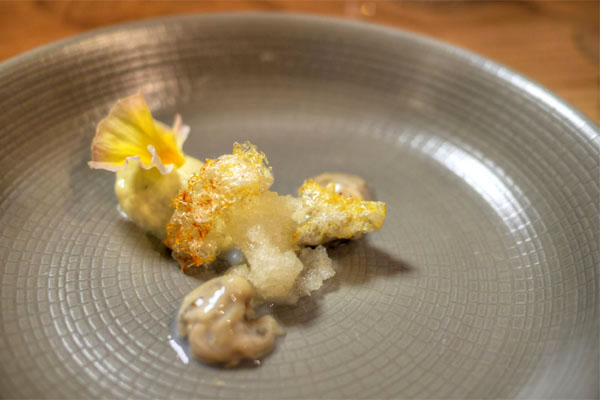 1: Rappahannock Oysters
| lindera farms elder flower vinegar, chicharrones, blossom
Virginia Sparkling Wine, Thibaut-Jannison 'Virginia Fizz', Monticello, VA NV
Oyster was presented three ways--raw, smoked, foam--and arrived with elderflower sorbet and pansy flower. It was a real celebration of Rappahannock, a display of multifaceted brine all bound together by the tangy mignonette-esque vinegar. Lovely hits of salt and crunch from the fried skin, too, and a natural pairing to the creamy, citrus-tinged bubbly that came along.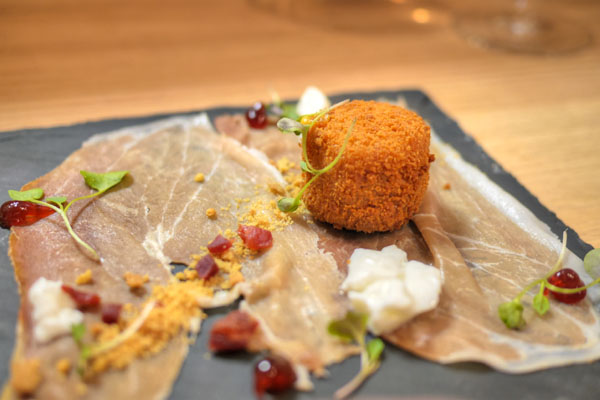 2: Ham & Cheese Biscuit
| biscuit crumble, buttermilk curd, piquillo peppers
Rose, Azur, Napa Valley, California
Local 18-month aged ham set the stage for a deep-fried, pimento cheese-wrapped piquillo, a showcase of earthy, salty ham, lush cheese, and tangy pepper against jammy bursts of sweetness. Homey yet elegant at the same time. Great crunch from the bacon bits, too.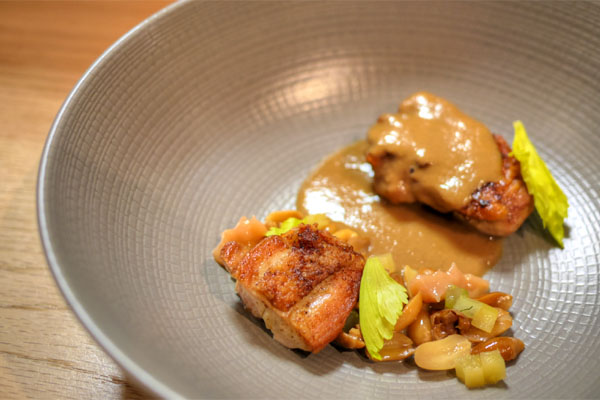 3: Smoked Peanut
| chicken backs, pickled celery
Belgian Abbey Ale, St Bernardus 'Pater 6', Belgium
A reimagined peanut soup of sorts really hit the spot, bringing a beer-peanut sauce, boiled peanut, and roasted chicken backs together in ingenious fashion. The bird itself I found super moist and super savory, a fitting foil to the rhubarb sweetness and nutty flavors at play. Excellent use of celery as well for its jolts of astringency, and I liked the beer pairing for this one, too.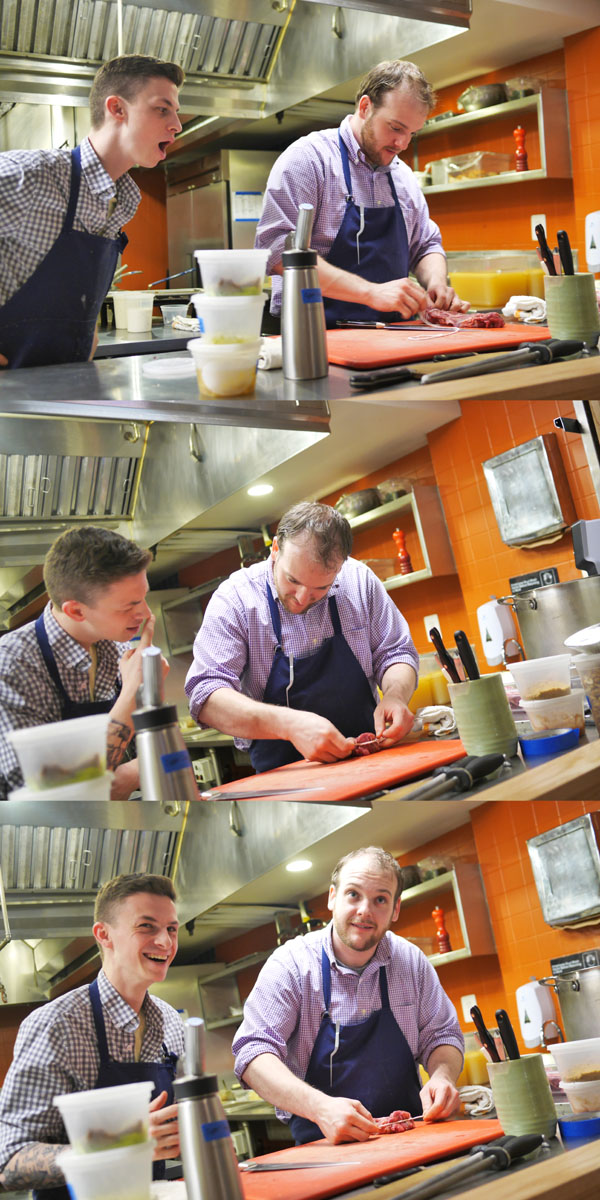 CdC Keith Cabot and Sous Chef Alex in a rare teaching moment.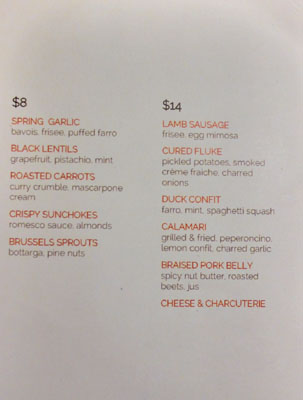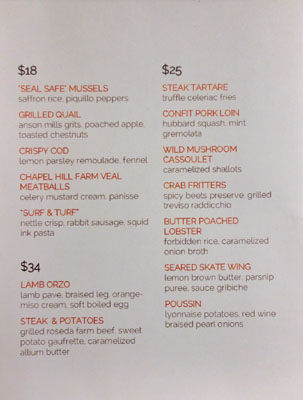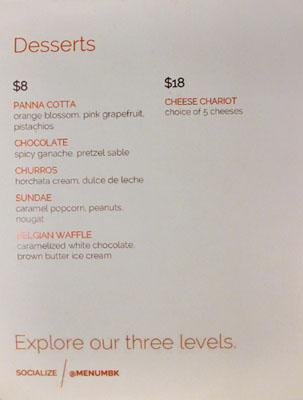 Now five courses
is
a little light, so I made sure to add on a couple plates from the BistroBar menu. Click for larger versions.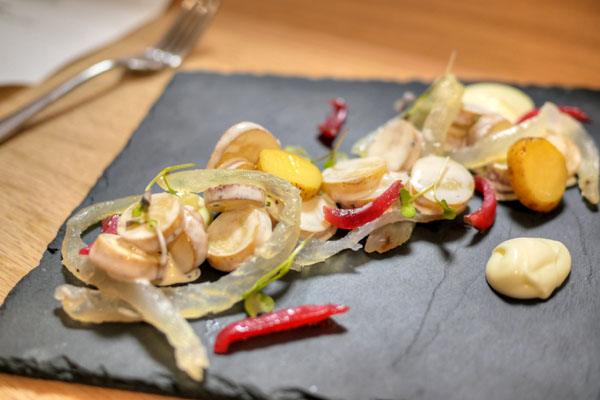 Supplement: Cured Fluke [$14.00]
| pickled potatoes, smoked crème fraiche, charred onions
The first supplement was a presentation of cured fluke, sort of a take on potato salad with its salt and sugar cured fish, Sichuan pepper, fennel, citrus zest, micro wasabi, and red wine vinegar. The course really did recall the traditional dish, playing the tangy taters against the smoky crème fraiche commendably over a base of the fluke, all while the vinegar imparted a lovely acidity to things. Very cool.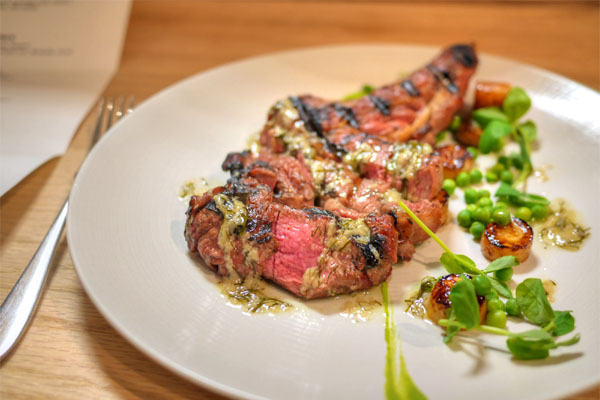 4: Chapel Hill Farm Veal
| bone marrow sauce, kohlrabi, pea emulsion
Pinotage, Barista, South Africa
The veal, meanwhile, was something else, easily the most flavorful presentation of the ingredient that I'd ever tasted. It was of the Randall Lineback heritage breed, the meat coming out fairly lean, yet immensely satisfying and with a great char, taken up another notch by the marrow sauce. Peas provided a wonderful counterpoint to the beef here, and I was a fan of the kohlrabi's crunch and bitterness as well.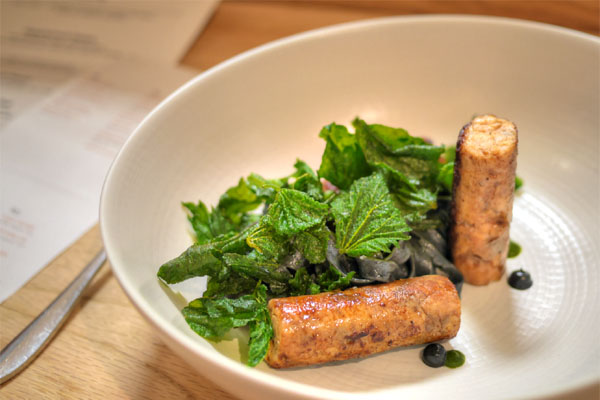 Supplement: "Surf & Turf" [$10.00]
| nettle crisp, rabbit sausage, squid ink pasta
My second supplementary course gave me Amish coop rabbit boudin with fried nettle and nettle puree. The sausage itself I found savory, yet herby and elegant, melding well with the pasta while the nettles provided a saline, piquant counterbalance to everything. I would've liked a grittier, more substantial texture on that tubed meat, though.
5: Shoo Fly Pie
| molasses, vanilla panna cotta, shortbread
Banyuls, M. Chapoutier, Rhone Valley, France
The sole dessert was a reimagined shoofly pie bringing together molasses sorbet, pie crumble, chantilly mousse, rum raisin compote, and a brown sugar sponge. Now, I'd never had the original version of the dessert before, so I didn't really have a basis for comparison. However, what was presented here worked, with the super dark, sugary, sticky smack of the molasses forming the basis to the dish, the other elements imparting different thrusts and nuances that somehow came together cohesively.
I wasn't sure what to expect coming in here, but the meal really exceeded expectations. There's a real sense of fun and modernity to the cooking here, and the flavors all tended to come together in delicious fashion, but with just the right amount of cleverness and whimsy thrown into the mix. It's a neat little concept, and the menu changes monthly here, so I'm actually quite looking forward to what they have up their sleeves coming up. I just wish I could experience the kitchen's cooking in a longer format (i.e. more than five courses).