The Red Hen (Washington, DC)
The Red Hen Restaurant
1822 1st St NW, Washington, DC 20002
202.525.3021
www.theredhendc.com
Tue 04/01/2014, 08:30p-10:30p

I started off my last trip to DC with a dinner at Italian-ish place
Etto
, so I figured I might as well stick with the same theme this time around. Opened in April 2013 in DC's Bloomingdale neighborhood, The Red Hen serves up Italian-inflected American cuisine with a Mid-Atlantic flair, and is the work of longtime friends Chef Michael Friedman, GM Michael O'Malley (a Lettuce Entertain You alum), and Sommelier Sebastian Zutant (Estadio, Proof, Rasika, Komi, Nectar, Chef Geoff's).
About the Chef
: A native of Westfield, New Jersey, Friedman didn't grow up immersed in a culinary-focused environment, but instead got his first job in the business after graduating from Boston University with a degree in communications. He worked at Lettuce Entertain You's Mon Ami Gabi bistro as a prep cook, and quickly fell in love with the craft, staying three years with Richard Melman's hospitality group before enrolling in the Culinary Institute of America at Hyde Park. During his tenure at the CIA, Friedman
staged
at
Lucques
, Morimoto, and The Modern, and following graduation, secured a gig at José Andrés'
Zaytinya
. He spent two years there, then left to eat his way around Europe and North Africa. Upon returning, he apprenticed at Incanto, Vetri, and Scarpetta before becoming Chef de Cuisine at DC's Proof, working under Haidar Karoum. Friedman stayed there until 2012, when he, O'Malley, and Zutant began work on The Red Hen.

The Red Hen's 2,400sqft interior seats 50, and was designed in part by Zutant's wife Lauren Winter from
Edit Lab
, the firm that penned
Rogue 24
and
Daikaya
. Think wood, lots of wood, light wood at that, making for a "modern barn chic" sort of vibe with the restaurant's high ceilings and super open kitchen housing a wood-fired Grillworks grill.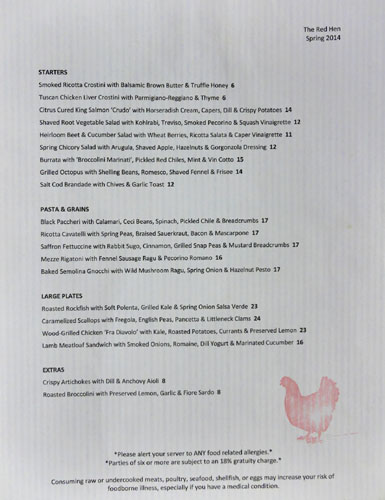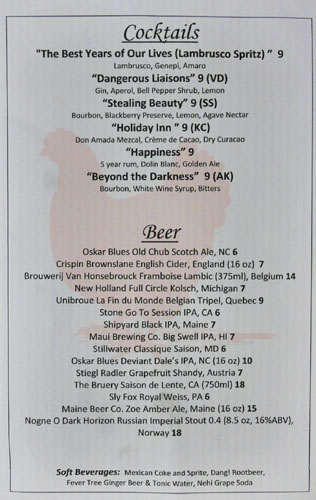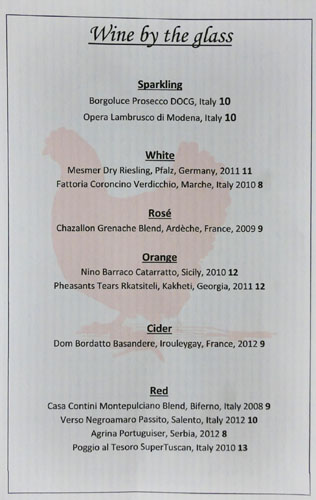 As for The Red Hen's menu, it's laid out in classic starters-pastas-mains fashion, and most of the items ostensibly go through the "campfire" at some point or another. To drink, Zutant has put together a list of 100 or so Italian-leaning wines, a few beers, and some seasonal cocktails. Click for larger versions.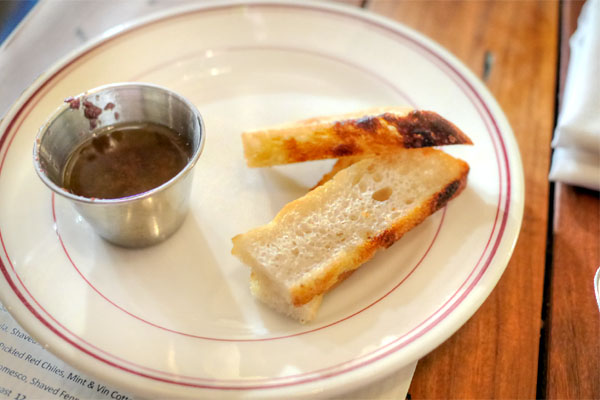 The requisite bread arrived subtly garlicky, enhanced to great effect by the application of the included olive oil and balsamic combo.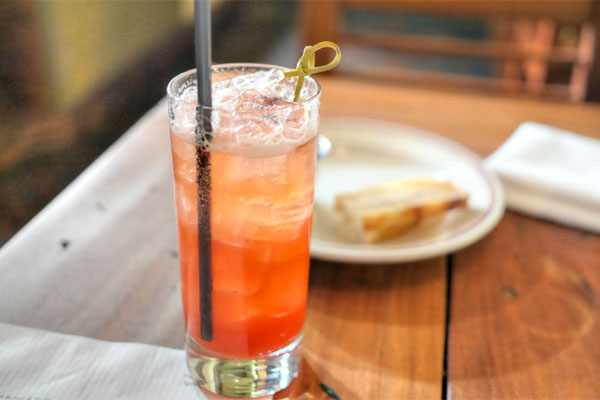 Stealing Beauty [$9.00]
| Bourbon, Blackberry Preserve, Lemon, Agave Nectar
I opted for cocktails to start, and this first one came recommended by my server. She was right on though, and I loved the drink's interplay between sweet, boozy, and sour notes, along with its lingering, honeyed finish. Superbly well thought out and integrated.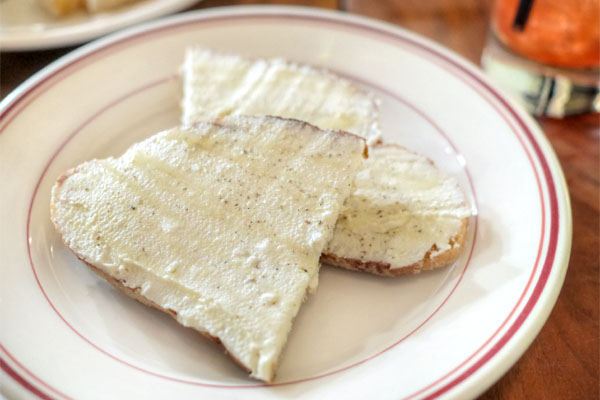 Smoked Ricotta Crostini with Balsamic Brown Butter & Truffle Honey [$6.00]
The crostini may look simple, but taste wise, they were spot on, a flawless marriage of smoky-creamy-sweet enveloped in a light veil of truffle. Really some of the best crostini I've had.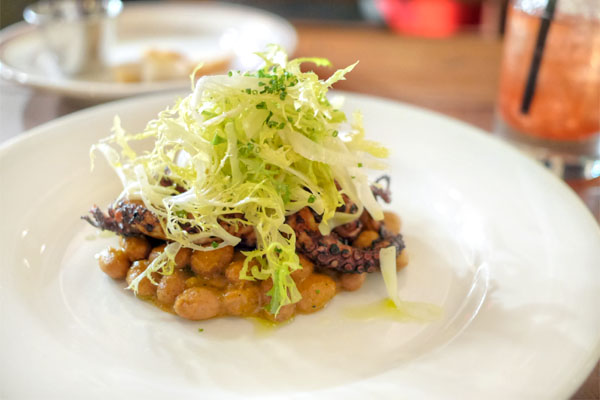 Grilled Octopus with Shelling Beans, Romesco, Shaved Fennel & Frisee [$14.00]
The octopus was certainly a standout in a meal full of strong dishes. It was cooked pretty much perfectly, coming out tender and wonderfully charred, its savory, saline flavors brightened by the duo of fennel and frisée while the beans served to lend some heft to the dish. Excellent.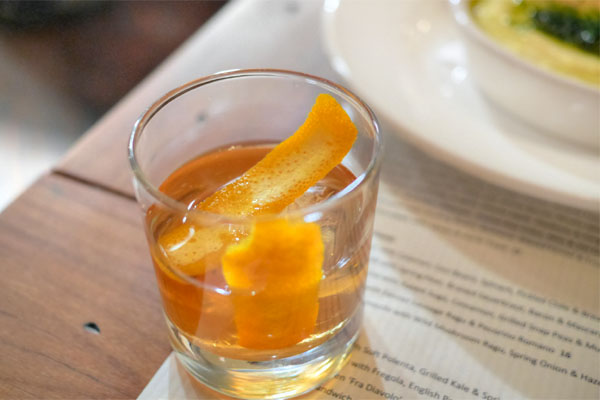 Beyond the Darkness [$9.00]
| Bourbon, White Wine Syrup, Bitters
My next cocktail was definitely stiffer (and far more viscous), with its initial wine-y character leading to satisfyingly boozy, bitter, and citrus-y notes toward the back end.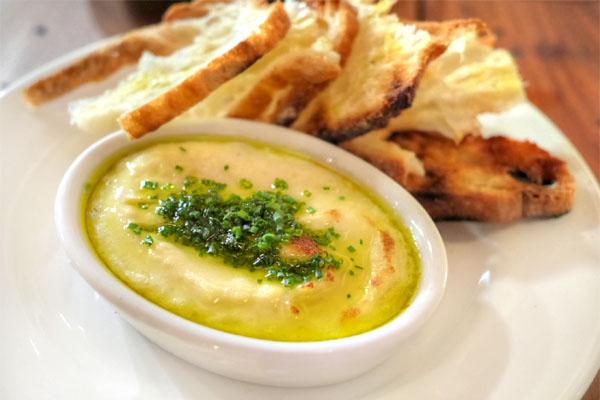 Salt Cod Brandade with Chives & Garlic Toast [$12.00]
The Red Hen's brandade was also impeccable, its gritty, yet silky consistency giving off a wonderful blend of salty and fishy flavors that were dutifully tempered by the application of chive. Fantastic alone, and even better when taken with the crunchy slivers of toast.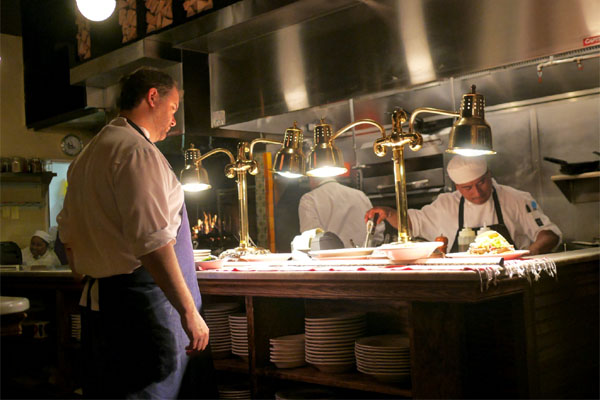 My table afforded me a front row seat to all the kitchen action (mostly consisting of the Chef expediting).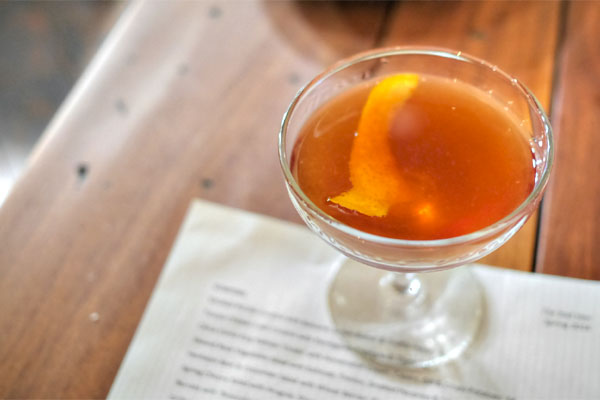 Holiday Inn [$9.00]
| Don Amada Mezcal, Crème de Cacao, Dry Curacao
My last cocktail went with the pastas and was on point as well. Think smoky and chocolate-y, with a backbone of sweetness that really brought everything together.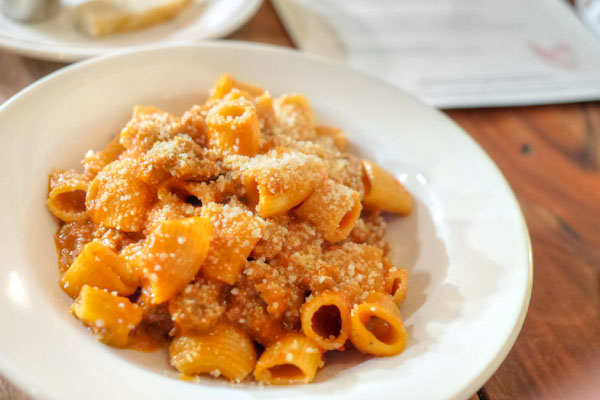 Mezze Rigatoni with Fennel Sausage Ragu & Pecorino Romano [$16.00]
Pastas are all made in-house, and the rigatoni's arguably The Red Hen's signature preparation. The star of the show for me was the sausage, which was precisely spiced and imbued with mouthwatering notes of fennel. Taken with the salty cheese and the just-firm-enough pasta, and the overall effect is like a dish you might make at home, but with infinitely more finesse.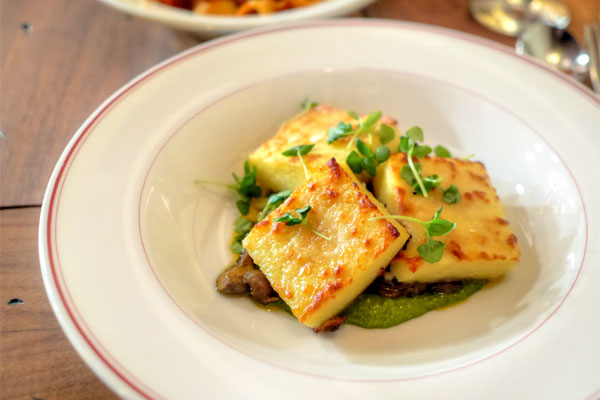 Baked Semolina Gnocchi with Wild Mushroom Ragu, Spring Onion & Hazelnut Pesto [$17.00]
Gnocchi were unlike any other version I've had, arriving to the table in large blocks. Texturally, they were just what you'd be looking for though: soft, supple, almost fluffy, with a rich, creamy relish that really formed a great stage for the bright, nutty pesto and earthy depth of the mushrooms to really sing.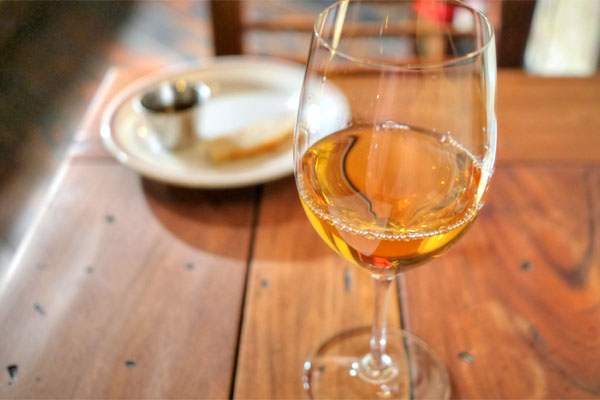 The Red Hen's somewhat known for its focus on orange wine, so I went with the flow and got a glass of the
Nino Barraco Catarratto, Sicily, 2010 [$12]
. It really was quite lovely, giving off an almost oxidative quality on the nose, and a taste that veered nutty and spicy, yet very fresh and invigorating.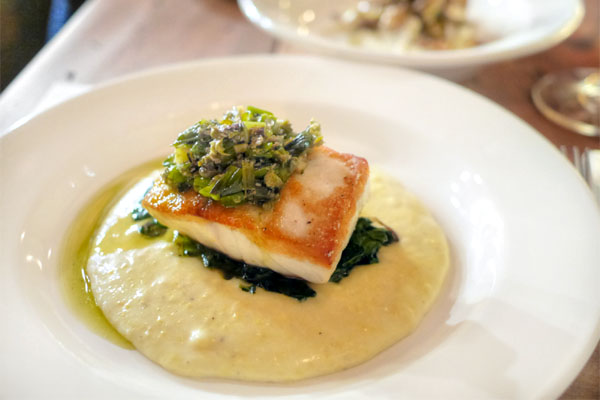 Roasted Rockfish with Soft Polenta, Grilled Kale & Spring Onion Salsa Verde [$23.00]
I was quite full by this point, but wanted to sample one of the mains, and this happened to be the lightest of the bunch. The fish was done justice here, cooked to a firm, flaky consistency and showing off a restrained flavor that paired swimmingly with the bitter greens and zesty salsa, all while the cheesy polenta added a palpable richness to the course.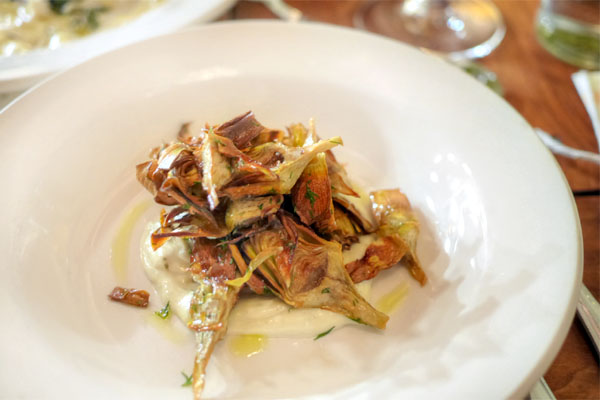 Crispy Artichokes with Dill & Anchovy Aioli [$8.00]
As if I wasn't eating enough, the kitchen then sent out an order of the artichokes to go along with the rockfish. I'm no fan of the vegetable in general, but this was undoubtedly one of the strongest preparations of it that I've tried. The frying gave the artichokes a really satisfying savor, and I was a fan of the herb-y accents from the dill, as well as how the fishy aioli help tie it all together. Very nice.
The Red Hen was an unquestionably strong start to my most recent round of DC dining. The cooking may have an Italian base to it, but the Chef's interpretations of the cuisine are really what made the restaurant shine. The food is comforting, robust, but with a exuberant, modern edge to it that makes it all the more special. The place is almost perpetually packed, and turns out there's a good reason for that.