Providence (Los Angeles, CA) [5]
Providence Restaurant
5955 Melrose Ave, Los Angeles, CA 90038
323.460.4170
www.providencela.com
Sat 03/29/2014, 07:25p-12:30a
What can I say about Michael Cimarusti's Hollywood-adjacent dining destination that hasn't already been said? It's a restaurant that needs no introduction, so we'll get right into it.

Last time
we were seated in the private Sonoma Room, but this time we took the Chef's Table instead, a glass-encased booth that offers up to six diners a front row seat to the kitchen action.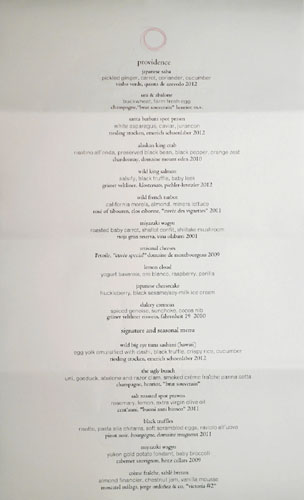 There's been a bit of change-up in the menu structure. Strict à la carte ordering is no longer advised it seems, and instead there's now a three-course prix fixe at $95. The four- and nine-course market tasting menus remain at $100 and $140 a head, while there's a new, luxurious "Signature and Seasonal" option priced at a lofty $215. We were here, naturally, for the flagship Chef's Menu, which has been bumped up to $210 a person. You can add $95 on top of that for wine pairing, though we opted to bring our own bottles this evening (at a $30 corkage fee). Click for a larger version.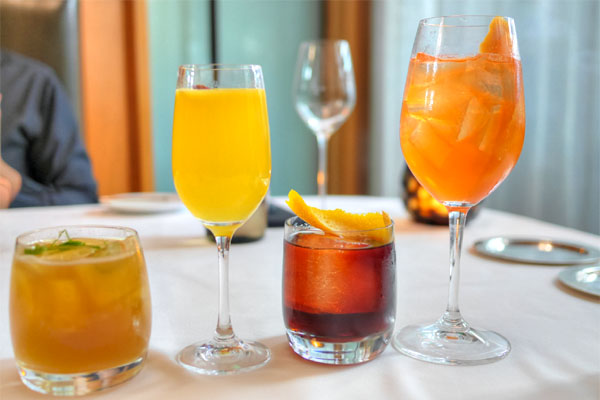 angry angeleno [$15.00]
| blanco tequila, fernet branca, ginger, lime, house made jalapeño bitters
love is a rose [$15.00]
| gin, lillet rose, perfection tangerine, passionfruit, honey, prosecco
libre [$15.00]
| buffalo trace bourbon, averna, cassis, chocolate chili bitters, orange twist
lazy days [$15.00]
| aperol, mandarine napoléon, fresh rhubarb, lambrusco bianco secco
Before the wine, we went with a quartet of cocktails to start, which have held up quite well even with the departure of head bartender Laura Lindsay. Going left to right, the
Angry Angeleno
tasted of the City, a patchwork of spicy, smoky, and bitter flavors accented by bursts of tart lime, the ginger adding an undercurrent of piquancy to the entire drink.
Love is a Rose
, meanwhile, showed off a nose redolent of fruity and floral aromas, while taste wise, think tangy and bittersweet, with just a whisper of honey. The
Libre
was the booziest of the bunch, loaded with dark, sweet, and bitter flavors brightened up by a strong citric component. Finally, my favorite was the
Lazy Days
with its intoxicating bouquet of mandarin orange and palate bursting with bittersweet spice; refreshing and super quaffable.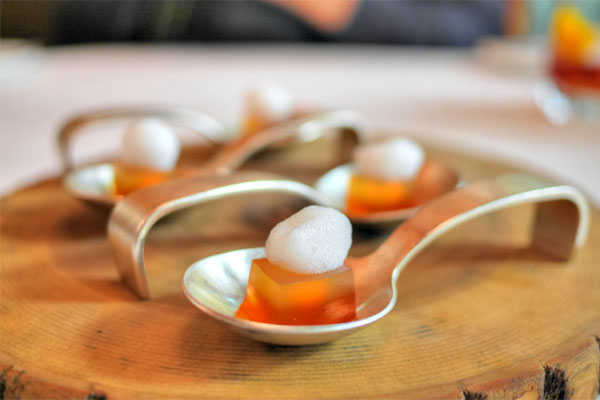 We began our parade of a record nine amuse bouches with a take on the Dark 'N' Stormy, comprising dark rum gelée, ginger beer foam, and lime. It was a fun little bite, the subtly boozy character of the rum giving way to sugary and ginger-y notes toward the back end.
A scallop "taco" of sorts brought together cured scallop tartar, sushi rice, and rice cracker, all folded into a wild nasturtium leaf. It was fantastic, with a classic, Japanese-y interplay between the rice and scallop finished by the zestiness of the herb. Superbly well-integrated, with a lovely crunch from the
senbei
.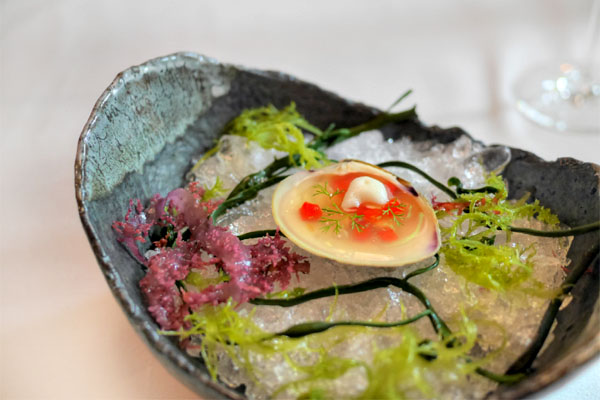 A singular littleneck was accompanied by chorizo gelée, chorizo foam, and its own liquor, its brine wonderfully apparent, yet smartly tempered by the restrained heat of the sausage. Very neat.
Wagyu tartare was served with black truffle and olive oil, then set atop squares of focaccia. The bites were as rich and tasty as you'd expect, their beefiness amplified by the application of the oil while the truffle became more apparent toward the close, a perfect finish.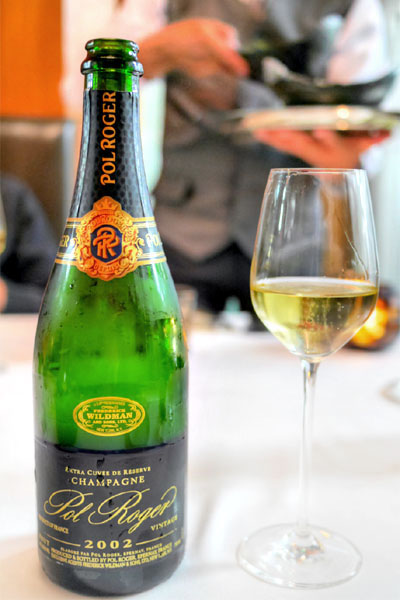 With the cocktails dispensed with, we moved on to some bubbly, the
2002 Pol Roger Champagne Brut Vintage
specifically. I found it a delightful sparkler: dry, crisp, and citrus-y, with a palpable toastiness that recalled shades of Krug. This one's drinking well now.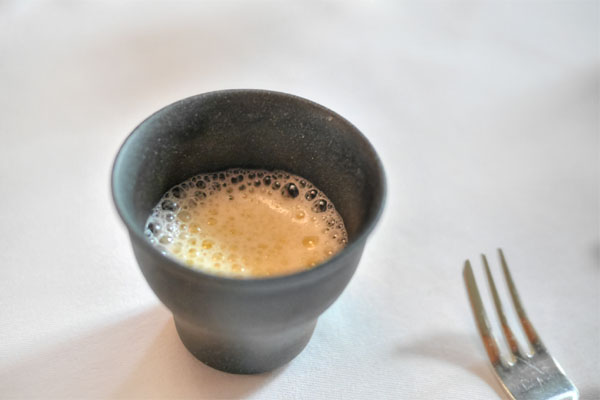 Next, a shot of liquid containing smoked halibut bone, dashi, lemon, olive oil, and butter hid a bottom layer of
petit pois
. It was a hearty, heady broth, underpinned by a fantastic savory-smoky character that paired superbly with the comparative bright, sweet, crunchy qualities of the peas.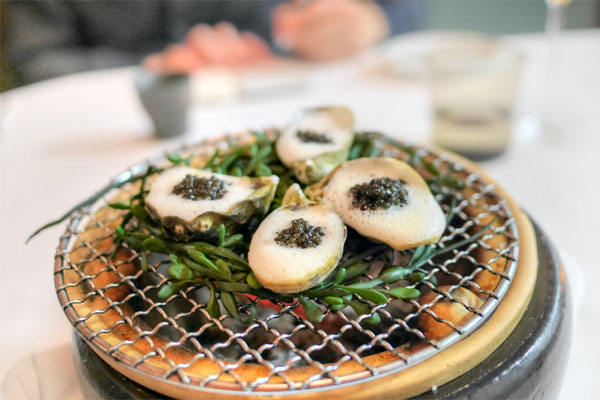 Sitting atop a brazier were grilled Shigokus topped with Champagne beurre blanc and American caviar. They were some of the tastiest hot oysters I've had, showing off a woody, smoky essence moderated by the lushness of the buttery sauce while the caviar imparted a focused touch of salt.
Providence's skewers have become a mainstay at the restaurant, and for good reason. Monterey abalone was glazed in miso, arriving wonderfully sweet and saline, with a gorgeous bit of char and a texture that perfectly melded soft and substantial. Next, sword squid was paired with Spanish chorizo, the smoky, spicy sausage a flawless complement to the comparatively restrained cephalopod--super tasty in an almost base sort of way.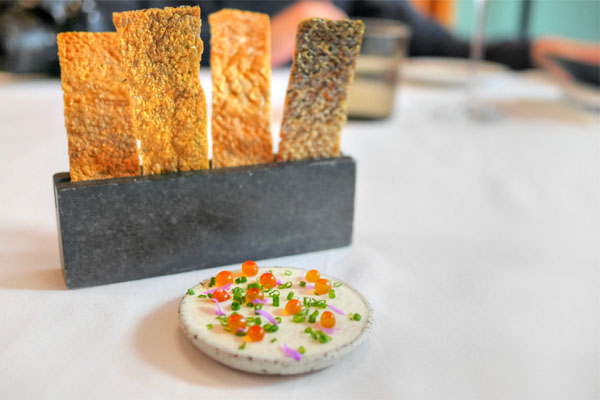 Wafer thin strips of salmon skin were fantastic on their own, conveying the salty, mouthwatering taste of the fish in a marvelously crispy package. As delicious as they were alone, the crackers were taken up a notch by the application of smoked crème fraîche, ikura, chive, and garlic flower, which seemed to amplify the concentrated essence of the salmon even more.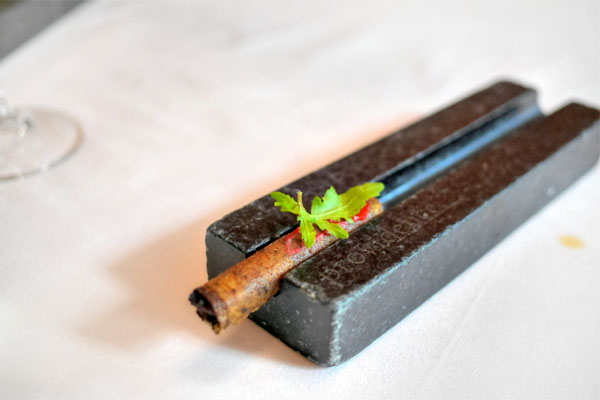 Our final hors d'oeuvre was a cigar of braised wagyu encased in
feuille de brick
, easily the heftiest of the nonet. Think deep, dark, unabashedly savory flavors, countered by the zesty greenery. Excellent texture on the thin, crisp pastry, too.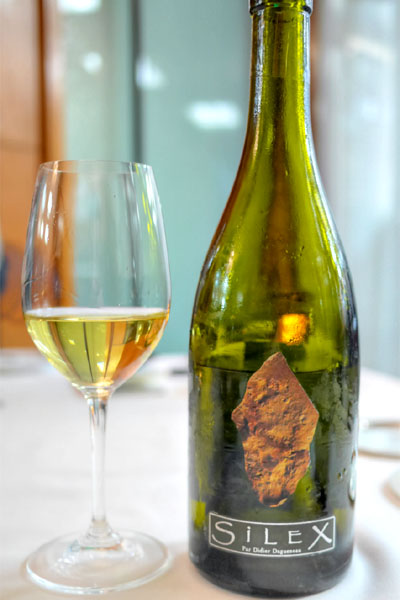 With the meal proper about to commence, we proceeded to open a bottle of
2003 Didier Dagueneau Pouilly-Fumé Silex
, probably the greatest Sauvignon Blanc I'd ever tasted. Think a bright burst of citrus and tropical fruit initially, cut by a tangible minerality and a grassy character while oaky and spicy alcoholic notes imparted a fantastic complexity to the wine. Wow. This is one worth seeking out.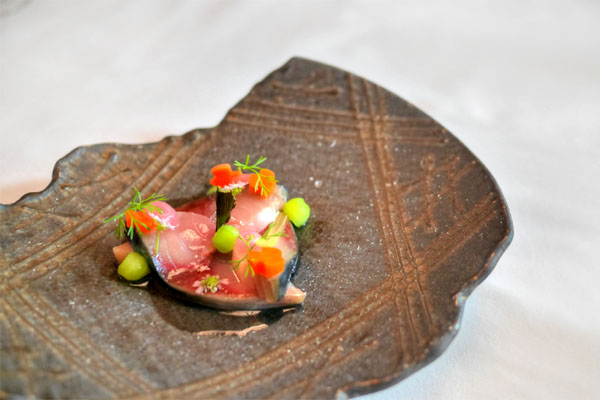 1: japanese saba
| pickled ginger, carrot, coriander, cucumber
We began with a bang, the Japanese mackerel coming out wonderfully fishy and oily, yet elegant, its potency evened out by the pickle-y crunch and acidity of the various accoutrements here. Simply a masterful presentation of
saba
.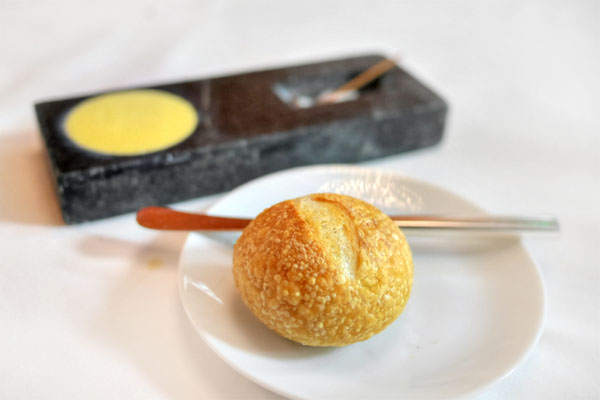 Three breads were on offer: dinner roll, bacon brioche, nori focaccia. All were on point, thoroughly enjoyable on their own, but even better with a sprinkle of
fleur de sel
from the south of France or a smear of the outstanding salted butter from Normandy's Rodolphe Le Meunier.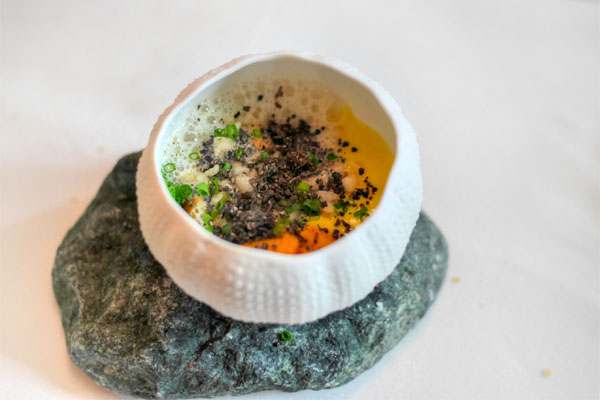 2: uni & abalone
| buckwheat, farm fresh egg
Santa Barbara uni and Monterey abalone were married here, set in a mélange of scrambled egg, puffed buckwheat, truffle, and chive. The combination was as delicious as it sounds, the lushness of the egg and urchin working hand-in-hand with the earthy notes of truffle, while chive added just a hint of herbaceousness to the mix. Superb texture on that abalone, too.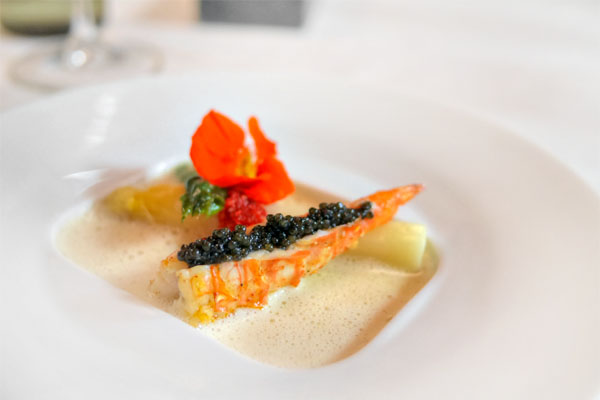 3: santa barbara spot prawn
| white asparagus, caviar, jurancon
Spot prawn was served with its own roe, caviar, Dutch white asparagus, and Zuckerman Farms green asparagus, all in a Jurançon-based sauce. The prawn itself was done justice, cooked to snappy, supple consistency, its inherent sweetness and salinity enhanced by the application of roe. If that wasn't enough, the bitterness of the asparagus served as a top-notch foil to the luxuriousness of the dish, while the Jurançon help tie everything together.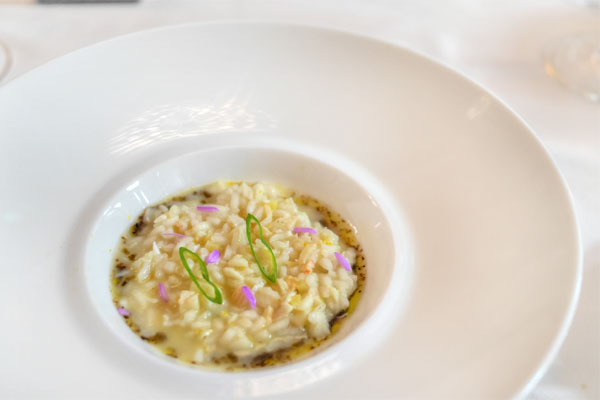 4: alaskan king crab
| risotino all'onda, preserved black bean, black pepper, orange zest
A risotto brought together king crab, vegetable stock, white wine, black bean oil, and orange zest. The name of the course actually belied its true character. The crux of the dish wasn't the crab for me, but the interaction between the tangy citrus and depth of the black bean, which was overarched by the subtle brine of the crustacean. One of the most contemplative risottos I've had.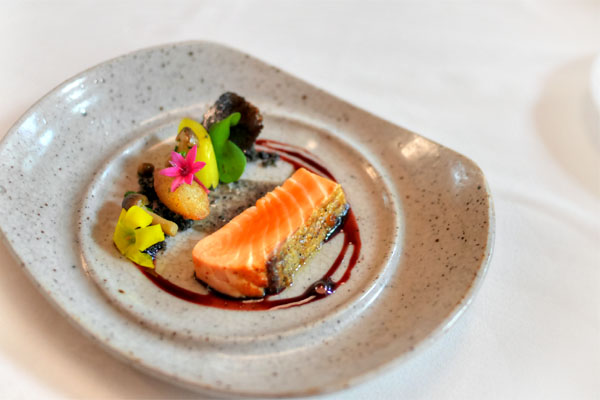 5: wild king salmon
| salsify, black truffle, baby leek
Salmon belly arrived flawlessly cooked, a properly rare presentation just brimming with the fatty, sweet goodness of the fish. Black truffle provided an additional layer of luxuriousness to the course, but even more important was the leek, which imparted just enough astringency to even things out.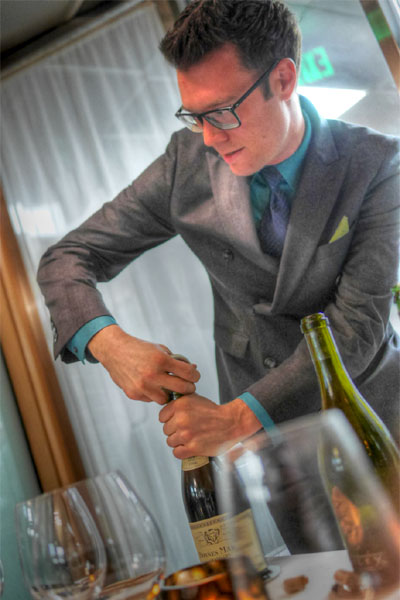 Throughout the night, Providence Sommelier Drew Langley assisted us with wine service.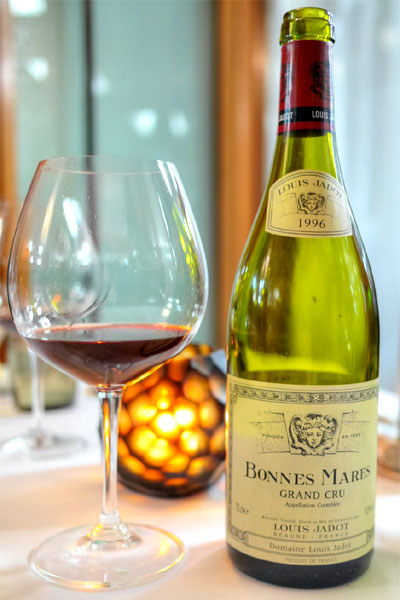 Our final wine of the night was a red to go with some of the heartier courses: the
1996 Louis Jadot Bonnes Mares
. It was a lovely example of a mature red Burgundy, its notes of ripe fruit (which seemed to intensify as time progressed) joined by a certain earthy-slash-spicy quality that provided balance, while tannins gave a good structure to the wine.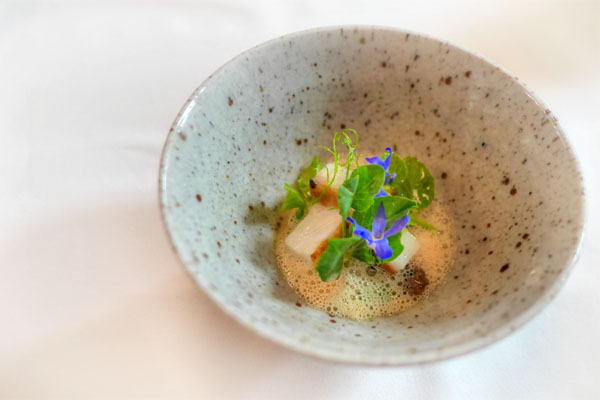 6: wild french turbot
| california morels, almond, miners lettuce
Turbot was among the best I've had, its dense body and elegant flavor profile melding seamlessly with the smoky, heady relish of the morels while the miner's lettuce contributed a bright, tangy accent piece to the course.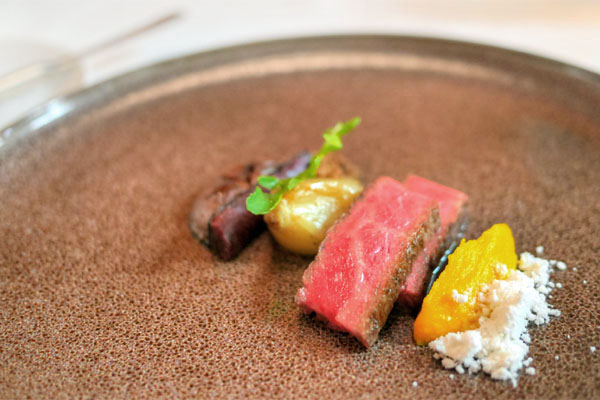 7: miyazaki wagyu
| roasted baby carrot, shallot confit, shiitake mushroom
Japanese beef arrived to the table plated with roasted shiitake, shallot confit, carrot purée, and a wagyu powder. The meat itself was expectedly fatty, though not exceedingly so, with a salty, savory richness to it that satisfied alone, but also worked with the beef's various accompaniments.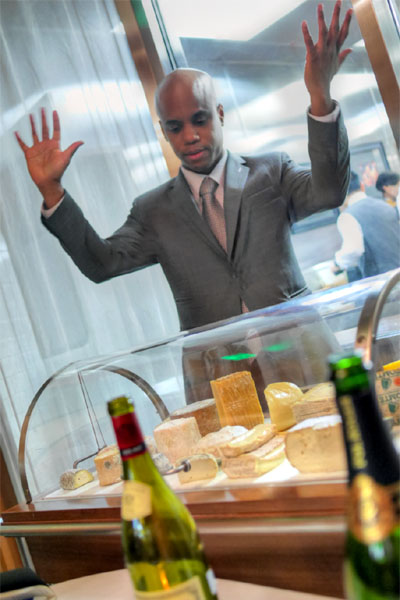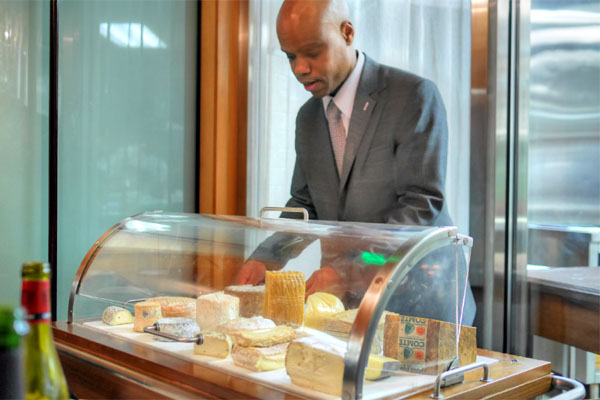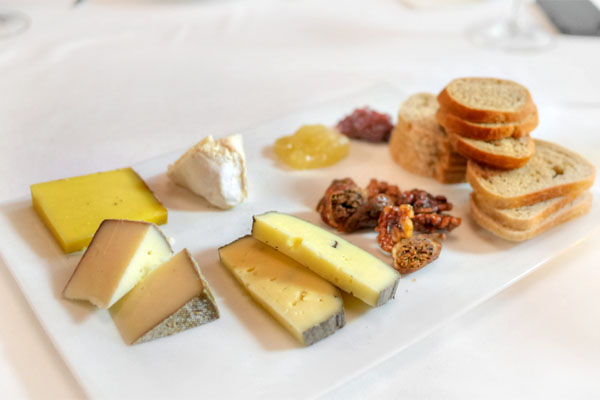 8: artisanal cheeses
Providence's cheese cart should be enough to make any turophile swoon. We went with a "dealer's choice" option, which included Bohemian Creamery's funky, creamy BoDacious, Gruyère de Comté, and the excellent Sottocenere truffle cheese, all served alongside pear, rhubarb, figs, walnut, and sliced baguette.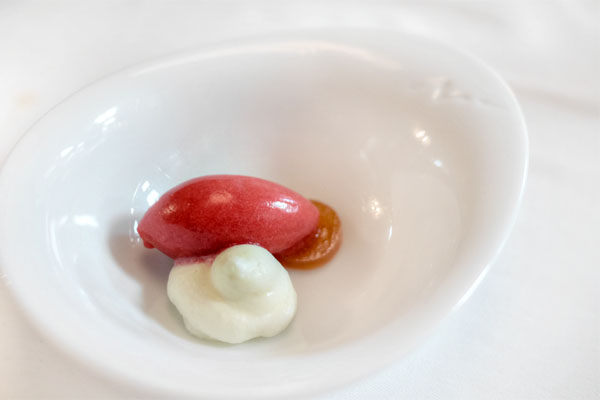 9: blood orange sorbet
| yogurt bavarois, rhubarb, guava
We then moved into the sweet courses, which are the work of Pastry Chef David Rodriguez. Our pre-dessert brought together blood orange, rhubarb, and guava to form a jammy, sugary combination that played well against the tangy, lactic yogurt.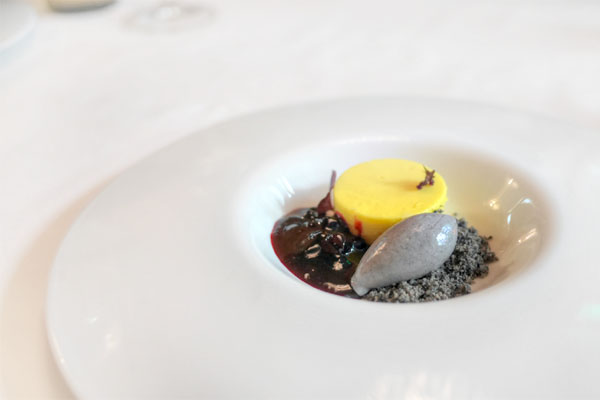 10: japanese cheesecake
| huckleberry, black sesame/soy-milk ice cream
Cheesecake prepared
à la Japonaise
was delectable, the subtly sweet cake working swimmingly with the sugary huckleberry jam while black sesame ice cream and streusel imparted a wonderfully nutty bent to the whole dessert.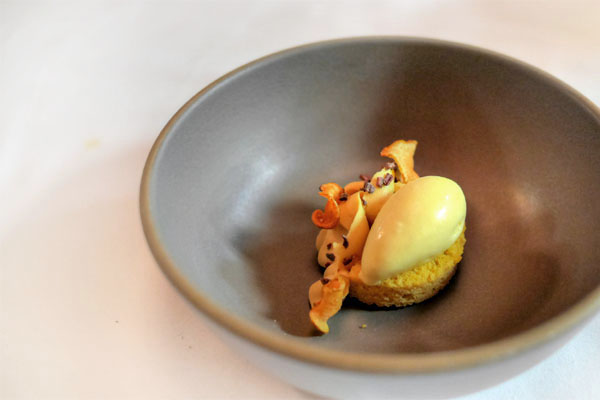 11: dulcey cremeaux
| spiced genoise, sunchoke, cocoa nib
My favorite dessert featured pear spice cake, cacao nibs, sunchoke ice cream, sunchoke chips, and candied sunchoke, a real celebration of the root vegetable that paired its nutty sweetness against the delightful spice of the genoise, all while the nibs offered up a bitter accent.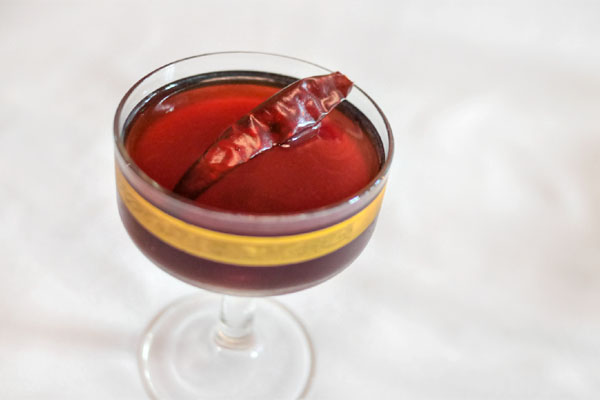 fire and spice [$15.00]
| cocoa nib infused tequila ocho plata, ancho reyes ancho chile liqueur, l.b.v. port, mexican vanilla, orange oils
We ordered up a "dessert cocktail" of sorts with the
Fire and Spice
, and it fit the bill nicely, giving up spicy, chocolate-y flavors amped up with notes of tart citrus.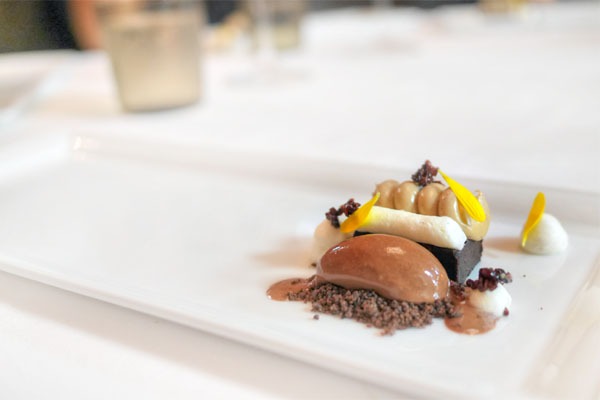 A "bonus" dessert was a chocolate marquise--sort of a dark chocolate flourless cake--with white chocolate mousse, espresso, chantilly, cacao, chocolate sorbet, and candied streusel. It was a multifaceted celebration of chocolate, its various nuances all seemingly bound together by an enveloping bitterness from the coffee.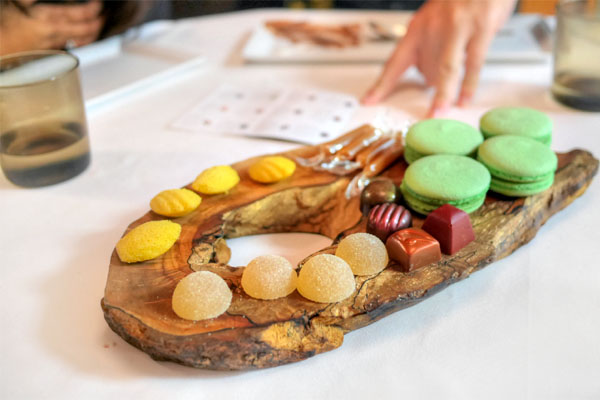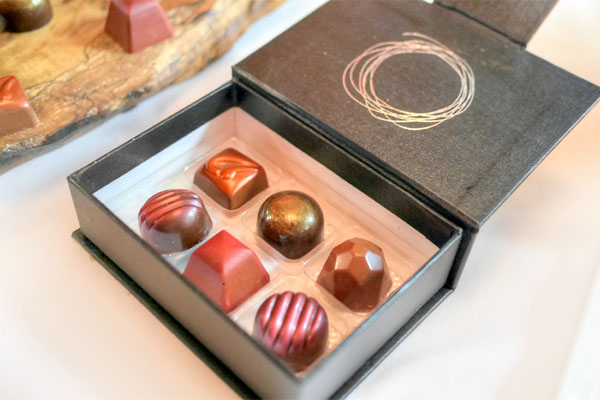 Mignardises included peppermint macarons, brown butter madeleines, sunchoke caramels, lychee
pâtes de fruit
, as well as various housemade chocolates.
I've been coming to Providence since 2007, and the restaurant just keeps on getting better. Cimarusti's cooking has evolved nicely over the years, and has always conveyed a sense of modernity to it without ever seeming like it's trying too hard. This most recent meal just reinforces that notion. Certainly then, the restaurant remains a paragon of the fine dining game in the City, an icon of Los Angeles cuisine that everyone should try at least once. By the time you read this, Providence will have closed for a quick remodel, to reopen hopefully by May's end with a refreshed, Art Deco-meets-maritime feel.