Kapnos (Washington, DC)
Kapnos Restaurant
2201 14th St NW, Washington, DC 20009
202.234.5000
www.kapnosdc.com
Fri 04/04/2014, 07:25p-09:20p

I visited Mike Isabella's
Graffiato
shortly after it opened in 2011, and since then, the
Top Chef
alum has been busy growing his profile. In March 2012, he was named "Best New Chef" of the mid-Atlantic region by
Food & Wine
, and helped open Mexican small plates concept Bandolero with Jonathan Umbel shortly thereafter. That September, Isabella became an "
American Culinary Ambassador
," and also released his cookbook,
Crazy Good Italian: Big Flavors, Small Plates by Mike Isabella
. 2013 saw the Chef expand to New Jersey with G Grab and Go and participate in
Top Chef: The Cruise
before leaving his post at Bandolero and launching Kapnos and its attached G Sandwich. This latest restaurant features cooking influenced by the cuisine of Northern Greece, and represents a bit of a return to the type of food he was doing during his days at
Zaytinya
. Joining Isabella here are Chef de Cuisine George Pagonis, GM Nicholas Pagonis, as well as Bandolero/Graffiato alums James Horn (Wine & Service Director) and Taha Ismail (Beverage Director).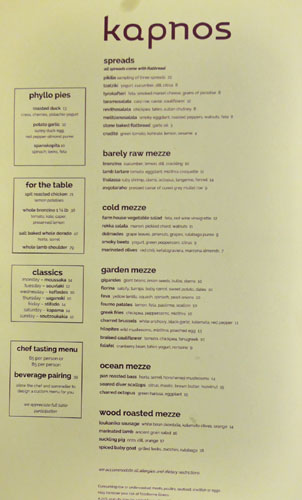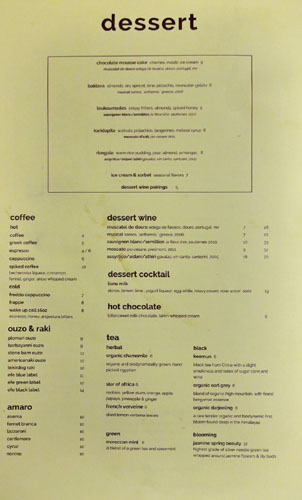 Kapnos' menu features a variety of
mezze
(small plates, basically), with particular attention paid to items coming off of the restaurant's multiple wood-fired grills, including whole animal carvings. There are also tasting menu options at $65 and $85, the latter of which I opted for this evening. Click for larger versions.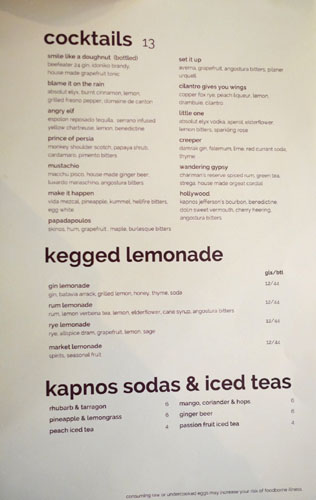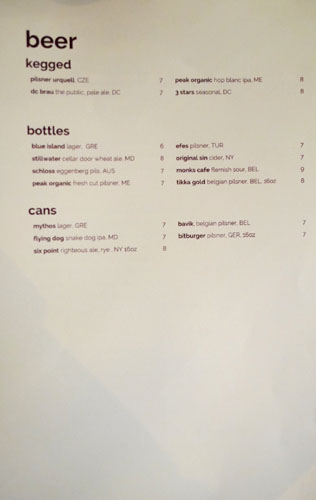 To drink, think cocktails from Taha Ismail, some beers, and a fairly lengthy wine list with an appropriately large selection of Greek varietals. Click for larger versions.

Kapnos was penned by the Bethesda-based firm
Streetsense
(they also worked on
The Red Hen
), though I didn't get to admire much of the decor, as I chose to take a seat at the kitchen bar.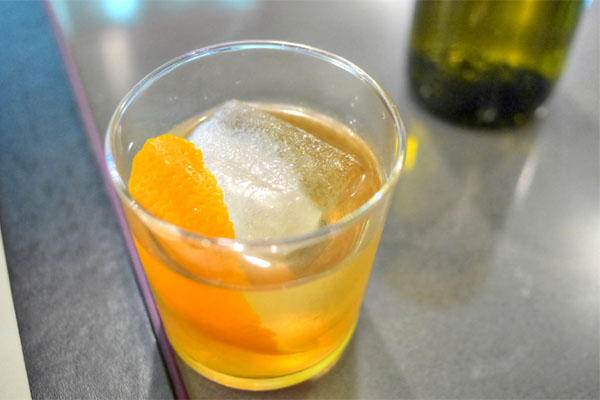 prince of persia [$13.00]
| monkey shoulder scotch, papaya shrub, cardamaro, pimento bitters
Cocktails were definitely called for tonight, and my first was a hit with its combination of sweet 'n' spicy flavors over a well-tempered base of whiskey, finished with an almost tingling sensation in the back of the throat.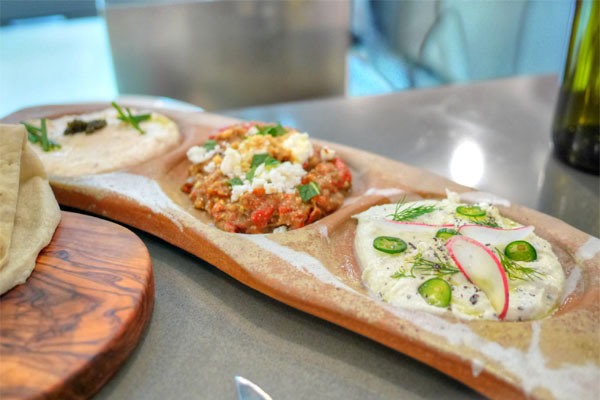 1a: taramosalata
| carp roe, caviar, cauliflower
1b: melitzanosalata
| smoky eggplant, roasted peppers, walnuts, feta
1c: tyrokafteri
| feta, smoked manori cheese, grains of paradise
My first course was a trio of dips, served with a super fluffy, soft flatbread that was among the best I've had. Going back to front, we have the
taramosalata
, which showed off a wonderful brininess moderated by the bits of chive on top. The
melitzanosalata
, meanwhile, had a great combo of smoke and sweetness, augmented by the salty feta and pricks of mintiness. Finally, the
tyrokafteri
I liked too, with its lactic tang, creamy-yet-gritty consistency, and bright bits of greenery on top. Overall, a delicious way to kick things off.
2: crudité
| green tomato, kohlrabi, lemon, sesame
Along with the spreads came some crudités, also among the best I've had, a blend of smoky, nutty, and tart flavors over some marvelously crisp textures, accented by just the right amount of citrus.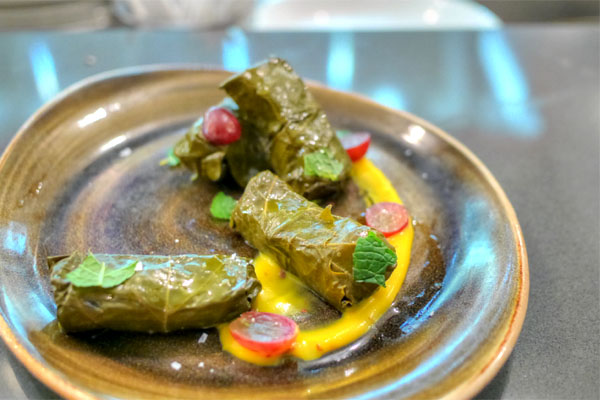 3: dolmades
| grape leaves, pinenuts, grapes, rutabaga puree
I'm not a fan of dolmades in general, but Kapnos' were surely among the stronger preparations that I've tried, dense, tightly-packed nuggets of nutty, ricey, sweet nuances encased in richly-flavored leaves. My favorite element here was the use of grape, which added some delightfully juicy pops of fruitiness to the fray.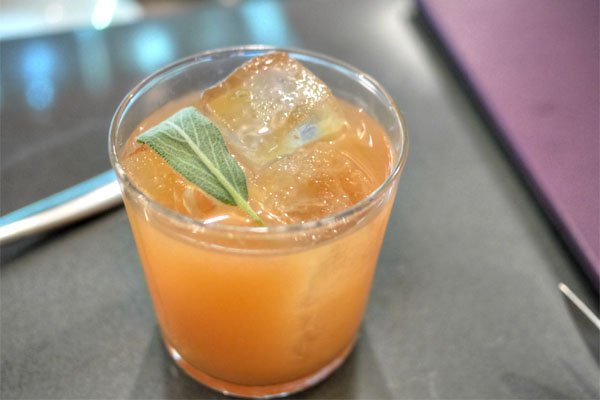 rye lemonade [$12.00]
| rye, allspice dram, grapefruit, lemon, sage
I made sure to try some of Kapnos' kegged lemonades, and the version featuring rye came recommended by my server. It fit the bill nicely, giving off a balanced, citrusy quality over a base of the booze, the sage adding a lovely aromatic component to things.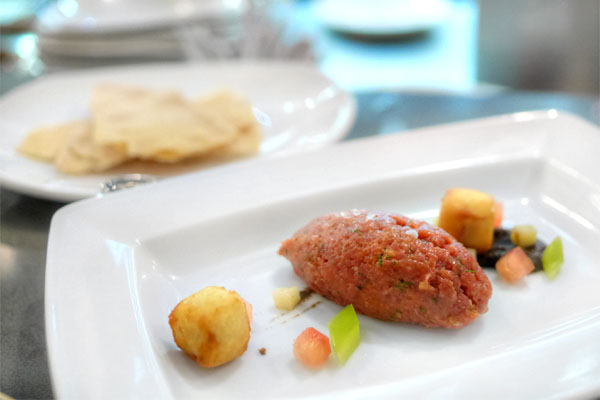 4: lamb tartare
| tomato, eggplant, mizithra croquette
The tartar was likened to a deconstructed
moussaka
, and was really quite fetching, giving off a subtle combination of savory, spicy flavors that paired great with the crunchy chip, all while cubes of
mizithra
cheese gave the dish yet another delectable dimension.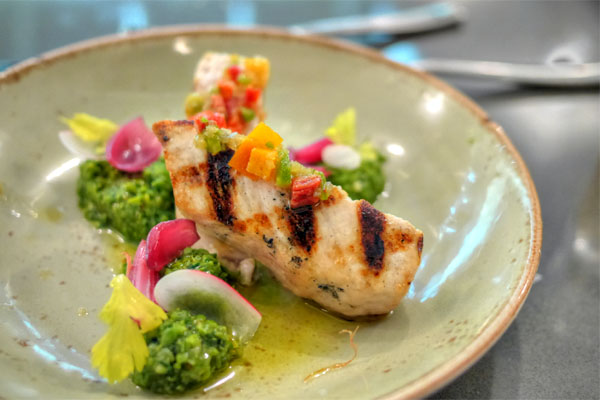 5: swordfish
| pea harissa, red onion, radish
Swordfish was the lone off-menu item on the tasting, and was a surefire winner as well. It was one of the juiciest preparations I've had, a dense fish just loaded with flavors of brine, savor, and char. I was a big fan of the veggies here too, not to mention that harissa, which really tied it all together.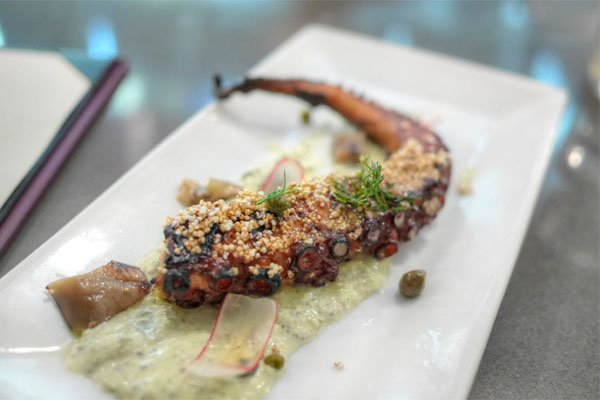 6: charred octopus
| green harissa, eggplant
Octopus is ostensibly one of the Chef's favorite things to cook with, and indeed the ingredient was done justice tonight. Just think super tender, and beautifully charred, a perfectly on point tentacle smartly evened out by the cooling sauce.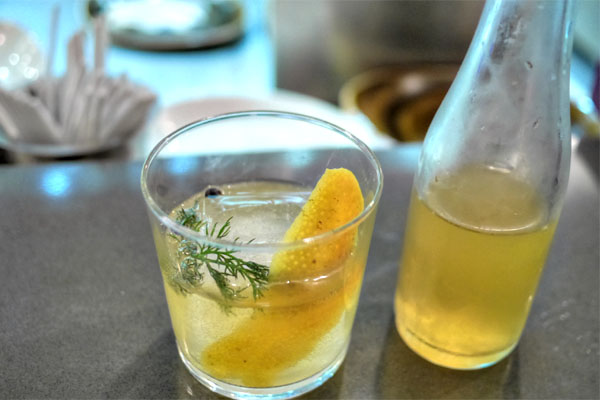 smile like a doughnut (bottled) [$13.00]
| beefeater 24 gin, idoniko brandy, house made grapefruit tonic
My final cocktail was akin to a bottled gin & tonic, a delightfully bright, herby, citrusy concoction with flavors that melded seamlessly.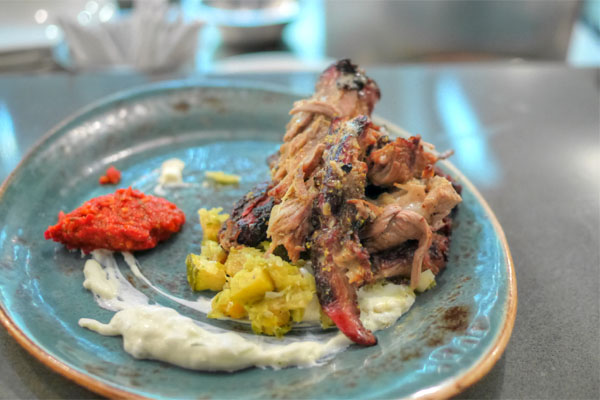 7: spiced baby goat
| grilled leeks, zucchini, rutabaga
At this point, we moved on into the whole animal preparations, and Kapnos' goat really hit the mark, giving me boatloads of earthy, satisfying flavors made even better by the multitude of crispy, caramelized bits. Some lovely counterpoints from the chili paste and yogurt, too.
8: suckling pig
| orzo, dill, orange
The suckling pig made a strong case for itself too, arriving decadently flavored and superbly spiced, accented by the crunchy bits of fried skin while the combination of orzo and dill helped subdue the entire experience. Yum.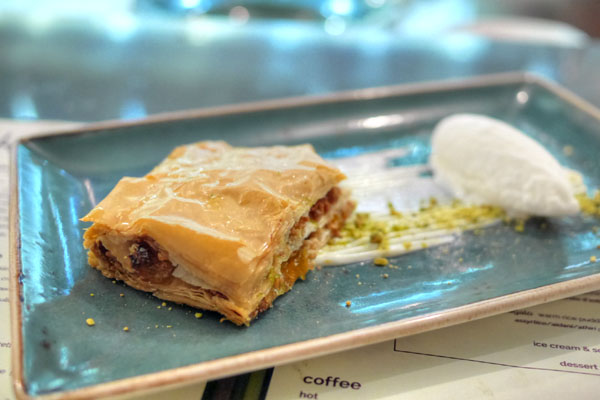 9: baklava
| almonds, dry apricot, lime, pistachio, rosewater gelato
muscat, samos, "anthemis," greece, 2006
I was already burstingly full by this point, but dessert was a must. The baklava was a fairly traditional version, rich and flaky, but with a strong stone fruit character and an excellent accompaniment in the form of that rosewater ice cream.
I enjoyed my time at Graffiato, so I expected to have a good meal here, but the experience managed to exceed my expectations. The food reminds me of what the Chef was doing back at Zaytinya, but with more bravado, less restraint. It's almost like the type of cooking Isabella would've done at the old restaurant had he not been under José's wing. Overall, Kapnos is more than a fitting follow-up to Graffiato. As for what's next, the Chef is showing no sign of slowing down. He just opened another location of his G sandwich shop at Nats Ballpark, which is to be followed by Kapnos Tavern in Arlington. Next is another Graffiato down in Richmond, and after that, who knows.