Izakaya Seki (Washington, DC)
Izakaya Seki Restaurant
1117 V St NW, Washington, DC 20009
202.588.5841
www.sekidc.com
Wed 04/02/2014, 09:15p-11:15p

After dining at
The Red Hen
the previous night, I went in a completely different direction with tonight's meal at Izakaya Seki. The place opened in July 2012, and is the work of Chef/Owner Hiroshi Seki and his daughter Cizuka. The elder Seki actually moved to the US from Japan in 1972 to help open a restaurant for someone else, and ended up settling in St. Louis, where he started the well regarded Seki's Japanese Restaurant in 1990. That business shuttered in May 2011, and Hiroshi moved to DC to be closer to his daughter and to open an eatery where he could cook things that ostensibly wouldn't fly in Missouri. Cizuka Seki, meanwhile, left her career as a corporate environmental consultant to serve as GM-slash-Partner here.

Izakaya Seki occupies the old Spotts barbershop building, and features a 10-seater kitchen bar on the bottom floor (where I sat), along with a larger dining room for 30 upstairs.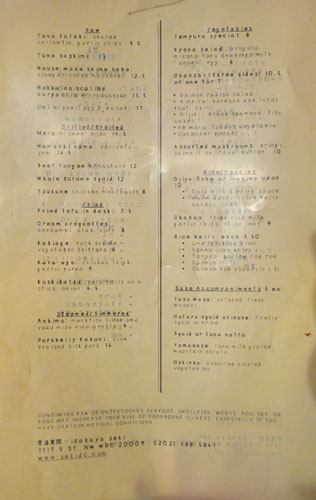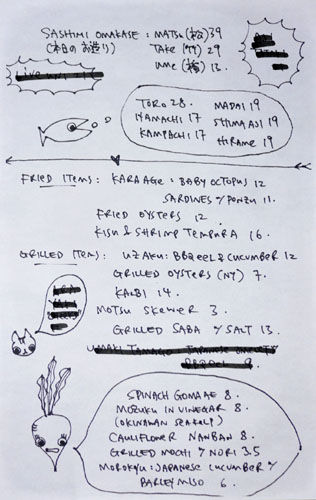 The regular menu features all your izakaya favorites whether raw, grilled, or fried, steamed or simmered, and is joined by a rotating selection of seasonal specials (which you'll want to pay close attention to). To drink, you get a surprisingly large selection of Japanese beers, including many that you don't see often, as well as an array of sake and shochu, whiskey, and a few requisite wines. Click for larger versions.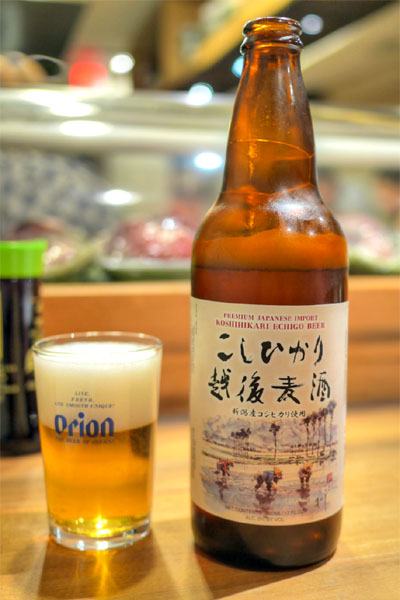 I went all beer this evening, and started with the
Koshihikari Echigo [$13]
, which my server recommended as going best with the food. It did fit the bill nicely, coming in surprisingly sweet initially, with a malty, rice-y base to it that I was pretty satisfied with. Clean and refreshing overall.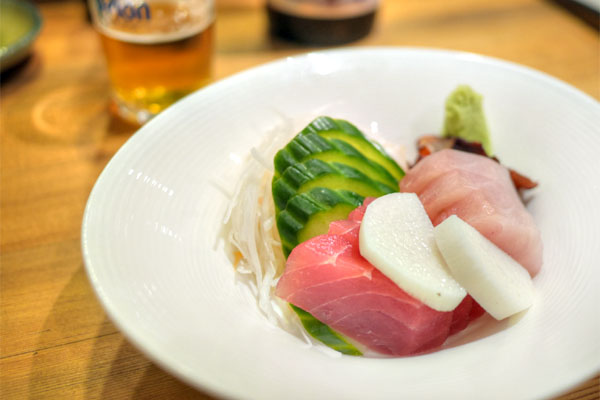 Sashimi Omakase - Ume [$13.00]
I began, fittingly, with a small selection of sashimi. Tuna was on point, coming in soft and subtly briny, and really opening up with a dab of wasabi and soy. The sea bream, on the other hand, was sticky and super clean, great with its various accompaniments. Finally, octopus was quite good flavor wise, but slightly on the chewy side.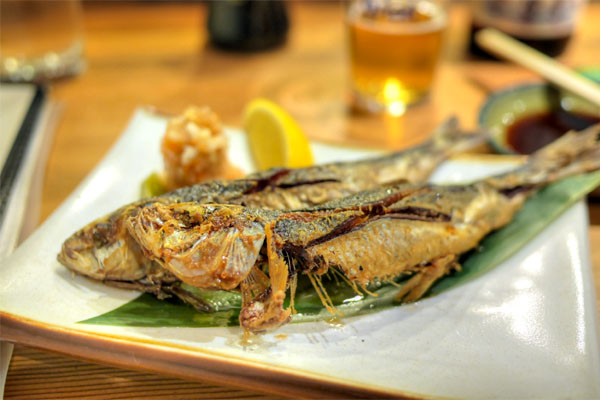 Sardines with Ponzu [$11.00]
Fried
iwashi
were excellent, my favorite item of the night in fact. Arriving wonderfully salty and fishy, with a great char, crispness, and citrus-y tang, they were probably the best preparation of the ingredient I'd ever had, and I loved how you could eat the entire fish, bones and everything.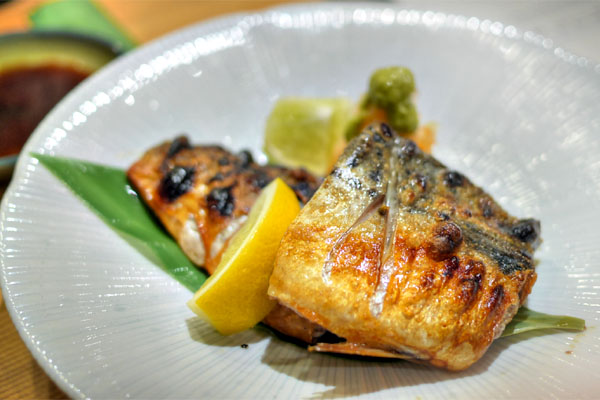 Grilled Saba with Salt [$13.00]
The
saba shioyaki
was a standout as well. I was a big fan of its oily, fatty quality and rich, savory relish, beautifully balanced by a touch of char bitterness and the lightness of the daikon and citrus on the side.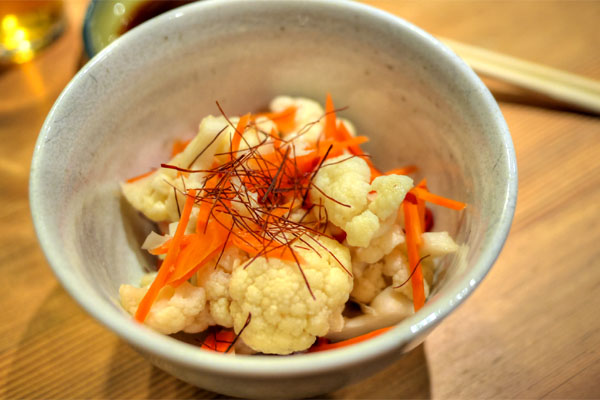 Cauliflower Nanban [$8.00]
For something lighter, I went with cauliflower done in a
nanban
style, which had a multitude of sour, sweet, and spicy flavors to complement the crunchy florets.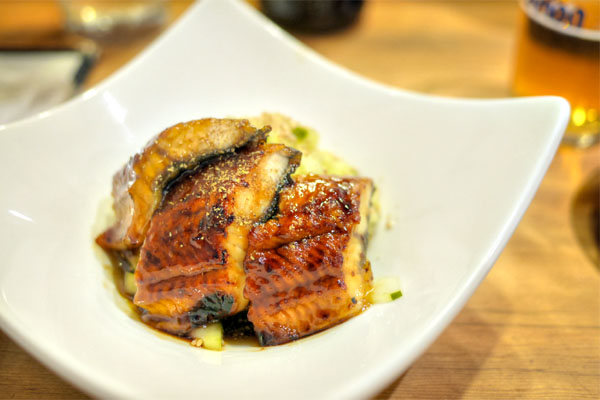 Uzaku: BBQ Eeel & Cucumber [$12.00]
Moving on, grilled
unagi
was super soft, almost gelatinous, and conveyed a sweet, ocean-y taste that was tempered by the bright crunch of the included cucumbers. Great nutty tinge here too from the sprinkle of sesame seeds.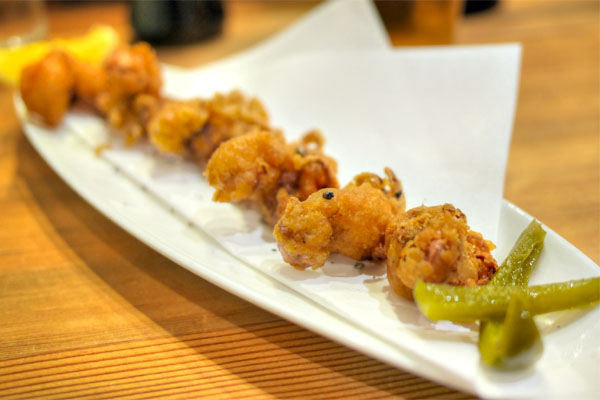 Karaage: Baby Octopus [$12.00]
Fried octopus was superb, super savory and with a flawless texture, a blend of snappy and crunchy that I found immensely satisfying. I just wanted to keep popping these little guys.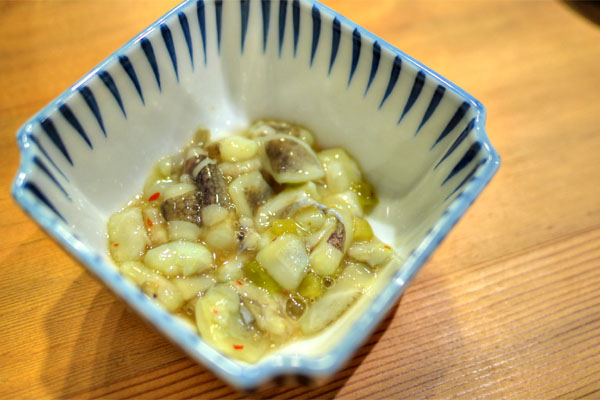 Tako Wasa [$5.00]
| octopus, fresh wasabi
At this point, I went into Seki's regular menu, starting with this blend of raw diced octopus and wasabi, which had a permeating, lingering heat to it that really evened out the brine of the
tako
.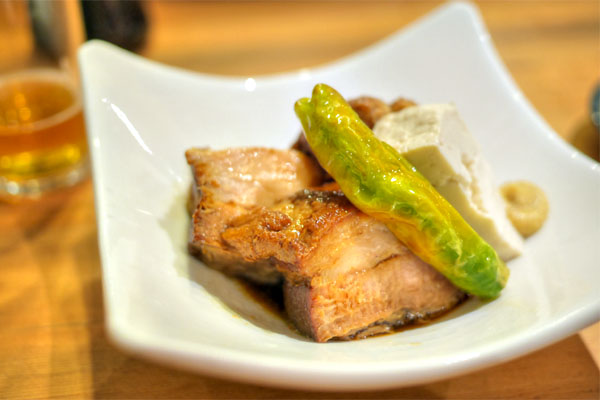 Porkbelly Kakuni [$14.00]
| slow braised silk pork
The
kakuni
was a home-y sort of dish, a fatty, rich, tender, savory-sweet concoction of belly moderated by the block of mild tofu, all while a smear of
karashi
mustard imparted a noticeable spice to the pork.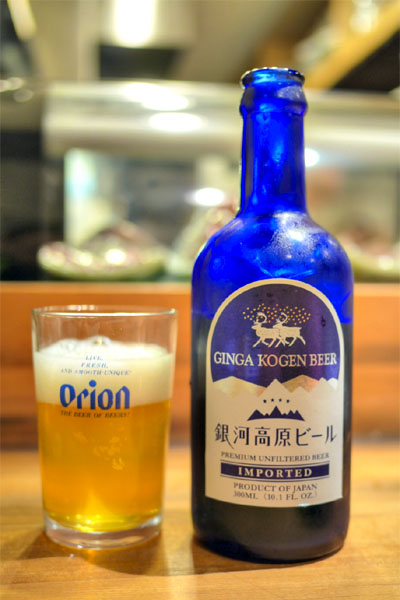 For my next beer, I opted for a Hefeweizen, specifically the
Ginga Kogen [$12]
. This one was also quite nice, with its fruity, yeasty character balanced by a backbone of citrus-y tang.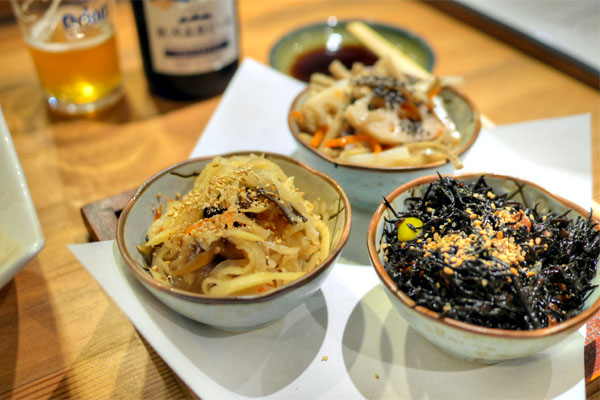 Obanzai (three sides) [$10.50]
Three side dishes to accompany the rest of my meal:
Daikon radish salad - Delightfully snappy and tangy, with a nutty finish. Very nice.
Kinpira: burdock and lotus root, chili - A commixture of disparate textures and tastes, tied together by an earthy flavor profile.
Hijiki: black seaweed, fish cakes - Smoky and savory, with a bit of a nutty quality and some interesting textural points.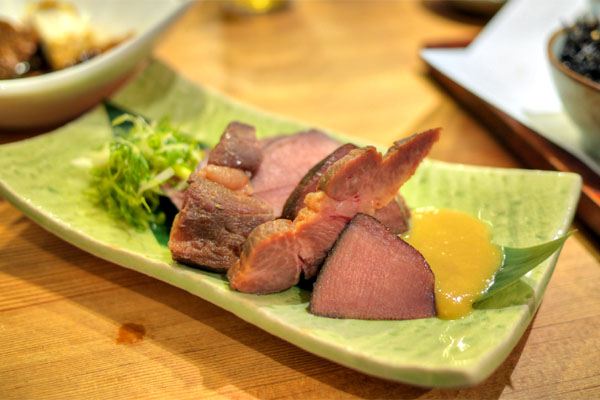 Beef tongue [$12.00]
| w/ mustard
Of course, I had to get the tongue, and the version here was mildly smoky in savor, with a sweet-spicy sauce and a sprinkling of scallion on the side. However, I would've liked the meat cut thinner, with more charring to really accentuate the tongue's inherent goodness.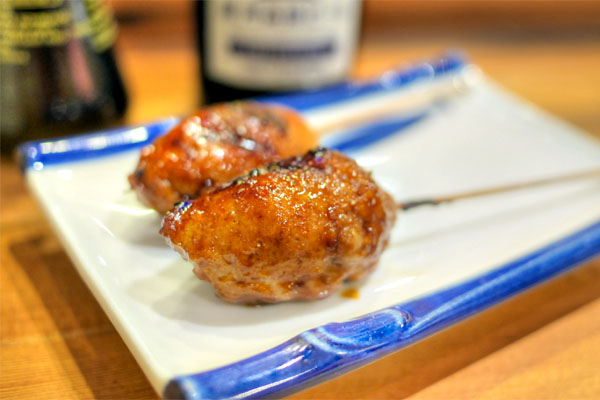 Tsukune [$8.00]
| chicken meatballs
Tsukune
were light and fluffy, with the juicy, succulent essence of the bird augmented by a brush of sweet, deeply-flavored sauce.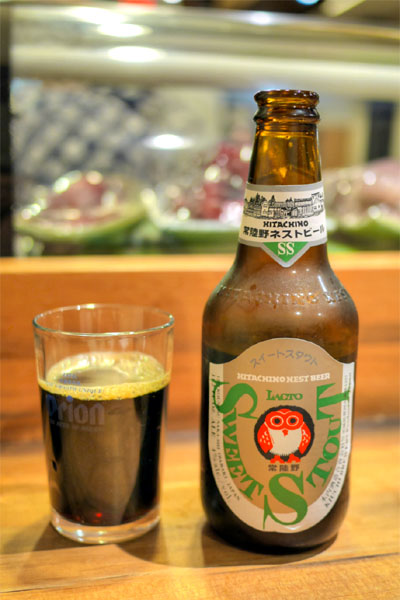 My final beer was Kiuchi Brewery's
Hitachino Nest Sweet Stout (Lacto) [$10]
, which I'd actually never seen before. Think of your classic stout-y flavors of chocolate and roast, but with a sweet, lactic acidity underpinning everything.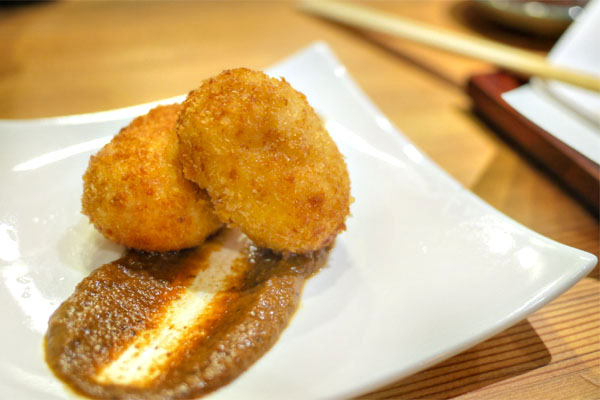 Cream croquettes [$8.00]
| bechamel, crab, corn
Croquettes came filled with an amalgam of bechamel, crab, and corn, the sugariness of the kernels augmenting the natural sweetness of the crustacean while the white sauce offered up an enveloping sort of lushness to the fritters. An interesting aspect to this dish was the "mole" on the side, which contained a variety of spices as well as peanut butter.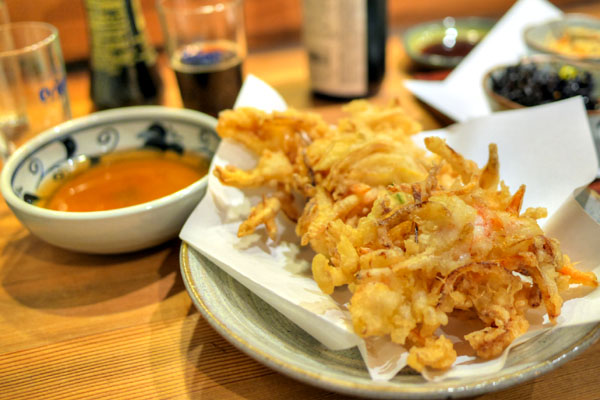 Kakiage [$8.00]
| rock shrimp, vegetable fritters
I ended with one of the best preparations of tempura I've ever had, basically a nest of shrimp, onions, and carrots all fried together. I really appreciated how the brine of the
ebi
showed through here, perfectly balanced by the crunch and lightness of the veggies. Great textures too, and the tangy, ginger-y dipping sauce was spot on as well.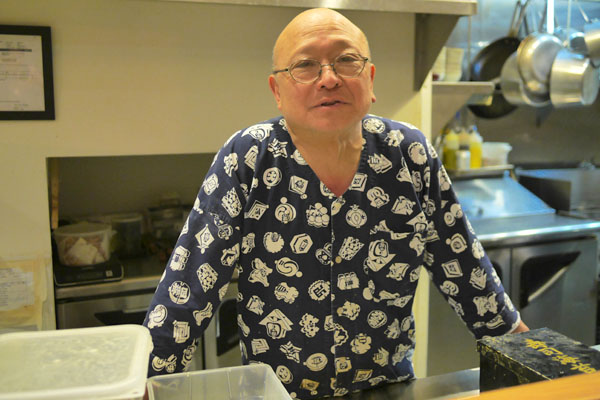 Chef Hiroshi Seki at the end of the night.
Seki presented an elevated version of the izakaya experience, serving home-style, pubby type fare in a comfortable environment that definitely worked for a solo diner such as myself. For the most part, ingredients were deftly highlighted and plain delicious, but with a palpable sense of "authenticity" (and I'm not necessarily a fan of that word) about it all that really speaks to you. No doubt a beacon of the Japanese scene here in DC.