Seasonal Pantry (Washington, DC)
Seasonal Pantry Restaurant
1314 1/2 9th St NW, Washington, DC 20001
202.713.9866
www.seasonalpantry.com
Wed 04/09/2014, 08:00p-11:05p

I wrapped up my recent Washington trip with a dinner at Seasonal Pantry. Located in DC's Shaw neighborhood, Seasonal Pantry isn't a restaurant per se. Rather, it functions as a small shop selling housemade jams, pickles, prepared foods, and other sundry items by day. However, by night, the space transforms into a tickets-required supper club, wherein a dozen diners convene to enjoy an intimate meal prepared by Chef/Owner Dan O'Brien. It's one of the City's most unique dining experiences for sure.
About the Chef
: Daniel O'Brien is a bit of a country boy, born and raised near the town of Clarkson, New York. Growing up, he spent quite a bit of time on the family farm, and got his start in the biz working at a pizzeria. He attended Paul Smith's College, graduating in 2003, and after an apprenticeship at Hotel Le Laurier in France, worked a stint in Boston and became Executive Chef at Mill Creek Golf Club in New York. After moving to DC, O'Brien served as sous chef at Equinox, then secured the role of executive sous at Bibiana. He would eventually leave Bibiana, training in butchery at Blackberry Farm before establishing Seasonal Pantry in 2009, starting out selling homemade ice cream in 2010, and later launching a sausage club. Partnering with Ali Bagheri (they met while cooking at Equinox), O'Brien opened a brick-and-mortar shop in June 2011, which was quickly followed by an adjacent sandwich place called SUNdeVICH, as well as an associated food truck. The duo then debuted A&D Neighborhood Bar next door in December 2012, shortly after O'Brien competed on Season 10 of
Top Chef
(he was eliminated in the qualifying round after presenting a messily plated omelet to Wolfgang Puck).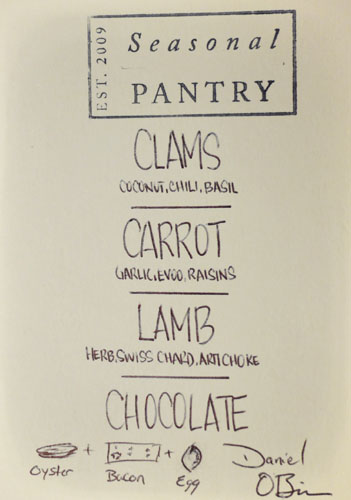 Seasonal Pantry's menu changes often, and is priced at $130 to $160 (quite an increase from its initial cost of $70), inclusive of wine (carafes of Piedmont and Rhone varietals this evening), tax, and service. Though only four courses are listed, you can expect a meal at least twice as long. Click for a larger version.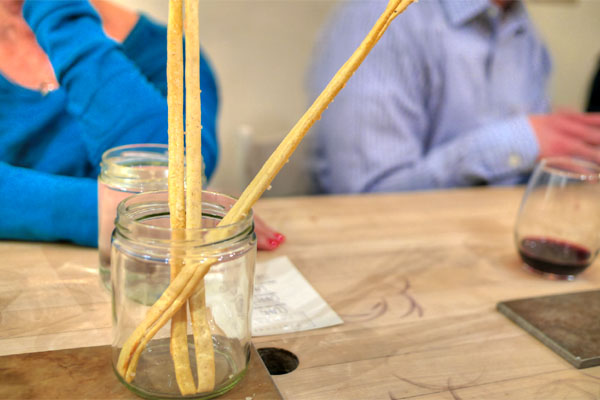 Crunchy, salt and pepper-laced breadsticks were strangely addictive.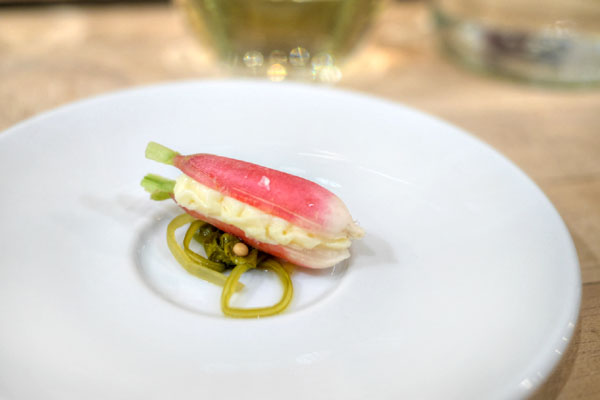 A singular breakfast radish arrived with housemade butter, fleur de sel, and pickled radish greens, a beautiful bite of bitter, creamy, and crunchy finished with the sublime tartness of those greens. A very promising start to the meal.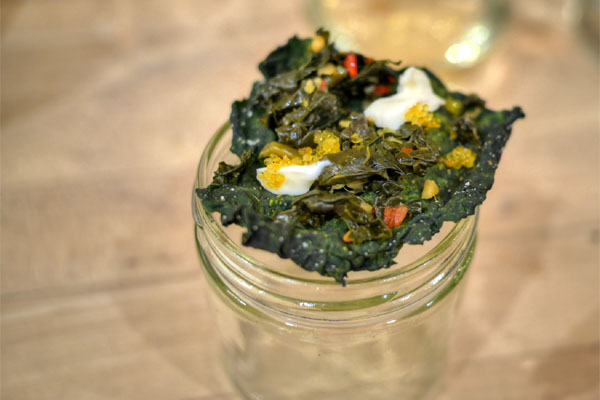 A dehydrated kale chip served as a base for its toppings of kale kimchi, tobiko roe, sesame seed crème fraîche, ginger, garlic, and yuzu. I was quite enamored with this, finding a great balance between bitter, savory, and sour nuances, all finished by an Asian-y flair on the finish. Lots going on, but everything just came together seamlessly. Excellent.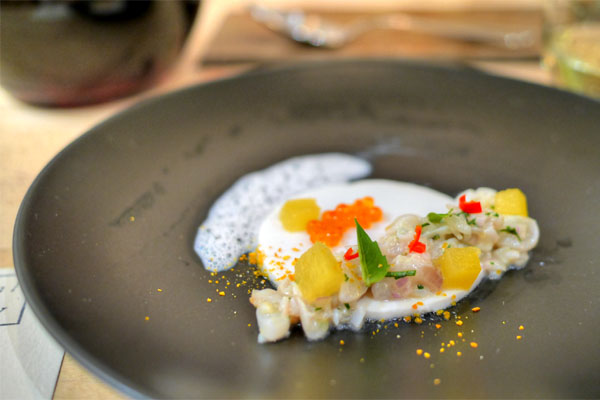 1: Clams
| Coconut, Chili, Basil
Another strong course brought us a "
chawanmushi
" of sorts, combining coconut, dashi, ikura, razor clam, pineapple, mint, basil, and chili. I loved the base of brine here from the clams and how that transitioned to a combination of smoky and sweet flavors, all underpinned by a whisper of heat while the coconut served to tie it all together.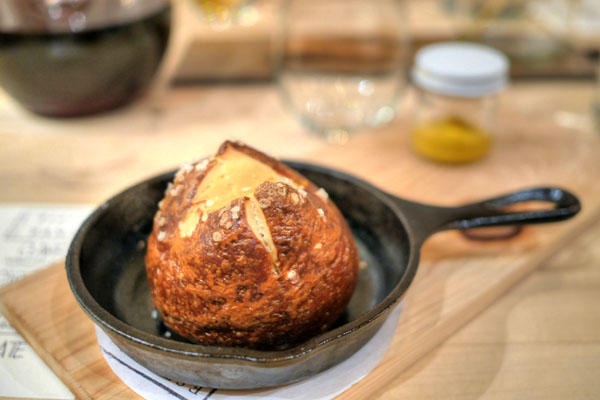 The housemade pretzel roll was outstanding: hot, salty, and wonderfully fluffy in consistency, delicious on its own and even better when taken with the sweet-hot heat of the included truffle honey mustard.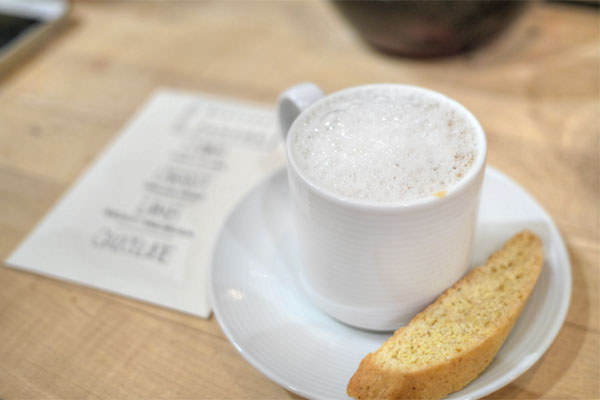 Lobster soup was joined by kaffir broth, white truffle, and a bonito-Parmesan
biscotto
, the essence of the crustacean augmented by a heady, aromatic sweetness.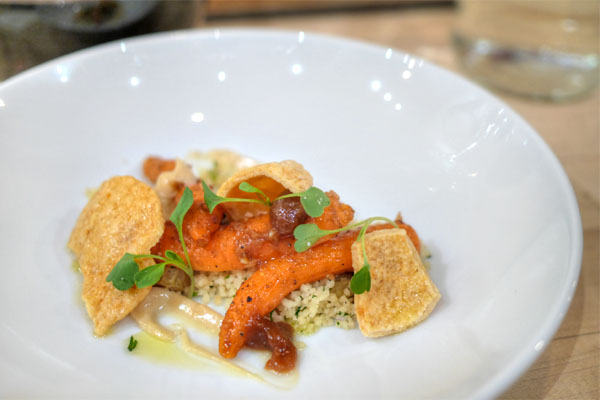 2: Carrot
| Garlic, EVOO, Raisins
Roasted carrots were presented with tamarind, garlic purée, couscous, and puffed shrimp
chicharrones
. What struck me here first was the crunch, the snap of the carrots, as well as how their inherent sugariness was so faultlessly balanced by a palpable sense of acidity. Taken alone, they were undoubtedly tasty, but combined with the superbly savory shrimp chips and moderating couscous, and you get very possibly the best carrot-centric dish I've ever had.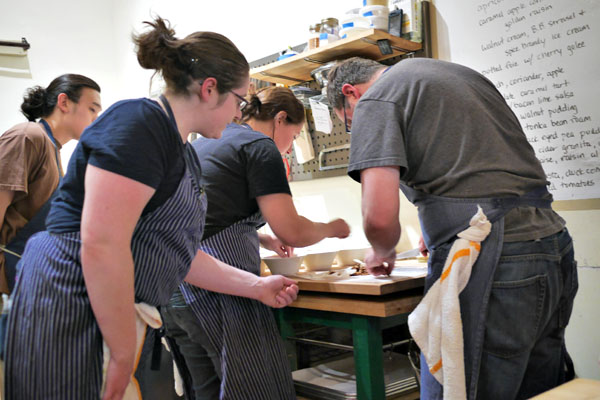 O'Brien's team of Addie, Anna, and
stagiaire
Anthony huddle around the tiny space that serves as the kitchen.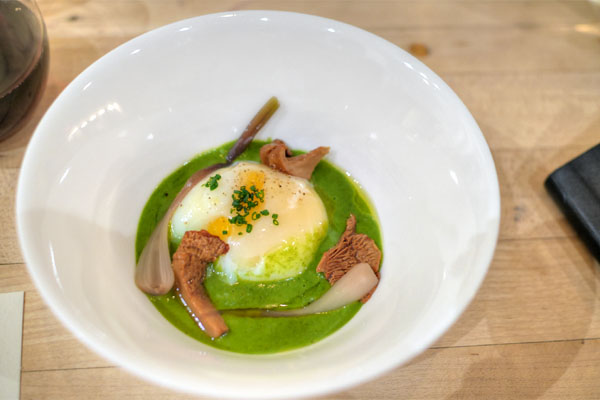 Here, the tangy, acerbic nature of pickled mushrooms and ramps in a watercress broth was balanced by the application of that creamy, runny, soft poached egg.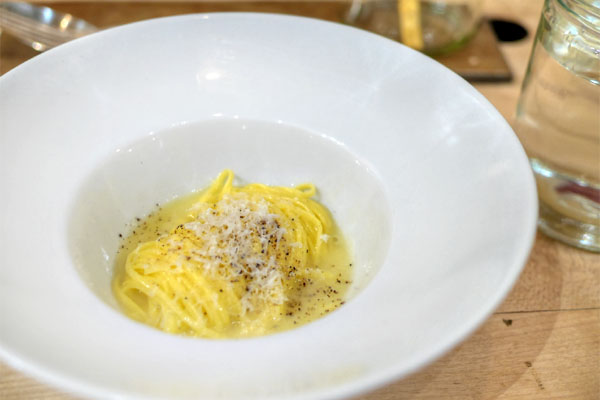 Next was O'Brien's take on the Italian dish
Cacio e Pepe
, a lush, buttery preparation of the classic that played the spice of the pepper against a great overarching citrusy twang. Great texture on the pasta, too.
3: Lamb
| Herb, Swiss Chard, Artichoke
Local lamb was beautifully presented, its inherent, earthy goodness amplified by a layer of juicy lamb sausage while a wrapping of chard imparted a fantastic bitterness and snap to the mix. I also appreciated the zing of the included salsa verde, but I wasn't so keen on the sweetness provided by the Jerusalem artichoke mash.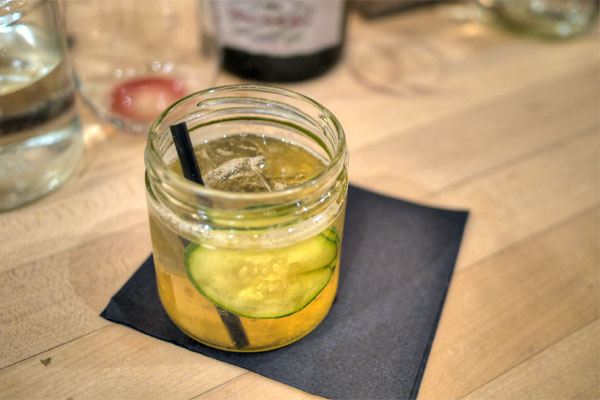 Serving as an intermezzo of sorts, a "Kale Collins" brought together gin, soda, lime, and kale tonic, a commixture of sweet and sour flavors finished with the herby essence of the veggie.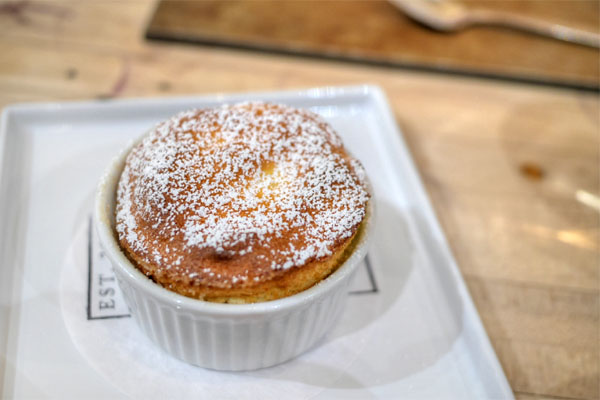 A Meyer lemon soufflé was spot on, an eggy, airy version of the dessert flawlessly imbued with the zing of the lemon.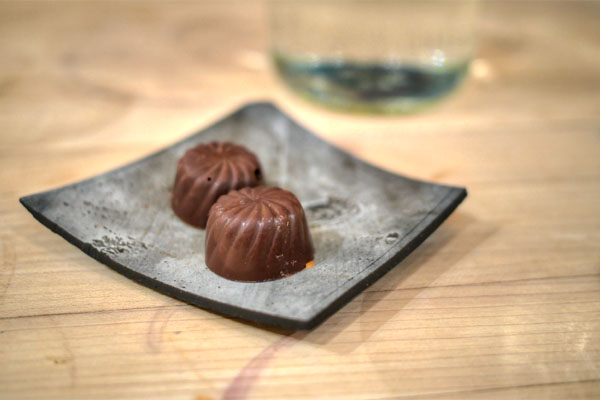 4: Chocolate
Finally, salted caramel chocolates...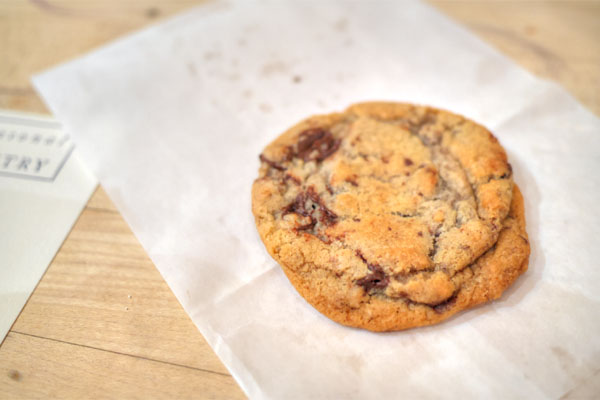 ...and a perfect chocolate chip cookie to take home (though I ate mine there).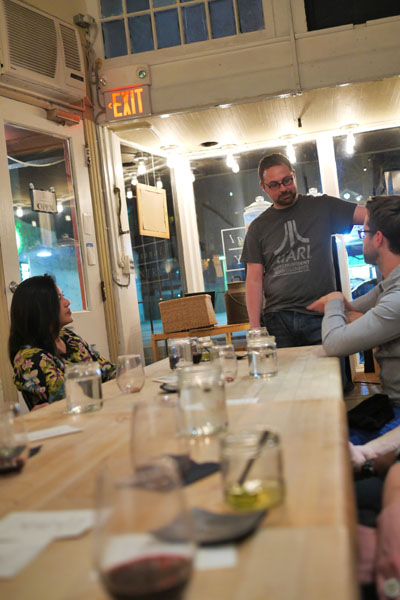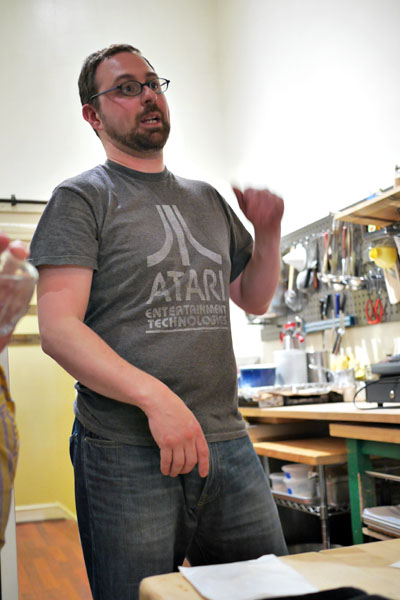 The Chef saying a few words at the end of the meal.
This latest DC trip got off to a
strong start
, and finished even stronger. I wasn't quite sure what to expect coming in to Seasonal Pantry, but O'Brien had a modern edge to his seemingly rustic cooking that I really appreciated. Flavors were laser-focused, yet smartly balanced and interleaved, and I was a fan of the Chef's elegant use of acidity in the food. This place definitely deserves to be a top dining destination in the City, so I advise you give it a shot if you can manage to snag a ticket.