Rose's Luxury (Washington, DC)
Roses Luxury Restaurant
717 8th St SE, Washington, DC 20003
202.580.8889
www.rosesluxury.com
Mon 04/07/2014, 06:20p-09:10p

Opened at the start of October 2013, Rose's Luxury is
the
restaurant of the moment here in DC, a Barracks Row place named after the grandmother of Chef/Owner Aaron Silverman. I was first turned on to Rose's by Johnny Spero during my meal at
Minibar
last year. He was convinced that it'd be the next big thing around these parts, and by golly was he ever right.
About the Chef
: A local boy, Silverman grew up in Rockville, though not in an environment that was particularly culinarily focused. After graduating from Thomas S. Wootton high, he attended Boston's Northeastern University, where he studied political science as well as accounting. However, he was far from happy, and as a result, met up with family friend Jonathan Krinn during his 2002-2003 winter break and started cooking at Krinn's 2941 in Falls Church. Inspired, Silverman graduated early and enrolled at the L'Academie de Cuisine in Gaithersburg, continuing to work at 2941 the whole time.
He would eventually move to New York in 2006, first landing a gig at the Italian-inflected Jovia before quickly transitioning to Momofuku Noodle Bar right before David Chang started growing his empire. He stayed until 2008, then jumped to Marco Canora's Insieme, and later to George Mendes' Aldea. In 2011, Silverman grew tired of the NYC scene, and thus relocated down south to Charleston, securing employment at Sean Brock's acclaimed McCrady's. He left a year later and moved back to DC, hosting a series of pop-ups before announcing Rose's Luxury in October 2012. The restaurant bowed a year later, almost exactly a decade after the Chef first started cooking professionally.

I was seated at the eight-person kitchen counter bar, which straddles the thin space between the front and back rooms of the restaurant.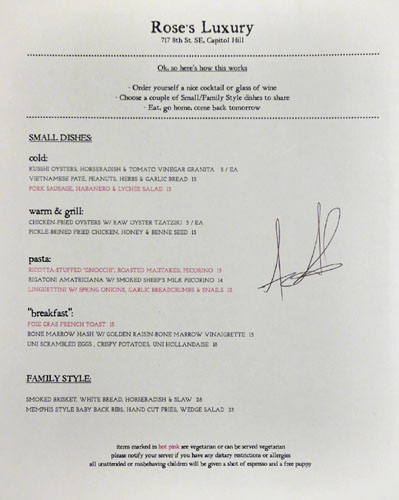 The menu here at Rose's Luxury reflects Chef Silverman's eclectic leanings and lists a number of small plates meant for sharing, as well as a couple larger family style dishes at the end (though originally, the menu was conceived as a $46 prix fixe sort of affair). Click for a larger version.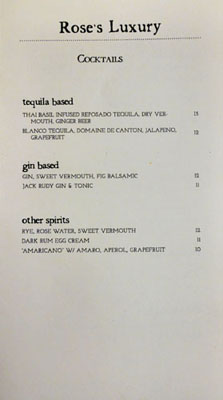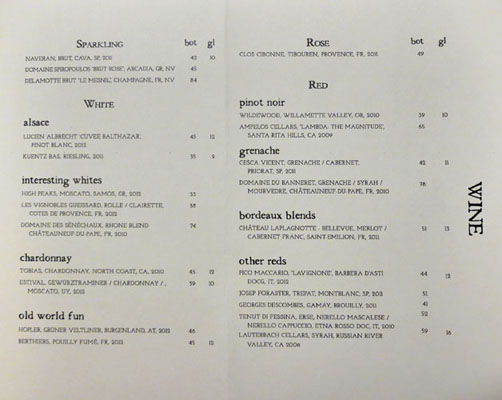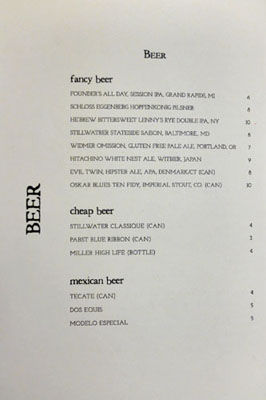 Meanwhile, to imbibe, you'd be remiss if you didn't try the cocktail by bartender
Bobbi Kelly
. And if that's not your thing, you'll find a nice selection of beers and wines too. Click for larger versions.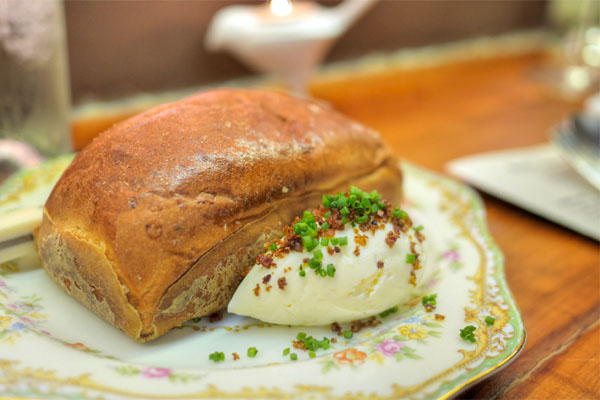 Housemade potato bread came out hot and hearty, accompanied by chive-bacon butter. Taken together, the whole amalgam recalled baked potato. Neat.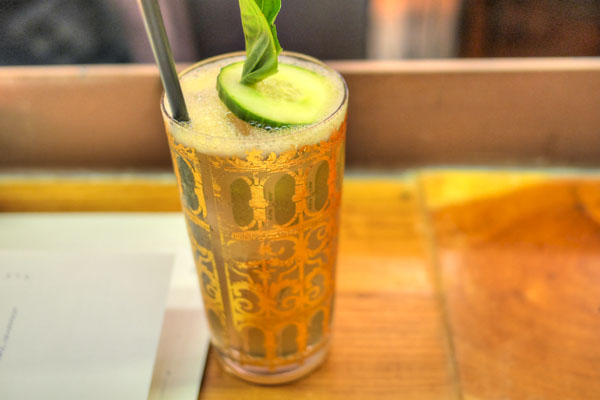 Thai Basil Infused Reposado Tequila, Dry Vermouth, Ginger Beer [$13.00]
I'd heard great things about Rose's cocktails, so I made sure to try a few. This first one really met the mark, with its ginger-y undertones and balance of boozy and herbaceous flavors making for a delicious and refreshing drink.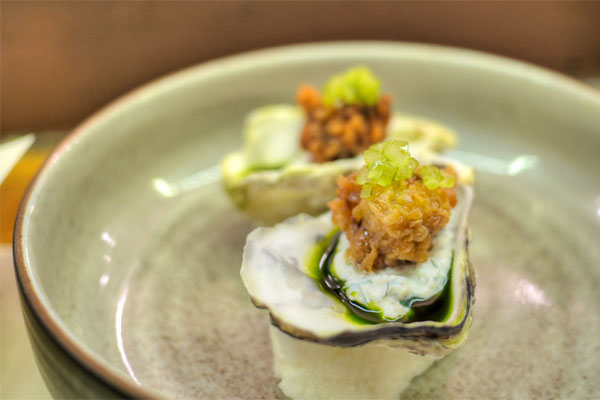 Chicken-Fried Oysters w/ Raw Oyster Tzatziki [$3.00/each]
The tiniest fried oysters I'd ever had came with dill oil and dill oil-infused onion. Think crunchy and satisfying, with a lingering dill zing to even out the creamy tzatziki. It'd be very easy to keep popping these guys.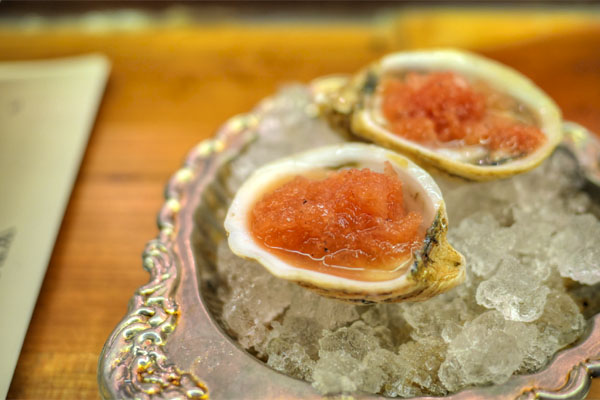 Kusshi Oysters, Horseradish & Tomato Vinegar Granita [$3.00/each]
Raw oysters, meanwhile, conveyed a crisp, lingering brine, pairing beautifully with the peppery, cocktail sauce-esque granita.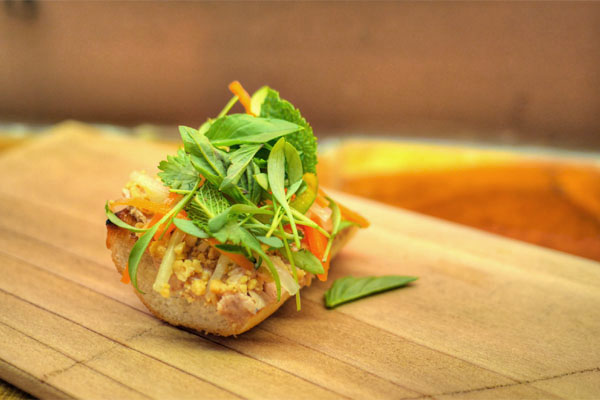 Vietnamese Paté, Peanuts, Herbs & Garlic Bread
The kitchen then sent out an amuse bouche version of its build-your-own
banh mi
course. It really was a nice rendition of the sandwich, with the earthy, deep flavor of the paté going great with the bright, acidic pickled veggies. The soft bread was a welcomed change of pace from the mouth-scratchingly hard versions you get at Lee's, too.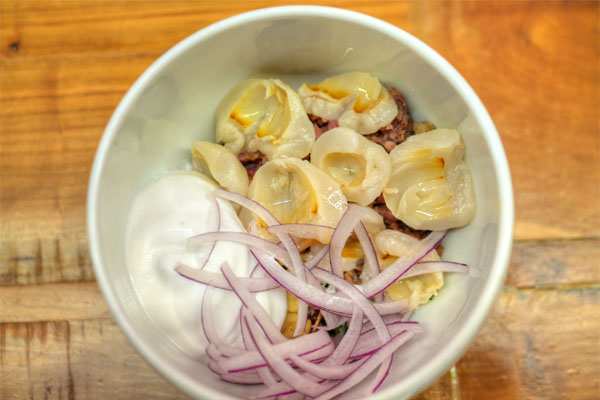 Pork Sausage, Habanero & Lychee Salad [$13.00]
One of Rose's Luxury's most well-known courses was also my favorite of the evening. I loved the bright, juicy sweetness of the lychee against that savory, gritty pork, all while a coconut-like sweetness helped tie it all together. Fantastic hits of crunch and nuttiness from the peanuts as well. This is the one to get.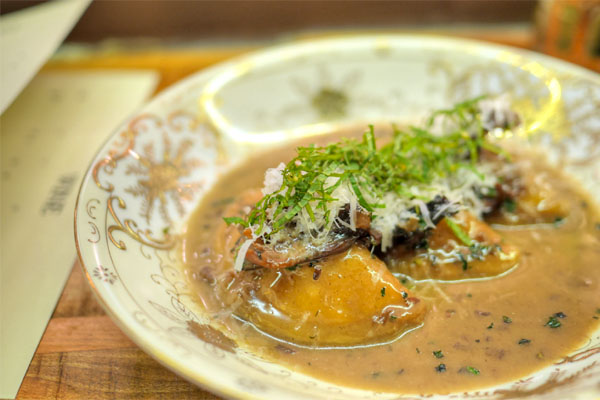 Ricotta-Stuffed "Gnocchi", Roasted Maiitakes, Pecorino [$13.00]
Stuffed pasta was appropriately rich, creamy, and lush, the deep flavors of the mushrooms the star of the show here, evened out by the lightness of the mint sprinkled on top.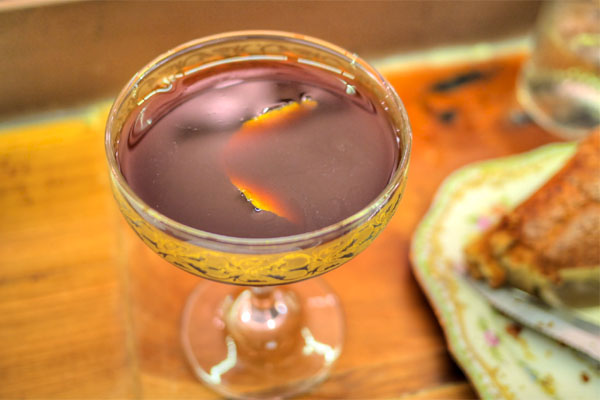 Gin, Sweet Vermouth, Fig Balsamic [$12.00]
My next cocktail was much boozier, with a wonderful sweetness from the balsamic balancing out the botanical character of the gin, the entire cocktail underpinned by a bitter backbone. Very good.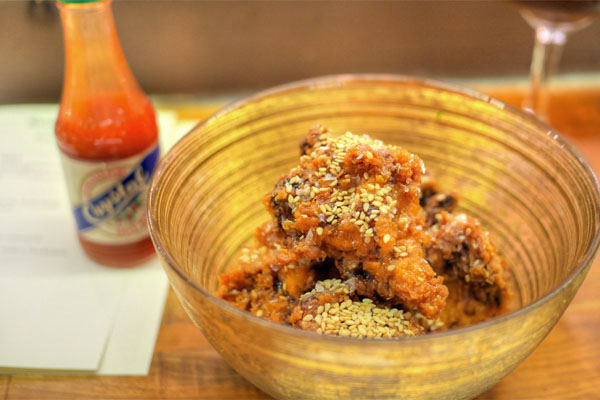 Pickle-Brined Fried Chicken, Honey & Benne Seed [$13.00]
Fried chicken arrived suitably hot and crispy, its juicy nature joined by a palpable sweetness that just begged for a dash of the included Crystal hot sauce. The benne seeds were interesting, adding an extra, unexpected dimension to the course.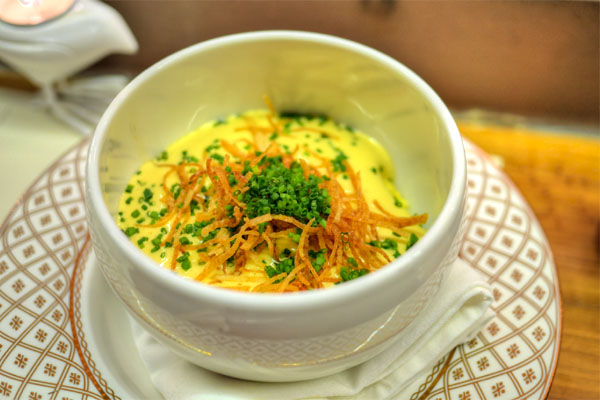 Uni Scrambled Eggs, Crispy Potatoes, Uni Hollandaise [$18.00]
Classic breakfast flavors were presented here in a manner that satisfied in the basest possible way, a mishmash of sweet, eggy, salty flavors highlighted by the lush brine of sea urchin while the chive added a modicum of levity to things. If anything, I would've wanted even more of that uni.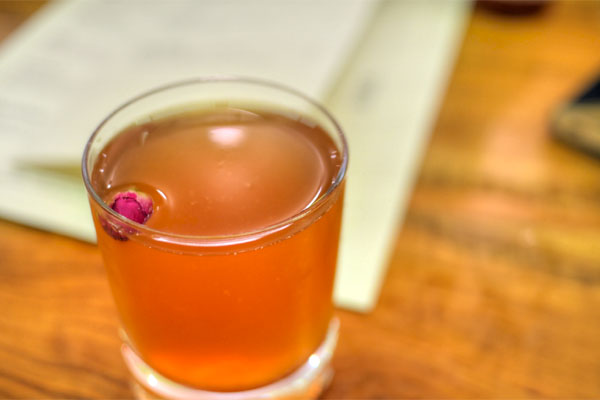 Rye, Rose Water, Sweet Vermouth [$12.00]
My final cocktail kept things going strong, its wonderfully floral nose leading to a particular sweetness on the palate that blended seamlessly with the whiskey. Very nice.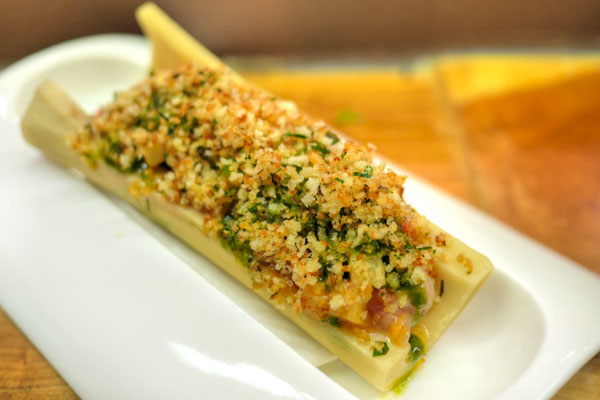 Bone Marrow Hash w/ Golden Raisin-Bone Marrow Vinaigrette [$13.00]
Breakfast flavors made another appearance here in this version of the classic hash. Peppers and potatoes formed a foil to the slick, slippery marrow here, countering its heft effectively, though texturally, I wish there would've been more.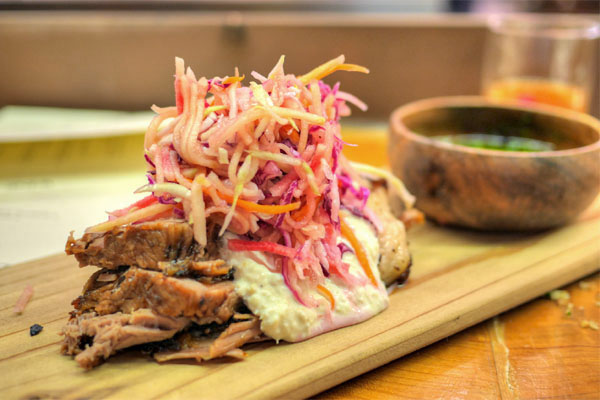 Smoked Brisket, Horseradish & Slaw [$13.00]
I was quite full by this point, so I got an off-menu sandwich version of the brisket plate, hold the bread. It managed to be one of the best briskets I've had, with a great smoky, beefy taste augmented by the included jus, the horseradish adding just enough nose-burning heat. I loved the slaw too, which imparted a perfect touch of acidity and crunch. Yum.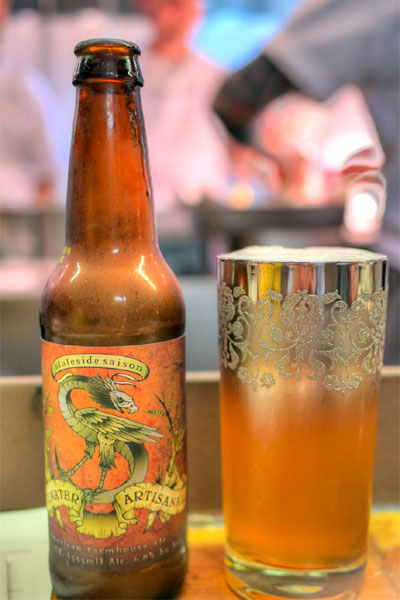 I went with a beer to pair with the brisket, specifically the
Stillwater Stateside Saison, Baltimore, MD [$8]
. It was rather nice, with a fruity, malty quality to go along with its refreshing yeasty character.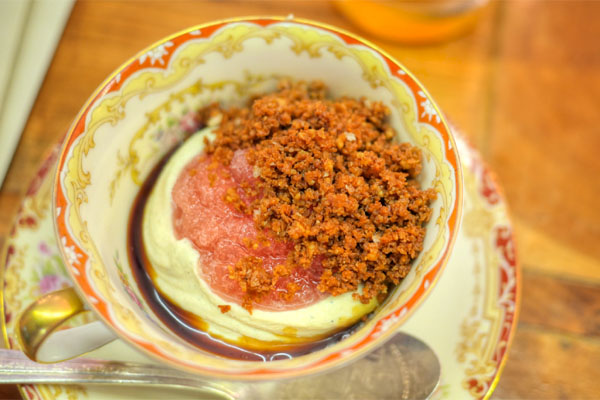 Dessert was complementary, and was a poached pear with everything but the pear, bringing together poached pear liquid, mascarpone, citrus granita, and crumbles. It was a fitting close to the meal, with its spicy, fruity flavors balancing out the mascarpone while the crumbles added a great textural element to the course.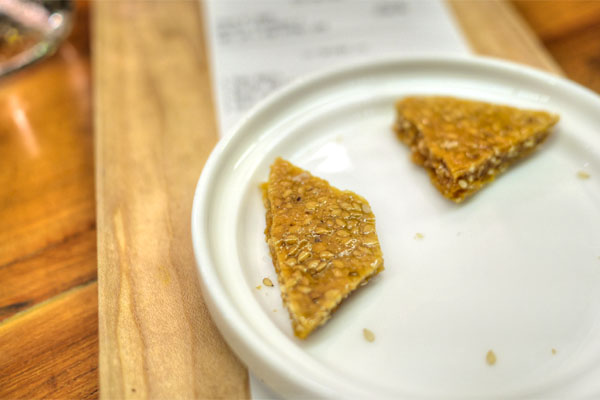 Shards of delightfully nutty, crunchy brittle came with the bill.
There's been a lot of hype surrounding Rose's Luxury, but it's easy to see why. The food's got a modernity to it, but is also whimsical, interesting, unexpected at times, and damn tasty, and the whole menu has a "cheffy" sort of vibe to it that plays well with the restaurant's boisterous, convivial atmosphere. I can see Rose's as a template for a new paradigm in DC dining--casual and hip, but with a fine dining edge--and I gather that the place is well on its way to achieving iconic status.