El Condor (Los Angeles, CA)
El Condor Restaurant
3701 Sunset Blvd, Silver Lake, CA 90026
323.660.4500
www.elcondorla.com
Sat 05/17/2014, 08:05p-10:45p

The Silverlake dining scene just got a little hotter with the debut of El Condor at the start of April. The restaurant takes over the site of the longstanding El Conquistador, which shuttered at the end of 2013 after 40 years in business due to an increase in rents. Taking El Conq's place is the newest project from the
L&E Oyster Bar
team of Dustin Lancaster, Tyler Bell, and Chef Spencer Bezaire. The trio's sticking with Mexican for this reboot, but the food's definitely got a more "cheffy" slant to it.

Fortunately, the new operators appear to have kept some of El Conquistador's charm. It's still a fun, festive sort of place (though not nearly as over-the-top), and they've even added a patio.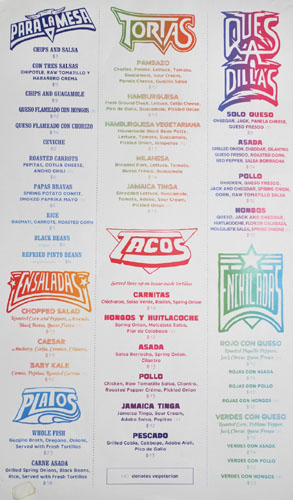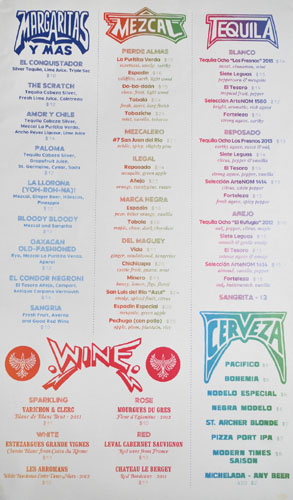 As far as El Condor's menu goes, think your classic sort of Stateside Mexican eats--tortas, taco, enchiladas and the such--but hopefully prepared and presented with a bit more care now. To imbibe, there's a small selection of wines from General Manager/Wine Director Francisco "Frankie" Almerella (ex-Bar Covell), a smattering of beer, as well as agave-centric cocktails from Bar Director Ellen Rehak (L&E, Largo, Bottega Louie,
Bäco Mercat
, Little Dom's, Bar Covell). Corkage is $10, but was graciously waved for our beers. Click for larger versions.
Chips and Guacamole [$9.00]
I arrived a tad late to the table, and my dining companions had already gotten started on the chips and guac. It was a damn tasty chips and guac though, the creamy lushness of the dip really lightened up by pricks of acidity while the perfectly crunchy chips added hits of salt to the combo.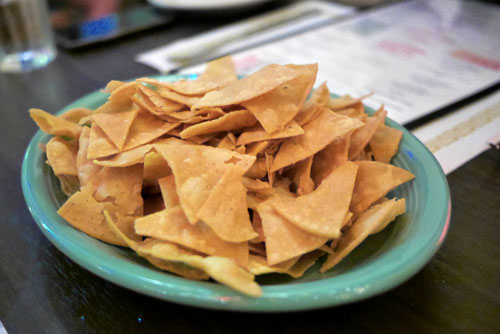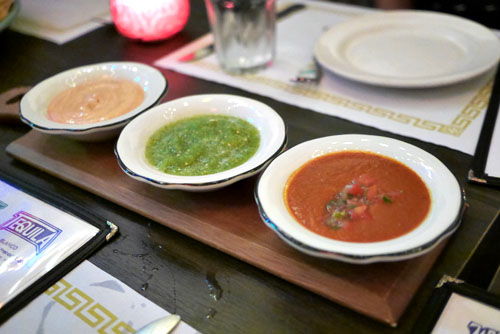 Con Tres Salsas [$9.00]
| Chipotle, Raw Tomatillo y Habanero Crema
More chips came out, joined by a trio of salsas. All three were unique in their own right. You had the smoky, slightly sweet chipotle; the creamy, sharply spicy habanero crema; and my favorite, the almost bracingly bright tomatillo.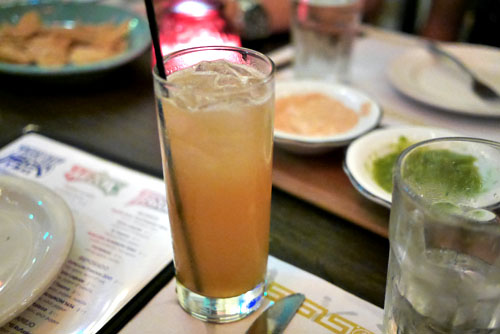 Paloma [$12.00]
| Tequila Cabeza Silver, Grapefruit Juice, St. Germaine, Cynar, Soda
We had to get going on some cocktails of course, and the
Paloma
was a good one to start with. It was a lighter sort of drink, with a refreshing bittersweet quality to it intermixed with the weight of that tequila.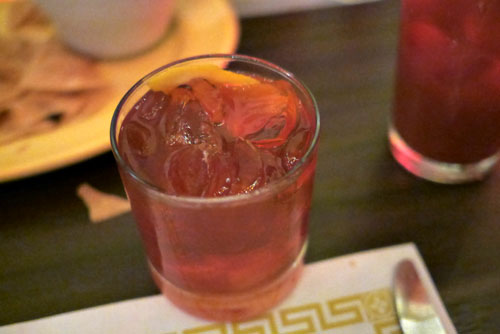 Oaxacan Old-Fashioned [$12.00]
| Rye, Mezcal la Puritita Verda, Aperol
The
Oaxacan Old-Fashioned
, on the other hand, was a much stiffer sort of concoction, with your classic Old Fashioned flavors, but with a smokier undercurrent to it.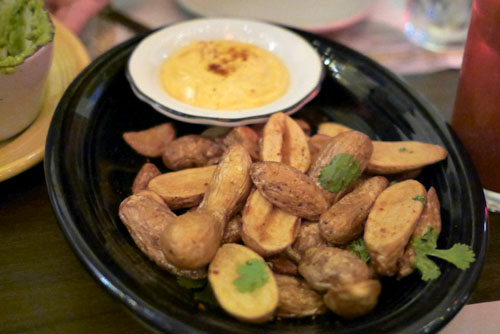 Papas Bravas [$6.00]
| Spring Potato Confit, Smoked Paprika Mayo
Potatoes were lovely, hearty and satisfying little bites of
papa
that were smartly paired with their smoky, spicy condiment.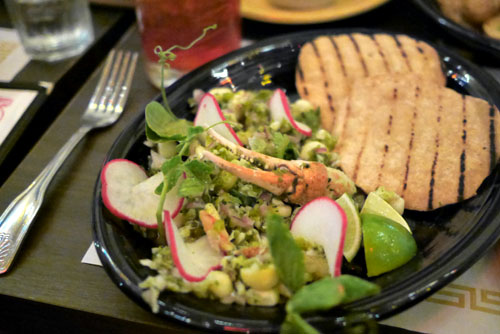 Ceviche [$24.00]
The evening's ceviche featured Dungeness crab and was a winner as well, the inherent sweet brine of the crustacean nicely conveyed against a backdrop of bright, acidic nuances. I loved the texture on that
choclo
as well, not to mention the crunch of those tostadas.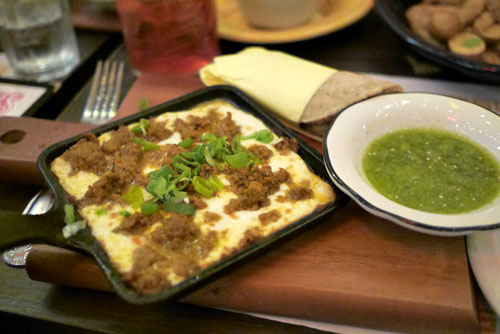 Queso Flameado con Chorizo [$14.00]
I was a fan of the
queso flameado
too, the combination of melty, gooey cheese and spicy, salty chorizo working beautifully alongside that tangy salsa. Taken with the included tortilla, it was utterly satisfying in an almost slutty sort of way.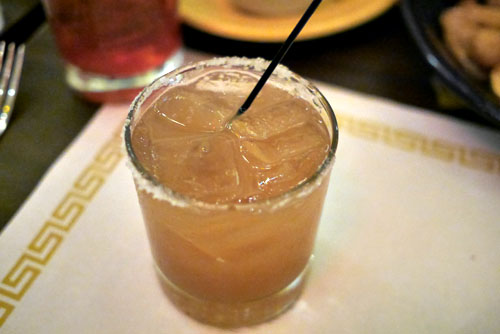 Amor y Chile [$14.00]
| Tequila Cabeza Silver, Mezcal la Puritita Verda, Ancho Reyes Liqueur, Lime Juice
Time for more cocktails. The
Amor y Chile
was pretty neat, showing off the sweet, spicy nature of the Ancho Reyes over a base of peppery, woody booze. Nicely integrated.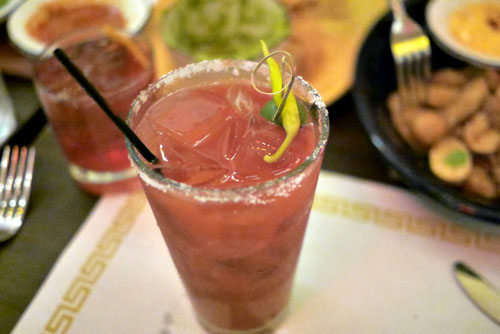 Bloody Bloody [$12.00]
| Mezcal and Sangrita
The
Bloody Bloody
, meanwhile, was akin to a Bloody Mary, with your traditional flavors amped up by an extra helping of spice and the smoky smack of mezcal.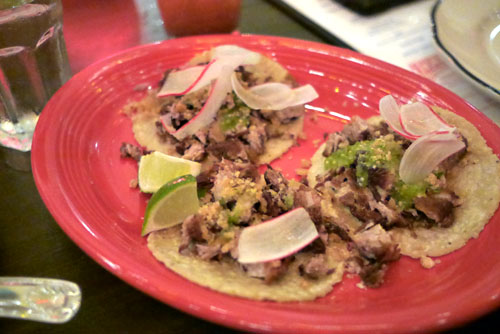 Carnitas Tacos [$10.00]
| Chicharron, Salsa Verde, Radish, Spring Onion
Now, on to the tacos. Kicking things off was the carnitas, a tasty, unabashedly porky presentation that was really taken up a level by the inclusion of the crispy bits of
chicharrón
. Lovely use of the included greenery, too.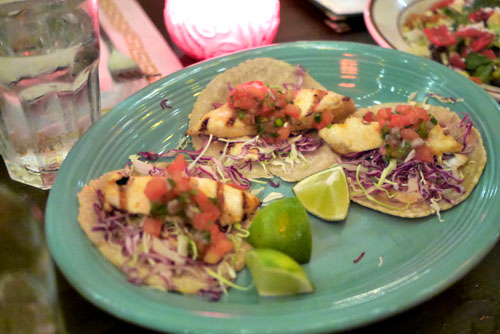 Pescado Tacos [$13.00]
| Grilled Cobia, Cabbage, Adobo Aioli, Pico de Gallo
The fish tacos were also to our liking, the firm, flavorful cobia a fitting complement to the traditional accoutrements of pico and cabbage.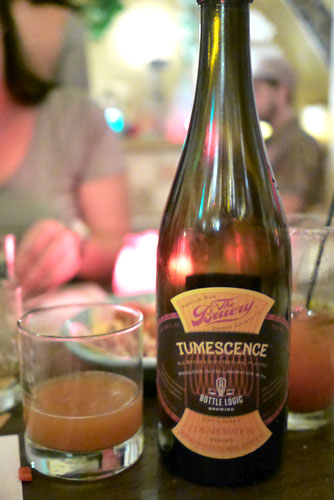 At this point, we moved on to beer that we brought, starting with a bottle of
The Bruery Tumescence
, a Bottle Logic collaboration saison brewed with Brettanomyces, herbs, mango, and raspberry. There was loads of tropical fruit on the nose, while the palate was more about the classic farmhouse character of the Brett, interspersed with a sticky underpinning of mango and spice. I'd never had a beer quite like it before.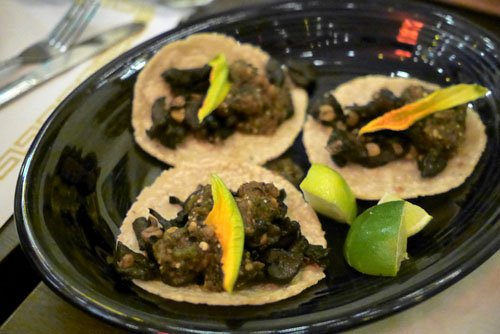 Hongos y Huitlacoche Tacos [$12.00]
| Spring Onion, Molcajete Salsa, Flor de Calabaza
In our next tacos, the duo of mushrooms and corn smut made for a smoky, earthy, umami-laced base of flavor, tempered by the zing of that
molcajete
salsa.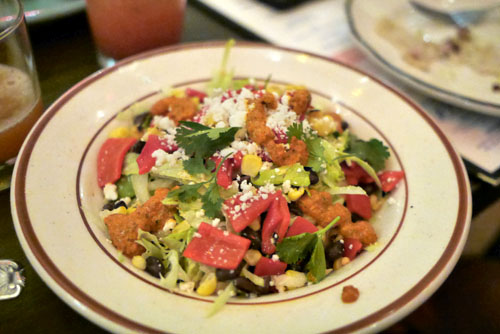 Chopped Salad [$13.00]
| Roasted Corn and Peppers, Avocado, Black Beans, Queso Fresco
The salad was an unexpected hit, arriving light and fresh, yet with a surprisingly depth to it, the various elements all tied together by an enveloping acidity.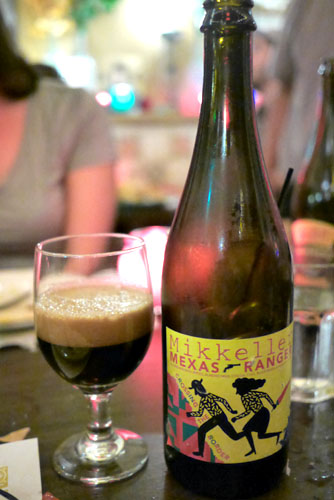 The next brew was the
Mikkeller Mexas Ranger
, an ale made with black beans, avocado leaves, chili, cocoa, almond milk, and various spices. There was a lot going on here, but it worked reasonably well with the cuisine, the chocolate, spice, and black bean nuances coming the most to the forefront.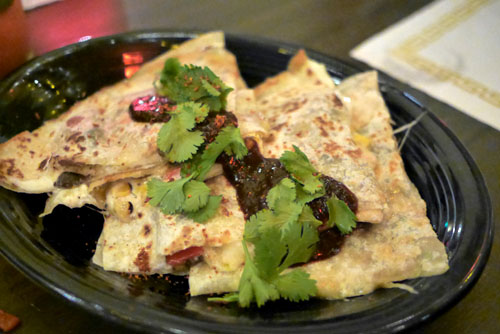 Asada Quesadilla [$14.00]
| Grilled Onion, Cheddar, Cilantro, Queso Fresco, Roasted Corn, Red Pepper, Salsa Borracha
We had to try at least one of the quesadillas, the this carne asada-filled version was one of the tastiest I've had, a cheesy, meaty mélange beautifully set off by the various veggies included.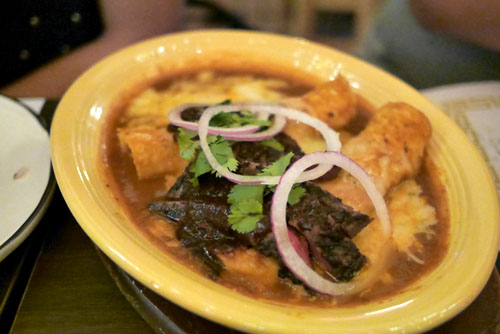 Rojo con Asada Enchiladas [$14.00]
| Roasted Piquillo Peppers, Jack Cheese, Queso Fresco
The red enchiladas were also on point, an elegant presentation of the traditional dish that masterfully paired the runny cheese and corn tortilla with delightfully rare cuts of steak.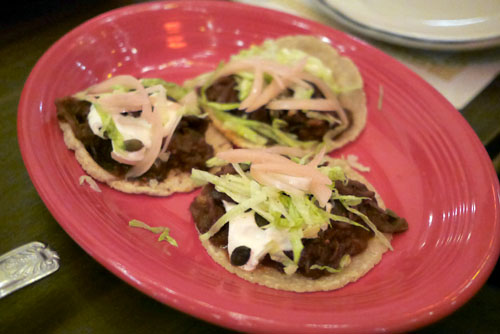 Jamaica Tinga Tacos [$12.00]
| Jamaica Tinga, Sour Cream, Adobo Salsa, Pepitas
Probably the most interesting of the tacos was the
tinga
, a preparation of shredded chicken in an immensely flavorful, earthy, spicy-smoky sauce, all tempered by a dollop of sour cream and some shredded veggies.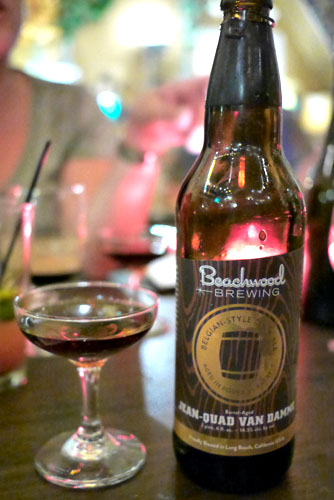 Our final brew was the
Beachwood Barrel-Aged Jean-Quad Van Damme
, by far the rarest beer that I'd ever gotten my mitts on. Only 100 bottles of this were produced, released exclusively at the brewery in Long Beach on May 13th. Thanks to its year-long aging in American bourbon barrels, this had tons, and I mean
tons
of intensely aromatic woody character on the nose. Taste-wise, think your classic malty quadrupel qualities, but with boatloads of coconut-y, caramel-y, vanilla-esque flavors. Very smooth, with its 14.5% ABV well-hidden; this was something special for sure.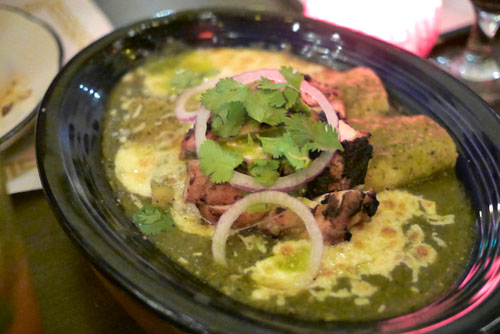 Verdes con Pollo Enchiladas [$12.00]
| Roasted Corn, Poblano Pepper, Jack Cheese, Queso Fresco
Compared with the red versions above, the green enchiladas displayed a brighter sort of flair, with a strong corn component that served as a great complement to the delectably charred shards of chicken here. Yum.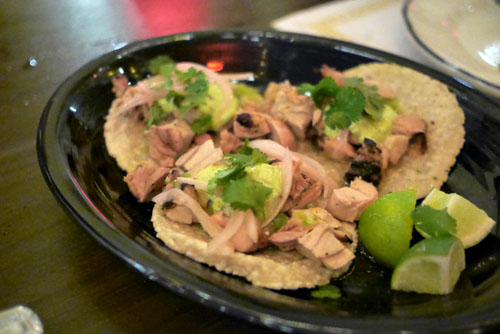 Pollo Tacos [$13.00]
| Chicken, Raw Tomatillo Salsa, Cilantro, Roasted Pepper Crema, Pickled Onion
Last up were the chicken tacos, which showed off the goodness of the bird paired with the bright, tangy zip of its various accompaniments.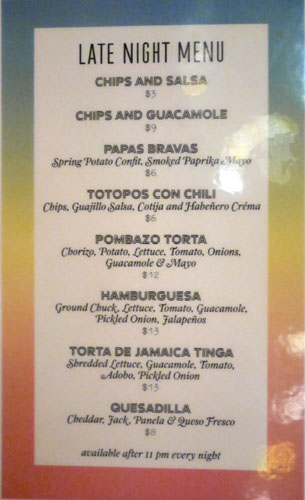 Here we see El Condor's very limited dessert menu, as well as the restaurant's late night selections. Click for larger versions.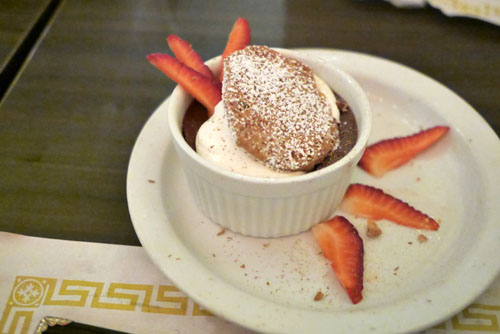 Mexican Chocolate [$8.00]
| with Crema & Wedding Cookies
Our first dessert comprised a bittersweet, almost spicy presentation of chocolate, evened out by the frosting-like crema.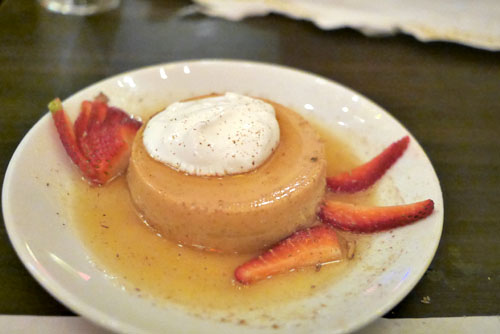 Flan [$8.00]
| with Mezcal Whipped Cream
The flan, meanwhile, was traditional in essence, but with the addition of mezcal cream adding a touch of smokiness to the dish.
I gotta say that I was pretty satisfied with El Condor. The food was basically like the type of old school Mexican cooking you'd expect to find in the States, but elevated with better ingredients, more exacting preparation, and more robust, more focused flavors as a result. They're not trying to do a modern interpretation of the cuisine, but rather, you could almost think of this as the old El Conquistador, but taken up a notch.