Mori at Il Grano (Los Angeles, CA)
Mori Dinner at Il Grano
11359 Santa Monica Blvd, Los Angeles, CA 90025
310.477.7886
www.ilgrano.com
Sat 05/10/2014, 08:45p-12:05a
I don't do too many collaborative dinners these days (I think the last one was when David Kinch cooked at
Rustic Canyon
), but this latest endeavor between
Il Grano
's Salvatore Marino and Morihiro Onodera (formerly of
Mori Sushi
) sounded too interesting to pass up. The two longtime friends (they first met at the fish market I understand) had been cooking informal, late night dinners for over a decade, but this was the first time they had the opportunity to work together in a public setting.

It was a pretty packed house tonight, and I even spotted
BierBeisl
's Bernhard Mairinger in the crowd.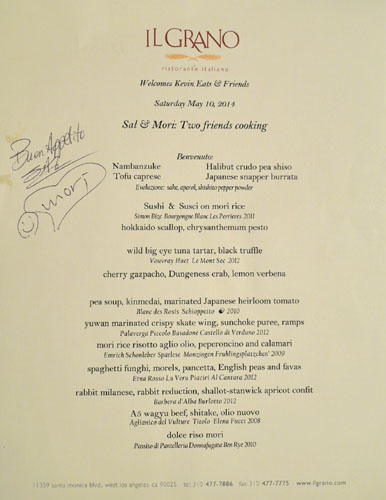 The night's menu was a 12-courser priced at a not-unreasonable $125 a head, plus $75 for wine pairings from Sommelier Alex Weil (
Bouchon
,
Mozza
). Some of the courses were solo efforts, but most of the dishes we enjoyed were developed jointly between the two chefs. Click for a larger version.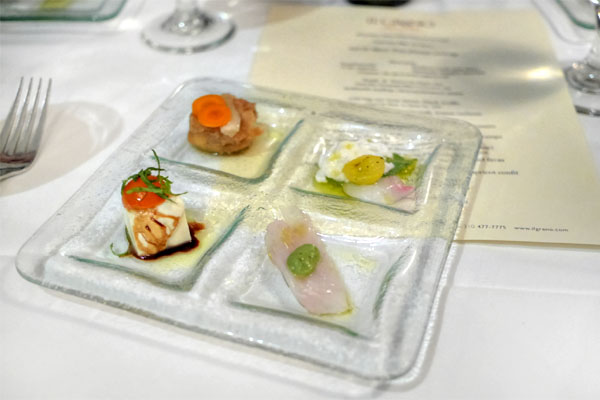 1: Nambanzuke / Tofu caprese / Halibut crudo pea shiso / Japanese snapper burrata
Evoluzione: sake, aperol, shishito pepper powder
We commenced with a quartet of little bites, all mash-ups drawing from both Italian and Japanese sensibilities:
Nambanzuke - My favorite of the bunch, the halibut showed off some deliciously rich, deep, umami-laced flavors that were evened out by the acidic crunch of the veggies.
Tofu caprese - Tofu was silky and nutty, with an herby tinge from the basil and all the classic Caprese character that you'd expect.
Halibut crudo pea shiso - A clean, crisp, snappy cut of fish, kicked up a notch by a drizzle of olive oil while the pea-shiso brightened up the bite.
Japanese snapper burrata - Pairing fish and cheese is usually a no-no, but this worked out swimmingly, the lushness of the burrata commingling surprisingly well with the snapper.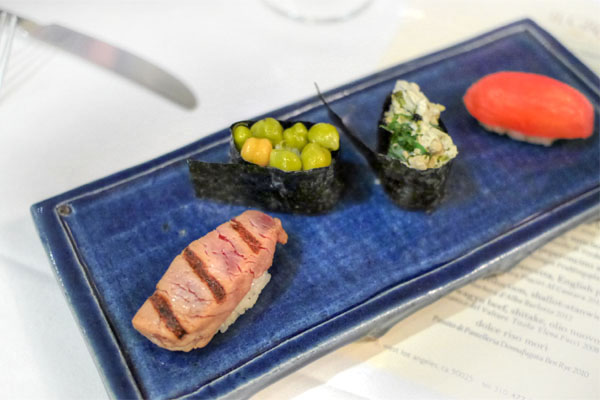 2: Sushi & Susci on mori rice
Simon Bize Bourgogne Blanc Les Perrieres 2011
One of my favorite courses of the night was this assortment of untraditional sushi:
Momotaro - Momotaros are always a treat, and the tomato was spot on here, conveying a sweet, juicy relish that paired beautifully with a touch of olive oil and its base of sushi rice.
Kanimiso - Crab and crab innards really displayed the earthy depth of the crustacean, the essence of the kani working flawlessly alongside nuances of shiso and nori.
Garbanzo - In terms of neta, chickpeas are pretty much the last thing that I'd expect to see, but they worked gorgeously here, providing a nutty, crunchy sort of kick that really surprised me.
Grilled Bigeye Toro - Last up was just about the headiest example of tuna I'd ever had (right next to the "spare ribs" at Kyubey), a soft, smoky, super savory presentation of big eye that left me wanting. Utterly delish.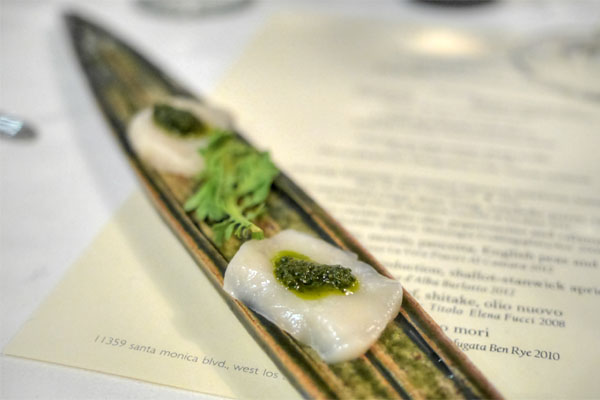 3: hokkaido scallop, chrysanthemum pesto
Simon Bize Bourgogne Blanc Les Perrieres 2011
Slices of scallop were clean and supple, their subtle brine paired with a whisper of floral character from the chrysanthemum. I much appreciated the use of the greenery here, though I could've used a bit more salt to set off the scallops even more.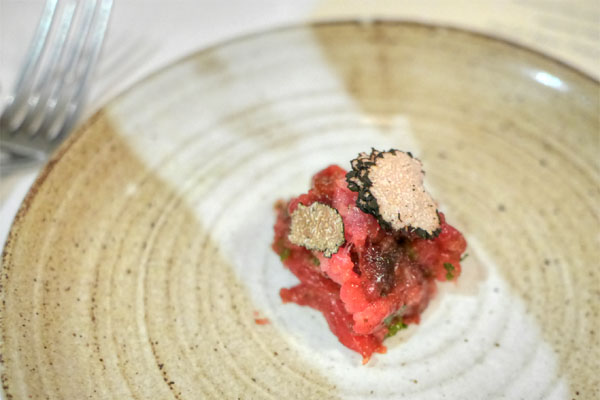 4: wild big eye tuna tartar, black truffle
Vouvray Huet Le Mont Sec 2012
A tartare of tuna was loaded with deep, umami-rich flavors from its soy marinade, its potent flavors further enhanced by the perfume of truffle. I was a fan of the incorporation of onion and arugula here as well, which imparted a zesty, light 'n' bright character to the dish.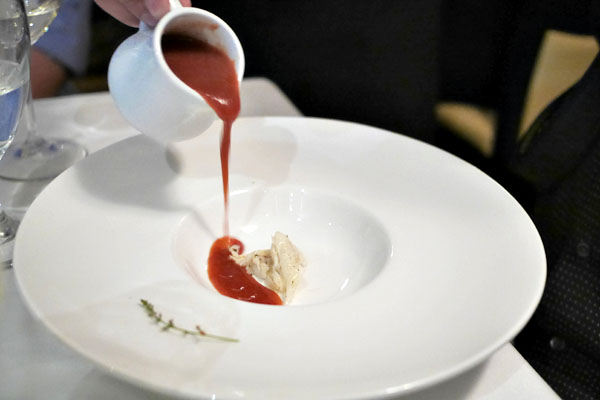 5: cherry gazpacho, Dungeness crab, lemon verbena
Vouvray Huet Le Mont Sec 2012
Here, the inherent sweetness of Dungeness was intended to meld with the fruity relish of the cherry, but the gazpacho went overly jammy, stealing some attention away from the crab. The verbena, though, did help in balancing things out.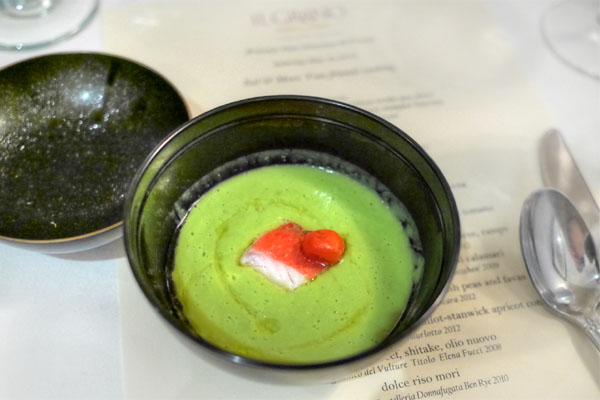 6: pea soup, kinmedai, marinated Japanese heirloom tomato
Blanc des Rosis Schioppetto 2010
A pea soup was delightful, a hearty, comforting, nutty potage that really set the stage for the superbly cooked, wonderfully savory fish while the tomato relayed just a hint of tartness.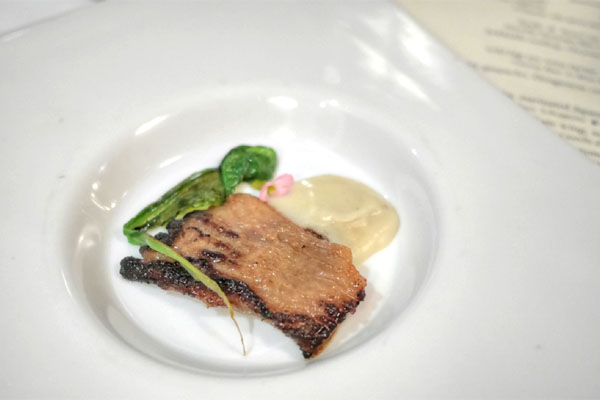 7: yuwan marinated crispy skate wing, sunchoke puree, ramps
Palaverga Piccolo Basadone Castello di Verduno 2012
The skate was another standout, very possibly the strongest rendition of the ingredient I've had. There's was just a beautiful smokiness and char to the fish, and the astringency of the ramps was a perfect complement. I was also a big fan of the skate's texture, which was soft, supple, but not overly gelatinous as it can sometimes tend to get.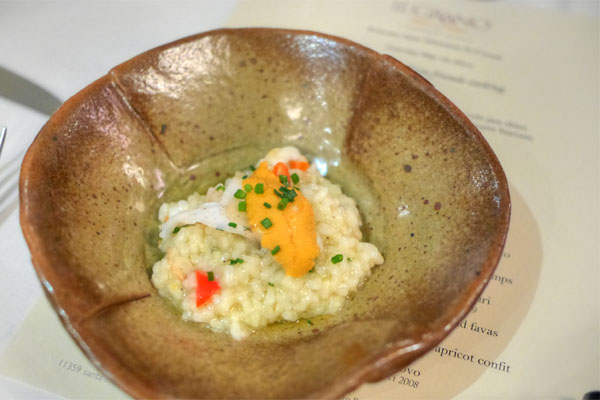 8: mori rice risotto aglio olio, peperoncino and calamari
Emrich Schonleber Spätlese Monzingen Fruhlingsplatzchen' 2009
The risotto was, unsurprisingly, another table favorite, and one of the best I've had. The key here was the use of the peperoncino, which gave up a fantastic whisper of creeping spice that counterbalanced the brine and lushness of the urchin faultlessly, serving as an integrating force in the dish. I also loved the squid here too, which provided a great textural point of interest. I definitely could've used more of this one.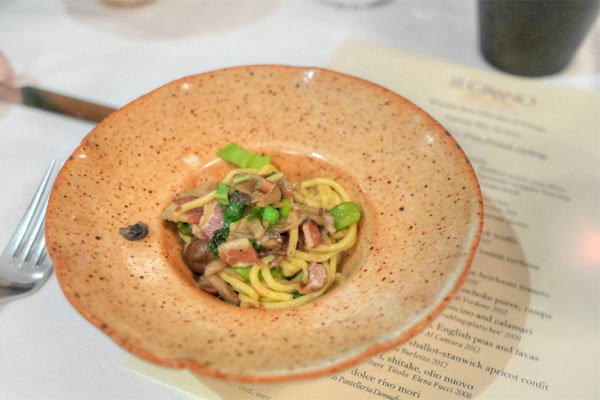 9: spaghetti funghi, morels, pancetta, English peas and favas
Etna Rosso Lu Veru Piaciri Al Cantara 2012
You'd expect to have some damn good spaghetti at Il Grano, and this indeed was a damn good spaghetti. You had the combo of morels and pancetta giving up a boat load of nutty, salty flavors, while the peas and favas provided a tempering sweetness and levity. It was a balanced, delicious presentation to be sure, and the firm texture on the pasta itself was appreciated, too.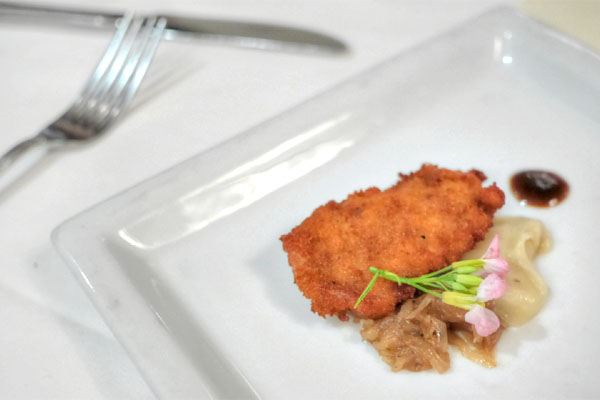 10: rabbit milanese, rabbit reduction, shallot-stanwick apricot confit
Barbera d'Alba Burlotto 2012
A Milanese of rabbit was delightfully crisp to the bite, but its crust veered overly sweet, especially when taken in concert with the sugary shallot-apricot confit. I would've liked more acidity or astringency to even things out a bit.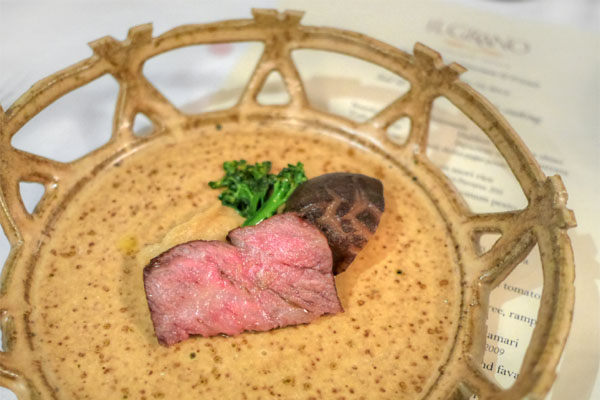 11: A5 wagyu beef, shitake, olio nuovo
Aglianico del Vulture Titolo Elena Fucci 2008
In our final savory course, wagyu beef was divine, as fatty and rich and salty as you'd expect, just an explosion of bovine goodness that left me yearning for another piece. I loved the in-your-face umami bombs that were the shiitakes as well, and the broccolini gave up just the right amount of moderating bitterness and crunch.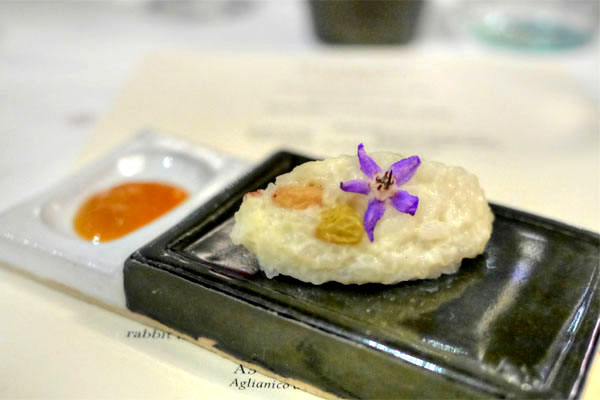 12: dolce riso mori
Passito di Pantelleria Donnafugata Ben Rye 2010
We closed with a rice pudding of sorts, one made with Mori-san's specially grown rice. I appreciated how it wasn't overtly sweet, but instead showed off a restrained sort of character augmented by some herbaceous nuances, all while the apricot marmalade on the side bestowed the requisite kick of sugar.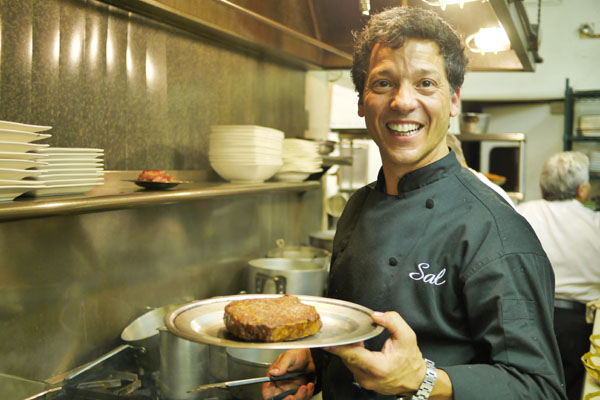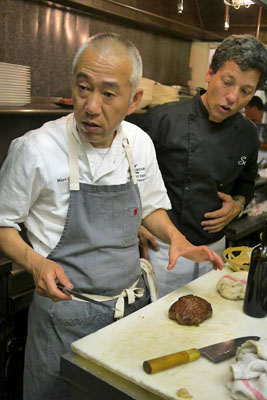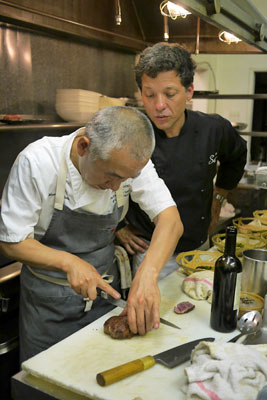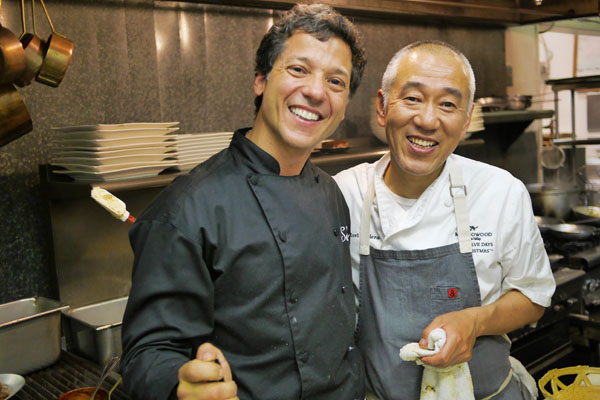 Mori and Sal, at the end of the night.
All in all, a lovely experience. It was great to see these two fixtures of the LA dining scene come together like this, to create a meal that so cohesively blended their two disparate styles of cooking. There were some seriously delicious plates coming out tonight, and I wouldn't mind seeing this become a regular dinner series. Also, in case you're wondering what Chef Mori's been up to ever since he sold his restaurant back in '11, he's been doing one-off dinners such as this and the Friends Cook at
Canelé
series, not to mention the 12 Days of Christmas up at
Meadowood
. More importantly, he's expanded his
handmade pottery business
(his wares have been seen at the likes of
Barbershop
,
Capo
,
La Botte
,
Manresa
,
Melisse
,
Providence
, and of course here at
Il Grano
), and is producing his own brand of Uruguayan Satsuki rice in partnership with
Ichiro Tamaki
, which can be found at places such as
Orsa & Winston
and Melisse.