Smoke Oil Salt (Los Angeles, CA)
smoke.oil.salt Restaurant
7274 Melrose Ave, Los Angeles, CA 90046
323.930.7900
www.smokeoilsalt.com
Thu 05/01/2014, 08:30p-11:30p
When we last caught up with Perfecto Rocher, he was cooking over at
Lazy Ox
, waiting to start work on Michael Cardenas' long-awaited Spanish concept (that'd been announced way back at the start of 2011). However, though
Taberna Arros y Vi
did eventually materialize, Rocher was nowhere near it, having left Cardenas' side in July 2013. He landed a gig with the Hermosa Restaurant Group, and was slated to develop a Spanish restaurant in the old Hibachi space, but left the position in October last year to start work on Smoke Oil Salt with Adam Fleischman and Lee Weinberg of AdVantage Restaurant Partners, as well as television producer Stephen Gelber and hospitality consultant Jason Berkowitz.


The restaurant is housed in the former home of Evan Kleiman's Angeli Caffe, a building that was previously slated to become
Casey Lane
's defunct Itri. The space is divided into two rooms, one housing the kitchen bar and the other the bar bar, and has a warm, rustic sort of sensibility to it. It does get rather loud in there, though.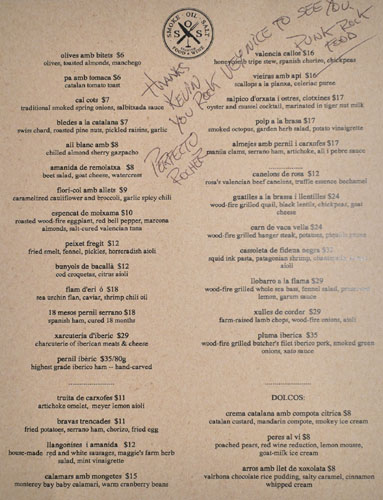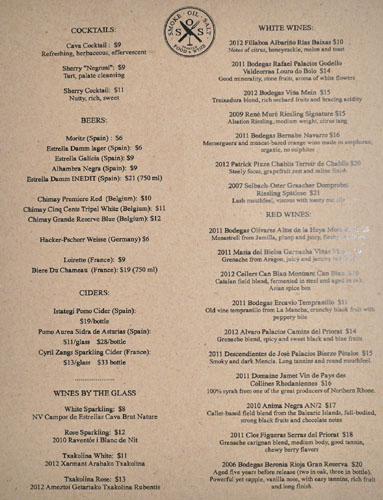 Despite what you might think, Smoke Oil Salt doesn't really strike me as a tapas sort of place. Instead, you get more of a Valencian leaning style of Spanish cooking, divided into both smaller and larger plates. The Chef's oft bandied about paellas, meanwhile, are only available on Sundays (due to kitchen constraints). As for the booze, you get a smattering of cocktails, ciders, and some beers, but the drink of choice here seems to be wine, of which there is a pretty commendable (Spain-centric) selection. Click for larger versions.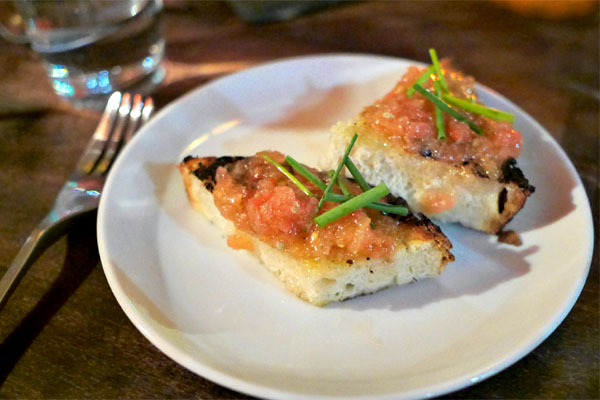 pa amb tomaca
| catalan tomato toast
Rocher quickly sent out a plate of
pa amb tomàquet
, a lovely presentation of the classic that balanced the sweet, refreshing nature of tomato with the richness of olive oil, all over a perfect base of toasty bread.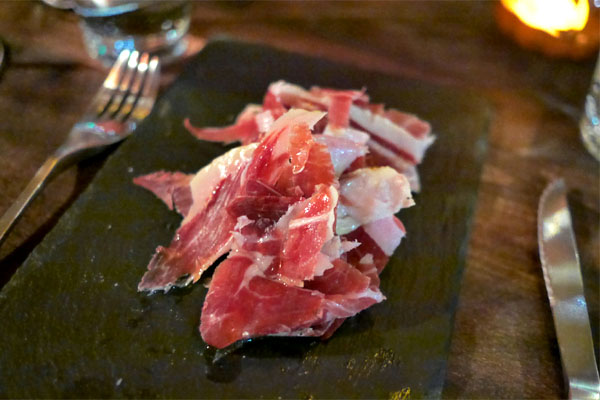 pernil ibéric
| highest grade iberico ham -- hand-carved
Accompanying the bread were shavings of
pata negra
: smooth, slick, fatty shards of the vaunted ham positively loaded with savory, nutty flair.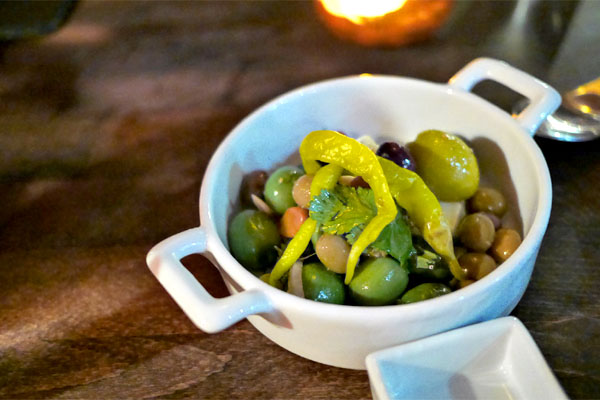 olives amb bitets [$6.00]
| olives, toasted almonds, manchego
Olives were as piquant as expected, nicely paired with the included cubes of Manchego and crunchy bits of almond.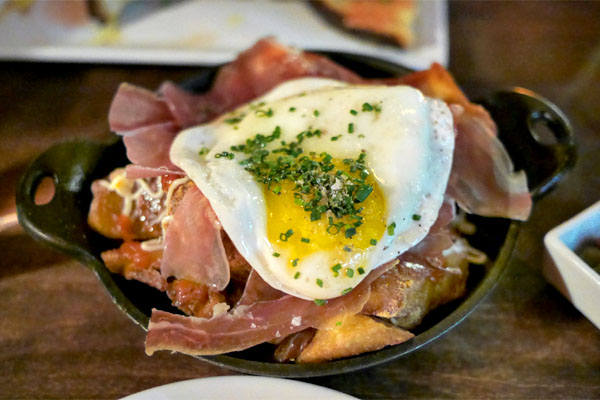 bravas trencades [$11.00]
| fried potatoes, serrano ham, chorizo, fried egg
Fried taters, ham, chorizo, a runny egg--all good stuff. It's hard to go too wrong with those ingredients, and indeed, this dish satisfied in an almost base sort of manner. Yum.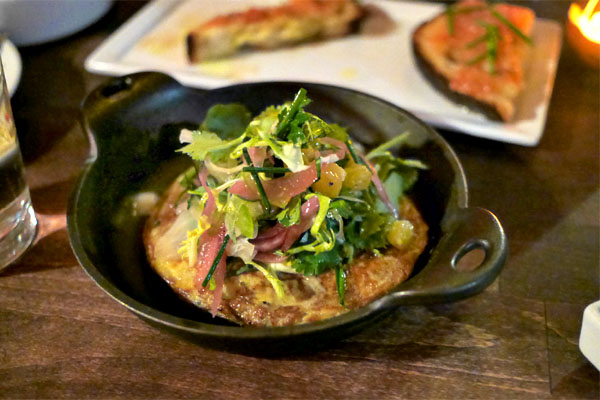 truita de carxofes [$11.00]
| artichoke omelet, meyer lemon aioli
I'm not a huge fan of artichoke, but rather enjoyed this, finding its subtly sweet, nutty relish a natural complement to the egg, all while the herb salad on top imparted a refreshing note to the dish.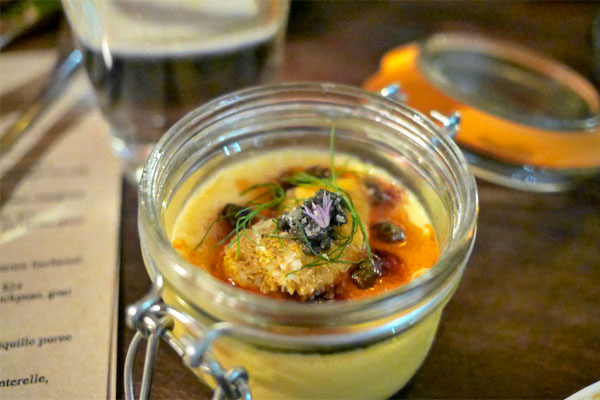 flam d'eri ó [$18.00]
| sea urchin flan, caviar, shrimp, chili oil
The uni flan was a must try of course, and deftly played the sweet brine of the roe against the counterbalancing forces of chili oil. I don't think I'd ever had sea urchin with these sort of flavors before.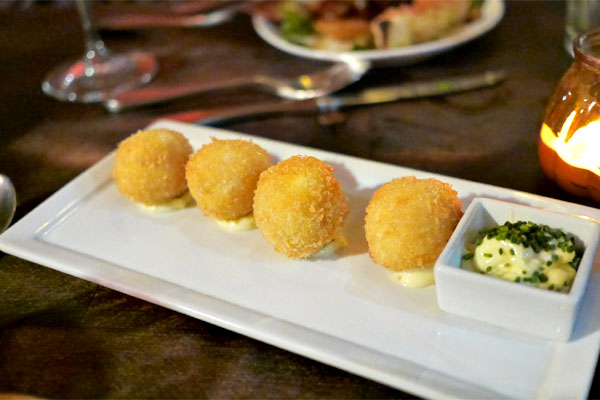 bunyols de bacallà [$12.00]
| cod croquetas, citrus aioli
The
bacalao
was among the best I've tried, wonderfully crisp spheres that just melted in your mouth in a burst of warm, creamy, salty goodness, tempered just slightly by the zing of the aioli.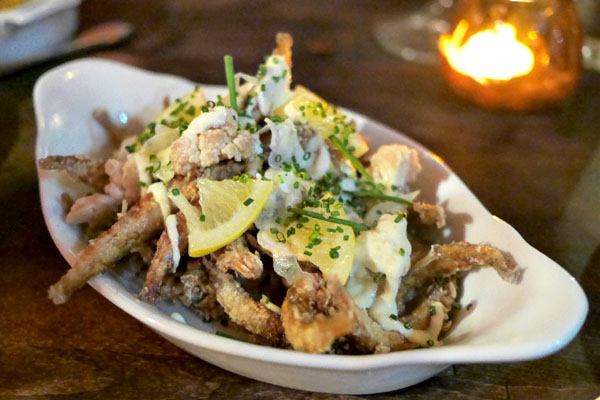 peixet fregit [$12.00]
| fried smelt, fennel, pickles, horseradish aioli
Fried smelt were enjoyable as well, some wonderfully crunchy, briny fish fries basically, moderated by the accompanying assortment of veggies and herbs.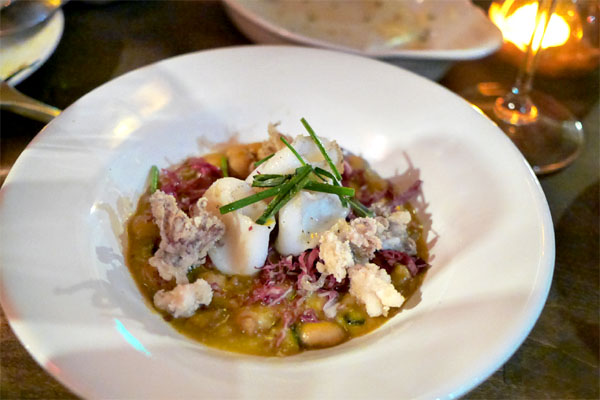 calamars amb mongetes [$15.00]
| monterey bay baby calamari, warm cranberry beans
Squid was presented in two forms, a delightfully slick, snappy preparation, and a delectable fried style. It was great to see the two facets of the cephalopod here, both complementary, yet both enhanced by the weight of those beans.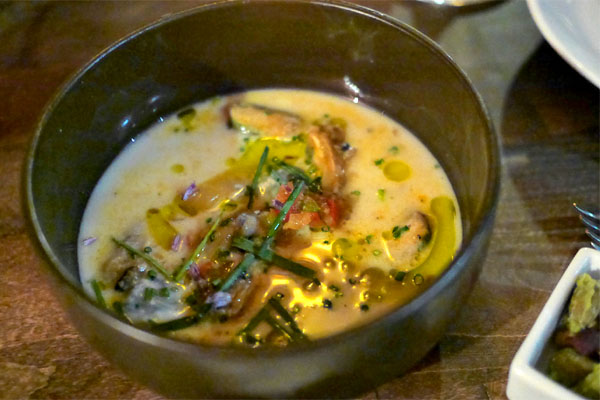 salpico d'orxata i ostres, clotxines [$17.00]
| oyster and mussel cocktail, marinated in tiger nut milk
A cocktail of octopus, oyster, and mussel really conveyed the ocean-y depth of those ingredients, while a broth of tiger nut milk imparted a refreshingly sweet, slightly curry-esque tint to the course.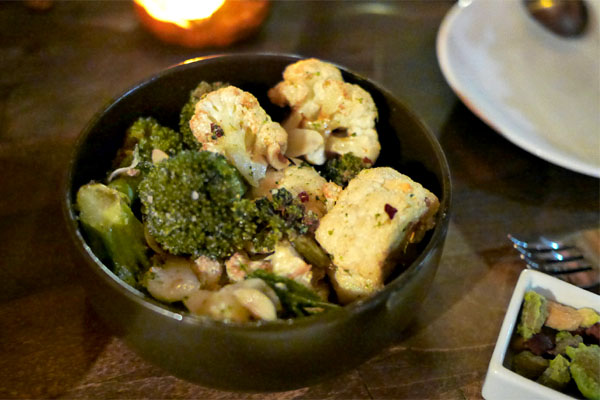 flori-col amb allets [$9.00]
| caramelized cauliflower and broccoli, garlic spicy chili
You don't see cauliflower presented with its cousin broccoli all that often, but the dish served tonight was superb, one of the best versions of
Brassica oleracea
I've tasted. The florets were properly crisp, and imbued with a pretty incredible depth of savor, accented by a just the right amount of lingering heat.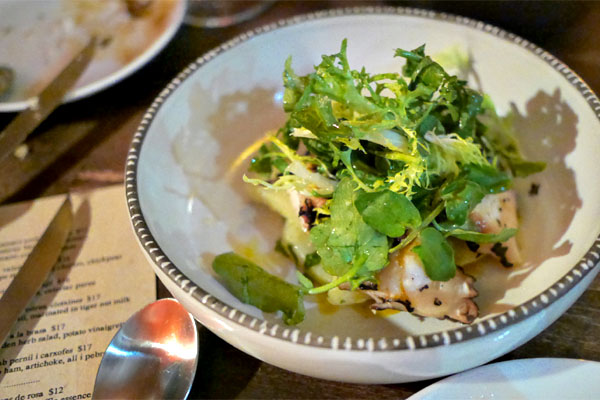 polp a la brasa [$17.00]
| smoked octopus, garden herb salad, potato vinaigrette
Octopus, meanwhile, arrived tender, yet still with a bit of bite, and conveyed a mouth-watering sort of smokiness that went gorgeously with the comparatively mild slices of potato and acidic herb salad up top.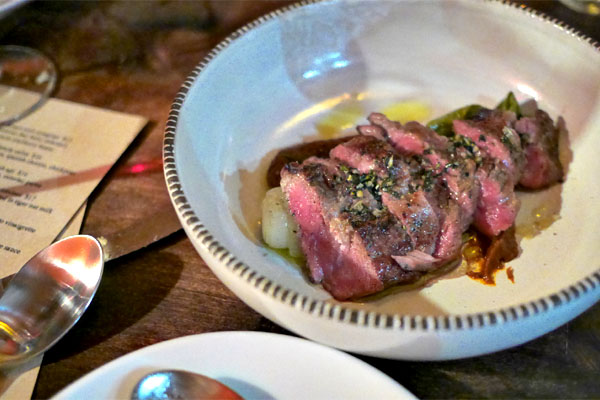 pluma iberica [$35.00]
| wood-fire grilled butcher's filet iberico pork, smoked green onions, xato sauce
At this point, we moved on into the larger plates, the first of which was one of the strongest preparations of cooked pork I've had. Cut from the end of the loin, the meat was undeniably juicy, tender, and bursting with piggy goodness. The
pluma
displayed a depth and complexity that I just don't see in pork loins all that often, and the smoky, astringent onions and tangy
xato
served as perfect accoutrements.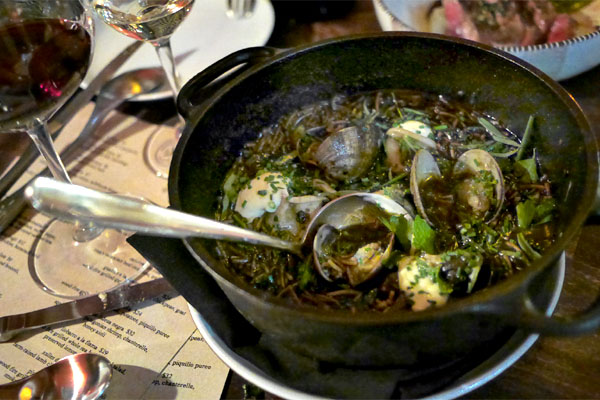 cassoleta de fideua negra [$32.00]
| squid ink pasta, patagonian shrimp, chanterelles, honey aioli
One of the
first things
I ever tasted from Rocher was his
fideua
, and tonight, the noodles did not disappoint either, coming out dark as night and completely permeated by the lush, saline flavors of the various items of seafood present. A hearty, comforting sort of dish, and one that really speaks to the Chef's cooking.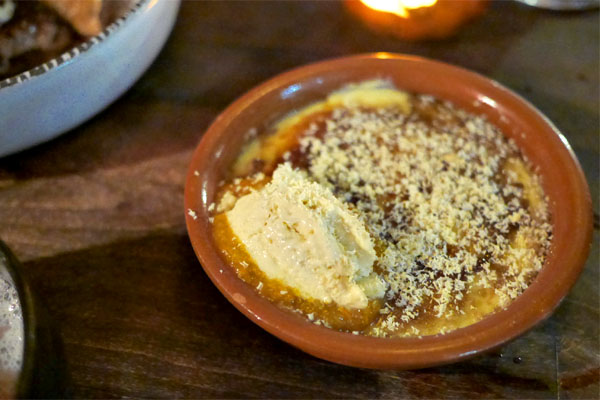 crema catalana amb compota citrica [$8.00]
| catalan custard, mandarin compote, smokey ice cream
We sampled all three of SOS's desserts, starting with a spot on
crema catalana
that admirably blended contrasting notes of smoke and citrus.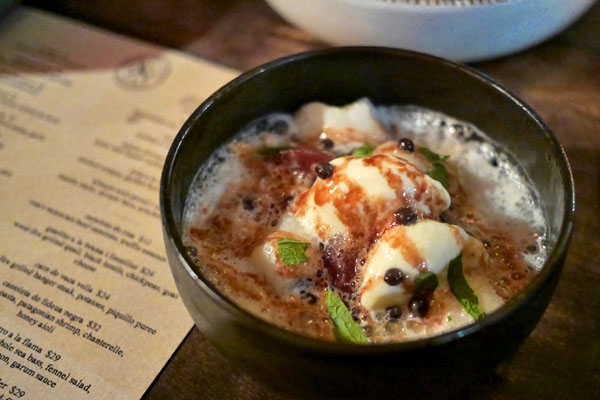 peres al vi [$8.00]
| poached pears, red wine reduction, lemon mousse, goat-milk ice cream
The poached pears also made a good case for itself, managing to become one of the tastiest renditions of the dessert I've tried, thanks to its sweet, wine-y flavors augmented by the tang of goat's milk.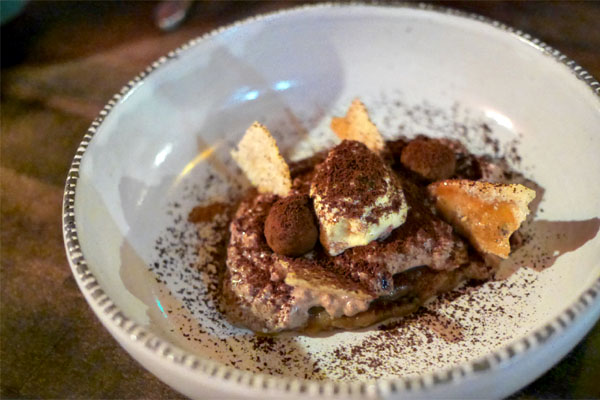 arros amb llet de xoxolata [$8.00]
| valrhona chocolate rice pudding, salty caramel, cinnamon whipped cream
Last up was a commendable rice pudding, one teeming with sweet-spicy flavors and the lushness of chocolate, fitting accompaniments to the comparatively subdued
arroz
. Some lovely textures on this one, too.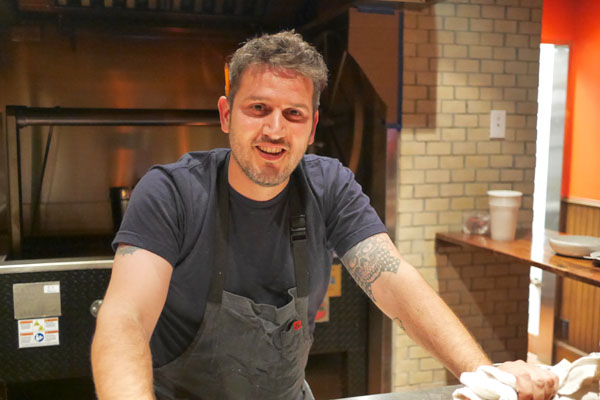 Chef Rocher at the end of the night.
I'm happy to report that I came out of this meal very satisfied. The food displayed a depth, complexity, and bravado that pleasantly surprised me, given that the restaurant had only opened about a week prior. This seems like the type of cooking Rocher should've been doing all along, and it shows in the plates that he's putting out. SOS really is a great addition to the often underserved Spanish scene here in LA, and my hope is that the Chef can manage to stick around for a while.