Maude (Beverly Hills, CA) [2]
Maude Restaurant
212 S Beverly Dr, Beverly Hills, CA 90212
310.859.3418
www.mauderestaurant.com
Tue 05/06/2014, 09:30p-11:55p
Contrary to what a lot of people would've thought, Curtis Stone's
Maude
has been turning out some really solid cooking ever since it debuted at the end of January, and, as a result, has quickly become out of the hottest tickets in town. I went to one of their inaugural citrus-focused dinners and was suitably impressed. However, I wasn't all that excited about this new rhubarb menu (never been a fan of the veggie), but when a friend offered me a free seat, I couldn't pass up on the opportunity to revisit.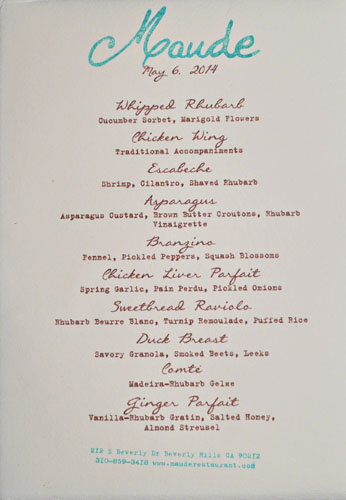 Maude's menu remains a roughly ten-courser, though the price has ticked up by $5 to $80, plus $60 for wine pairing. Click for a larger version.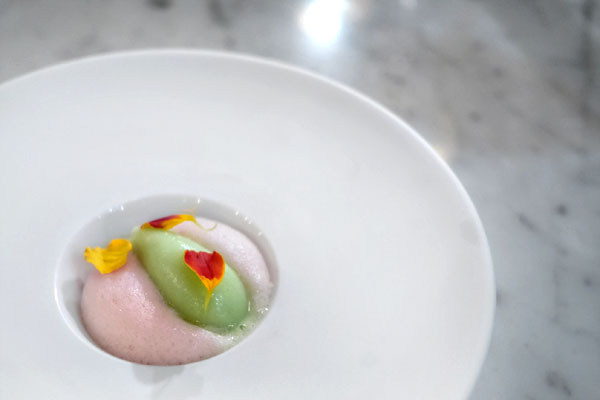 1: Whipped Rhubarb
| Cucumber Sorbet, Marigold Flowers
We commenced with a fun little amuse that showcased the bright, cool cucumber initially, with the warmer, sweeter, heavier rhubarb coming in toward the back end. Taken all together, the effect was almost watermelon-ish.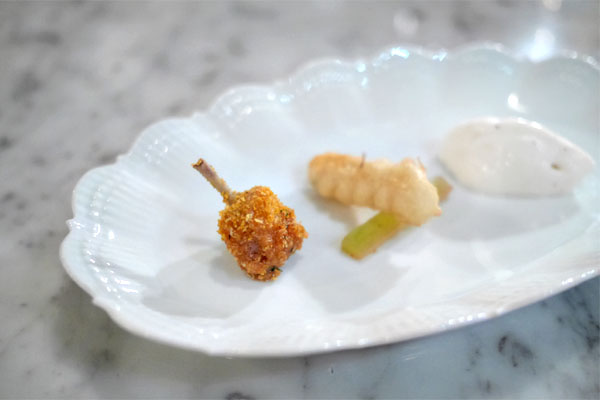 2: Chicken Wing
| Traditional Accompaniments
Next up was a whimsical play on buffalo wings. Chicken came dabbed in rhubarb and conveyed an initial sweetness that transitioned surprisingly smoothly to the mouth-watering savoriness of the bird. At the same time, fried compressed rhubarb added a hot, tangy element to the mix, and the celery a much-appreciated crunch and astringency. Rounding things out was a delightful rhubarb ranch that helped tie everything together using a common thread.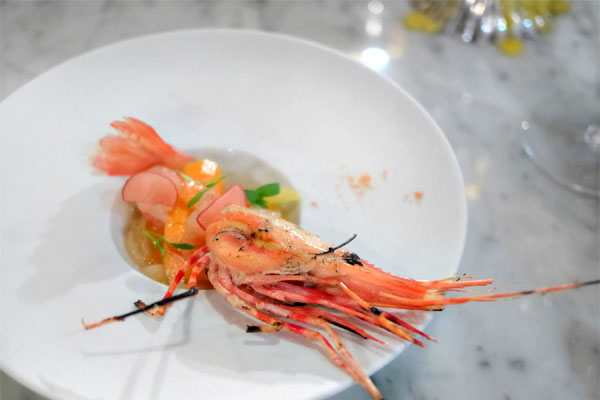 3: Escabeche
| Shrimp, Cilantro, Shaved Rhubarb
Santa Barbara spot prawn was deftly highlighted here, the tail flawless in its crunch and snap, its mild salinity beautifully set against an accompaniment of wonderfully crunchy, sweet-n-sour veggies. If that wasn't enough, you also had the head (gotta suck the head), super briny and charred, the unmitigated essence of the shrimp.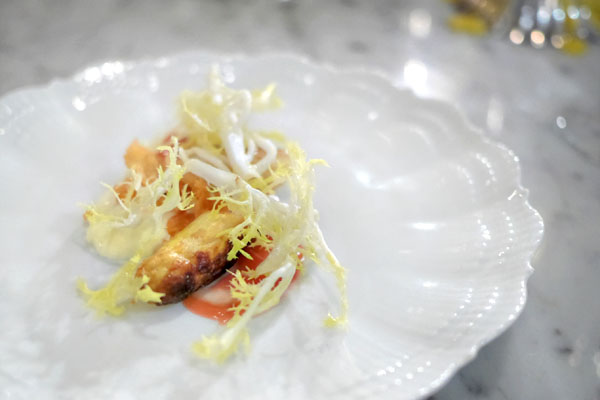 4: Asparagus
| Asparagus Custard, Brown Butter Croutons, Rhubarb Vinaigrette
White asparagus was hearty and crisp, its nutty, slightly astringent character augmented by a great bit of char, delicious alone and yet a fitting foil to the tartness of the accompanying rhubarb. I much appreciated the levity imparted by the endive here as well, not to mention the crunch and savoriness of those croutons.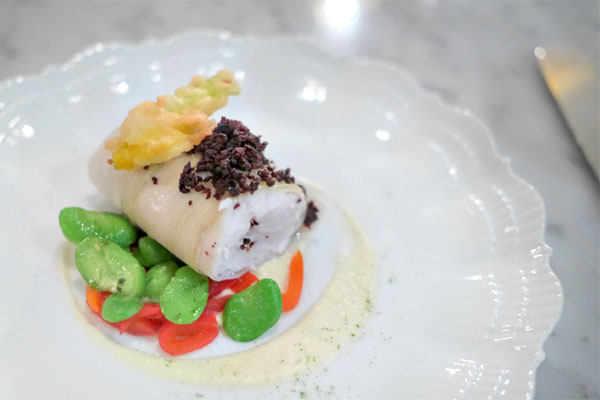 5: Branzino
| Fennel, Pickled Peppers, Squash Blossoms
Branzino came out super hefty, a meaty, satisfying presentation of the fish balanced by its tangy, crunchy wrapper of rhubarb and crumbles of olive up top. Pickles, meanwhile, added a well-placed hit of acid to the mix, and I loved how the fava grounded the dish.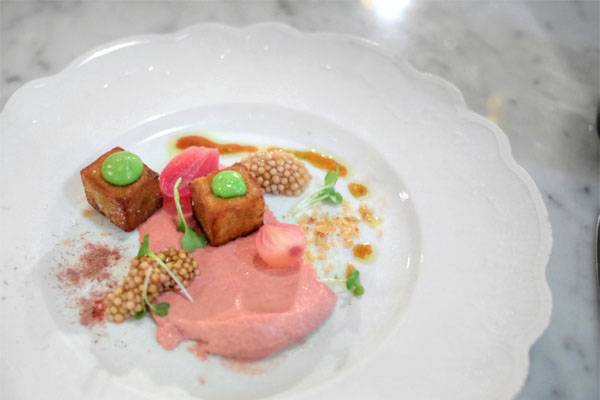 6: Chicken Liver Parfait
| Spring Garlic, Pain Perdu, Pickled Onions
My favorite course of the night was the liver, with its earthy, yet delicate savor proudly, and vigorously conveyed, faultlessly played against the heat of the mustard, tangy pickles, and hot, savory toast while the rhubarb provided just an undercurrent of sweetness to the dish. Seriously one of the best presentations of chicken liver I've had.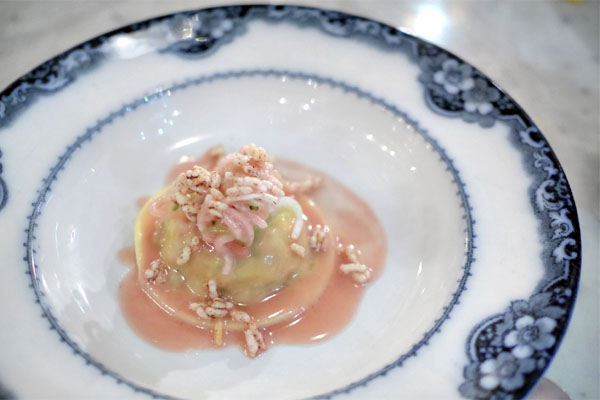 7: Sweetbread Raviolo
| Rhubarb Beurre Blanc, Turnip Remoulade, Puffed Rice
The sweetbread was also a standout, and one of the strongest preparations of the ingredient I've tried as well. The deep, rich, heady flavors of the veal were shown here in full force, tempered by the tangy remoulade and crunchy bits of rice. Powerful, yet elegant, with the rhubarb in play as a subtle element, enveloping the entire course with a whisper of tartness.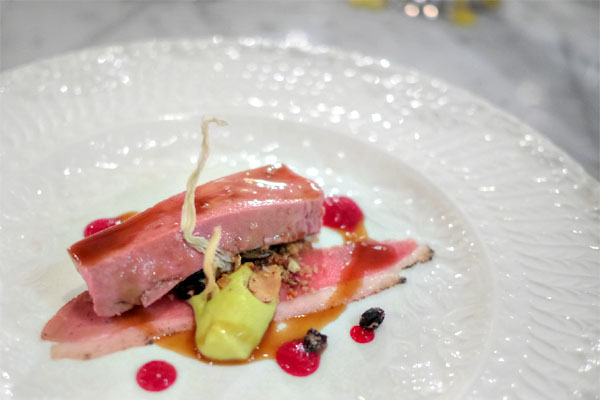 8: Duck Breast
| Savory Granola, Smoked Beets, Leeks
In our final savory, duck was presented in three ways: sous vide breast, pastrami, and granola. The breast was the hero here, giving off a pretty incredible depth of flavor that tasted of the very essence of the bird, the pastrami adding further salt and potency to the mix. Leek was key in providing a bit of moderation to the course, but even more crucial was the nutty sweetness of the granola, which helped even out the strong flavors at play.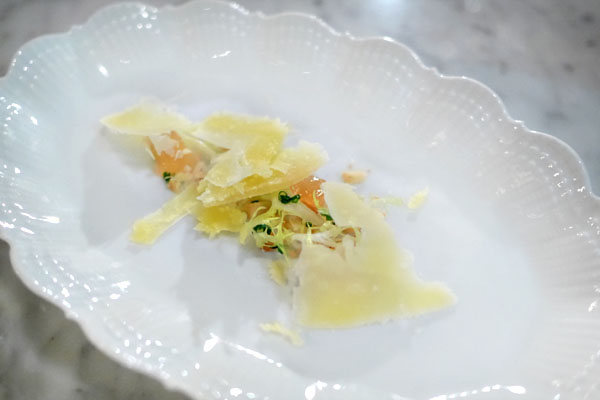 9: Comté
| Madeira-Rhubarb Gelée
Three year-aged Comté served as our cheese course, its salty, earthy relish moderated by the sweet, bitter combination of frisée and gelée. A surprisingly complex dish, underscored by a taste profile that I just couldn't quite put my finger on.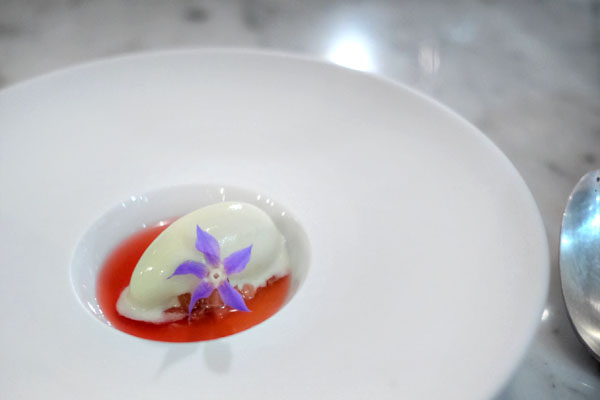 Our intermezzo brought us a bracingly refreshing jolt of floral, florid sweetness, an in-your-face presentation of rhubarb highlighted by the crunchy, compressed, lavender-soaked bits on the bottom.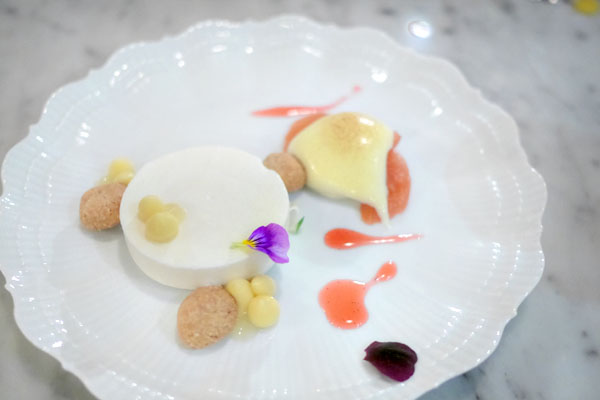 10: Ginger Parfait
| Vanilla-Rhubarb Gratin, Salted Honey, Almond Streusel
Dessert proper was a winner, imbued with a sweet, almost autumnal spice that worked hand-in-hand with the zesty ginger parfait, all while traces of sour yuzu overarched the entire plate. Wonderful use of the nutty, sugar-laced streusel as well.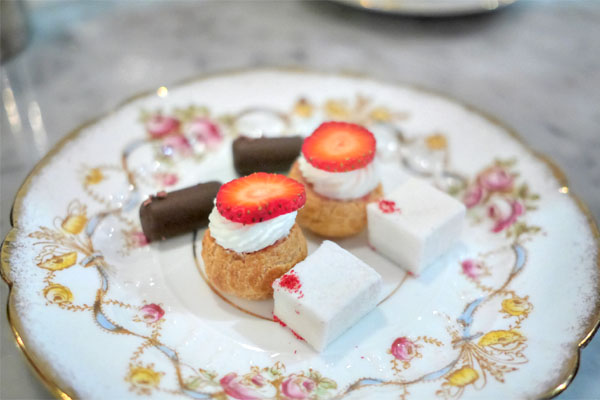 This time, Maude's mignardises plate gave us rich-yet-bitter mini logs of chocolate ganache with cacao nibs; delightfully creamy, delicious rose and strawberry cream puffs; and some fun, tangy, rhubarb-dusted marshmallows.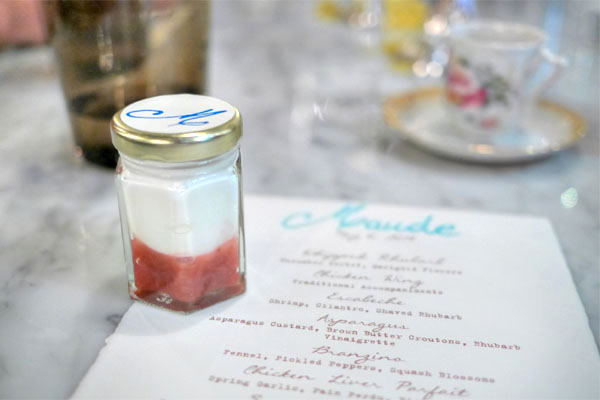 And to take home: a miniature jar of yogurt and rhubarb, just like your classic "fruit on the bottom" with its blend of lactic sourness and jammy sugariness.
Once again, Stone and his team delivered a very strong meal, one possibly better than the citrus dinner I enjoyed last time. Regular readers will know that I'm not a fan of rhubarb in general, but the way the Chef utilized the ingredient was pretty clever and varied, sometimes highlighting its tartness as a foil to savory flavors, but also using it--more traditionally--as a sweetening element. Sometimes rhubarb was the star of the show, and other times a supporting player. Texturally, the way the kitchen mixed things up was commendable as well. It was an experience that actually opened my eyes a bit to the virtues of the vegetable. I'll be looking forward to morels at the end of June.