Hero Shop (Los Angeles, CA)
Hero Shop Downtown
130 E 6th St, Los Angeles, CA 90014
213.265.7561
www.heroshopla.com
Mon 07/21/2014, 05:35p-06:25p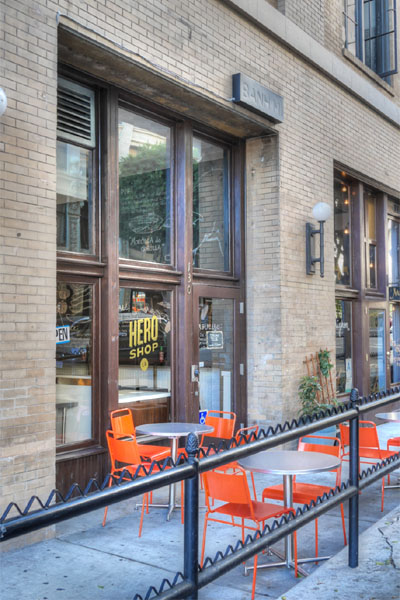 Chef Eric Park and Jonathan Kim's
Black Hogg
was one of the first of the new crop of Silver Lake restaurants that've popped up in recent years. When we last caught up with the duo, they had just relaunched the place after closing and retooling for a beer & wine license. Since then, Black Hogg has debuted lunch service in the form of Sopressata, an Italian-inspired sandwich concept that took Park back to his roots of operating the Togo's next to USC for nearly ten years. Sopressata has been largely well-received, and so we can't be too surprised that the Chef's newest project also features variations of meat-between-bread. Hero Shop opened in April, and represents Park's interpretation of the Vietnamese staple
bánh mì
. I'd actually been curious about this place for a while now, but was never in the area during their limited hours. However, Hero Shop has since extended service until 8:00p, so I finally made it a point to stop by.

Located right next to Mignon and a couple doors down from Cole's, Hero Shop occupies the spot of the old Babycakes, a vegan bakery that closed at the start of 2013. The narrow-ish space (which was originally slated to be the home of Sopressata) has been opened up a bit, though seating is sparse, with about six stools along a wall and three small tables outside. Note the chalkboard work by
Beautification Solutions
(they also did the signage for Sopressata).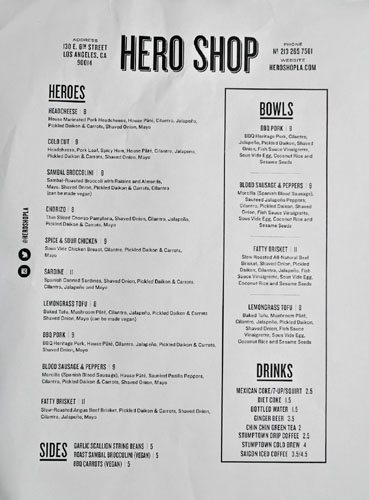 Hero Shop's menu features 10 variations on
banh mi
, some of which can be turned into bowl form, along with a couple sides, Asian-y chips, and some non-alcoholic beverages. Click for a larger version.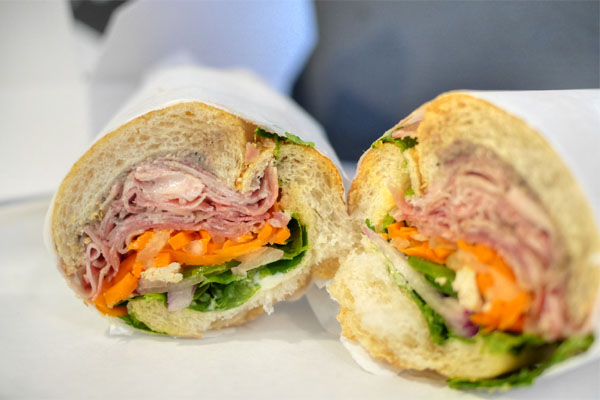 Headcheese [$8.00]
| House Marinated Pork headcheese, House Pâté, Cilantro, Jalapeño, Pickled Daikon & Carrots, Shaved Onion, Mayo
Naturally, I had to start with arguably the most classic of preparations. Park's housemade headcheese was delightful, soft yet slightly gelatinous to the bite, with a clean, focused sort of piggy savor to it that was further enhanced by the earthy depth of pâté. Add to that the various pickles, peppers, cilantro, and creamy mayo to tie it all together, and you get a superbly balanced, delicious sandwich indeed.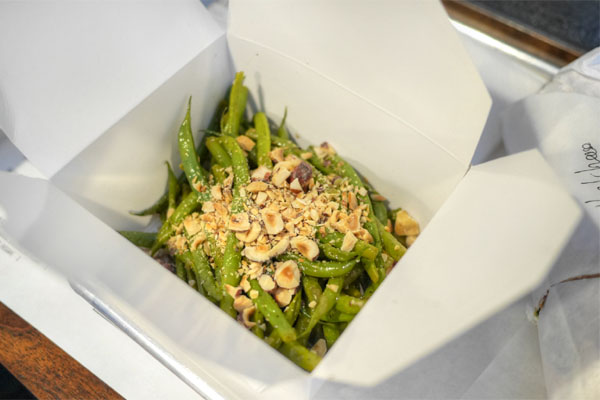 Garlic Scallion String Beans [$5.00]
I'm quite the fan of string beans, and the examples here were on point, waxy and crisp and loaded with nutty, garlicky goodness.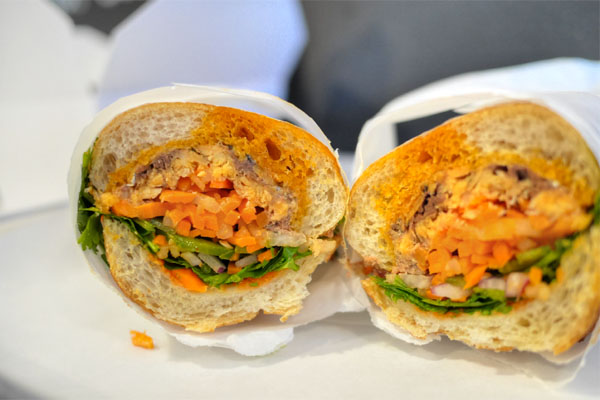 Sardine [$11.00]
| Spanish Canned Sardines, Shaved Onion, Pickled Daikon & Carrots, Cilantro, Jalapeño and Mayo
This was my first experience with a sardine-stuffed
banh mi
, and it did not disappoint. The fish's strong, ocean-y character was apparent here, yet not domineering, a satisfying, delectable base on which the various veggies could really work their magic.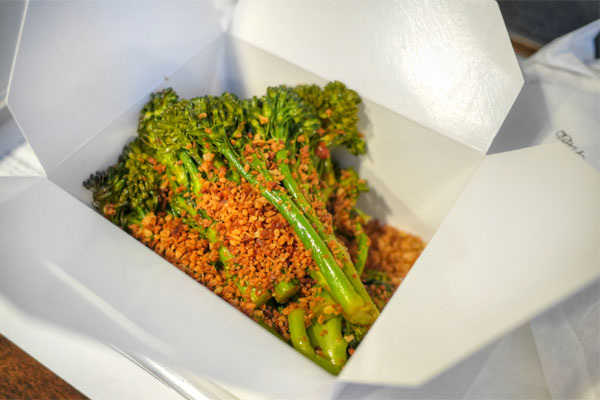 Roast Sambal Broccolini (Vegan) [$5.00]
Our second side was even better, the bright, bitter crunch of the broccolini evened out by a great touch of spice. I would've liked smaller, easier-eating pieces here though.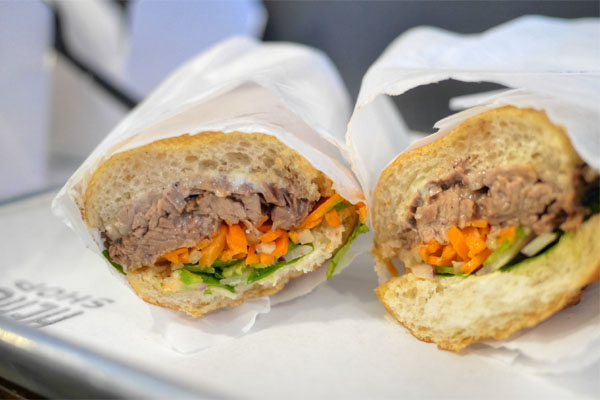 Fatty Brisket [$11.00]
| Slow-Roasted Angus Beef Brisket, Pickled Daikon & Carrots, Shaved Onion, Cilantro, Jalapeño, Mayo
Along with the BBQ Pork, the brisket is Hero Shop's best seller, and it's not hard to see why. The meat, as advertised, was appropriately fatty, tender, and brimming with beefy, aromatic nuances that recalled a hearty
pho
soup.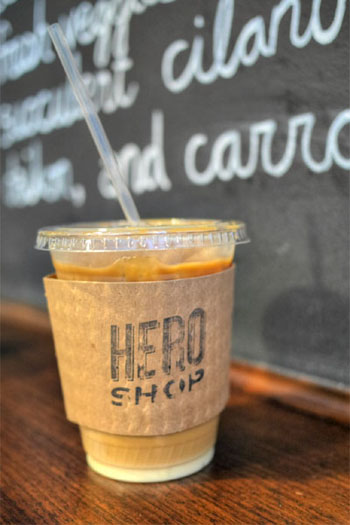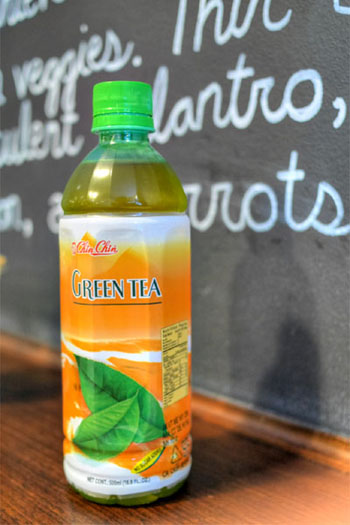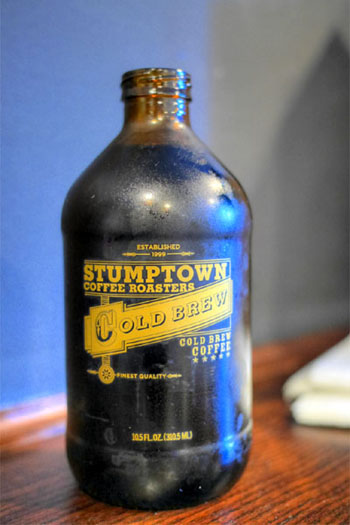 To drink, we enjoyed a
Saigon Iced Coffee [$3.50]
, Hero Shop's worthwhile take on
ca phe sua da
, as well as a refreshing
Chin Chin Green Tea [$2]
and an invigorating bottle of
Stumptown Cold Brew [$4]
. There's no booze here as of now, though apparently it might be a possibility in the future. I think beer could go great with the food here.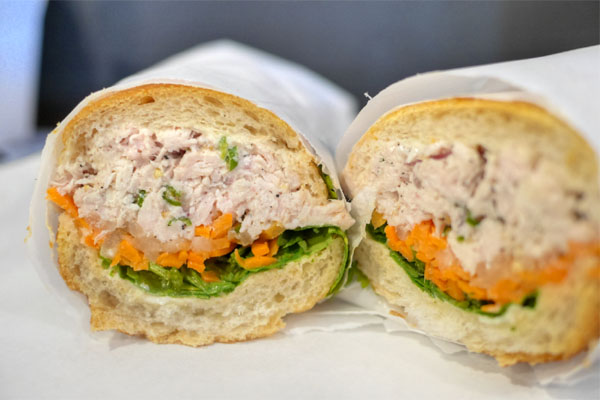 Spice & Sour Chicken [$9.00]
| Sous Vide Chicken Breast, Cilantro, Pickled Daikon & Carrots, Mayo
The last sandwich was perhaps the biggest surprise of the evening. Chicken usually isn't all that exciting, but this version was spot on, the bird coming out tender, flavorful, and perfectly tarted up by an undercurrent of heat that really worked with the pickles here.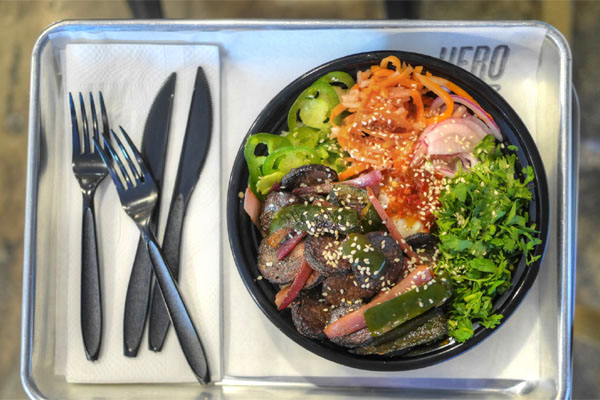 Blood Sausage & Peppers [$9.00]
| Morcilla (Spanish Blood Sausage), Sauteed Jalapeño Peppers, Cilantro, Pickled Daikon, Shaved Onion, Fish Sauce Vinaigrette, Sous Vide Egg, Coconut Rice and Sesame Seeds
Finally, we had to try one of Hero Shop's bowls, and the
morcilla
sounded like an interesting choice. I rather liked it, the heft of the blood sausage really playing well with its various accompaniments and making for a satisfying mélange of contrasting flavors all underscored by the sweetness of that coconut rice. You could almost think of this as a reworked
bibimbap
of sorts.
Hero Shop's renditions of the ubiquitous Vietnamese staple may not be 100% traditional, but they certainly were delicious. Fillings were varied, well-executed, and universally tasty, but always stayed true to the ethos of the original sandwich. The bread, too, was also worth noting. It's not the super-duper-hard, mouth-cutting stuff you get at Lee's; rather, the baguettes were just flaky and crisp enough, with supple centers that melded well with the various fillings. Hero Shop's a winning concept, and perhaps more importantly, it's a repeatable concept, so I'm curious to see if Park and company choose to expand in the future.