Tokyo Fried Chicken Co. (Monterey Park, CA)
Tokyo Fried Chicken Company
122 S Atlantic Blvd, Monterey Park, CA 91754
626.282.9829
www.facebook.com/TokyoFriedChickenCo
Thu 07/17/2014, 08:05p-10:00p

I'm a bit of a sucker for fried chicken, though I'm not sure if I'd ever visited a dedicated restaurant (outside of the Colonel's) prior to here. Tokyo Fried Chicken opened on July 18th last year, replacing the five-year-old Open Door, a generally well received fusion-y
izakaya
concept from Chef Kouji Yamanashi. Yamanashi, formerly Executive Sushi Chef at the clubby Social House in Las Vegas, it turns out, is also the man in charge here, and is now turning out his Japanese-y takes on American Southern comfort food.

Inside, it's a small, cozy space, with about a dozen tables set in a sort of vaguely Old West-meets-Japan aesthetic.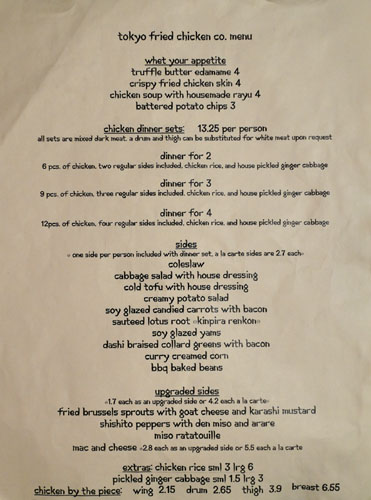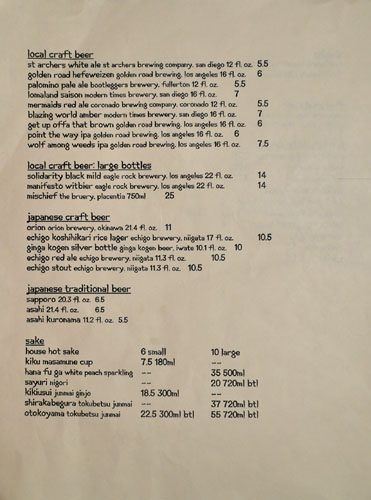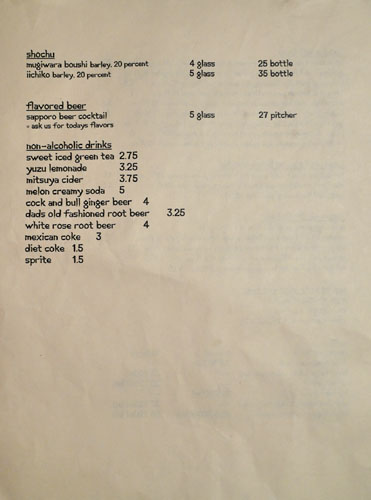 As for TFC's menu, the chicken dinner set is the main unit of consumption, and is ordered per person at $13.25 a head. Each diner is allocated one wing, one drumstick, one thigh, one side, and an appropriate amount of brothy chicken rice and house-pickled cabbage
tsukemono
. Breast can be substituted for leg/thigh, and of course you're welcome to add on with additional selections from the dozen or so Japanese-influenced sides (which include a few pricier, "upgraded" options). To drink, there's a surprisingly large selection of beers, both domestic craft and Japanese (supplemented by a
chalkboard list
), not to mention sake, spiked shochu drinks, and some interesting non-alcoholic options; if you want to BYOB, corkage is $10 (though this normally excludes beer). Click for larger versions.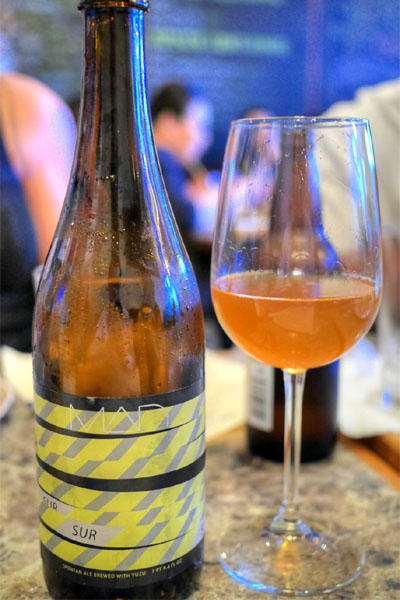 Given the corkage policy here, I precoordinated with Chef Kouji in order to bring along a couple beers. I'm quite the fan of sours, and I thought they'd pair well with the food, so my first one was the
2014 MAD Beer Sour (Sur)
, a new collaborative brew from Mikkeller and Jakob Mielcke Hansen of Restaurant Mielcke & Hurtigkarl in Denmark. Made with yuzu, the beer had lots of the citrus on the nose, while on the palate, it was much heftier, with a funky, spicy, acidic quality to it that worked pretty well with the eats.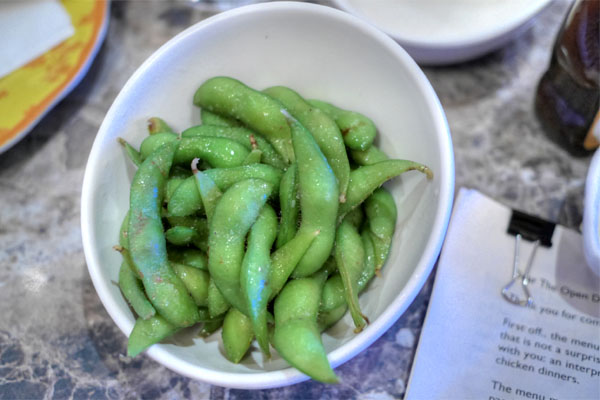 truffle butter edamame [$4.00]
A holdover from the Open Door days, the edamame made for a fitting start to the meal, the classic, salty flavors of the soy bean enhanced by an earthy veil of truffle.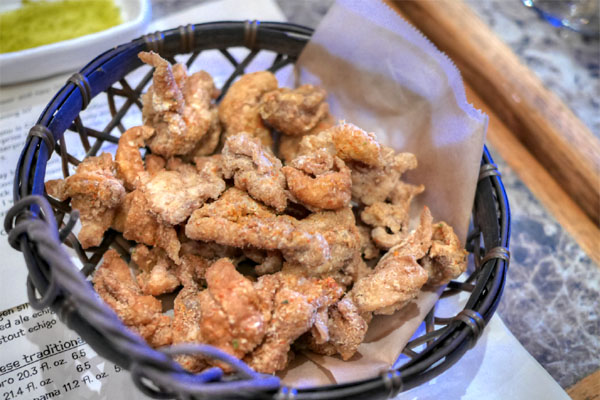 crispy fried chicken skin [$4.00]
If you're one of those who thinks that the skin is the best part of the chicken (and I don't necessarily disagree with that), then this dish is for you. Crunchy, savory, salty, these
chicharrones
were all that you'd expect. A musty try.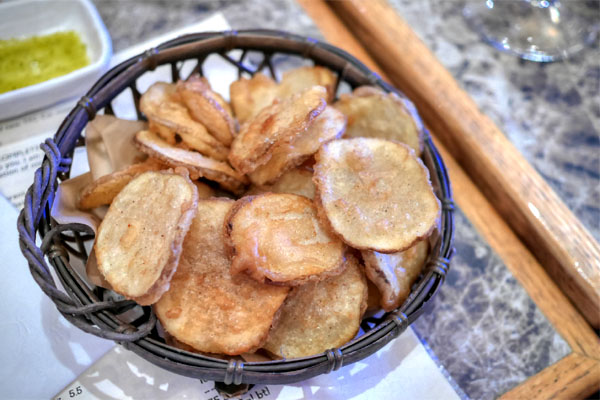 battered potato chips [$3.00]
Potato chips were also delightful, nicely thick cut and with a pretty awesome batter.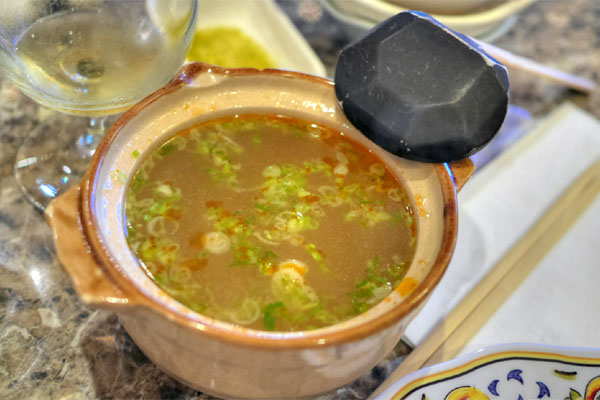 chicken soup with housemade rayu [$4.00]
Our final starter may have been the best, with its fantastic depth of flavor working beautifully alongside notes of ginger and spicy
rayu
to make for a thoroughly enjoyable slurping experience.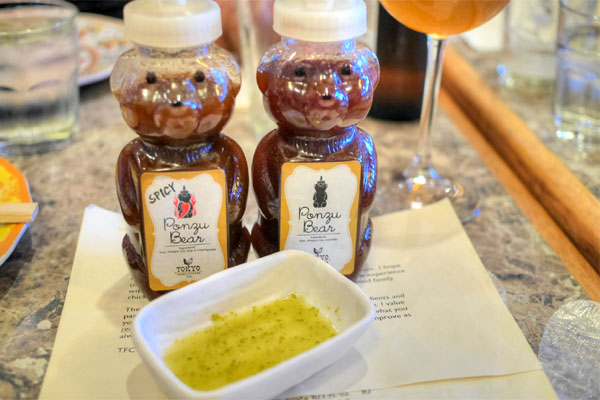 We were then presented with a trio of housemade sauces: a ponzu, a spicy ponzu (both in
kawaii
bear-shaped bottles), and a
yuzukosho
-esque condiment.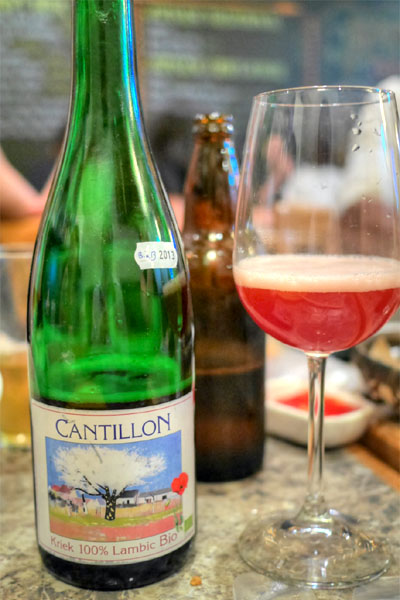 My second bottle was the vaunted
2013 Cantillon Kriek 100% Lambic Bio
. It was a gorgeously hued beer, smelling of funky, dry, crisp cherry, and with a taste that went tart, acidic, and barnyard, overarched by juicy notes of the fruit. A bracing sort of drink that managed to cut through some of the weight of the chicken.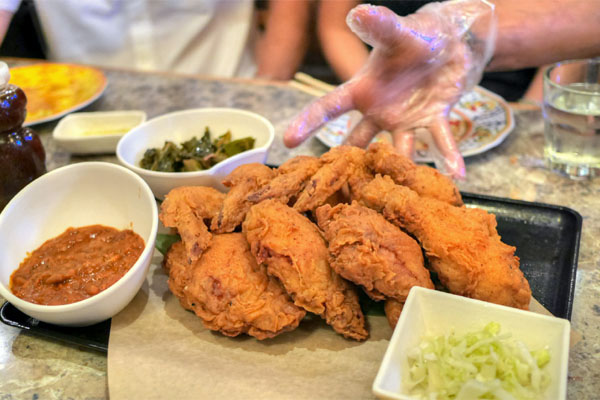 dinner for 4 [$53.00]
| 12pcs. of chicken, four regular sides included, chicken rice, and house pickled ginger cabbage
And here we see our first plate of chicken. Note the use of plastic gloves, an ingenious idea that worked wonders in reducing hand-to-hot oil contact.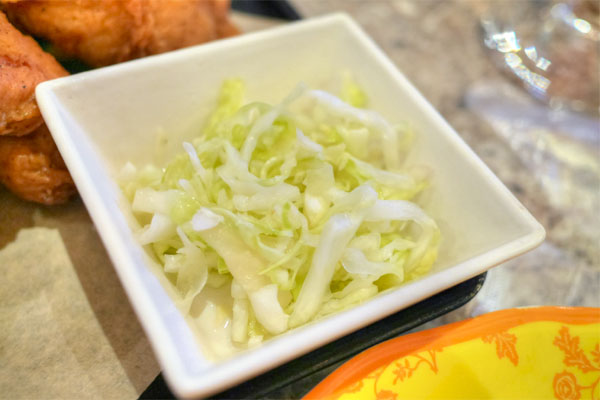 The platter arrived with pickled cabbage, which did a commendable job in providing jolts of acidic crunch to balance out the bird.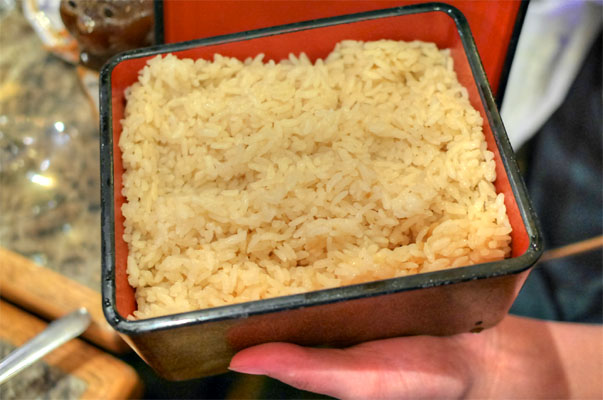 We also had TFC's chicken rice, which made for a hearty accompaniment to pretty much all the food to follow.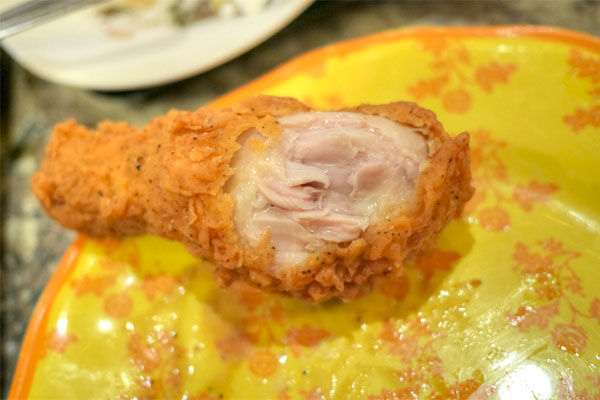 And now, time for the actual chicken, which is ostensibly
karaage
-inspired, brined in a mixture of soy sauce, ginger, and garlic, then fried in rice bran oil. I loved the crust, which was light, delicate, and wonderfully crisp, yet not overly greasy, while the meat itself managed to be really quite tender, succulent, and with an uncommon depth to it, courtesy of the soy I'm guessing. I would've preferred less sweetness, though.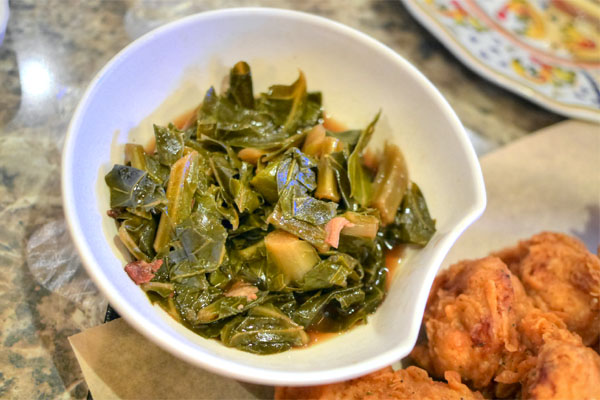 dashi braised collard greens with bacon [$2.70]
And now, for the sides. Collards had your classic bitter, earthy flavor profile, with an added dash of umami courtesy of the dashi.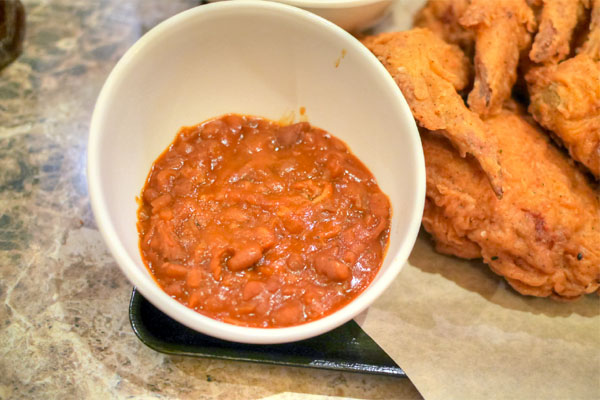 bbq baked beans [$2.70]
BBQ baked beans, meanwhile, were just what you'd expect, and I couldn't really detect anything obviously Japanese-y about them.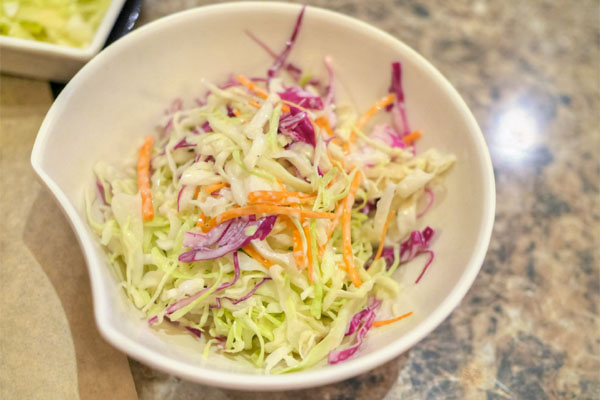 coleslaw [$2.70]
Coleslaw was crisp and crunchy, a light, bright sort of dish that just made sense with the chicken.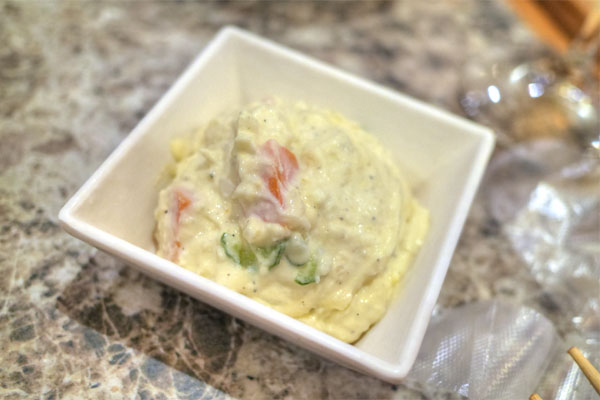 creamy potato salad [$2.70]
The potato salad was also to my liking, a lush, smooth presentation of the classic that definitely satisfied.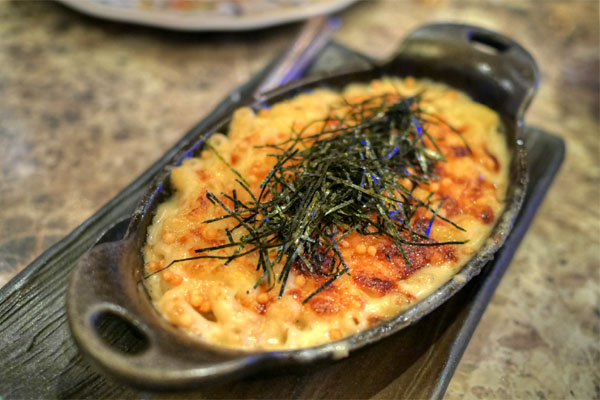 mac and cheese [$5.50]
The priciest side available, the baked macaroni and cheese was taken up a notch by the sprinklings of
nori
up top.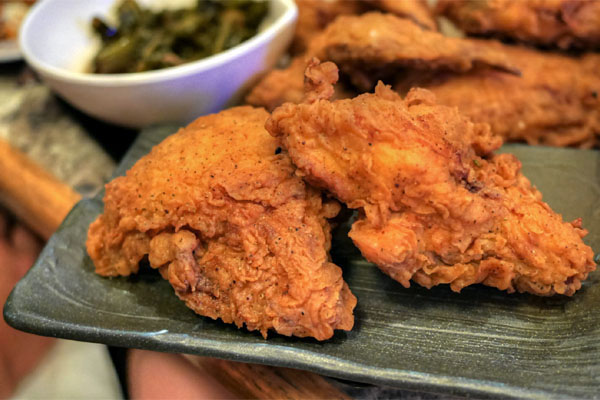 breast [$6.55]
We did end up substituting for some breast, and it turned out to be a highlight of the night, one of the juiciest preparations I've had, and quite flavorful to boot.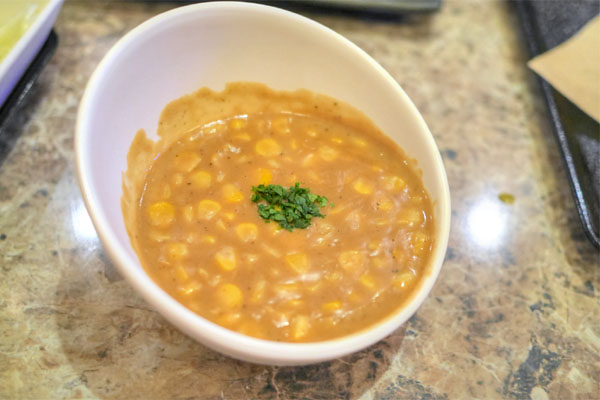 curry creamed corn [$2.70]
Creamed corn was a surprise standout for me, the curry really doing a great job complementing the sweetness of the kernels.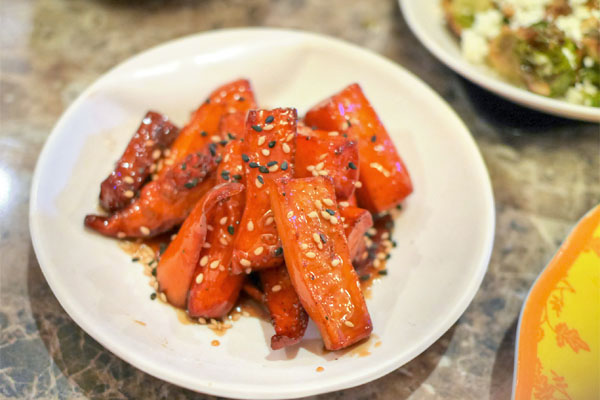 soy glazed yams [$2.70]
A lot of my dining companions seemed to really enjoy the yams as well, which had their inherent sugariness evened out a bit by the inclusion of soy sauce.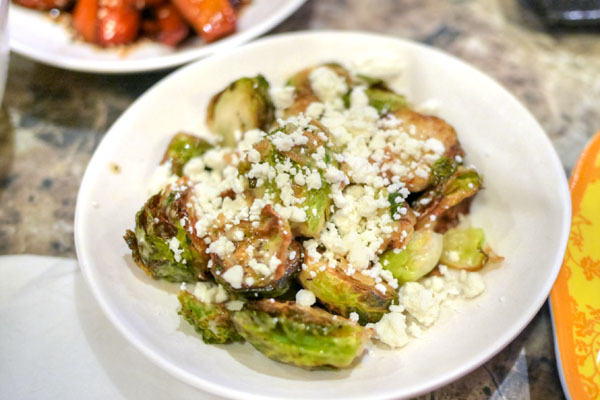 fried brussels sprouts with goat cheese and karashi mustard [$4.20]
Brussels were another favorite, the bitterness of the sprouts pairing swimmingly with the lushness of that
chèvre
.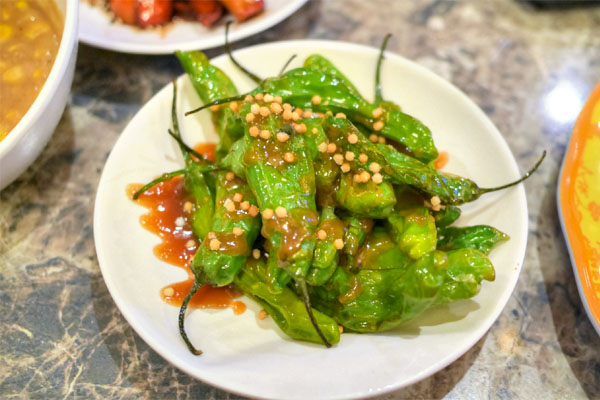 shishito peppers with den miso and arare [$4.20]
In our last side, the heat of shishitos was tempered by the sugary
den miso
, all while rice crackers added a well-placed crunch to the dish.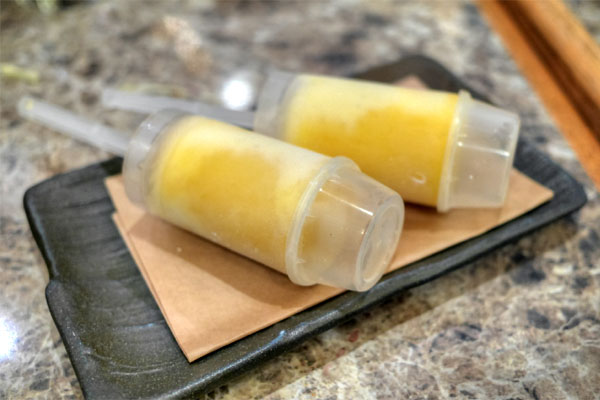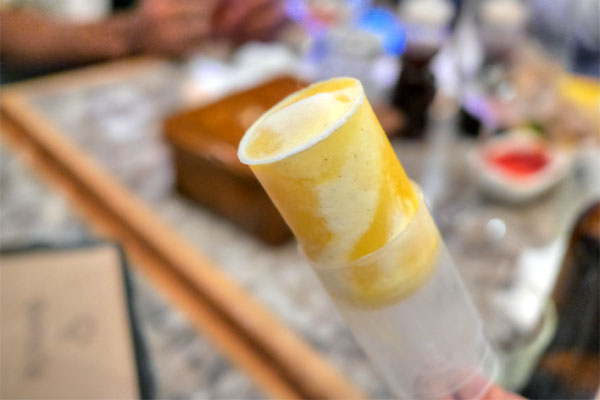 "creamsicle" push pop [$5.00]
Desserts are most certainly not made in-house, but instead acquired through a number of vendors. We had here Creamsicle pops from Burbank's Quenelle, which gave up a mélange of orange and vanilla flavors that really did recall the classic treat.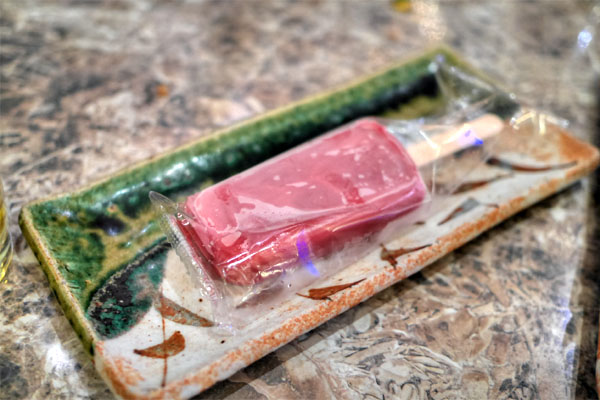 kyoho grape [$1.75]
A Kyoho grape pop imported from Japan was super sweet, with a distinctly artificial, yet not unpleasant quality to it.
gari gari kun soda [$2.50]
A soda Gari-Gari Kun, finally, was advertised as being shaved ice encased in a popsicle shell, but ate just like a bubble gum-flavored ice pop.
I'd actually been curious about trying Tokyo Fried Chicken for a while now, so I'm glad I finally made it out. This place is super popular, and it's no wonder why. The namesake chicken is unique and tasty, but that's really only half the story here. The sides and starters do a great job in complementing the bird, and make for a complete, fun, gratifying dining experience. If they could only tone down the sweetness of the chicken a bit, TFC'd be just about perfect.