L'Assiette (Los Angeles, CA)
L'Assiette Steak Frites Restaurant
7166 Melrose Ave, Los Angeles, CA 90046
323.274.2319
www.lassiettesteakfrites.com
Thu 09/25/2014, 08:00p-10:00p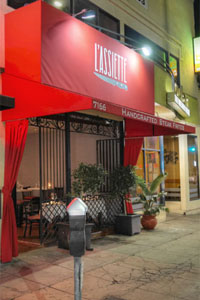 L'Assiette (French for "the plate" or "the dish") is quite possibly the most hyper-specialized restaurant to debut in LA in years. Modeled after the famed Le Relais de l'Entrecôte in Paris, the establishment bowed in March and focuses on the French (or Belgian, depending on whom you ask) national dish of
steak frites
, priding itself on preparing the staple as well as humanly possible.
The place is the work of Jacques Fiorentino, a Paris native who moved to Florida at a young age and found himself in the hospitality trade. He worked as maître d' and later Manager for La Grenouille restaurant on Clearwater Beach, then moved to the Sand Key Club as GM. In 1975, Fiorentino relocated to Los Angeles and took on a position at Spectrum Foods, the company that gave
Celestino Drago
and
Matteo Ferdinandi
their starts in the City. He eventually transitioned to the entertainment industry a few years later, becoming a
writer-slash-producer
.
However, Fiorentino always wanted to get back in the restaurant game, even conceptualizing a "Bistro Mignon de Paris" a few years back, but L'Assiette marks his true return to the biz, and to that effect, he's partnered up with former tenant Mary Anne Reyes (from Colonial Wine bar) as well as his son Marc Fiorentino (Director, Development & Production at
Hyde Park Entertainment
).

L'Assiette occupies the former home of Colonial, and before that, the likes of Tirovino Wine Bar, All' Angelo, Indira Cuisine of India, and Mumtaz Indian Cuisine. The space holds 50 and has been redone in wood, white, and burgundy to a convey a modern brasserie-esque aesthetic.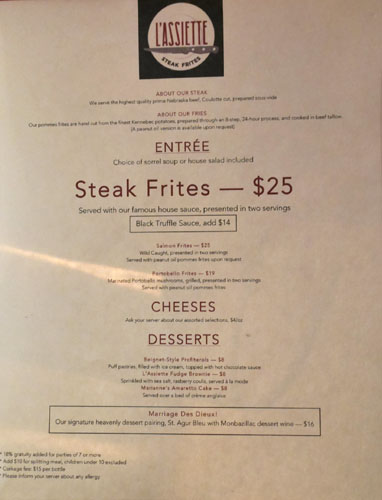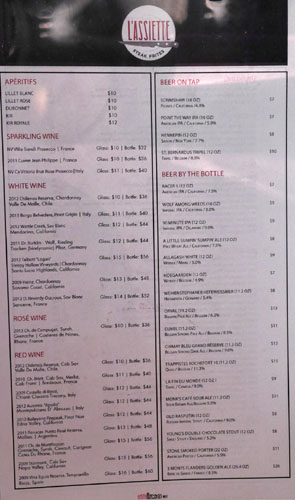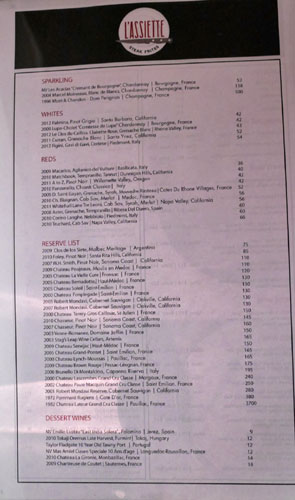 L'Assiette's menu is brief, with the main unit of consumption being the aforementioned
steak frites
, served in two portions and joined by a choice of soup or salad, all for a reasonable $25. You also have the option of adding on cheese, as well as a handful of desserts. To drink, you get a nice selection of wines and, somewhat surprisingly, craft beers; corkage is $15. Click for larger versions.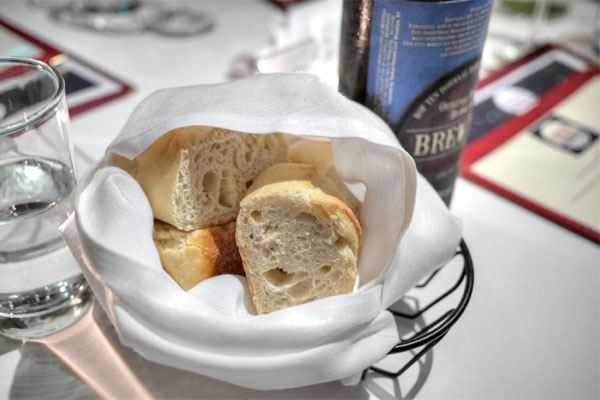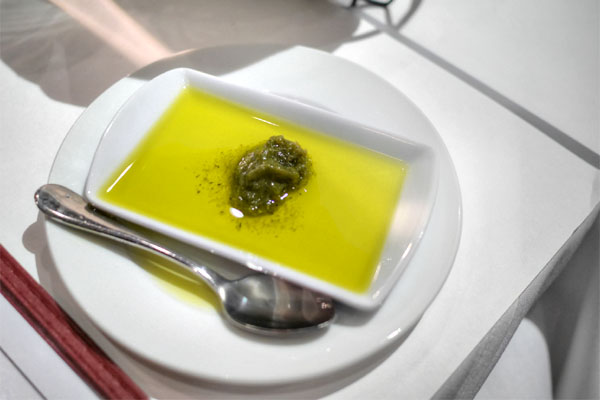 Bread was pretty basic, though somehow strangely addictive, especially when taken in concert with the paired olive oil-pesto combo.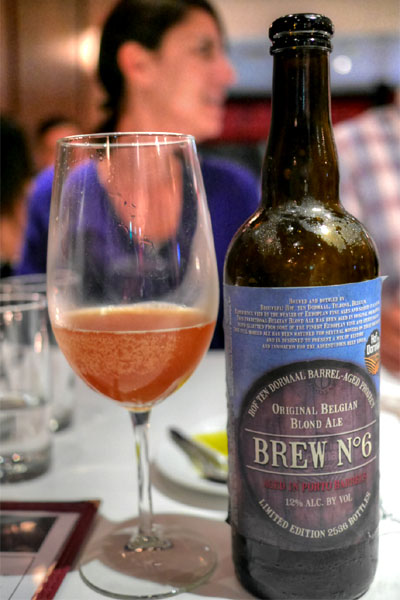 I brought along a couple beers to go with the food, the first of which was the
2012 Brouwerij Hof Ten Dormaal Barrel-Aged Project Brew No. 6 - Porto
, basically a Belgian blonde aged for several months in oak Port barrels. The beer was indeed very "porty" on the nose, with a raisin-esque tinge that was quite apparent. In terms of taste, you had the initial Belgian-y characteristics up front, intermingled with vanilla-laced wood notes, with the finish redolent of dark fruit.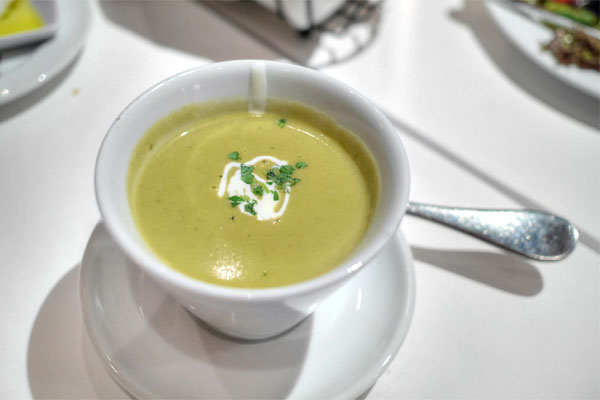 We of course sampled both starters. The
Sorrel Soup
was the stronger of the two for me, a hot, hearty, satisfying potage with an overarching brightness from the herb.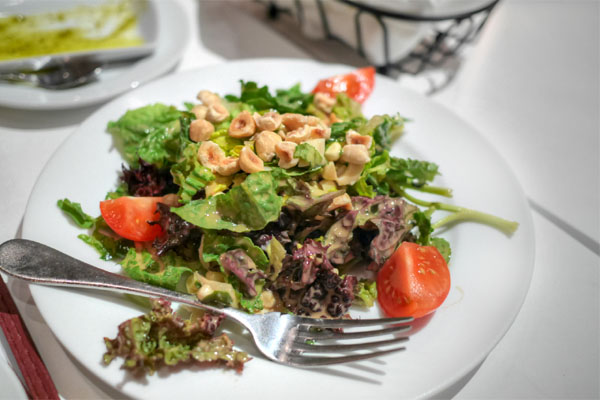 The
House Salad
wasn't bad though, with its tart dressing and pleasant crunch from the hazelnuts.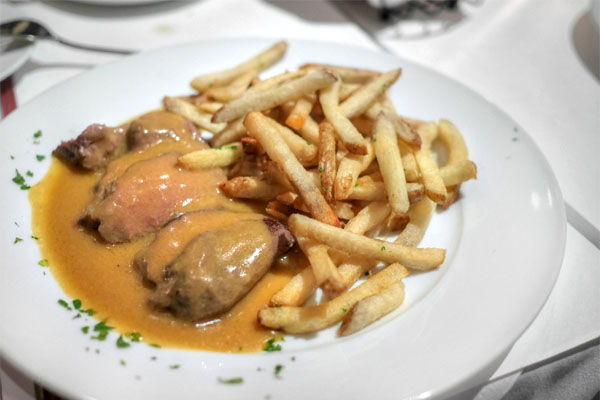 Steak Frites [$25.00]
And now we come to the
pièce de résistance
, a
culotte
(top sirloin) cut of Nebraska beef, cooked sous vide, sliced, and served with a special sauce. Note that L'Assiette eschews the traditional rump steak used in the dish, as well as the common preference for
entrecôte
(rib eye). No matter, the beef was indeed very tasty, and super tender, pairing swimmingly with the slight piquancy in the included condiment. I would've liked a stronger sear on the meat though, to give it more texture and char. As for the fries, they're hand-cut from Kennebec potatoes and cooked in beef tallow, and were delightfully crisp and pretty much perfect, so no complaints there.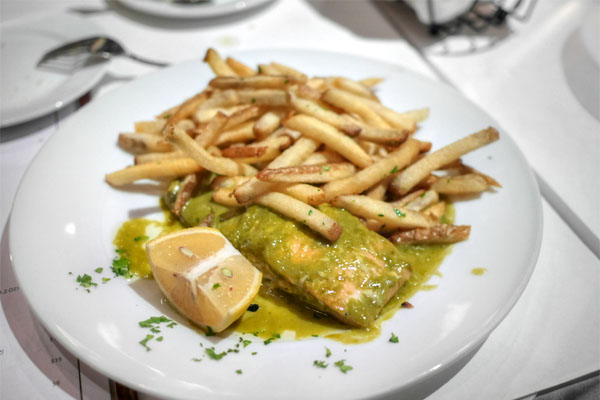 Salmon Frites [$25.00]
The seafood version of the dish, meanwhile, wasn't as successful, coming out on the dry, overcooked side, without any of that lushness you crave with salmon.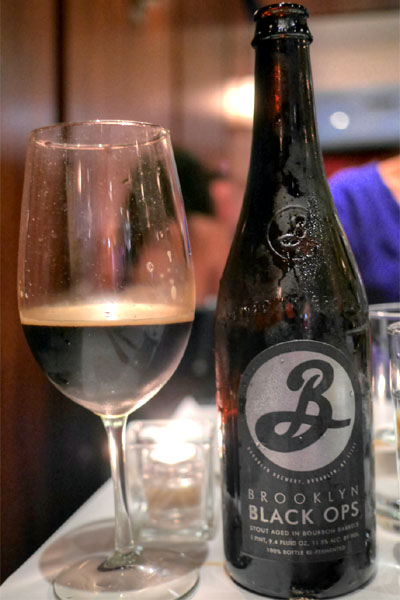 To go with the heftier plates and dessert, I cracked open a
2013 Brooklyn Brewery Black Ops
, an imperial stout aged for four months in Woodford Reserve barrels and refermented with Champagne yeast. I found it really tasty, with your classic chocolate and coffee flavors intermixed with vanilla and bourbon notes, the whole thing coming through surprisingly light and effervescent.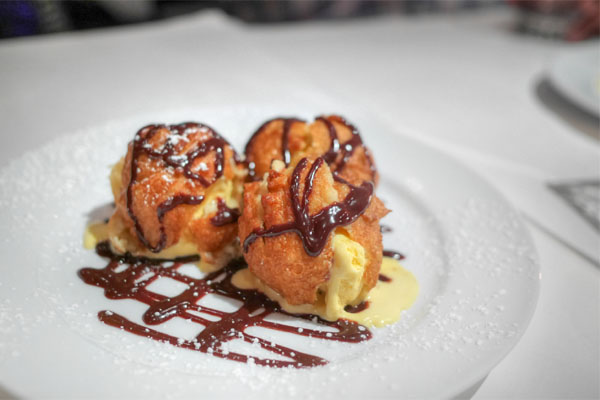 Beignet-Style Profiteroles [$8.00]
| Puff pastries, filled with ice cream, topped with hot chocolate sauce
Profiteroles were about what you'd expect. Puff pastry, vanilla, chocolate--can't go too wrong with that.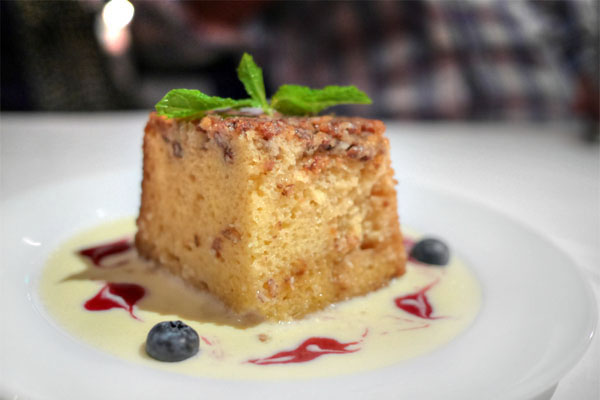 Marianne's Amaretto Cake [$8.00]
| Served over a bed of crème anglaise
I was a fan of the amaretto cake, a dense, super moist rendition of the treat positively dripping with the sweet nutty goodness of the liqueur. Pretty damn delish.
So L'Assiette's a curious concept. The steak is certainly enjoyable, with good flavor, but could've used a bit more sear, a bit more bite to take it to the next level. The fries were pretty much flawless though, but the fish option really needed to be tightened up. It'll be interesting to see how this one plays out.