The Church Key (West Hollywood, CA)
The Church Key Restaurant
8730 Sunset Blvd, West Hollywood, CA 90069
424.249.3700
www.thechurchkeyla.com
Fri 09/19/2014, 08:50p-12:50p
[NOTE: All food/drink photos taken by guest photographer Elly Lam.]
One of the most promising places to hit Sunset in recent times is The Church Key, the latest endeavor from Chef Steven Fretz (Top Round,
XIV
), Beverage Director Devon Espinosa (Pour Vous,
Ink
), and GM Joseph Sabato (
The Bazaar
,
XIV
). Named after those cheapie metal
can openers
, the Sunset Tower eatery sits between
Eveleigh
and the departed Rare by Drai's, at the site that once held Puma Social Club,
One Sunset
, and Barfly. The restaurant bills itself as "modern American dim sum," and the conceit here is that the written menu is augmented by a parade of roving carts, featuring an array of small plates and boozy treats, a novel concept to any diner who hasn't heard of State Bird Provisions.
About the Chef
: A native of Grants Pass, Oregon, Fretz graduated from North Valley High School before moving to San Francisco to begin his cooking career. He enrolled at the California Culinary Academy in 1999, and secured his first job in the industry (a 480-hour externship) at George Morrone's
Fifth Floor
(after turning down similar positions at
Aqua
and La Folie). He started out as a
communard
, cooking staff meals, but eventually became garde manger and then sous. After three years there, Fretz accepted the Executive Sous Chef position at Michael Mina's new Redwood Park, working under Joseph Humphrey (previously sous at Fifth Floor), then transitioned to Mina's Arcadia in San Jose. He then reunited with Morrone at Wildfire in Sydney, where he assisted in menu development.
In 2004, Fretz returned to San Francisco to serve as Chef de Cuisine for Morrone's Tartare, which opened at the former address of Elisabeth Daniel (where
Dan Patterson
first made a name for himself). After the place closed in 2006, he moved to New York, consulting for davidburke & donatella as well as David Burke Fromagerie in Jersey. Fretz would wind up working for Michael Mina again in 2007, this time as Executive Chef of Saltwater in Detroit. After his stint in Motor City, he relocated to Los Angeles in 2008 to open Mina's ambitious
XIV
in partnership with SBE, alongside Pastry Chef
Jordan Kahn
. Fretz did end up winning
Angeleno
's "Best New Chef" award the following year, but the restaurant never really caught on with its "build your own tasting menu" format, and he left in August 2010.
He was rumored to be planning his own fish- and pasta-focused place, but eventually landed a gig as head chef for Curtis Stone's various projects, and was apparently working on launching an LA restaurant with Stone. However, the concept never materialized, and Stone ended up taking over Pici Enoteca in Beverly Hills, which he turned into the tasting menu-centric
Maude
. With that out of the way, Fretz thus partnered with Anthony Carron (800 Degrees), Noah Ellis (Red Med), and Jamie Tiampo to debut roast beefery Top Round, which bowed in June last year. He then set his sights on The Church Key, and along with Sabato and Espinosa, opened the restaurant in late October, joined by Chef de Cuisine Ryan Ososky (
XIV
, Bradley Ogden) and Pastry Chef Ian Opina (
Hatfield's
).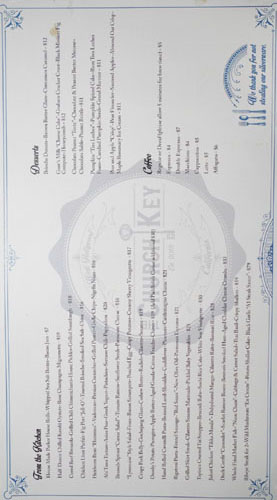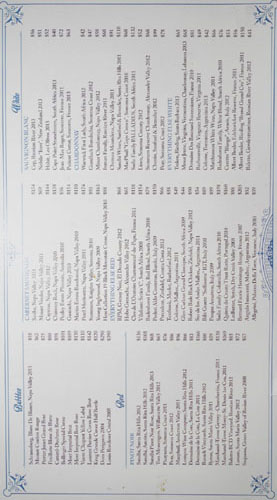 Above, we see The Church Key's printed menu, which, of course, is only part of the story here. To eat, you'll find a selection of small-ish plates, some of which seem like they could be holdovers from the XIV days, and even smaller plates on those roving carts (kept track of via dim sum-style
stamp cards
). Meanwhile, drinks are the charge of Espinosa, and in addition to the printed list of cocktails-beer-wine, there are also roaming carts with nitro "Odd-er Pops" as well as drinks set in cans and mason jars. Click for larger versions.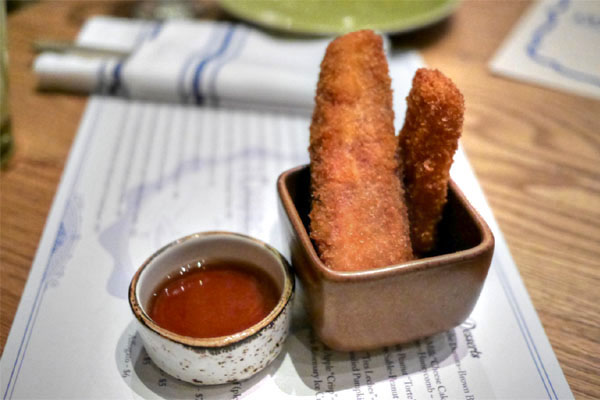 Bacon Scrumpets with Maple Vinegar Sauce
We began with a number of cart items (each priced at around $6 to $7 for the most part). The scrumpets were fun and tasty, the porky goodness of the bacon livened up by a crisp coating of what I believe was panko while the included maple-vinegar imparted a tangy sweetness to the mix.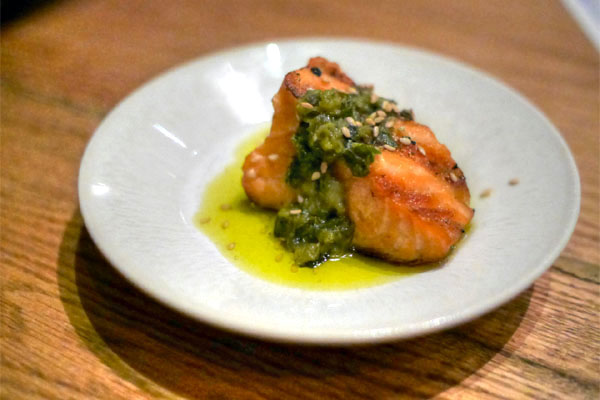 Grilled Ocean Trout with Grilled Chili Chimichurri
Trout was a touch dry, but was spot on taste-wise, its flaky, somewhat fatty disposition evened out by the zing of that chimichurri.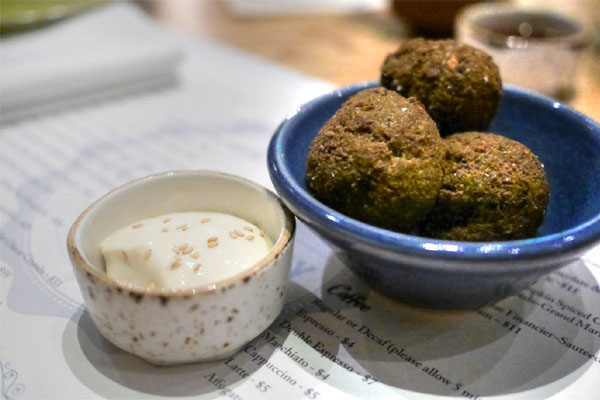 English Pea Falafel with Truffled Tahini Sauce
The falafel was one of my favs, moist and full of nutty, pea-laced savor, the balls perfectly paired with their included condiment.
Chef Fretzy 4.0 [$14.00]
| Dobel Tequila / Pavan / Candied Grapes
Pink Lips [$14.00]
| Grey Goose La Poire (Pear) / Champagne / Pomegranate Espuma
With Espinosa behind the stick, we had to give the cocktails a try of course, and I got things going with the
Chef Fretzy 4.0
, ostensibly the fourth iteration of the drink. It was one of the standouts for me, with the sweet-ish, grape-y character of the Pavan really meshing beautifully with the tequila. Unfortunately, I forgot to sample the admittedly very-girly-sounding
Pink Lips
, but my dining companion seemed to enjoy it.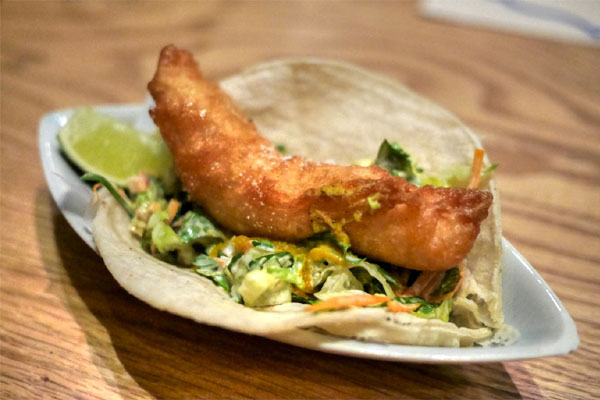 Crispy Halibut Taco, Serrano Chili Aioli, Spicy Salsa Verde
Fretz's fish taco was superb, one of the tastiest I've had. The halibut itself was on point--crispy and moist--but what really made this work for me was the creeping bit of heat in the dish.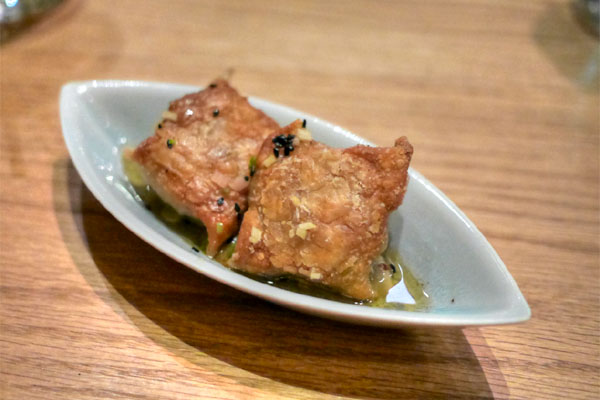 Pork and Shrimp Gyoza with White Soy Vinaigrette
Gyoza were lovely, wonderfully crisp on one side and loaded with plenty of juicy, pork-y, shrimp-y goodness. Could've used a couple more of these.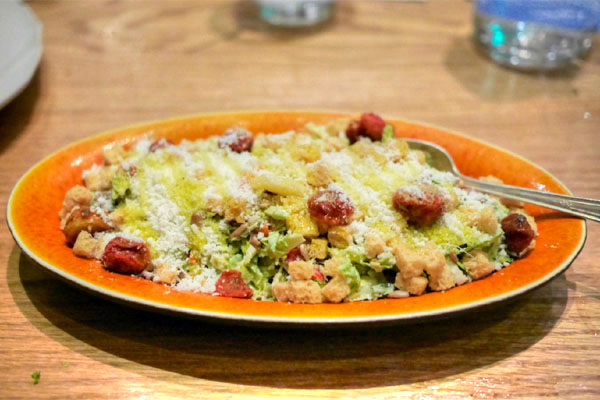 Brussels Sprout "Caesar Salad"~Tomato Raisins~Sunflower Seeds~Parmesan Cheese [$16.00]
We had to give this reimagined Caesar a shot given our penchant for Brussels sprouts. It was a nice play on the classic salad, a lighter, brighter presentation perked up by those tomato raisins while the Parm lent a salty heft to the entire dish.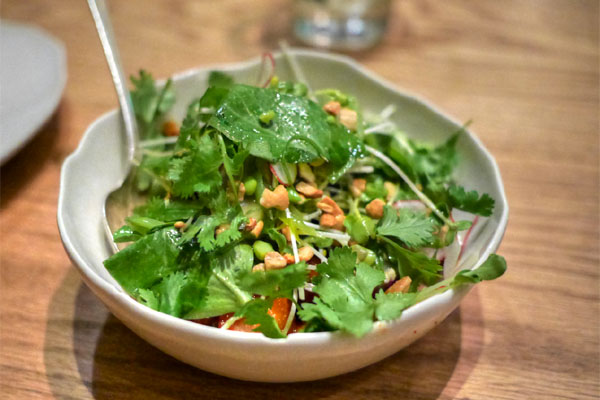 Crispy Pork Belly~Gochujang Glaze~Cashew Butter~Radish~Cilantro~Sesame [$18.00]
Though you couldn't really see 'em, cubes of pork belly were delightful: crisp yet fatty, and teeming with
gochujang
spice. Very good alone, and even better when taken with all the greenery on top.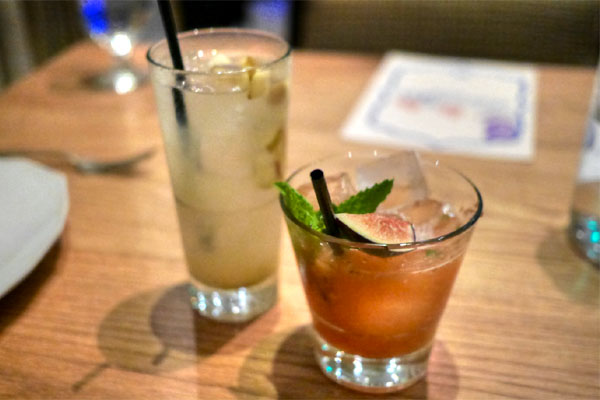 Pretty Pear Overboard [$13.00]
| Van Gogh Vodka / Bosc Pear Shrub / Soda
Sir Newton [$14.00]
| Brandy / Figs / Mint / Agave
In our second round of cocktails, the
Pretty Pear Overboard
worked well as a long drink, with the juicy notes of pear intermingling with the soda and vodka to make for a light, refreshing experience. The
Sir Newton
, on the other hand, was heftier, with a great interplay between the fig and agave, the whole thing brightened up by the aromatics of the mint.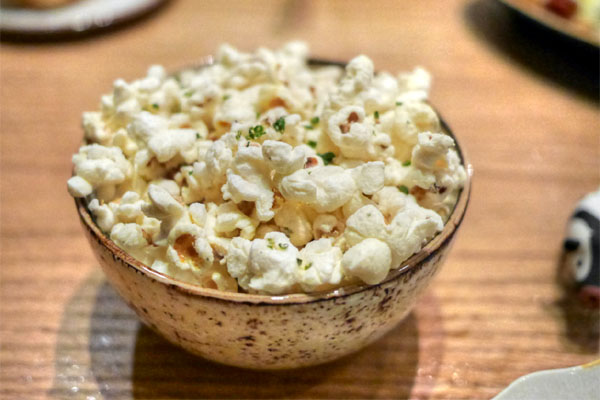 Salt and Vinegar Popcorn
The complementary salt-vinegar popcorn was a bit addictive, so careful not to fill up on it.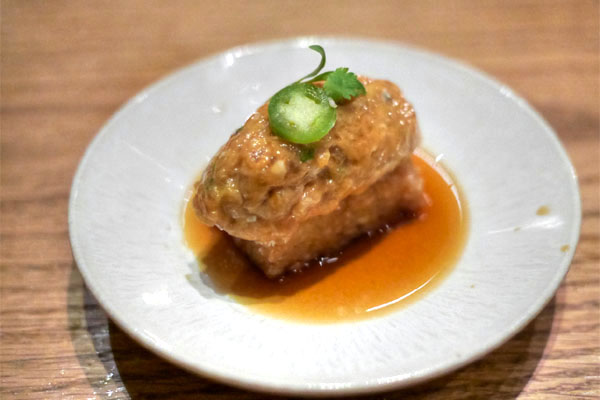 Spicy Tuna Crispy Rice with Housemade Ponzu
The ubiquitous fusion-y dish of spicy tuna atop crispy rice was about what you'd expect, albeit pretty good.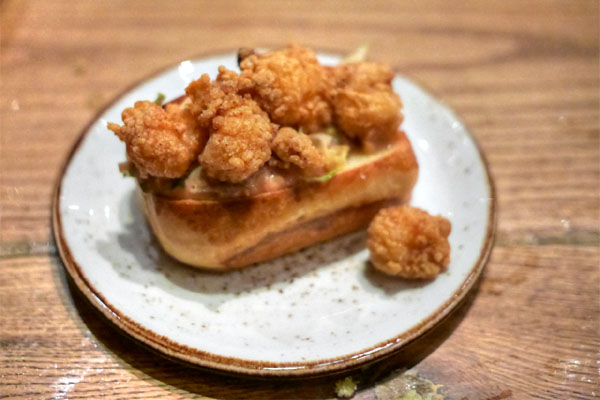 Shrimp Po' Boy with Pickled Egg Remoulade on House Made Brioche
I quite enjoyed the po' boy, the shrimp here coming out still springy and briny, yet crispy, with the remoulade adding a great zesty kick to things. Nice sweetness on the bread, too.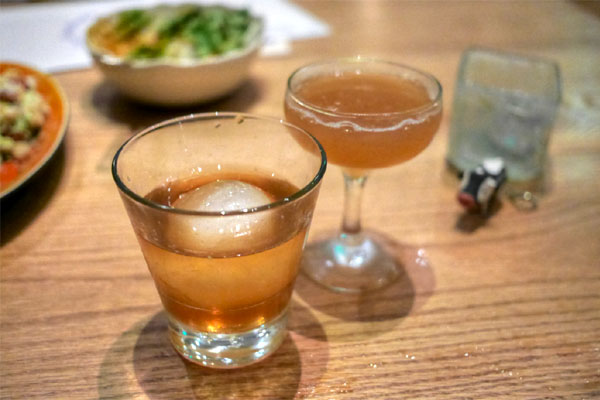 Fashioned Chai [$14.00]
| Apple Jack Brandy / Buffalo Trace Bourbon / Chai Syrup / Orange Peel
Mary Funkin' Poppins [$13.00]
| Buffalo Trace Bourbon / Green Chartreuse / Earl Grey Tea / Honey
Up next were two tea-themed cocktails. The
Fashioned Chai
was a take on the Old Fashioned, and deftly played the boozy weight of the brandy-bourbon against the warm, spicy notes of chai syrup. Also a winner was the
Mary Funkin' Poppins
, with its incorporation of fragrant Earl Grey and honey really evening out the assertiveness of the bourbon and Chartreuse.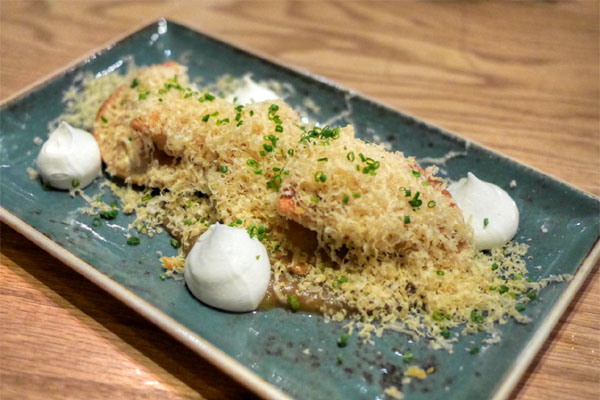 Ososky's Potato Pierogies~Apple Butter~Aged Gouda~Crème Fraiche~Chives [$19.00]
Getting into the more substantial stuff now, we had here a version of a dish that dates back to CdC Ososky's time at XIV. It's a nod to his Polish heritage, a tasty one at that, with the hearty, hefty combo of potato and gouda smartly accented by the sugary apple butter.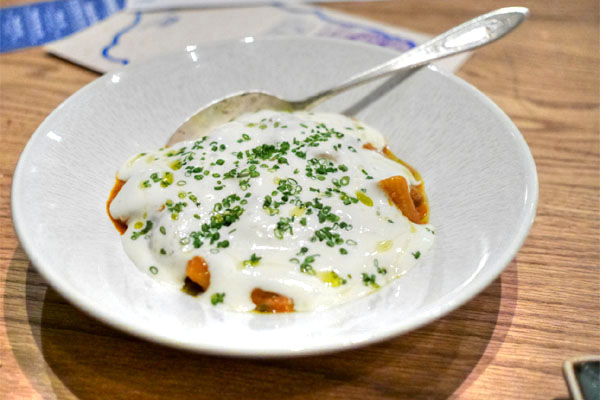 Rigatoni Pasta~Fennel Sausage~"Red Sauce"~New Olive Oil~Parmesan Espuma [$21.00]
The rigatoni didn't win points for presentation, but the flavor was certainly there. I was a fan of the fennel sausage and how that paired with the tangy, old school red sauce, the Parm espuma on top sort of tying it all together.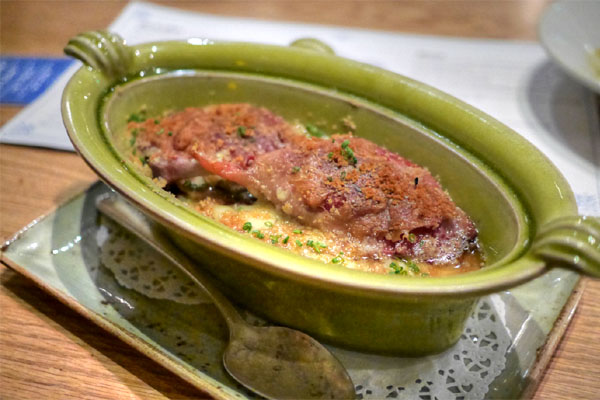 Duck Confit "Cassoulet"~Scarlet Runner Beans~Benton's Smoked Ham~Aged Cheddar Cheese Crumbs [$33.00]
The cassoulet course featured a very "duck-y" confit, one that, when paired with the smoked ham, really called for the runner beans to balance out the saltiness of it all. A homey, comforting sort of dish, though it might be nice to have some sausages in there as well.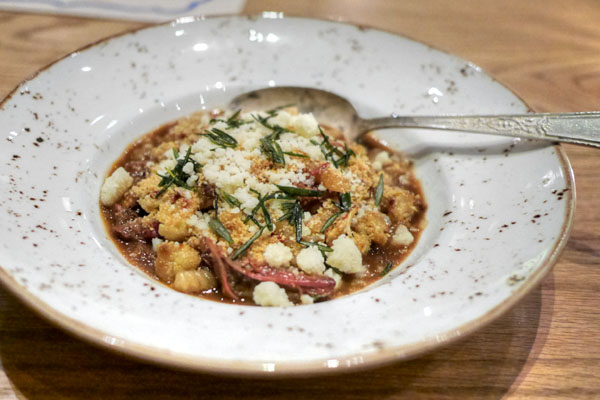 Hand Rolled Cavatelli Pasta~Braised Lamb Shoulder~Cauliflower~Pinenuts~Castelmagno Cheese [$21.00]
Cavatelli stood up well to the richness of the braised lamb, the meat's deep, dark flavors amplified by the Castelmagno while the cauliflower and pine nuts lightened things up a bit.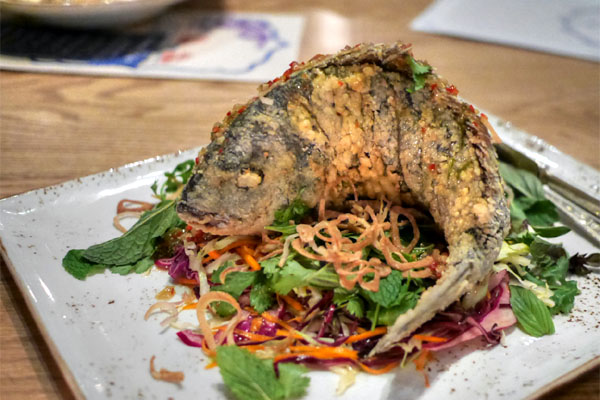 Whole Fried Market Fish~"Nuoc Cham"~Cabbage & Carrot Salad~Thai Basil~Crispy Shallots
For our final savory, the Chef sent out a half order of the whole fried snapper. It was a pretty impressive looking plate, and the fish itself arrived suitably crisp, yet still juicy and supple on the inside. Nice use of Asian-y flavors here, and I appreciated the zip of the fish sauce as well to really accentuate the snapper.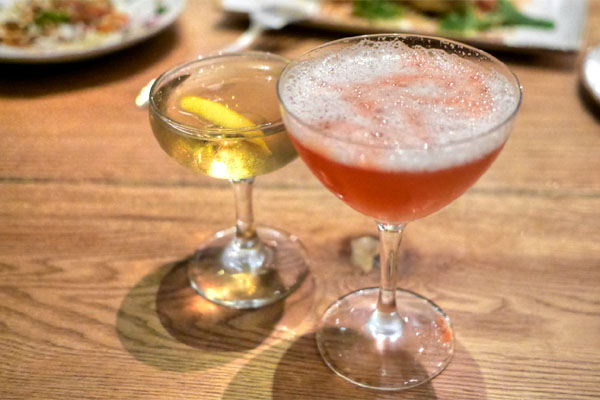 Alfred, the Butler [$13.00]
| Old Overholt Rye / Becherovka / Carpano Bianco Dry Vermouth
Red Beard [$13.00]
| Bacardi Rum / Cherry Heering / Aperol / Cardamom Syrup / Pineapple
The
Alfred, the Butler
was likely the booziest cocktail of the night, showcasing an herb-y, citrus-y, perfume-y combination of flavors over a backdrop of spicy rye. Meanwhile, the
Red Beard
was much softer in its presentation, with a tasty body of sweet spice and fruit to go along with a backbone of Bacardi.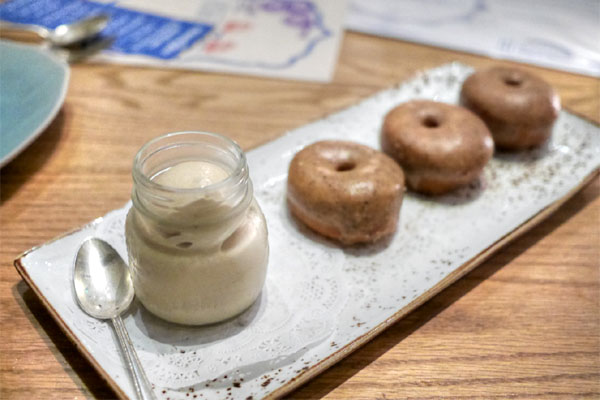 Brioche Donuts~Brown Butter Glaze~Cinnamon Caramel [$12.00]
Time for desserts, which are the work here of Pastry Chef Ian Opina. We started with his signature doughnuts, which won second place for best dish at the recent
Plate by Plate
tasting benefit. They're seriously legit, brown butter bombs that were irresistible alone but even better when eaten with the cinnamon caramel ice cream.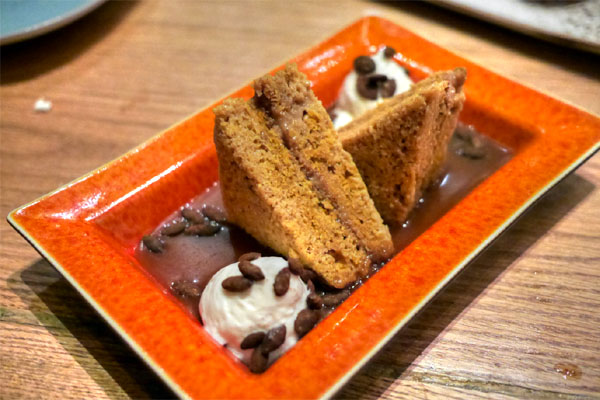 Pumpkin "Tres Leches"~Pumpkin Spice Cake~Rum Tres Leches Foam~Candied Pumpkin Seeds~Grand Marnier [$11.00]
The pumpkin "tres leches" didn't seem all that "tres leches" to me, but I still enjoyed the dessert, with its sweet-spicy flavors on proud display against all the other elements on the plate.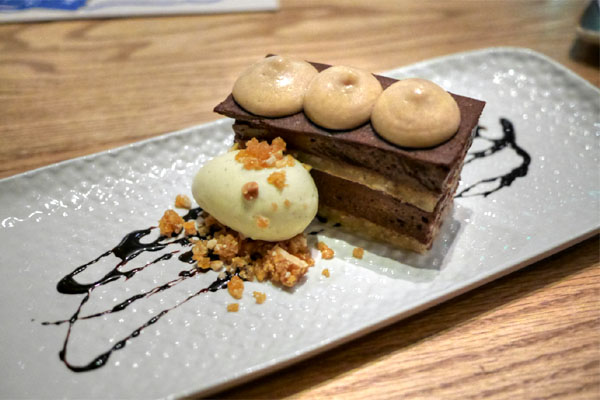 Chocolate Peanut "Torte"~Chocolate & Peanut Butter Mousse~Chocolate Sable~Peanut Brittle [$11.00]
Opina's torte was an exploration of peanut butter and chocolate. I'm not sure which element won out here, but it was fun to eat, with the ice cream and brittle adding particularly enjoyable dimensions to the dessert.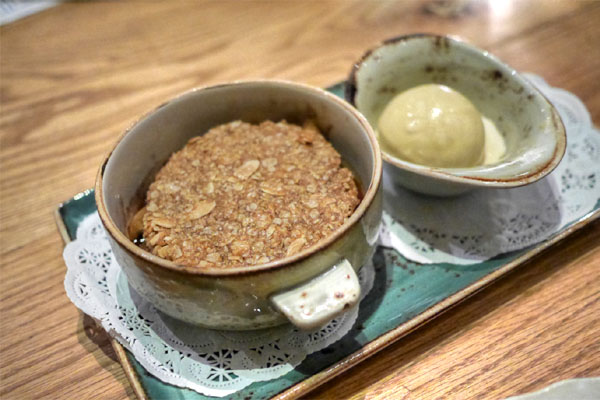 Pear and Apple "Crisp"~Pear Financier~Sauteed Apples~Almond Oat Crisp~Maple Rosemary Ice Cream [$11.00]
Last up was an effective combo of pear and apple, a duo that made absolute sense with the almond and oats. I was really digging the aromatics of the maple-rosemary here, though I would've liked a less gritty texture on that crisp.
After some misfires, I think 8730 Sunset has finally found a concept that works. The Church Key's a fun, festive, slightly scene-y type of joint, and the food reflects that, but fortunately has some chops to back it up as well. The cocktails were nothing to sneeze at either, and I'm glad that the cart dishes didn't seem to lose out too much quality-wise compared to the menu options, as some diners had reported. In the end, a welcomed, worthwhile addition to this section of Sunset.