Harlowe (West Hollywood, CA)
Harlowe Bar
7321 Santa Monica Blvd, West Hollywood, CA 90046
323.876.5839
www.harlowela.com
Thu 09/25/2014, 10:20p-01:05a

After downing steak frites at the nearby
L'Assiette
, we moseyed on over to Harlowe, one of the most buzzy Los Angeles bar debuts of 2014 (it opened in May). Originally slated to be called Clementine, Harlowe is the latest project from the
1933 Group
, the parent company behind the likes of Sassafras, Thirsty Crow, Bigfoot, Oldfield's, and La Cuevita. Kyle Ackley (Bigfoot Lodge,
Drago Centro
, Bungalow, Lexington Social House,
XIV
) serves as General Manager, while the cocktail program was masterminded by Dushan Zaric of New York's Employees Only and Macao Trading Co. Day-to-day bar duties, however, are handled by a team that includes Chris Amirault (
Eveleigh
,
MessHall
), Una Green (
Sotto
), Jared Mort (Oldfield's, Sassafras), and Rosie Ruiz (Big Bar, 1886,
Connie & Ted's
).

Harlowe occupies the former home of Crown Bar (and Tempest back in the day), but the interior has been thoroughly revamped by designer Bobby Green. The space recalls what you might call an old Hollywood soda shop with its vintage-y fixtures, old-school portraiture, and turn-of-the-century banquettes. There's also an enclosed patio area out front.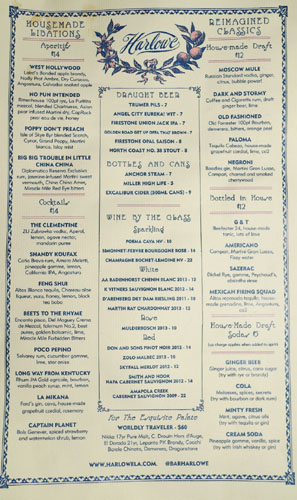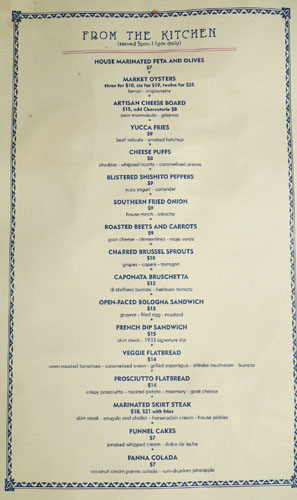 Harlowe's menu features about 20 cocktails, a quarter of 'em bottled, a quarter of 'em on draft. You also get homemade sodas, six beers on tap/a couple in the bottle, and about a dozen or so requisite wines. Food-wise, think elevate-y bar grub from consulting chef Eric Greenspan, with separate happy hour and late night selections. Click for larger versions.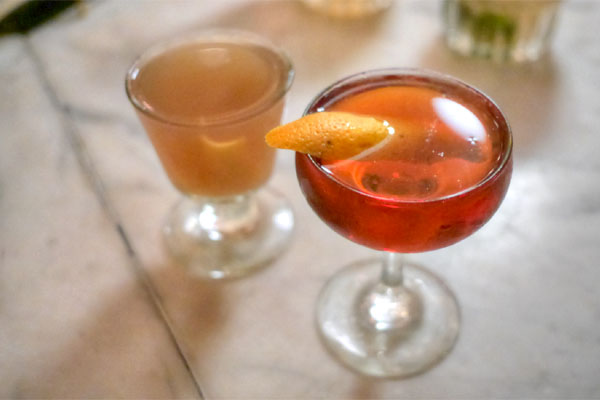 No Pun Intended [$14.00]
| Rittenhouse 100pf rye, La Puritita mezcal, blended Chartreuse, Asian pear infused Martini dry, CapRock pear eau de vie, honey
Poppy Don't Preach [$14.00]
| Isle of Skye 8yr blended Scotch, Cynar, Grand Poppy, Martini bianco, Islay mist
I began with an aperitif in the form of the
No Pun Intended
, a bracing, boozy, yet sweet-sour-spicy concoction underpinned by a backbone of honey, the mezcal imparting an air of gravitas to the drink--pretty cool. The
Poppy Don't Preach
, meanwhile, was much more viscous on the tongue, with a strong bittersweet, aromatic component backed by the potency of the whisky.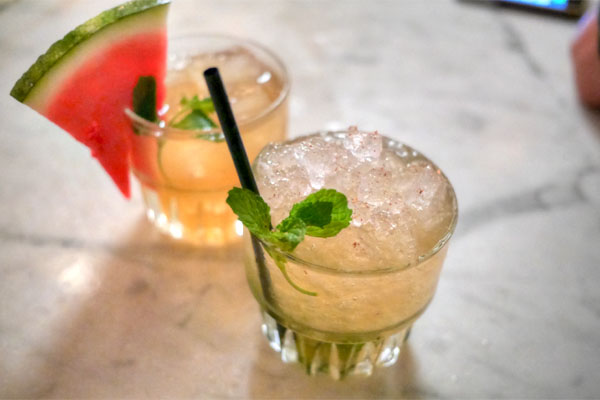 Captain Planet [$14.00]
| Bols Genever, spiced strawberry and watermelon shrub, lemon
Long Way from Kentucky [$14.00]
| Rhum JM Gold agricole, bourbon, vanilla peach syrup, mint, lemon
On the other hand, the
Captain Planet
was super bright and refreshing, with a juicy melon-y character intertwined with the zestiness of the jenever--perfect for summer. The
Long Way from Kentucky
was much heftier, natch, the interplay between the rum and bourbon tempered by the sweetness of vanilla-peach while mint and lemon added pleasant exclamation points to the drink.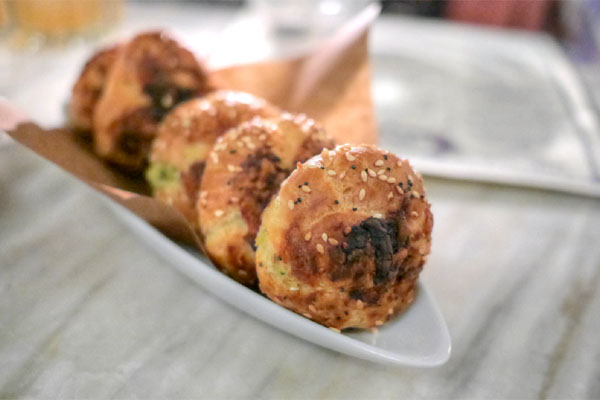 Cheese Puffs [$8.00]
| cheddar - whipped ricotta - caramelized onions
Cheese puffs were great texturally, with a strong essence of sweet onion, but seemed lacking in actual
cheese
. Somewhat of a letdown.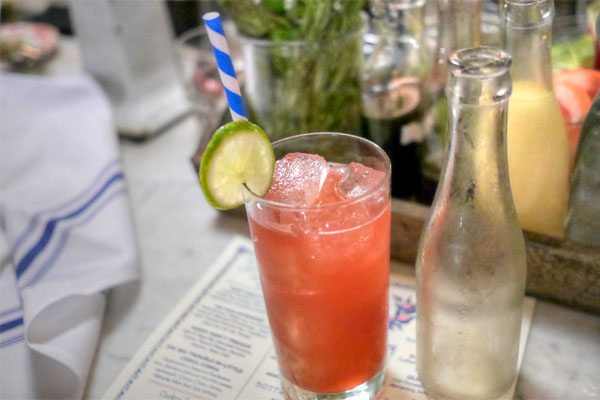 Mexican Firing Squad [$12.00]
| Altos reposado tequila, house-made grenadine, lime, Angostura, co2
Getting into a bottled cocktail now, the
Mexican Firing Squad
veered light and effervescent, a tangy, slightly bitter drink that had the booziness of the tequila shining through.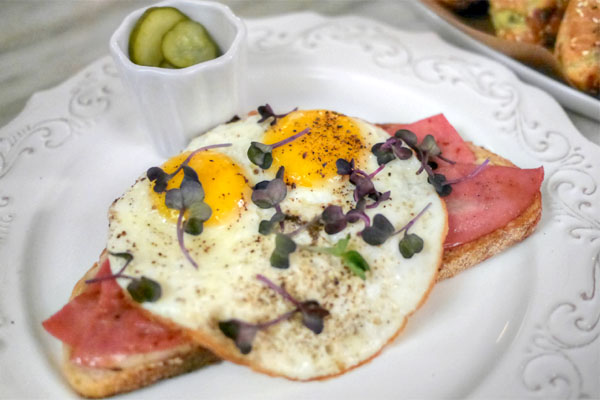 Open-Faced Bologna Sandwich [$13.00]
| gruyere - fried egg - mustard
The bologna sandwich was a winner, a salty, satisfying mélange of egg-cheese-meat that was smartly set off by the tangy mustard and pickles.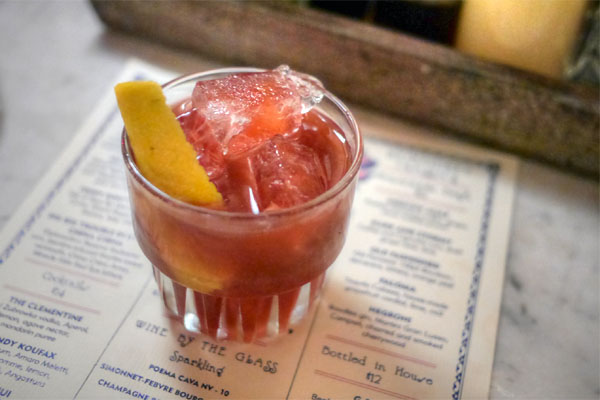 Old Fashioned [$12.00]
| Old Forrester 100pf Bourbon, demerera, bitters, orange peel
On draft was Harlowe's take on the
Old Fashioned
, a classic interpretation of the cocktail with a balanced presentation of boozy, bitter, sweet, and citrusy.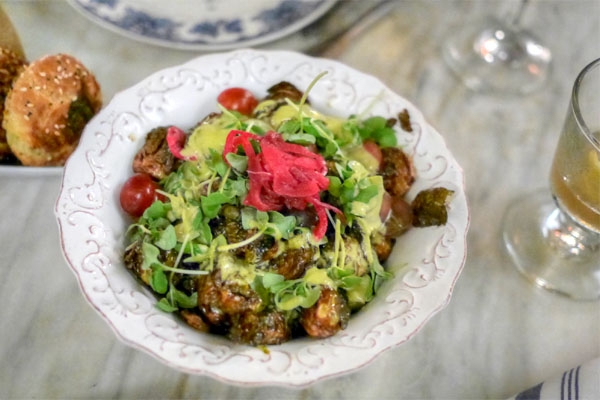 Charred Brussel Sprouts [$10.00]
| grapes - capers - tarragon
Brussels were pretty good: bitter, charred, and amped up by the application of capers, all while the grapes imparted a noticeable levity to the dish.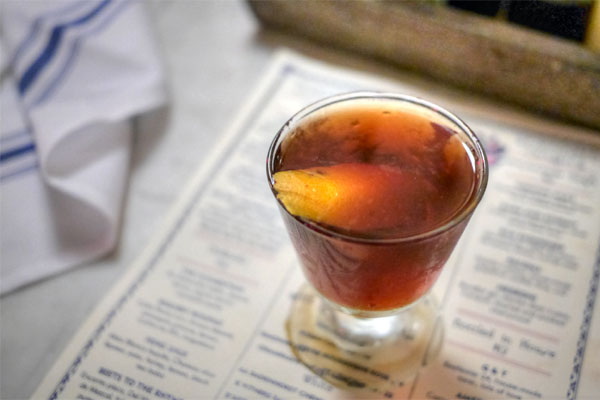 Big Big Trouble in Little China China [$14.00]
| Diplomatico Reserva Exclusiva rum, jasmine-infused Martini sweet vermouth, China China Amer, Miracle Mile Red Eye bitters
The long-monikered
Big Big Trouble in Little China China
managed to become my favorite cocktail of the night. I found it super well-integrated, with disparate notes of citrus, spice, and minty herbs all coming together cohesively over a base of Diplomatico. Wonderfully multifaceted, and one of the best cocktails I've had in recent memory.
Beets to the Rhyme [$14.00]
| Encanto pisco, Del Maguey Crema de mezcal, falernum No. 2, beet puree, golden balsamic, lime, Miracle Mile Forbidden Bitters
An electric shade of crimson and gritty in texture, the
Beets to the Rhyme
showed off the sweetness of the beet, set against a palpable tartness and spice, the mezcal lending a much appreciated smokiness to the fray. An easy drinker.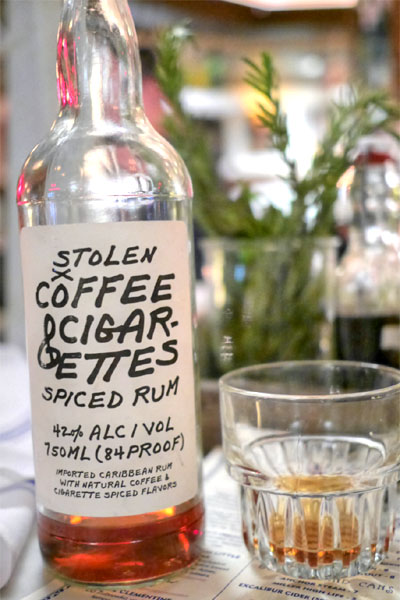 We saw a bottle of
Stolen Coffee & Cigarettes Spiced Rum
behind the bar, and Chris Amirault poured us a taste. It was delicious, with a smooth, harmonious balance of spice, coffee, smoke, and sweetness that left me thirsty for more.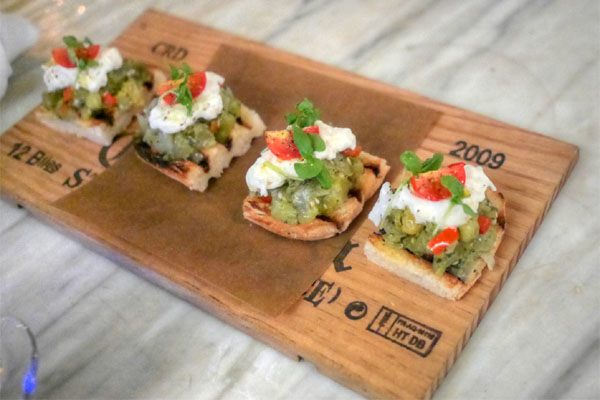 Caponata Bruschetta [$12.00]
| di steffano burrata - heirloom tomato
Here, bruschetta attempted to play the sweet-n-sour essence of eggplant against the cool, creamy nature of burrata, though the results didn't exactly wow me.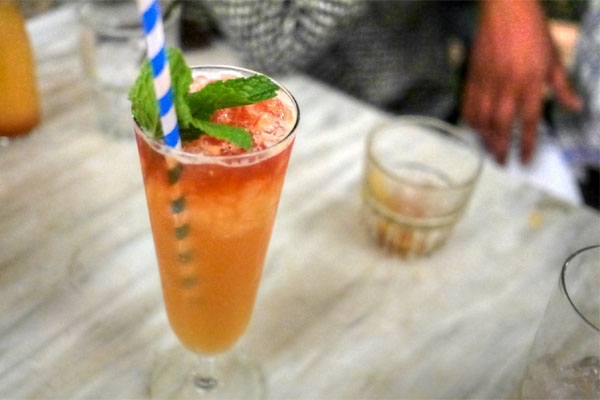 Shandy Koufax [$14.00]
| Caña Brava rum, Amaro Meletti, pineapple gomme, lemon, California IPA, Angostura
The
Shandy Koufax
is arguably Harlowe's most well-known drink by this point, and for good reason. A tiki-esque creation, it displayed a delectably tropical flair along with the rum, but the crux of the cocktail was the beer, which imparted a refreshing bitterness toward the back end that really brought it all together. Another favorite.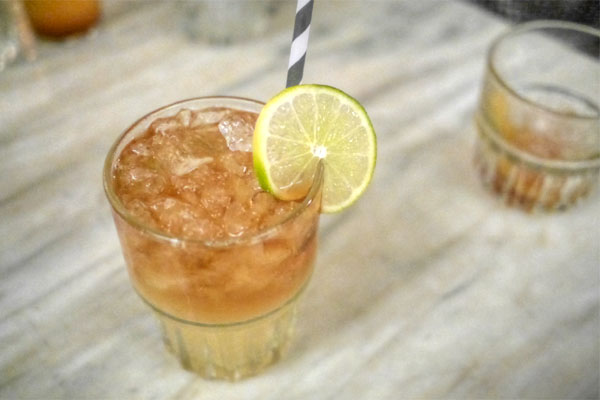 Dark and Stormy [$12.00]
| Coffee and Cigarettes rum, draft ginger beer, lime
Harlowe's draught version of the traditional
Dark and Stormy
made great use of the aforementioned Coffee & Cigarettes, playing the sweet, spicy base of the rum against the bright notes of the ginger beer and lime.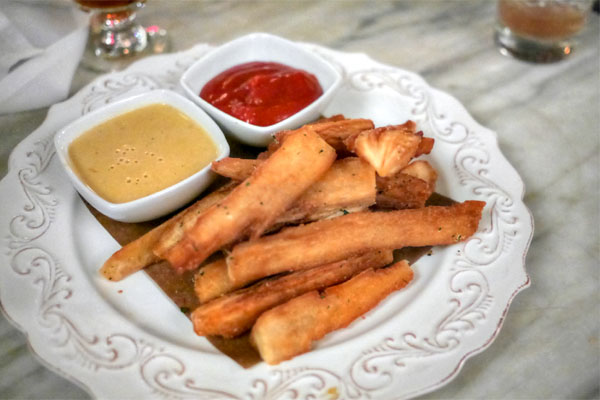 Yucca Fries [$9.00]
| beef veloute - smoked ketchup
Yuca fries were delish. I was fine with the beef condiment, but was a little obsessed with the smoked ketchup, which was pretty much the perfect complement to the starchy, slightly sweet fries.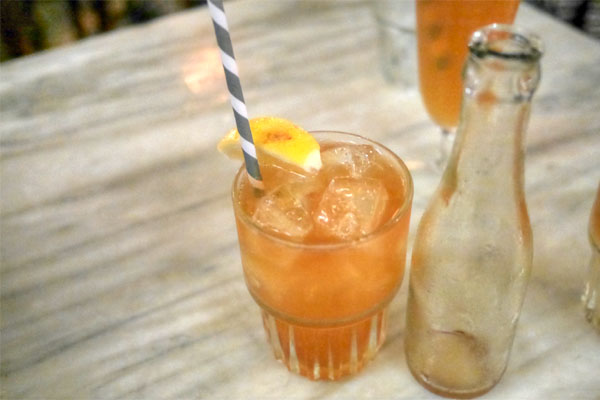 G & T [$12.00]
| Beefeater 24, house-made tonic, lots of love
Going back to the bottled stuff, the
G & T
was a tasty update on the classic drink thanks to the use of Beefeater 24 (made with tea), which imparted more depth and complexity to the drink's expected flavors.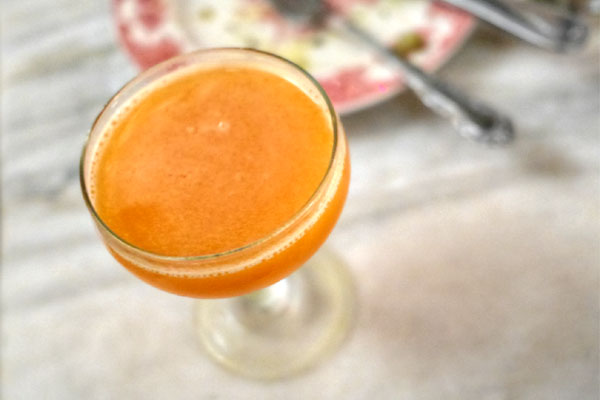 The Clementine [$14.00]
| ZU Zubrowka vodka, Aperol, lemon, agave nectar, mandarin puree
Last up was
The Clementine
, which showed off the sweet-tart mandarin, balanced by the bitterness of Aperol and the weight of agave. A bracing, almost astringent sort of cocktail.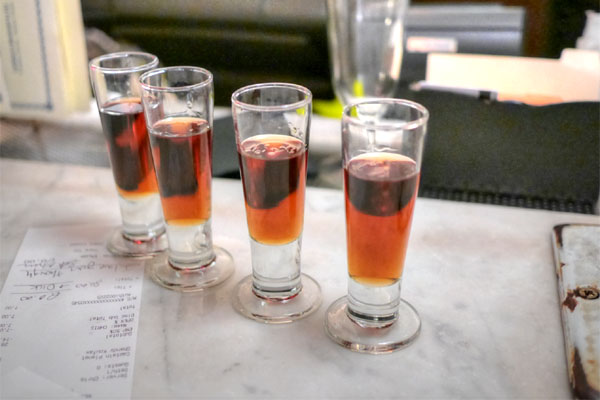 To close, Amirault poured us a round of digestifs.
The whole conceit behind Harlowe was that you could have quality cocktails in a high volume environment, and to that effect, the place mostly succeeds. The drinks themselves were commendable, with some definite standouts, while the food was passable. Overall, a welcomed newcomer to the area with a nice, mellow, comfortable vibe.