Chez Panisse (Berkeley, CA)
Chez Panisse
1517 Shattuck Ave, Berkeley, CA 94709
510.548.5525
www.chezpanisse.com
Fri 04/09/2010, 08:45p-11:45p

Growing up, I was very sheltered culinarily. My parents didn't know, or care, too much about food. Dining was more of a necessity than a pursuit, and as a result, my childhood was filled with countless meals at McDonald's, or Taco Bell, or, if we decided to "splurge," Hometown Buffet. That all changed, however, when I arrived as an undergrad at Berkeley. Freed from the "corporate" nature of the OC dining scene, I was exposed to what I'd been missing all those years. Indian, Thai, Korean, Vietnamese, sushi, something as simple as a well-prepared steak--they were virtually unbeknownst to me prior to my four years at Cal. I embraced, reveled in this newfound gastronomic freedom, and among the many gustatory revelations that I incurred was Chez Panisse. This birthplace of California cuisine was, after all, my first real fine dining experience; it was something that I saved up for; it was, in a sense, a precursor to everything else that followed.
We cannot, of course, talk about Chez Panisse without mentioning its founder, its chef matron, its matriarch: Alice Waters. Born April 28, 1944 in the small town of Chatham, New Jersey, Waters moved to California to attend UC Berkeley, completing her BA in French Cultural Studies in 1967. During her studies, she traveled extensively throughout France, and came back positively enamored with the cuisine--not the grandiosity of the Michelin stars in Paris, but rather by the rustic, modest bistros and brasseries dotting the French countryside. After returning to the States, Waters worked a stint as a waitress before teaming with Pastry Chef Lindsey Shere and comparative literature lecturer-turned-film producer Paul Aratow to open Chez Panisse in 1971. The restaurant, named after a character from a Marcel Pagnol film trilogy, was, from the start, designed to honor the bounty of fresh, seasonal, sustainable, locally-sourced produce, prepared on the spot, and often sprinkled with improvisation.
Interestingly enough though, it was Aratow, not Waters, who served as the original Chef de Cuisine, as he had an extensive knowledge of French cookery owing to his mastery of the legendary food "bible"
La Bonne Cuisine de Madame E. Saint-Ange
(which he eventually translated to English). Aratow, however, had bigger dreams, dreams of Hollywood, and sold his share of the restaurant when he moved to Tinseltown. Helping to fill the void left by Aratow was Jeremiah Tower, who took over in the kitchen and eventually became a principal owner of the restaurant, as well as a notable chef in his own right. Tower only stayed on board for several years, but the restaurant continued to blossom under the leadership of Waters and a long line of chefs. Today, Chez Panisse's kitchen is helmed by Jean-Pierre Moullé (who first started in 1975) from November to May, and by David Tanis (working on and off since 1983) from May to November.
In addition to the formal Restaurant, we also have the upstairs Café, which opened on April Fool's Day, 1980. Meant to serve as a more casual alternative to the prix fix Restaurant, the Café and its legendary
pizzetas
even formed the basis for Wolfgang Puck's seminal restaurant,
Spago
(which, apparently, was originally slated to be a pizzeria; Spago then led to the birth of CPK). Following the debut of the Café, Waters founded Café Fanny, also in Berkeley, in 1984. Named after her daughter, as well as yet another Marcel Pagnol character, Fanny is a very informal cafe serving breakfast and lunch only.

Inside, you'll find the smallish dining room swathed in loads of wood and only a bit less copper, evocative of a polished yet refined Craftsman-inspired aesthetic.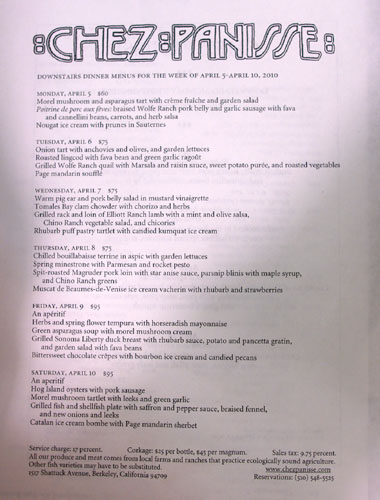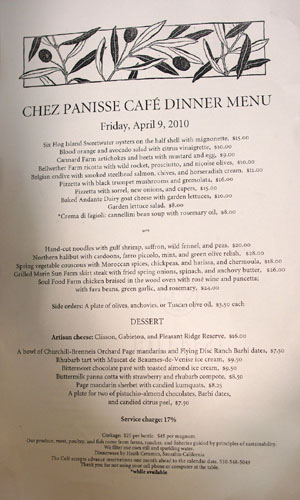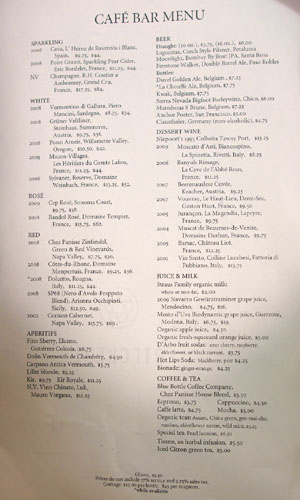 The seemingly simple downstairs menu changes daily, and gradually increases in complexity, and price, as the week progresses. We went with the four-course Friday menu, at $95 per person. I've also posted the Café and Café Bar menus for reference. Click for larger versions.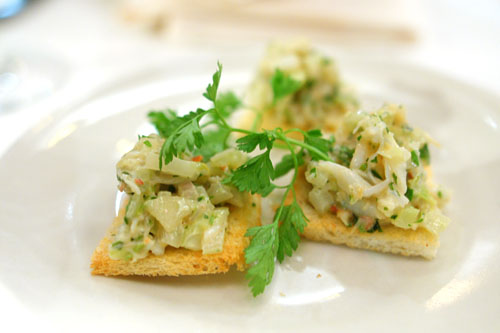 Amuse Bouche: Crab and lobster salad
| shallot, mayonnaise, lemon
We began with lovely little bites of crab and lobster, in a mélange of shallot, mayo, and lemon. I appreciated how the intrinsic sweetness of the crustaceans was emphasized in the commixture, and how their briny nature was apparent on the close--a great hors d'œuvre. To go along with the amuse, we were provided "an apéritif." On this evening, it was a fantastic
vin d'orange
, basically an orange-infused liquor. Light and subtly sweet with the tang of citrus, it was a perfect summer libation.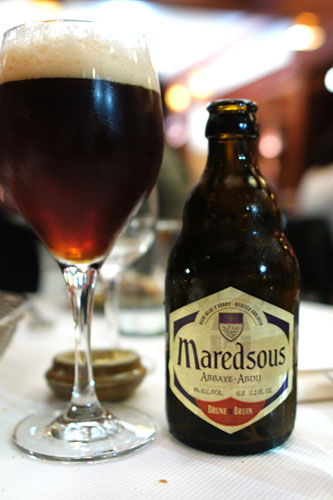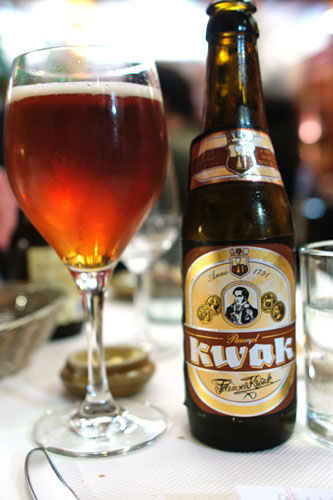 One of my dining companions was running late, so while we were waiting for him to arrive, some beers were in order. First was the Maredsous 8 Brune [$7.25], a chocolate-y, roast coffee-tinged, malty, viscous liquid prototypical of a Trappist Dubbel. We also had the Pauwel Kwak from Brouwerij Bosteels [$7.75]; done in my preferred Belgian pale ale style, the brew demonstrated a fantastically indescribable flavor, with complex hoppy and fruity notes accented by undertones of spice.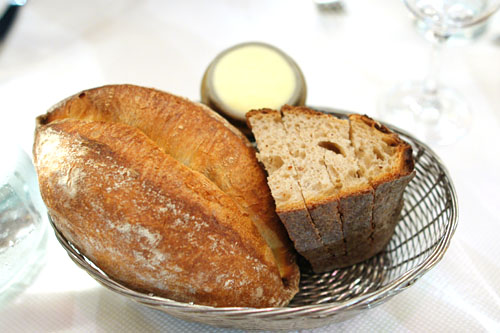 Bread comes courtesy of nearby Acme Bread Company, which was founded by Chez Panisse alum Steve Sullivan. Tonight's selections were a whole wheat sourdough and a French roll.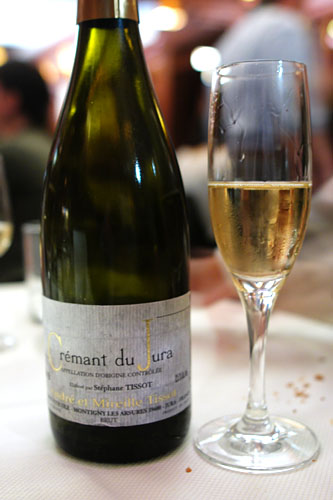 At this point, we ordered a bottle of the NV Crémant du Jura, Stéphane Tissot [$54]. Minerally, citrusy, and surprisingly complex, it went beautifully with the food to follow.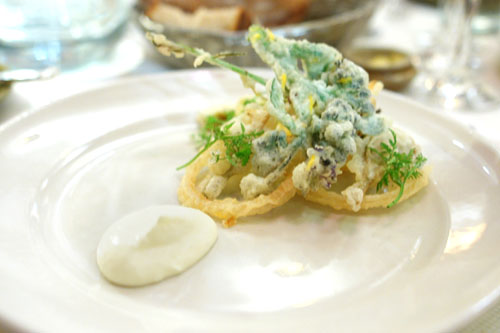 1: Artichoke and spring flower tempura
| with horseradish cream
Our meal proper began with some simply battered and fried vegetables. You could almost think of these as high-class onion rings, though the use of artichoke did add a little more complexity into the mix. Good enough, especially with the tangy horseradish, but I would've liked the dish better if the unique characteristics of each vegetable were better highlighted.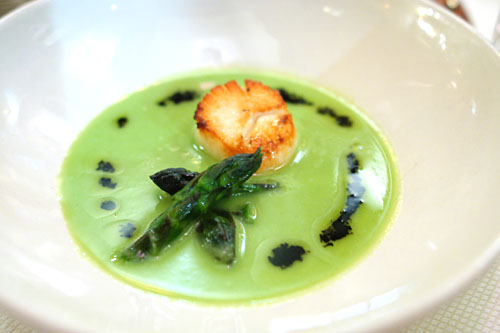 2: Chilled asparagus soup
| with roasted scallop
I'm somewhat of an asparagus fiend these days, so it should come as no surprise that this was my favorite course of the meal. The soup was astoundingly profound in how it so sharply conveyed the quintessence of asparagus--its cool, crisp, light, bright, gently astringent savor instantly perked up my taste buds. I would've been happy with just the potage alone, but the perfectly cooked scallop, with its pleasingly rare texture and delectably caramelized top, was icing on the cake.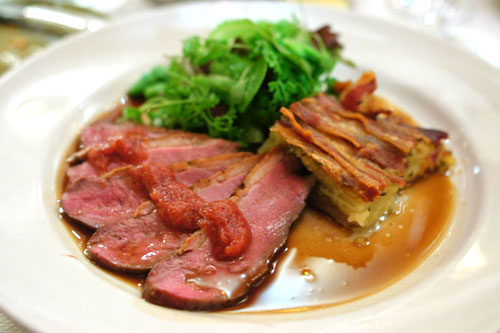 3: Grilled Sonoma Liberty duck breast
| with rhubarb sauce, potato and pancetta gratin, and garden salad with fava beans
Next, our main course consisted of some of the best duck I've had in a while. Cooked to a perfect doneness, the bird was tremendously flavorful and beautifully textured. Meanwhile, the gratin presented a great interplay of salty pancetta and mild potato, while the green, vegetal tang of the salad helped in offsetting the dish's gravity. Very nice--my only quibble was that the rhubarb sauce was a touch sweet.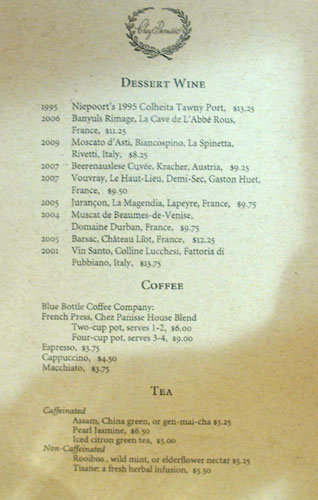 Dessert was upon us, as was this selection of after dinner drinks. I ended up going with espresso [$3.75] from Blue Bottle Coffee Company, an interesting choice for me given that I'm not normally a coffee drinker. Click for a larger version.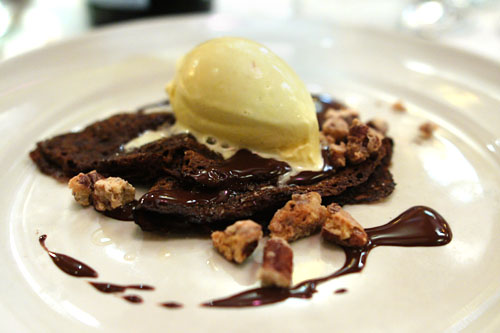 4: Bittersweet chocolate crêpes
| with bourbon ice cream and candied pecans
The crêpes themselves were delightfully sugary, but not overwhelmingly so--uncomplicated in their appeal. Clearly however, the
pièce de résistance
here was the bourbon ice cream. Its woody, toffee-tinged flavors formed a wonderful amalgam with the chocolate, while the pecans provided just a bit of nuttiness as well as some textural play.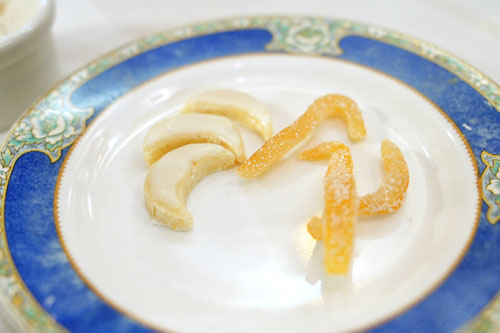 Mignardises
Mignardises consisted of candied citrus peel and some crescent moon-shaped, Pop Tart-esque cookies with a distinct almond flavor.
It's often been said that the cuisine at Chez Panisse is a touch on the staid side. It's a bit rustic; it's a bit homey; it doesn't "wow" you. Indeed, the place may lack the hyper modernity of
Alinea
, or the sheer opulence of
Robuchon
, or the utter transcendence of
Urasawa
, but, at the same time, it doesn't strive to be any of those places. For what it is, I can only conclude that the restaurant is successful. Perhaps we need to take a look at Chez Panisse not as merely a dining establishment, but as an ideal, a paradigm, something that goes beyond just the food, beyond even the chef--after all, does anyone really care who's cooking at Chez Panisse? It's not Alice; that's for sure.
But maybe we should care. Mark Peel (La Brea Bakery, Campanile, Tar Pit), Paul Bertolli (Oliveto), Suzanne Goin (Lucques,
A.O.C.
, Tavern), Judy Rodgers and Gilbert Pilgram (Zuni Cafe), Michael Tusk (Quince), April Bloomfield (Spotted Pig)--these are just some of Chez Panisse's most notable alumni, chefs that are marking their own marks on the American culinary landscape. The foodist world is a fickle one. Restaurants come and go, rise and fade, ebb and flow. But after nearly four decades on the scene, a reservation at Chez Panisse is still one of the hardest to score this side of
French Laundry
. They must be doing something right, right?