Bocuse d'Or USA Benefit Dinner (Los Angeles, CA)
Bocuse d'Or USA Benefit Dinner
5955 Melrose Ave, Los Angeles, CA 90038
323.460.4170
www.providencela.com
Tue 11/16/2010, 09:00p-12:55a
It just wouldn't seem right to have a year go by without a charity dinner at
Providence
. Since
5x5s
seem to be out of favor currently, raising money for the
Bocuse d'Or USA Foundation
provided the impetus for another gala at Michael Cimarusti's celebrated seafooder.
Established in 2008 by Daniel Boulud, Thomas Keller, and Jerome Bocuse, the Foundation is a non-profit dedicated to the lofty goal of "inspiring culinary excellence in young professionals and preserving the tradition and quality of classic cuisine in America." The organization offers scholarships, internships, access to a Culinary Council of distinguished industry veterans (Cimarusti and Manzke are members), and provides support for young chefs who are selected to represent the US in the
Bocuse d'Or
culinary competition held biennially in Lyon, France. Chef Timothy Hollingsworth and Commis Adina Guest of
The French Laundry
were chosen to compete in 2009's contest, and the duo placed sixth overall, the highest ranking ever achieved for an American team. For the 2011 Bocuse d'Or, the US will be represented by Sous Chefs James Kent and Tom Allan from New York's famed Eleven Madison Park.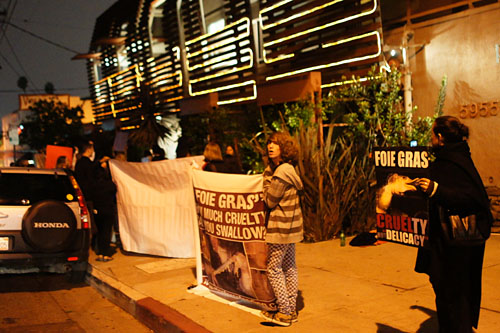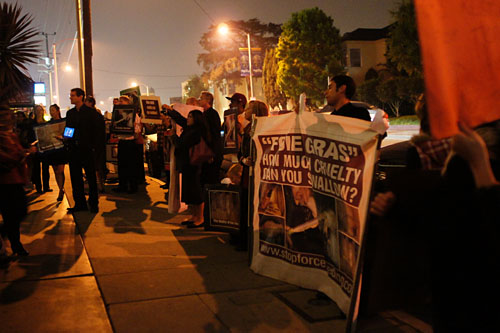 We were presented with a bit of a surprise when we arrived. As
widely reported
, protesters from the Animal Protection & Resue League were on hand to greet diners with
pamphlets
, placards, and melodic chants of "shame on you!"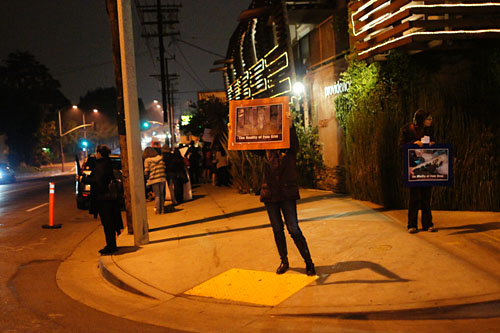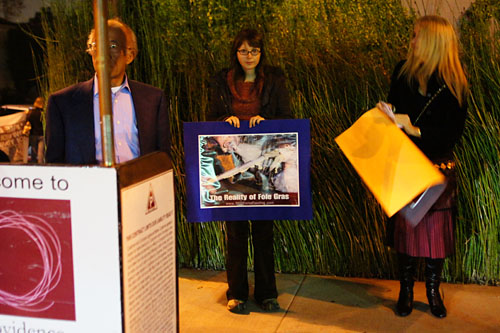 Soon, the protesters will be out of a job, as the production and sale of foie gras is slated to become outlawed in California come July 1, 2012. Thus, I encourage everyone to eat your fill prior to the ban. Alternatively, it doesn't seem like it'd be illegal for restaurants to
give away
foie gras attained from out of state...just a thought.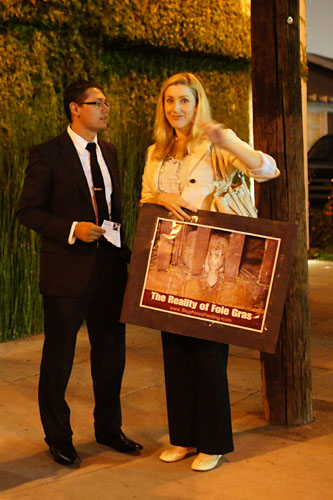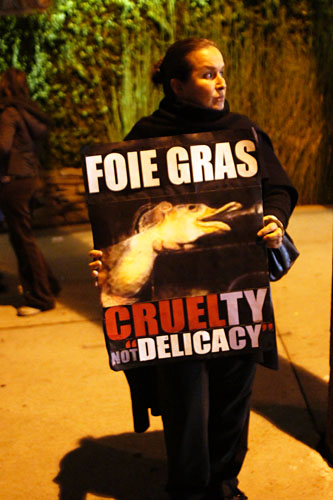 Left
: Some remarkably well-dressed protesters--
making me look bad
.
Right
: Why can't it be both?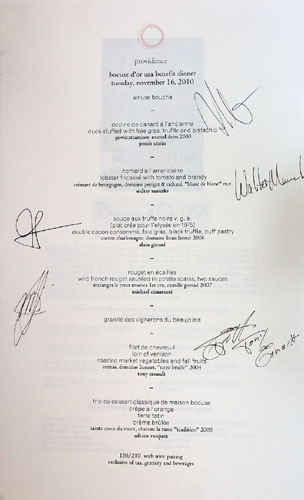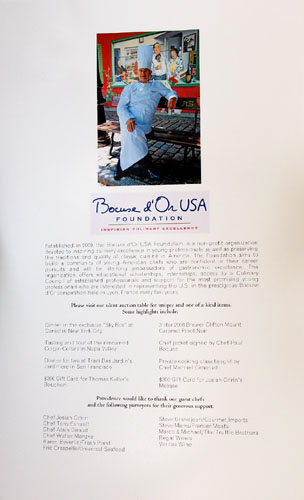 Getting back to the meal at hand, the eight-course menu--imagine it entitled "Paul Bocuse's greatest hits"--was priced at $150, or $210 paired with wine (which we did indulge in). Click for larger versions.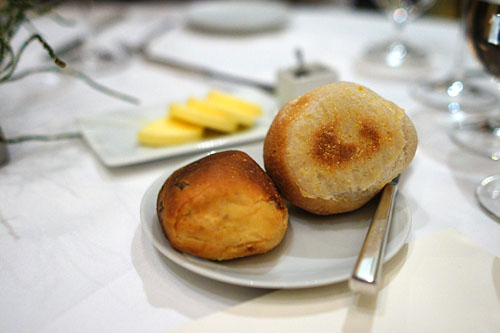 Bread service consisted of a bacon brioche and a sourdough, served, in true Providence fashion of course, with circular butter and salt.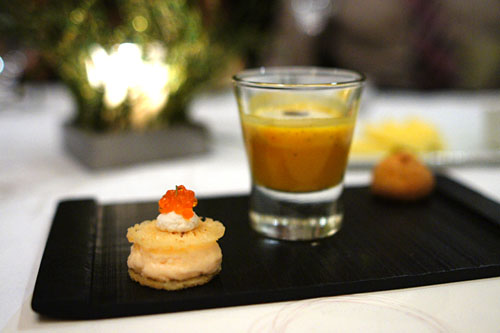 Amuse Bouche
We were quickly presented a trio of amuses to kick off the meal. A smoked salmon mousse came topped with crème fraiche and salmon roe; it was smooth, subtle, slightly sweet initially, with the briny tang of the roe making itself apparent on the finish. Up next was a pumpkin velouté with black truffle, a surprisingly enjoyable potage demonstrating the restrained, sugary essence of pumpkin accented by just a hint of earthy truffle. My favorite, finally, was a classic Gruyère gougère, conveying a faultless interplay of salty, creamy flavors melded with savory choux pastry.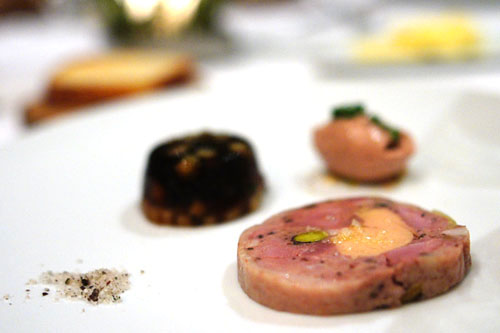 1: dodine de canard a l'ancienne
| duck stuffed with foie gras, truffle and pistachio [
josiah citrin
]
gewürztraminer, marcel deiss 2003
We began with a dish inspired by a classic starter from Bocuse's seminal L'Auberge du Pont de Collonges. A dodine refers to a galantine of sorts made from deboned, cooked meat, duck in this case. Citrin's version was delicious, showing off a great duck-y savor heightened by the application of the liver, while the pistachio added a nice nutty note. The dodine was accompanied by a simultaneously tangy, sweet, and bitter duck bone-celery root gelatin, along with a foie gras mousse. Superb with the oily, viscous, brazenly honeyed Gewürz that was paired with the dish.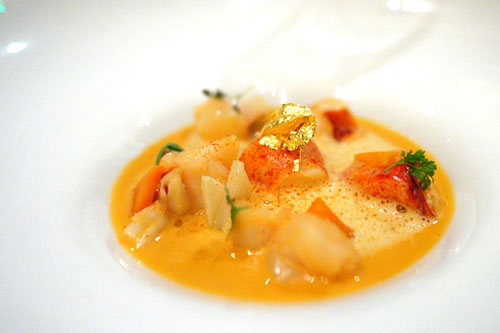 2: homard a l'americaine
| lobster fricassée with tomato and brandy [
walter manzke
]
crémant de bourgogne, domaine perigot & richard, "blanc de blanc" m.v.
Next up was a variation on the classic lobster dish
Homard a l'Americaine
, which is basically lobster sautéed in olive oil with a cream, tomato, onion, garlic, white wine, and brandy sauce. The recipe is actually not a Bocuse creation, but instead, was invented in the 19th century by a Provençal chef when he needed to cook in a hurry for a group of American customers. Manzke's interpretation was superb, with the lobster showing off a perfectly snappy, supple texture and a sweet, buttery, luscious flavor augmented by the tang of tomato. I loved the rich, earthy mushroom finish of the course as well. One of the strongest preparations of lobster that I've had in a while.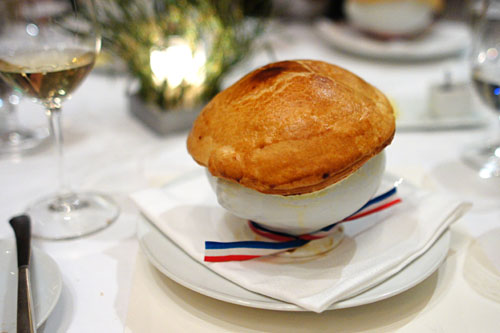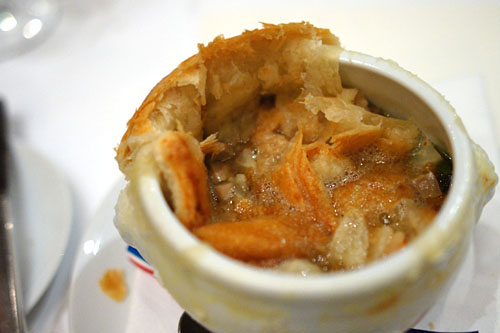 3: soupe aux truffe noire v. g. e. (plat crée pour l'elysée en 1975)
| double capon consommé, foie gras, black truffle, puff pastry [
alain giraud
]
corton charlemagne, domaine louis latour 2006
If one had to pick a signature dish for Paul Bocuse, this would be it. Created in 1975 for French President Valéry Giscard d'Estaing (hence the V.G.E.) at a dinner at the Elysée Palace, the dish was a huge success, and has become a mainstay at Bocuse's flagship restaurant. Giraud's version begins with a consommé made from capons (castrated roosters known for their tenderness), to which foie, sliced truffles, capers, and various root vegetables are added; the entire amalgam is then encased in a puff pastry shell. The effect is more pot pie than soup, one that showed off a positively profound, intoxicating aroma that was simply spellbinding. The soup's flavor, interestingly, was far more subdued, with a rustic, hearty character augmented by the luxuriousness of foie gras and only the slightest hint of truffle. Very nice with the accompanying Burgundy, with its lightly buttery, citric essence.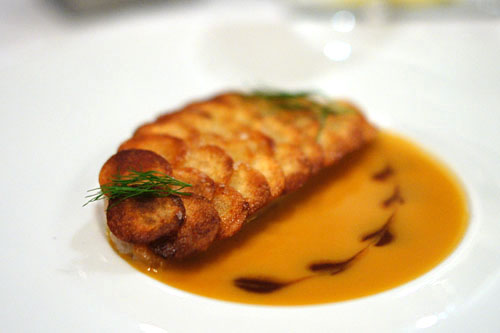 4: rouget en écailles
| wild french rouget sautéed in potato scales, two sauces [
michael cimarusti
]
maranges le croix moines 1er cru, camille giroud 2007
If you're familiar with Daniel Boulud's signature dish, Crisp Paupiette of Sea Bass, then you'll appreciate that this
Rouget en Ecailles de Pomme de Terre
was its inspiration. Cimarusti uses the traditional Brittany rouget (red mullet), a small fish popular in France, and serves it with an orange-rosemary sauce laced with veal jus. The rouget was perfectly cooked, with an immensely pleasing consistency and brine, beautifully balanced by the unabashed saltiness of the crisp potato scales. Meanwhile, the tanginess of the accompanying sauce was unexpected, but not unwelcomed. A superb "fish & chips," especially when taken in concert with the light, bright, sour cherry-tinged Burgundy.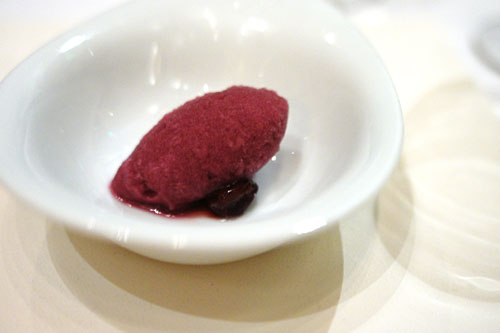 Intermezzo: granité des vignerons du beaujolais
The classic palate cleanser between fish and meat at L'Auberge du Pont de Collonges, the granita beautifully showed off the heady, vinuous character of the Beaujolais. It was expectedly sweet at first, but this then transitioned to the true nature of the wine at the finish, all while dried cherries contributed a piquant sourness to the fray. Very nice.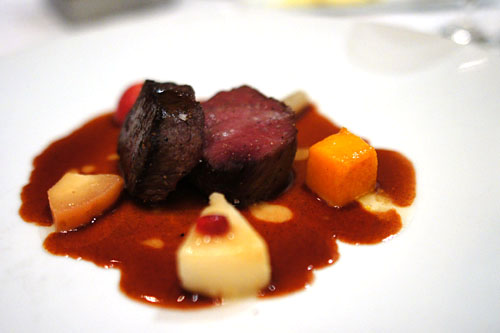 5: filet de chevreuil
| loin of venison, roasted market vegetables and fall fruits [
tony esnault
]
cornas, domaine lionnet, "terre brulée" 2004
Esnault wrapped up the savories with a fantastic rendition of venison, probably the best I've had, in fact. Tender and fine-grained, the meat was remarkably flavorful, richer and more rustic than beef, but without being gamey. I loved the venison's peppery tinge as well, which went along gorgeously with the silky, spicy Syrah.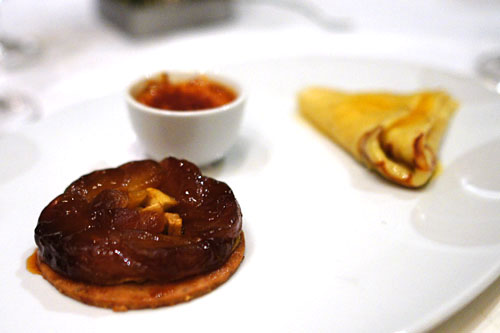 6: trio de dessert classique de maison bocuse
| crêpe a l'orange / tarte tatin / crème brûlée [
adrian vasquez
]
sainte croix du mont, chateau la rame "tradition" 2005
We closed the meal with a troika of classic desserts from Providence's Pastry Chef Adrian Vasquez. I first tasted the tarte tatin, which is basically an upside-down apple tart. I found it very nicely textured, with an apt bit of bitterness to counteract the sugariness of caramelized apple. Next was the crème brûlée, a textbook example of the dessert that I couldn't find fault with. Last but not least was the crêpe a l'orange, in which the bold, tart flavors of citrus balanced the dense, monolithic nature of the pancake.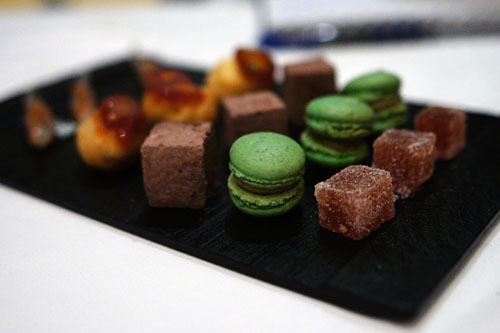 Mignardises
Mignardises consisted of ras el hanout pâte de fruits (great interplay between sweet and spicy here), pistachio macarons, chocolate marshmallows (lovely spicy finish on these), cream puffs (described by one of my dining companions as a "crème brûlée-eclair" hybrid), and caramels.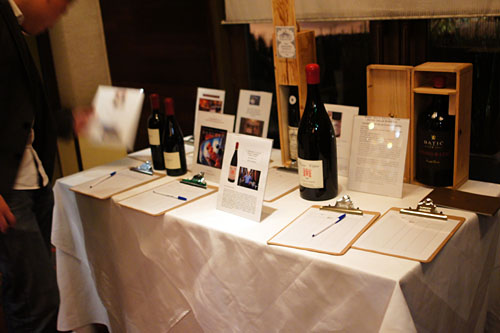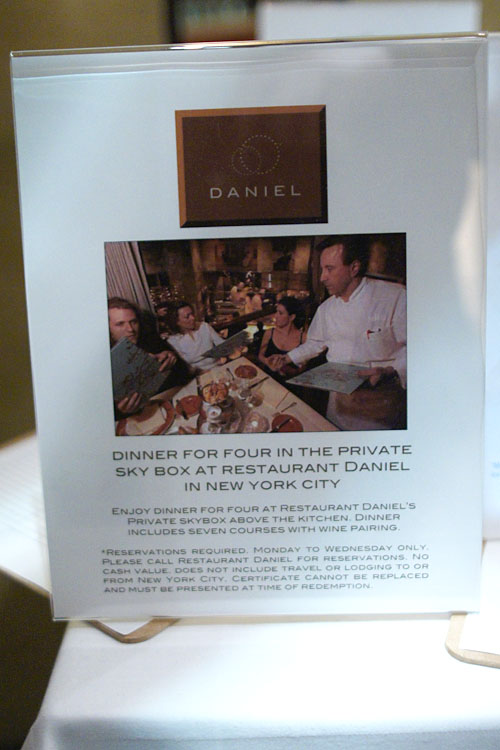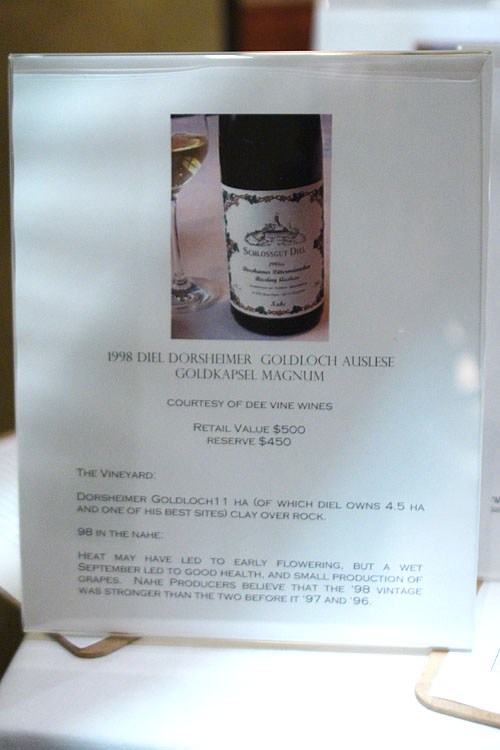 Of course, a charity dinner at Providence just wouldn't be complete without a concurrent silent auction. We put in bids for a dinner for four at Daniel (Sky Box) and an ultra-rare magnum of the 1998 Diel Dorsheimer Goldloch Auslese Goldkapsel Riesling (a 100-year wine according to Sommelier Drew Langley). Given that I haven't heard back, I'm assuming that we were subsequently outbid.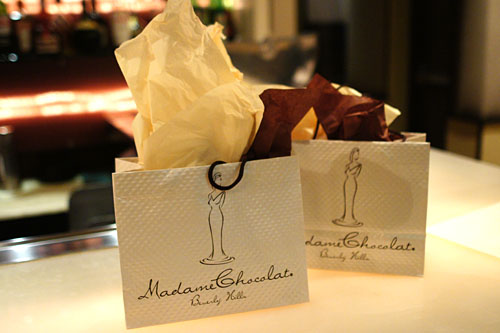 At the end of service, chefs were provided gift bags from Hasty Torres'
Madame Chocolat
in Beverly Hills.
All in all, this was a thoroughly enjoyable event, more so than any of the 5x5s I've attended, in fact. The cuisine certainly didn't bring anything new to the table per se, but I think that food that's so brazenly
French
, so shamelessly
haute
is becoming a rarity these days, so that's part of the appeal. Execution was spot on as well, so no quibbles there either. In the end, this was a fitting tribute to Monsieur Bocuse, and I'd be hard pressed to find five chefs in the City more fitting to honor him.