Maude (Beverly Hills, CA) [3]
Maude Restaurant
212 S Beverly Dr, Beverly Hills, CA 90212
310.859.3418
www.mauderestaurant.com
Fri 06/27/2014, 05:45p-07:55p
Following some pretty amazing meals at Curtis Stone's Maude for both
citrus
and
rhubarb
, I was particularly excited for this month's theme ingredient. After all, though I certainly appreciate citrus and/or rhubarb in a dish, the earthy, nutty goodness of the mushrooms is something I tend to seek out more.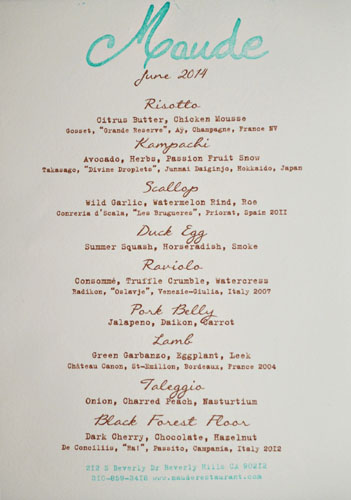 Maude's morel menu was its priciest yet at $115 (though just wait for truffles in November), as apparently these wild mushrooms from the Pacific Northwest don't tend to come cheap. The "reserve" beverage pairing (which I hadn't encountered here before), meanwhile, tacked on an additional $125 per head. Click for a larger version.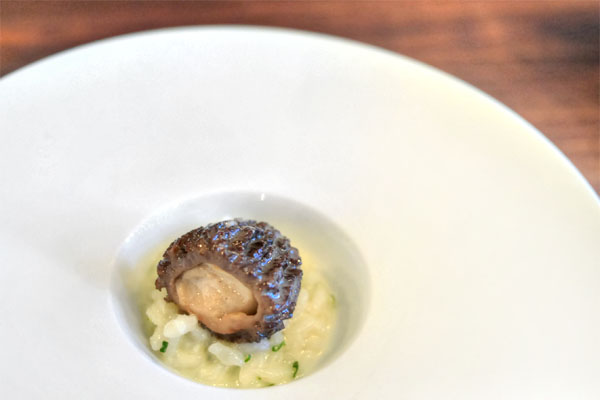 1: Risotto
| Citrus Butter, Chicken Mousse
Gosset, "Grande Reserve", Aÿ, Champagne, France NV
Stone's opening salvo was one of the highlights of the night, with the creamy, cheesy, yet slightly citric rice pairing gorgeously with the headiness of the single chicken-stuffed morel. Just give me a big, heaping bowl of this, and I'd be good to go.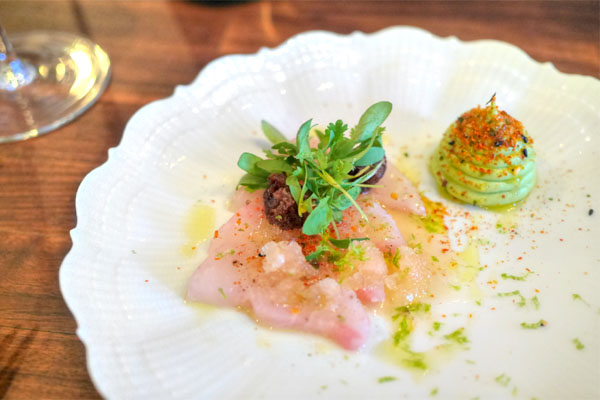 2: Kampachi
| Avocado, Herbs, Passion Fruit Snow
Takasago, "Divine Droplets", Junmai Daiginjo, Hokkaido, Japan
A crudo of amberjack was up next. Taken alone, the fish was cool, dense, clean, with just enough fattiness to it, a fitting stage on which the combination of sweet fruit, herbs, and morel could really show itself. The best part? That
togarashi
-dusted avocado, which added a lushness to the course along with just an inkling of spice.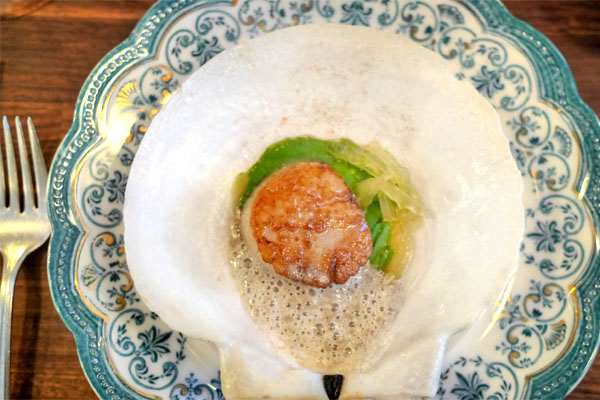 3: Scallop
| Wild Garlic, Watermelon Rind, Roe
Conreria d'Scala, "Les Brugueres", Priorat, Spain 2011
The scallop was spot on, perfectly cooked and caramelized, its briny goodness amped up by a subtle veil of morel and scallop roe foam. Equally as important was the fava and pickled rind, which offered up a great counterpoint and crunch.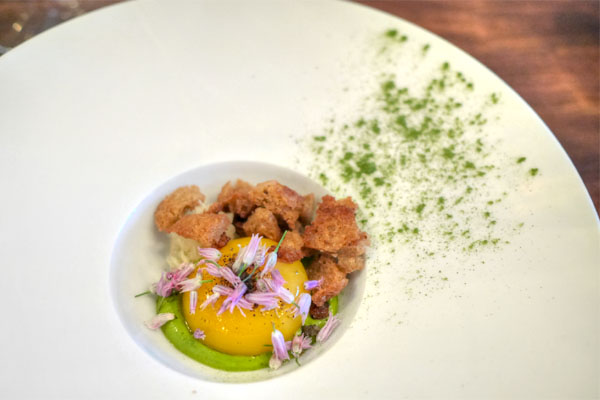 4: Duck Egg
| Summer Squash, Horseradish, Smoke
Set underneath a glass cloche was a mist of applewood(?) smoke that, when dissipated, revealed arguably the most ambitious course of the evening. The richness and weight of that duck egg was almost too much at first, but it melded beautifully with the lightness of the squash and horseradish while overarching notes of earthy smoke imparted further gravity to the dish. My favorite thing? Those crumbles, which simultaneously added crunch and savoriness to round out the dish.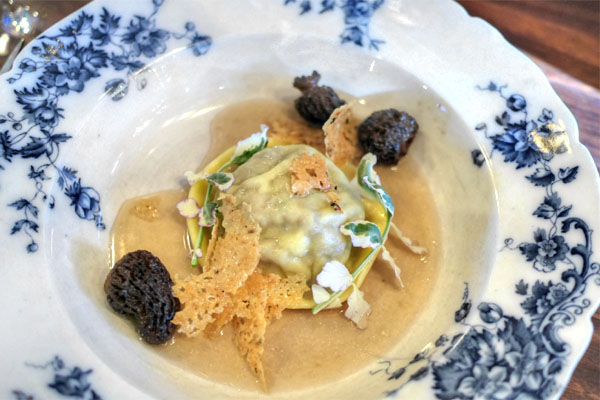 5: Raviolo
| Consommé, Truffle Crumble, Watercress
Radikon, "Oslavje", Venezie-Giulia, Italy 2007
The raviolo I had on my
last visit here
managed to be one of the tastiest I'd eaten in recent times, so I had high hopes for this one. It didn't let me down, coming out as probably the most morel-forward plate of the meal, the stuffing of what I believe was scallop mousseline permeated by the aromatic savor of the mushroom. If that wasn't enough, the truffle wafers added even further luxuriousness to the dish, while the watercress did provide a touch of countervailing zip to even things out.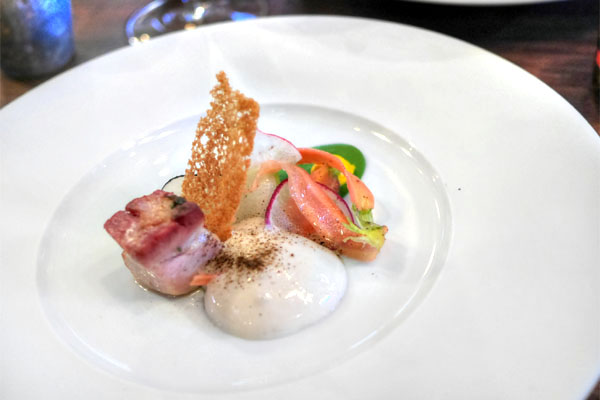 6: Pork Belly
| Jalapeno, Daikon, Carrot
A cuboid of pork belly arrived pretty much flawless, a perfect marriage of lean and fat, of crisp and supple textures. I thoroughly enjoyed the meat by itself, but the bright, acidic zing of the pickled veggies here formed a fitting complement, and I was a fan of those cheesy tuiles as well.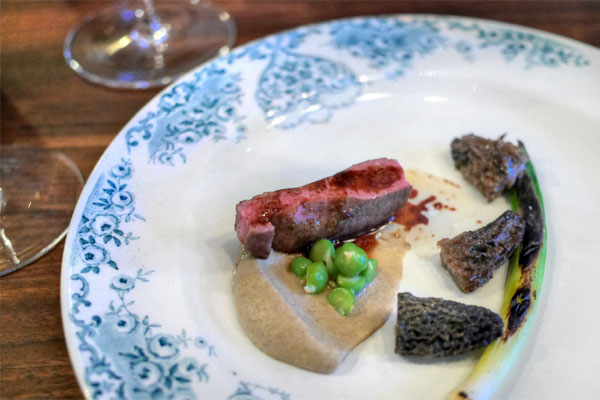 7: Lamb
| Green Garbanzo, Eggplant, Leek
Château Canon, St-Emilion, Bordeaux, France 2004
A delectable lamb saddle formed our final savory, a full-flavored, yet not overtly gamy cut that went just swimmingly with its paired morels. I was a fan of the light, nutty relish of the garbanzos here as well, and the astringency of that charred leek was
on point
.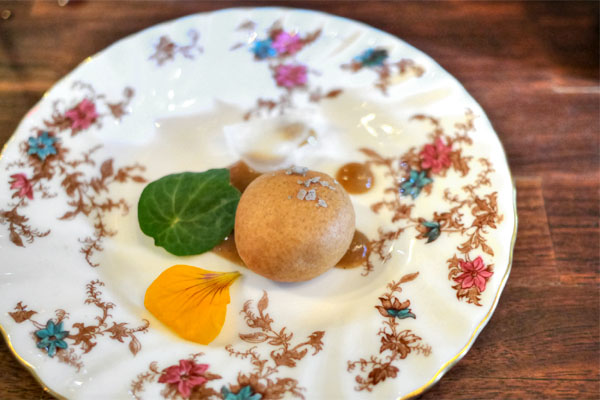 8: Taleggio
| Onion, Charred Peach, Nasturtium
Taleggio was presented in spherical form, a delightful ball of fluffy goodness that presented a straightforward flavor profile that worked admirably with the sweet-tangy notes of the peach and pickled onion.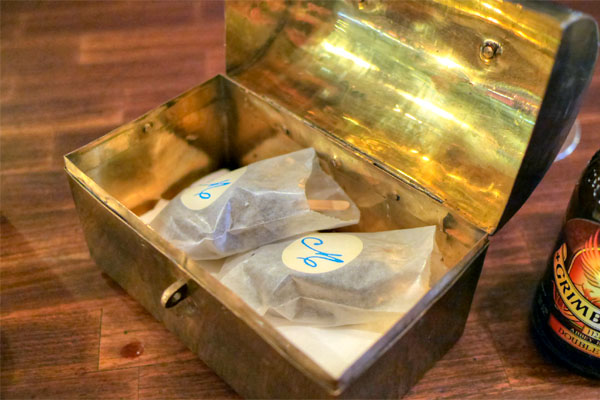 Our pre-dessert comprised some whimsical ice cream bars that satisfied in a simple sort of way, the vanilla filling integrated with chocolate shells imbued with nuances of morel and coffee.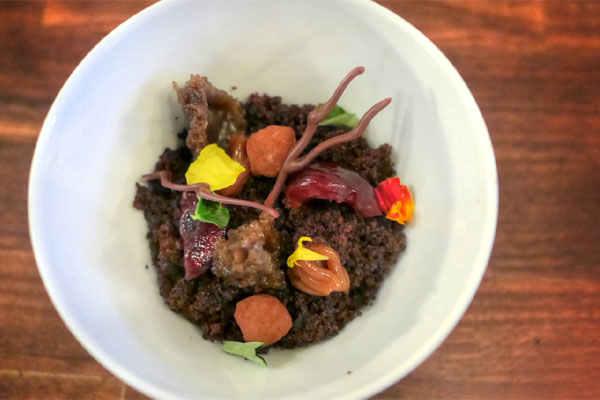 9: Black Forest Floor
| Dark Cherry, Chocolate, Hazelnut
De Conciliis, "Rai", Passito, Campania, Italy 2012
Tonight's dessert proper was a standout as well, a sort of a take on black forest cake. I loved the combination of chocolate, caramel, cherry, and nutty notes here, and how it formed a familiar flavor profile that was taken up a notch by an undercurrent of pungent morel.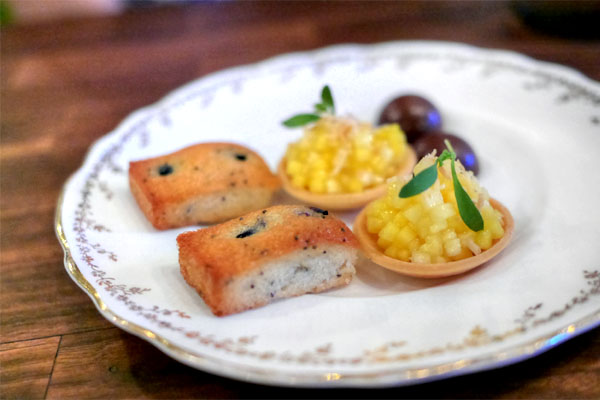 Mignardises this time around included blueberry financiers, mango-coconut tarts, and raspberry dark chocolate bonbons.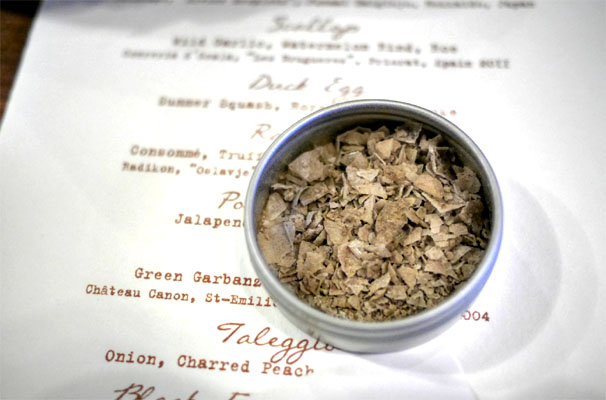 To take home: morel salt (which I subsequently lost).
Well, it seems like Stone and his team have delivered once again, batting three-for-three with tonight's exploration of morels, showcasing the mushroom in a variety of ways that played to its strengths as both a star and a supporting player. The Chef's cooking is winning him throngs of fans, myself included. Now, to get into that truffle dinner...