Test Kitchen (Los Angeles, CA) [16]
Test Kitchen
9575 W Pico Blvd, Los Angeles, CA 90035
310.277.0133
www.testkitchenla.com
Fri 10/01/2010, 07:15p-10:10p
Of all
Top Chef
contestants past and present, perhaps none has been as controversial, or as reviled, as season two competitor Marcel Vigneron. Notably, Vigneron previously cooked at
Joel Robuchon
and
The Bazaar
(under none other than
Michael Voltaggio
), and is currently Executive Chef the Beverly Hilton's Bar210. Sadly, I'd missed his stint at Hatchi late last year, so never having tasted the Chef's food, I made sure to secure my spot for his tenure here at Test Kitchen.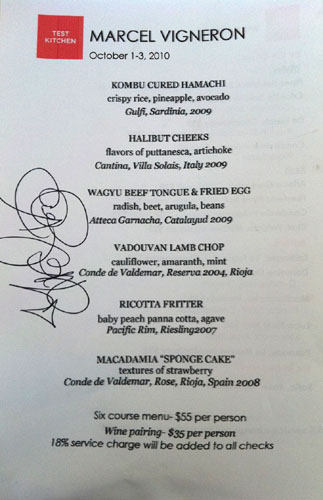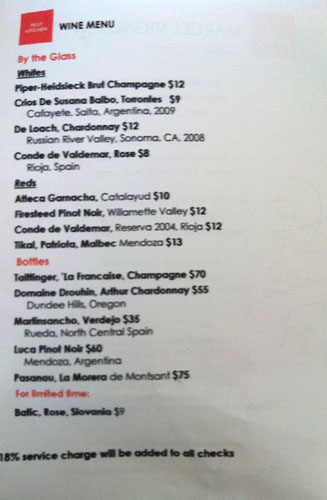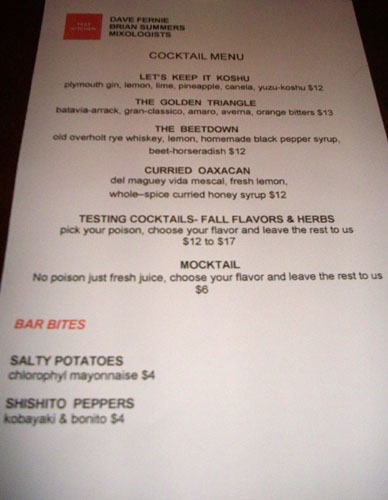 Vigneron's menu was composed of six courses, priced at $55, plus $35 for the wine pairing. Two "Bar Bites" were also on offer. Cocktails were the charge of Dave Fernie and Brian Summers, both of whom hail from Library Bar. Click for larger versions.
Note: During our post-dinner chat with the chefs, my menu was accidentally discarded from our table. Thus, the photos above come courtesy of Food, Je T'aime and Famished Foodie.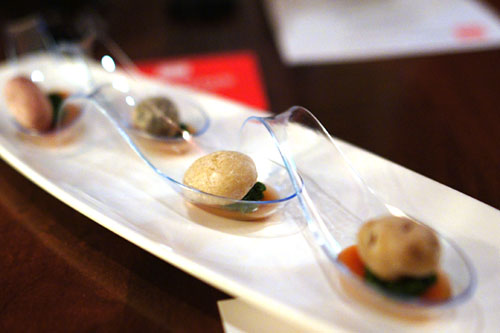 Amuse Bouche
For his amuse bouche, Vigneron decided to utilize some of his potatoes from the course below. They were wonderfully salty, with a delightfully vegetal finish and a nice hint of sweetness from the tomato gelée. A lovely beginning to the meal.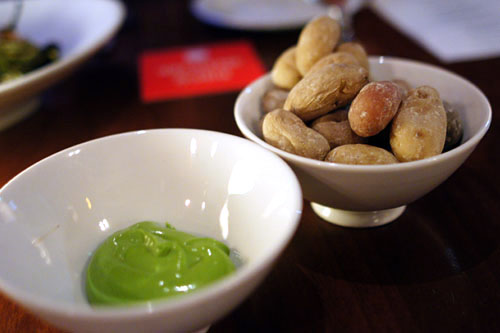 Salty Potatoes [$4.00]
| chlorophyll mayonnaise
This course was undoubtedly a throwback to his days working at José Andrés
Bazaar
: the Chef's own version of the famed
papas arrugadas
from the Canary Islands. With their perfect texture and superb skin, the taters were delicious alone. However, instead of the standard
mojo
sauce, Vigneron also chose to pair them with a condiment containing parsley, cilantro, and basil. The resulting "mayo" was a great, tangy accompaniment to the unabashed saltiness of the potatoes. Very good.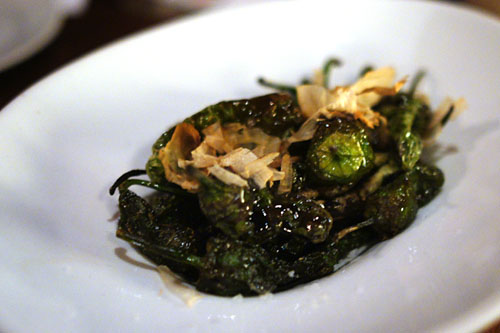 Shishito Peppers [$4.00]
| kobayaki & bonito
Next up were some of the spiciest shishitos that I've ever had. They were initially a touch sugary due to the application of
kabayaki
sauce, but then showed off a creeping bit of heat that just
lingered
on the palate.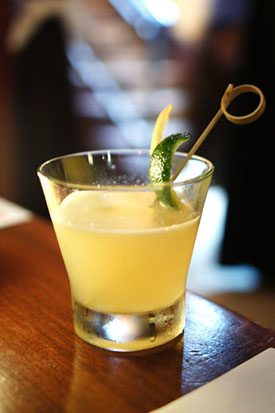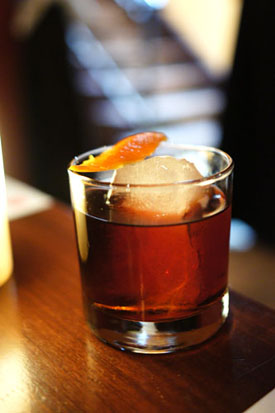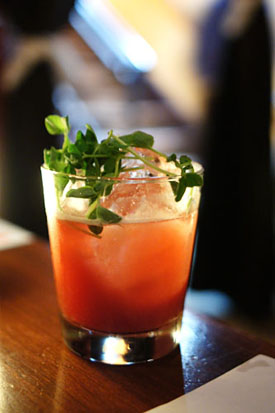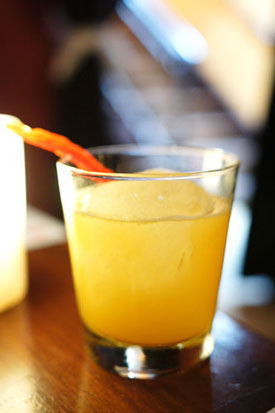 The lowdown on the cocktails:
Let's Keep It Koshu [$12.00] | plymouth gin, lemon, lime, pineapple, canella, yuzu-koshu - Our first cocktail was designed to go along with our first course of hamachi. I loved its tartish attack and strong savory essence, backed by a great bit of growing spice from the yuzukosho.
The Golden Triangle [$13.00] | batavia-arrack, gran-classico, amaro, averna, orange bitters - Easily the stiffest drink of the quartet, the Triangle conveyed a savory, citrus-y nose, a character that continued on to the palate, where it was joined by more bittersweet flavors and distinct herbal touches. Not a hit with the ladies.
The Beetdown [$12.00] | old overholt rye whiskey, lemon, homemade black pepper syrup, beet-horseradish - Meant to be paired with the wagyu course, the Beetdown was quite tasty, with the sweet-sour hints of the cocktail playing beautifully with the whiskey. I really enjoyed the tangy bouquet of the microgreens, as well as the libation's lingering, horseradish-tinged savoriness.
Curried Oaxacan [$12.00] | del maguey vida mescal, fresh lemon, whole-spice curried honey syrup - Definitely the most intriguing cocktail of the foursome, the Curried Oaxacan was based off a housemade curry honey containing coriander, cumin, turmeric, ginger, and fennel, among other ingredients. The result with a heavy, smoky savor, all under a subtle, overarching sweetness. It was designed to pair with our lamb dish.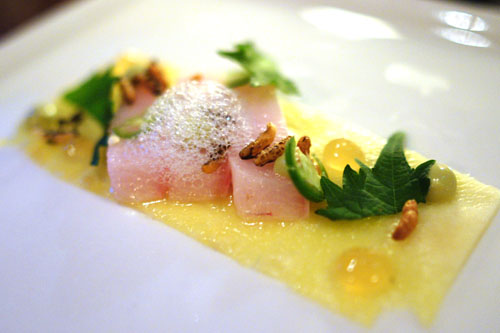 1: Kombu Cured Hamachi
| crispy rice, pineapple, avocado
Gulfi, Sardinia, 2009
Hamachi was clean in flavor and nicely firm, and was served here with puffed rice, dashi foam, shiso, pineapple carpaccio, serrano chili, avocado purée, and a ponzu gel. I found the pineapple a tad sugary, so I chose to eat the dish without the fruit. The result was quite wonderful--subtly saccharine at first, with the slightly fatty flavor of the fish coming through on the midpalate, commingled with the minty tang of shiso. The finish was all about that crispy rice though, with its fantastic texture and lingering relish.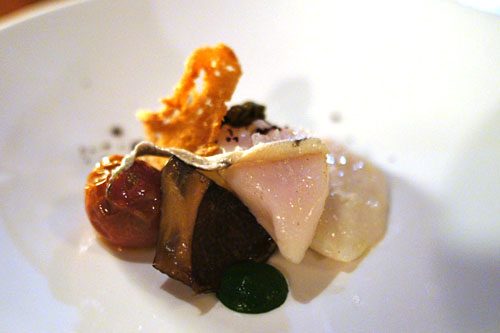 2: Halibut Cheeks
| flavors of puttanesca, artichoke
Cantina, Villa Solais, Italy 2009
A
puttanesca
(whore's) sauce is a spicy-sour dressing typically containing anchovies, capers, chilies, garlic, olives, oregano, parsley, and tomatoes. Vigneron presented a sort of deconstructed version of the sauce, made from anchovy, kalamata olive powder, roasted caramelized cipollini onion, parsley sauce, toast, and cherry tomato. All the ingredients were somewhat difficult to assemble, but when everything came together, it did recall the essence of
puttanesca
, complementing the mild, lightly briny halibut nicely (though I could've used a bit more spice).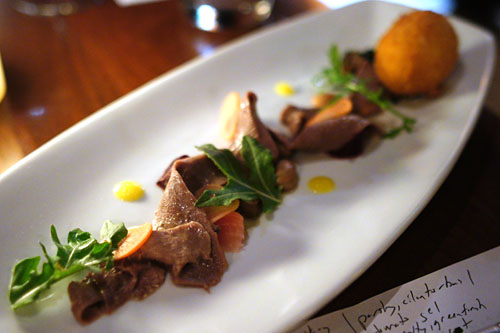 3: Wagyu Beef Tongue & Fried Egg
| radish, beet, arugula, beans
Atteca Garnacha, Catalayud 2009
My favorite course of the meal, the beef tongue arrived accompanied by pickled and salted radish, parsley, beet purée, arugula, and an utterly amazing panko-crusted, 65-degree egg. The tongue itself was fabulously tender, with a savor not unlike that of corned beef, while the various veggies did a superb job in tempering the power of the meat. In addition, I thoroughly enjoyed the earthy component of the beans. Of course, the crux of the dish was that egg, with its beautifully fried shell and luscious interior of creamy egg yolk--it really worked wonders in tying everything together. A great dish to convert those wary of tongue!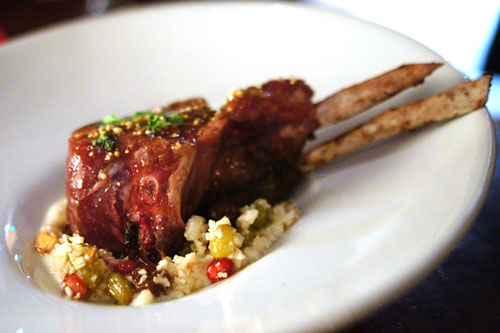 4: Vadouvan Lamb Chop
| cauliflower, amaranth, mint
Conde de Valdemar, Reserva 2004, Rioja
Unfortunately, the lamb--served over a cauliflower couscous containing marcona almonds, feta, pomegranate, raisin, mint, and preserved lemon--was the least successful dish of the night. Texturally, the meat was tough and sinewy; while sawing away at the lamb, one of my dining companions even exclaimed "my arms are getting tired!" Not helping things was the bowl that the lamb was served in, which made cutting especially cumbersome, with the couscous flying around every which way. A single chop would've been much more apropos. The flavor of the meat was also rather unsatisfying, and the couscous overly sweet and busy.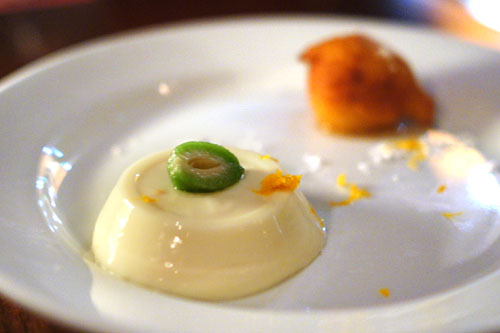 5: Ricotta Fritter
| baby peach panna cotta, agave
Pacific Rim, Riesling 2007
Dusted in powdered sugar and drizzled with agave-honey, the cheese fritter's crisp skin gave way to its soft, savory interior, which was deftly augmented by the weighty bittersweetness of its honey accoutrement. The panna cotta, meanwhile, served as a keen counterpoint to the ricotta, moderating the fritter's gravity with its light touch of stone fruit sweetness.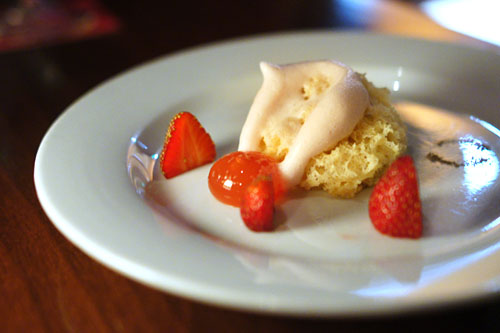 6: Macadamia "Sponge Cake"
| textures of strawberry
Conde de Valdemar, Rose, Rioja, Spain 2008
Looking remarkably similar to a loofah sponge, the cake easily lived up to itself namesake, showing off a fabulously light, airy, ethereal consistency marked with a slight bit of savoriness that was augmented further by the application of black pepper. A heavy strawberry cream was crucial in applying sweetness to the dish, as were the slices of the fruit. There was also a sort of strawberry spherification, with was strongly jammy, with an almost fizzy character to boot. The whole amalgam was interestingly reminiscent of a breakfast cereal with berry--think Special K.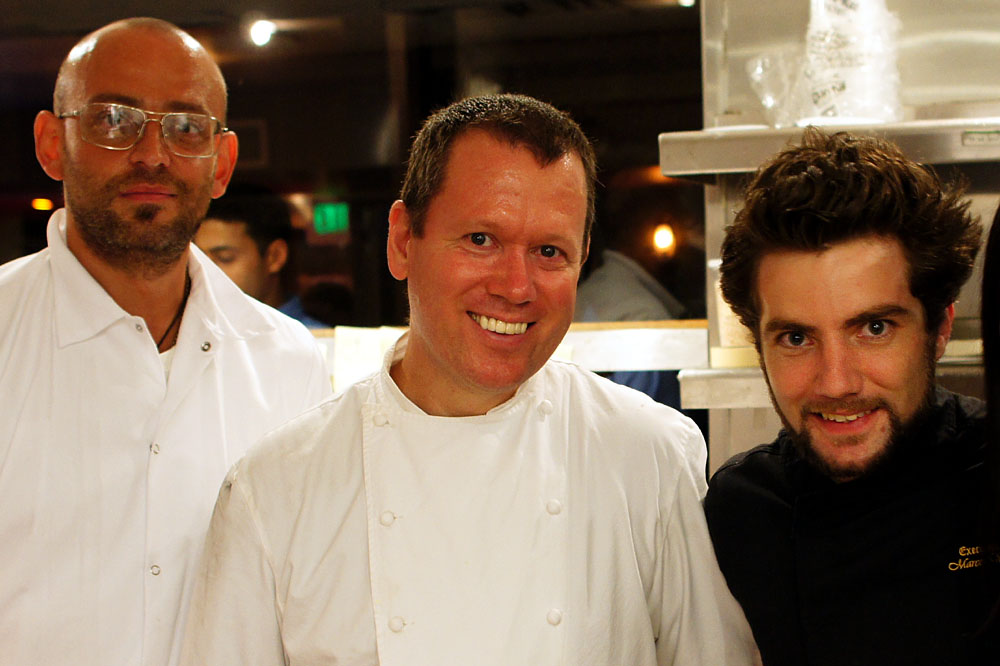 In the kitchen with Vigneron were his sous chefs Alex Reznik (who will be cooking here October 6-8) and
Walter Manzke
.
Save for the lamb dish, this was an enjoyable meal. Vigneron's cuisine was surprisingly approachable, grounded, and effective, with his own unique flair thrown in, of course. Hopefully he can escape the clutches of Bar210 (which no one really considers a serious restaurant) eventually and move on to a venue where he can
really
show off his skills.
Previous Test Kitchen posts: Suzanne Griswold - Rachael Narins (9/30), Adam Horton (9/27), Steve Samson - Zach Pollack (9/23), Joshua Smith (9/21), Amy Pressman (9/20), Shelley Cooper (9/17), John Sedlar (9/15), Amanda Baumgarten - Dylan Hallas - Dan Moody (9/14), TiGeorges Laguerre (9/6), Vartan Abgaryan (9/4), Neal Fraser (8/31), Michael Voltaggio (8/29), Walter Manzke (8/25), Ricardo Zarate (8/24), Jordan Kahn (8/18).