LQ Foodings at Vertical Wine Bistro (Pasadena, CA) [2]
LQ @ Vertical Wine Bistro
70 N Raymond Ave, Pasadena, CA 91103
213.610.9882
www.bistrolq.com
Mon 03/24/2014, 08:15p-10:50p
Since his
last "Fooding" event
at Vertical,
Laurent Quenioux
has brought his pop-up to London (in partnership with the
Chateau Marmot
dining club) and crafted the menu for the new Etchea Cafe & Bakery in Downtown. Now he's back at Vertical for another round with longtime collaborators Sous Chef Daniel Vasquez and Pastry Chef Anthony Huynh, and tonight was an extra-special occasion featuring the southern French classic of cassoulet.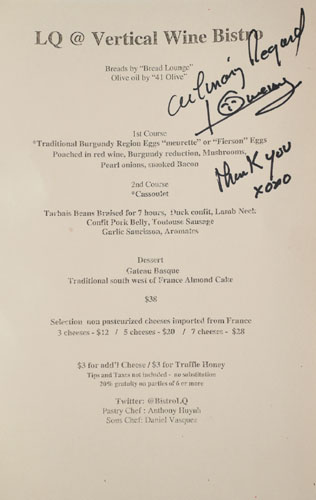 The evening's menu was a three-courser priced at $38 per person, with the option of an additional cheese course (a must get for us). Click for a larger version.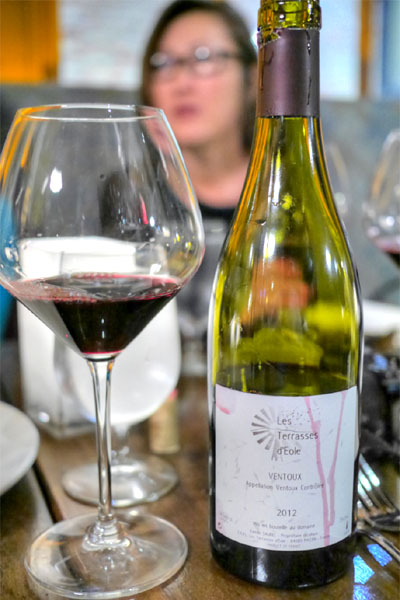 Wines tonight were graciously provided by
Michael Nemcik
, who had procured them from local bottle shop
Domaine LA
(corkage was a reasonable $10). Our first was the
2012 Domaine Les Terrasses D'Eole Côtes du Ventoux Mountagniero
, a GSM blend that veered toward rustic, with its spicy-peppery character set off by some green, earthy notes over a base of dark berry.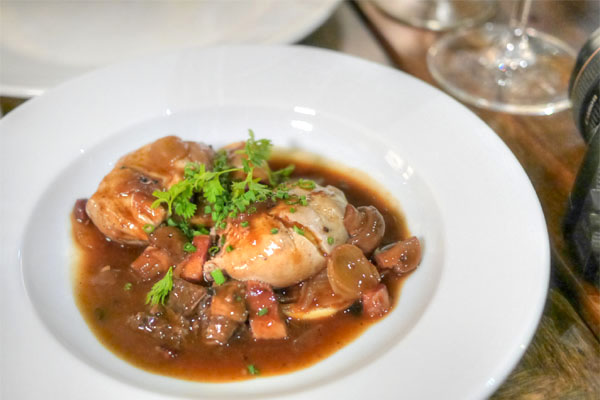 1: Traditional Burgundy Region Eggs "meurette" or "Fierson" Eggs
| Poached in red wine, Burgundy reduction, Mushrooms, Pearl onions, smoked Bacon
We began with the Burgundian specialty of
oeufs en meurette
. A duo of eggs were poached in red wine, coming out utterly rich and creamy, giving the dish an enveloping lushness that melded seamlessly with the salty, earthy, wine-y sauce. A home-y, satisfying sort of course, with the crostini adding a great textural contrast, though I would've liked to have some more bread to soak up the remaining liquid with.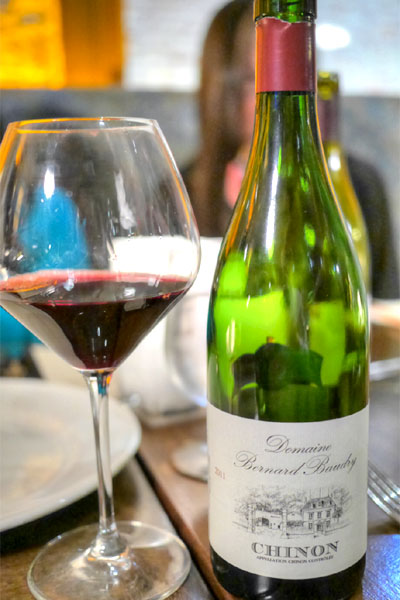 Our next wine was the
2011 Domaine Bernard Baudry Chinon Le Domaine
. It was a Cab Franc from the Loire, one with aromas of red berry and just a touch of funk, while taste-wise, think silky and more berry on the palate, yet lean and a bit mineral-y, with nice tannins and a whisper of bell pepper on the close. Very nicely balanced.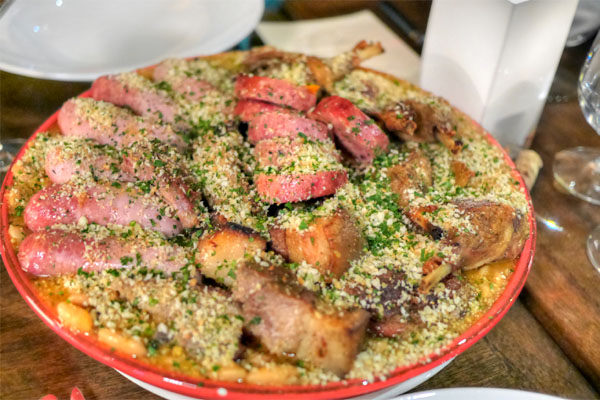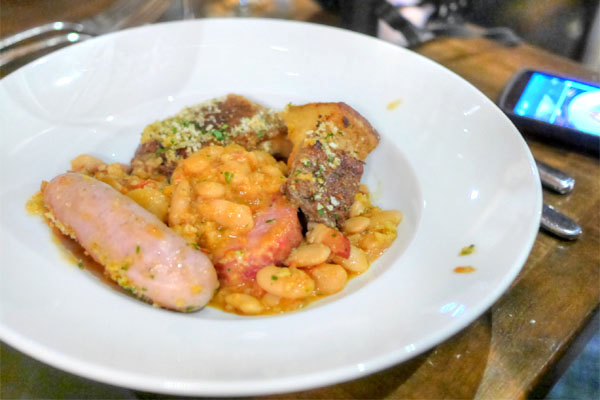 2: Cassoulet
| Tarbais Beans Braised for 7 hours, Duck confit, Lamb Neck, Confit Pork Belly, Toulouse Sausage, Garlic Saucisson, Aromates
The cassoulet then arrived family-style in its namesake
cassole
, loaded up with pricey ($20+ a pound)
haricot Tarbais
, pork belly, duck confit, lamb neck, and two types of sausage. It was a delicious, unabashedly comforting sort of casserole, really capturing the essence of French country cooking and the best interpretation of the dish I've had. I was particularly fond of the deep flavors and wonderful char of the pork and duck, as well as the two types of tubed meat, and really appreciated how the white beans grounded the dish and brought everything together. Despite its massive size, we managed to polish the course off in its entirety.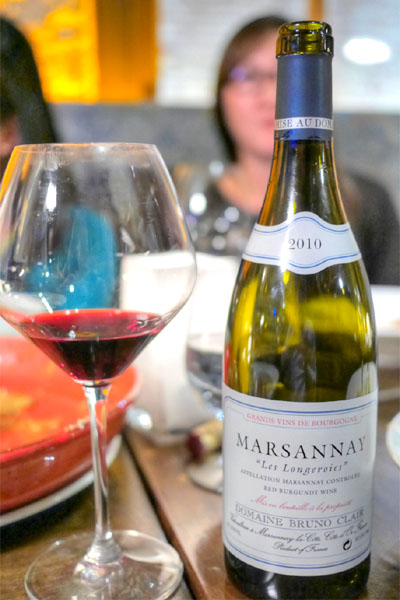 Last up for wine was the
2010 Domaine Bruno Clair Marsannay Les Longeroies
, which displayed a bevy of juicy fruit notes along with a certain elegance and a counterbalancing tannic quality. Delish.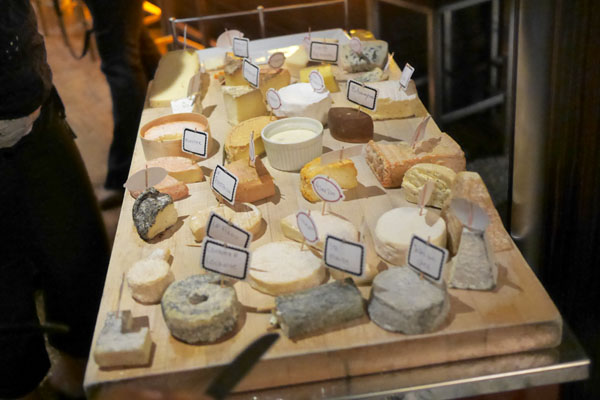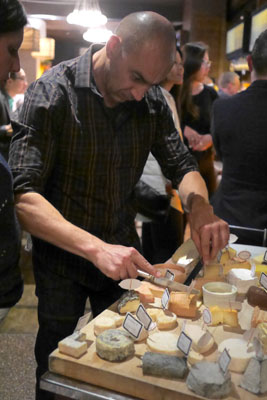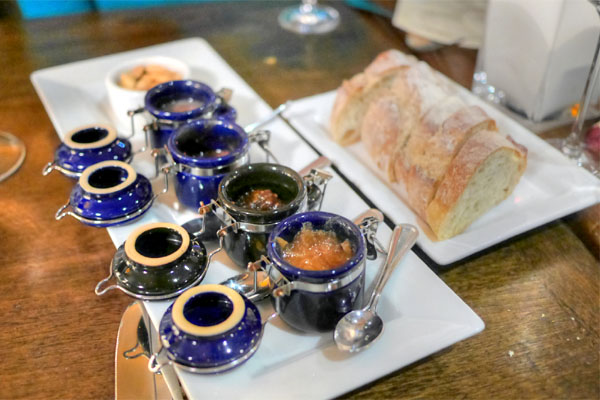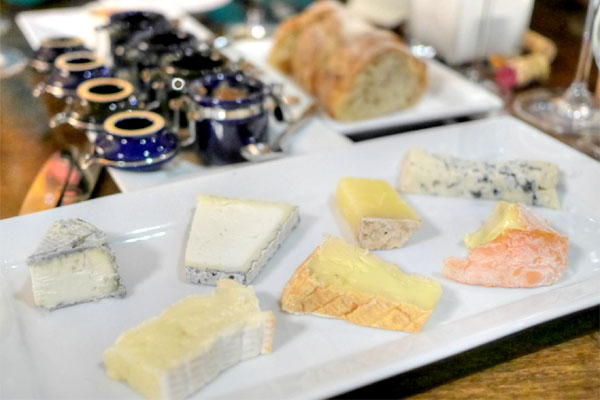 Selections from the City's best cheese cart were offered at 3 for $12, 5 for $20, and 7 for $28. We naturally went for the septet, which was accompanied by a foursome of jams (apple-peach, strawberry-balsamic, tomatillo, rhubarb), nuts, as well as bread from upstart bakery
Bread Lounge
. Going left to right, we had:
Selles-sur-Cher - A goat's milk cheese; creamy, dry, and sticky, with a distinct mushroom-y note from the charcoal-laced rind.
Pont-l'Évêque - A smooth, slick, subtly pungent cow's milk varietal that I was quite fond of.
Valençay - Another goat's milk cheese, this one tasting light and nutty.
Livarot - A washed rind cow's milk fromage that was easily the funkiest of the seven we had.
Cantal - Cow's milk; crumbly and dry, with a Cheddar-like tang.
Époisses - A cow's milk cheese that's one of my perennial favorites; as lush and as barnyard-y as ever.
Roquefort - Perhaps the most popular sheep's milk blue around; super salty and tangy, but with a sweetness to it.
3: Gateau Basque
| Traditional south west of France Almond Cake
We concluded with one of the tastiest cakes I've had in a while, the Gâteau Basque, which, as the name implies, comes from the Basque region of France. I was a big fan of its supple, moist, almost custard-esque consistency, while taste-wise, it's almond-y sweetness was spot on, and a superb complement to the tart bits of berry on the side.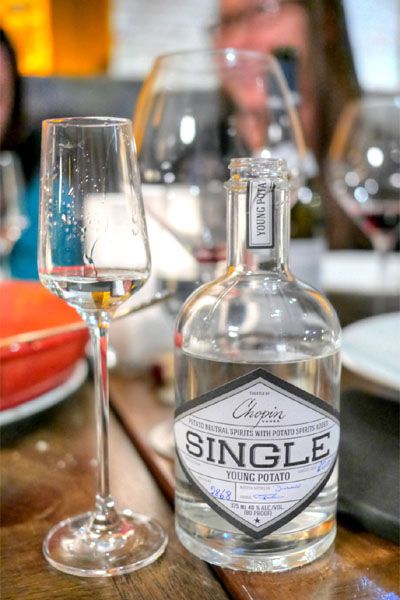 Finally, to close out the night, Michael opened up a bottle of his
2011 Chopin Single Young Potato Vodka
, a single-distilled vintage spirit made with early-harvested Denar potatoes. It was quite unlike most any other vodka I've had, viscous in body and showing off much more character with its softly sweet taste and notes of zesty spice. It reminded me a bit of
Karlsson's
. Very neat.
Quenioux and his team once again delivered a fine meal, and it was great to see a different side of his cooking, one less concerned about
bistronomie
and more about the core, the essence of traditional French cuisine. As for what's next, LQ will be back
in London
this April, and plans are for Quenioux and company to open up a new place later this year where diners will be able to experience the Chef's tasting menus on a regular basis. More to come...