Tar & Roses (Santa Monica, CA)
Tar & Roses Restaurant
602 Santa Monica Blvd, Santa Monica, CA 90401
310.587.0700
www.tarandroses.com
Tue 06/12/2012, 08:15p-10:25p

Have no doubt, Tar & Roses (the name comes from a phrase oft used to describe the intensity of Barolo) is probably the most of-the-moment eatery to hit the Santa Monica dining scene in a long while. The restaurant debuted on January 24th, and is the work of Andrew Kirschner, late of Wilshire. At its heart is the wood-burning oven, which uses various cuts of timber (almond, apple, oak, olive, walnut) to impart subtle differences in flavor to the Chef's "modern rustic" cooking.
About the Chef
: Chef Kirschner is a Los Angeles native--born and raised--but moved to Colorado to attend college. In 1994, after graduating from the University of Colorado with a degree in psych, he relocated to Aspen to pursue his interest in snowboarding. To support himself, he started cooking at two local places called Ajax Tavern and Krabloonik, and quickly fell in love with the craft. Kirschner thus left Colorado and enrolled at San Francisco's California Culinary Academy. During his studies there, he apprenticed at Arnold Wong's EOS, with Chef Wong serving as his first mentor. After completing his culinary degree in 1996, Kirschner returned home to Southern California, where he worked for Joe Miller at
Joe's
, then for
Govind Armstrong
and
Ben Ford
at Chadwick. In 2003, he helped Armstrong open Table 8, where he served as Chef de Cuisine, then worked a brief tenure for Suzanne Goin at
Lucques
.
2007 saw Kirschner join the team at Steve Levine's Wilshire Restaurant as Sous Chef; he was promoted to Executive Chef the next year following Christopher Blobaum's departure. Kirschner really began making a name for himself there;
LA Times
critic S. Irene Virbila granted him a solid three-star review, and he was even named one of
Angeleno
's "Best New Chefs." He parlayed this success into a stint on Food Network's
Next Iron Chef
in late 2010, but would leave the restaurant by the end of March 2011 to start work on Tar & Roses (he was replaced by
Top Chef
alumna
Nyesha Arrington
). Kirschner is joined in the kitchen by Sous Chef Jacob Wildman (who worked with him at Table 8), while the front-of-the-house is the charge of Johnnie Jenkins, formerly of Venice Beach Wines and Air Conditioned.



Tar & Roses occupies the building formerly held by the Santa Monica outpost of
BreadBar
. The space was completely revamped by Kirschner himself, and features reclaimed materials (of course), black banquettes, exposed brick, and plenty of Carrera marble and dark wood, all over shiny concrete floors. There's seating for 45 in the main dining room, while eight fit at the bar. The "urban patio," which just opened on March 21st, holds another 20.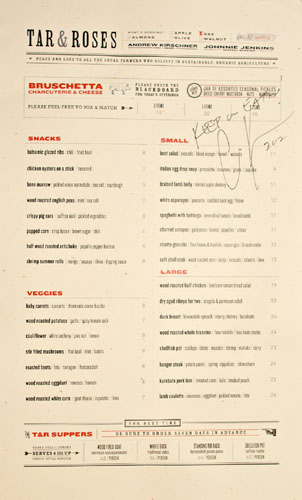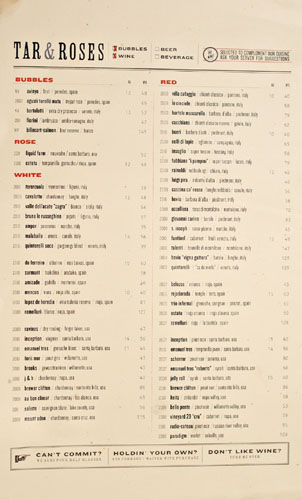 The menu here at Tar & Roses was ostensibly inspired by the Chef's worldly travels, interpreted through a wood-fired, rustic American lens. It's a pretty good size, too, and should offer up something for everybody between sections labeled Snacks, Veggies, Small, and Large, as well as a "Black Board" selection of Bruschetta, Cheese, and Charcuterie. For larger parties, there's also a "T&R Suppers" option, featuring large format plates requiring a week's advance notice. To drink, there's a commendable list of reasonably-priced wines as well as a healthy handful of beers, all chosen by Emanuel Tres winemaker Chris Keller. Click for larger versions.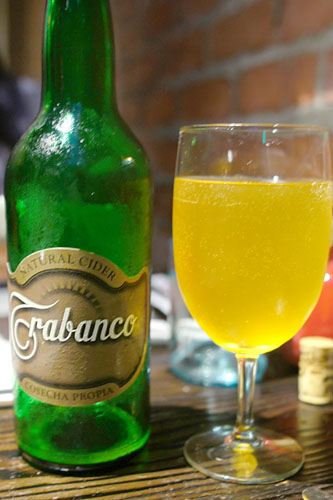 To drink, we opted for a bottle of
trabanco dry cider / gijon, spain [$18]
, which actually reminded me of a French cider that I'd had not too long ago at
LudoBites
. It had sort of that same mix of fruity sweetness, tartness, and dry minerality, all finished with a strong barnyard funk.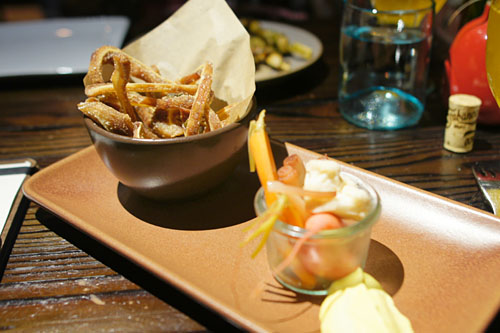 crispy pig ears [$8.00]
/ saffron aioli / pickled vegetables
Pig ears were pretty tremendous, some of the best I've had in fact, showing off a beautiful mix of crispy yet chewy textures along with a focused, in-your-face smack of porcine goodness and salt. They were certainly tasty alone, but the creamy, grassy punch of the saffron was much appreciated, as was the acidity and crunch of the accompanying pickles.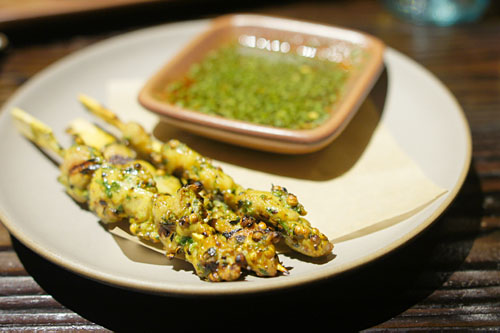 chicken oysters on a stick [$7.00]
/ tamarind
Chicken "oysters" refer to a small cut of meat on the thigh of the bird, and here these little gems were presented in stellar fashion. I loved the heady, immensely savory taste of the oysters, as well as their supple, yet satisfying consistency. In addition, the countervailing astringency of the char was key, and I enjoyed the tangy, almost citrus-y overtones in the skewers as well. The paired tamarind sauce, meanwhile, was fairly subtle, adding a perfect finishing touch to the dish.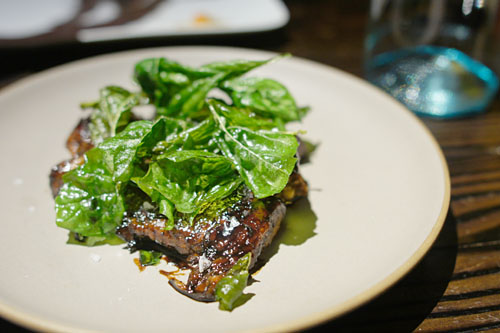 balsamic glazed ribs [$8.00]
/ chili / fried basil
Boneless pork ribs were spot on as well, with a lovely tenderness and a delectable mix of sweet and savory flavors, interjected by just a hint of heat. The basil added further aromatics to the course, but the meat easily stood alone.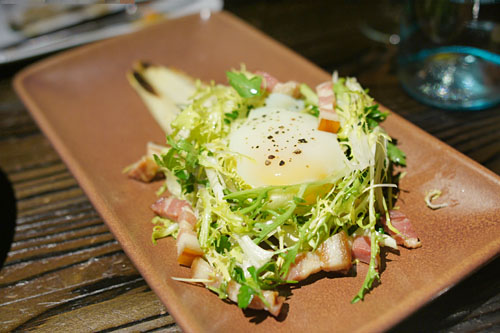 white asparagus [$12.00]
/ pancetta / coddled duck egg / frisee
Thick, meaty stalks of white asparagus conveyed a sweet, subtle bitterness and paired well with their accoutrement of a
salade lyonnaise
, with the bacon providing pinpoints of saltiness to the fray, while the duck egg oozed an overarching luxuriousness that bound everything together neatly.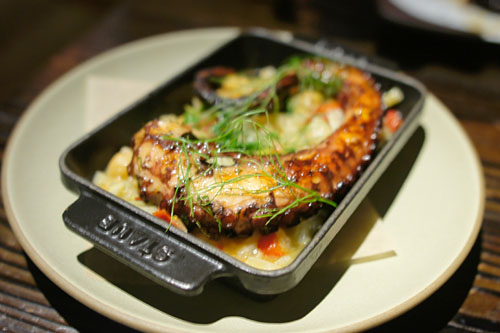 charred octopus [$11.00]
/ garbanzos / fennel / piquillos / citrus
The octopus was also totally on point, with its tender-but-snappy texture and delicate sweet brine, keenly accented by the astringency of its charring. The earthy, mild chickpeas formed a fitting foil to the intensity of the cephalopod, and I thoroughly enjoyed the lightness and tartness imparted by the fennel and citrus.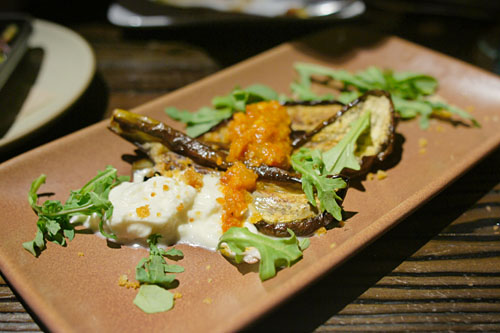 wood roasted eggplant [$8.00]
/ romesco / burrata
Here, the sweet, smoky essence of the eggplant was contrasted against the bright, piquant zing of romesco, while the peppery bite of arugula imparted further levity to the dish. My favorite element, though, was the playful crunchiness of the included breadcrumbs.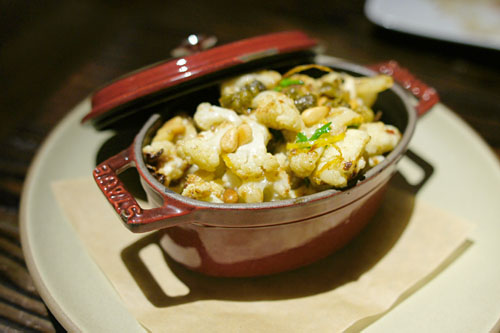 cauliflower [$8.00]
/ white anchovy / pine nut / lemon
Given my penchant for cauliflower, this was naturally a must-try. The use of anchovy here offered up a great, fishy component to the dish that paired surprisingly well with the vegetable, while a touch of lemon provided just the right amount of moderating sourness. My only concern was that I wanted the cauliflower to be crunchier in consistency.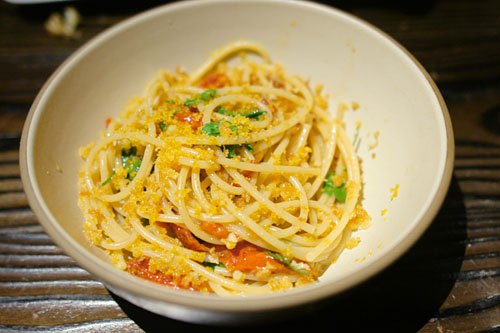 spaghetti with bottarga [$11.00]
/ oven dried tomato / breadcrumb
For our final savory course, we went with a bowl of delightfully
al dente
spaghetti. The pasta formed an apt base for the delicious, overarching, umami-rich brine of the bottarga, while the tomato served to supply a tempering tartness to the dish.

We were fairly full at this point, but of course, saved room for dessert. Click for a larger version.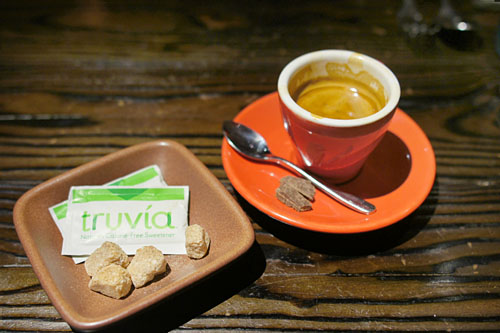 Pairing with dessert was a demitasse of espresso [$3], courtesy of Portland, Oregon's famed
Stumptown Coffee Roasters
.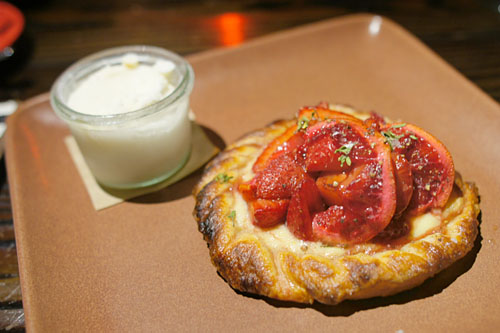 strawberry ricotta crostata [$9.00]
/ honeycomb ice cream
The crostata deftly played the rich, lactic sweetness of the ricotta against the lush, saccharine nature of strawberry, making for quite the pleasant experience. Perhaps the best thing here, though, was that honeycomb ice cream (from
L.A. Creamery
), which served as a wonderful counter, in terms of taste, texture,
and
temperature.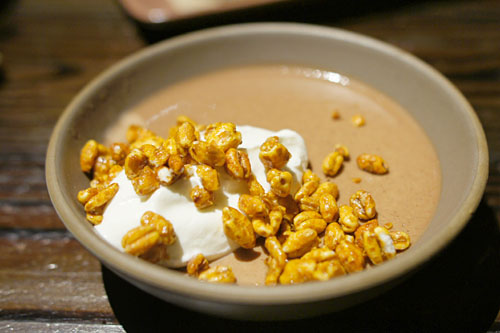 chocolate hazelnut budino [$8.00]
| whipped yogurt / candied wheatberry
Rounding things out was the Chef's
budino
, which conveyed a wonderful blend of chocolate-y and nutty flavors that I might liken to a smooth Ferrero Rocher. The yogurt added a great point of lightness to the dessert, but the crux of the course was the perfectly-placed crunch of the wheat berries.
I think Kirschner has finally come into his own with Tar & Roses, delivering a thoughtful menu of rustic, wood-fired plates that offer up bold, lusty flavors that also manage to be approachable and familiar, but with just enough complexity and an occasional dalliance into something more adventurous. It's food that people around here want to eat, and captures the Southland's culinary
Zeitgeist
quite nicely--definitely a huge score for the sometimes-dreary Santa Monica dining scene if you ask me.