Scratch Bar (Beverly Hills, CA)
Scratch|Bar Restaurant
111 N La Cienega Blvd, Beverly Hills, CA 90211
310.289.8010
www.scratchbarla.com
Thu 08/15/2013, 08:30p-11:55p

The newest denizen on Los Angeles's famous Restaurant Row is quite unlike any of its neighbors, eschewing the glitz of
The Bazaar
, the vastness of Lawry's, and the sheer hackwork that is The Stinking Rose. Instead, Chef/Owner Phillip Frankland Lee's curiously-named Scratch|Bar serves up some of the most inventive, creative cuisine La Cienega has ever seen, all in a cozy, unassuming setting. The place debuted on June 25th after a two week soft opening period, and has been garnering a loyal following ever since.
About the Chef
: An LA native, Phillip Lee attended the Le Cordon Bleu program at the CSCA in Pasadena (where, apparently, he even won a scholarship contest put on by the
National Honey Board
). After graduating in 2009, he worked at
Stefan's at LA Farm
, and also
staged
at
Providence
. In February 2010, he started at
Hatfield's
, but would leave in December that year for Chicago. In the Windy City, Lee worked the line at
L2O
until February 2011, then apprenticed at
Alinea
and Blackbird before landing at The Park Grill, where he was Exec Sous.
Lee returned to SoCal in September 2011, launching Wolf Cuisine (a pricey tasting menu home delivery service) with partner Sylvain Allard. During this period, he also wrote a script called
COOK: The Movie
. Toward the end of 2012, Lee took the reins at D'Cache, a small Basque restaurant in Toluca Lake, but would leave soon thereafter to work on his own concept. The Chef debuted Scratch|Bar inside Santiago Garfunkel's Tiago Espresso Bar + Kitchen in May this year, but quickly outgrew the spot. As such, he partnered up with Darioush Danesh and moved into the Danesh's restaurant space, the former home of The Grill Pit, Restaurant 111, Tak, and the eponymous Darioush.
Chef Lee is joined here by Chef de Cuisine Joel David Miller (
Cleo
), Sous Chef Ryan Duval (D'Cache,
Animal
,
wd~50
), Pastry Chef-slash-actress-slash-model-slash-spouse-slash-business partner Margarita Lee (née Kallas), as well as Bar Manager Dave Fernie (Pour Vous, Harvard & Stone,
Playa
,
Test Kitchen
, La Descarga,
Church & State
).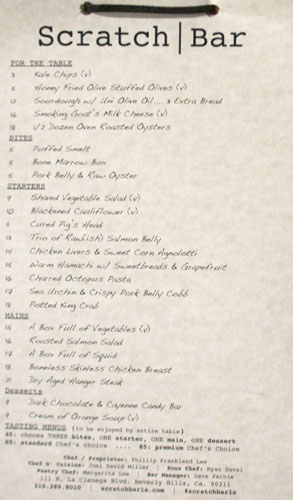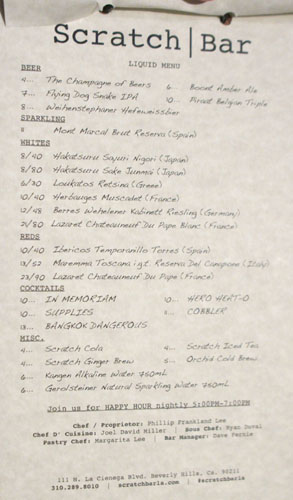 The menu is divided into sections of increasing intensity, while reasonably-priced tasting menu options are also available (though the flagship 12-courser is still in work, pending completion of the kitchen-facing tasting bar). To drink, Davidson Fernie has put together a small cocktail list (mostly sake-based, due to the place's lack of a full liquor license), and you'll find a smattering of wines, beer, and even housemade sodas to boot. Click for larger versions.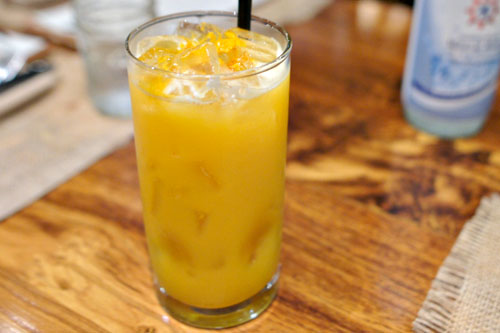 Bangkok Dangerous [$13.00]
Speaking of those cocktails, we started with the
Bangkok Dangerous
, a concoction of
nigori
and
junmai
sakes, pineapple juice, ginger syrup, turmeric, cayenne, cardamom, and lemon juice that managed to be my favorite of the bunch. There was a blast of pineapple-y, citrus-y tartness on the attack that belied the sweet 'n' spicy overtones in the drink, while the heat of the cayenne really made itself known on a slow burning finish. Masterful.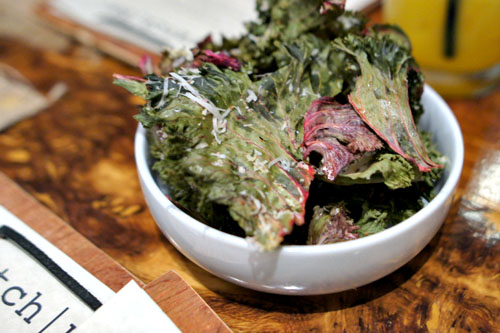 Kale Chips [$3.00]
Chips of dehydrated kale were kissed with lemon and Parmesan, the bitterness of the vegetable expertly balanced by the tang of the citrus while the cheese added a smart base of savoriness to the course.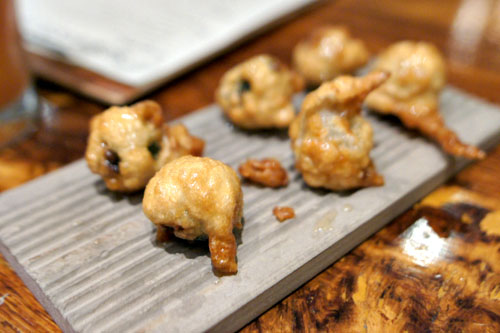 Honey Fried Olive Stuffed Olives [$5.00]
A plate of honey-battered and fried olives was fun--sweet at first, but with the piquancy of the fruit coming through toward the close. A great olive dish for all the olive haters.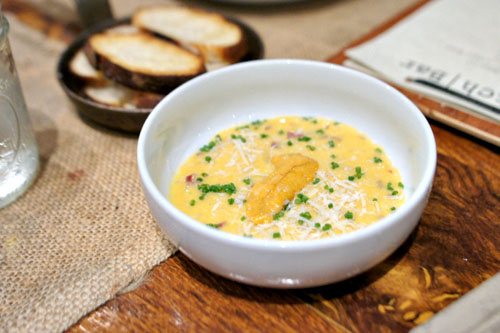 Sourdough w/ Uni Olive Oil [$12.00]
A sea urchin-infused olive oil was divine, the lushness and brine of the roe really melding beautifully with the tangy, tart notes in the oil. Excellent when taken on top of the housemade bread (the product of a decades old starter I understand).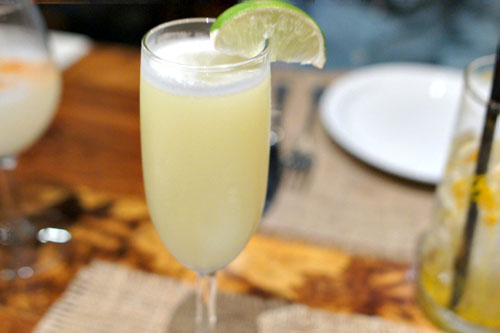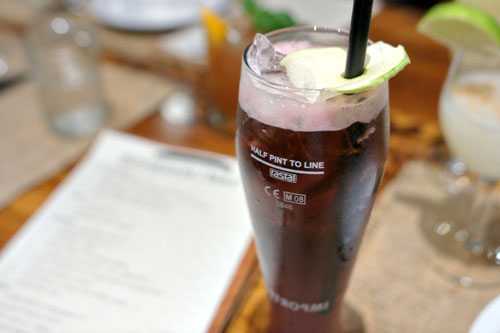 Supplies [$10.00]
In Memoriam [$10.00]
Next up for cocktails was the
Supplies
, made with
nigori
sake, pineapple, lime, and salt. This one could be thought of as a sake-based piña colada, a soft, fruity libation with just a bit of a kick. The
In Memoriam
, on the other hand, was like a riff on a sangria-
calimocho
-mulled wine combo, one made with Tempranillo, Coca-Cola, spiced apple, and other fruit. I found the drink utterly delicious: fun and easy-drinking, with a wonderful smoothness and hints of sweet, autumnal spice to it.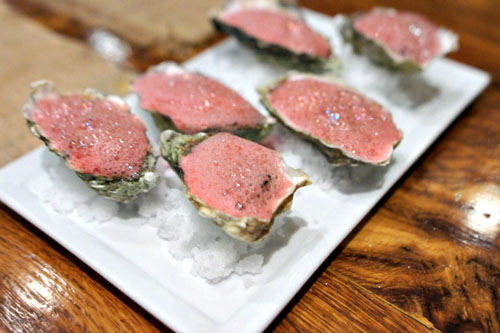 1/2 Dozen Oven Roasted Oysters [$18.00]
A half dozen (Kumai?) oysters arrived topped with a vividly-colored beet emulsion that reminded me of a similar preparation I'd had last year at
The Amalur Project
. It really worked though, with the subtle sweetness of the beet really moderating the inherent salinity of the mollusks.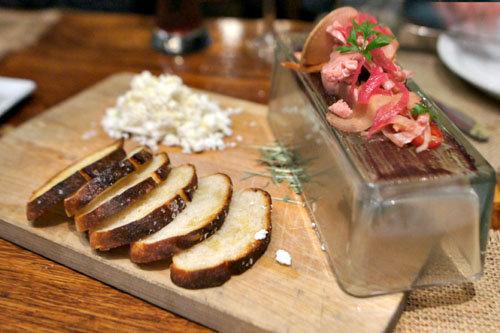 Smoking Goat's Milk Cheese [$16.00]
Housemade two week-aged goat cheese came to the table ensconced in a glass terrine alongside charcoal-smoked Timothy hay. The
chèvre
was intensely smoky upon first taste, with the lushness and sweetness of the cheese only coming through toward the close. It was superb spread over the included bread, while the pickled veggies added a fantastic crunch and acidity that really brought everything together wonderfully.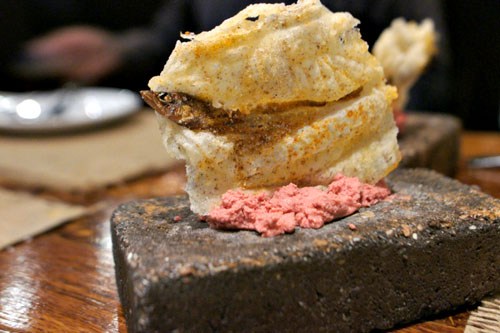 Puffed Smelt [$5.00]
Here, in one of Scratch|Bar's most visually-arresting courses, smelt was dried then fried into "fossilized" rice cracker form. It was delightfully fishy and salty alone, and went laudably with the sugary tartness of the beet mustard and bone marrow smear on the bottom.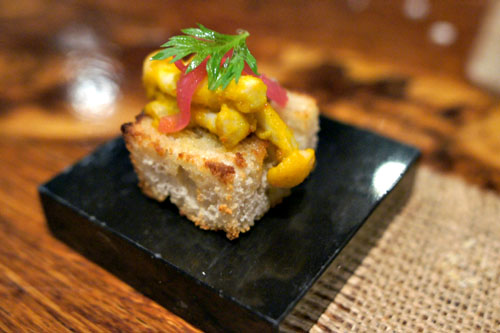 Bone Marrow Box [$5.00]
Next was a delightful mélange of bone marrow,
shimeji
, and onion, all encased in sourdough. The richness of the marrow formed the base to the course, with the tanginess of the mushroom making for a great counterbalance, all while a slight trace of heat underscored the entire bite. Tasty.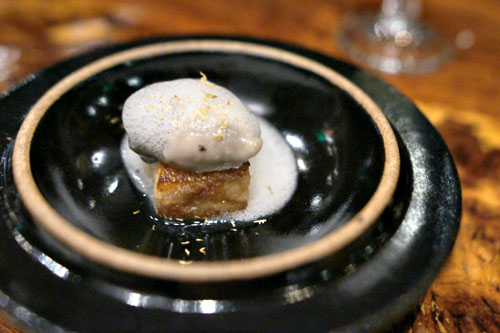 Pork Belly & Raw Oyster [$5.00]
The first time I'd had pork belly and oyster together was at Corey Lee's phenomenal
Benu
, but this version was probably better. The crux here was the undeniably smart combo of belly and Kumai, which really conveyed two facets of salinity that play off each other in stellar fashion, while texturally, the oyster's soft, slick consistency melded with the fattiness inherent in the pork. If that wasn't enough, the coconut-chamomile foam really topped things off gorgeously with its light, floral, countervailing character. This is quickly becoming Scratch|Bar's signature dish, and it's easy to see why.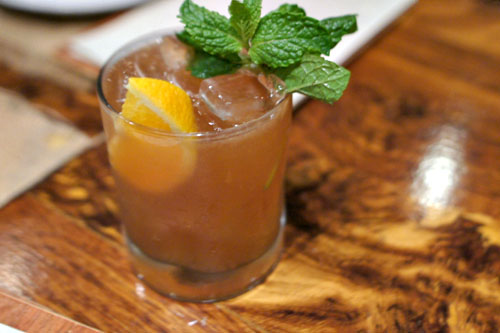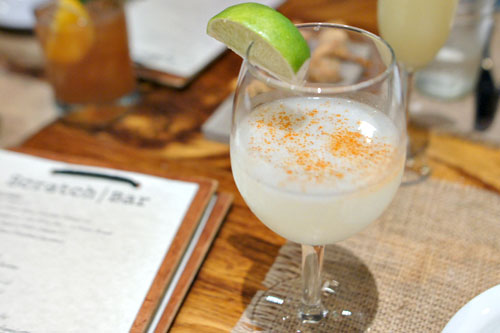 Cobbler [$11.00]
Hero Heat-o [$10.00]
Our last round of cocktails brought us the
Cobbler
, which was described by our server as a sherry-based Old Fashioned, one composed of Amontillado, curaçao, maraschino, bitters, and orange. It was the booziest of the bunch, with the wine really showing through, yet deftly tempered by the delectably bittersweet flavors present. We also had the
Hero Heat-o
, comprising
junmai
sake, salt, lime, cane syrup, and cayenne. This one was likened to a sake-based daiquiri, a tart, balanced, and somewhat spicy drink that integrated the
nihonshu
nicely.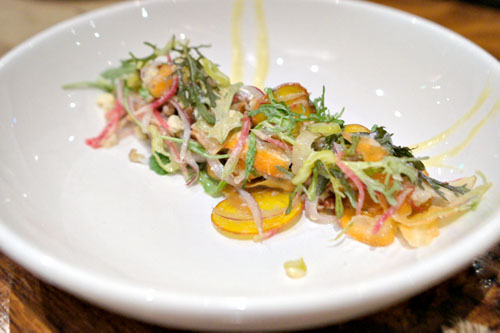 Shaved Vegetable Salad [$9.00]
The requisite salad dish was well played, a multifaceted presentation of sundry veggies that combined sweet, tart, and bitter nuances commendably under a veil of overarching nutty savor.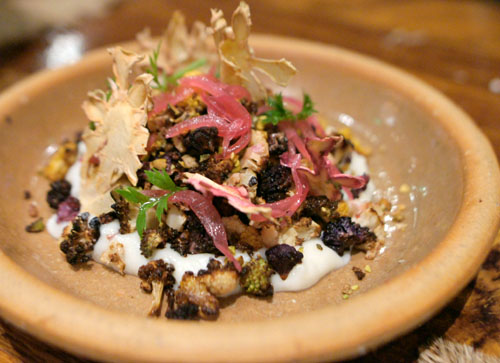 Blackened Cauliflower [$10.00]
The roasted cauliflower was another winner, with four different varieties joined by cauliflower chips, a cauliflower purée, red onions, and pistachios. It was great to experience the different faces of the vegetable, its mild, yet always satisfying relish joined by disparate smoky, tangy, and nutty flavors. Lovely textures, too.
Trio of Raw(ish) Salmon Belly [$13.00]
Next came six rosettes of salmon in various forms, all set in a
dashi
-inspired kombu-bonito broth that seemed to intensify the experience. Going right to left, we started with a raw preparation with lemon, sea beans, and green tea salt, the various accoutrements making perfect sense with the fattiness inherent in the belly. Number two was a blueberry-infused version, which had a tart, sugary thrust that worked surprisingly well with the fish. Last up was my favorite, a torched presentation that showed off a simply delectable char to it.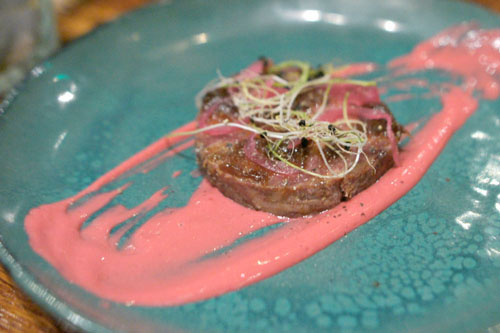 Cured Pig's Head [$11.00]
Lee's two week-cured pig head was somewhat like a
fromage de tête
in essence, gritty and loaded with a pork-y goodness that went just swimmingly against the piquant streaks of beet mustard on the plate, with the whole dish enveloped by just a whisper of sugary spice.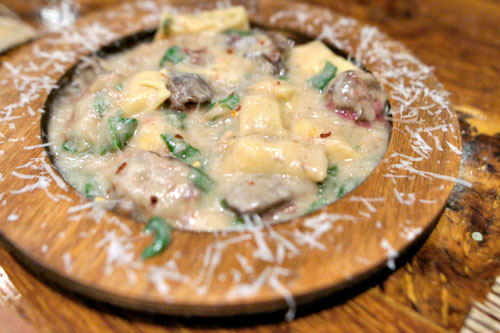 Chicken Livers & Sweet Corn Agnolotti [$14.00]
I definitely enjoy my chicken liver, but this was even a bit much for me. The dish was intense, the heady, earthy smack of the liver really taking center stage, with the agnolotti adding an apparent sweetness to the fray while the greens tried their best to impart some levity. Approach this one carefully.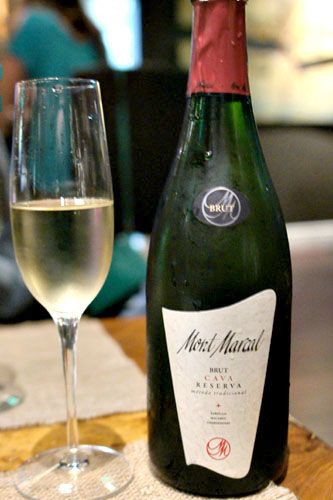 With the cocktails all drunk up, went opted for a bottle of bubbly in the form of the
Mont Marcal Brut Reserva (Spain) [$48]
. It was a pretty prototypical Cava, a tart, acidic, citrus-y wine with a light backbone of yeastiness and just a smidge of minerality.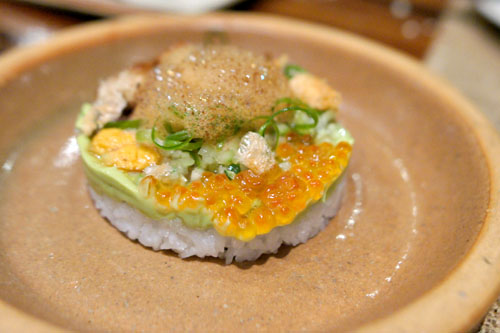 Sea Urchin & Crispy Pork Belly Cobb [$17.00]
The so-called Cobb salad was almost nothing like a Cobb salad (coming out more like a
bibimbap
), which is probably a good thing. Rice was substituted for lettuce, and in place of the traditional toppings were avocado purée, uni, ikura, and pork belly. We opted to mix everything together and the resultant mass was really quite neat, with the rice serving as a stage on top of which the various elements could really mesh. I especially appreciated the pork, which added wonderfully salty, crunchy bits to the mix that really drew your attention.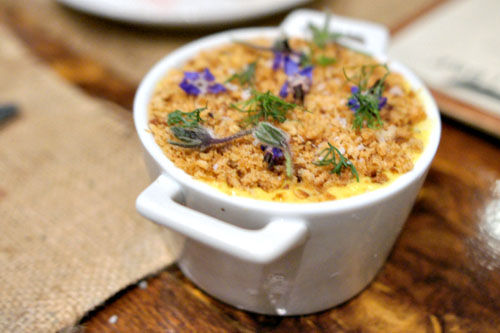 Potted King Crab [$18.00]
You could almost think of this next dish as the best seafood salad you've ever had. It was one of my favorites of the night to be sure, with the cool, sweet crab forming a great base to the dish that really allowed the other ingredients to sing. There was a lot going on, and I was especially fond of the cucumber-y zing of the borage. Fantastic textures here too, with the crunchy "crust" of the course being particularly appealing.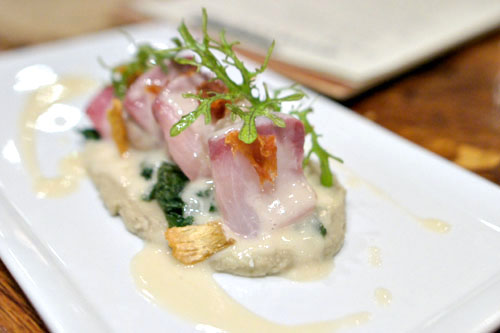 Warm Hamachi w/ Sweetbreads & Grapefruit [$15.00]
Hamachi was quite fetching, arriving to the table supple and fatty, its brine tempered by the combination of artichoke and the astringent Bloomsdale spinach. Sweetbreads, meanwhile, were poached in white wine and imparted a subtle weightiness to the dish that was almost easy to miss.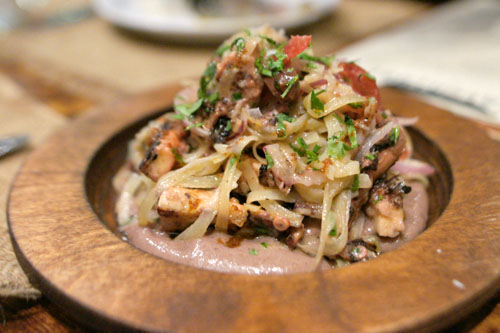 Charred Octopus Pasta [$16.00]
I'm a sucker for octopus, but this dish fell a bit short. What we had was a chermoula-charred octopus set in confit Yukon gold potato "noodles," with parsley, tomatoes, red onion, lemon, and a kalamata olive cream. My issue was that the octopus verged on tough, with a somewhat rubbery quality that wasn't terribly appealing. That was a shame, as its flavor was on point, with a good depth and sweet spice to it that paired well with the Mediterranean-inflected forces present. I even liked the noodles as well, which had a great snap and crunch to them.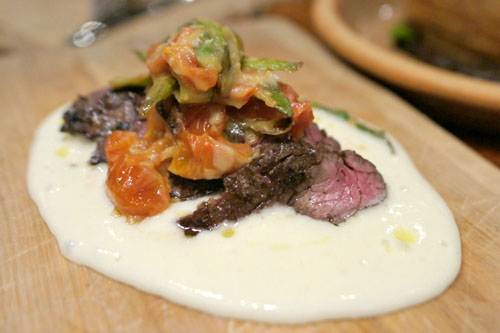 Dry Aged Hanger Steak [$21.00]
At this point, we moved on to the larger courses. First up was the hanger steak, which managed to be pretty tender given the cut, and, of course, showed off plenty of bovine goodness. Interestingly, there was an undercurrent of sweet spice here that I couldn't quite put my finger on.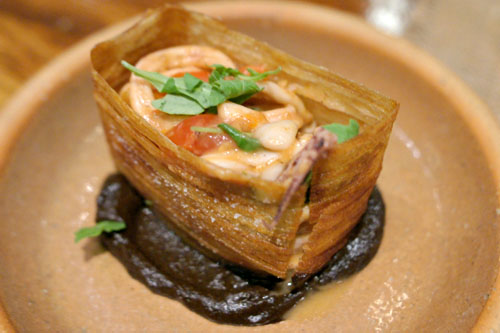 A Box Full of Squid [$17.00]
The name of this dish really needs to be changed to
squid in a box
for obvious reasons. What was interesting here was how the textures of shrooms and squid mimicked each other, giving us a sense of simultaneously supple and snappy consistencies. Unfortunately, I found the potato "box" overly salty, while the tartness of the tomatoes as well as the charred eggplant tended to mask the main ingredients.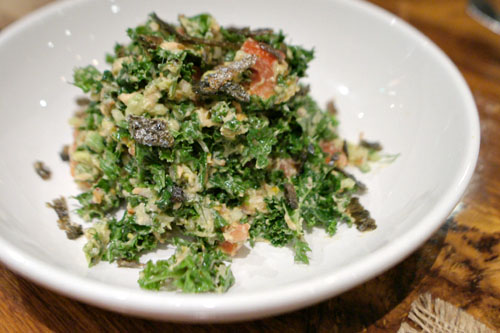 Roasted Salmon Salad [$16.00]
Lee's kale salad was a refreshing take on the seemingly ubiquitous dish, and was a winner in my book. The briny notes from the fish were proudly conveyed here, but effectively tempered by the bitterness of the kale and the otherwise bright, nutty flavors at play. Lovely crunch from the crispy salmon skin, too.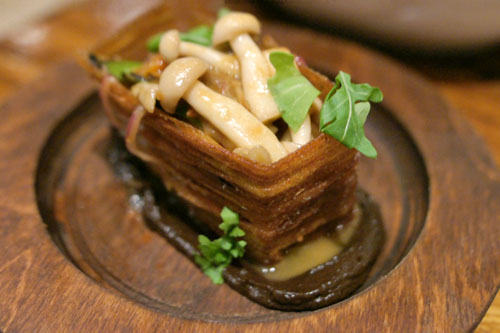 A Box Full of Vegetables [$15.00]
Surprisingly, the
veg in a box
(try saying that three times fast) was more effective than the cephalopod version above. Here, I appreciated how the veggies were each distinct in texture and flavor, yet flowed together seamlessly, bound by an almost Asian-y savoriness that overarched the dish.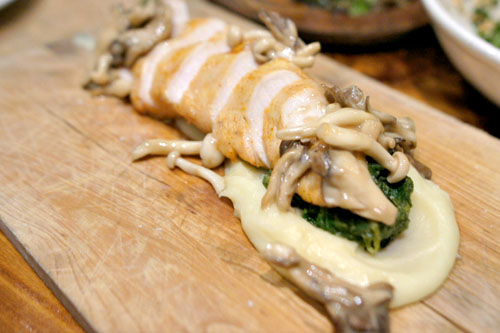 Boneless Skinless Chicken Breast [$18.00]
Here, in our last savory course, the Chef showed us what he could do with the most prosaic of ingredients. In fact, one of my dining companions even deemed this the best chicken breast he'd ever had. The breast was clearly the star of the show, coming out juicy and just teeming with chicken-y goodness. I really enjoyed it alone, but the spinach served as a nice counterweight to the bird, which also had a spicy complexity to it from what I believe was cayenne.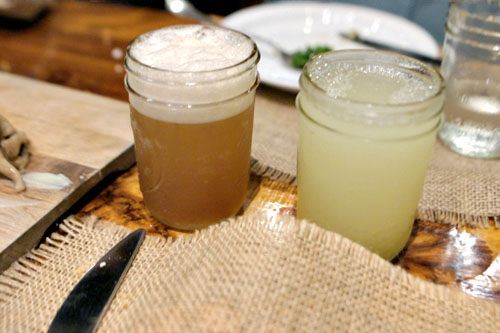 To go with dessert, we ordered two of the restaurant's housemade sodas. The
Scratch Cola [$4]
was pretty fantastic, with an endearing sweet-spicy quality to it that was reminiscent of a Coke-cream soda-root beer mash-up. The
Scratch Ginger Brew [$4]
, meanwhile, was almost as good, with an utterly refreshing, bright, bracing, true-to-life ginger-y relish that reminded me of a similar drink I'd had at
Alma
.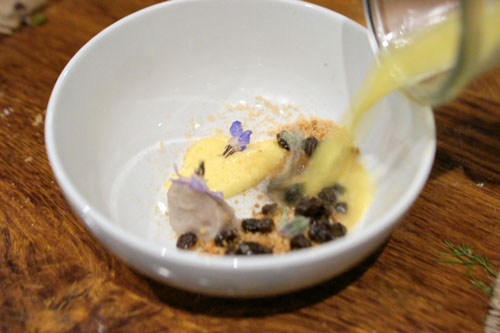 Cream of Orange Soup [$9.00]
Lee's cream of orange soup was pretty neat, the "hot OJ" melding nicely with the savory, almost garlicky nuances at play. Non-traditional, and almost cerebral in nature.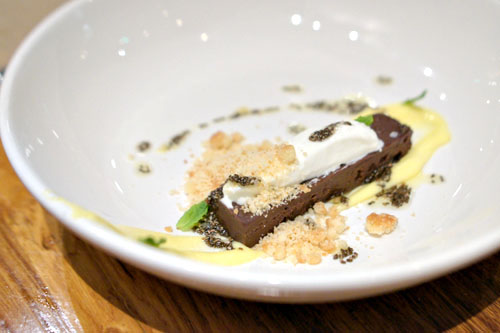 Dark Chocolate & Cayenne Candy Bar [$9.00]
We ended with a dark chocolate ganache, one paired with lemon curd, salted whipped cream, EVOO-laced chia seeds, cayenne, mint, and sugar cookie crumbles. This one was more approachable, but still complex, with a lot of moving parts that somehow came together to make a cohesive whole. The chocolate was the hero here, but had a strong cast of supporting players.
Chef Lee likens his cooking to "a new approach to an old sport," and that's sort of a fitting description to the food here, which verges on a combination of fun, whimsical, and modern, with some really unexpected, multilayered flavor combinations and unique presentations to boot. There's a certain hunger and verve to the cooking here that's particularly refreshing, especially given the environs. Scratch|Bar's probably the most ambitious cooking Restaurant Row has seen in a while, and I really hope it can stick around longer than some of its predecessors (I'm looking at you, Tak).