Osso (Los Angeles, CA)
Osso Restaurant
901 E 1st St, Los Angeles, CA 90012
213.880.5999
www.ossodtla.com
Thu 06/25/2015, 08:00p-10:55p

Dana Hollister's Arts District bar One-Eyed Gypsy closed back in April of last year, and in its place comes Osso (Italian for "bone"), a much more food-focused place that opened at the end of May. Hollister's still on board though, and she's brought on her
Cliff's Edge
partner Pierre Casanova as well as two ex-New Yorkers to run the day-to-day.
The FOH is handled by Ami Lourie, a former GM at Cliff's Edge who previously worked for Mario Batali in NYC. He also served as General Manager at David Chang's Momofuku Noodle Bar, and met Chef Nick Montgomery while the two were at Momofuku Ssam Bar. Alabama native Montgomery, for his part, cooked at Montmartre, The Brooklyn Star, and Momofuku in New York, and also worked a stint at Paul Kahan's Blackbird in Chicago.

The old home of The One-Eyed Gypsy (and before that, Bordello) has been stripped down to the basics, allowing for an open, very dimly-lit 45-seat dining room.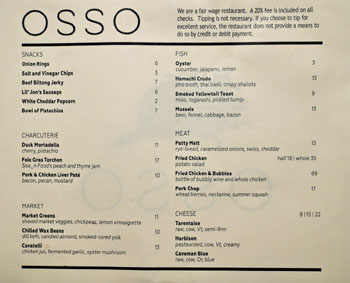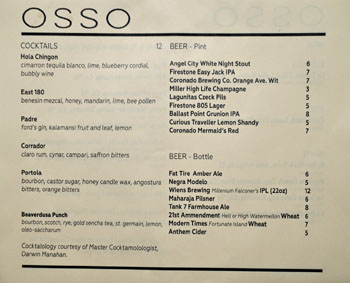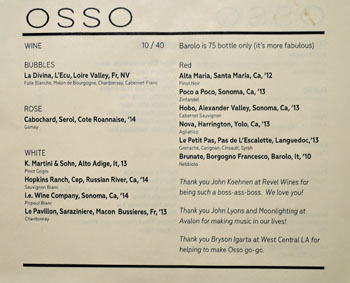 Osso's menu is refreshingly compact, featuring a small selection of cheffy American classics with a Southern edge. To drink, you get a reasonable beer list and a handful of wines chosen by Lourie and John Koehnen of Revel Wines. However, the main draw is the cocktail program, crafted here by Darwin Manahan, the current GM/Beverage Director at Cliff's Edge whom many of us likely know from his work at Eduardo Ruiz's
Corazon y Miel
/Picnik/Punch. Click for larger versions.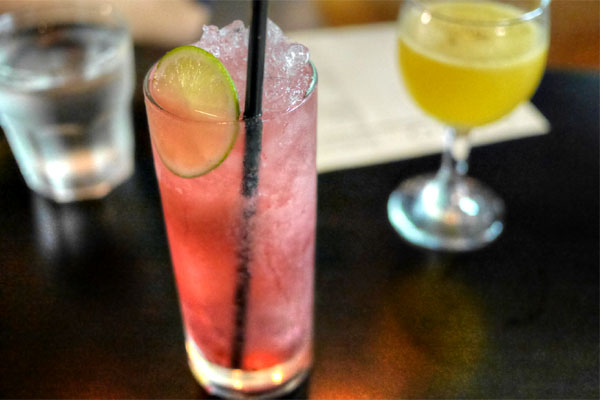 Hola Chingon [$12.00]
| cimarron tequila blanco, lime, blueberry cordial, bubbly wine
We ended up getting all of the cocktails tonight, and started with Manahan's ode to the Adios Motherfucker. It was of course more refined than its inspiration, the fruitiness of blueberry front and center, balanced by the tartness of lime while Angostura gave the drink a bitterness toward the middle. Underpinning it all was a subtle agave-laced booziness from the tequila.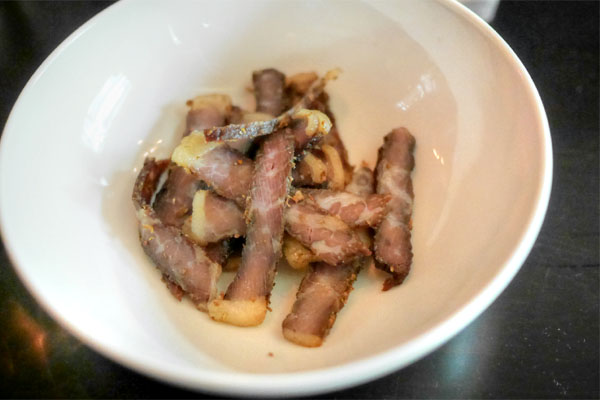 Beef Biltong Jerky [$7.00]
Our first snack was this take on South African-style
biltong
cured-dried meat. Resembling slivers of steak, its showed off a super-concentrated beefiness and spice, along with a relatively moist, chewy consistency with a distinct fattiness. Very cool.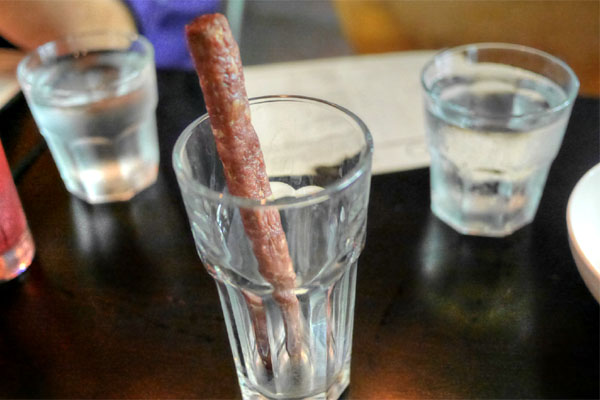 Lil' Jon's Sausage [$6.00]
Speaking of jerky, an homage to the ubiquitous Slim Jim was up next. It was a worthy approximation of the original, a little less snappy, but with a deeper savor and an appropriate amount of spicing.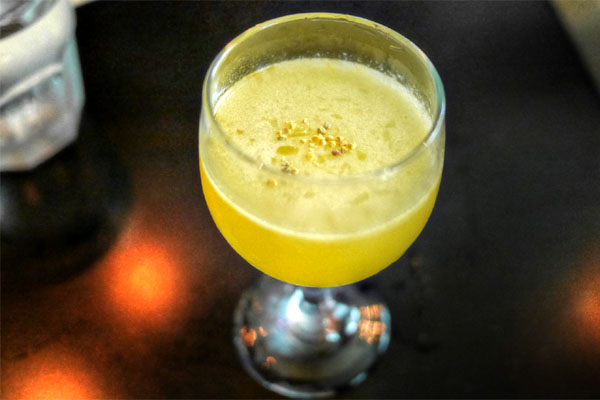 East 180 [$12.00]
| benesin mezcal, honey, mandarin, lime, bee pollen
Every craft cocktail list seems to have a mezcal option these days, and Osso's was a good example of such. Aromatics of honey commingled with smoke on the nose, while on the palate, you had the sweetness of mandarin and the woodiness of mezcal, the pollen adding a great finish to the drink.
Onion Rings [$6.00]
Onion rings were lightly battered and crisp, with the sweetness of the veggie really shining through. Tasty alone, and even better with a dab of that creamy, spicy sauce on the side.
Hamachi Crudo [$13.00]
| pho broth, thai basil, crispy shallots
The yellowtail was a standout, the clean cuts of fish beautifully matched with the
pho
-inspired broth and its considerable depth and bright, herby aromatics. Nice crunch and savor from the shallots, too.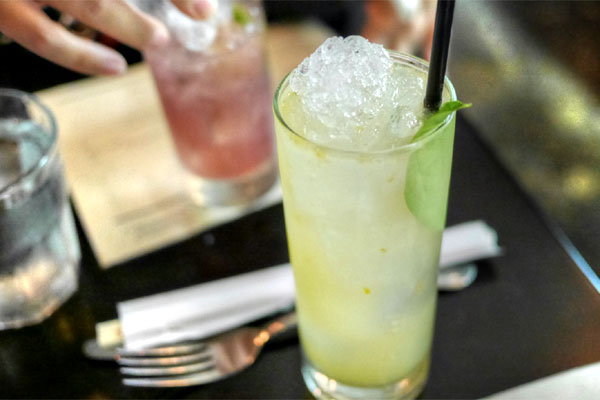 Padre [$12.00]
| ford's gin, kalamansi fruit and leaf, lemon
Here, Manahan referenced his Filipino heritage, giving us a cocktail that really showcased the nature of calamansi. I found it super refreshing, with boatloads of sweet citrus fruit in-yo-face, tempered by the sourness of lemon.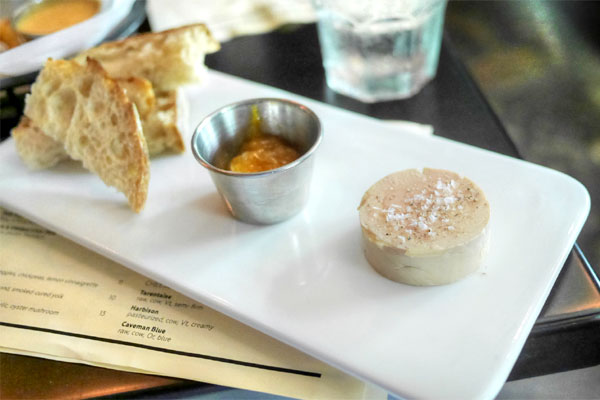 Foie Gras Torchon [$17.00]
| Soo_n Food's peach and thyme jam
Foie gras did a nice job conveying its delicate, earthy essence, with subdued notes of liver complemented by the sugariness of the jam while toast offered up a crunchy, moderating counterpoint. However, I would've liked a smoother, creamier texture on the torchon.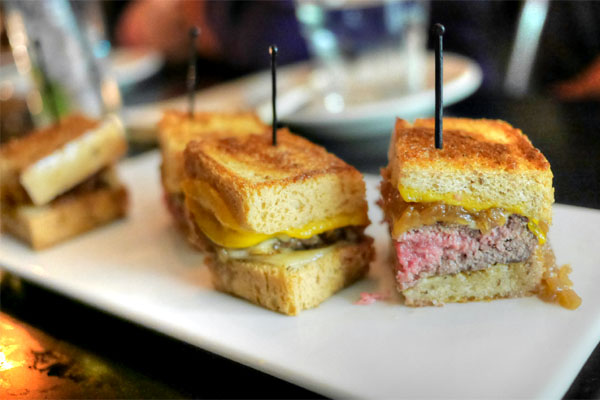 Patty Melt [$13.00]
| rye-bread, caramelized onions, swiss, cheddar
The patty melt was on point, and certainly one of the best I've had, its massive amounts of deep, bovine savor matched with the heady sweetness of caramelized onion while the duo of cheeses worked to tie it all together.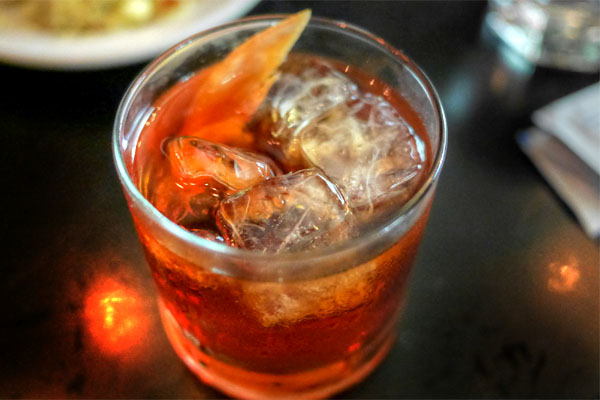 Corrador [$12.00]
| claro rum, cynar, campari, saffron bitters
Our next cocktail definitely veered toward the boozier side. Think bittersweet on the nose, with the Campari really making itself known on the palate, joined by the vegetal notes of Cynar while saffron gave things a nice close.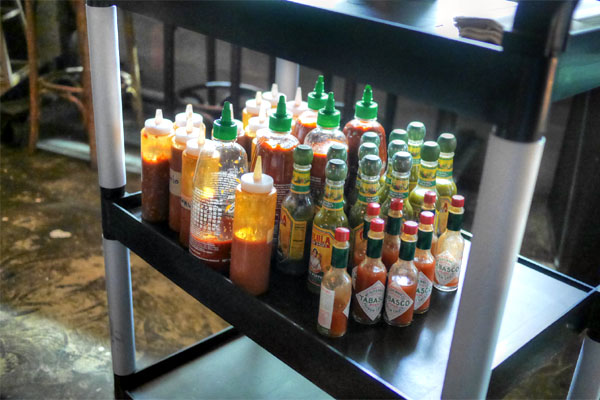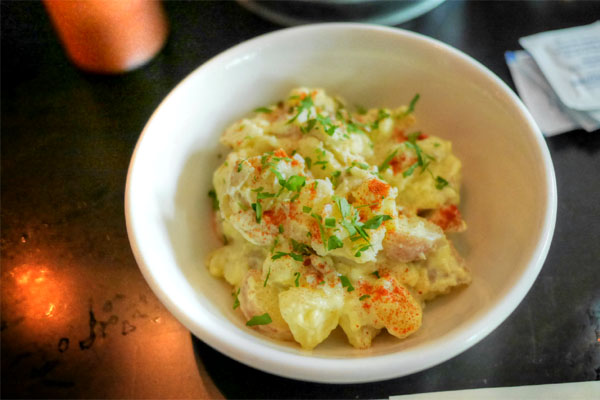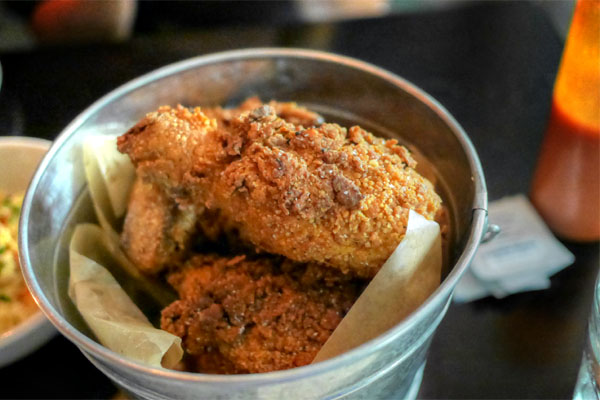 Fried Chicken (half) [$18.00]
| potato salad
The fried chicken was a must-try of course, and came out super crispy and super moist, with a slight spice to it. Interestingly, I think I actually preferred the breast portion, which managed to be one of the juiciest I've had. The bird came with your choice of hot sauce to further enhance the experience (we opted for sambal and Frank's), while the accompanying potato salad was spot on in its tanginess as well.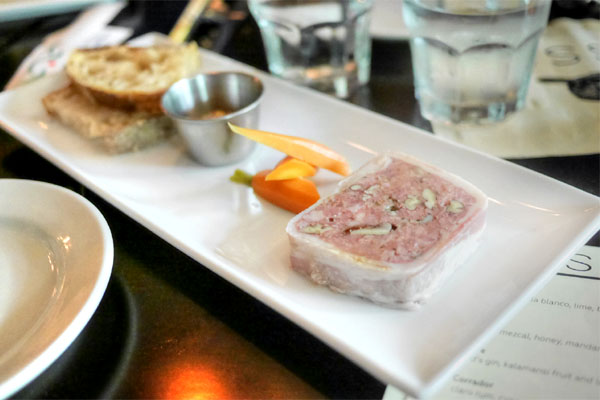 Pork & Chicken Liver Paté [$10.00]
| bacon, pecan, mustard
A sort of
pâté de campagne
delivered, a gritty, rustic preparation with its pork-y and liver-y flavors accented by the nuttiness of pecan while the mustard added the requisite amount of zip.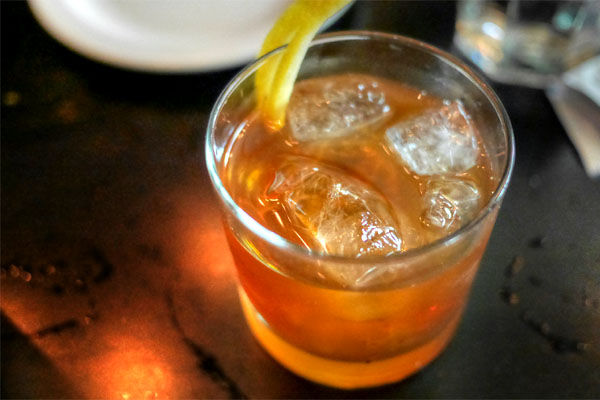 Portola [$12.00]
| bourbon, castor sugar, honey candle wax, angostura bitters, orange bitters
I don't think I'd ever encountered candle wax in a cocktail before, but the ingredient was certainly put to good use here. It lent a honeyed, almost candied bouquet to the drink, which worked swimmingly with the sweet, boozy, citrusy base of Old Fashioned flavors.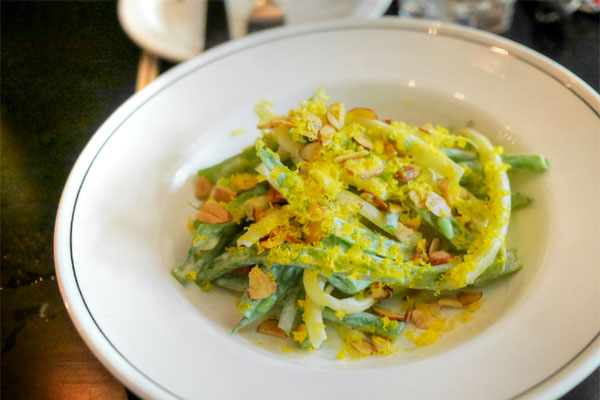 Chilled Wax Beans [$10.00]
| dill kefir, candid almond, smoked-cured yolk
My favorite course of the night was likely the string beans. You got all the crunchy, waxy textures and bright flavors that you'd expect, tied together by the creaminess of dill-infused
kefir
while the egg yolk imparted a wonderful smoke to the dish. Nice nuttiness from almonds to boot, and very thoughtful overall.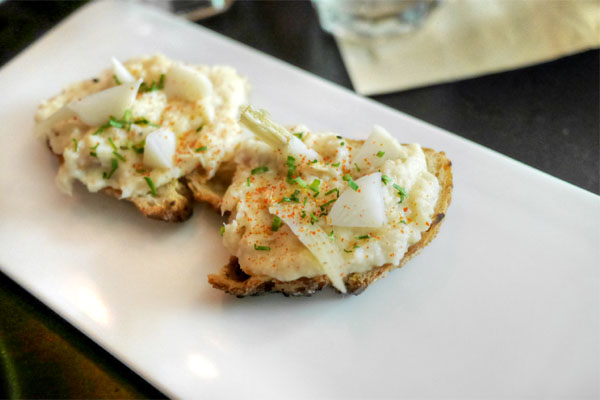 Smoked Yellowtail Toast [$9.00]
| miso, togarashi, pickled turnip
Yellowtail made another appearance, this time warm, with its fishy, briny qualities commixed with a lovely touch of smoke and a spicy accent from the
togarashi
.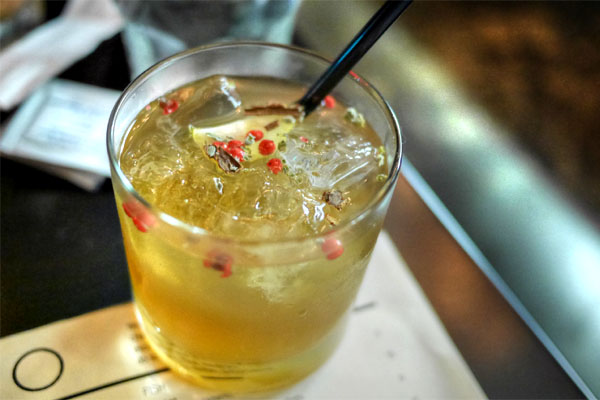 Beaverdusa Punch [$12.00]
| bourbon, scotch, rye, gold sencha tea, st. germain, lemon, oleo-saccharum
The last cocktail on the list was probably my favorite of the bunch. I loved its tea-like qualities and multifaceted presentation of sweet, floral nuances, matched by the sharp spice of peppercorn, clove, and allspice.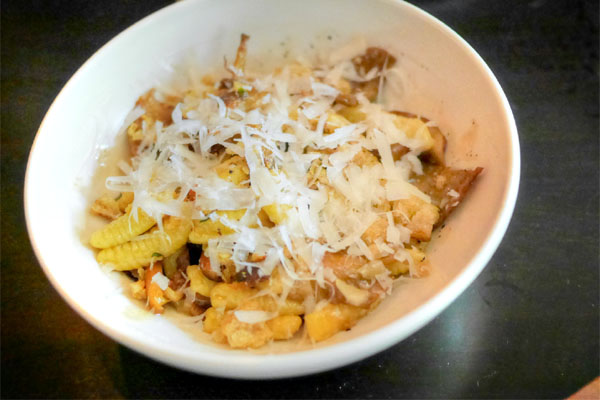 Cavatelli [$13.00]
| chicken jus, fermented garlic, oyster mushroom
Cavatelli arrived well-textured, a fitting base for the salty, earthy qualities of the mushrooms, though I didn't get much from the black garlic. Nice textural component from what I believe were breadcrumbs too.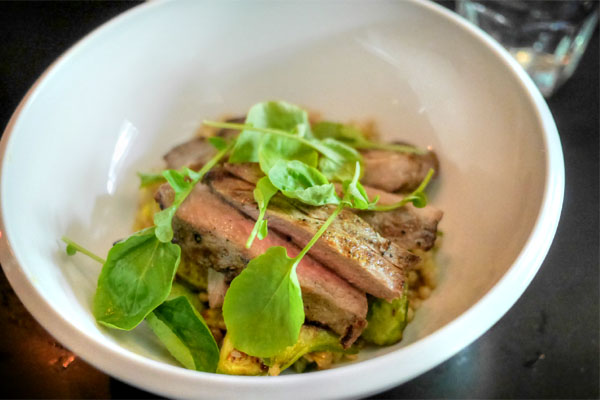 Pork Chop [$17.00]
| wheat berries, nectarine, summer squash
Our final savory, the pork chop arrived tender and toothsome, teeming with massive amounts of salt, savor, and smoke. I definitely appreciated the balance and texture provided by the wheatberries and squash here, but the crux for me was that stone fruit, which gave up a juicy sweetness that really evened out the meat.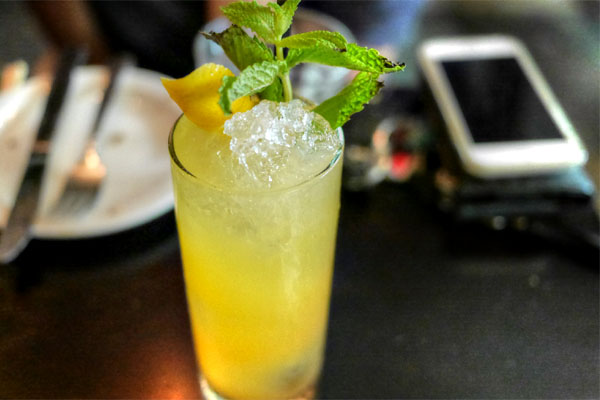 Thrilla from Manila
| rum, honey infusion, pink peppercorn and pineapple simple syrup, mandarin, mint
Cocktails tonight were executed by bartender
Jodi Mae Calderon
, and she ended up crafting this off-menu special at our request. Likened to an Asian-inflected Smash, the drink seriously recalled the light, fruity sweetness of Capri Sun initially, but this then gave way to the booziness of rum and a wonderful spice from the peppercorn on the close.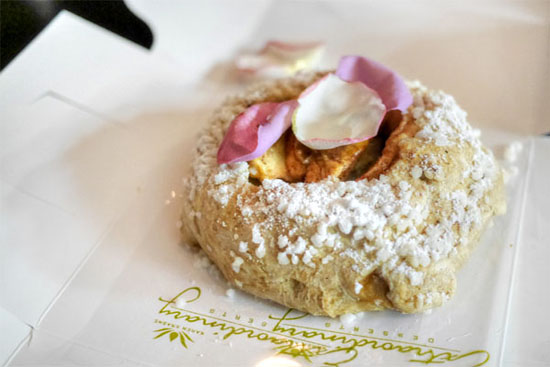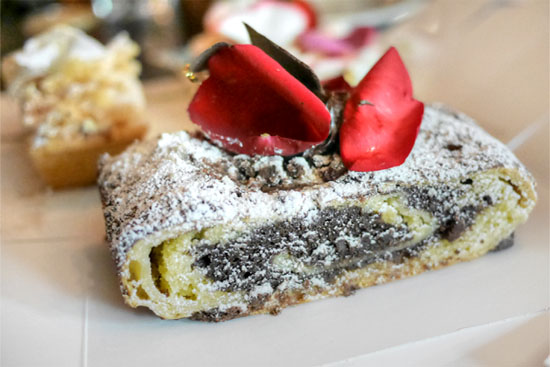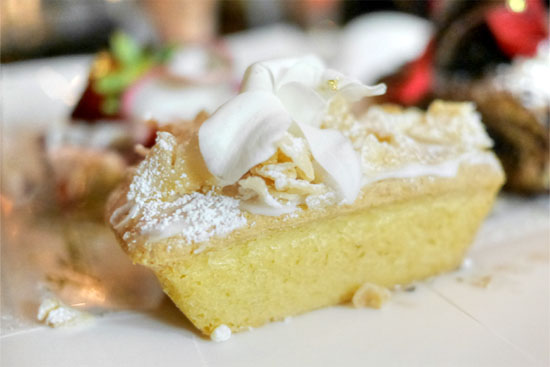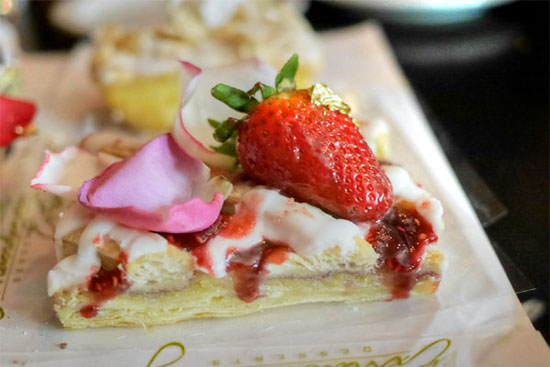 Osso, unfortunately, doesn't do dessert currently, so we ended up busting out some sweets that we happened to have handy from San Diego's Extraordinary Desserts.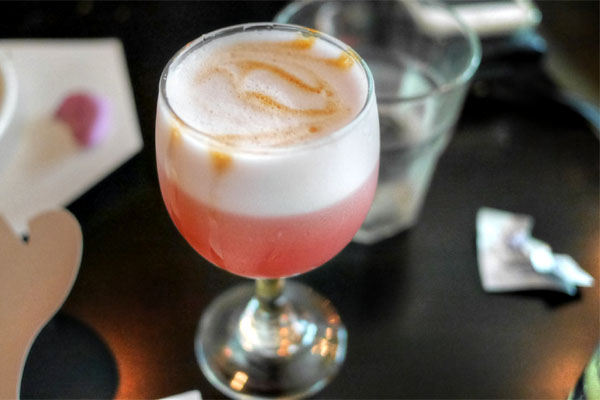 Chicha Niña
We closed with another off-menu drink, a more dessert-y concoction based off the Peruvian beverage
chicha morada
. It hit the mark as well, with a sweet-tart, floral, fruity character to it moderated by a bitter spice and the lushness of that froth.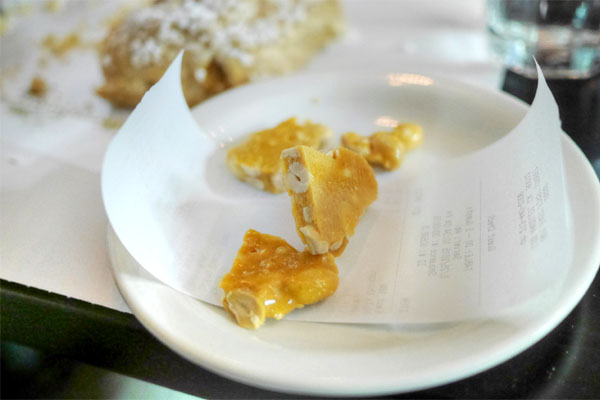 Accompanying the bill was some delightfully nutty-sweet brittle.
I left pleasantly surprised with Osso. The food's basically modernized, elevated comfort fare, but there's a palpable finesse at work here that I definitely appreciated. The cocktail program, meanwhile, was pretty much spot on to boot, so I hope to see this place stick around, and see Montgomery keeping pushing with the menu.