Pueblo (Costa Mesa, CA)
Pueblo Tapas Restaurant
3321 Hyland Ave, Costa Mesa, CA 92626
714.340.5775
www.pueblotapas.com
Wed 06/17/2015, 07:30p-09:50p
[8/17 Update: As referenced in the comments section below, Chef Campbell has recently departed from Pueblo.]

Pueblo's one of the latest dining additions to the
South Coast Collection
, an unconventional shopping center that's home to the likes of ARC, Shuck, and
Taco Maria
. The place debuted last November, and is a Spanish-influenced tapas/
raciones
joint by THR Hospitality. "The Hard Right" is headed by Adam Go and John Kim (Pueblo's GM), both veterans of the ubiquitous Hillstone Restaurant Group, and they've brought in Executive Chef Michael Campbell to helm the kitchen.
About the Chef
: Campbell started his culinary career at age 15 at a barbeque restaurant in Roanoke, Virginia. He eventually found himself working under Philippe Boulot, longtime chef of The Heathman in Portland, and would spend some time in France and Barcelona in 2005. Back Stateside, Campbell cooked at Dan Barber's Blue Hill, then with Michael Canora at New York's Hearth before becoming Exec Chef at Harvest Supper in New Canaan, Connecticut. He subsequently moved back to the West Coast, landing at
Michael Mina
's RN74 in San Francisco and the Ace Hotel in Portland before moving down to the Southland for Pueblo.

Pueblo spans roughly 1,300 square-feet in a long, rectangular space, with seating on one side and the other holding the bar and kitchen.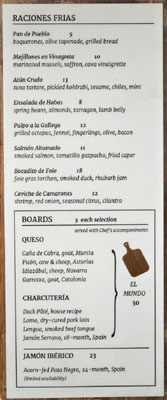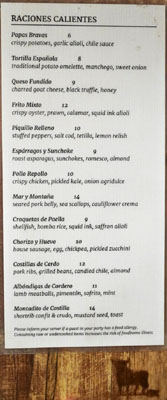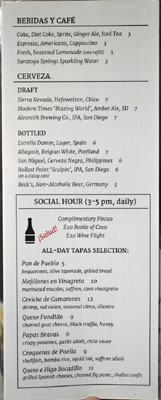 For the menu, it's divided simply into hot and cold sections. To imbibe, we get a trio of low ABV cocktails, a few beers, and a list of Spanish and Californian wine put together by Lindsey Go (Adam's wife). Click for larger versions.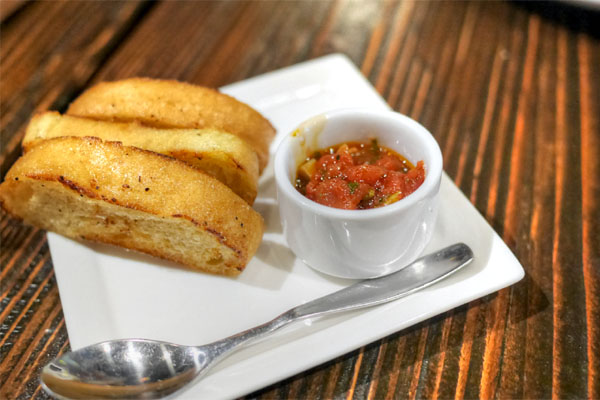 The complementary bread came out crisp and buttery, while the accompanying tomato relish, when applied, made for a
pan con tomate
-esque sensation.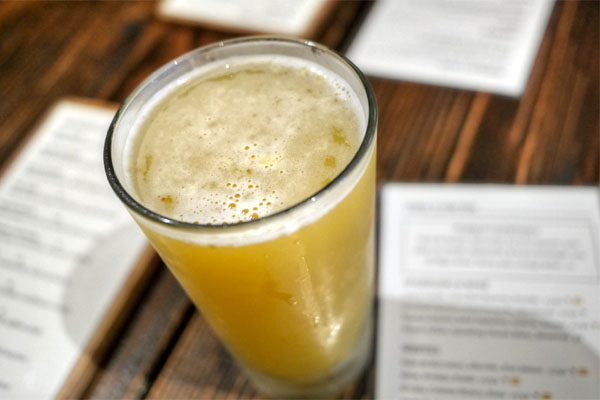 Clara con Limón [$7.00]
| Hefeweizen & house lemonade
This shandy of sorts really hit the spot, a fun, fruity, floral, and delightfully refreshing drink with just a hint of bitterness toward the end.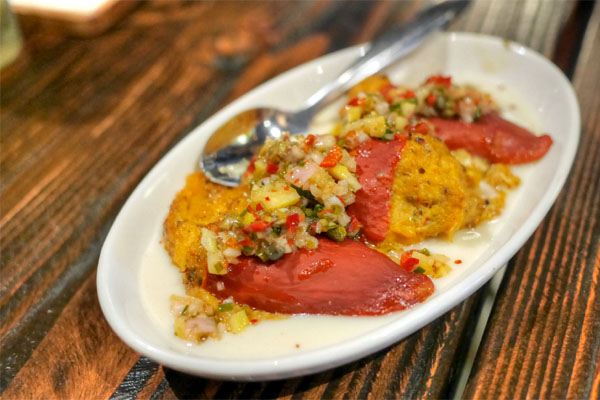 Piquillo Relleno [$10.00]
| stuffed peppers, salt cod, tetilla, lemon relish
Piquillos arrived over-stuffed, though said stuffing was to my liking, the salt cod imparting a brine that was well matched to the smoky-sweet qualities of the peppers, all while lemon added a hit of acid to the mix.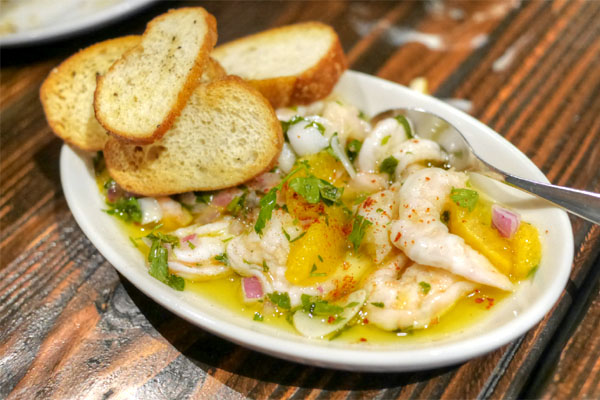 Ceviche de Camarones [$12.00]
| shrimp, red onion, seasonal citrus, cilantro
Ceviche was a must-try given my penchant for the stuff. The shrimp were well-textured, though the dish seemed heavy on the olive oil. I wanted more brightness, more acidity.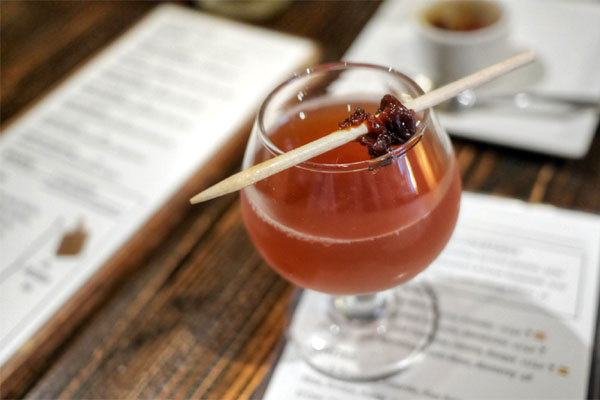 El Viejo [$10.00]
| Alvear sherry, pear, orange bitters
This sherry-based cocktail was to my liking, showing off loads of sweet spice and dark fruit on the nose, while the palate went boozy and oxidative, with more fruit near the close.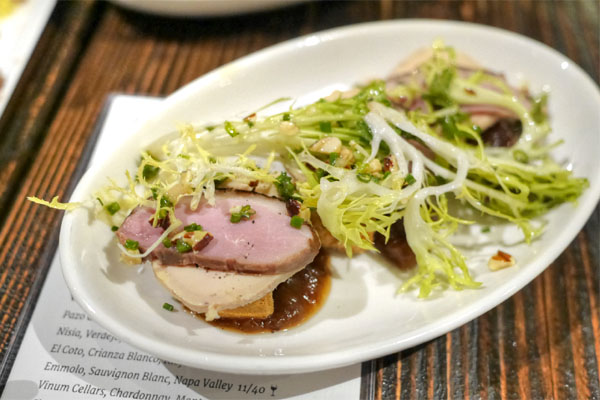 Bocadito de Foie [$18.00]
| foie gras torchon, smoked duck, rhubarb jam
The foie gras was one of the highlights for me, a creamy, delicate, subtly sweet preparation that was smartly matched to the saltiness of the duck while frisée imparted some lightness to things.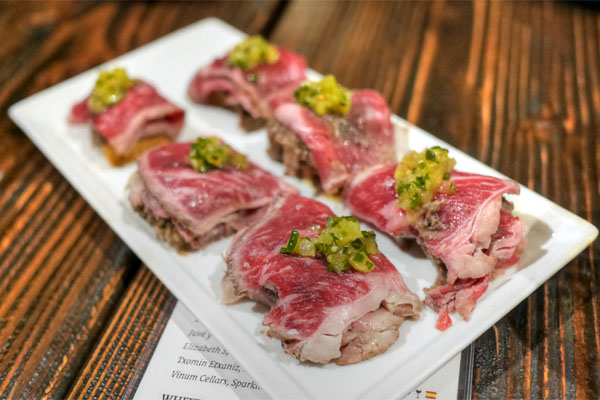 Montadito de Costilla [$14.00]
| shortrib confit & crudo, mustard seed, toast
Conveyed in two forms, the beef was clearly the star, showcased in two different forms over a buttery base with the mustard giving off a much needed piquancy. This seems to be one of the more popular dishes at Pueblo, and I guess I can see why.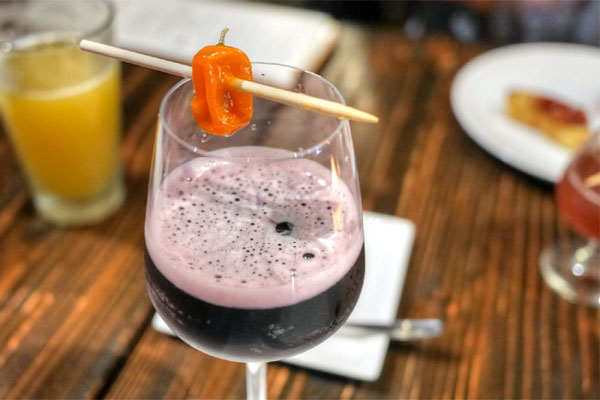 Tinto de Verano [$9.00]
| Refreshing red wine gaseosa
A blend of tempranillo, spices, and soda, this was a perfect summer quaffer, grape-y and sweet at first, with the
tinto
coming through later.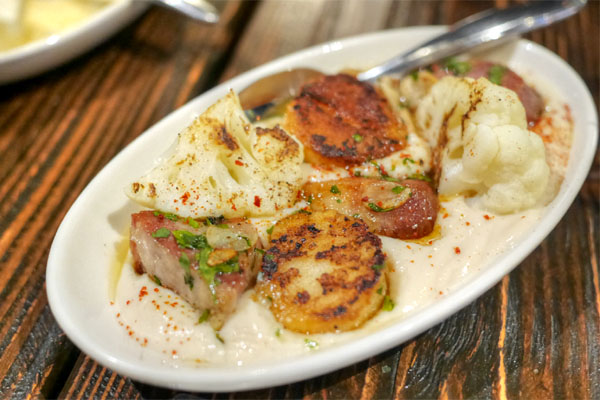 Mar y Montaña [$14.00]
| seared pork belly, sea scallops, cauliflower crema
This Spanish-inspired surf 'n' turf featured tasty, though somewhat tough cuts of pork belly paired with some well-caramelized scallops. A creamy cauliflower purée worked to even out the strong flavors at play, though the actual florets seemed underseasoned.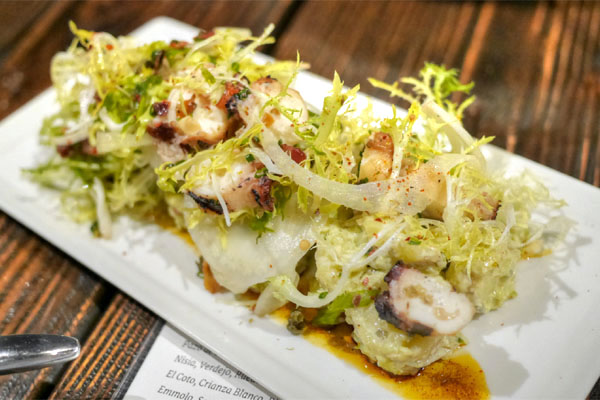 Pulpo a la Gallega [$12.00]
| grilled octopus, fennel, fingerlings, olive, bacon
Octopus was another favorite of mine. The actual
pulpo
displayed a delightful smoke and char, while its supple, delicately-flavored flesh went superbly with the tanginess of the potatoes.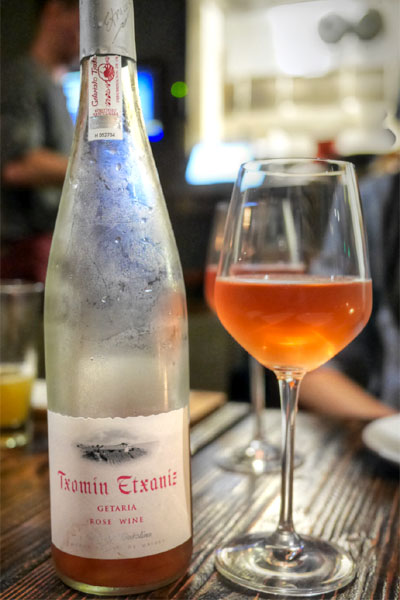 We opted for a lightweight wine to close out our meal, the
Txomin Etxaniz, Rosé Txakolina, Getaria, Basque 2013 [$40]
. Think dry notes of strawberry in the aroma, while taste-wise, I got more dryness, acidity, and tartness, backed by a nice minerality. Pretty easy-drinking.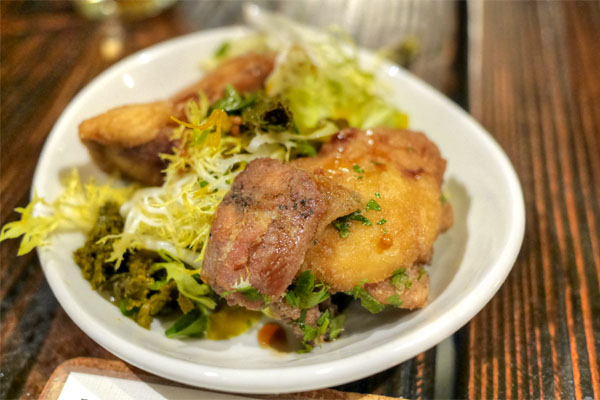 Pollo Repollo [$10.00]
| crispy chicken, pickled kale, onion agridulce
Crisp-skinned chicken arrived pretty juicy, its straightforward flavors tarted up by the agrodolce while kale gave up an acerbic earthiness that went a touch overwhelming. Some nice textures here.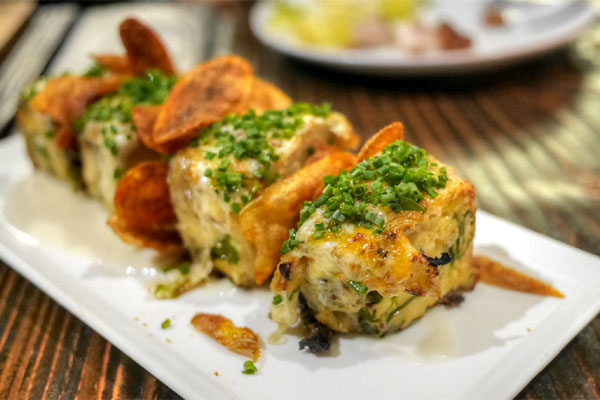 Tortilla Española [$8.00]
| traditional potato omelette, manchego, sweet onion
I'm quite the fan of the classic Spanish omelet, though this one seemed to have too much going on. There was a nice savoriness and egginess present, but the potato was a bit lost, and the Manchego overpowering. I didn't think all the greenery was necessary, either.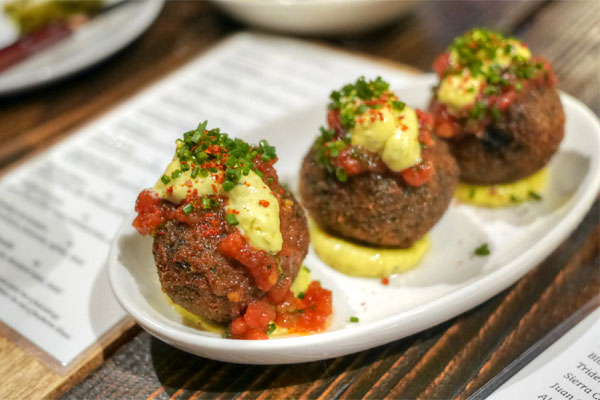 Croquetas de Paella [$9.00]
| shellfish, bomba rice, squid ink, saffron alioli
Next were what basically amounted to
arancini
, the rice balls conveying a palpable brine from the squid ink while the alioli and sweet corn offered up some contrast. A hefty dish.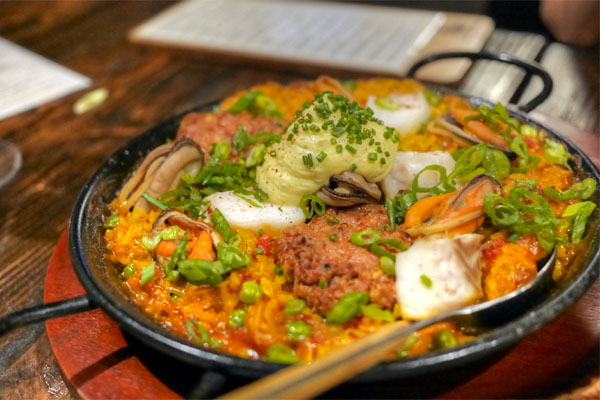 Paella [$34.00]
| mussels, cod, chorizo
A special for the night, the paella certainly looked impressive, and had a salinity and spice that did a great job underpinning the dish. I definitely appreciated the lightness provided by the peas here, and though the cod and chorizo were pretty much spot on, some of the mussels veered muddy unfortunately. Also, there was virtually no
socarrat
present, so that was missed.
We left Pueblo reasonably content, though the experience was affected by a few missteps here and there. Pueblo's still probably the strongest Spanish option in Orange County, but I think the menu could benefit from some editing, as the kitchen may be trying to do too much at times.