Colonia Publica (Whittier, CA)
Colonia Publica Restaurant
6717 Greenleaf Ave, Whittier, CA 90601
562.693.2621
www.coloniagroupinc.com
Sun 06/14/2015, 08:05p-10:05p

Tonight we pay a visit to the latest venture from Chef Ricardo Diaz (
Colonia Taco Lounge
,
Bizarra Capital
, and formerly of
Guisados
and
Tacoteca
): Colonia Publica. The place soft-opened at the start of the year as a weekends-only pop-up serving nothing but
fideo
, a sort of Mexican noodle soup. Back in March, however, Colonia became a full-fledged "gastro-canita," adding an array of accompanying dishes and new-wave micheladas to the mix.
Colonia Publica takes over the space previously held by Italian eateries Franco Trattoria, Zi Teresa, and Ambrose Pizzeria. Perhaps that explains the intriguing building-within-a-building setup here, sort of reminiscent of a downmarket Blue Bayou.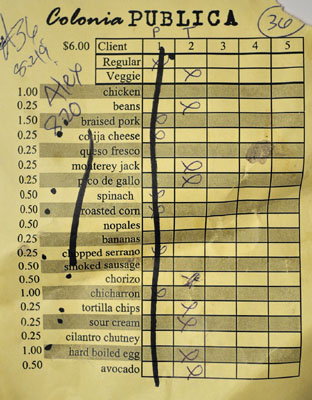 The main draw is of course the
fideo
, ordered via checklist. The soups are joined by a number of small plates and a whole section devoted to
mulitas
, which are akin to miniature quesadillas. To drink, beer is the way to go, especially in michelada form, as you probably don't want the wine here. Click for larger versions.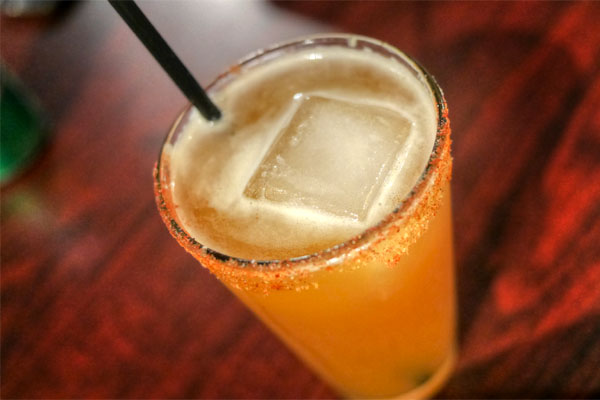 IPAlada [$9.00]
| grapefruit, lime, IPA, bitters, salt
Speaking of micheladas, we got started with my favorite of the bunch. Think super refreshing, crisp, and subtly bitter, with the juicy grapefruit notes doing a fantastic job accentuating the inherent citrus character of the beer.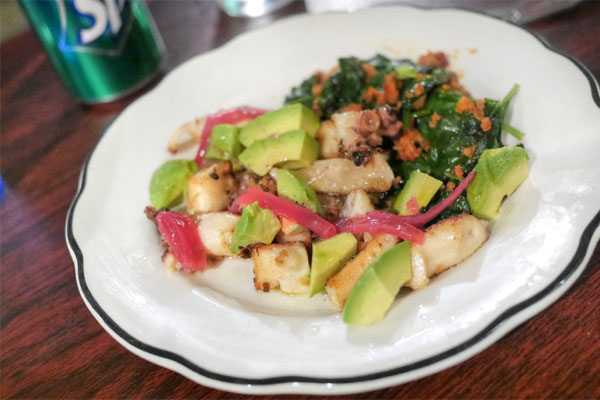 Grilled Octopus [$9.00]
| chorizo-fried spinach, oregano vinaigrette, pickled onions, avocado
The octopus was definitely a standout, coming out well-charred, tender, and delightfully savory. The combo of spicy chorizo and astringent spinach was surprisingly, but effective, and I appreciated the balance from the avocado and pickled onion as well.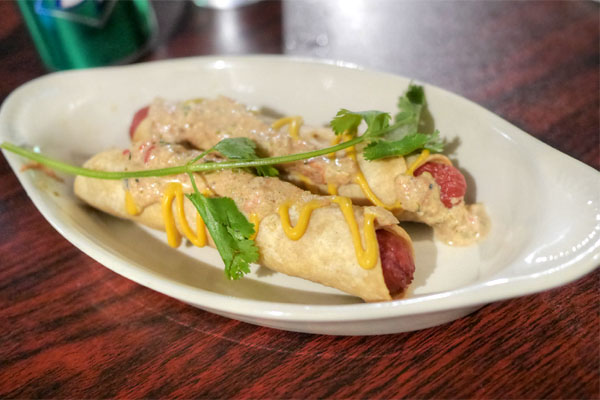 Mexi-Dogs [$5.00]
| crispy fried tortilla dogs, classic mustard, salsa guisada
This seemingly
pocho
-inspired mash-up was satisfying in a trashy sort of way, the classic, snappy goodness of the franks working as good as ever with the mustard while the tortillas added a fantastic crunch, and the salsa an enveloping richness.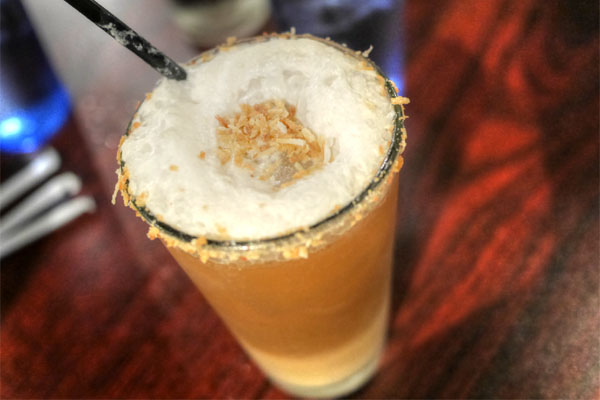 Cocochelada [$9.00]
| coconut, pineapple, negra modelo
I found the coconut michelada toasty and borderline tropical, with tart accents from the pineapple and the Modelo peeking through nicely.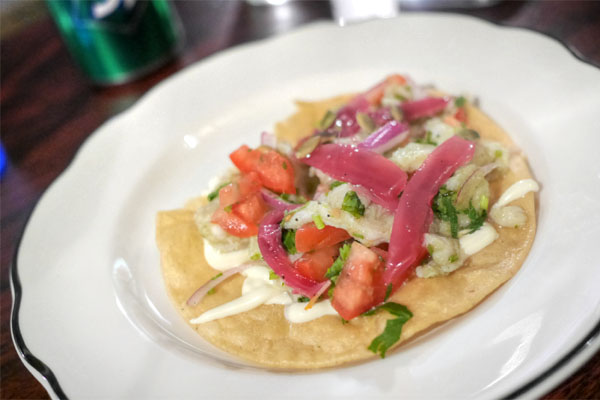 Ceviche Verde Tostada [$5.00]
| bassa fillet, aguachile, pepitas, lime mayo
The requisite ceviche tostada delivered, a fresh, acidic preparation with the well-textured fish working as the star of the show.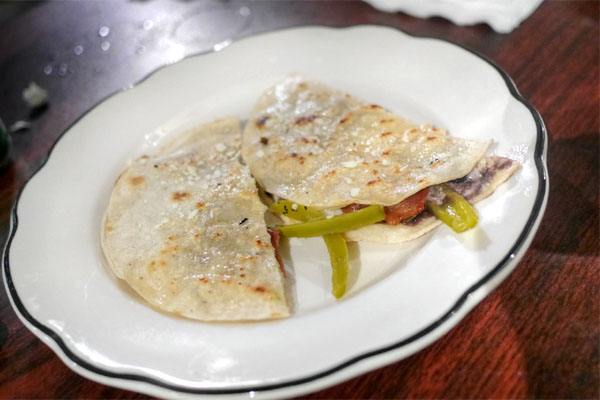 Campeon Mulitas [$6.00]
| bacon, pickled jalapeno, spicy aioli, beans, cheese
Our first
mulita
balanced the salt of bacon against a base of beans, all while cheese and aioli brought it all together.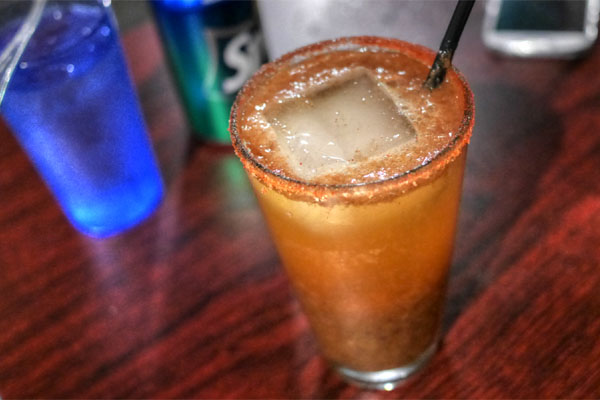 Smokey Brown [$9.00]
| tamarindo, agave wine, cayenne
This next cocktail showed off all the sweet, sour, spicy nuances that you'd expect from
tamarindo
, with the agave imparting an unexpected heft to the drink.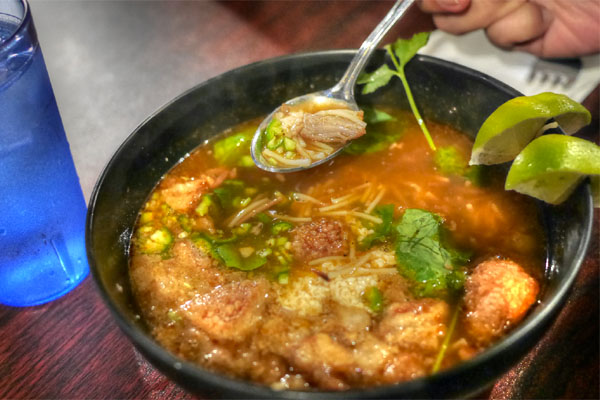 Regular Fideo [$10.00]
| braised pork, cotija cheese, spinach, roasted corn, chopped serrano, chicharron
Our first
fideo
was a homey, comforting potage, with a permeating heat and slow burn that worked hand-in-hand with the depth of the broth and richness of braised pork. Nice creaminess from the cotija here, and great texture from the chicharrones to boot.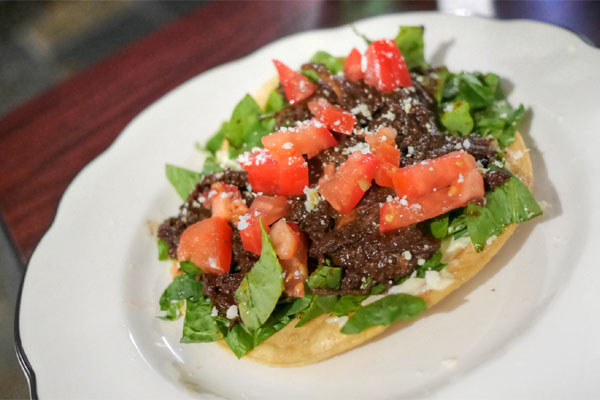 Mole Tostada [$6.00]
| chicken, mole poblano, onion cream, greens, rosemary oil
The smoky, sweet savor of mole was proudly display over a base of chicken, the veggies imparting an offsetting brightness to the tostada.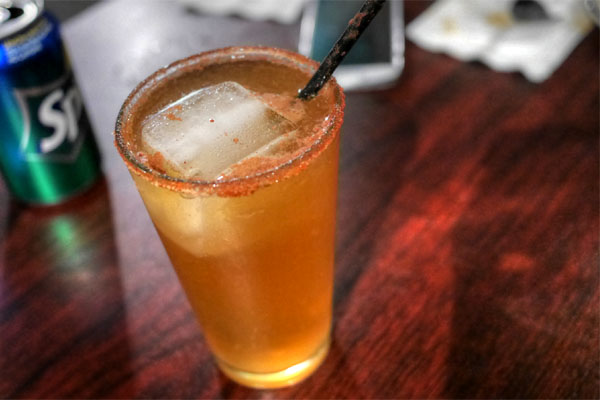 Cider Spider [$9.00]
| apple cider, cayenne, lime, cinnamon
This cider-based michelada certainly met the mark, delivering a boatload of sweet spice over a base of classic apple-y goodness. One of my dining companions even likened the concoction to a "Mexican apple pie."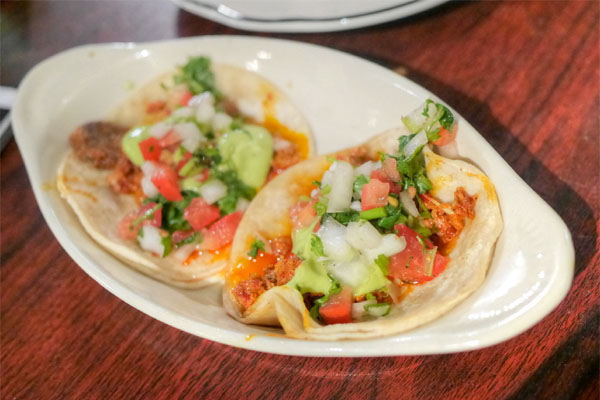 Choriqueso Tacos [$6.00]
| pork chorizo & cheese melt, avocado salsa, pico de gallo
The combo of chorizo and cheese almost never disappoints, and this was no exception. Smart use of the salsa to provide some lightness and acidity to the tacos.
Salmon Tostada [$6.00]
| smoked salmon, crispy fried egg, avocado, pico de gallo, Salvadorean cream
Salmon was appropriately smoky, and matched well with the lushness of that avocado and fried egg while the crema helped tie it all together.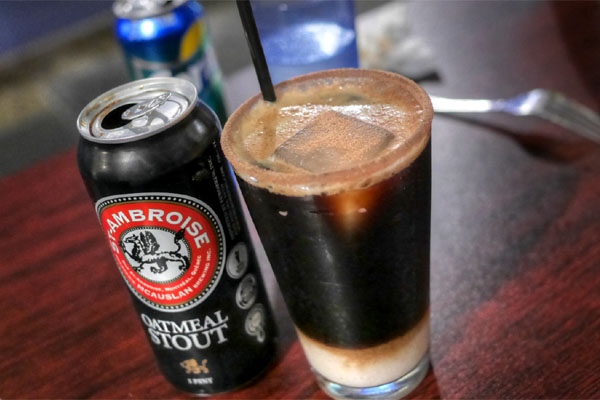 La Morena [$9.00]
| stout-horchata black & tan
Colonia's take on the traditional Black and Tan did a good job blending the flavors of a roasty stout with the sweet spice of horchata. However, there was some curdling action going on here, which was disconcerting.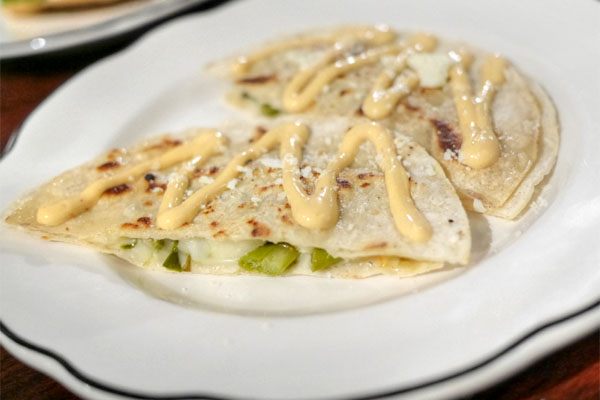 Chipotle Asparagus Mulitas [$6.00]
| cheese, sautéed asparagus, chipotle-orange cream salsa
The bitterness of asparagus made perfect sense with the
queso
here, while the chipotle salsa gave up just a smidge of creamy heat to the dish.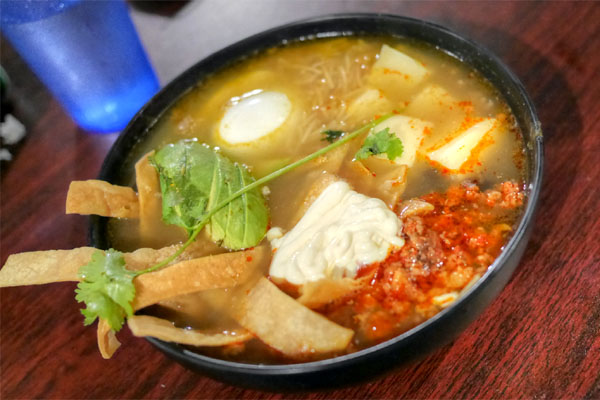 Veggie Fideo [$9.00]
| beans, monterey jack, chorizo, tortilla chips, sour cream, hard boiled egg, avocado
For our second
fideo
, we opted for the vegetarian broth. As expected, it didn't possess quite the depth and richness of the regular version, but still made for a tasty soup, one inspired by the contents of a breakfast burrito. Great crunch from the tortilla strips, too.
We left Colonia Publica stuffed and satisfied. The place is another notable addition to Diaz's portfolio, the most casual of the bunch, but still with its own unique menu and character. I'll be looking forward to seeing what the Chef comes up with next.
---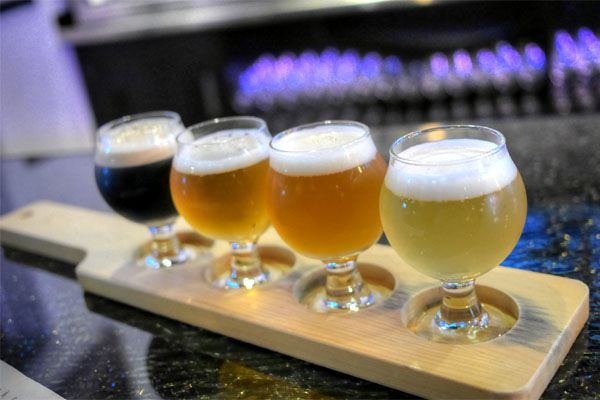 After dinner, we wandered over to
The Cellar Bottle Shop & Tasting Room
down the street, which happens to be run by the guys behind Ramirez Liquor, that East LA mecca of beer and tequila. I opted for a tasting flight comprising (right to left):
Dogfish Head Festina Peche Berliner Weisse
,
Cisco Brewers Reserve: Double India Pale Ale
,
Sudwerk Citrus Gose
, and
Left Hand Milk Stout Nitro
.