Butcher's Dog (Los Angeles, CA)
Butcher's Dog Pub & Restaurant
11301 W Olympic Blvd, Los Angeles, CA 90064
310.444.2929
www.butchersdogla.com
Sat 06/06/2015, 08:00p-11:55p

When I caught up with Brendan Collins at
Birch
at the start of May, he mentioned that he was working on a place on Sawtelle. Well, said place revealed itself just days later as Butcher's Dog, a sports bar-
cum
-gastropub helmed by Head Chef Stuart Gerber. A University of Georgia grad, Gerber was formerly CdC at
Waterloo & City
(he was there for the restaurant's entire run), and also served in the same role at Birch until April. FOH duties, meanwhile, are handled by Fabrice Lorenzi (La Cachette Bistro, Anisette, La Cachette).

Butcher's Dog is located at
The Olympic Collection
, an event venue that's apparently quite popular with the Persian crowd (it was even featured on
Shahs of Sunset
) and also serves as home to the likes of
Kiriko
and Yakitoriya. The former Avenue Italy and Tapenade space has been turned into a more casual sort of spot, replete with no fewer than 10 televisions.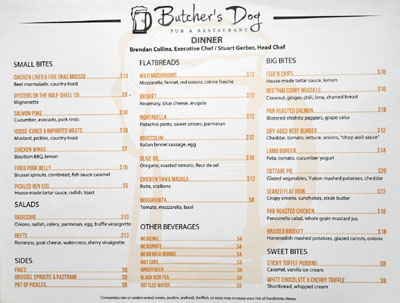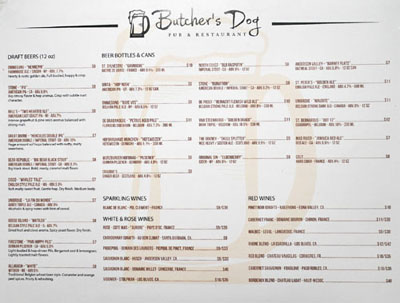 Divvied up into starters, flatbreads, and larger plates, the menu at Butcher's Dog is all about updated pub fare, and in addition to dinner, lunch and brunch are both viable options. To imbibe, you get 10 taps, a selection of bottled beer, as well as the requisite array of wine. However, given that we were doing a mini tasting of limited edition beers this evening, we BYOB'd and arranged for comped corkage (making sure to send plenty of beer back to the kitchen). Click for larger versions.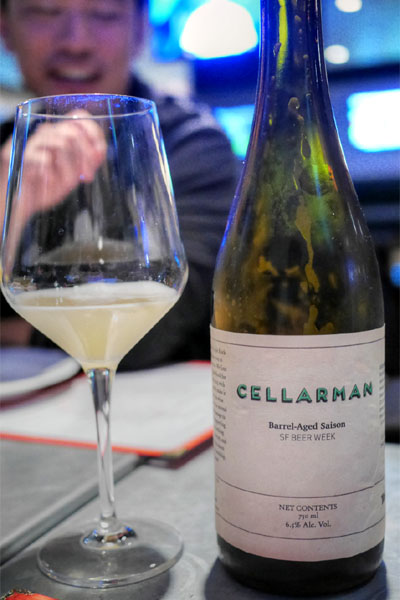 First up was the
2015 Sante Adairius / Triple Rock Barrel Aged Cellarman
, a saison that was first brewed at Berkeley's Triple Rock for 2013's SF Beer Week. What we have here is a wine barrel-aged version of that beer. It was utterly delightful: funky with loads of bright, juicy fruit on the nose, while the palate went lemon-y tart, dry, earthy, and oaky, with a delectable vinous presence. Superbly well balanced, and one of the best saisons I've had in a while.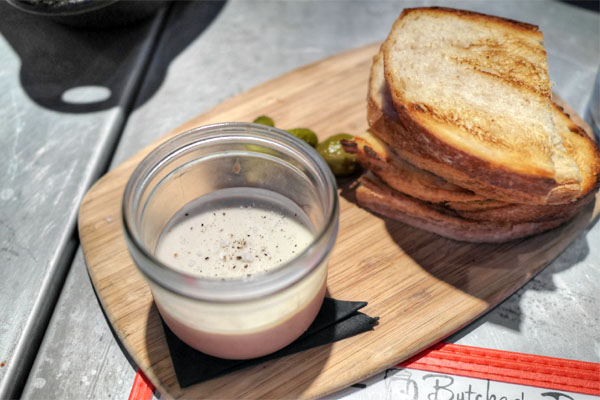 Chicken Liver & Foie Gras Mousse [$10.00]
| Beet marmalade, country toast
Collins and Gerber served this dish back at
Waterloo & City
, so it came as no surprise that the version tonight was spot on. The mousse was smooth, delicate, slightly sweet, with the robustness of the chicken liver and finesse of the foie working beautifully together. Great over the included toast.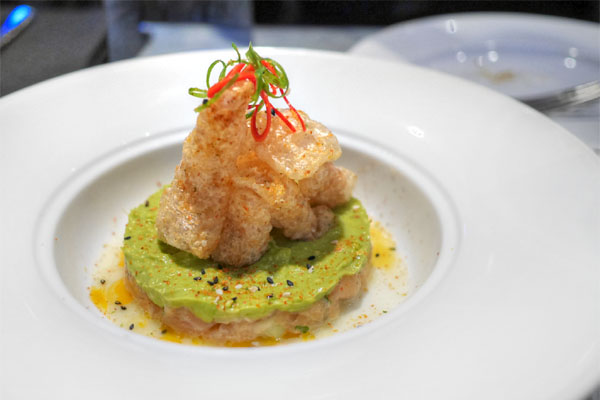 Salmon Poke [$10.00]
| Cucumber, avocado, pork rinds
The restaurant's ode to LA's recent poke craze was more interesting than I expected. Loved the creeping spice here to go with the clean, creamy flavors present, and the salty crunch of the rinds was appreciated as well.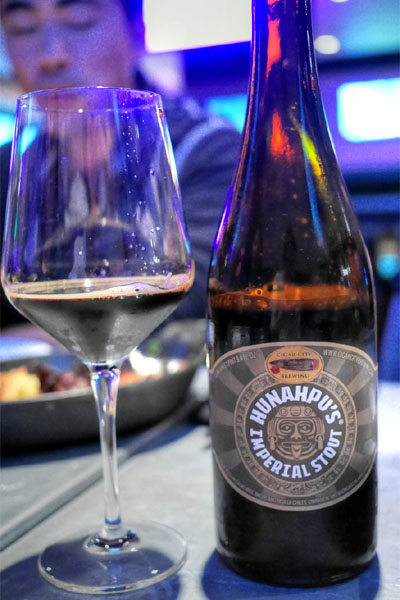 On the opposite end of the beer spectrum, we had the
2015 Cigar City Hunahpu's Imperial Stout
, aged on cacao nibs, ancho and pasilla chiles, cinnamon, and Madagascar vanilla beans. It was comparable to
last year's version
, a wonderfully aromatic presentation of sweet spice over a rich, chocolatey, roasty stout base, with just a whisper of heat.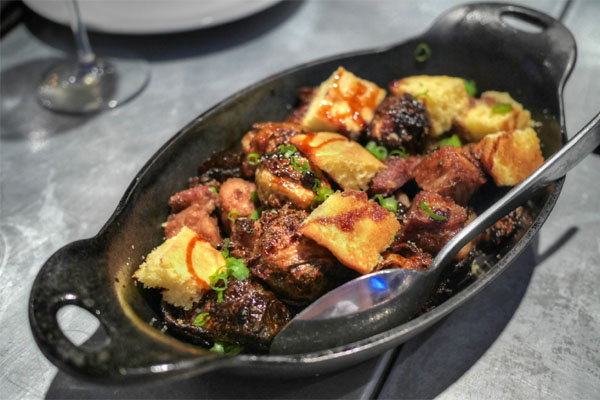 Fried Pork Belly [$10.00]
| Brussels sprouts, cornbread, fish sauce caramel
The belly was definitely a standout, mostly for its incorporation of fish sauce caramel, which lent a delightfully sweet, Asian-y funk to the dish that really matched well with the pork. Great texture on the belly as well, and the bitterness of the sprouts was certainly welcomed too. In fact, the cornbread wasn't even necessary.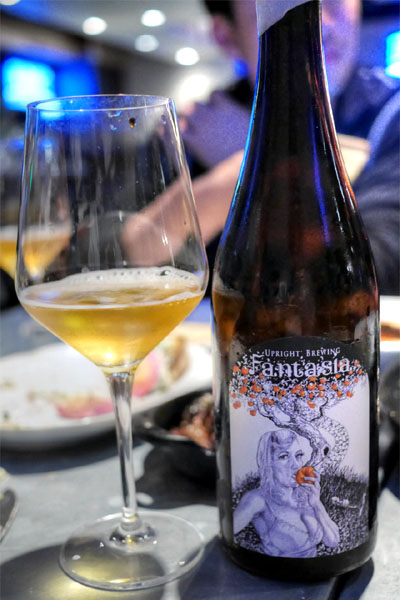 The first of three stone fruit sours this evening was the
2015 Upright Fantasia
, an oak aged beer with fresh peaches that was released at the start of January. On the nose, I got a nice Brett funk intermingled with subtle peach and some metallic notes. On the tongue, more stone fruit transitioning to an earthiness toward the close, but as it warmed, there was a lot more lingering peach on the back end.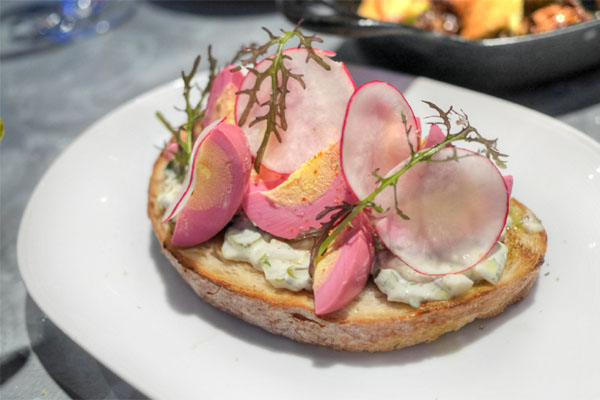 Pickled Hen Egg [$5.00]
| House-made tartar sauce, radish, toast
Eggs conveyed a fun, pickle-y tartness that I enjoyed, and the acidity and texture on the tartar worked as a near-flawless pairing, all while toast served as a great base to the dish.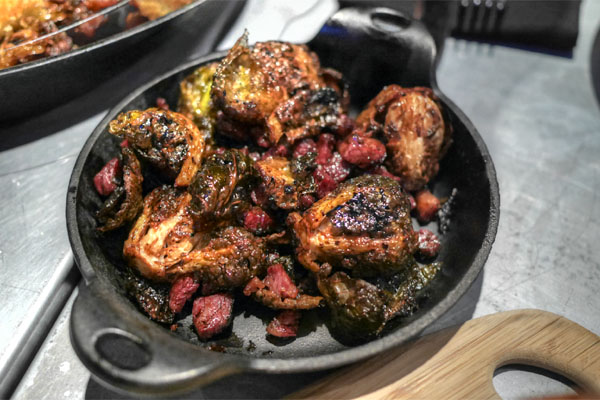 Brussels Sprouts & Pastrami [$8.00]
Brussels were perfectly textured, and teeming with all the bitter, charred, sweet 'n' sour flavors that you'd want. Tasty alone, and even better with the additional heft of pastrami.
This was my second time having the
2015 The Lost Abbey Veritas 015
recently, an oak aged sour with apricots, nectarines, and peaches (the first was at
Elite
). In terms of bouquet, the beer was all about an earthy, tart funk over a secondary element of stone fruit. However, when tasted, I got the fruit first, with the deeper, barnyard notes coming in later. Compared to the Fantasia, I found this heftier, more intense.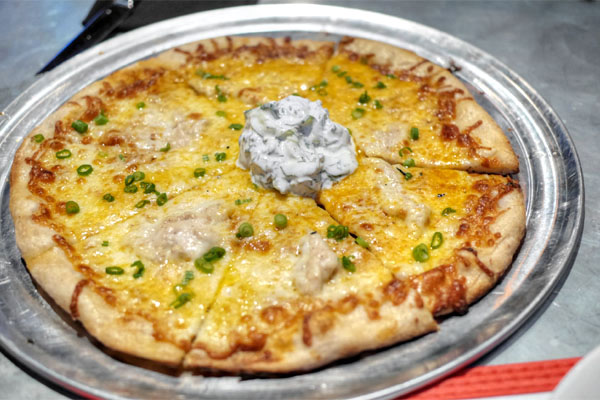 Chicken Tikka Masala Flatbread [$12.00]
| Raita, scallions
One of the more well-known items on W&C's menu was the butter chicken pizza. I never had it, but I can imagine it being something like this, with its vaguely Indian flavors working swimmingly alongside that cool, creamy
raita
. It was a tasty flatbread, but I would've liked more in-your-face
tikka masala
aromatics, like what Collins did with his monkfish at
Birch
.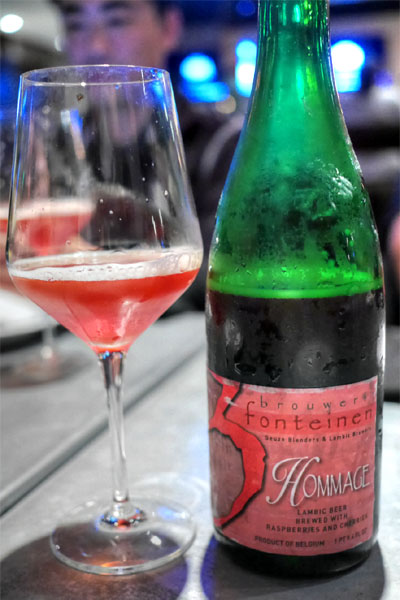 The most anticipated bottle this evening was likely the
2013 3 Fonteinen Hommage
, a lambic brewed with raspberries and sour cherries meant to honor the late Gaston Debelder, founder of the brewery. The beer smelled of deep, robust funk, commingled with a good amount of fruit and a slight woodiness. Taste-wise, I found an initial blast of tart fruit, oak, transitioning to vinegar-y notes and that band-aid quality that everyone talks about, but which I didn't mind.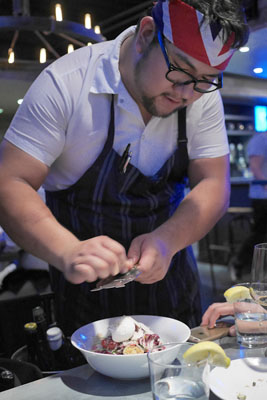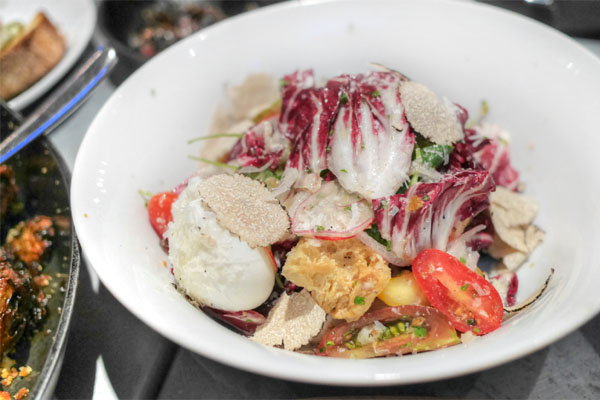 Radicchio Salad [$13.00]
| Onions, radish, celery, parmesan, egg, truffle vinaigrette
Perhaps due to the beer we'd been sending their way, the kitchen gifted us the radicchio salad. It was superb, with the rich, heady excess of the truffle and egg coming together in classic, luxurious fashion, all moderated by the bitter crunch of the chicory.
Brisket Flatbread [$12.00]
| Rosemary, blue cheese, arugula
Our next flatbread was enjoyable as well, with the brisket's deep, dark, beefy, rosemary-tinged notes well-matched to the funk of the cheese while arugula imparted a zestiness to the mix.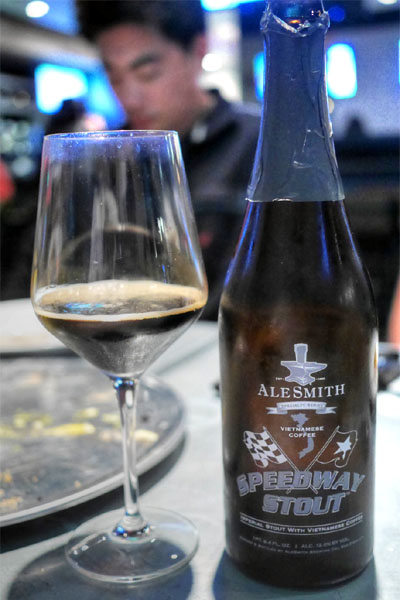 Next to drink came the
2013 AleSmith Vietnamese Coffee Speedway Stout
, which I first tasted last year at
Pine & Crane
. The beer comprised stout blended with four types of
ca phe sua da
, the result of which was a wonderfully aromatic brew teeming with sweet 'n' spicy nuances to pair with the base beer's chocolate character.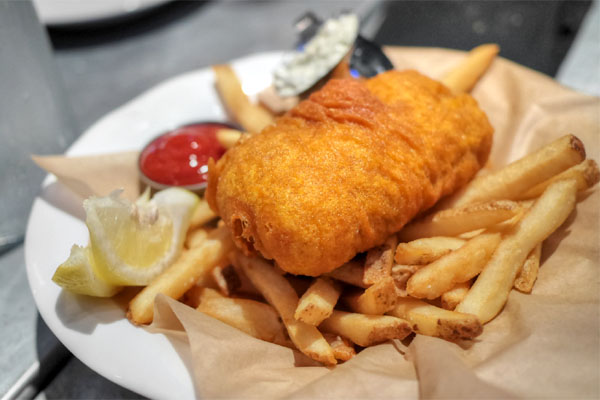 Fish 'n Chips [$16.00]
| House-made tartar sauce, lemon
The quintessential English pub dish, the fish and chips came out right on point, with the light, fluffy, flaky cod working perfectly with the tangy tartar on the side. Nice job on the fries, too.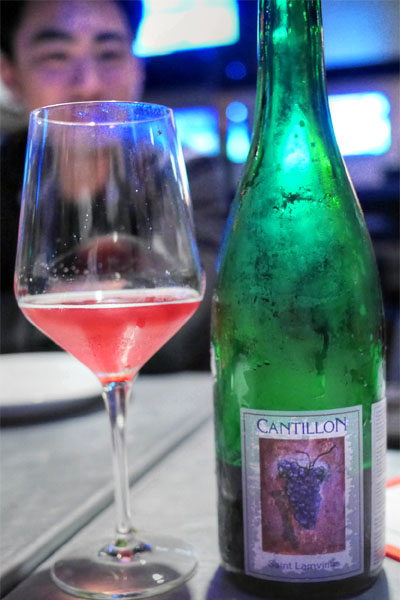 I was also rather excited about the
2014 Cantillon Saint Lamvinus
, a lambic aged in Bordeaux barrels with Merlot grapes. Think funky and almost bracingly tart at first, with the vinous nature of the grapes coming through later, the oak making itself known the whole way through.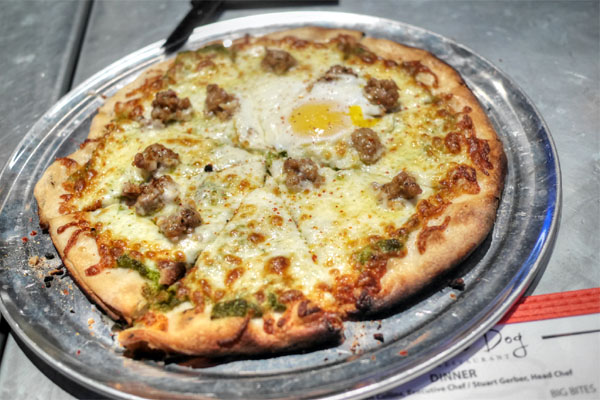 Broccolini Flatbread [$12.00]
| Italian fennel sausage, egg
Our final flatbread really showed off the bitter, astringent taste of broccolini, which served as a base for the otherwise cheesy, savory, herby flavors at play.
Seared Flat Iron [$23.00]
| Crispy onions, sunchokes, steak butter
The flat iron was one of the better ones I've had, coming out surprisingly tender, with a delectable sort of beefiness that played beautifully with the herbaceous compound butter.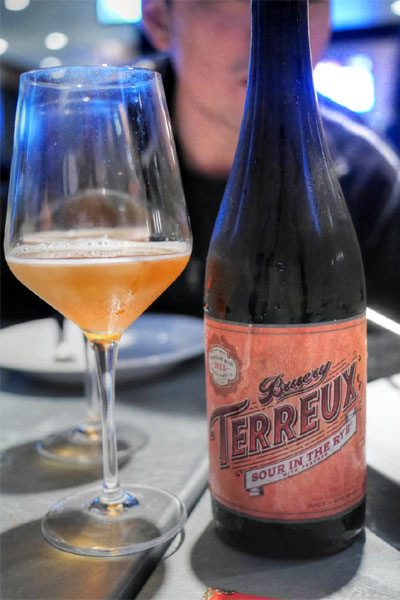 The last sour brought out the
2015 The Bruery Terreux Sour in the Rye with Peaches
, a rye ale aged in oak barrels with peaches that I'd had not long ago at 4th Street Market's
Lunchbox
. I think it's improved a touch with age. I smell robust notes of stone fruit and earth, and tasted a commixture of peach, wood, and rye spice, with the fruit lasting long on the finish.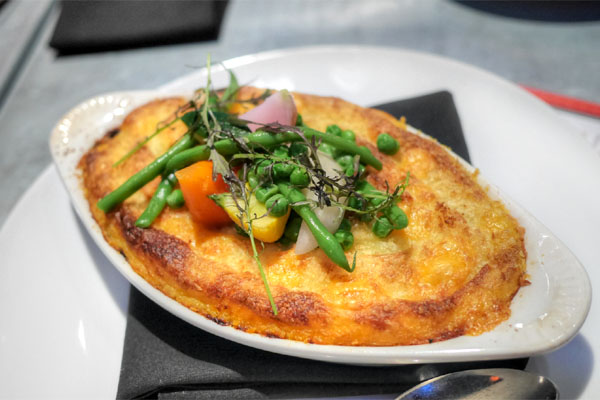 Cottage Pie [$20.00]
| Glazed vegetables, Yukon mashed potatoes, cheddar
The shepherd's pie was another standout for me, a homey, hearty presentation of meat and potatoes imbued with a lovely bit of spicy savor that matched well with the brightness of the greenery up top. Given the tastiness of the dish, I'd love to see the kitchen do their version of fish pie.
Time for dessert, and dessert-y beer, first the
2015 Modern Times Bourbon Barrel Aged Monsters' Park with Coconut and Cacao Nibs
, part of a 600-bottle, brewery-only release from March this year. Think powerful blasts of sweet coconut, mixed with complementary notes of chocolate, roast, and barrel, accented by a tart/bitter quality, the coconut lingering long on the finish. If that wasn't enough, the beer got better and better as it warmed, with more and more coconut becoming apparent.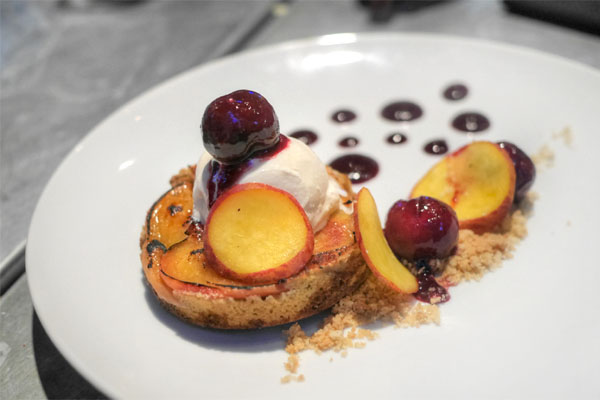 White Chocolate & Cherry Trifle [$9.00]
| Shortbread, whipped cream
This reimagined trifle was fetching, with some nice textural variation and a base of sweet, spicy flavors and stone fruit, smartly accentuated by the tartness of cherry.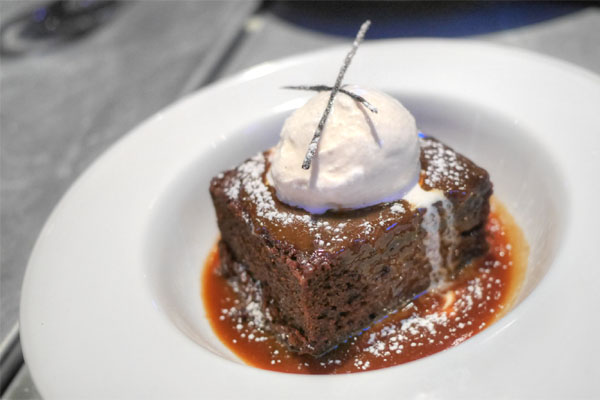 Sticky Toffee Pudding [$8.00]
| Caramel, vanilla ice cream
We ended with a staple dessert from the
Waterloo & City
days. It was definitely a crowd pleaser, with massive amounts of deep, rich, caramel and dark fruit notes in a moist, springy package, the ice cream adding a much appreciated touch of the lightness. Can't go wrong with this.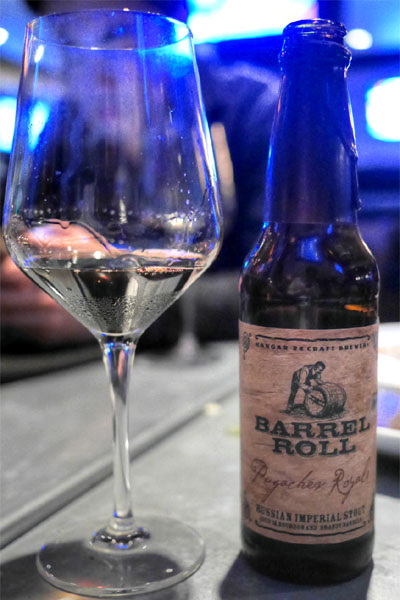 Closing out the evening was a
2014 Hangar 24 Pugachev Royale
, a maple stout aged in bourbon barrels for eight months with cacao nibs and vanilla beans, then aged an additional ten months in brandy casks. This one was
intense
, with huge amounts of chocolate and vanilla on the nose. The body drank thick, viscous, boozy, with more fudge, caramel, vanilla, and dark fruit that stuck around a long-ass time.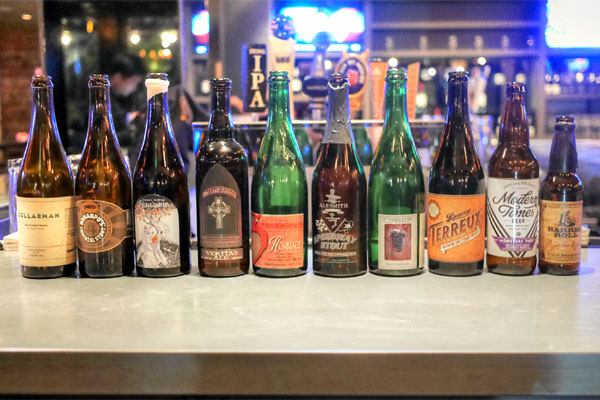 A great graveyard of sours and stouts (and one saison).
We all left properly impressed with Butcher's Dog. Classic at its core, but still interesting enough, the food almost matches what Collins and company were putting out at Waterloo, and it really was a surprise to have such strong cookery at a place with 10 TVs going. And speaking of W&C, Collins and company are reportedly working on bringing the place back, so definitely watch out for that.