Steak & Whisky (Hermosa Beach, CA)
Steak and Whiskey Restaurant
117 Pier Ave, Hermosa Beach, CA 90254
310.318.5555
www.steakandwhisky.com
Tue 06/09/2015, 07:25p-11:05p

Tin Vuong and Jed Sanford's
BlackHouse
, the group responsible for the likes of
Little Sister
and
Dia de Campo
, expanded their footprint in the South Bay recently with the launch of their newest eatery, Steak & Whisky. The restaurant debuted at the end of February, an updated take on the old school steakhouse helmed by Executive Chef John Shaw.
About the Chef
: Shaw grew up in Orange County, attending Marina High in Huntington Beach. He began his restaurant career at age 15, starting out as a dishwasher at Stef Serafin's now-shuttered Italian joint Ciao Brasserie. He eventually made his way into the kitchen, and by the following year, had started working for none other than
Brendan Collins
at
Melisse
. Shaw ended up with Collins again at Pali House, and even helped with the opening of
Waterloo & City
in 2010. In March 2011, he took on his first Executive Chef role at The Crow Bar and Kitchen in Corona Del Mar, staying there until October 2013. That December, he moved to New York to become Executive Sous Chef at Tavern on the Green, then came back to LA to open Steak & Whisky.

Inside, things are smaller than you'd expect, with space for about 50 diners in a rustic, wood-laden, leather-swathed room.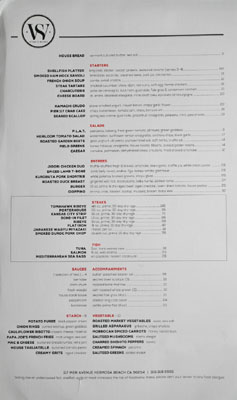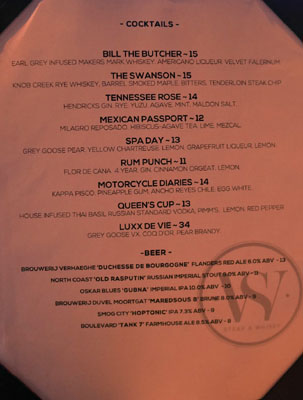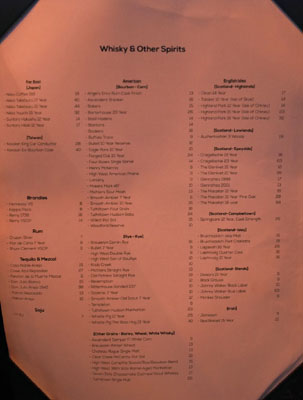 In true steakhouse fashion, the menu's divvied up into sections for starters, salads, mains, steaks, and sides. Notably, the steaks are all dry-aged (save for the Miyazaki wagyu of course), and definitely on the pricier side. To drink, you get a nice cocktail list, a few beers, a varied array of wines (mostly red, natch), and a pretty impressive selection of whiskies from across the globe. Click for larger versions.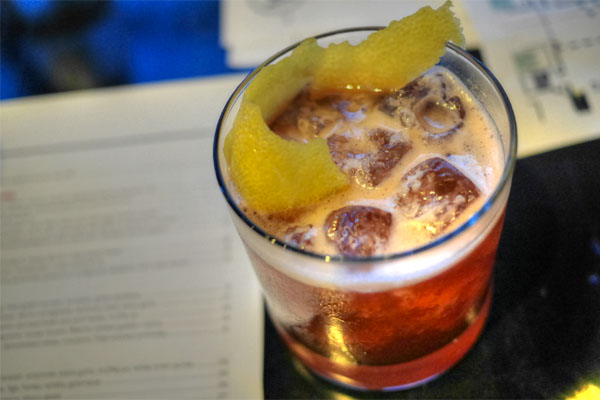 Bill the Butcher [$15.00]
| Earl Grey Infused Makers Mark Whiskey, Americano Liqueur, Velvet Falernum
We went straight for the cocktails, starting with this tasty number: citrusy and clean on the nose, with a taste that veered floral, spicy, and most of all bitter, with a pleasing backbone of bourbon.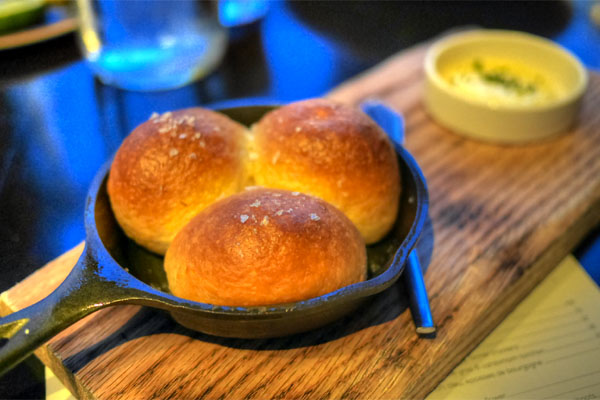 House Bread [$5.00]
| vermont cultured butter, sea salt
Bread arrived hot and soft, a fitting vehicle on which to consume the Vermont butter.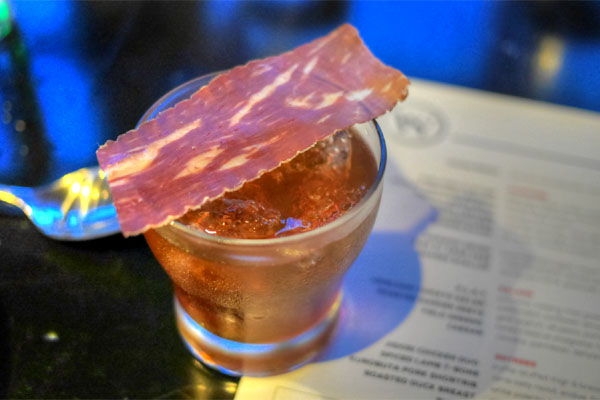 The Swanson [$15.00]
| Knob Creek Rye Whiskey, Barrel Smoked Maple, Bitters, Tenderloin Steak Chip
Despite the presence of the steak chip, this next cocktail didn't display all that much in terms of aroma. It did deliver, however, on the palate, a viscous concoction that blended the heft of the Knob Creek with sugary maple. What's interesting was that the salt of the chip seemed to emphasize the sweetness in the drink.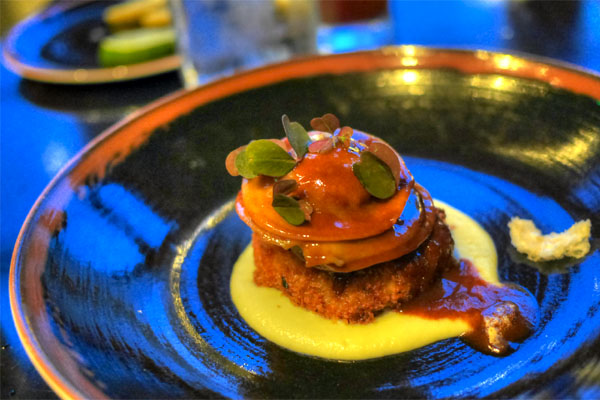 Smoked Ham Hock Ravioli [$13.00]
| brandade, escarole, creamed leeks, pork jus, chicharron
The ravioli were decent enough, showing off a straightforward, hammy sort of savor. The hero for me, though, was that salt cod, which overshadowed the pasta and had a wonderful salinity to it that made total sense with the leeks in the dish.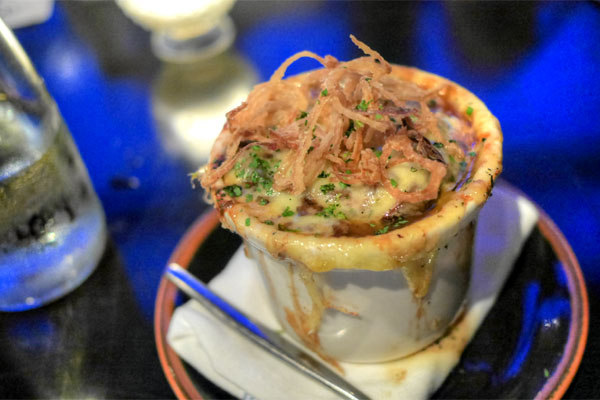 French Onion Soup [$12.00]
| comte, oxtail, crostini
The ubiquitous French onion soup was one of the best renditions that I've tried. A homey, cozy mélange of savory, sweet, and super cheesy, it showed off all the classic flavors that you'd expect, but seemingly intensified.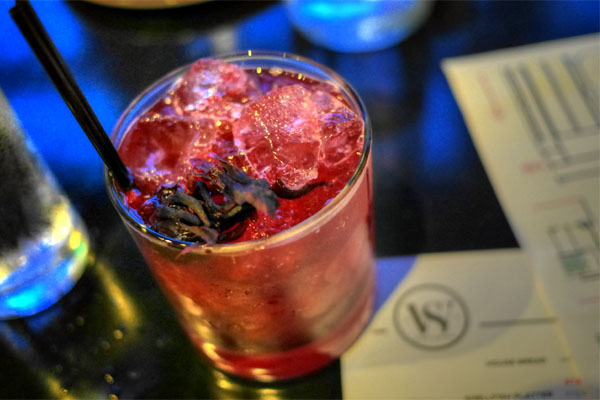 Mexican Passport [$12.00]
| Milagro Reposado, Hibiscus-Agave Tea, Lime, Mezcal
The requisite mezcal-containing cocktail hit its mark, showing off the floral sweetness of hibiscus-agave before transitioning to the smokiness of the spirit. Nice hit of tartness from the lime, too.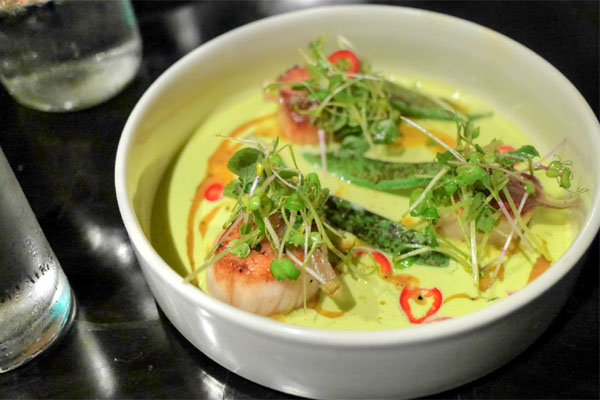 Seared Scallop [$19.00]
| spring pea crème, guanciale, grapefruit vinaigrette, jalapeno, mint, pea shoots
Next, Shaw sent out the scallops, which delivered, showing off a nice caramelization along with a balance of sweet and saline flavors, the peas and sprouts imparting a much-appreciated brightness to the course.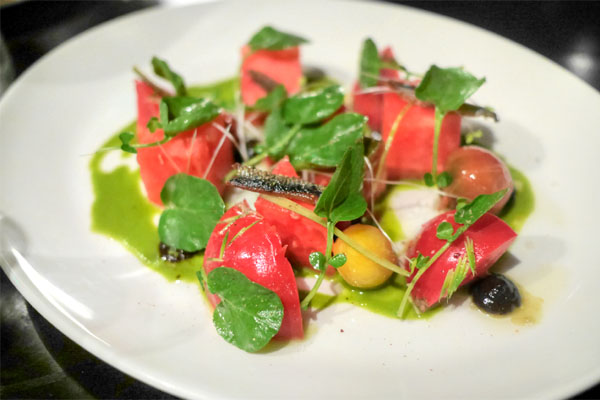 Heirloom Tomato Salad [$17.00]
| watermelon, sunflower-lemon vinaigrette, anchovy chips, black garlic
A tomato salad worked itself out, with the sweet-tart tomato-watermelon combo anchored by the vinaigrette, all while anchovy imparted a fishy accent to the dish.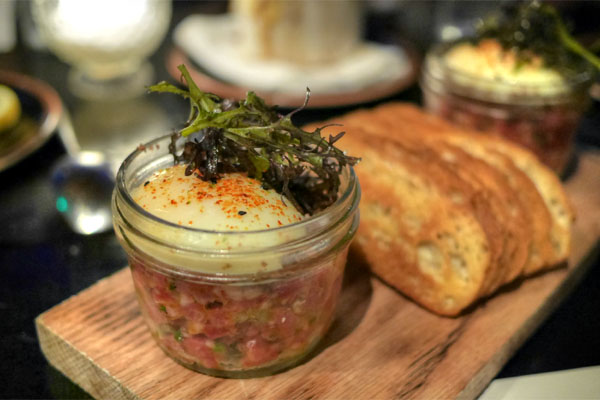 Steak Tartare [$18.00]
| smoked cucumber, chive, dijon, red curry, soft egg, fennel crackers
The much bandied about tartar was indeed on point, the well-textured steak showing off a considerable depth, its almost Asian-y savors accented by a lingering spice. Can't go wrong with that runny egg, either, and I was a fan of those extra crunchy fennel crackers as well.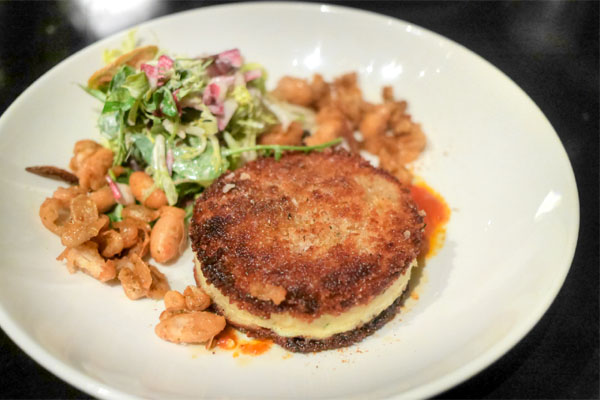 Pier 117 Crab Cake [$18.00]
| crispy butterbean, tomato jam, cress, banyuls vin
The crabcake was one of the more interesting examples I've had, mostly due to its crust, which had an almost panko-like lightness to it. Overall, the cake conveyed a satisfying bit of savor to it, along with a whisper of herby brightness, and I quite enjoyed the balance imparted by the cress salad as well. I really didn't need so many of those deep-fried butter beans, though.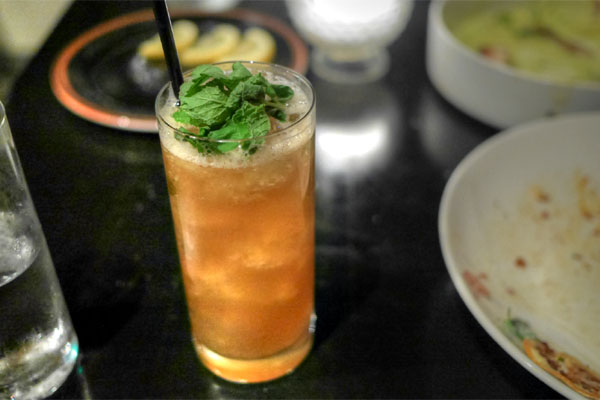 Queen's Cup [$13.00]
| House Infused Thai Basil Russian Standard Vodka, Pimm's, Lemon, Red Pepper
Vodka was put to reasonably good use here, serving as a stage for all the fruity, citrusy flavors at play. This went down easy.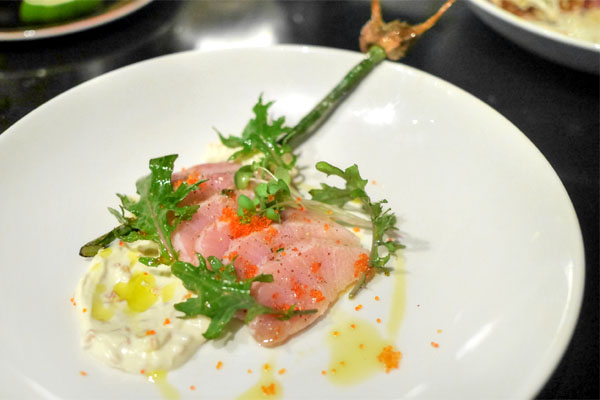 Hamachi Crudo [$22.00]
| stave-smoked yogurt, meyer lemon, crispy garlic flower
Yellowtail arrived clean and supple, its subtly fatty qualities well-matched to the delicate smokiness from the yogurt while lemon gave up the right amount of tartness.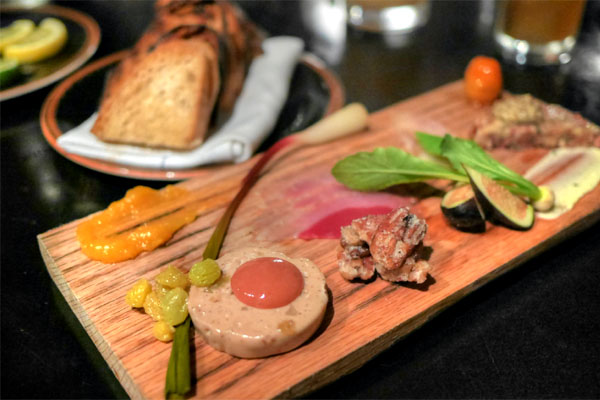 Charcuterie [$21.00]
| pate de campagna, duck ham, guanciale, foie gras & cardamom torchon
Charcuterie is made in-house. I was especially fond of the gritty, rustic
pâté de campagne
, as well as that delightfully smooth, sweet, spicy foie gras. A lovely array of accoutrements here, too.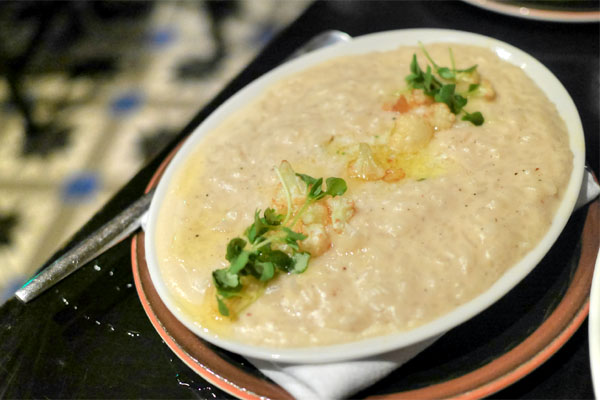 Cauliflower Risotto [$8.00]
| sheep's cheese, hazelnut
A cauliflower risotto came out lush and creamy, really doing a great job showcasing the delicate nuances of the vegetable, with the hazelnut adding just a smidge of nuttiness to the mix.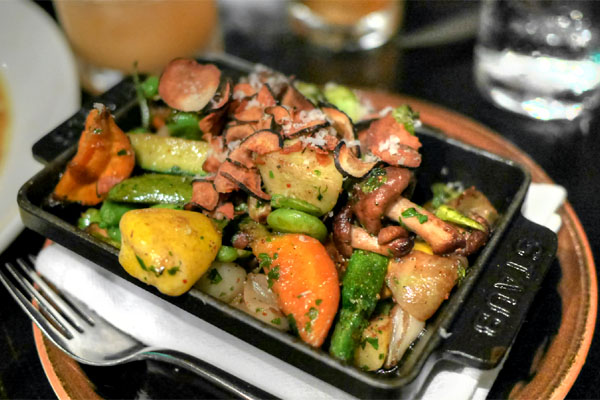 Roasted Market Vegetables [$10.00]
| evoo, sea salt
Veggies were pretty much spot on: beautifully textured and well-charred.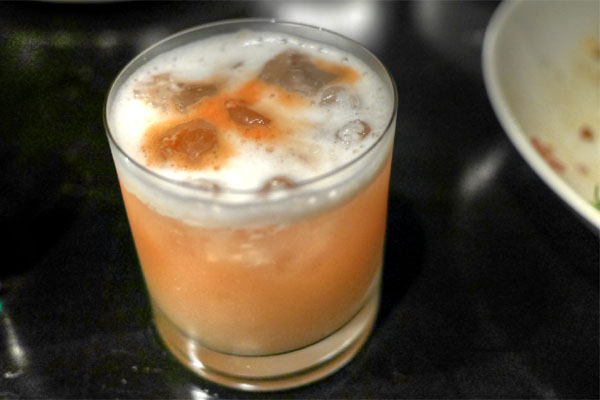 Motorcycle Diaries [$14.00]
| Kappa Pisco, Pineapple Gum, Ancho Reyes Chile, Egg White
Our final cocktail was a winner as well. Great sweet, spicy aromatics on this one, and taste-wise, I was a fan of the bitter, yet floral notes going on, not to mention the froth of the egg white.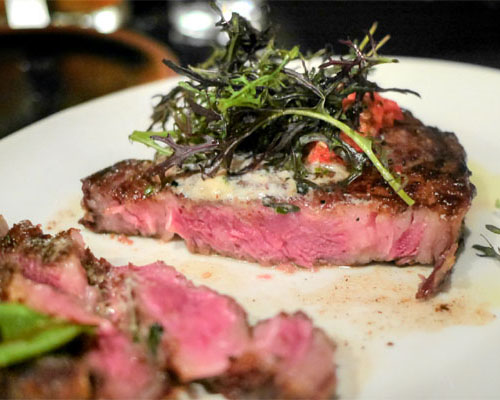 Ribeye [$58.00]
| 15 oz., prime, 30 day dry-age
Now we got into the steaks, starting with the dry-aged rib eye, which came out well-marbled, tender, and with a nice char. Taste-wise, it was
intense
, one of the most richly-flavored steaks I've had in fact, showing off a buttery, beefy, almost foie gras-esque richness to it that was about as concentrated as you can get. Such is the power of dry-aging--wow.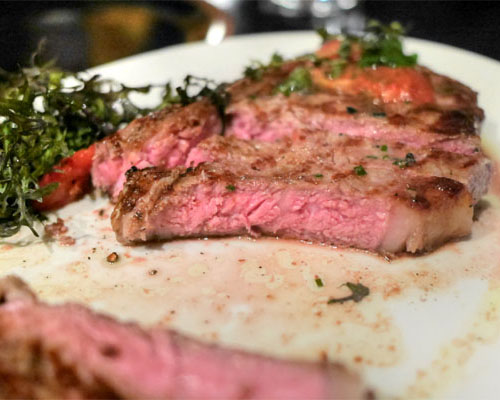 Kansas City Strip [$70.00]
| 15 oz. prime, 30 day dry-age
The strip steak, meanwhile, was a bit more subdued, immensely flavorful sure, but not nearly as in-your-face, with a pleasant peppery quality to it. I would've liked a bit more sear here though.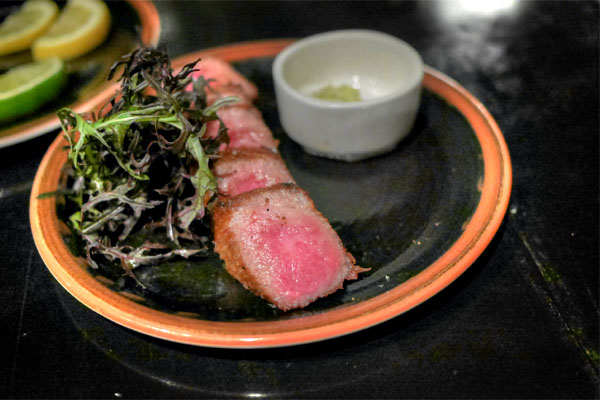 Japanese Wagyu Miyazaki [$18.00/oz]
| ribeye
Last up was the
pièce de résistance
, some real-deal Japanese wagyu. I found this super fatty--a well-integrated, refined sort of fatty--and there were boatloads of the sheer beefiness that you'd want, all accented by pricks of salt. It was indeed a heavy, unabashedly rich eating experience, but different compared to the steaks above, coming off somehow more delicate, more fine-spun. Excellent.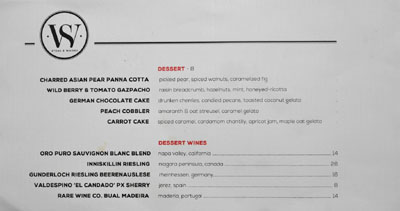 Despite us being quite full by this point, dessert was still called for. Click for a larger version.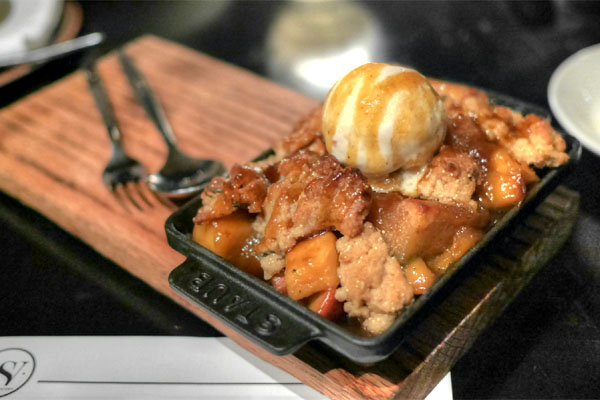 Peach Cobbler [$8.00]
| amaranth & oat streusel, caramel gelato
A peach cobbler was classic at its core, with its massive stone fruit flavors working hand-in-hand with the streusel while the gelato added even more luxuriousness to the dish.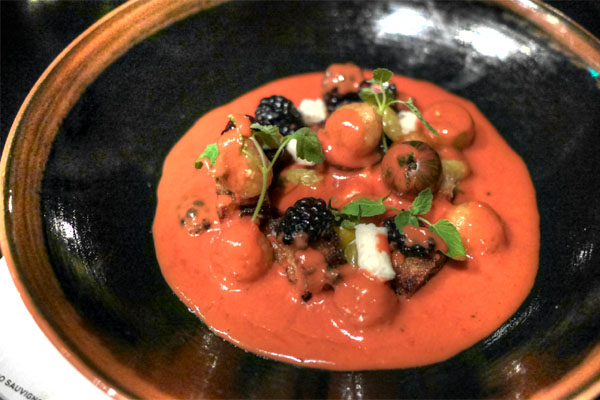 Wild Berry & Tomato Gazpacho [$8.00]
| raisin breadcrumb, hazelnuts, mint, honeyed-ricotta
Next was surely the most progressive dessert of the bunch, playing the sweet-tang of tomato and berry against some distinctly savory flavors.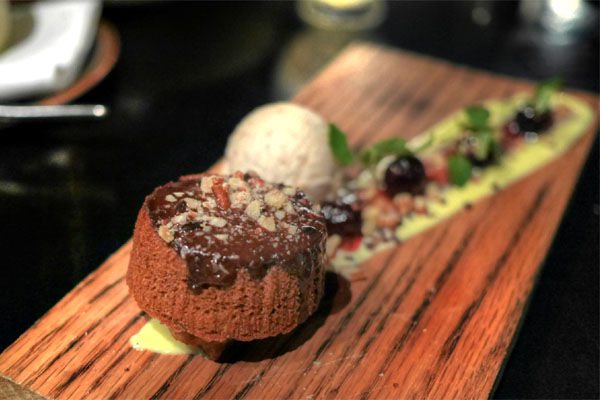 German Chocolate Cake [$8.00]
| drunken cherries, candied pecans, toasted coconut gelato
Chocolate cake was given a boost by the deep cherry flavors present and the nuttiness of those pecans. My favorite part? That toasty coconut ice cream.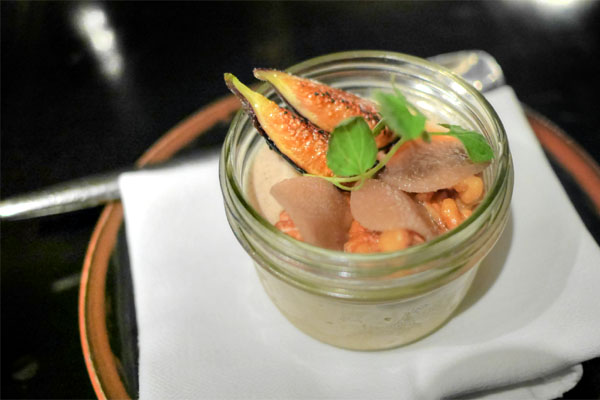 Charred Asian Pear Panna Cotta [$8.00]
| pickled pear, spiced walnuts, caramelized fig
I quite enjoyed the panna cotta as well, with its deep fruit flavors finished by a delightful touch of smoke.
This place is shaping up to be another promising addition to the Blackhouse portfolio. The steaks are worth trying to be sure, but so are a lot of the other dishes, making for a multifaceted dining experience that's a welcomed change of pace from your typical steakhouse situation. Vuong and company aren't done expanding though. There's another outpost of Little Sister planned for Downtown, and at least one more project (maybe two?) set to drop in Redondo Beach later this year. I'll be watching.