Beersnobbin Share for Rylee
Beer Angel Share for Rylee at Sophie's Place
1708 S Catalina Ave, Redondo Beach, CA 90277
310.540.8484
www.sophiesplacerb.com
Sat 06/20/2015, 03:00p-06:40p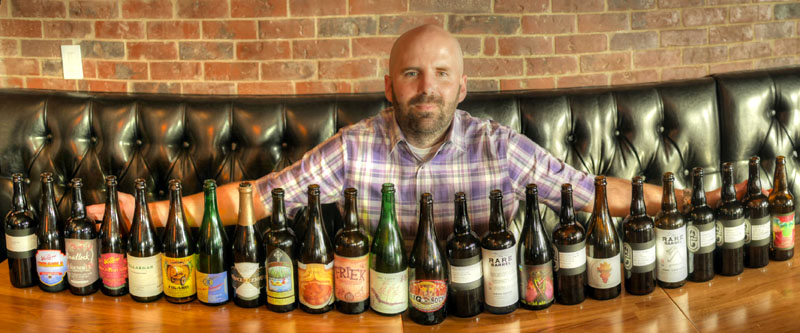 I recently took part in a bottle share organized by Instagram's
Beersnobbin
, a.k.a. Beer Angel or Scott G. The event was held to raise funds for the leukemia treatment of local girl
Rylee Totman
, and to attend, one simply had to donate $25 to the cause. The headliner was the 2004 Cantillon Cuvée des Champions, and Scott also brought a number of de Garde bottles as well. In addition, each guest was asked to provide a bottle to share.
The tasting was held at Riviera Village's Sophie's Place, which was opened in 2010 by Sahar Sanjar, co-founder of PR firm la Chambre. In 2011, the restaurant was purchased by the Nayebdadash brothers: Ali (a real estate guy), Amir (employment attorney), Keon (works for Sophie's full time), and Bobak or "Bobby," who was on hand this afternoon and also moonlights in estate planning law. Their father owned The Edge on Redondo Beach pier back in the 1980s, and the brothers also operate Pierside Kitchen and Bar in San Clemente.
Scott dictated the pacing and the pours, and beers are listed here in the order that they were served, starting with Scott's bottles and then moving on to ours: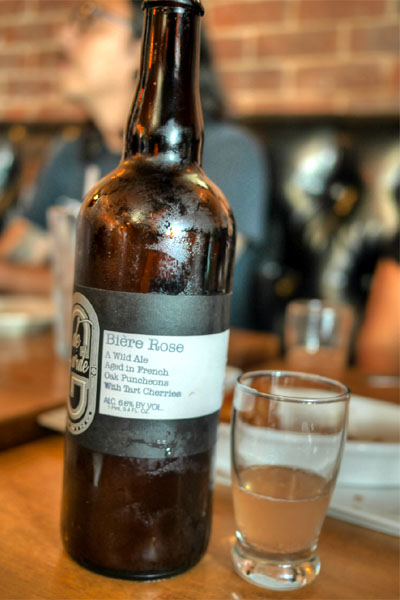 2015 de Garde Bière Rose
: A wild ale aged in French oak puncheons with tart Montmorency cherries; I loved the dusty peach-rose color of the beer, which I don't encounter too often.
S: Tart, with a great floral component and an underpinning of stone fruit.
T: Puckering, acidic, lactic, with more cherry notes and a light funkiness.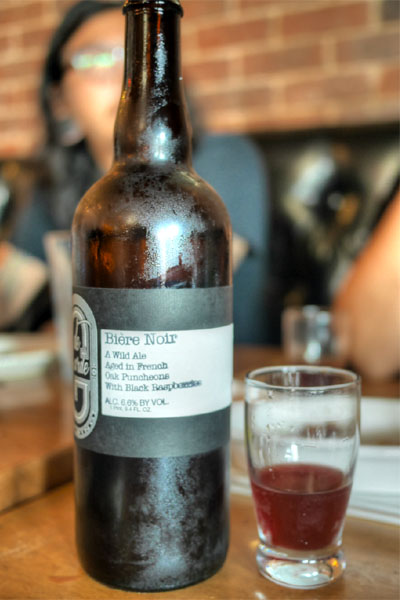 2015 de Garde Bière Noir
: A wild ale aged in French oak puncheons with black raspberries; so the same beer as above, but with different fruit.
S: Jammier and juicier, with a sour backing.
T: Tart, yet a bit vinous/tannic, and less carbed; like a "sour Hawaiian Punch" according to another taster.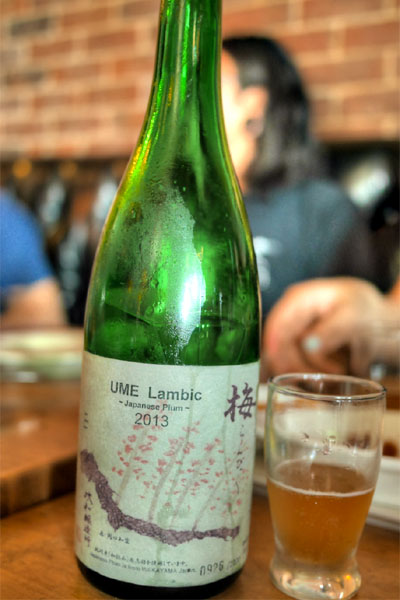 2013 OWA Ume Lambic
: A Belgian lambic with Japanese plum, made by former Kirin employee Leo Imai (I'd had the yuzu version of the beer back at
Kinjiro
).
S: Acidic, sour plum notes joined by light barnyard.
T: Dusty, a bit musty, with a mild tartness and great depth, augmented by an earthy, grassy quality.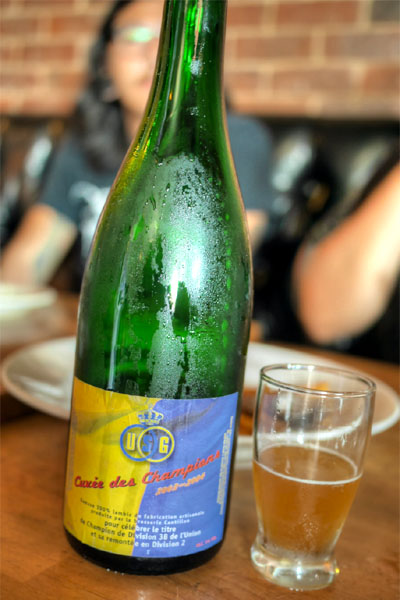 2004 Cantillon Cuvée des Champions
: Two year old lambic, dry-hopped with Styrian Golding for three weeks, first bottled in 2004 (making this Batch 1) to celebrate the Royale Union Saint-Gilloise football club's winning 2003-2004 season.
S: A refined, acerbic tartness, with notes of stone fruit creeping in and out.
T: Wonderfully balanced, soft, yet complex and mildly hoppy, with a lingering zip; the beer showcased a palpable maturity, but still had plenty of life left even after all these years.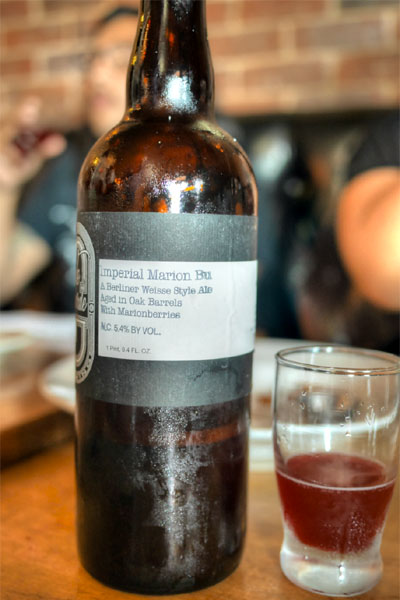 2015 de Garde Imperial Marion Bu
: A Berliner Weisse style ale aged in oak barrels with Marionberries.
S: Utterly jammy, but with finesse; one of the best smelling beers of the event.
T: Again, massive amounts of dark berry fruit, countered by a base of tartness; delish, and one of my fellow tasters commented that she "almost expected to taste seeds" given how fruit-forward this was.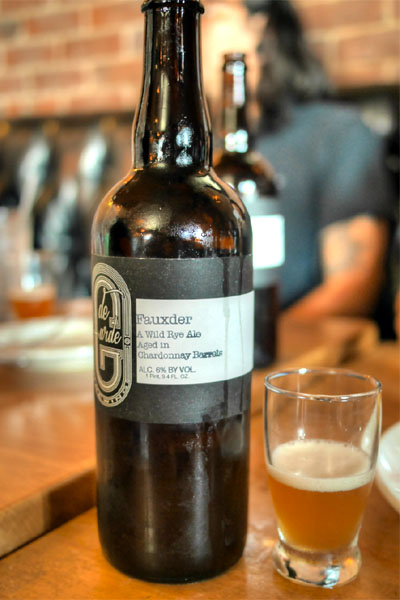 2015 de Garde Fauxder
: A wild rye ale aged in Chardonnay barrels.
S: Tart, but fruity, without much discernible rye spice.
T: Puckering with a nice acidity, the vinous notes coming through on the finish.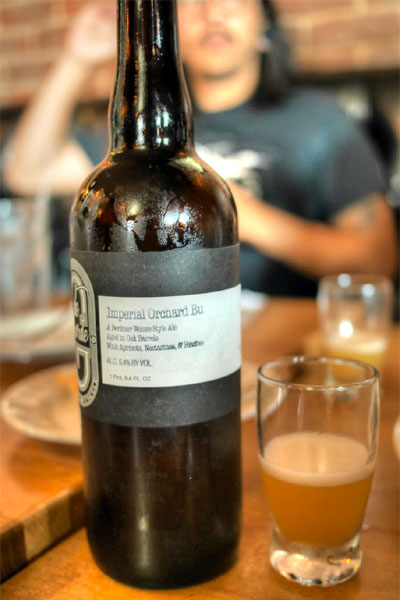 2015 de Garde Imperial Orchard Bu
: A Berliner Weisse style ale aged in oak barrels with apricots, nectarines, and peaches.
S: Sour, but also super, super juicy, like a "cut open peach" according to another taster.
T: Again, more of that ridiculously true-to-life stone fruit at first, but with a wonderfully dry finish.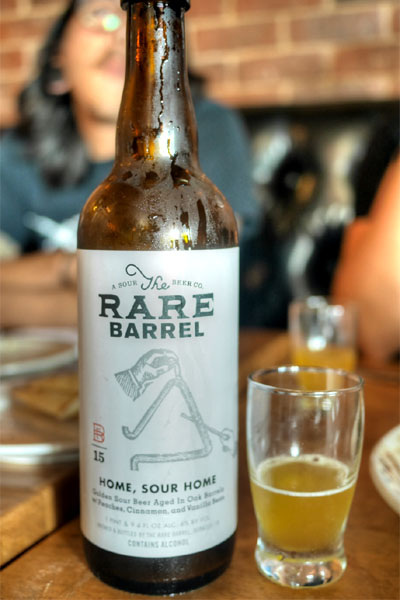 2015 The Rare Barrel Home, Sour Home
: Golden sour aged in oak barrels with peaches, cinnamon, and vanilla bean.
S: Tart and bracing, with the peaches transitioning to notes of cinnamon.
T: Again, more of that cinnamon, joined by vanilla over a base of fruit; someone remarked that it was "peach cobbler"-like.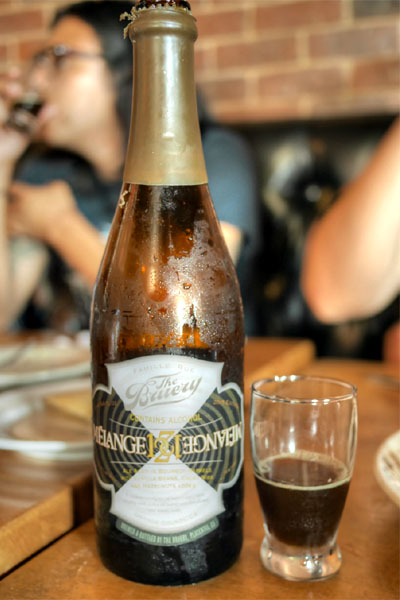 2015 The Bruery Mélange No. 12
: Ale aged in bourbon barrels with vanilla beans, cacao nibs, and hazelnuts added; the first of the guest-provided bottles I believe.
S: Dark fruit and brown sugar, with the hazelnuts peeking through.
T: Again, huge amount of dark fruit, malt, and molasses, with an overarching whisper of vanilla and very little heat.
2015 Sante Adairius/Triple Rock Cellarman
: A French oak-fermented saison (I'd had the previous batch not long ago at
Butcher's Dog
).
S: Super light, bright lemon commingled with barnyard.
T: Grainy and tart, with more citrus and a not-unpleasant metallic character; very refreshing.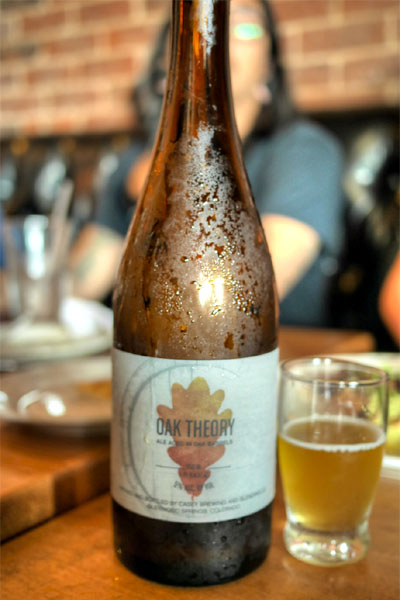 2015 Casey Oak Theory
: Belgian-style sour ale aged for 10 months in oak barrels.
S: Not much of a nose on this one, surprisingly, just some faintly tart notes.
T: On the palate, vinegar-y and acidic, with an earthy wood presence and slight Band-Aid on the close.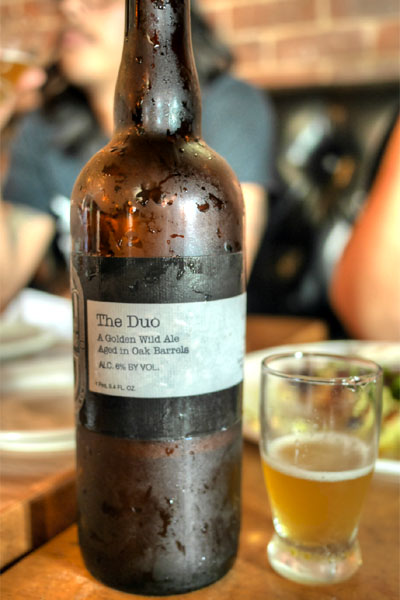 2015 de Garde The Duo
: A blend of golden wild ales aged for 18 and 24 months in oak gin barrels.
S: Expectedly tart, but with an earthiness to it that I enjoyed.
T: Puckering, but complemented by the astringency of gin botanicals, the whole thing finishing dry.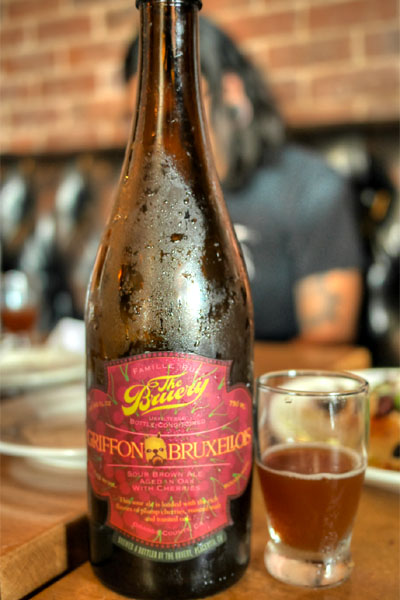 2013 The Bruery Griffon Bruxellois
: Sour brown ale aged in oak with cherries.
S: Deep, dark cherry nuances intermingled with funk.
T: More cherry, but now with an oxidative bent and oak; under carbonated.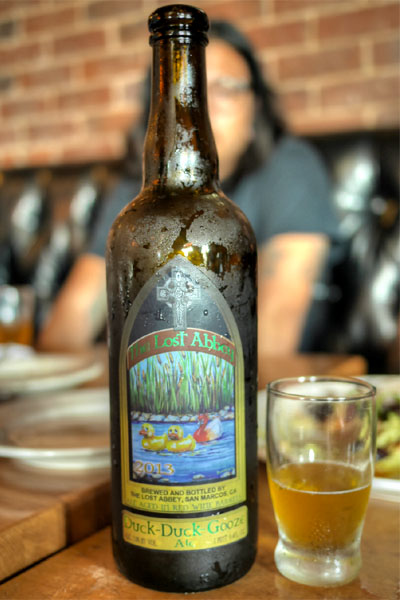 2013 The Lost Abbey Duck Duck Gooze
: Ale aged in red wine barrels, which I'd had not long ago at the
Elite
tasting.
S: Light and delicate, with wispy citrus aromas.
T: Literally nose-tingling, a balanced presentation of sour, yeasty, lemon, grain, and barnyard nuances.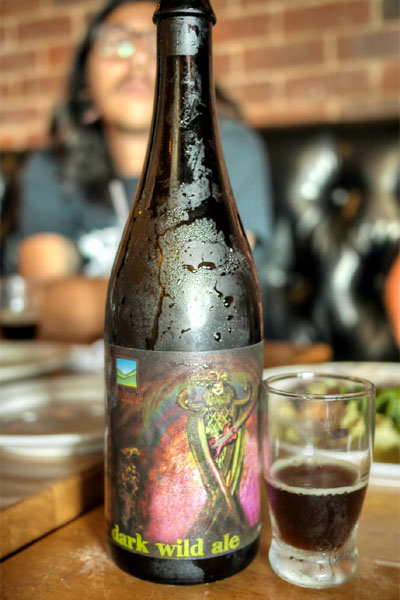 Upland Dantalion Dark Wild Ale
: Dark wild beer with
Brettanomyces
and
Lactobacillus
aged over a year in red wine barrels (tasted recently at
Del Rey Kitchen
).
S: Dark and tart, with hints of spice and brown sugar.
T: Again, more dark fruit, malt, and grain, underscored by a backbone of sourness and spice.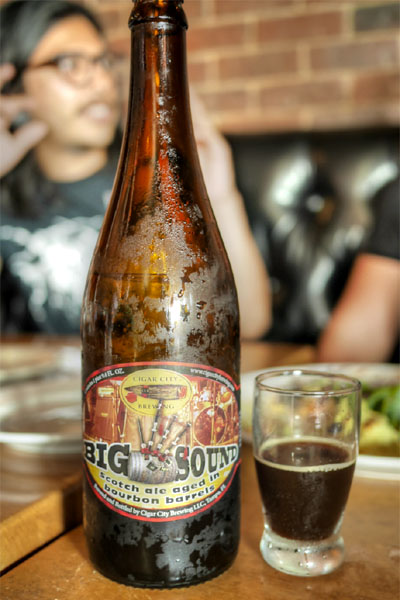 2014 Cigar City Bourbon Barrel Aged Big Sound Scotch Ale
: The bottle that I brought, thinking that it'd be nice to have something other than a sour.
S: Huge amounts of malty goodness, dark fruit, and bourbon.
T: More raisin-y character and malt sweetness, along with booze, vanilla, and an intriguing nuttiness.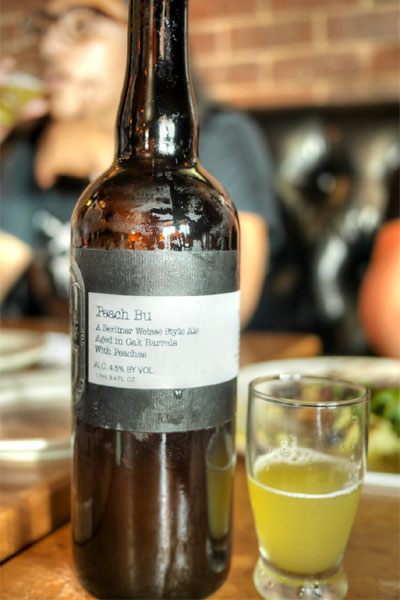 de Garde Peach Bu
: A Berliner Weisse style ale aged in oak barrels with peaches.
S: Really juicy notes of peach commingled with some Brett.
T: Tart at first, then focused, true-to-life flavors of the stone fruit that lingered long.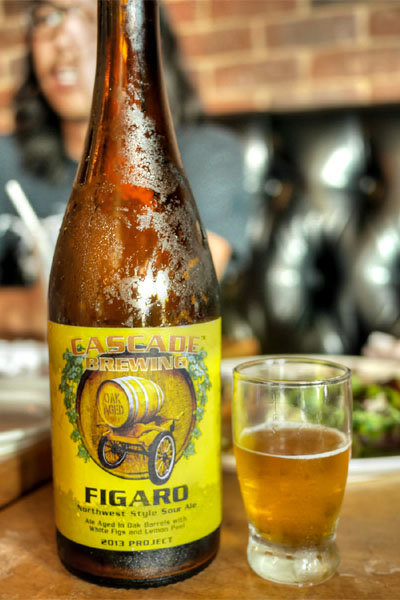 2013 Cascade Figaro
: Northwest style sour ale aged in oak Chardonnay barrels with white figs and lemon peel.
S: Tart, but deeper, maltier than most of the beers here, with a metallic tinge.
T: Oaky and tart again, with funk and lemon over a boozy presentation of fig.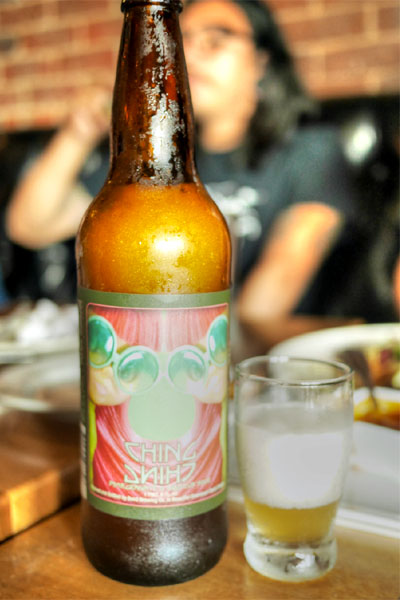 Bend Brewing Ching Ching
: Berliner Weisse with pomegranate and hibiscus.
S: Highly carbonated, with ridiculous head and a subtle floral aroma.
T: Tart, and more floral character, with the pomegranate coming in mixed with grain and a mild funk.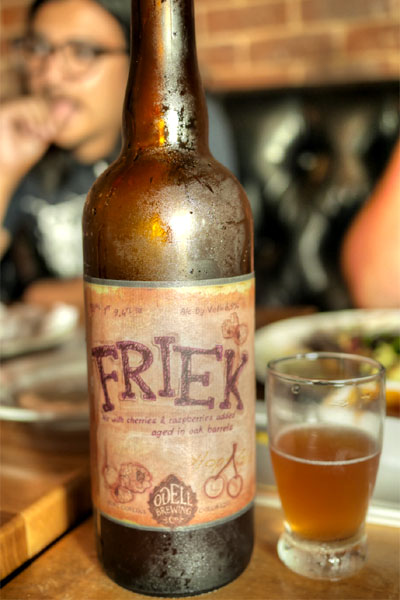 Odell Friek
: Ale with cherries and raspberries added, aged in oak barrels.
S: Super funky, yet tart, with some in-your-face notes of lacto/cheese.
T: Again, very earthy, musty, with some of that Band-Aid character--Odell's version of
Hommage
apparently.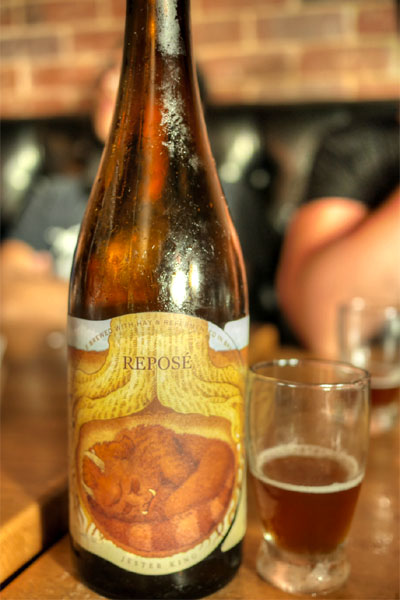 2015 Jester King Reposé
: Ale brewed with hay and refermented in brandy barrels.
S: Tart, slight wood, with the hay imparting an intriguing quality to the nose.
T: Again, very different, but enjoyable, with an oaky-malty bent and some earth.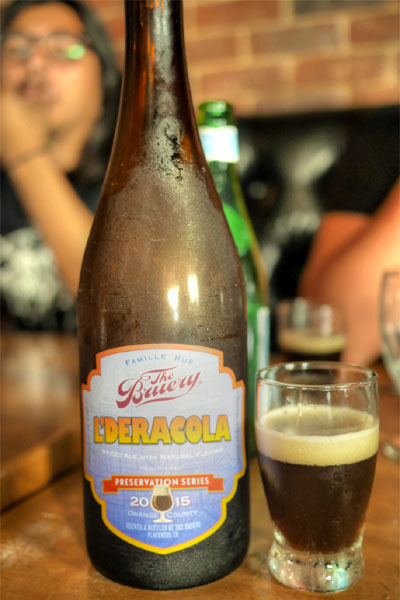 2015 The Bruery L'deracola
: Dark ale brewed with an assortment of spices meant to mimic the flavors of cola (first tasted at
Lunchbox
a while back).
S: Light cola spices, spiked with lime.
T: Think Diet Lime Coke, with a body that really did recall that of soda.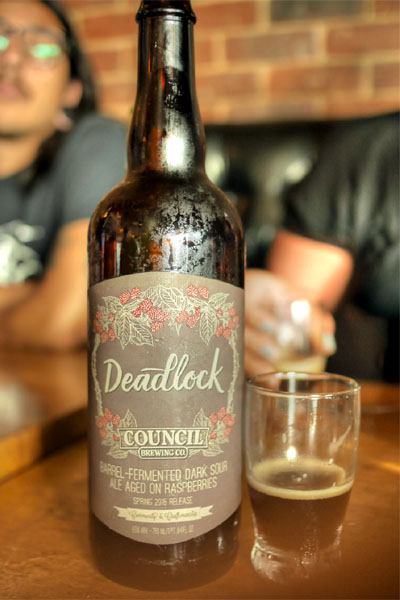 2015 Council Deadlock
: The brewery's seventh and most recent BA release, a barrel-fermented dark sour ale aged on raspberries.
S: Tart and Brett-y, without much fruit surprisingly.
T: Dark berry fruit (there it is) commingled with malt and subtle barrel character.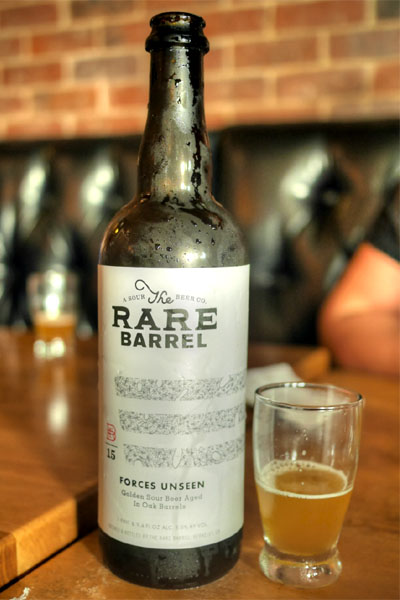 2015 The Rare Barrel Forces Unseen
: A blend of three golden sour beers aged in oak barrels.
S: A bit nondescript, a blend of acid, funk, and fruit.
T: The taste follows, joined by some oaky, barnyard components.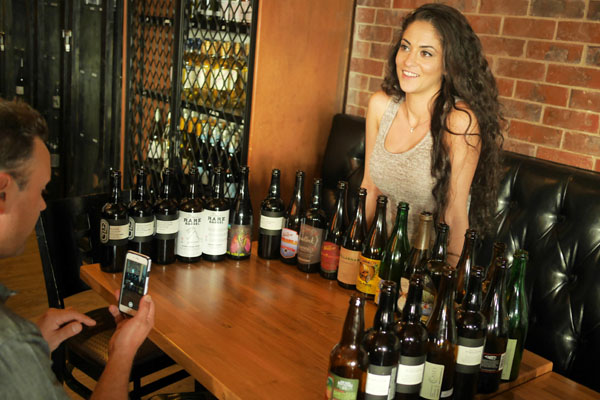 The requisite beer bottle graveyard shot. In chronological order, my favorites were the Bière Rose, Ume Lambic, Cuvée des Champions, Imperial Marion Bu, Imperial Orchard Bu, Home Sour Home, Duck Duck Gooze, and Friek. Thanks again to Scott for organizing, and to Bobby and the Sophie's Place team for hosting!