Madcapra (Los Angeles, CA)
Madcapra Falafel at Grand Central Market
317 S Broadway, Los Angeles, CA 90013
www.madcapra.com
Sat 06/06/2015, 02:55p-05:00p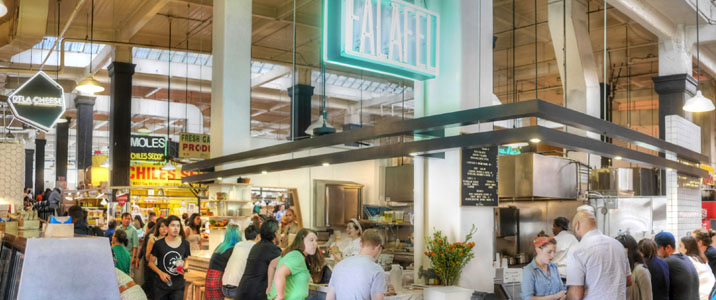 The hits just keep on coming at GCM. The latest new school place to drop is Madcapra (ostensibly a portmanteau of
madcap
and
capra
), which grand opened on May 6th after a series of F&F meals and a one-night-only pop-up at
Animal
back in February. The stall sits just across the way from DTLA Cheese, and is a falafel- and veggie-centric joint by Brooklyn expats Sara Kramer and Sarah Hymanson.
About the Chefs
: Born in New York, Kramer was raised in Upper Nyack, the daughter of a Peruvian-Israeli mom and an Ashkenazi dad from the Bronx. She grew up in a food-focused household, with both her mother and grandmother being handy in the kitchen, and ate her fair share of Middle Eastern growing up. However, in her younger years, Kramer followed in the footsteps of older sister Dana and centered her life around musical theater, spending summers at Stagedoor Manor and Northwestern's National High School Institute and starring in productions of
Into the Woods
,
Les Miserables
, and
Phantom
at the Helen Hayes Youth Theater. After finishing high school in 2003, she landed a role in a touring production of
Mamma Mia!
, serving as a Sophie Sheridan understudy and later replacement before moving to the Broadway show in 2004 at the age of 18, superseding Jenny Fellner.
Interestingly, her interest in food was rekindled by the rigors of the performing arts, and in 2005, she enrolled at NYU, where she took classes in Food Studies. This was followed by a year at the Natural Gourmet Institute, an alternative culinary school. During her tenure at the NGI, Kramer externed at Blue Hill at Stone Barns, and eventually scored a permanent position there. After almost two years with Dan Barber (including time at Blue Hill in Manhattan), she went to work for Andrew Tarlow. She cooked at both Diner and Marlow & Sons, and even took time to
stage
at Els Casals in Spain during this period. In May 2012, Tarlow made Kramer executive sous at Reynard, but not too long after, she met restaurateur Sara Conklin through a friend. The two quickly hit it off, and by June 2013, had debuted Glasserie in Greenpoint. The restaurant was well-received, but tensions between the partners eventually led to Kramer's resignation in February 2014. She was joined in her departure by sous Sarah Hymanson.
Hymanson, for her part, hails from Chicago. She attended the Francis W. Parker School before enrolling at Oberlin College in 2004, majoring in South Asian Studies and Studio Art. During her time in Ohio, she was the head cook at Pyle Inn, one of the school's co-ops. Hymanson graduated in 2008, and after moving to Brooklyn, eventually landed at Park Slope's Applewood in April 2009. She stayed there for a bit over a year, then moved to Blue Hill in Manhattan in September 2010. In 2012, she left the restaurant and cooked briefly at the NYC outpost of
Mission Chinese
before rejoining Dan Barber at Blue Hill at Stone Barns in 2013. This was followed by five months of traveling and eating in Asia, and then the sous chef position at Glasserie.
Before moving out to California in August 2014, Kramer and Hymanson traveled to Israel and Turkey to really soak in the food culture there. As for why the pair chose LA for Madcapra, they cite the more reasonable rents, the chance to make a lasting impact on a more nascent food scene, and the fact that Kramer's boyfriend is from here. Also joining them is
Brenna White
, another NGI grad and the former Pastry Chef at The Smile in New York, who also worked at Mile End, M. Wells, and Diner.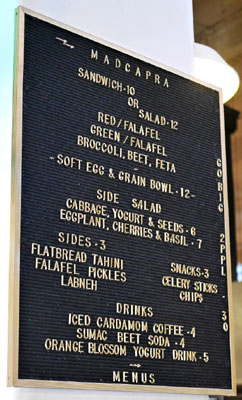 Madcapra's veggie-focused menu is certainly compact, headlined by two colors of falafel. Click for a larger version.

After you order, you're instructed to head to the back of the stall, where you can take in a view of the kitchen.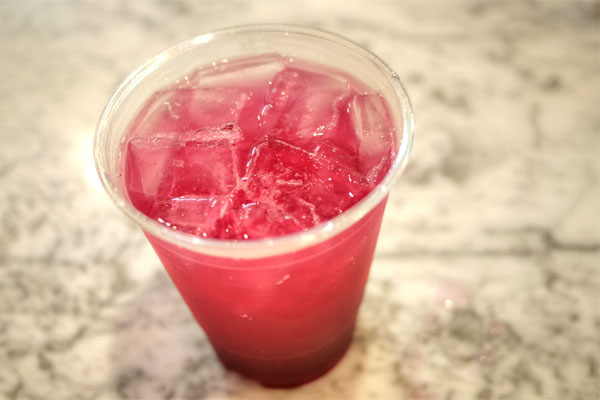 While waiting for our food, we enjoyed a couple of Madcapra's specialty drinks. The
Sumac Beet Soda [$4.00]
was certainly visually arresting with its magenta hue, and taste-wise, it was almost as bracing, with a bevy of sweet, tart, lemon-y flavors that really captured the essence of beet.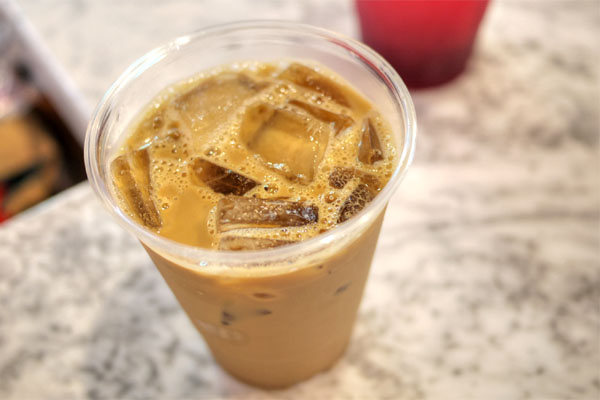 I preferred the
Iced Cardamom Coffee [$4.00]
though, with its cool, creamy coffee notes and delightful sweet spice on the finish.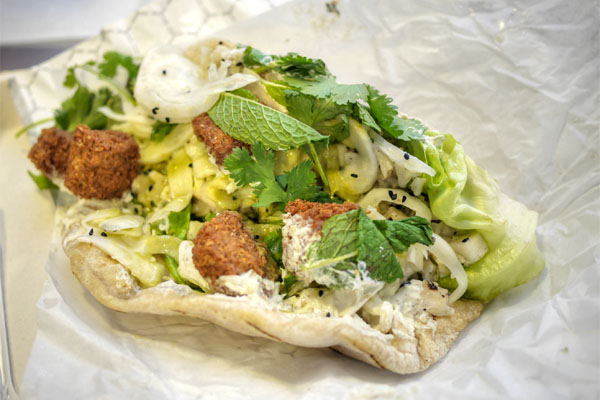 Green/Falafel (Sandwich) [$10.00]
| cauliflower, fennel, labneh & cilantro
We started with my favorite item of the meal, and one of the best preparations of falafel I've encountered. The actual falafels were crunchy, but not dry as they often are, and were imbued with a nutty sort of savor and accented by a great touch of spice. They worked hand-in-hand with the bright, acidic crunch of the veggies here, and I appreciated how the
labneh
functioned to bring it all together.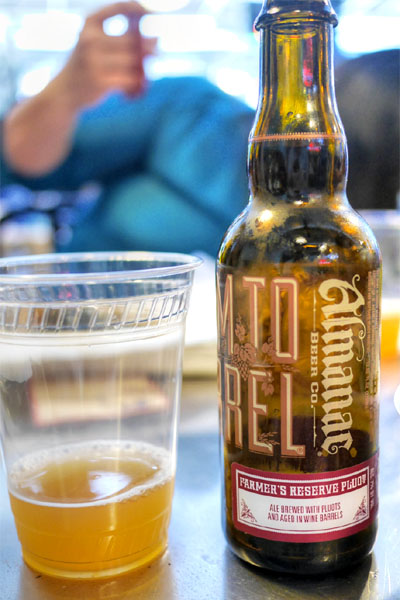 Given that it was GCM, we BYOB'd it of course. First up was the
2015 Almanac Farmer's Reserve Pluot
, a sour ale brewed with pluots and aged in wine barrels. Not too much in terms of a bouquet here, while on the palate, I got bracingly tart flavors at first, joined by citrus, yeast, oak, and just a trace of stone fruit coming in toward the end.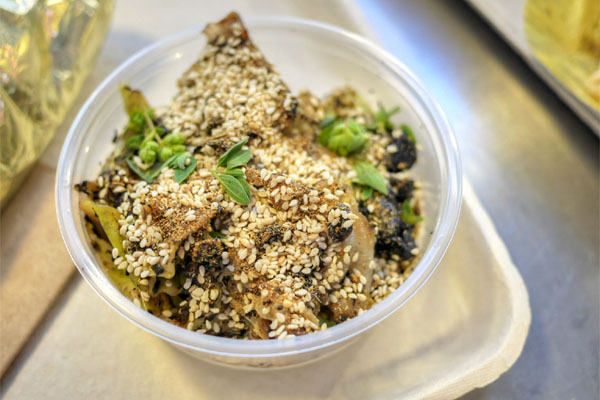 Cabbage, Yogurt & Seeds [$6.00]
| with yogurt, seeds, & marjoram
A cabbage salad was surprisingly tasty, the bitter crunch of the vegetable working great alongside the zip of marjoram while sesame added a fantastic nuttiness on the close.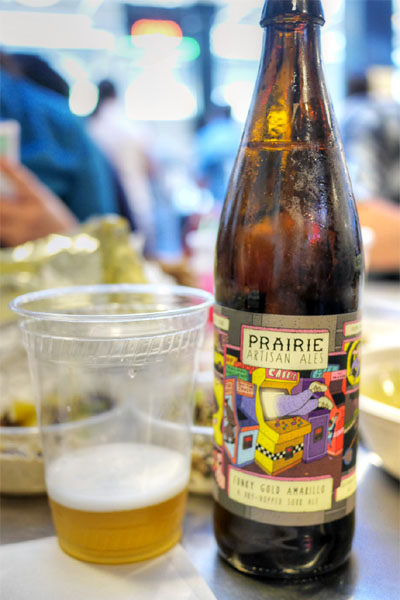 Next to drink was the
Prairie Funky Gold Amarillo
, a dry-hopped sour. I found this super acidic on the nose, with forceful notes of lemon and barnyard, while taste-wise, I got lots of really dank, grassy flavors, transitioning to more tartness on the mid palate.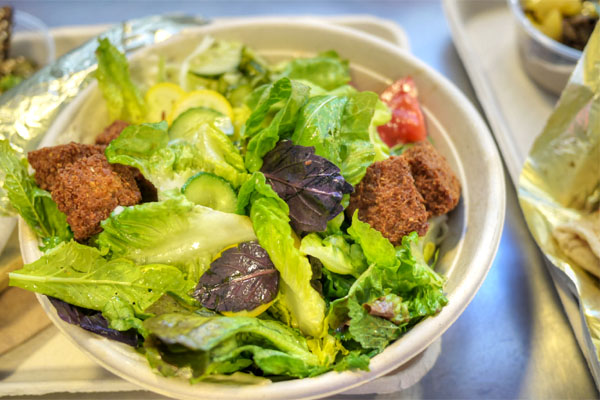 Red/Falafel (Salad) [$12.00]
| tomato, cabbage, pickles, tahini & basil
We opted for a salad preparation for our "red" falafel. Lots of light, crisp notes going on here, with the falafels themselves as good as ever. It was tasty; however, the dish as a whole wasn't as well-integrated, and I didn't get much from the tahini nor the basil. I'd have to conclude that flatbread is the superior vessel for falafel at Madcapra.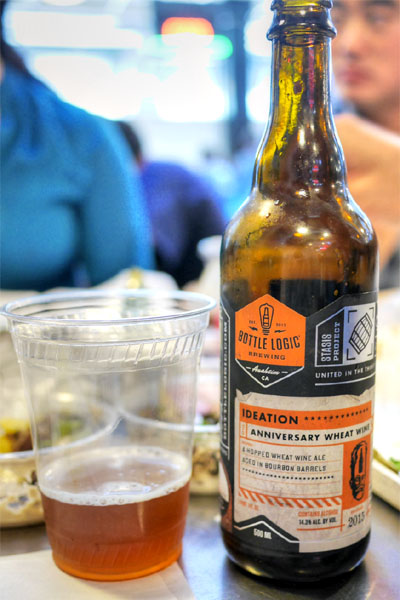 The
2015 Bottle Logic Ideation
was one of the heftier beers we had, a hopped wheat wine aged in bourbon barrels. It smelled of sweet, caramel-y malt commingled with a hop bitterness, and tasted much the same, with lots of sugary malt and toffee over a base of boozy bourbon.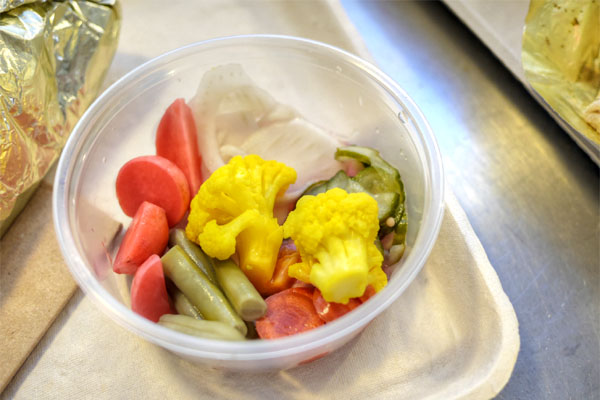 Pickles [$3.00]
I love me some pickles, and they were about what you'd expect here, crunchy and acidic.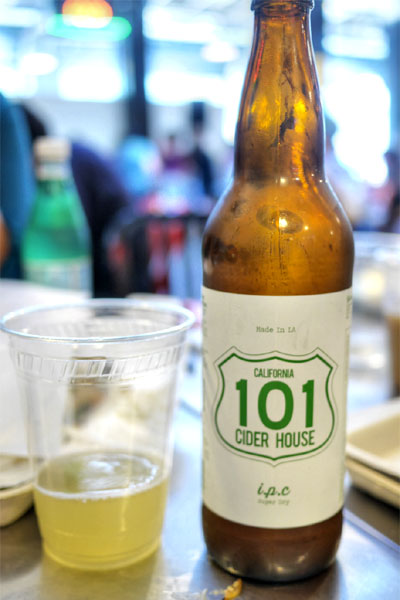 And now for something different, the
2015 101 Cider House India Pale Cider
was quite unlike other ciders I've had. Think super dry, super crisp, with a slight sweetness cut by a very noticeable hop character.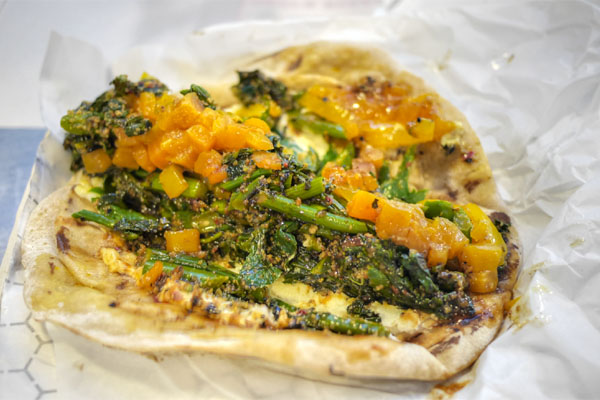 Broccoli, Beet, Feta (Sandwich) [$10.00]
| beet, feta, pickled peppers & pumpkin seed
Our next wrap turned out better than I thought it would. Nice bitterness and crunch from the broccoli here, and I liked how that worked with the sugariness of the beets while feta added a richness and lactic tartness to the fold.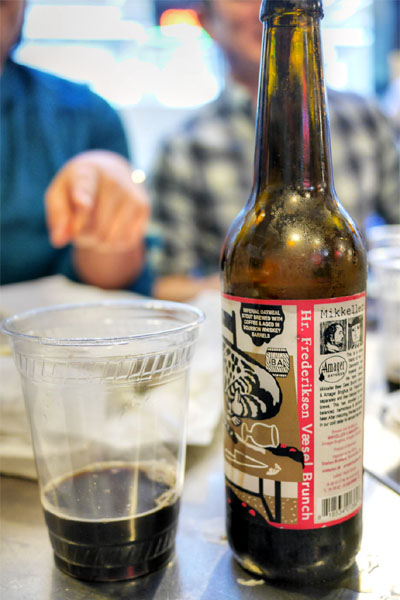 Stout duties were handled by the
Amager / Mikkeller Hr. Frederiksens Væsel Brunch
, an imperial oatmeal stout brewed with coffee and aged in bourbon barrels. As expected, lots of strong, astringent, aromatic coffee nuances here, all over a base of chocolate, malt, and roast. Smooth overall, but without too much barrel character unfortunately.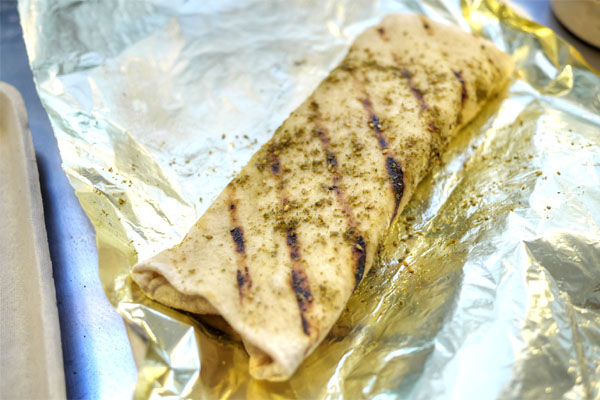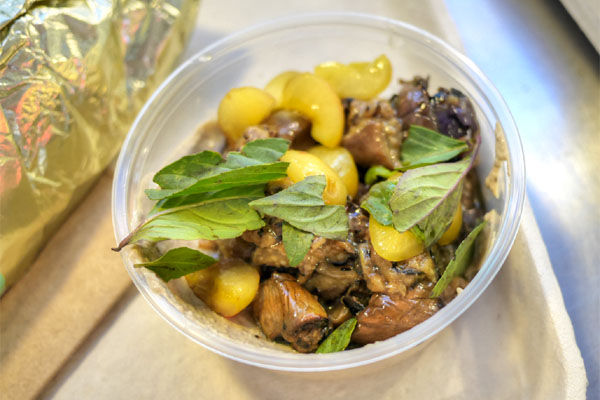 Organic, whole wheat Laffa flatbread grilled to order and served with grilled eggplant salad, sunflower & cherries
The first-ever Los Angeles Bread Festival happened to be going on during our visit, and given the occasion, Madcapra was offering a special housemade
laffa
, paired with their eggplant salad. The actual flatbread was well-textured and well-spiced, but was really taken up a notch by the inclusion of that salad, which offered up a rich, sweet, nutty counterpoint.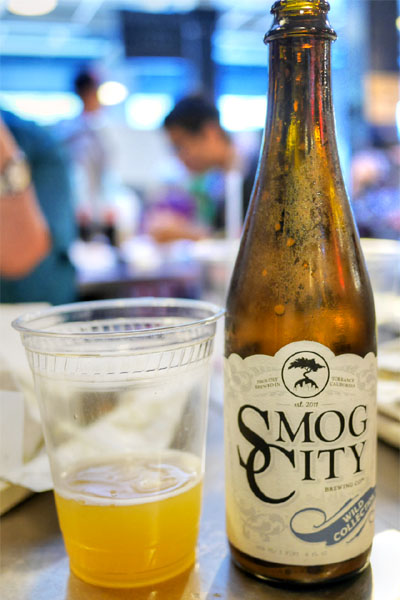 Our final bottle was the
2015 Smog City Cuddle Bug
, a sour with peaches and apricots. On the nose, think super juicy stone fruit, perhaps the most I've encountered in a beer. That lushness continued on to the palate, where it was joined by an offsetting tartness that really worked flawlessly with the fruit. My favorite beer of the bunch for sure.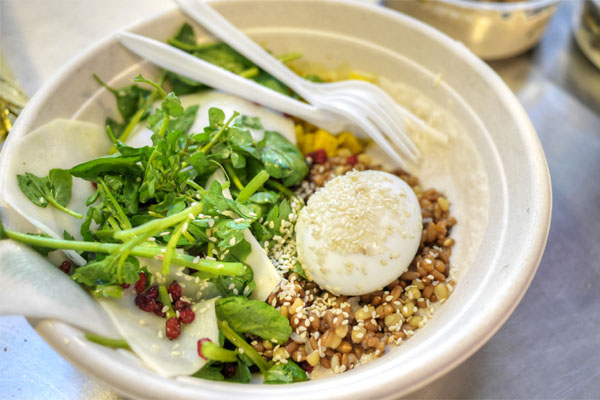 Soft Egg & Grain Bowl [$12.00]
| with white bean, spiced summer squash & watercress
The bowl was another highlight for me. Lovely textures here, and I was quite a fan of the spiced squash, which had an aromatic, almost curry-like quality to it that paired swimmingly with the zesty cress. Can't go wrong with a runny egg, either.
Madcapra looks to be yet another feather in Grand Central Market's cap, delivering some Middle Eastern flair to the food hall. The actual falafel's certainly worthwhile, and I'd actually like to see the chefs expanded the menu to feature some more preparations (different colors, if you will). This is not the end for the two Sara(h)s though. They're still scouting locations for a second restaurant, a sit down Middle Eastern eatery, so I'll certainly be looking out for that one as well.