The Kroft (Anaheim, CA)
The Kroft at Anaheim Packing House
440 S Anaheim Blvd, Anaheim, CA 92805
714.635.5900
www.thekroft.com
Sat 05/30/2015, 08:30p-10:45p

Apparently the Anaheim Packing District is
the
place to be in OC these days. Specifically, its Anaheim Packing House building seems to be all the rage, a bustling food hall set in a 1919 era Sunkist facility. It opened at the end of May last year, and judging from the lines, the most popular stall here has got to be The Kroft. Named after
a small farm of sorts
, the place is the work of Stephen Le and Matthew Tong, the duo behind SWSH Shabu in Irvine. A self-taught chef, Le heads up the kitchen here, which aims to put out elevated comfort food, with a particular emphasis on poutines. The Kroft was first teased back in September 2013 at the OC Fest of Ales, but the restaurant proper dropped last June.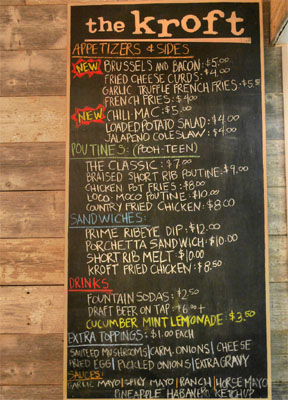 In addition to the aforementioned poutines, the menu also features a selection of sandwiches, along with apps and sides. And to drink? Beer of course. Click for a larger version.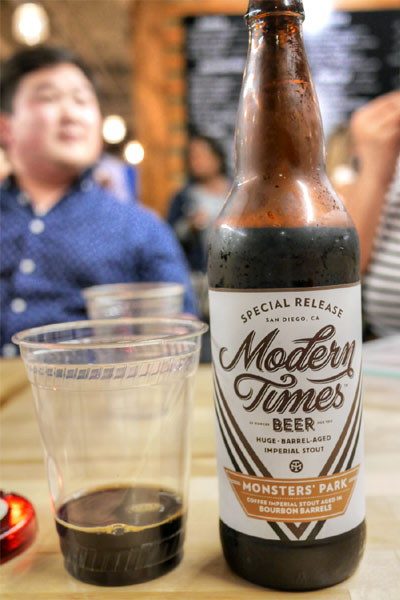 We BYOB'd it tonight, natch, and I got things going with the
2015 Modern Times Monsters' Park aged in Bourbon Barrels with Coffee
, part of a brewery-only, 600-bottle release from March this year. On the nose, I actually got less coffee, and more barrel than anticipated, while taste-wise, things were much, much more coffee-forward, with some very true-to-life roasty, bitter notes vying for attention against the base beer's malty, chocolatey, oaky flavor profile.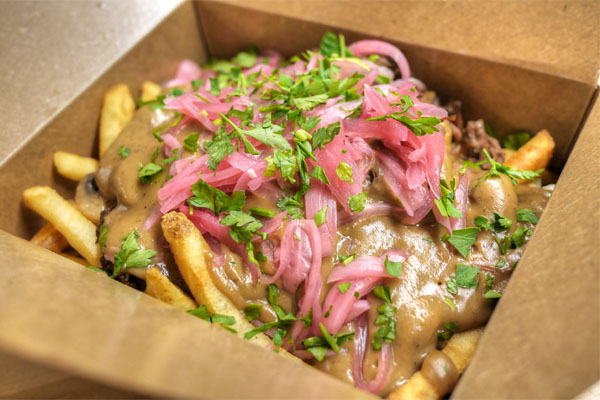 Braised Short Rib Poutine [$9.00]
| Short Rib Gravy, Sautéed Mushroom, Pickled Red Onions
According to the person taking my order, this is
the
poutine to get, and I can see why. Think dark, rich savors from the tender shards of short rib here, enhanced by a generous slathering of gravy and earthy mushrooms, all while red onion and cilantro imparted a much-welcomed lightness to the mix.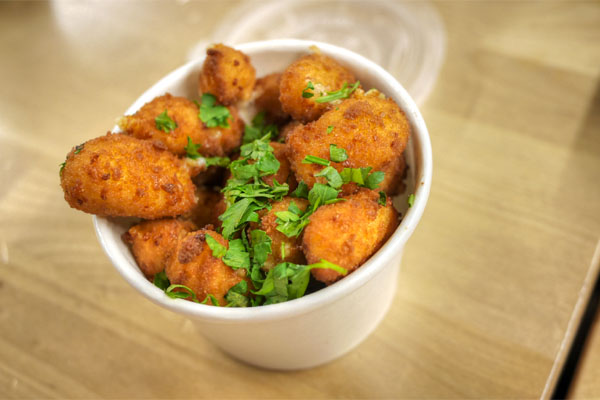 Fried Cheese Curds [$4.00]
Fried cheese curds were just that: crispy and salty on the outside, creamy and gooey on the inside.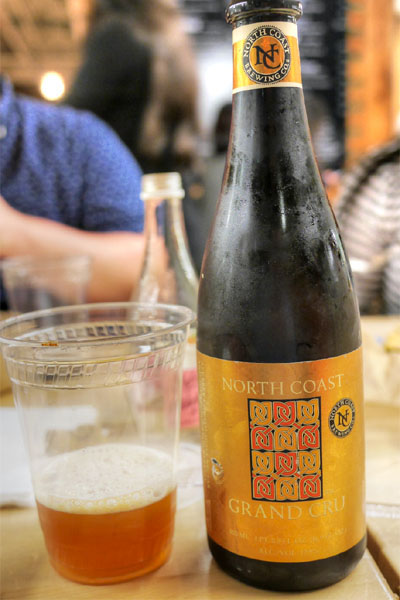 Our next beer was the
North Coast Grand Cru
, a Belgian-style pale ale brewed with agave nectar and aged in bourbon barrels. This one smelled of light, boozy fruit intertwined with oak, and on the tongue I got loads of rich stone fruit set over an undercurrent of boozy bourbon and subdued spice.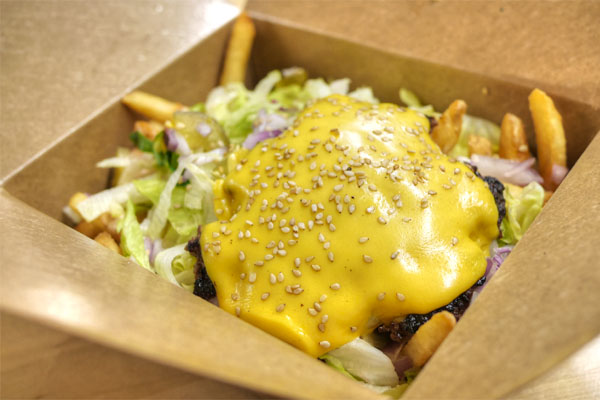 Cheeseburger Poutine [$9.00]
A special, this hamburger-inspired poutine was reminiscent of an In-N-Out Double-Double, with the hearty, gratifying combo of meat 'n' cheese working well alongside strips of lettuce, the pickles adding a lovely tartness to things.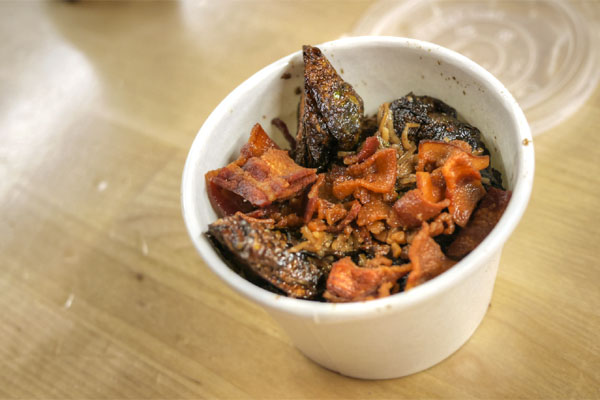 Brussels and Bacon [$5.00]
Brussels didn't quite deliver though. There were lots of smoky, salty flavors here, but I really wanted to experience more the bitterness, the crunch of the sprouts.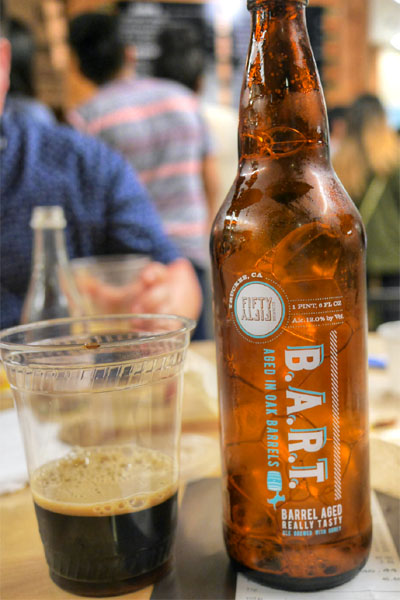 Next to imbibe was the
2013 FiftyFifty BART
, a mélange of the brewery's Totality Imperial Stout, Donner Party Porter, and Summit Barleywine, aged in oak for half a year. This one smelled somewhat tart, boozy, with an amount of dark fruit and faint vanilla. Meanwhile, I tasted lots of malt, chocolate, more dark fruit and more barrel character.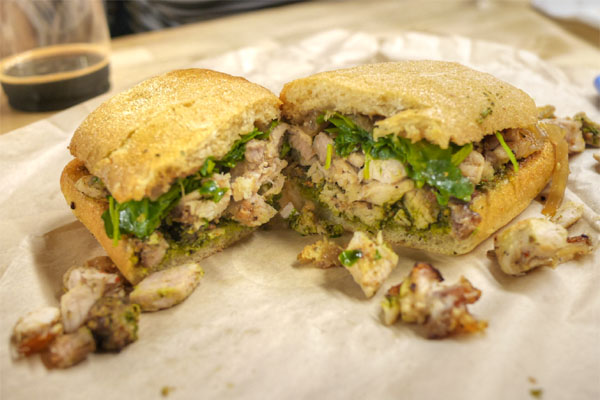 Porchetta Sandwich [$10.00]
| Ciabatta, Belly/Loin, Cracklings, Salsa Verde
Porchetta's hard to turn down, and they did a pretty good job with it here, with the meat coming out appropriately porky and aromatic, though not particularly fatty. I really appreciated the crunchy bits thrown into the mix, and how the combo of arugula and salsa verde gave the sandwich just the right amount of acid and brightness.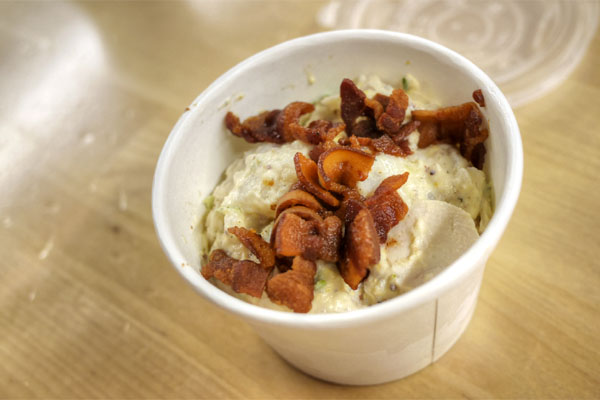 Loaded Potato Salad [$4.00]
I'm a sucker for potato salad, and this one hit the mark, the smoky, salty bacon really working hand-in-hand with the dish's tangy, hearty base of potatoes.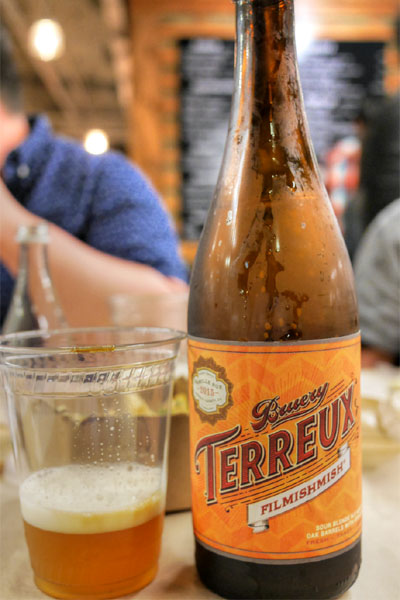 Our first sour was the newly-released
2015 Bruery Terreux Filmishmish
, a sour blonde aged in oak with apricots added. I found this very tart on the nose initially, with the stone fruit peeking through in waves. Similarly, on the palate the beer veered sour at first, but with the apricot making itself known on the midpalate in a jammy-but-restrained fashion.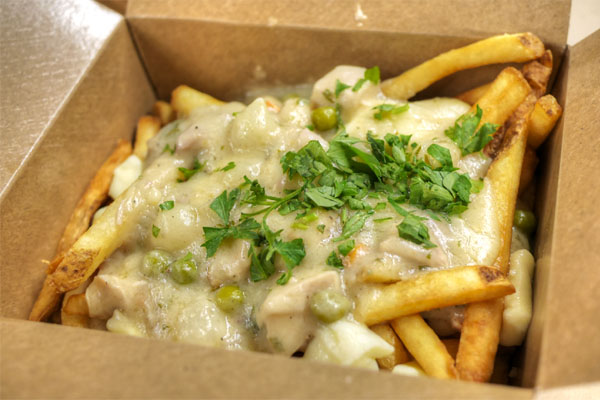 Chicken Pot Fries [$8.00]
| Chicken Gravy, Rotisserie Chicken
I'm a big proponent of chicken pot pie, and this next poutine did a commendable job recalling the traditional dish, with all the homey, comforting flavors that you'd expect.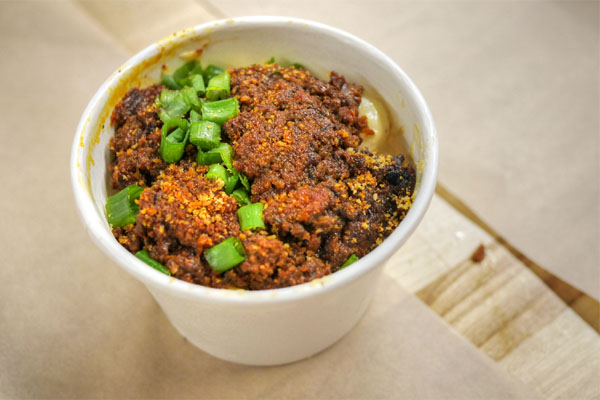 Chili-Mac [$5.00]
A prototypical macaroni and cheese was taken up a notch by the inclusion of chili, which imparted a welcomed heat to the side.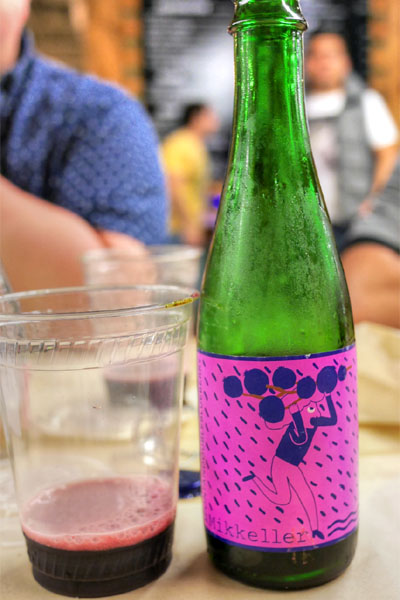 Our second sour was the
Mikkeller Spontandoubleblueberry
, a blueberry lambic. This one was quite jammy on the nose, but also rather acidic. In terms of taste, think really funky, lactic even, but without too much fruit unfortunately.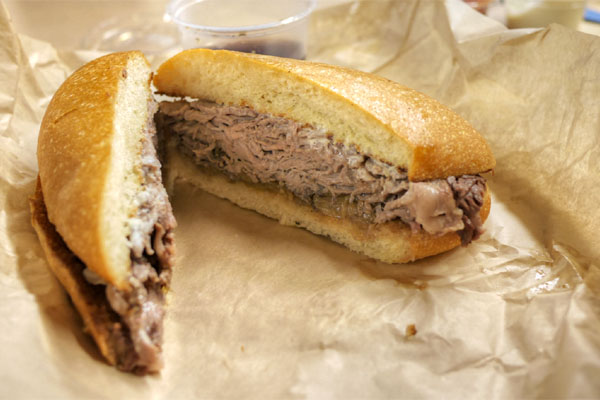 Prime Ribeye Dip [$12.00]
| French Roll, Caramelized Onion, Horseradish, Au Jus
The prime rib was to my liking, with the thinly-sliced meat coming out supple and savory, its beefiness superbly accented by the pungency of horseradish. I didn't even need the au jus.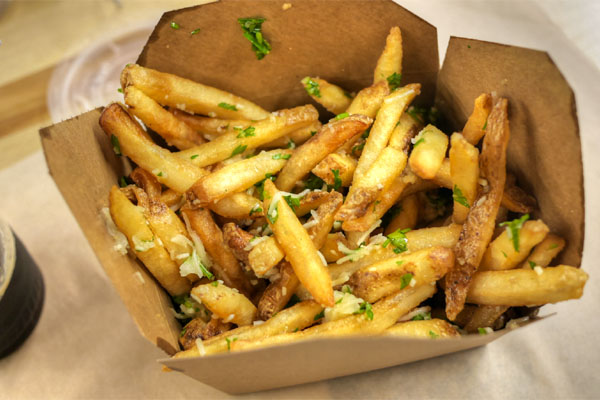 Garlic Truffle French Fries [$5.50]
Garlic fries were among the best I've had, with some great garlicky aromatics and just a whisper of truffle earthiness overarching everything.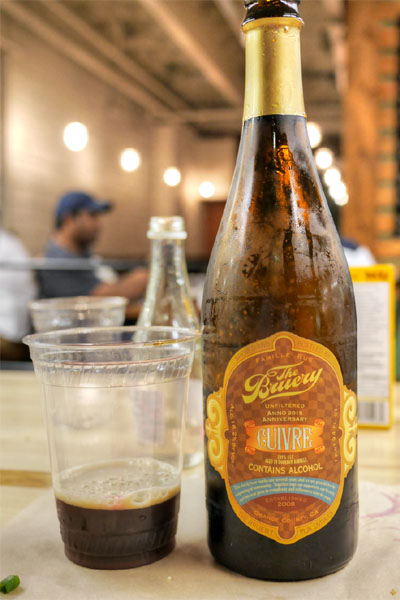 The
2015 The Bruery Cuivre
is the brewery's latest anniversary beer, marking their seventh year. An old ale aged solera-style in bourbon barrels, this was just what you'd expect from the series, a dark fruit bomb loaded with plenty of dark sugar, molasses, bourbon, and wood.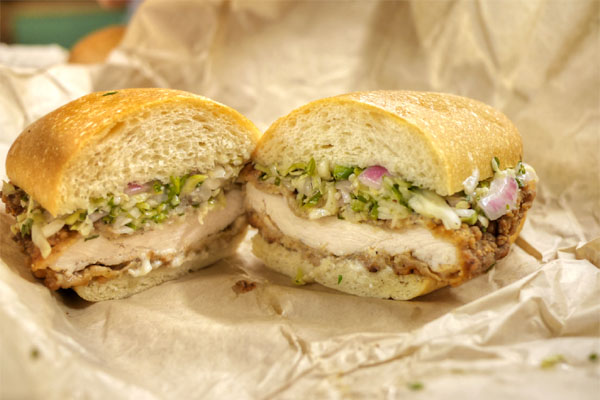 Kroft Fried Chicken [$8.50]
| French Roll, Jalapeño Slaw, Garlic Mayo
The requisite fried chicken sandwich was another winner here, the bird showing off a delightful crispness and savor while coleslaw provided a much-appreciated crunch and heat to things.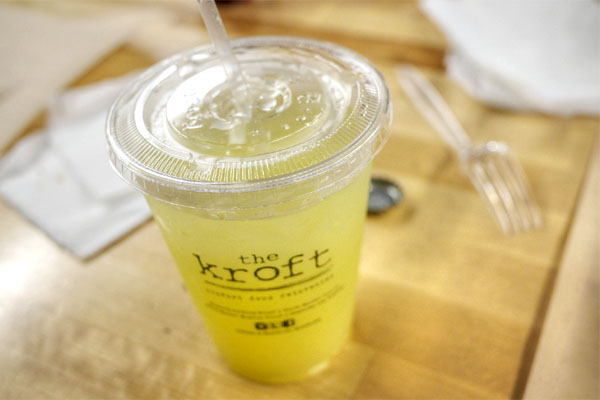 Cucumber Mint Lemonade [$3.50]
The Kroft's signature lemonade was neat, expectedly tart at first, but with the coolness of the cucumber and mint coming through toward the back end.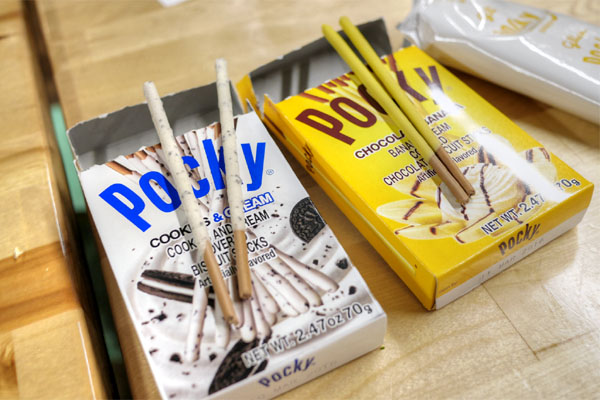 Dessert isn't really served here, so we brought our own. Up first: a duo of
Cookies & Cream Pocky
and
Chocolate Banana Pocky
, two flavors that I'd never encountered before.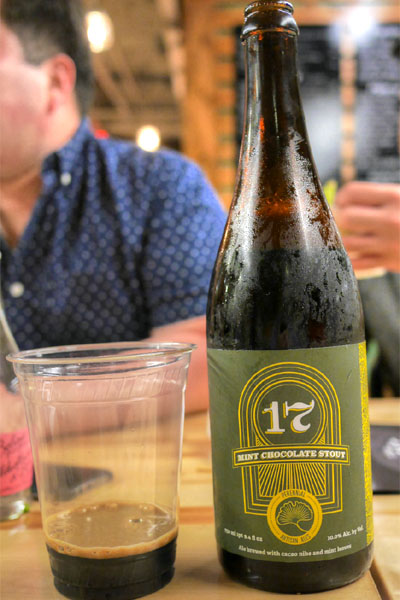 The
2015 Perennial 17
--an imperial stout brewed with chocolate malts, cacao nibs, and mint leaves--made for a fitting dessert beer. Think big, robust, yet bitter notes of chocolate, commingled with cool hints of mint.
Andes
?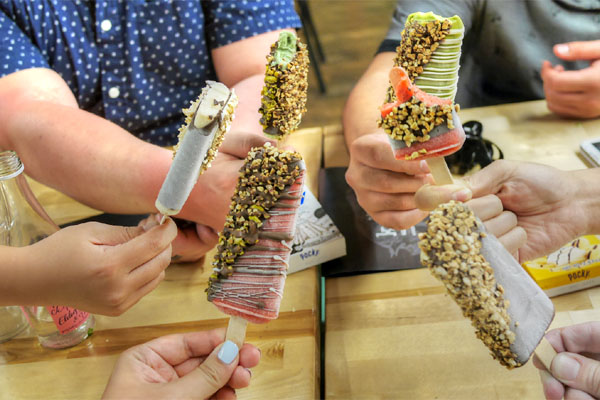 We also enjoyed build-your-own popsicles from
Popbar
.
Finally, some
Matcha Green Tea Oreo Soft Cookies
from Japan. I never even knew Oreos came in soft form.
I think we were all pretty happy with The Kroft. The cooking's basically comfort food at its core, but with enough done to it to make things just interesting enough. Given the success of the place, I'm not surprised that they're looking to expand. Union Market in Tustin is next, and apparently there are plans for Union Market Mission Viejo and Downtown LA as well.