La Super-Rica Taqueria (Santa Barbara, CA)
La Super-Rica Taqueria
622 N Milpas St, Santa Barbara, CA 93103
805.963.4940
Sat 10/24/2015, 11:30a-12:55p

A quick day trip up to Firestone Walker Barrelworks meant passing through Santa Barbara, and passing through Santa Barbara meant a stop at the iconic La Super Rica, perhaps the Southland's most vaunted taco joint. The place is the work of owner Isidoro Gonzalez, a former college Spanish teacher who opened the family-run shop in May 1980. He was reportedly inspired by the
tacos al carbon
he had in Mexico City, sort of a new-ish concept in the States at the time, and supposedly the restaurant really took off in 1985 when Julia Child proclaimed it a favorite of hers on
Good Morning America
.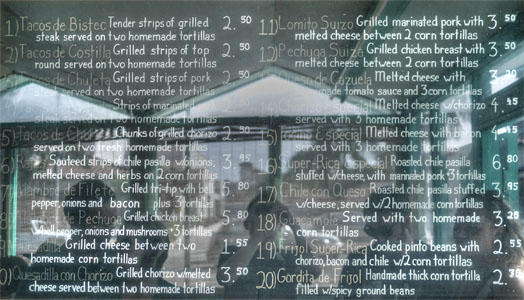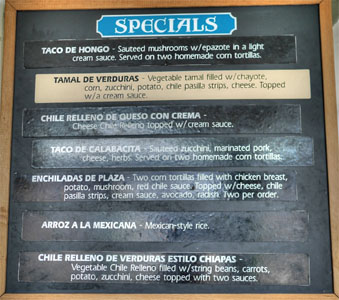 La Super-Rica's menu was lengthier than expected, comprising mostly non-taco items joined by a rotating board of specials. Prices were also much more reasonable than I thought they'd be, and it turns out they haven't crept up much at all in 20 years. Click for larger versions.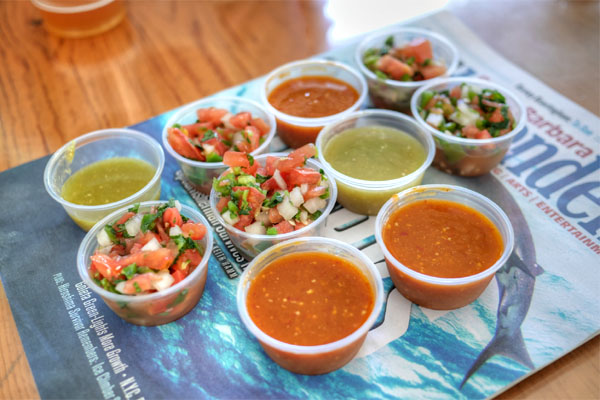 Salsa options included your typical
pico de gallo
, a spicy-smoky
roja
, and a surprisingly floral
verde
.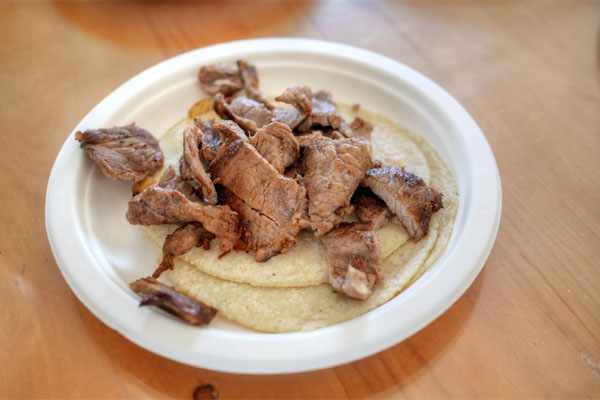 Tacos de Bistec [$2.50]
| Tender strips of grilled steak served on two homemade tortillas
We had to begin with your typical carne asada taco. Decent flavor and char to the meat, but I also found it tough and on the dry side. Not a promising start.
The food just screams for BYOB, so we obliged, starting with the
2015 Bruery Terreux Imperial Cabinet
, an oak-aged sour ale brewed with lemon, lime, orange, botanicals, and sweeteners, inspired by the Ramos gin fizz cocktail and created in collaboration with Jester King. I got a lot of sweet and sour, both in terms of smell and taste, overarched by notes of floral vanilla, with more spicy/herbal nuances coming through on the palate. It sort of reminded me of a more complex version of the brewery's limoncello-inspired
Sourrento
.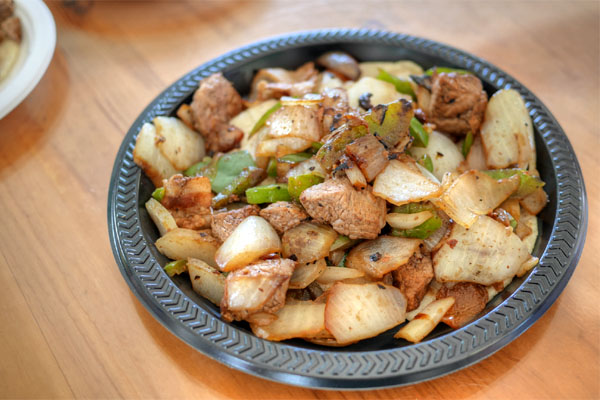 Alambre de Filete [$5.80]
| Grilled tri-tip with bell pepper, onions and bacon plus 3 tortillas
One of more satisfying dishes of the day. The tri-tip came out surprisingly tender, with a smidge of char, and definitely worked alongside the onions and peppers.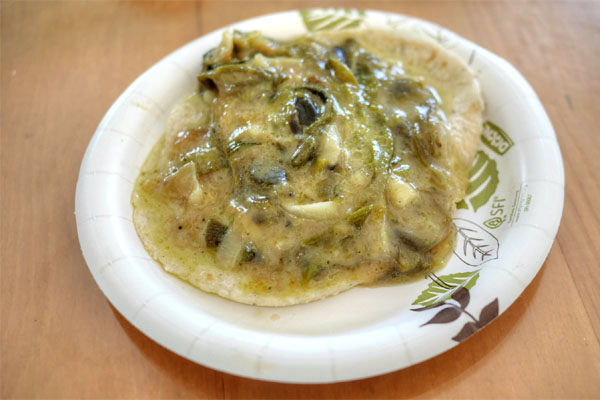 Rajas [$3.95]
| Sauteed strips of chile pasilla w/ onions, melted cheese and herbs on 2 corn tortillas
A take on
rajas con crema
looked a mess but functioned reasonably well, the zing from the peppers cut by that runny cheese.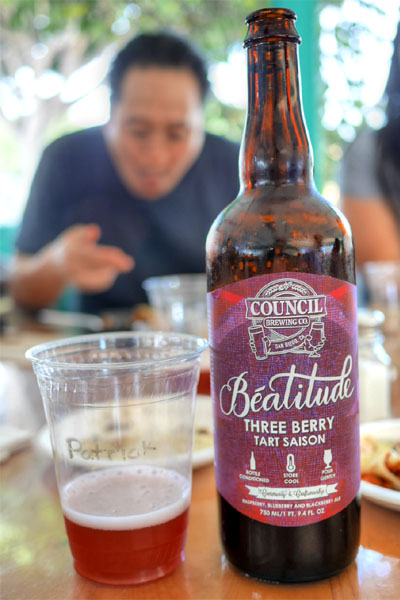 The
2015 Council Beatitude Three Berry Tart Saison
was utterly quaffable with its bright, tangy, refreshing fruit (raspberry, blueberry, blackberry) flavors.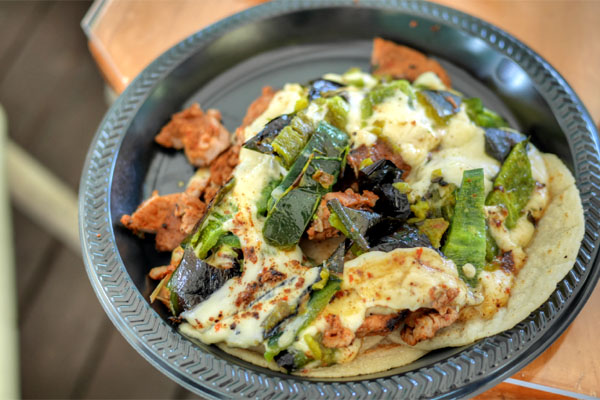 Super-Rica Especial [$6.80]
| Roasted chile pasilla stuffed w/ cheese, with marinated pork +3 tortillas
One of the standouts was this disheveled looking plate, which had your classic meat 'n' cheese goodness balanced out by the presence of those chilies.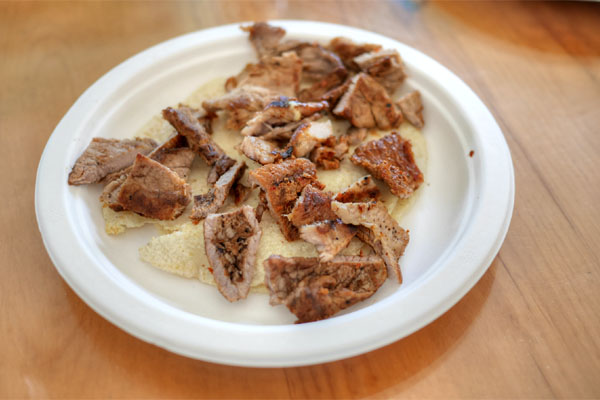 Tacos de Chuleta [$2.50]
| Grilled strips of pork steak served on two homemade tortillas
The pork chop taco was more successful than its bovine brethren, arriving more tender, more flavorful, but still not great.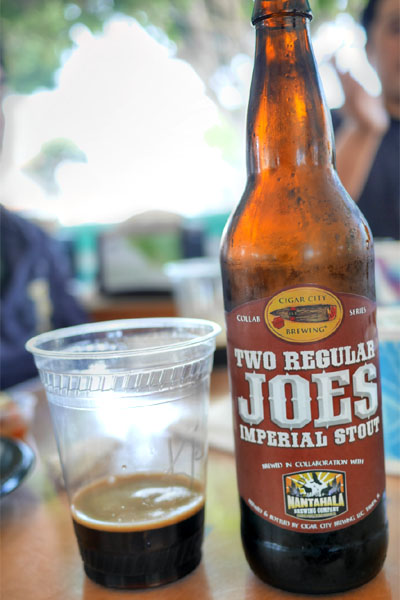 Next to drink was the
2015 Cigar City Two Regular Joes
, another limited release from CC created in collabo with Nantahala Brewing Company out of North Carolina. It had a pretty prototypical stout-y nose of rich malt and molasses with some spicing, while the taste went tangy, with loads of cocoa powder and a trace of nuttiness.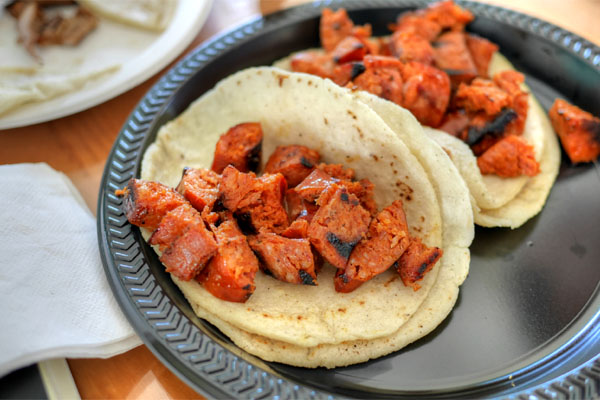 Tacos de Chorizo [$2.50]
| Chunks of grilled chorizo served on two fresh homemade tortillas
The chorizo was nice: spicy, fatty, flavorful, and not screaming for a thorough dousing of salsa in order to make it more palatable.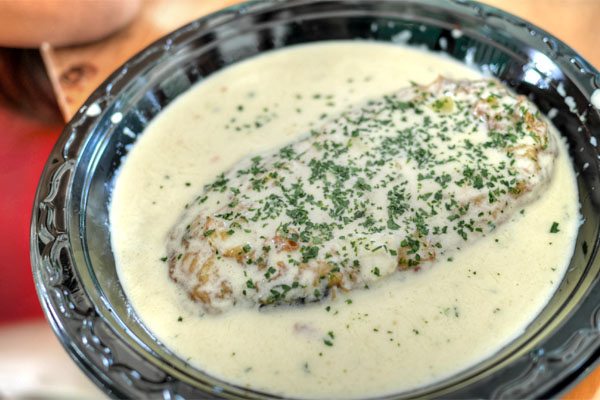 Chile Relleno de Queso con Crema
| Cheese Chile Relleno topped w/ cream sauce.
The
chile relleno
was a bit flat though, both in terms of appearance and taste. Not too much going on here.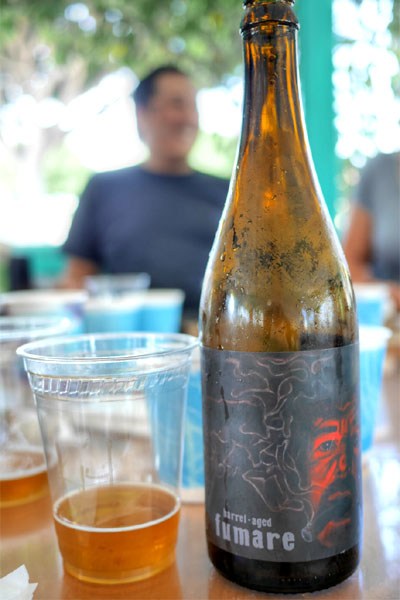 The
2015 Sante Adairius Barrel-Aged Fumare
was a "historical saison" made using smoked malt. It definitely tasted the part, with a nose of apple-tinged smoke leading to a palate of more smoke, commingled with funky blue cheese notes, spice, and an underlying fruitiness.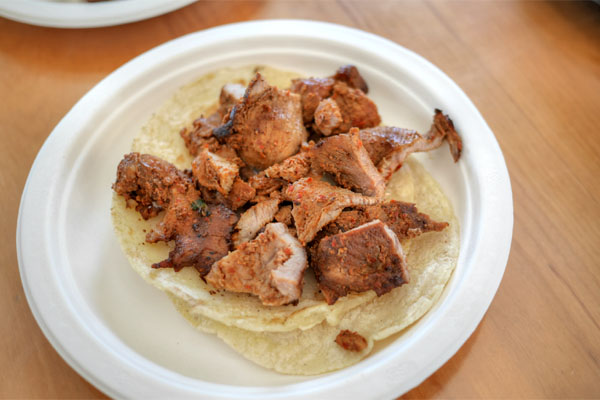 Tacos de Adobado [$2.50]
| Strips of marinated pork steak served on two homemade tortillas
The adobado was my favorite of the tacos--the most tender and the most flavorful, with a nice touch of heat.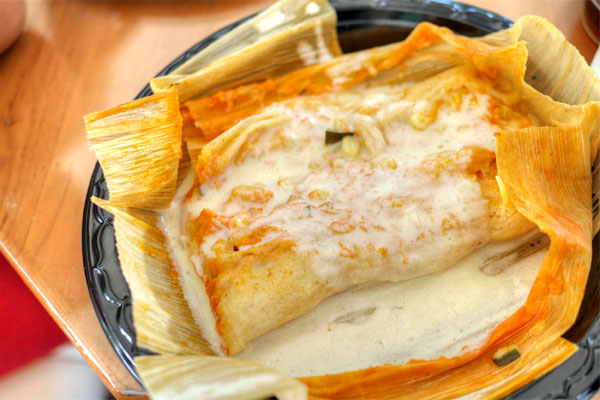 Tamal de Verduras
| Vegetable tamal filled w/ chayote, corn, zucchini, potato, chile pasilla strips, cheese. Topped w/ a cream sauce.
The
tamal
was about what you'd expect, the relative lightness of the veggies going up against the sheer creaminess and cheesiness of it all.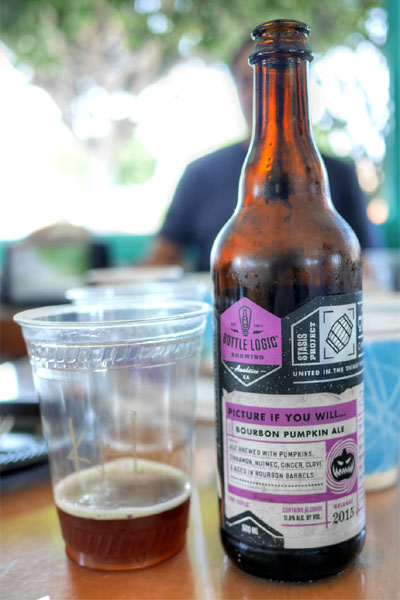 Our final beer was the highly-anticipated
2015 Bottle Logic Picture If You Will
, brewed with pumpkins, cinnamon, nutmeg, ginger, allspice, and clove, then aged in Buffalo Trace bourbon barrels for six months. It was one of the better pumpkin beers I've had for sure, and very apropos for the season. Smooth aromas of sweet, autumnal spice; taste conveyed loads more sharp, sweet pumpkin pie and baking spices, with some oak peeking through.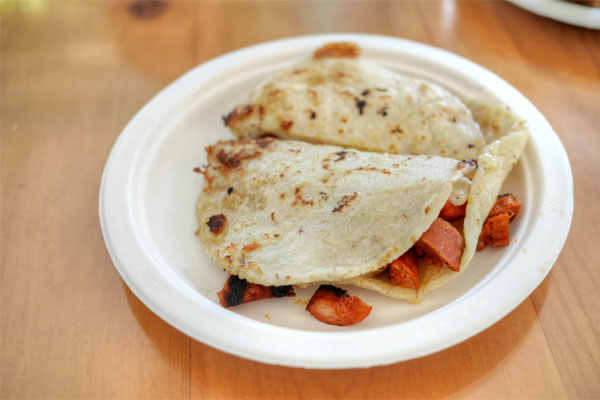 Quesadilla con Chorizo [$3.50]
| Grilled chorizo w/ melted cheese served between two homemade tortillas
You generally can't go wrong with a combination of chorizo and cheese, and La Super-Rica certainly didn't. One of my favorites for sure.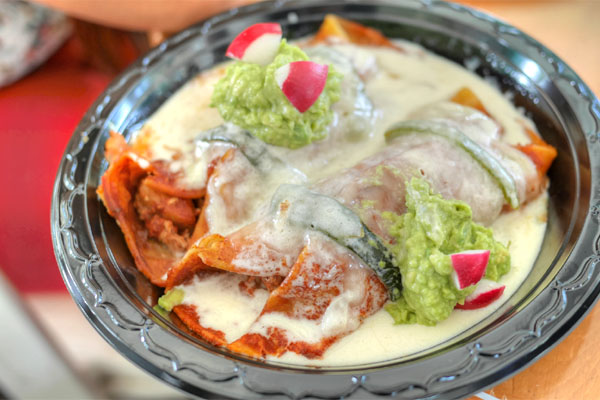 Enchiladas de Plaza
| Two corn tortillas filled with chicken breast, potato, mushroom, red chile sauce. Topped w/ cheese, chile pasilla strips, cream sauce, avocado, radish. Two per order.
We ended on a high note. Enchiladas were properly meaty, hearty, but also balanced by the various veggies on the plate while the cream sauce held it all together.
I don't get the hype surrounding Super-Rica. The food was reasonably good (especially the homemade tortillas), but not worthy of all the acclaim that the place has garnered. In terms of recent meals, I experienced considerably better cooking at Lakewood's
Adobo Taco Grill
, and that's just a random, no-name spot in the suburbs. Perhaps Julia just didn't have many other choices for Mexican back in the day.
---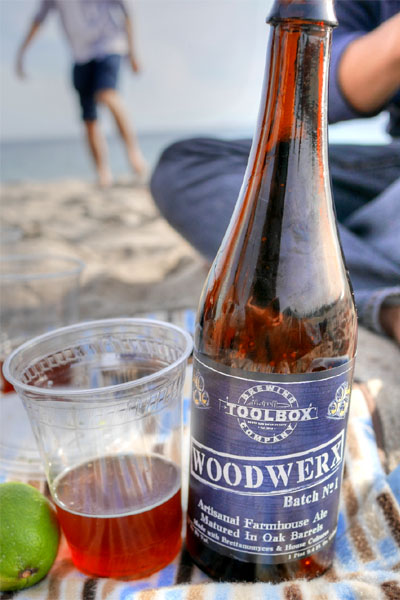 Later, we headed to the beach for a bit and finished off our remaining bottles. First was the
2015 Toolbox WoodwerX
, a wild amber farmhouse ale with Brett, aged in American and French oak red wine barrels. Early reports were quite negative for this beer, but I enjoyed it. Think tart and earthy, with a distinct wood component to it.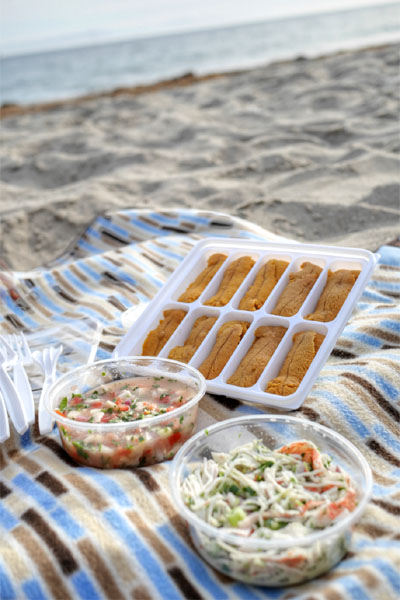 We also picked up some snacks from the beach-adjacent Santa Barbara Fish Market. The Santa Barbara Ceviche was on point, and the Crab Salad was serviceable as well. The Uni Tray, however, fell short. It was nice to look at, but the actual roe was on the muddy, not-exactly-fresh side. I could only down one piece, with the rest ending up in somebody else's uni pasta.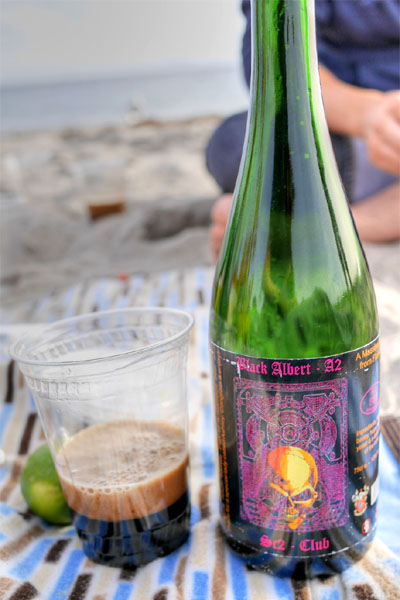 The heftiest beer of the day came in the form of the
De Struise Black Albert A2 SC2 Club
, an imperial stout fermented on peaches, then aged in Anguilla rum barrels. I got a smooth presentation of roast and malt, underscored by barrel character with just a hint of stone fruit layered on top--quite good. Interestingly, the beer was re-released in 2013 as Black Damnation XII - Nuptiale A2 for the wedding of an Ashley and a Trey, and fittingly, there's also a "T2" variant with black currants and Port barrels.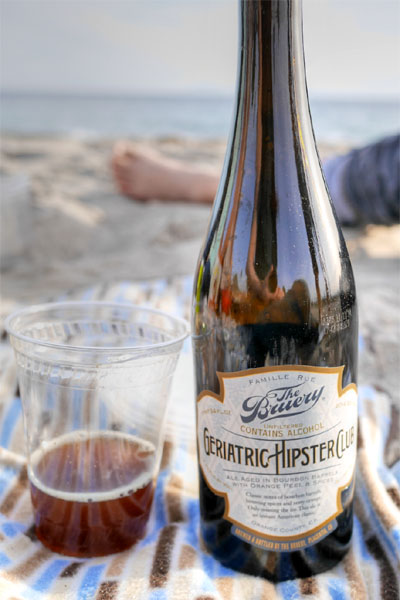 Closing it down was the Hoarders-only, Old Fashioned cocktail-inspired
2014 The Bruery Geriatric Hipster Club
, a strong ale aged in oak bourbon barrels with orange peel and housemade bitters. I really liked this a lot more than I thought I would. It smelled of sweet, rich malt intertwined with citrus. The taste, meanwhile, went boozy, bourbon-y, with lots of bittersweet spice and zesty orange layered on top. Much easier-drinking than anticipated.