Garlic & Chives (Garden Grove, CA)
Garlic and Chives by Kristin Restaurant
9892 Westminster Ave, Garden Grove, CA 92844
714.591.5196
Tue 10/06/2015, 08:10p-11:00p

Garlic & Chives just might be the most hyped Little Saigon opening since
Brodard
. The place debuted in December last year, and is the work of Chef Kristin Nguyen, who also owns the longstanding
Binh Dan
, a seven courses of goat (
de 7 mon
) specialist that's been in operation since at least 1994. That linkage isn't advertised necessarily, but can be inferred from G&C's Vietnamese name:
Nha Hang Binh Dan 2
. Unlike the first restaurant, which is the definition of O.G., the cooking here's decidedly more fusion-y, and from what I understand, Nguyen actually took classes at the OC outpost of The Art Institute prior to opening the place.

The restaurant occupies the former home of Lua Bistrot in the Mall of Fortune, the same strip mall that houses the aforementioned
Brodard
. The space has been redone in warmer tones, and is no doubt one of the more upscale dining rooms in the area.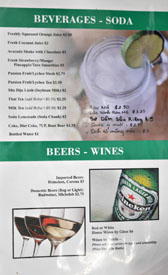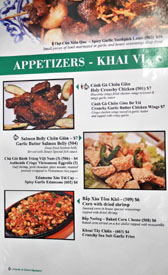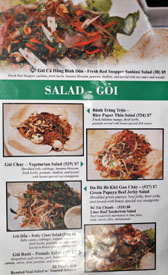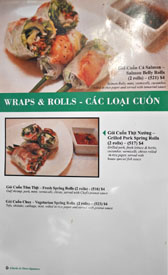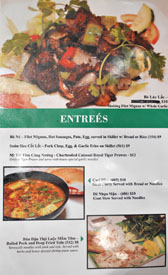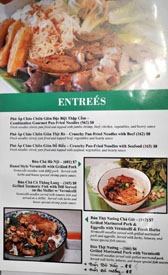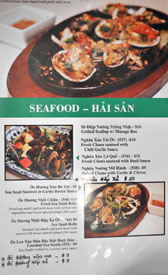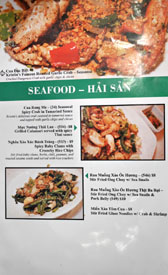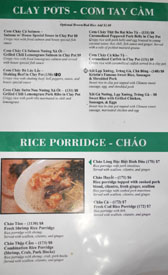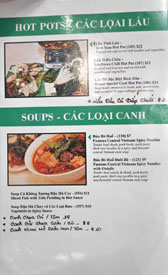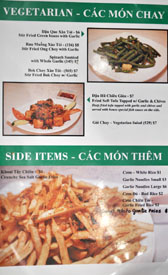 As for Garlic & Chives' menu, it's small-plates-ish, featuring familiar-sounding, yet possibly rejiggered Vietnamese classics as well as quite a few dishes coming out of left field. In addition to the menu pictured above, there's also a
list of specials
worth considering. Click for larger versions.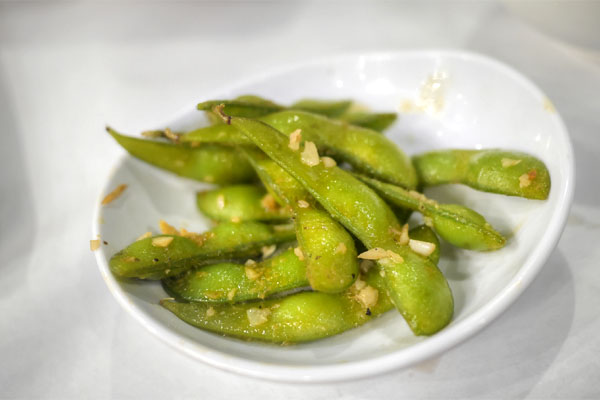 Complementary edamame were tarted up by a liberal but effective application of garlic.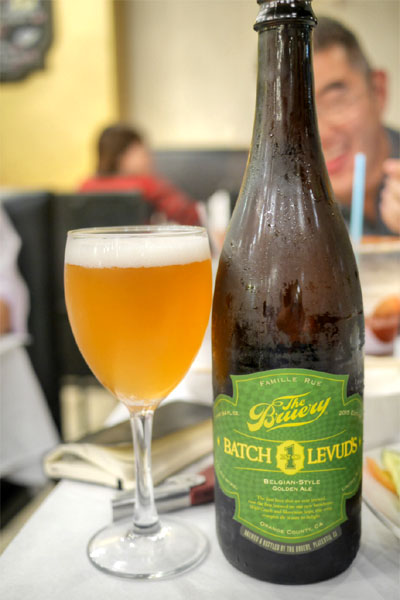 Corkage was advertised at $10 a bottle (though we were only charged for two), so we ended up BYOB-ing naturally. The
2015 The Bruery Levud's
was a Belgian-style golden that was a redux of the first beer ever made at the brewery back in '08. It was a light, refreshing ale, with a nose of sweet malt and light grain; the taste followed, with more fruity characteristics and just a smidge of spice.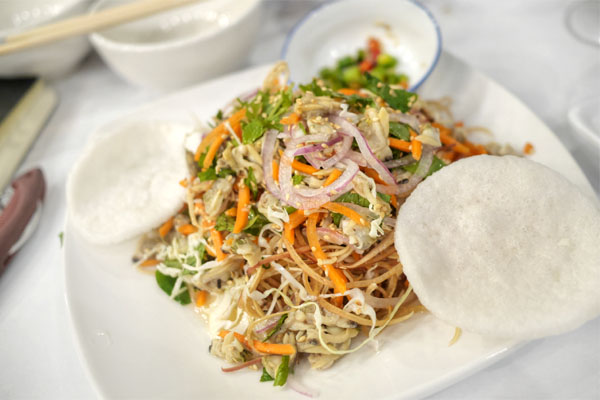 Goi Hen - Baby Clam Salad [$8.00]
| Baby clams, cabbages, banana blossom, fresh herbs, peanuts, shallots, and tossed in house special vinaigrette
I enjoyed this salad, which gave up a lovely mix of tangy, herby, nutty flavors that I found very satisfying. The clams almost weren't needed, and functioned as more of a textural element.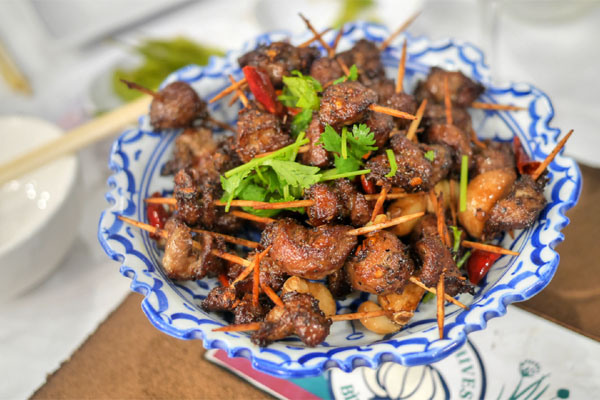 Thit Cuu Xien Que - Spicy Garlic Toothpick Lamb [$10.00]
| Small pieces of lamb marinated in garlic and house seasonings deep fried
We had to try G&C's take on the Sichuan dish of the moment, made popular at the likes of Chengdu Taste and Szechuan Impression. I actually haven't tried those versions, but the one here seemed like a reasonable approximation. I found the meat slightly gamy, but well-tempered by all the garlic, with a nice char going on. Texturally though, the meat could've been more tender.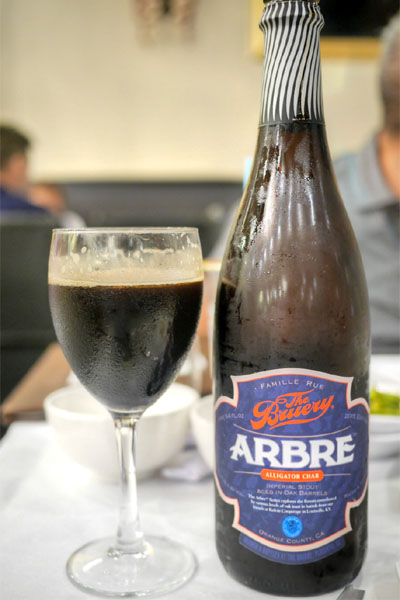 Next came the
2015 The Bruery Arbre Alligator Char
, an imperial stout aged in oak that was the final in a three-part series that explored the effects of barrel char on a beer (I'd tasted the first two at
Gwang Yang
and
La Tostaderia
). This most heavily charred version was my favorite of the trio, no question: aromas of sweet, woody spice; tastes of huge, chocolate-y malt, with lots of oak, vanilla, and brown sugar, the finish coming through with nuances of anise.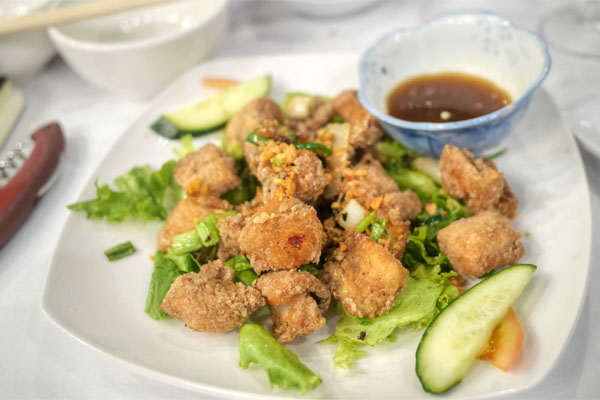 Salmon Belly Chien Gion - Garlic Butter Salmon Belly [$7.00]
| Deep fried Salmon belly. Served with House Special fish sauce.
By this point, the salmon's pretty much Garlic & Chives' signature dish, and it was exactly as you'd imagine--crisp little morsels that were super briny and unabashedly fatty, offset by the tartness of the accompanying fish sauce.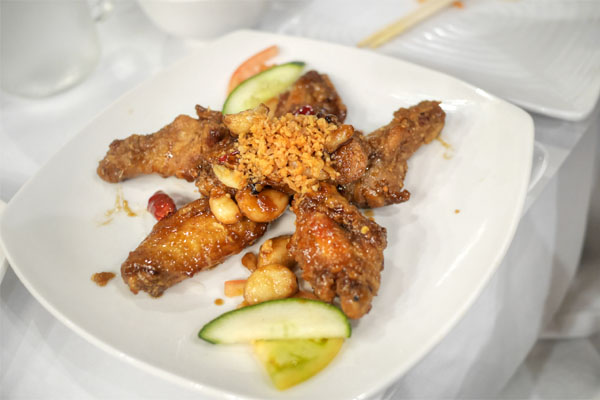 Canh Ga Chien Gion - Holy Crunchy Chicken [$7.00]
| Heavenly crispy fried chicken wings w/sweet & tangy garlic sauce
Wings and drumsticks were wonderfully crunchy, and imbued with a lovely touch of sweet, garlic-laced savor. Yum.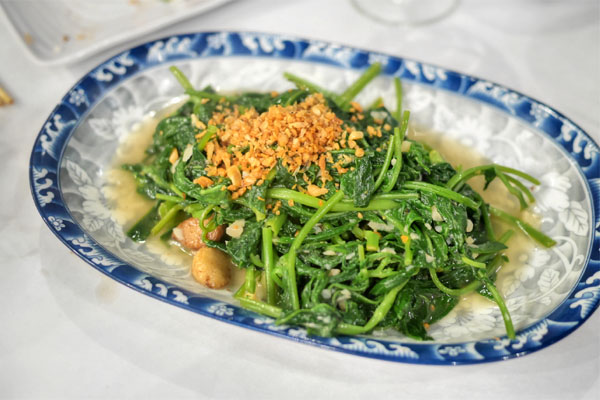 Rau Muong Xao Toi - Stir Fried Ong Choy with Garlic [$8.00]
Ong choy delivered, coming out delightfully bitter and loaded with garlicky goodness. Next time I'd be curious to try the kitchen's take on bok choy or spinach prepared in the same manner.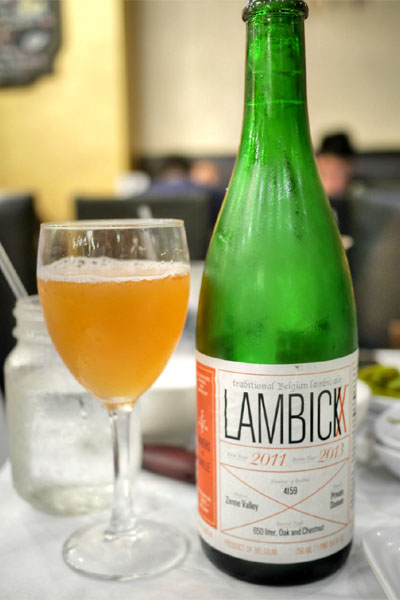 Moving to a sour now, here was the
2011 Vanberg & DeWulf Lambickx
, a blend of Zenne Valley lambics from 2011, aged in oak and chestnut, and bottled in 2013. I really liked this one, getting lots of funk and fruit in the aroma, while taste-wise, there was more sourness as well as a savory, almost nutty quality.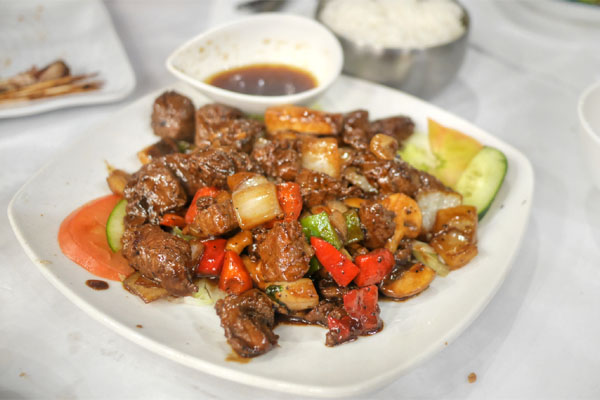 Bo Luc Lac - Shaking Filet Mignon w/ Whole Garlic [$10.00]
The ubiquitous dish of shaking beef was better than most, arriving appropriately tender, deeply flavored, and with some great garlic overtones to boot. You probably want to get this.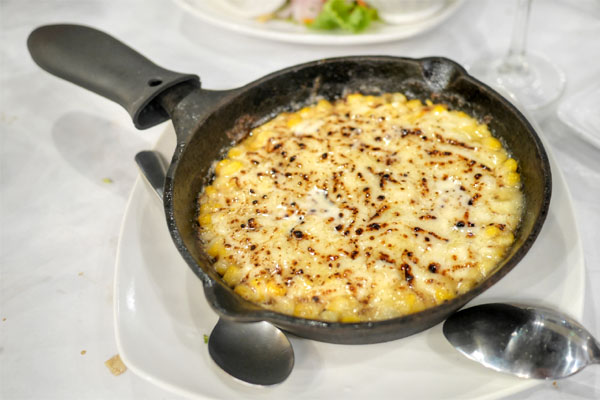 Bap Nuong - Baked Corn Cheese [$6.00]
| Baked corn served on a hot skillet topped with mozzarella
Next was a dish that you probably first encountered at a KBBQ place like
Kang Hodong Baekjeong
. G&C's take on corn cheese stayed true to form, a sweet, creamy example with a nice touch of charring up top.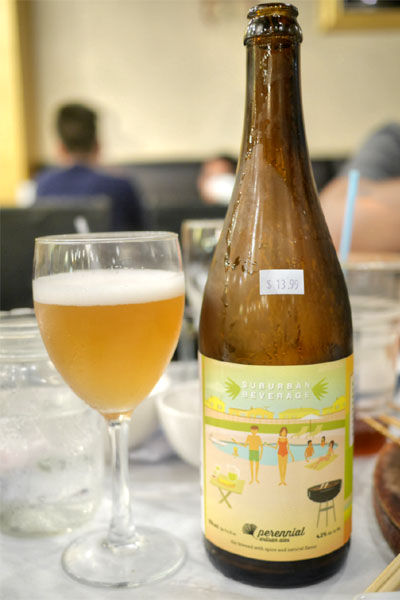 Sticking with the sours, the
2015 Perennial Suburban Beverage
was a gose-style ale brewed with salt, orange peel, lemon peel, and key lime juice. I found it a very apropos beverage given the smoldering weather, its tart, fruity flavors and slight cinnamon-y spice underpinned by just the right amount of saltiness.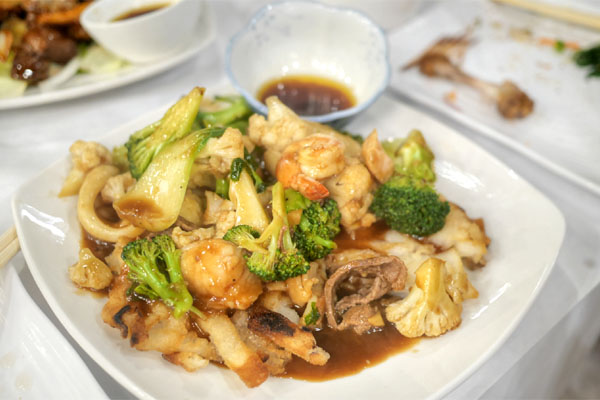 Pho Ap Chao Chien Gion Dac Biet Thap Cam - Combination Gourmet Pan-Fried Noodles [$8.00]
| Fresh noodles slowly pan fried and topped with jumbo shrimp, beef, chicken, vegetables, and hearty sauce
The noodles were a surprise hit. Big fan of the rich, savory, classically-leaning gravy here, but the key were those rice noodles, thick, substantial examples that showed off a perfect amount of crunchiness. This came recommended by our server, and she was right on.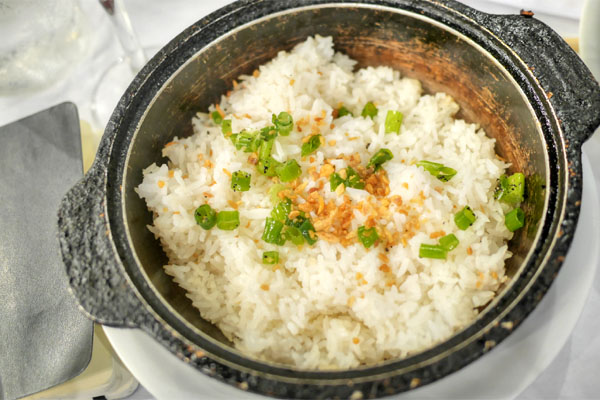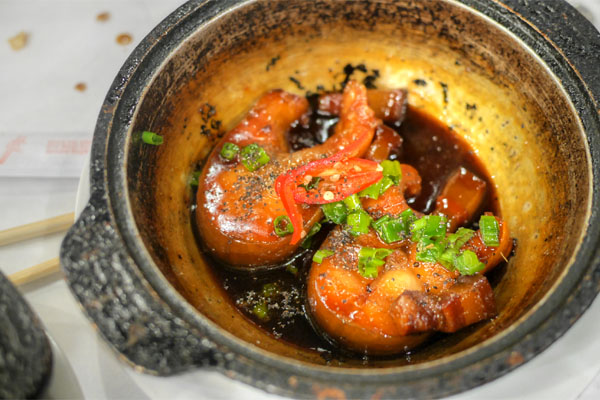 Com Chay Ca Kho To - Caramelized Catfish in Clay Pot [$9.00]
| Crispy rice with caramelized catfish served in a clay pot.
The restaurant's somewhat known for its crispy rice (
com chay
), which develops via contact with its clay pot vessel, much in the same manner one makes
nurungji
. Texturally, I found it very gratifying, though in terms of taste it really did call for a generous helping of
ca kho to
to go along (the fish was too sugary taken alone).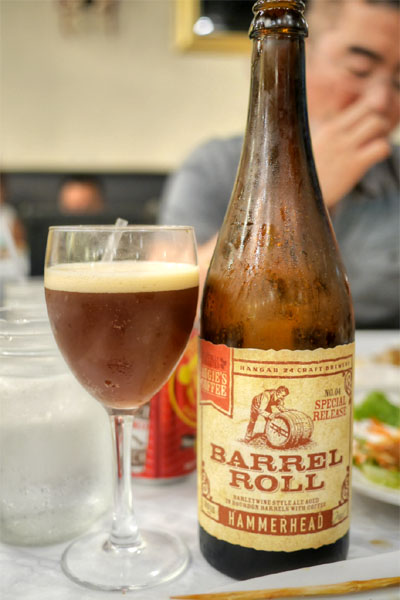 Our last bottle was the
2015 Hangar 24 Barrel Roll No. 4 Hammerhead - Augie's Coffee Edition
, a limited release barleywine with Guatemalan coffee that was aged six months in oak bourbon barrels. The addition of the beans gave the beer an overarching coffee character that made sense with the inherent sweet, malty, boozy, slightly spicy flavors at play.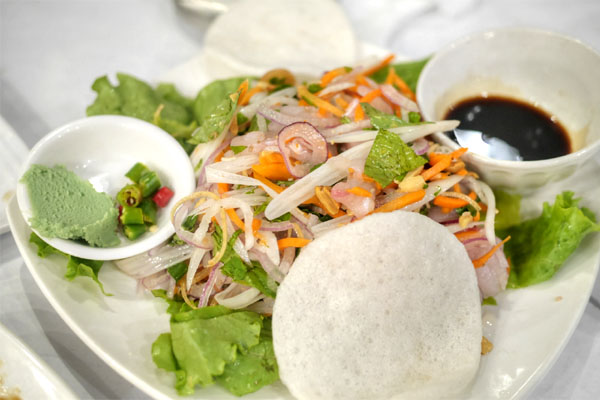 Goi Ca Hong Binh Dan - Fresh Red Snapper Sashimi Salad [$9.00]
| Fresh Red Snapper sashimi, fresh herbs, banana blossom, peanuts, shallots, and served with soy sauce and wasabi.
Our second salad was pretty close to the first, with a similar flavor profile of tangy, acidic, minty, and nutty over a base of delicate snapper.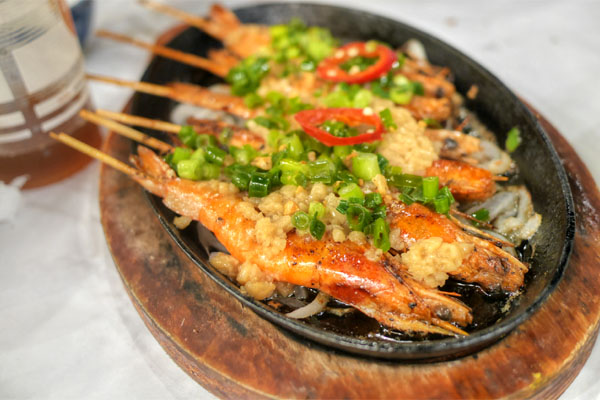 Tom Xien Nuong [$10.00]
Tom
came out nicely textured and properly briny, the spicy, garlicky flavors present enhancing but not dominating the shrimp.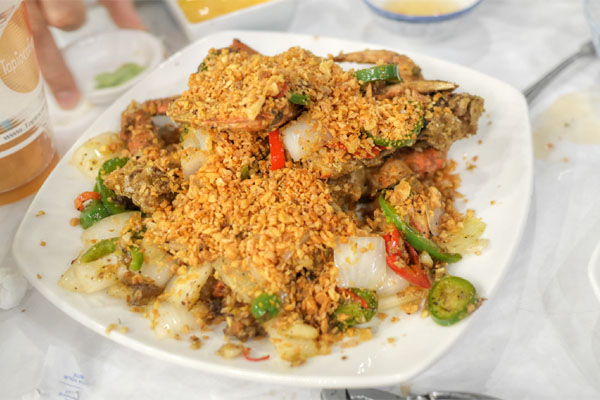 Cua Dac Biet - Kristin's Famous Roasted Garlic Crab (Half) [$21.00]
| Cracked Dungeness Crab with garlic chips & chives
Last was Nguyen's signature fried crab, a riff on your typical Asian preparation. I found the meat tender, sweet, with a piercing ocean-y quality to it. Again, the application of garlic was liberal, but never seemed distracting.
This was a welcomed change of scenery from what you typically find in Little Saigon. Nguyen's cooking certainly reads Vietnamese at its core, but there were definitely some unexpected flourishes and influences that made the food more interesting, more ambitious. I'd perhaps like to see the menu pared down a bit, so that the kitchen can focus on the restaurant's strongest offerings, but overall G&C's a worthwhile addition to the area.