Forma (Santa Monica, CA)
Forma Restaurant & Cheese Bar
1610 Montana Ave, Santa Monica, CA 90403
424.231.2868
www.formarestaurant.com
Tue 09/29/2015, 08:00p-11:05p

Having opened its doors at the end of May, Forma's the latest place to debut on this oft-ignored stretch of Montana. Named after the Northern Italian word
formaggio
, the restaurant aims to present Cal-Italian fare with an emphasis on the incorporation of cheese. In particular, the place is known for its pastas served
dalla forma
, in which cooked pasta is finished in large wheels of cheese prior to serving. It's the work of three partners: General Manager Mario Sabatini (of Pecorino in Brentwood, where brother Raffaele is chef), Rob Donnell (founder of branded entertainment firm Brand Arc), and Executive Chef Piero Topputo.
About the Chef
: Topputo grew up in the Southern Italian town of Gravina in Puglia, the youngest of five children. His mother taught him cooking starting from a young age, and after high school, he enrolled in culinary school in the city of Matera. He stayed there for five years, working summers in kitchens in Florence, Hidalgo, and Rimini. After finishing, Topputo cooked his way through Italy and England, then relocated to the United States in 1991, landing in Los Angeles. Here, he found a job as a cook at Oli Ola in Pacific Palisades, which had opened earlier that year.
He later helped open sister restaurant Terraza Toscana in the latter half of 1992, and was eventually made Executive Chef at the flagship Toscana in Brentwood. It was here where he would meet Sabatini, who'd moved to the US in 1996 and started out as a bus boy there (he would later become GM). Topputo stayed for 10 years before decamping and joining Ago Sciandri (Ago, Sortino) at Beverly Hills' Caffe Roma in 2006. His next move came in 2009, when he took on the Exec Chef role at Amici Brentwood, the brainchild of Tancredi De Luca (opening maître d' at Toscana). The two also debuted Trattoria Amici at The Americana at Brand in Glendale later that year, where Topputo stayed until 2014.

Situated a stone's throw away from fellow newcomer
Ox & Son
, Forma takes over the old Jack's on Montana space, which has been redone by
Aero Collective
(
Broken Spanish
,
B.S. Taqueria
).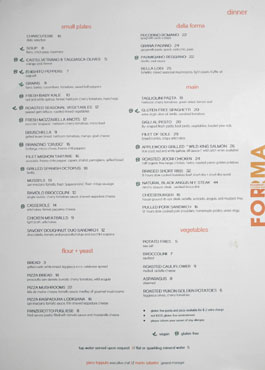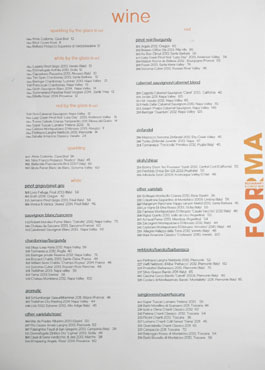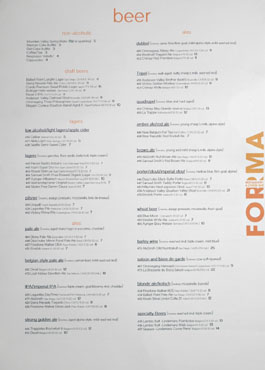 Forma's menu reads wide-ranging and
formaggio
-centric, with a bit of a Californian slant, and is joined by an extensive cheese list. Lunch and brunch are also options. In terms of drinking, you get an Italian- and NorCal-focused wine list as well as a surprisingly lengthy array of beers. Click for larger versions.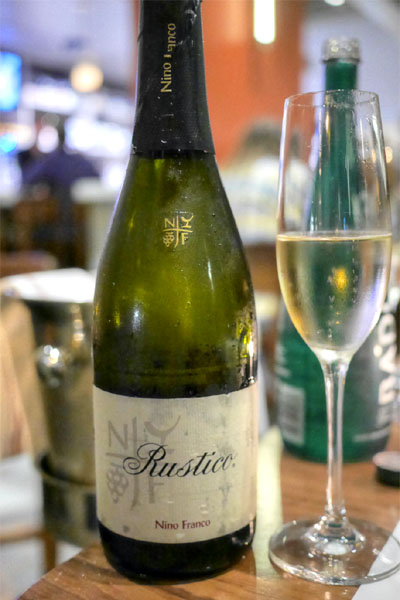 Wine seemed like the appropriate beverage choice for the meal, so we opted to begin with something bubbly, the
Nino Franco Prosecco 'Rustico' (Italy) [$45]
. I found it an easy-drinking sparkler, lightly sweet with a nice stone fruit and citrus character, all balanced by an offsetting acidity.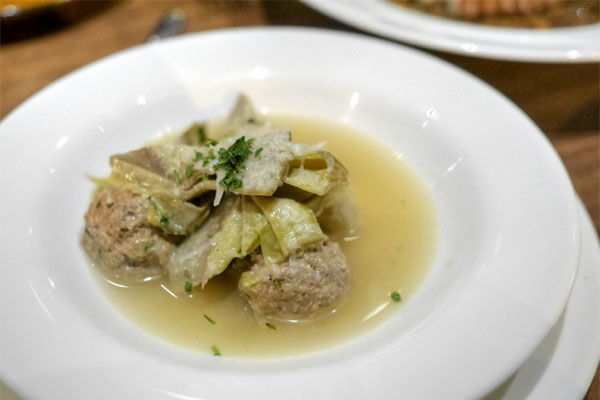 Chicken Meatballs [$9.00]
| light broth, artichokes
I'm a sucker for meatballs, and Forma's were very homey, arriving lightly-flavored with a pronounced vegetal note from the artichoke.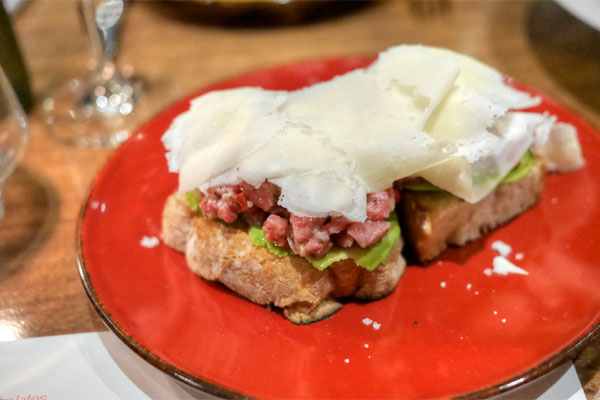 Filet Mignon Tartare [$16.00]
| avocado, fresno chile pepper, capers, shallot, parmigiano, grilled bread
The tartar was one of our favorites. Good interaction between the beef and the creaminess of avocado, with the cheese adding a salty accent to things.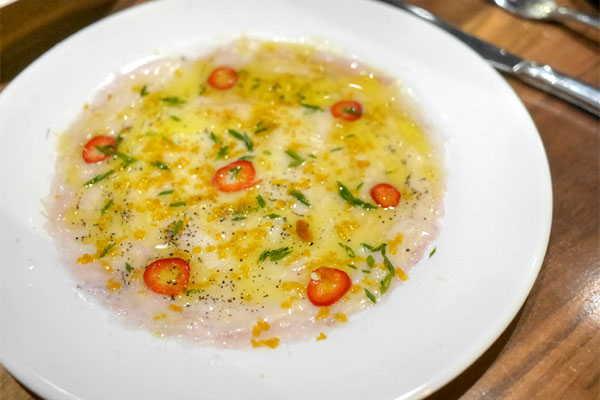 Branzino 'Crudo' [$16.00]
| bottarga, micro chives, fresno chili peppers
Branzino was augmented by the potency of olive oil, though the dish was kept light and bright by the overarching herby notes present. Lovely bit of lingering heat on the finish.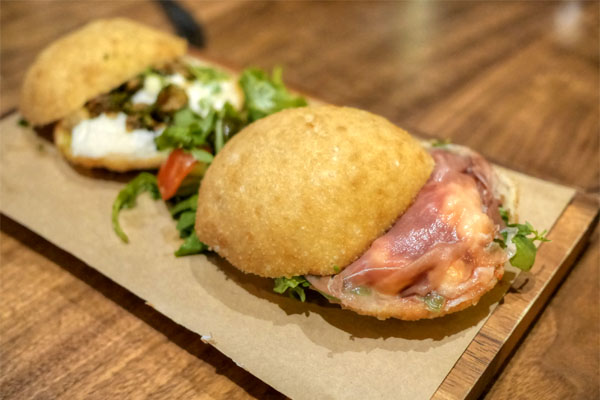 Savory Doughnut Duo Sandwich [$12.00]
| stracciatella, tomato and prosciutto/nduja and zucchini scapece
Next came a duet of donut-y sandwiches. Starting in the back, the combo of 'nduja and zucchini made for a smoky flavor profile that was matched by the lushness of stracciatella. Meanwhile, the tomato-prosciutto resulted in a sweet-salty interplay that, again, contrasted the creamy cheese. I rather enjoyed the texture on the donuts as well.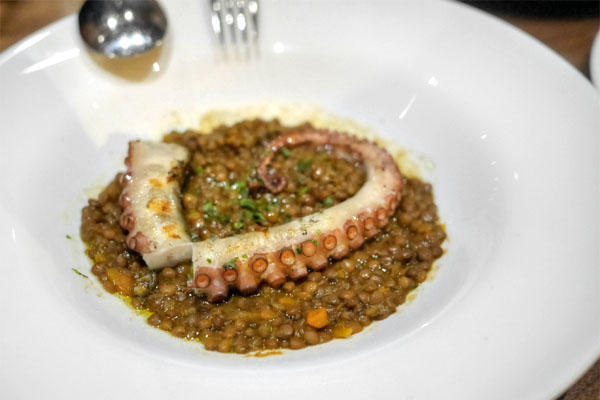 Grilled Spanish Octopus [$18.00]
| lentils
Octo was super tender, with a delicate brine to it that definitely made sense with the nutty lentils. I really wanted more char, more bite however.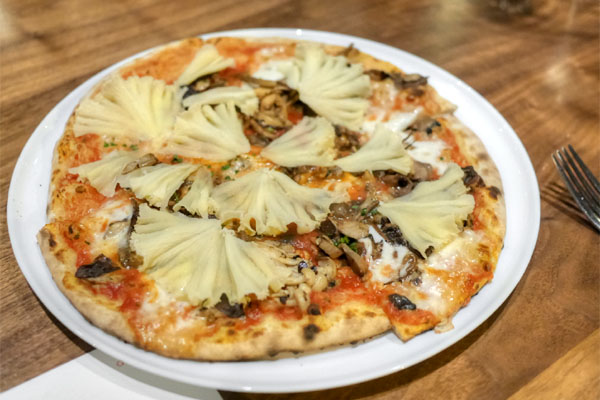 Pizza Mushrooms [$22.00]
| tete de moine cheese, tomato sauce, medley of gourmet mushrooms
A mushroom pizza was tasty, the back-and-forth between the cheese and
funghi
working out swimmingly. At the same time, the crust went thin, crisp, bitter--very fitting given the application.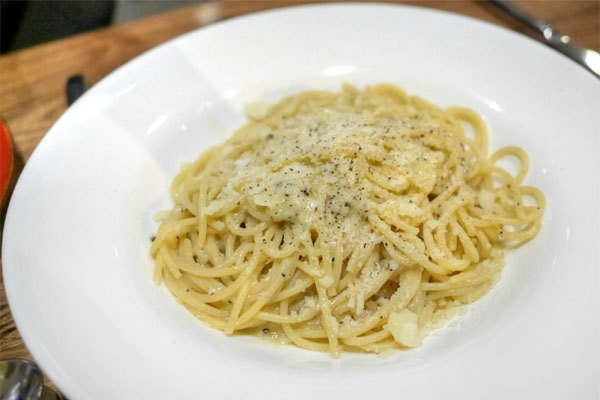 Pecorino Romano [$22.00]
| spaghetti cacio e pepe
At this point, we moved into the
dalla forma
pastas. Good ol' Cacio e Pepe hit the mark for the most part, with the al dente spaghetti enrobed by gratifying amounts of cheese and black pepper.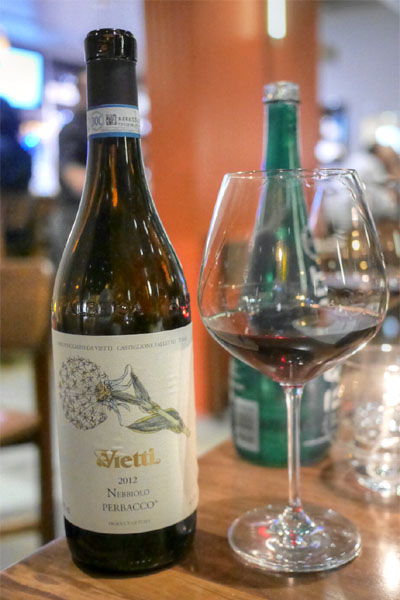 Red wine duties were taken care of by the
Vietti Nebbiolo d'Alba 'Perbacco' 2012, Piemonte (Italy) [$60]
. Think boozy, dark, and tart red fruit on the nose. Taste veered tannic, a bit herby too, with licorice bringing up the rear.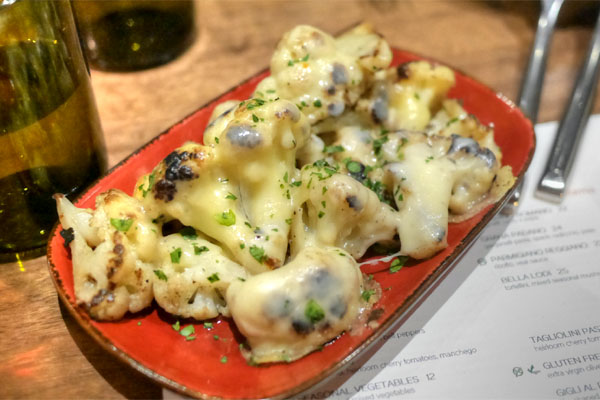 Roasted Cauliflower [$9.00]
| melted raclette cheese
Cauliflower wasn't lacking in the cheesiness department, though it definitely could've used more char, more crust.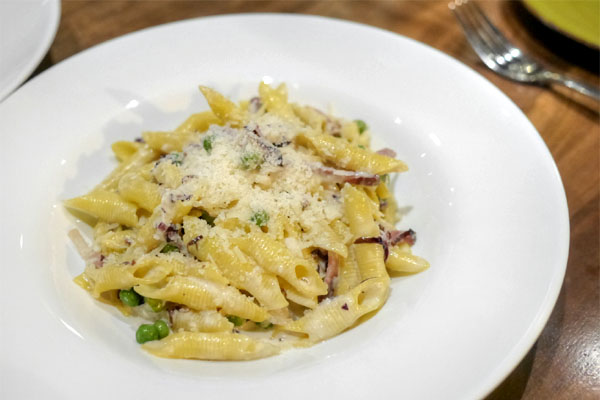 Grana Padano [$24.00]
| garganelli pasta, speck, radicchio, peas
The garganelli was firmer than I'd like, though I wasn't too concerned. You got a salty-sweet thing going on between the ham and the peas, while the radicchio gave the dish an undercurrent of bitterness.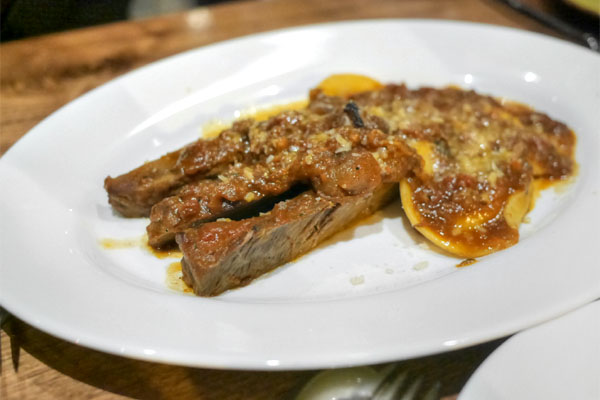 Braised Short Ribs [$32.00]
| 8 hours slow cooked boneless beef short ribs + short ribs ravioli
Short ribs were classic, arriving near-falling-apart tender and loaded with tons of dark, beefy savor. I did find them just a touch dry though, and I wasn't quite as sold on the ravioli either.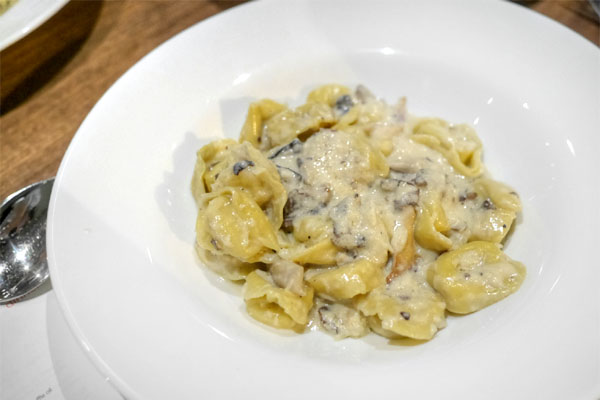 Bella Lodi [$25.00]
| tortellini, mixed seasonal mushrooms, light cream, truffle oil
The tortellini was perhaps the easiest-eating of the three pastas, creamy and earthy thanks to the mushrooms, with the truffle oil imparting even more pugency to the dish.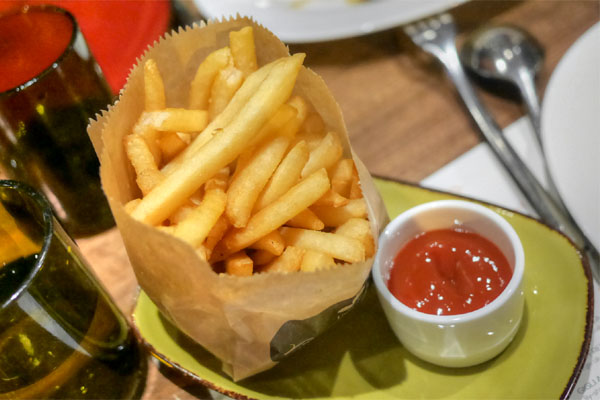 Potato Fries [$5.00]
| sea salt
Fries were quite good, almost tasting like an elevated version of what's served at McD's, interestingly enough.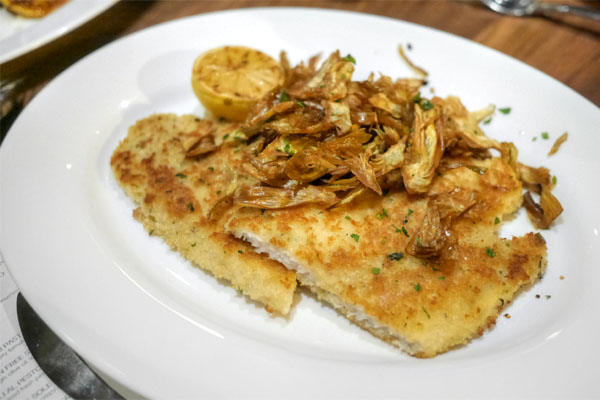 Filet of Sole [$29.00]
| breadcrumbs, crispy artichokes
We ended with my favorite course of the night and one of the best preparations of sole that I've had. I got just a really spot on mix of savory, herby flavors from the fish, and the crispness of the breadcrumbs worked wonders texturally. This came recommended by our server, and she was right on the money.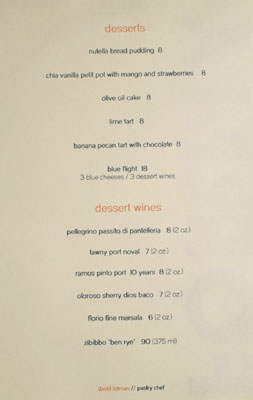 As for dessert, they're the work of David Lotman, a Johnson & Wales grad who's spent time at L'Orangerie, Geoffrey's,
Drago
, Celestino, and, most recently, Via Alloro. Click for a larger version.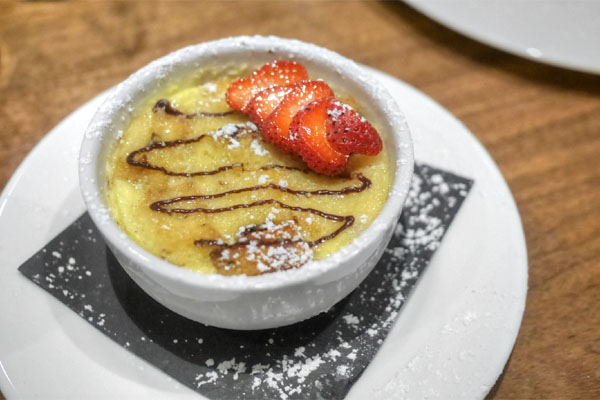 nutella bread pudding [$8.00]
Bread pudding tasted fine--eggy with a sweet spice--but arrived undercooked unfortunately.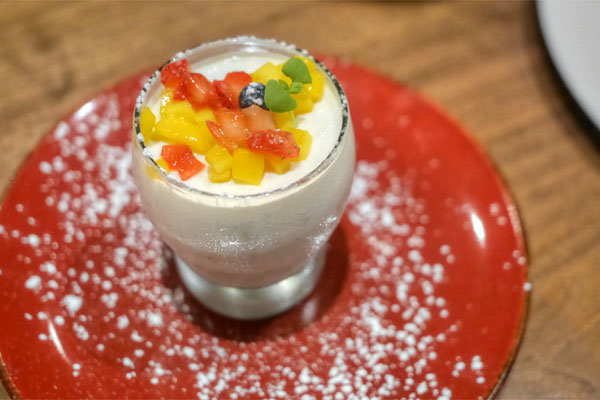 chia vanilla petit pot with mango and strawberries [$8.00]
A pot de crème was about what you'd expect: creamy vanilla custard accented by the tart, acidic fruit up top.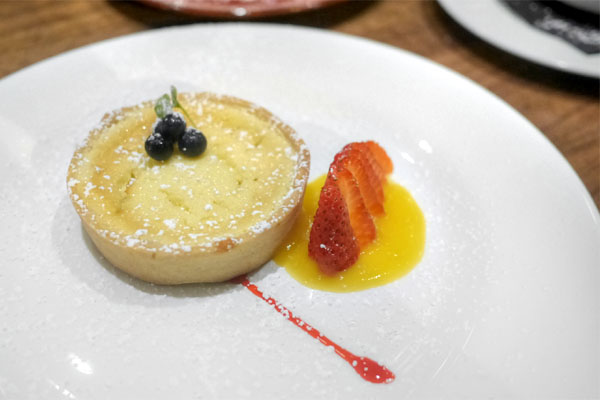 lime tart [$8.00]
My favorite of the desserts was the lime tart. I got a delightful brightness and tartness from the custard, though the crust was on the soft side.
Forma's the sort of Italian restaurant that you'd expect to find in the area. For the most part, the food's tasty, satisfying, crowd-pleasing, but you don't really get that sense of gutsiness you find at places like
Alimento
or
Bestia
or
Scopa
or
Sotto
or
Union
, which I think might benefit the place.