The Arthur J (Manhattan Beach, CA)
The Arthur J Steakhouse
903 Manhattan Ave, Manhattan Beach, CA 90266
310.878.9620
www.thearthurj.com
Wed 10/07/2015, 08:00p-11:25p

David LeFevre expanded his footprint in the South Bay with the debut of The Arthur J, which opened back at the start of June. A take on a retro-mod steakhouse, the restaurant represents the Chef's third partnership with the Simms family, the group behind Simmzy's and Tin Roof Bistro and part-owners of both
M.B. Post
and
Fishing with Dynamite
. In fact, the place is named after Mike and Chris' grandfather Arthur J. Simms, a restaurateur himself who founded The French Quarter in WeHo, The Kettle in MB, and most famously, Mimi's Cafe.


Arthur J takes over the former home of Michael Zislis' (Shade, Rock'n Fish,
The Strand House
, Rock & Brews) Circa, which had opened back at the start of 2013 with Octavio Becerra and
Julian Cox
running things. The interior's been redone by Julie Fisher and Rachel Crowl over at
fc Studio
, a Chicago-based firm that also penned FwD. The look they were going for is 1960s-era Palm Springs, so it's a walnut-clad, Mid-Century sort of affair, a beautiful one at that.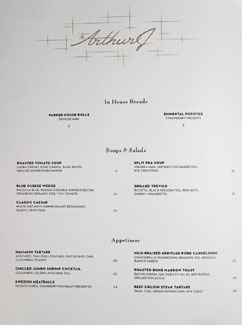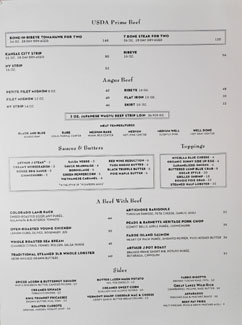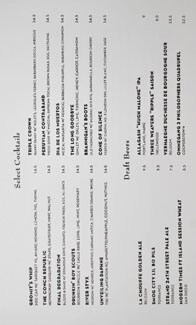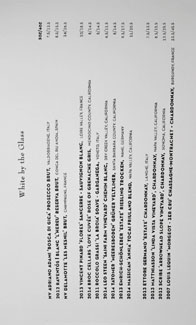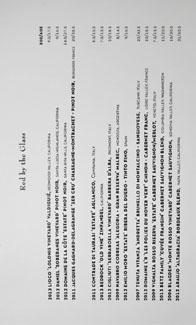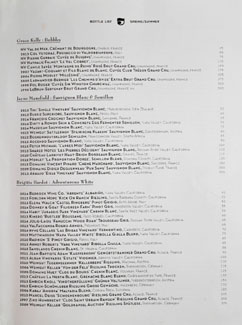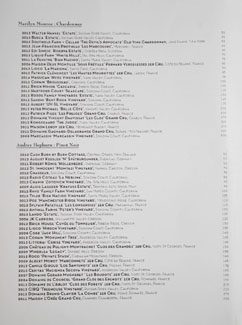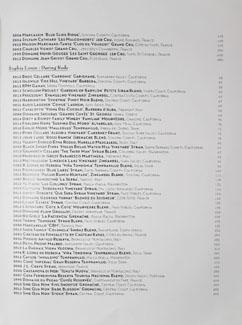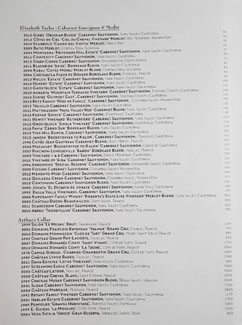 As for the menu, think an old school-new school take on steakhouse favorites, with updated versions of traditional starters, sides, and mains. Steaks are cooked on a wood-fired grill, and come with a full complement of optional sauces and toppings. Longtime LeFevre collaborator Jerry Garbus, meanwhile, heads up the beverage program. Cocktails definitely lean toward the classics as well, while a 200+ selection wine list (probably one of the best in the South Bay) is overseen by Sommelier Ryan O'Connor; beer is available from eight taps. Click for larger versions.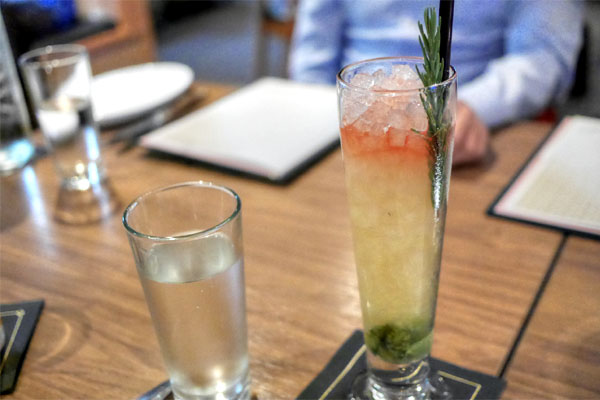 Drunkin' Boy Scouts [$14.50]
| Bourbon Swizzle w/ Eagle Rare 10yr, Lime, Mint, Rosemary
We managed to go through most of the cocktails, starting with this bourbon-based take on your good ol' swizzle. I got a lot of tangy, herby, astringent notes on this one, the booze peeking through in flashes while the finish seemed to be laced with anise.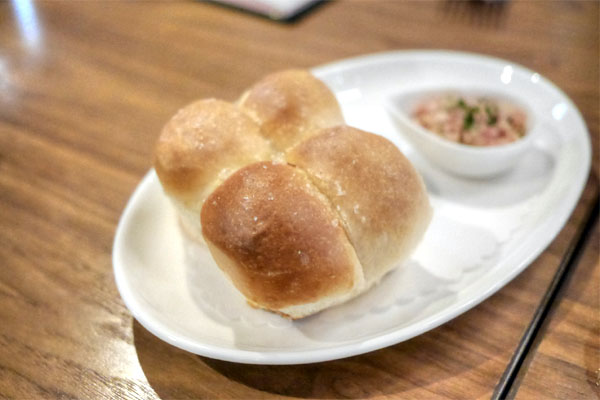 Parker House Rolls [$5.00]
| Deviled Ham
Parker House rolls could've been butterier by my estimation, but any deficiencies there were made up for by that deviled ham, which ate like the salty, concentrated, spiced essence of the pig in spreadable form.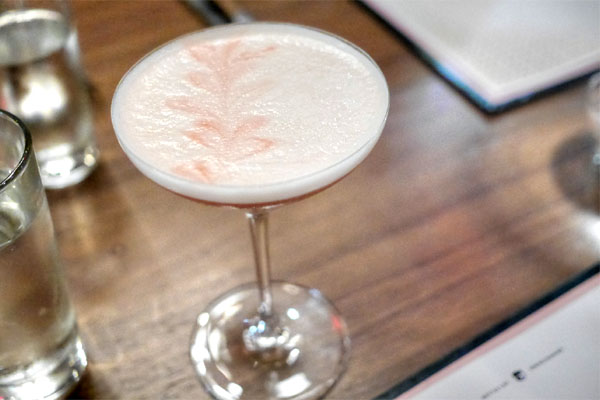 Final Degradation [$14.50]
| Blood & Sand w/ Edradour 10yr, Chinato, French Press, Egg, Allspice
Very interesting. Lots of spice and almost a savory quality on the nose, while the taste was coffee for days, with a backing of distinct chocolate-y flavors.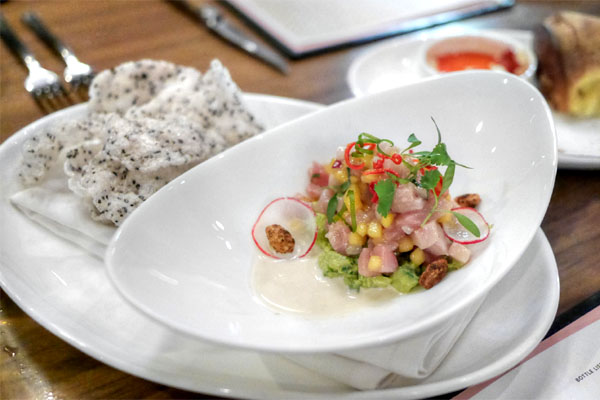 Hamachi Tartare [$20.00]
| Avocado, Thai Chili, Peaches, Puffed Rice Chip, Cucumber, Peanut
Yellowtail came out fatty and properly fishy. Loved the herby, spicy notes here, with the avocado serving as a cooling element. Great crunch on those rice chips too.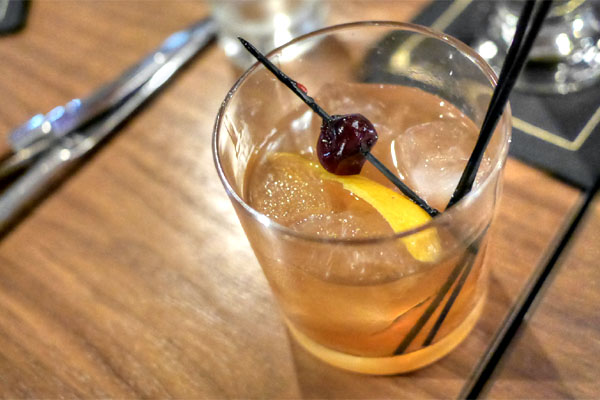 Brannigan's Boots [$14.50]
| Old Fashioned w/ Sazerac 6yr Rye, Sarsaparilla, Bourbon Cherry
A bangin' take on the Old Fashioned, with the boozy spice of the whiskey really working out with the zesty, almost floral qualities of sarsaparilla. Can't go wrong with that cherry, either.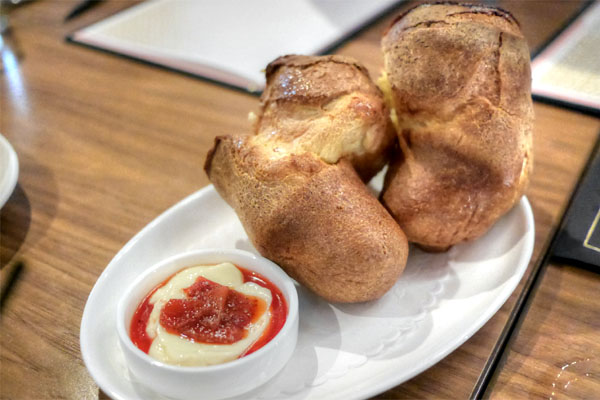 Emmental Popover [$5.00]
| Strawberry Preserve
Popovers were excellent: a bit eggy, a bit fluffy, and even better with that strawberry-impregnated butter.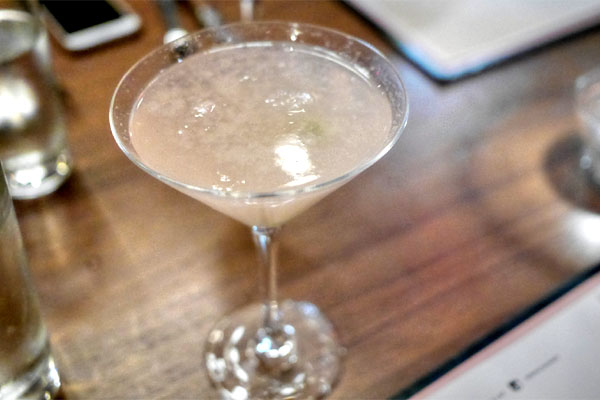 The Conch Republic [$14.50]
| Hemingway Daiquiri w/ Starr, Grapefruit, Mint, Walnut
Daiquiri duties were handled by this number, an intriguing twist on the O.G. drink. I found it very tart at first, with an herby quality, but the key was a sweet, almost Asian-y red fruit character that came through later.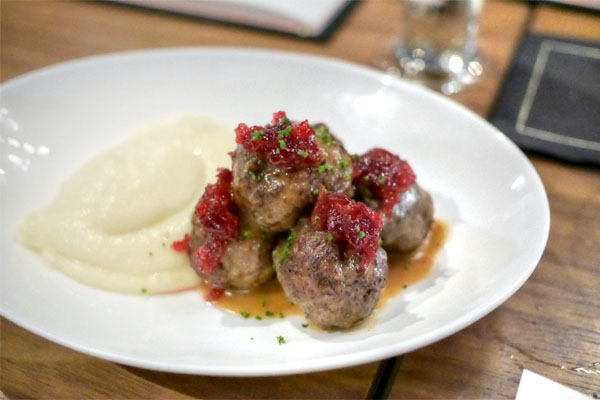 Swedish Meatballs [$14.00]
| Potato Purée, Cranberry-Kumquat Preserves
I've always had a soft spot for IKEA's Swedish meatballs, so naturally I had to try this for comparison's sake. They were quite a bit gutsier in the taste department, with a great char component to boot. I found an appropriate level of sweetness from the preserves as well.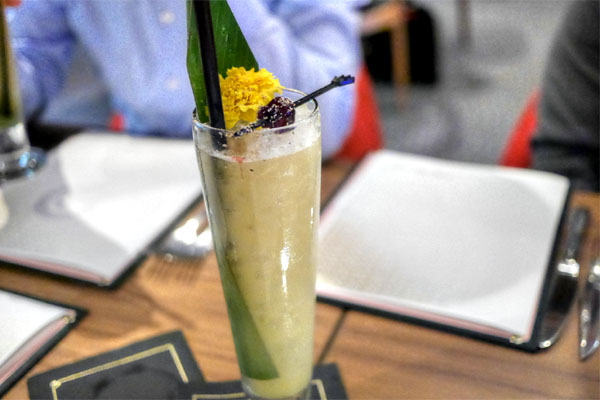 Unveiling Daphne [$14.50]
| Tiki w/ Plantation XO, Amaretto, Pineapple, Coconut, Nutmeg
Just from the looks of it, you could probably tell that this was our sugariest cocktail of the night. That being said, it never went overbearing, presenting loads of tropical fruit flavors with a touch of spice and just a whisper of that rum.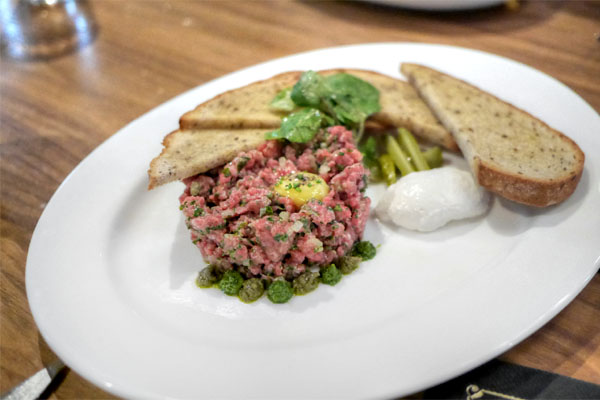 Beef Sirloin Steak Tartare [$18.00]
| Quail Egg, Green Peppercorn, Rye Toast
This next steakhouse staple made a good showing for itself. Lovely springiness and bite on the actual beef, and its flavors were definitely traditional, but somehow more robust, more concentrated than usual.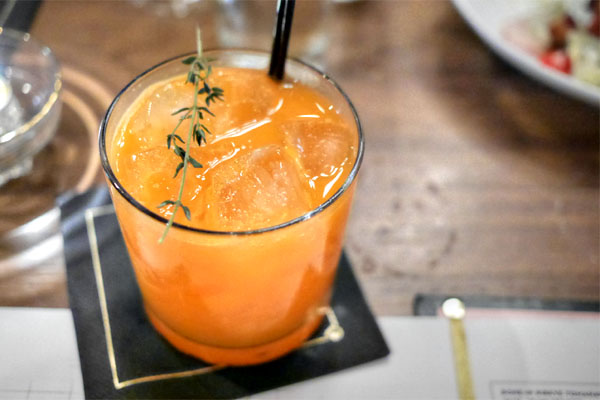 The Long Goodbye [$14.50]
| Gimlet w/ Oxley, Lime, Turmeric, Honey, Carrot, Cardamom
Wow, talk about easy-drinking. Boatloads of refreshing, tangy citrus and sweet carrot on this one, with nary a peep from the Oxley.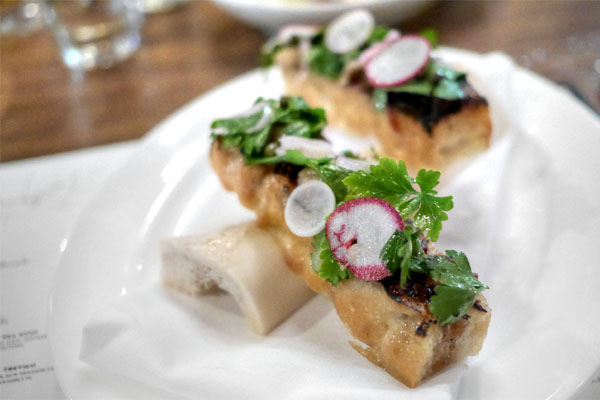 Roasted Bone Marrow Toast [$14.00]
| Bacon Onion Jam, Parsley Salad, Red Radish, Grilled Focaccia
Bone marrow was rich, fatty, sure, but the bacon-onion jam veered sweet, masking some of the inherent flavors of the star ingredient. I would've liked the parsley to have been more apparent, too.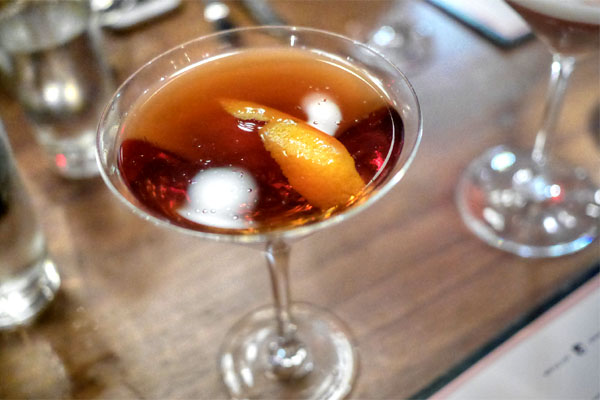 River Styx [$14.50]
| Negroni w/ Hendrix, Aperitivo, Carpano Antica, Charred Orange, Smoke
Above we see one of the better Negronis that I've had: really classic at its core, bittersweet, viscous, but with seemingly more intensity, more perfume, more aromatics.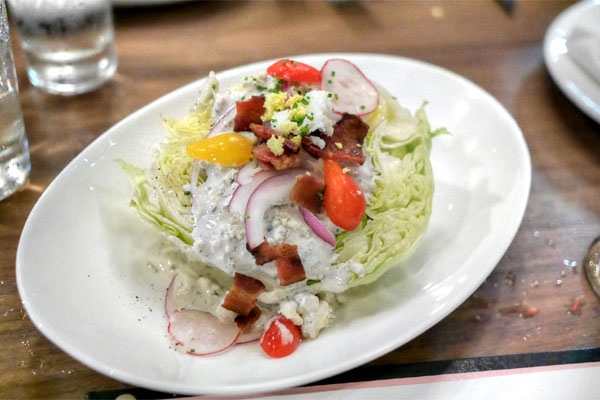 Blue Cheese Wedge [$12.00]
| Mycella Blue, Nueske's Double-Smoked Bacon, Crumbled Organic Egg, Tiny Tomato
The salad was an unexpected hit. Gorgeous crunch and lightness from the lettuce, which made for a great vessel for the creamy, salty, tangy bleu flavors at play.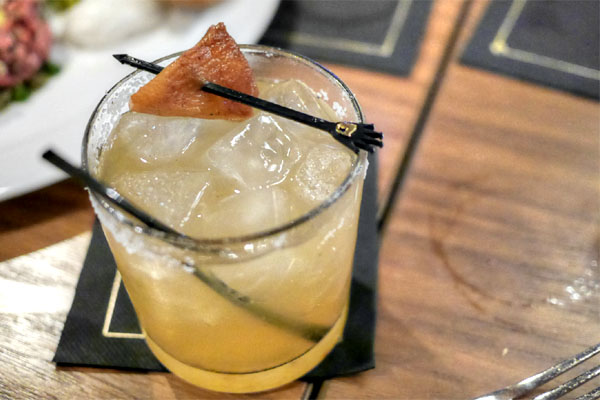 Dia de los Muertos [$14.50]
| Mezcal Margarita w/ Fidencio, Barbacoa Pineapple, Habanero, Cinnamon
Our final cocktail was one of the tastiest takes on the margarita I've experienced. Just a focused heat throughout, with the smoke from the mezcal meshing seamlessly with the tart, cinnamon-y flavors abound.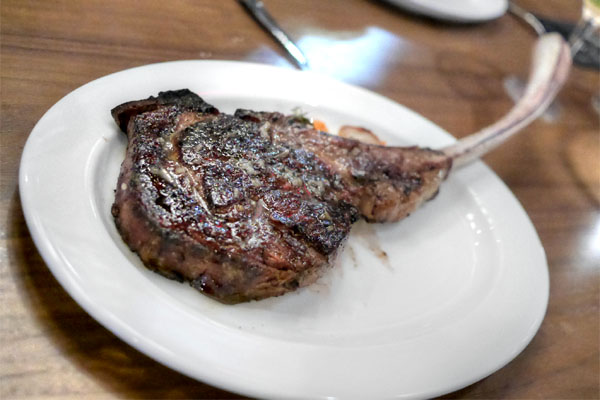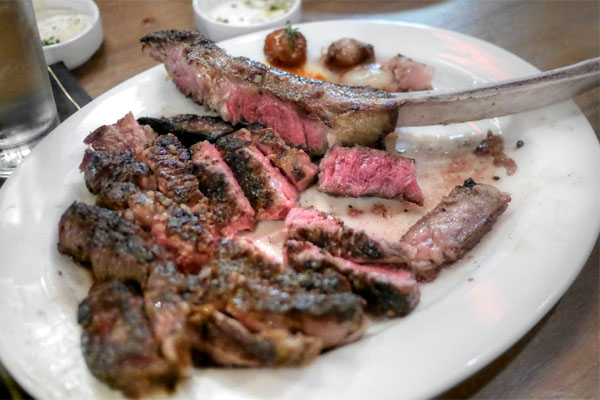 Bone-In Ribeye Tomahawk for Two [$148.00]
| 34 Oz. 28 Day Dry-Aged
At this point, we got into the steak, starting with this pretty impressive-looking specimen. It was definitely one of the better rib eyes that I've had in recent times, with that fantastic earthy depth that you get from dry aging joined by a good amount of char. Spot on texture, too.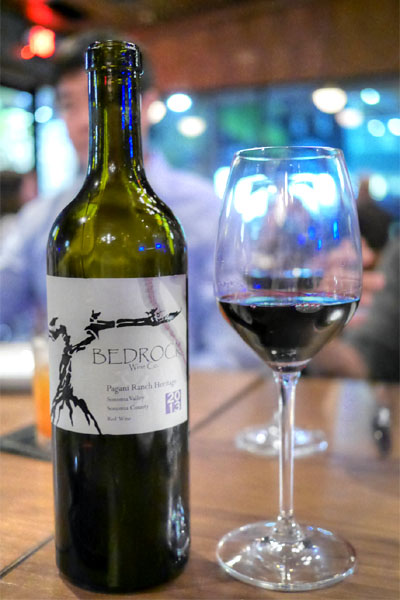 All that beef called for an aggressive red to pair, and the
2013 Bedrock 'Pagani Ranch Heritage', Zinfandel Blend, Sonoma, California [$110]
handled the task with aplomb. Nose of dark red fruit, spice, and a beautiful floral, almost violet aroma that became more apparent as the wine warmed. Taste followed, a smooth, yet tannic presentation with massive berry and pepper.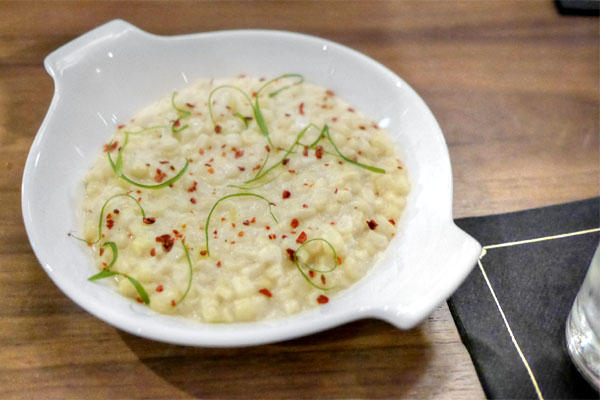 Creamed Sweet Corn [$10.00]
| Scallion and Aleppo Pepper
Corn was as creamy and as sweet as advertised, and well-textured to boot, with a delightful hit of heat on the back end.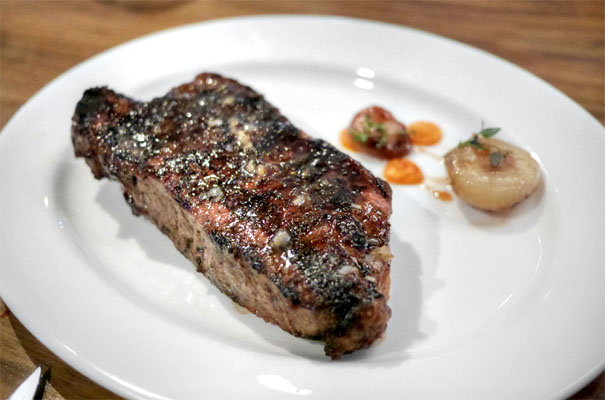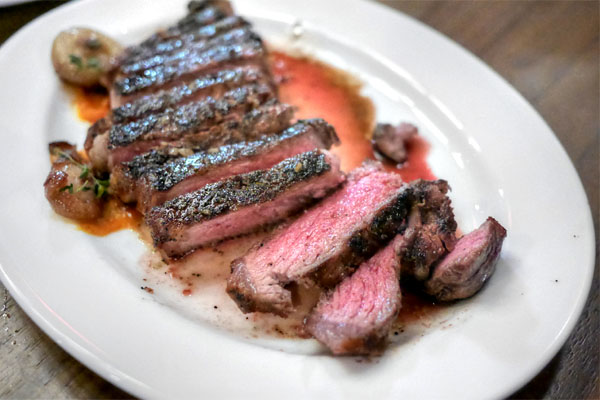 NY Strip [$52.00]
| 16 Oz.
The strip steak didn't disappoint either, a timeless preparation that showed off the right texture, the right amount of caramelization, and about as much flavor as you could ask for from a non-dry aged cut.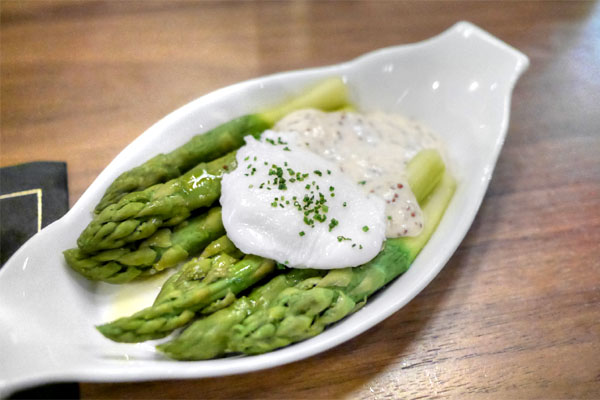 Asparagus [$12.00]
| Poached Egg & Mustard Sauce
Asparagus came in meaty little stalks, all crisp and bitter, but certainly taken up a notch by that runny egg.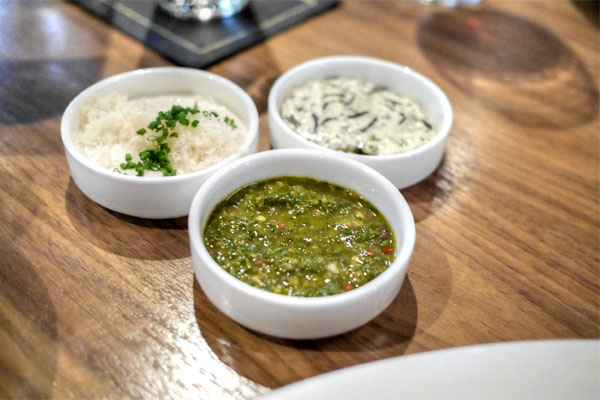 Sauces weren't necessary, but came included with the steak. We opted for the
Creamy Horseradish
,
Chimichurri
(my fav of the three thanks to its sheer brightness), and
Black Truffle Butter
.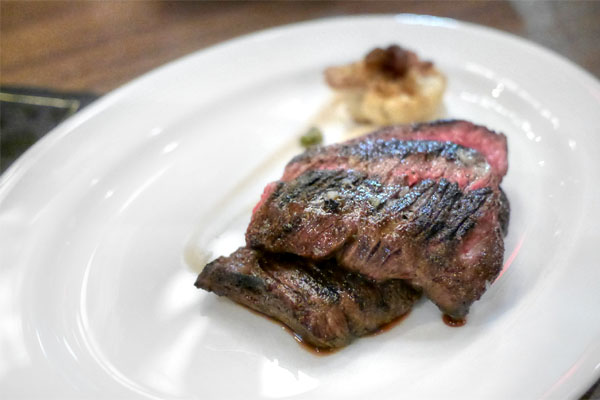 Skirt [$32.00]
| 10 Oz.
Round number two brought out the skirt. I found it very flavorful, but a different kind of flavorful than with the cuts above--sharper, more austere somehow. Texturally though, it was chewier than the preceding steaks, but that's pretty much to be expected.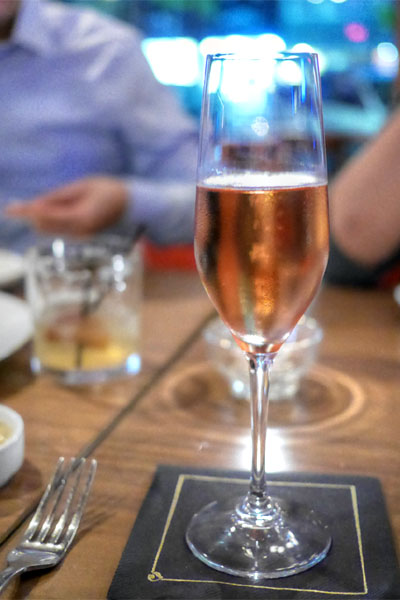 Bucking convention, we ended things with bubbly, the
NV Camille Savès 'Montagne de Reims' Rosé Brut Grand Cru, Champagne, France [$150]
. It was a delicious sparkler, very well balanced, with lots of strawberry and lemon countered by plenty of acidity.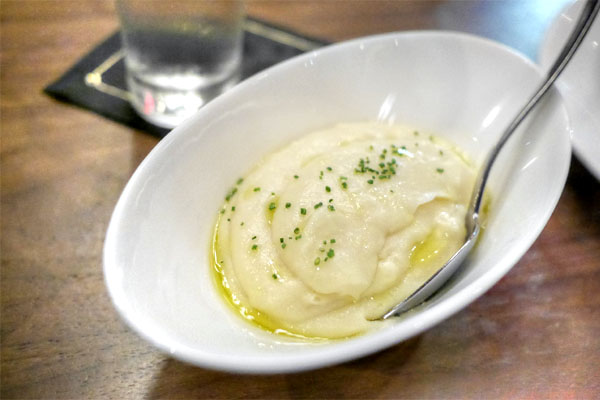 Butter Laden Mash Potato [$12.00]
| Yes, You Should
The mashed potatoes were deeply satisfying, especially when doused with some of that included gravy. However, they weren't as buttery as some others I've had, so don't necessarily come in expecting
Robuchon
-level
pomme purée
.
Japanese Wagyu Beef Strip Loin [$36.00/oz]
| 4 Oz.
We had to get a few ounces of the wagyu, natch. Nice charring and crust on this one, which worked wonders as a counterpoint to the melty nature of the beef. However, the steak probably could've used a bit more time on the grill.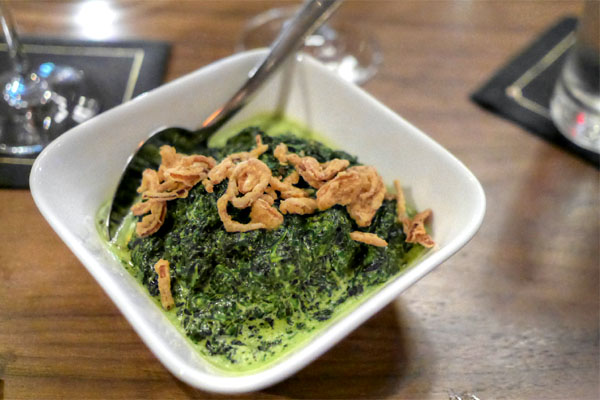 Creamed Spinach [$12.00]
| Tobacco Onions
Spinach arrived appropriately creamy, but I appreciated how the astringent, bitter quality of the veggie still shined though.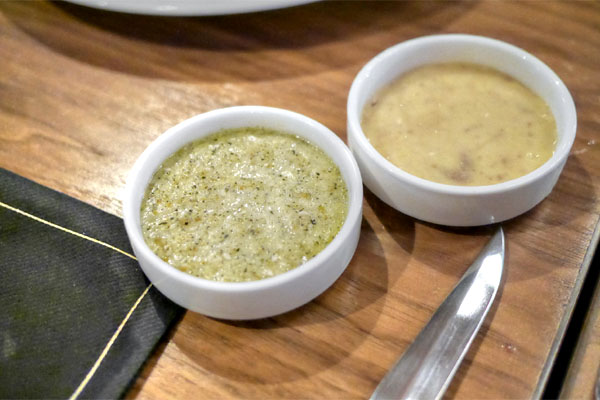 Our second set of sauces comprised the sour 'n' salty
Yuzu Koshu Butter
and sweet, liver-y
Foie Maple Butter
.

Curiously, there's no written dessert menu here (it's recited by your server), and we were instead presented with a list of after-dinner beverages. Click for a larger version.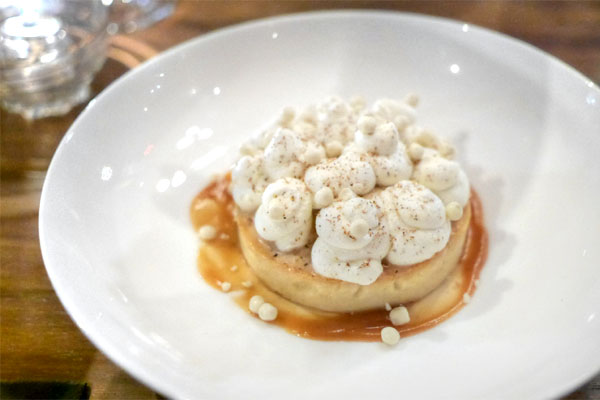 Banana Scotch Pie [$12.00]
Arthur J's version of a banana cream pie was a favorite of mine: creamy, nutty, with a great crust and pervasive notes of banana all over the place.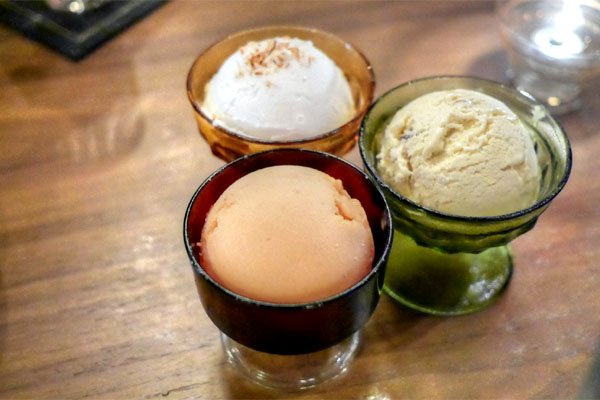 Ice Creams & Sorbets [$3.00/each]
Ice creams-slash-sorbets are made in-house, natch, and we sampled three of 'em (counter-clockwise from bottom-left):
Tropical: Guava in-yo-face, followed by banana on the finish.
Rum Raisin: Not too much rum, but loved the tart raisins mixed in.
Coconut: A light, breezy sort of coconut sweetness.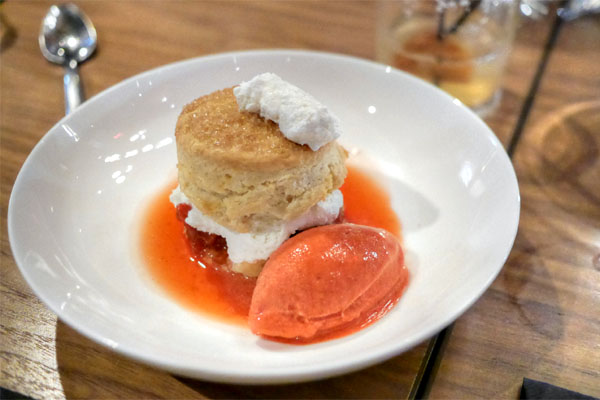 Strawberry Shortcake [$12.00]
We ended on a strong note. Just a great interaction between the strawberry, whipped cream, biscuit, and zesty sorbet.
The Arthur J was no doubt one of the better steakhouse experiences that I've had. The food perhaps has a retro inspiration, but there's definitely modernity, finesse at play here. LeFevre's batting three for three so far in Manhattan Beach, so I'm curious as to what he's got planned next. I'm sort of hoping for a return to a fine dining type of place, something small, intimate, tasting menu-focused, but we shall see.