La Tostaderia (Los Angeles, CA)
La Tostaderia at Grand Central Market
317 S Broadway, Los Angeles, CA 90013
213.624.2378
Sat 10/03/2015, 02:50p-05:20p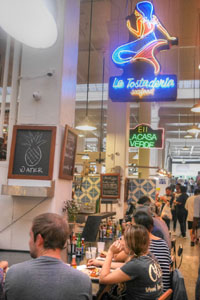 My latest visit to GCM brought me to La Tostaderia, a multiregional Mexican-style
mariscos
stall that debuted back in April. Situated across from
Belcampo
, it's a new school-old school sort of joint that ventures away from the big names that have dominated Grand Central Market openings as of late.
La Tostaderia is primarily the work of Fernando Villagomez, a native of Morelia, Michoacán who started his culinary career at age 17, helping out at his uncle's carnitas spot in San Diego. He attended college in Toronto, and after graduating, launching his own carnitas restaurant there before moving back down to LA. In 2008, Villagomez partnered with brother Abraham and mother Telma and opened slow-cooked pork specialist Las Morelianas inside GCM, the place soon becoming one of the staples at the Market. Not content with just one eatery, in 2013 he began planning La Tostaderia with partner Gerardo Reynoso, who was working in Léon at a seafooder called La Marisqueña at the time. The two subsequently secured a stall at GCM and began building out the place in earnest, bringing on Chef Sandra Felix in the process.
About the Chef
: Felix hails from southern California, and was raised both in Calabasas and Jerez, Zacatecas, where her family is from. She attended Le Cordon Bleu at Pasadena's California School of Culinary Arts as well as San Francisco's California Culinary Academy, and after graduating, began working for Mark Peel at
Campanile
(Peel, if you recall, just dropped
Bombo
at GCM not long ago). After two years as a prep cook, Felix spent three years abroad, studying Mexican, Indian, and Thai cookery. Upon returning Stateside, she became sous chef at Downtown's Blue Cow Kitchen & Bar, where she stayed for three years before joining the La Tostaderia team.

La Tostaderia's menu is tight, comprising just a couple appetizers, tacos, and the signature tostadas.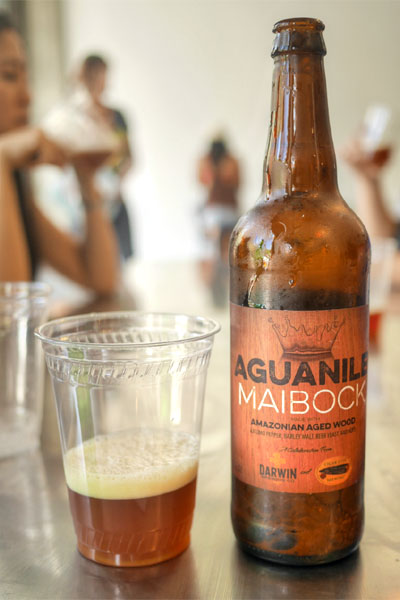 BYOB is the way to go at GCM, so first up to the plate was the
2015 Darwin's on 4th Aguanile Maibock
, a helles with aged Tamamuri wood and
aji limo
pepper, brewed in collaboration with Cigar City. Meant to celebrate Peruvian culture, it showed off pretty standard aromas of fruity, sugary malt. The taste was more intriguing, malty again at its core, but very, very woody at first, with the sharp, prickly heat of the peppers coming through on the finish.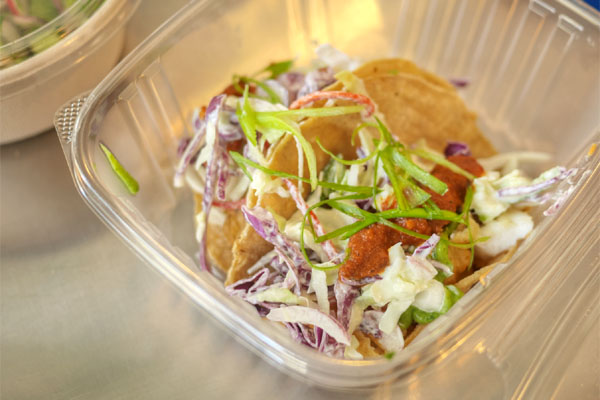 Fish Tacos [$7.50]
| Black cod, yellow corn tortillas, chipotle aioli, avocado puree, slaw, sour cream and salsa roja
We ended up trying everything on the menu, and what better way to start than with fish tacos? They didn't stray too far from the norm, but were tasty nonetheless, with the brine of the cod working well with the creamy heat present, the veggies adding lightness and crunch.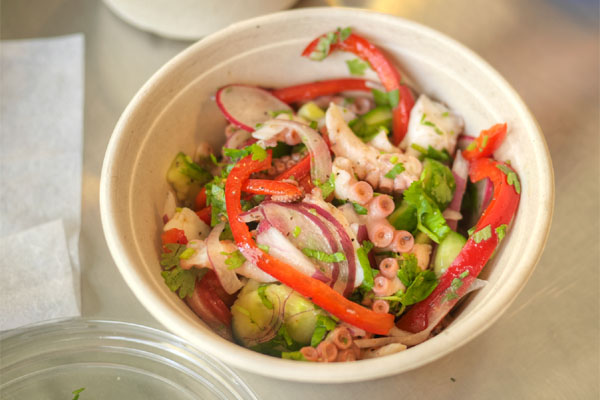 Octopus Tostada [$8.00]
| Sake poached octopus, cucumbers, red onions, radishes, heirloom tomatoes, sweet peppers, cilantro, habanero and EVOO
Pulpo
came out meaty to the bite, yet still tender, its mild flavors complemented by the bright, sweet flavors in the dish. Nice bit of tingling spice here from the habanero.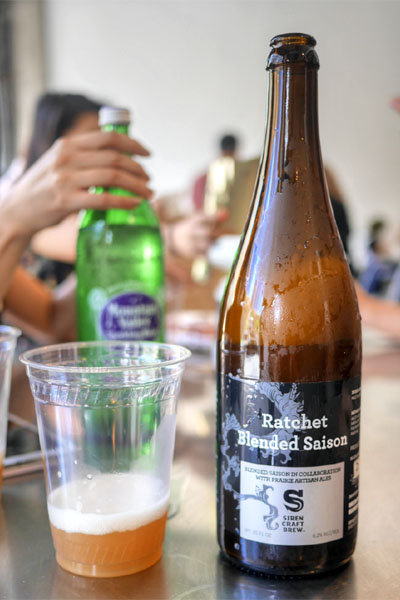 The
2014 Siren Craft Brew Ratchet Blended Saison
was a collab with Prairie Artisan Ales, with 20% of the beer aged in white wine barrels. Think classic saison tartness and funk on the nose, with the taste going grassy, sour, and expectedly barnyard, but with vinous notes from the barrels coming through mid-course.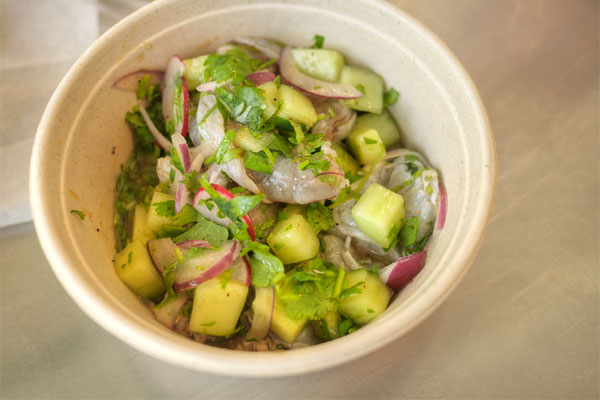 Aguachile [$10.50]
| Raw shrimp, lime, cucumbers, red onions, radishes, cilantro, marinated on a charred habanero sauce
A dish of
aguachiles
was
quite
spicy, though it was a pleasant sort of heat, one that almost seemed tempered by the various veggies present. Effective, though I really would've liked a snappier consistency on the shrimp.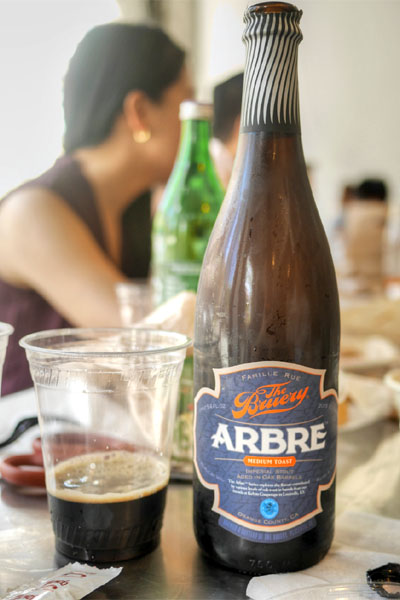 Next to imbibe came the
2015 The Bruery Arbre Medium Toast
, the second in a series of barrel-aged stouts meant to showcase the effect of various levels of oak barrel toasting on the beer. I'd had the first of the three recently at
Gwang Yang
, and was pleasantly surprised by it. This medium-toast variant was also good: nose of sugary malt with zesty oak; taste was of strong chocolate, with a hint of vanilla and again more of that wood coming through near the back end.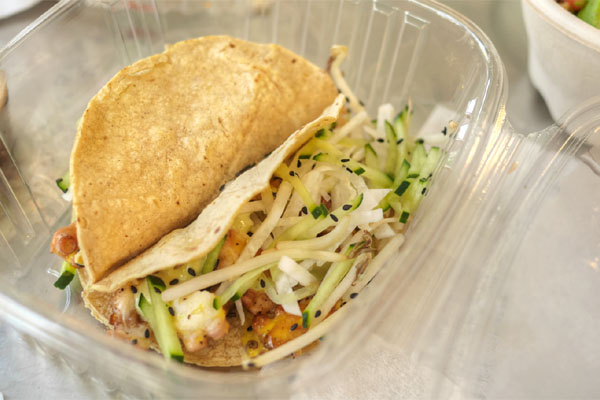 Octopus Tacos [$10.00]
| Charred octopus, aji sauce, ginger aioli, daikon, cucumber, bean sprouts, Thai basil and sesame seeds
In contrast to the tostada dish above, the octopus here was pleasantly crisp, with a stronger savor, and made for a great base for all the various accompaniments in the taco. I was especially a fan of the bean sprouts, which had a fantastic texture.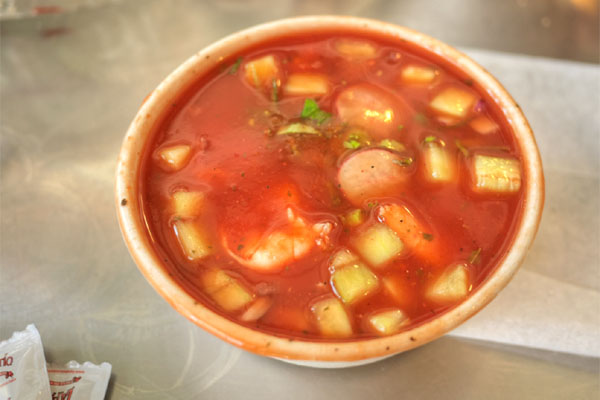 Seafood Cocktail [$14.00]
| Octopus, shrimp, oysters, red onions, cucumbers, celery, tomato, avocado, cilantro, EVOO and sea salt
The cocktail ate pretty O.G., arriving quite sweet, though not overwhelmingly so, with just enough tartness to it and a nice complement of vegetables. Lovely texture on the shrimp, but I couldn't seem to taste any oyster.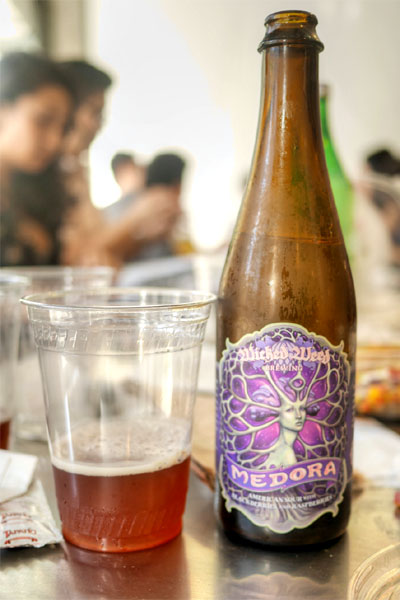 Sour duties today were handled by the
2015 Wicked Weed Medora Berry Sour
, a blonde wild ale aged in red wine barrels with one pound of blackberries and raspberries per gallon. It was just what you'd expect: loads of puckering berry everywhere in a tight, tart package.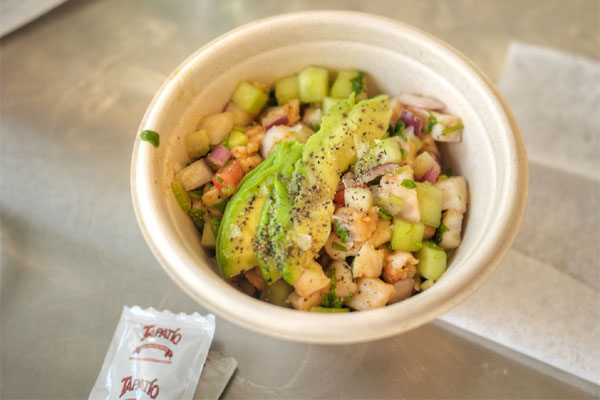 Fish Ceviche Tostada [$5.50]
| Chilled white fish, tomato, cucumber, red onions, avocado, cilantro and lime juice
The fish ceviche featured firm cuts of whitefish alongside traditional nuances of bright acidity, the avocado imparting a much-appreciated lushness to it all.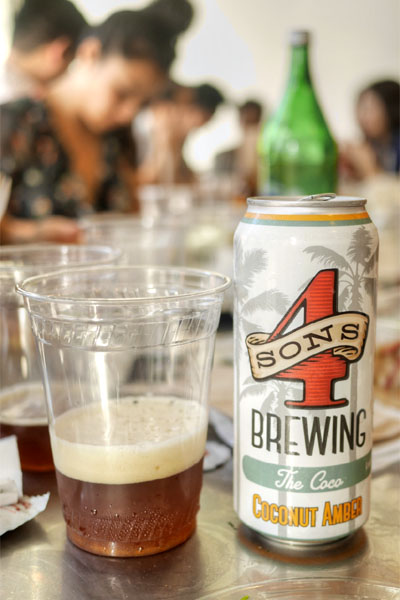 The
2015 Four Sons The Coco
was an amber ale brewed with toasted coconut. Lots of coconut flavors of course, commingled with sweet malt. Easy-drinking, but also one-note.
Shrimp Tacos [$8.50]
| Wild shrimp, yellow corn tortillas, sriracha aioli, slaw, sour cream and mango relish
Shrimp tacos delivered, with a sweetness from the mango and the spicy aioli helping tie it all together.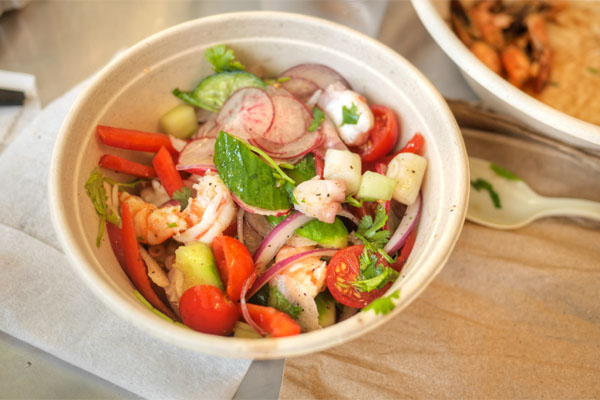 Mixta Tostada [$11.50]
| Octopus, scallops, shrimp, tomatoes, red onions, radishes, peppers, cilantro, lime juice
I appreciated the very distinct textures and tastes from the scallop and shrimp in this one, as well as how the herbiness and sweetness in the dish played out. My favorite of the tostadas.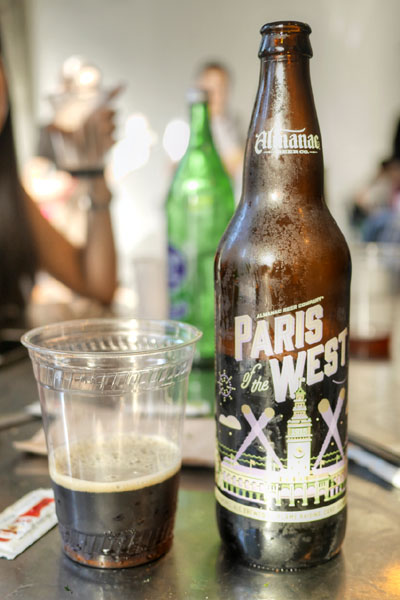 A quadrupel made an appearance in the form of the
2015 Almanac Paris of the West
, brewed with dark candi sugar, dried flame grapes, and orange peel, then fermented with French ale yeast. I really didn't get much from the grapes or the orange. Rather, the beer was pretty classic quad, with an abundance of sweet, malty, caramel, and dark fruit notes, with perhaps a touch of smoke bringing up the rear.
Shrimp Ceviche Tostada [$6.50]
| Chilled shrimp, serrano, cucumber, red onions, celery, parsley, cilantro, lime juice and sea salt
The shrimp ceviche was much in the same vein as the fish version above, but with a stronger acidic component and a lovely consistency on the
camarones
.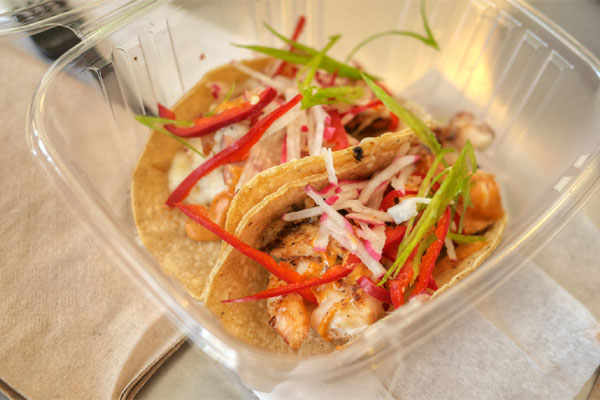 Gringos Tacos [$10.50]
| Grilled shrimp and octopus, chipotle aioli, fresnos, green onions and radishes
My favorite of the tacos were these guys. Good charring and bite to the seafood on this one, along with a lingering heat and some contrast from the veggies.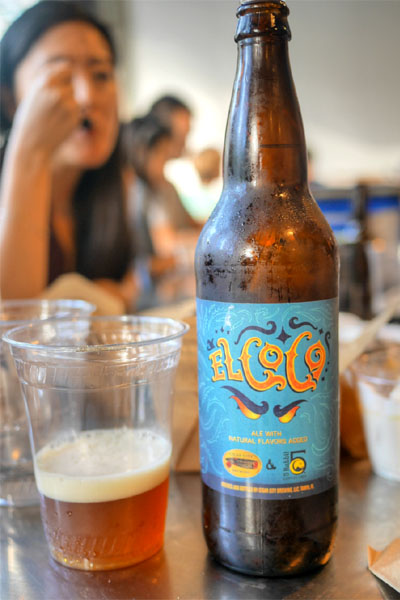 Last up was the
2015 Cigar City El Coco
, a Latin-inspired beer with vanilla, cinnamon, coconut, lactose, and dulce de leche that was brewed in collab with 5 Rabbit Cerveceria. It was billed as an homage to coconut flan, and it actually did recall the dessert with its sweet, tropical, floral, in-yo-face notes of coconut.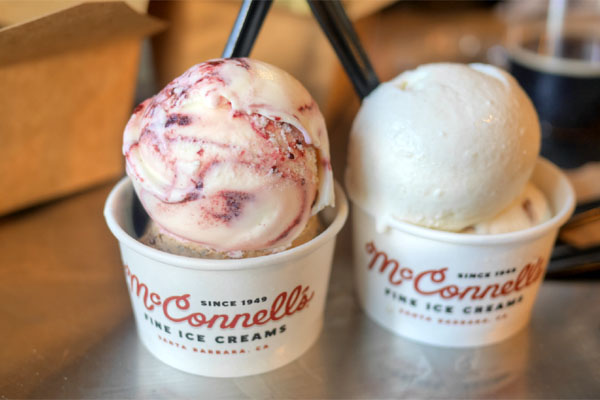 Given the lack of dessert at La Tostaderia, we closed out with a quartet of ice creams from McConnell's:
Eureka Lemon & Marionberries
,
Black Coffee Chip
,
Coconut & Cream
, and
Whiskey Pecan & Pralines
.
We were generally satisfied with La Tostaderia, which is like your traditional
cevichería
, but with a cheffier bent that sort of makes it straddle the line between classic and modern. A pretty worthwhile addition to the scene over at Grand Central.