Clifton's Cafeteria (Los Angeles, CA)
Clifton's Brookdale Cafeteria
648 S Broadway, Los Angeles, CA 90014
213.627.1673
www.cliftonsla.com / www.cliftonscafeteria.com
Wed 10/14/2015, 07:55p-11:30p

Clifton's, Downtown's most hotly-anticipated debut in a long while, finally opened its doors on October 1st. After being purchased by The Edison's Andrew Meieran in 2010, the historical eatery underwent a major modernization, but one, fortunately, that's kept the place's woodsy charm intact. Supposedly, the food program's been overhauled by Chef Jason Fullilove (most recently at Malibu Pier Restaurant and Bar) and Exec Sous Robbie Arnold-Starr (
Belcampo Meat Co
), while desserts have been refreshed by Pastry Chef Michael Luna (Barton G, Bijou and Amaya in La Jolla,
Campanile
, Le Foret in New Orleans,
Gordon Ramsay
at The London). Clifton's is slated to have no fewer than five bars (though only two were operational tonight), and the man in charge of the beverage program is Damian Windsor, whom you might know from Power House, Warwick, The Roger Room, and Seven Grand.
A bit of history
: Clifton's was once part of a restaurant chain of nine to 11 cafeterias (the number varies depending on source), most of which were noted for having a theme and for providing free meals to patrons who couldn't afford to pay. It all started with one Clifford Clinton ("Clifton" is a mash-up of his first and last names), whose grandfather David Harrison Clinton moved to Los Angeles from Missouri in 1888. His son Edmond Jackson Clinton settled in San Francisco, where he and his wife Gertrude ran a number of cafeterias. Clifford, meanwhile, was born in 1900 (one of five children), and spent some of his early years in China, where his parents provided humanitarian aid to the poor.
He left school at age 14 to work in the family business, and would eventually take over his father's interest in the restaurants. However, he disagreed with his partners' business practices, and wound up selling his stake to his cousin and brother-in-law and moving to Los Angeles in 1931. That year, he took over the lease of an old Boos Brothers cafeteria (618 South Olive) with Ransom Callicott, who would later become co-owner. This was in the midst of the Great Depression, and Clifford's policy of providing free meals earned the cafeteria the nickname "Clifton's Golden Rule." Turnout was so heavy that he debuted another, more basic eatery called Penny Caveteria (the "cave" referenced its basement location) a few blocks away just a year and a half later.
A regular supporter of the Caveteria offered Clifford a building at 648 South Broadway that he owned, and in 1935, the second (and sole surviving) Clifton's opened with a woodland theme, inspired by Clifford's time spent in the Northern California woods near Santa Cruz. It was the largest cafeteria in the world at the time, and the success of the theme component resulted in the original restaurant being redone in a tropical motif in 1939 and renamed Clifton's Pacific Seas (the second spot was then christened Clifton's Brookdale to differentiate it).
In the late 1930s and 1940s, Clifford became a political reformer and anti-corruption activist, which angered a number of City officials who were in cahoots with organized crime. Despite the mob's best efforts, he was successful in cleaning up City Hall, and his campaigns even resulted in the removal of mayor Frank Shaw. In 1946, he and wife Nelda Patterson sold their stake in Clifton's to three of their children and founded Meals for Millions, a non-profit aimed at distributing food to people around the globe (he had developed "Multi-Purpose Food," a concentrated soy-based protein supplement costing only pennies per serving a few years earlier). The restaurants were now in the hands of Jean, Donald, and Edmond Clinton (with Edmond selling his stake to his siblings in 1965). A period of expansion followed.
In 1956, the third Clifton's debuted in Lakewood Center, a suburban mall location that closed in 2001. This was followed in 1958 by West Covina at the Eastland Shopping Center, while the Anaheim outpost at the Broadway Orange County Shopping Center was in place by 1959. 1960, meanwhile, saw Clifton's South Seas shutter; its building was subsequently torn down and the land turned into a parking lot (which remains today). A Spanish-themed cafeteria opened in '66 in Century City; it would operate for 20 years before closing at the end of 1986. Following Clifford's death in 1969, the company returned to Downtown LA in 1975 with Clifton's Silver Spoon at 515 West 7th, the site of Más Malo and Seven Grand/Bar Jackalope; it lasted until 1997. In 1978, the Clifton's in West Covina moved to West Covina Fashion Plaza as the garden-themed Clifton's The Greenery, where it remained until 2003. Woodland Hills was next, which was followed in 1987 by the final Clifton's in Laguna Hills. That one met its demise in 1999.
Edmond passed away in 1992, and in 2001, Robert Clinton, son of Donald, took over the family business. He purchased the Clifton's Brookdale building in 2006 in order to escape the vagaries of leasing. Just a couple months later however, in August, Jean Clinton Roeschlaub was murdered inside her penthouse at the Monterey Island Condominiums in Glendale. The case remains unsolved. After years of declining sales, waning relevance, and familial tragedy, the Clintons finally put the Broadway building up for sale in August 2009, at a price of $4.75 million for the 47,000 square-foot space. It was purchased by Andrew Meieran in September 2010. He closed Clifton's in September 2011 for renovations, which were expected to last up to six months at a cost of roughly $3 million, and advertised a 2012 re-opening. Things, obviously, did not stick to plan, the place opening over three years late and about $11 million over budget.

The entry area at Clifton's, with the main dining room to the right. Note the path to the cafeteria in the center of the frame.

Above we see the passage leading to the cafeteria entrance.

Here we have the initial view of the cafeteria, a well-lit, gleaming room of white and stainless featuring a number of food stations.

The point of view from the opposite corner of the cafeteria. The place was far less crowded than I'd expected.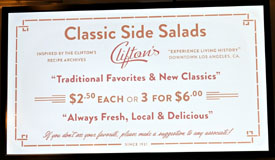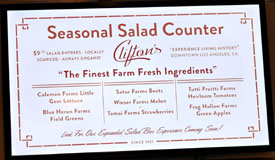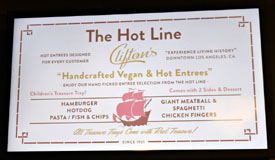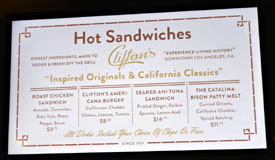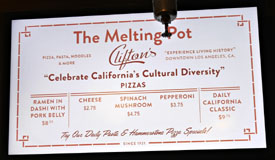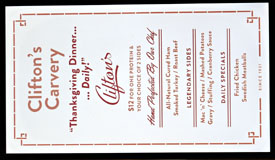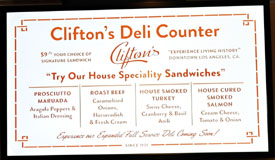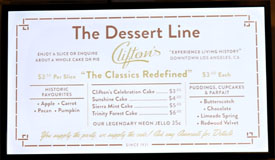 As per tradition, each dish is sold individually for the most part. Expect to see old school Americana--your turkey, roast beef, sides and soups, fountain drinks, and of course that Jell-o that everybody talks about--as well as a number of new additions, including pizza, made possible by the addition of an appropriate oven. Unfortunately, many of the more appealing items were nowhere to be found: the fried chicken, Swedish meatballs, ramen, roast beef, the giant meatball. Click for larger versions.

After you pay, you're dropped into the multilayered first floor dining room, where things are as fanciful as you'd expect, a rustic space that wouldn't seem out of place at Disneyland.

Going up to the second floor, we see even more seating near the front of the building.

Moving to the rear, we have the so-called Cathedral Grove, replete with that oft pictured faux redwood and the Monarch Bar.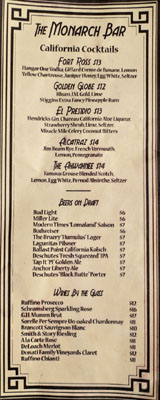 The Monarch Bar menu features just five cocktails, as well as beer on tap and wines by the glass. Click for a larger version.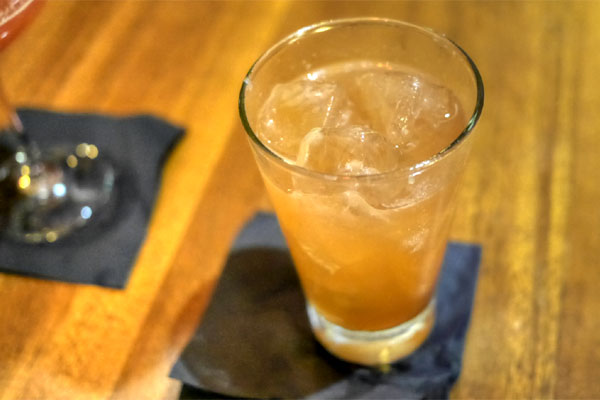 El Presidio [$13.00]
| Hendrick's Gin, Chareau California Aloe Liqueur, Strawberry Shrub, Lime, Seltzer, Miracle Mile Celery Coconut Bitters
We took a seat on the second floor and began to make our way through the cocktail list. This first one was fairly prosaic: not much nose, and a round flavor profile that veered sweet.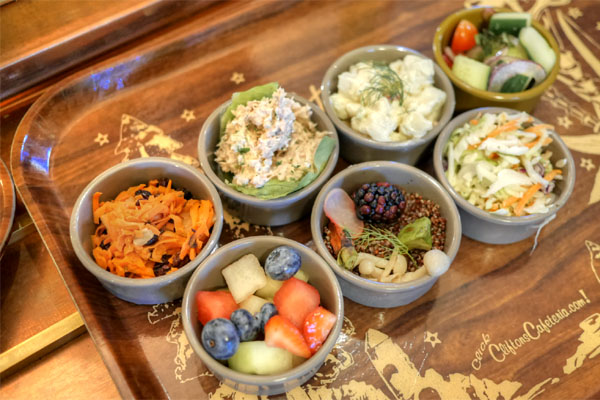 Side Salads [$2.50/each]
Up first was a selection of Clifton's' side salads:
Carrot-Raisin Salad: Surprisingly good--sweet and tart with some crunch.
Tuna Salad: Fishier than I would've liked, though still palatable.
Potato Salad: Passable; herby and tangy, but not as creamy as I'd prefer. Reminiscent of the potato salad we get when my work caters lunch.
Cucumber Salad: In need of more acid, more pepperiness.
Coleslaw: Not nearly creamy enough, nor acidic enough.
Grain Salad: Gritty, nutty, tangy, not bad.
Seasonal Fruit Salad: À la continental breakfast at the Doubletree.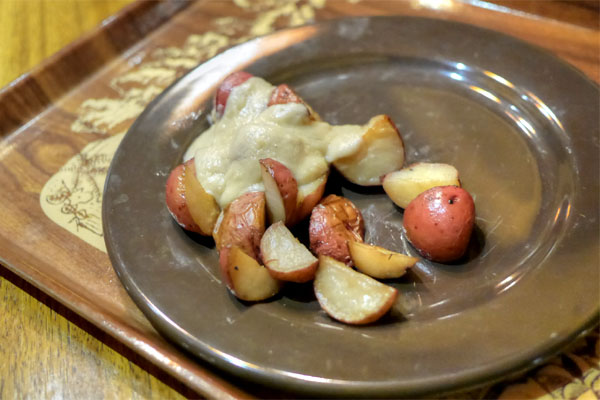 Potatoes + Gravy [$4.00 + $4.00]
Unsurprisingly, the most crowded of the stations was the carvey, which offers up a main protein and choice of two sides for $12. I was able to get my sides without much delay, but when it came to meats, they'd totally run out of ham/roast beef, and after standing in line like an idiot for a while, I was told that it'd be a
30 minute
wait for more. That was obviously unacceptable, so I paid for the sides and left. Potatoes were cold and largely undercooked, the gravy congealed and not particularly appetizing. And all this for only eight bucks.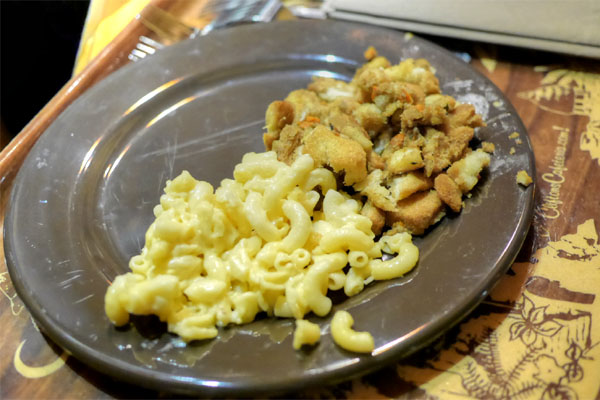 Mac 'n' Cheese + Stuffing [$4.00 + $4.00]
I actually had two trays with me, and the second fared a touch better I suppose. The mac, again, was congealing, and not nearly as creamy as it should be (I'd rather have Kraft's). The stuffing? Cold, dry, bland (I'd also rather have Kraft's).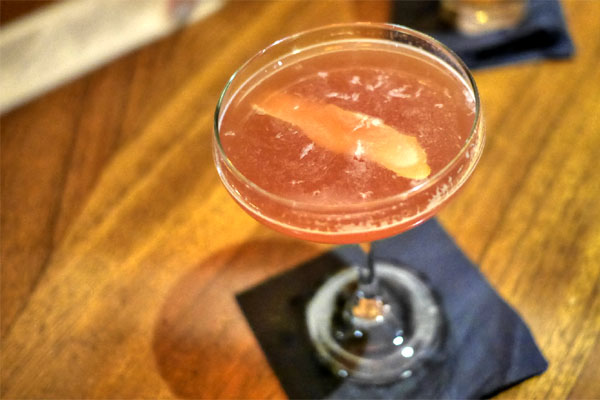 Alcatraz [$14.00]
| Jim Beam Rye, French Vermouth, Lemon, Pomegranate
Our second cocktail was more interesting: sweet, almost medicinal aromas, with a bittersweet, herbaceous palate backed by a creeping booziness.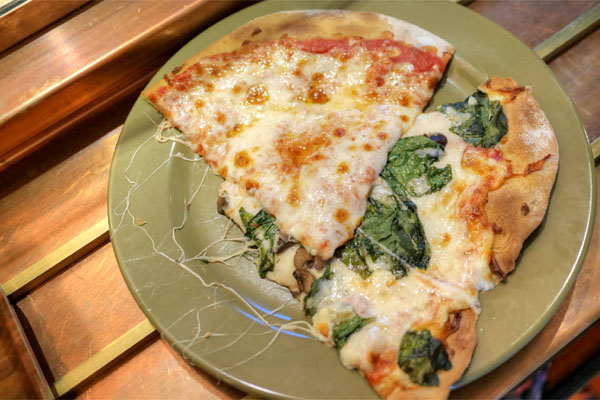 Cheese Pizza + Spinach Mushroom Pizza [$2.75 + $4.75]
Time to sample the new pizza offerings. The cheese variety was pure grade school, not bad, just banal. The spinach-mushroom was a bit more my style, with the veggie imparting a welcomed bitterness.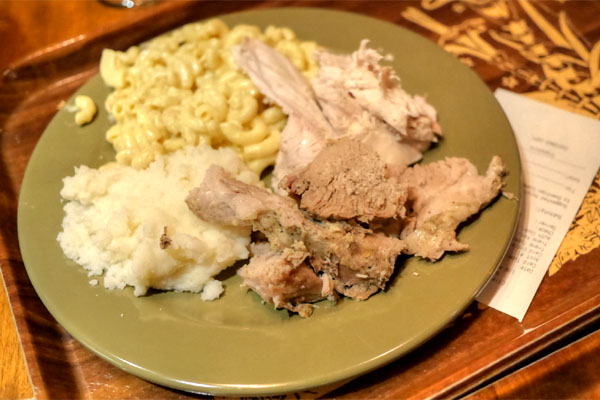 Smoked Turkey [$12.00]
| Mashed Potatoes, Mac 'n' Cheese
One of my dining companions got some turkey eventually (the kitchen seemingly gave up on the beef and ham). Unfortunately, the bird was dry, cold, and just not very good (I've had better turkey out of a box from Vons). And those potatoes? Grainy and bland. In fact, one person at my table thought that they tasted reconstituted, and I wouldn't doubt it. What was really disturbing, though, was that
the kitchen staff was advertising the dark meat turkey as ham
. What's worse? That the cooks were willingly trying to pass off turkey as ham, or that they were so inept as to not know the difference? It's amateur hour at Clifton's apparently.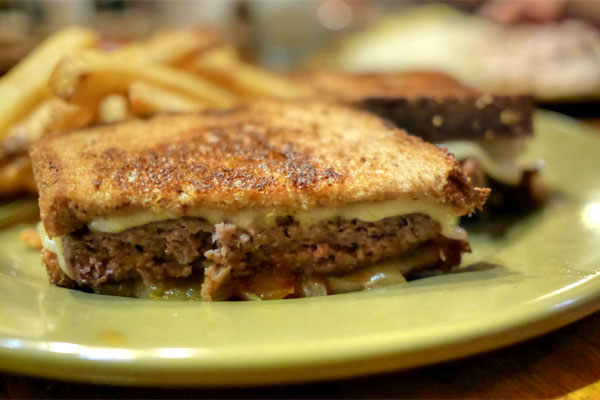 The Catalina Bison Patty Melt [$11.75]
| Curried Onions, California Cheddar, Spiced Ketchup
The patty melt turned out to be one of the better items we had, despite that fact that the bison (which came frozen) was dry and the cheese not melty enough. As for the fries? Pretty decent. Room service at the Marriott-level.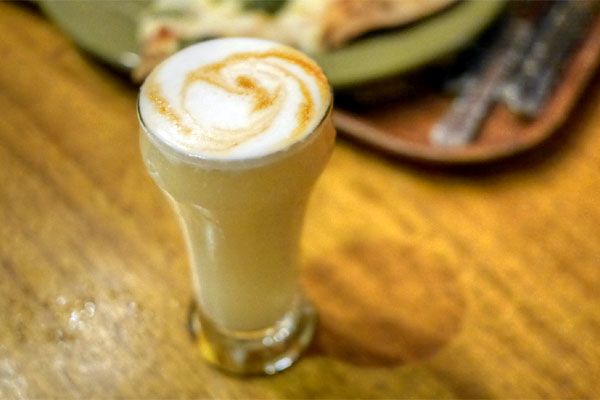 Fort Ross [$13.00]
| Hangar One Vodka, Giffard Creme de Banane, Lemon, Yellow Chartreuse, Juniper Honey, Egg White, Seltzer
Here we see one of my favorite cocktails, a smooth, creamy drink with a great sweet-tart interplay and all-encompassing egginess.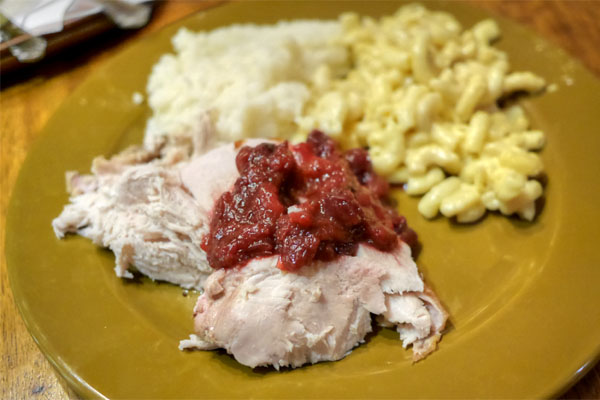 Smoked Turkey [$12.00]
| Mashed Potatoes, Mac 'n' Cheese, Cranberry Sauce
Given that they were completely out of ham and roast beef, we were forced to get more turkey. Fortunately, the cranberry sauce did help add moisture and mask some of the off flavors in the meat.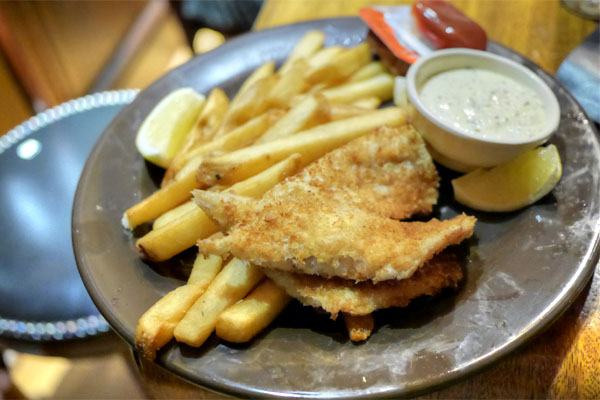 Fish and Chips
Fish 'n' chips were a highlight: thin, crispy, and strangely reminiscent of Van de Kamp's frozen fish sticks (or Gorton's, if you prefer). This took me back to my college days, when I used to purchase said sticks in bulk and cook 'em up in the toaster oven whenever the drunchies struck.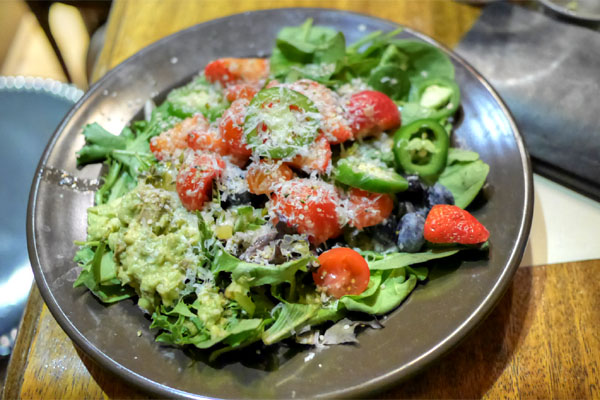 Seasonal Salad Counter [$9.75]
I don't think I've ever had jalapeños, strawberries, blueberries, cherry tomatoes, and what seemed like guacamole together in a salad before, but it worked out better than you'd think.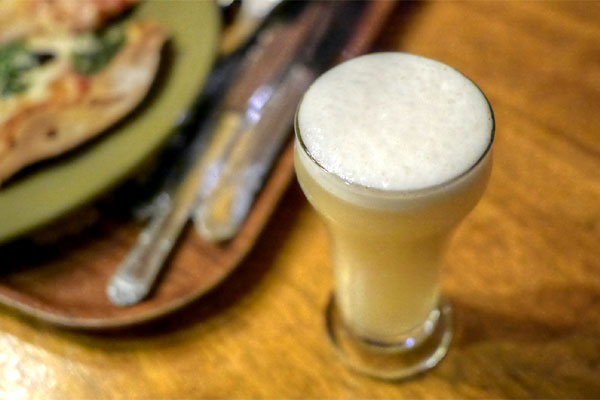 The Ahwahnee [$14.00]
| Famous Grouse Blended Scotch, Lemon, Egg White, Pernod, Absinthe, Seltzer
I enjoyed this cocktail as well, all spicy and lemon-y and creamy in texture, with the scotch providing a persistent booziness in the background.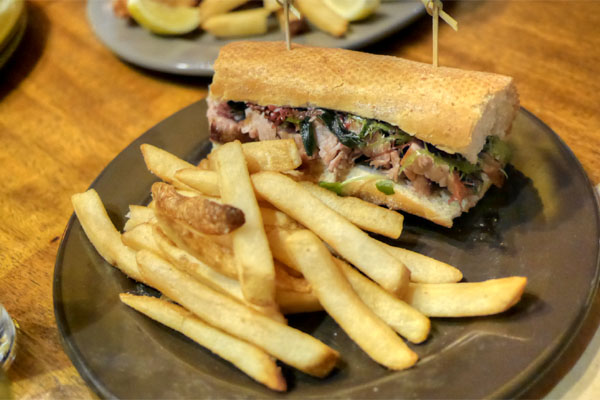 Seared Ahi Tuna Sandwich [$14.75]
| Pickled Ginger, Daikon Sprouts, Lemon Aioli
Ahi was fishier than it should've been, though the tanginess of its various accompaniments did help considerably. My major issue here was with the bread, which came out ridiculously chewy, making the sandwich nigh impossible to eat cleanly. Again, the fries were the saving grace.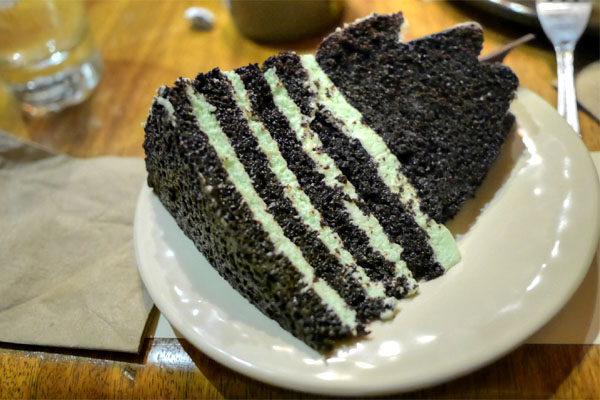 Sierra Mint Cake [$5.00]
We'd had our fill of the savories and got into the sweet stuff at this point. Our first cake arrived super moist, which was appreciated, and really, really minty, tasting a bit like mint-chocolate chip ice cream. It was too much for some of my dining companions, which likened the potency of the mint to toothpaste.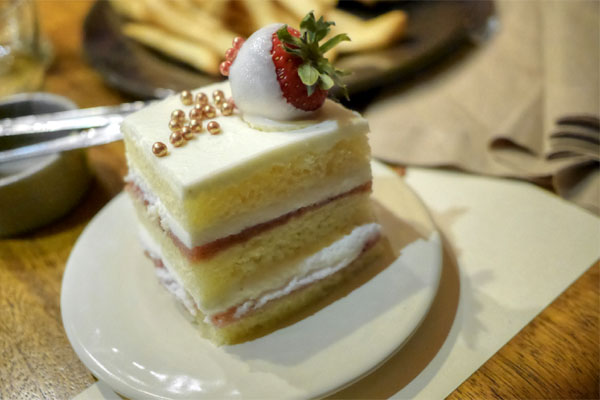 Strawberry Sheet Cake
A sort of strawberry cake was very enjoyable--tangy, sweet, and fluffy to the bite.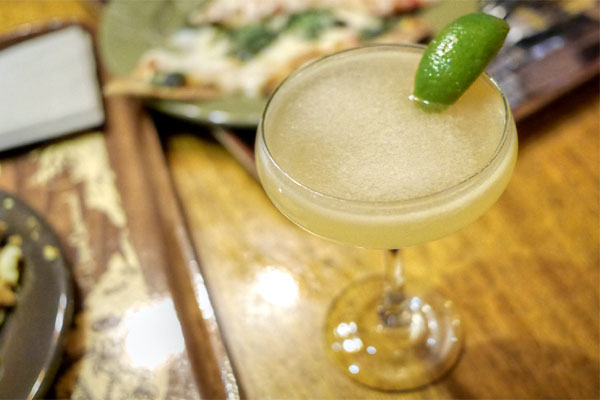 Golden Globe [$12.00]
| Rhum J.M. Gold, Lime, Stiggins Extra Fancy Pineapple Rum
Here we have our final cocktail from the Monarch Bar. Some strongly tropical, almost ginger-y notes on this one, backed by a tart, astringent quality with the rum well-moderated.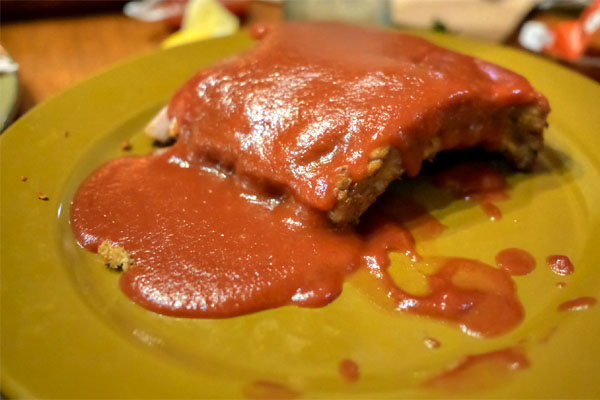 Pork Ribs
We made a brief detour back to the savories with the ribs, which were unfortunately dry. I think they slathered on way too much sauce to try to make up for that, but said sauce resulted in the dish being just overwhelmingly tart. If you're in the mood for ribs, you'd be better served at the likes of Lucille's or Claim Jumper.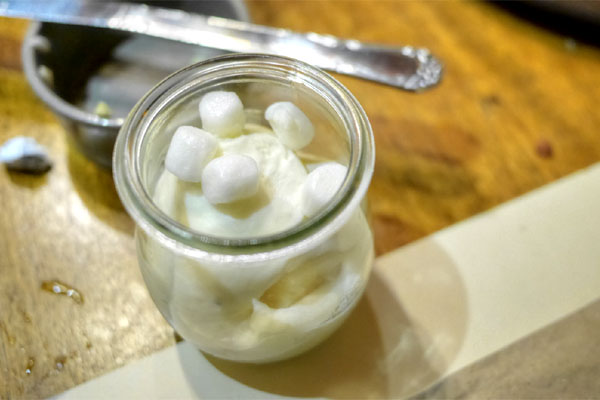 Ambrosia
Ambrosia was heavy-handed, and desperately in need of more acidity to counteract the toothachingly sugary nature of the dessert.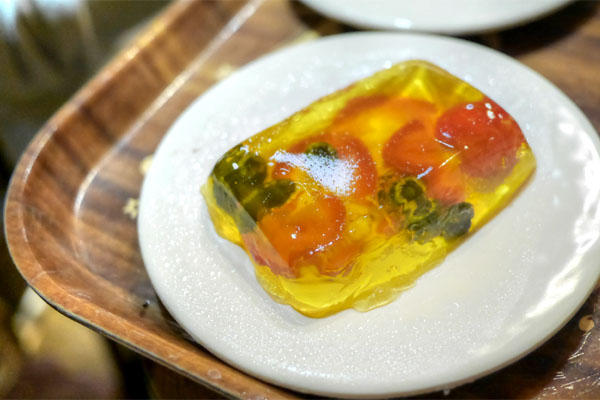 Yellow Jello [$0.35]
Clifton's is known for its jello, and I guess I can't complain. It's jello, jiggly and whatnot.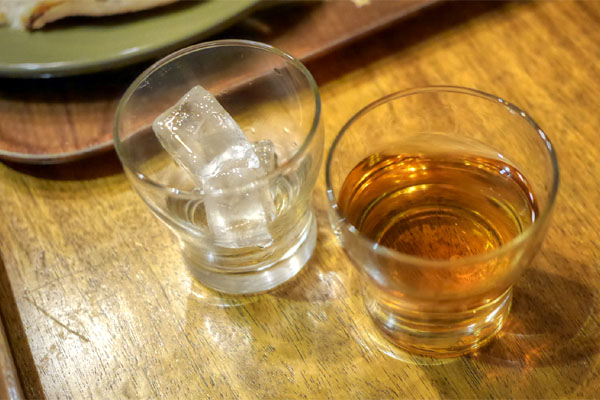 With the cocktails done with, we ordered up some whiskey, specifically the
Nikka Coffey Grain [$36/double]
. I got lots of sweet vanilla on the nose, while the palate was more in-your face--notes of fruity spice at first, but with a strong underlying bitterness and plenty of alcoholic burn.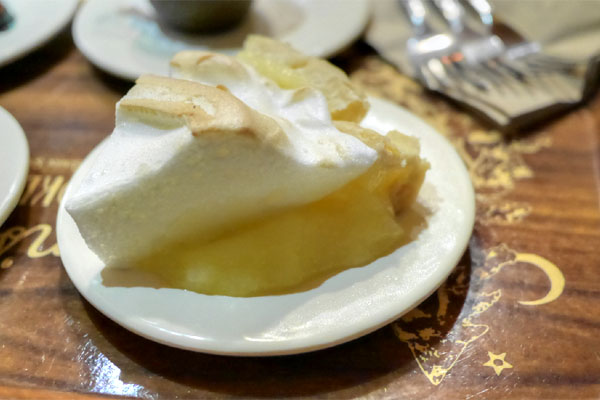 Lemon Meringue Pie
A lemon meringue pie was properly tart, though the meringue portion was too heavy, too sugary, too eggy.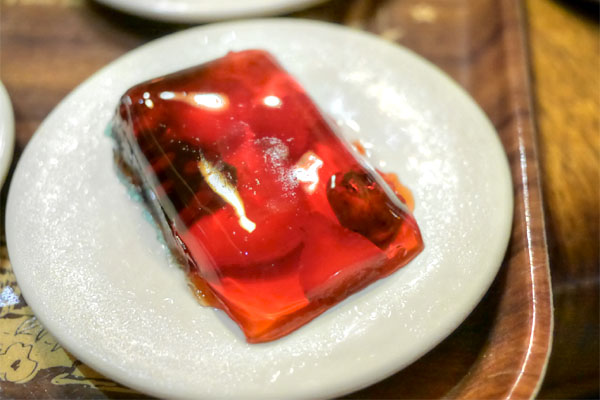 Red Jello [$0.35]
The red jello seemed more O.G., with a strong artificial cherry-like taste.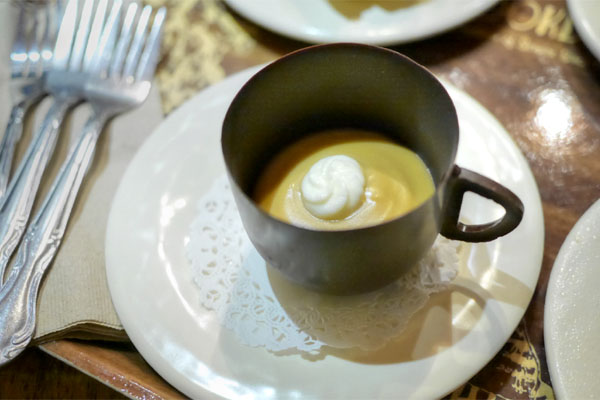 Chocolate Cup
Arguably the best dessert was this chocolate teacup, containing a caramel-y, maple-y custard of some sort.

With the meal proper done with, we moved up to the third floor. The landing area is pictured above.

If we head toward the front of the building, we have a ballroom-slash-banquet room sort of space.

Go in the opposite direction and you'll enter the Gothic Bar, which overlooks the Cathedral Grove below.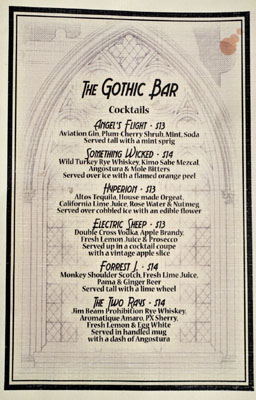 At the moment, the Gothic Bar's cocktail list offers up six drinks, though I'm assuming that more will gradually be added. Click for a larger version.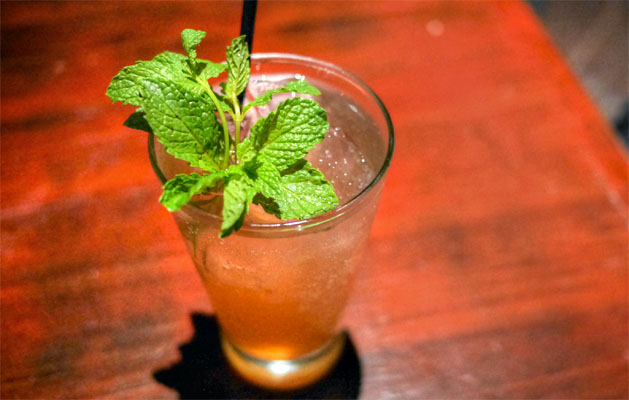 Angel's Flight [$13.00]
| Aviation Gin, Plum-Cherry Shrub, Mint, Soda, Served tall with a mint sprig
We began with this refreshing, lighthearted number, one that showed off a strong herby character along with an oddly intriguing savoriness.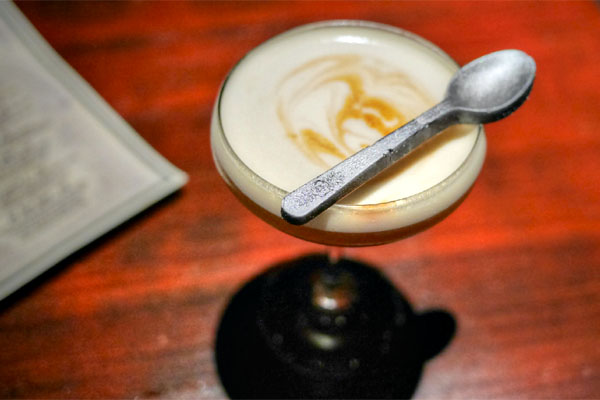 The Two Rays [$14.00]
| Jim Beam Prohibition Rye Whiskey, Aromatique Amaro, PX Sherry, Fresh Lemon & Egg White, Served in handled mug with a dash of Angostura
A whiskey sour-esque drink hit the mark, coming out with a good mix of boozy, bittersweet, and tart flavors, all joined by the frothiness of egg white. Nice crunch and sweetness from the chocolate spoon as well, though I've no idea where the advertised "handled mug" went.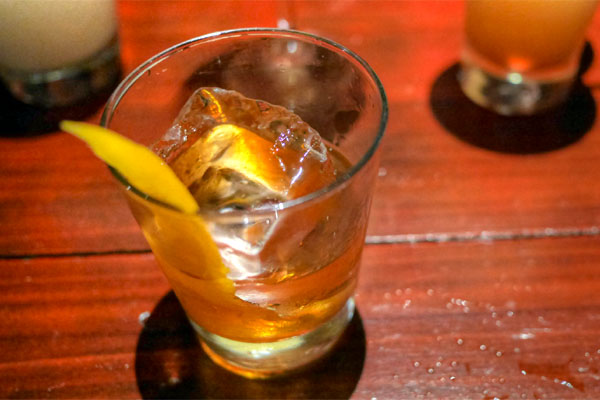 Something Wicked [$14.00]
| Wild Turkey Rye Whiskey, Kimo Sabe Mezcal, Angostura & Mole Bitters, Served over ice with a flamed orange peel
The booziest cocktail of the bunch really conveyed the spiciness of the rye, accompanied by hits of juicy citrus and bitterness. I didn't get much from the mezcal however.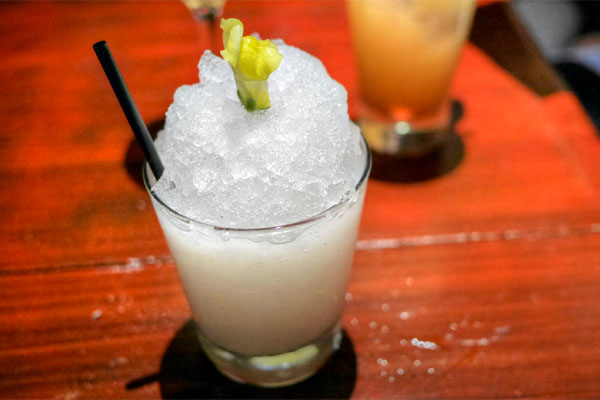 Hyperion [$13.00]
| Altos Tequila, House-made Orgeat, California Lime Juice, Rose Water & Nutmeg, Served over cobbled ice with an edible flower
Perhaps our favorite from the Gothic Bar, this one gave up some great floral and nutty nuances alongside tartness from the lime and just a bit of heat from the tequila.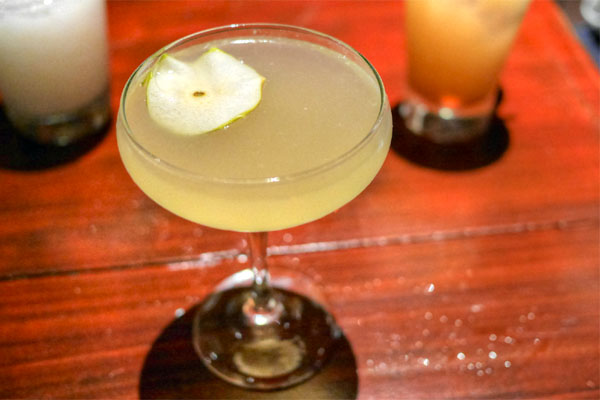 Electric Sheep [$13.00]
| Double Cross Vodka, Apple Brandy, Fresh Lemon Juice & Prosecco, Served up in a cocktail coupe with a vintage apple slice
Another enjoyable cocktail. A base of sweet, fruity, apple-y flavors here countered by the astringency of prosecco while vodka gave the necessary heft.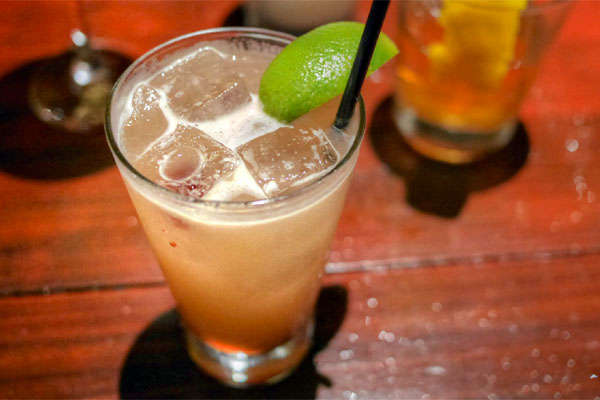 Forrest J. [$14.00]
| Monkey Shoulder Scotch, Fresh Lime Juice, Pama & Ginger Beer, Served tall with a lime wheel
A bubbly, effervescent, lightweight concoction, with notes of sweet, juicy pear set against zesty ginger and lime.
I left Clifton's disappointed with the food, as did the rest of my party of 10. The whole process of actually getting said food was a bit of a shitshow, with the kitchen constantly running out of items (or, actually, not even
attempting
to keep the advertised dishes in stock), despite not being busy. That would've been forgivable if the food were actually good, but it wasn't. One of my dining companions likened the cooking to HomeTown Buffet's, but I'm not even sure if it was at that level. My thought was more along the lines of "fourth grade school lunch" (and I went to public school). Leading up to the opening, we were promised "elevated" cafeteria fare, but the food was far from it. What a shame.
That being said, not everything was a waste. The space itself is lovely, with lots of different seating options, lots of different areas to explore. The beverage program's worth checking out as well. And I actually like the whole idea of a cafeteria, it's just the execution that's sorely lacking. Let's not forget that there's still much more to come from Clifton's. Most interesting to me is the high-end, old-school steakhouse set for the fourth floor, along with an accompanying Treetops bar. Then there's the tiki bar, named South Seas as an ode to the first Clifton's. We also have Shadow Box, an industrial, basement-located speakeasy concept replete with ice sculptures. A lot to look forward to for sure, though my excitement has definitely been tempered based on this experience.