Seoul Sausage Company (Los Angeles, CA)
Seoul Sausage Co. Little Tokyo
236 S Los Angeles St, Los Angeles, CA 90012
213.935.8677
www.seoulsausage.com
Fri 09/25/2015, 07:45p-10:35p

The second outpost of
Seoul Sausage
debuted on September 8th, set on the ground floor of the AVA apartments building in Downtown. Coming to us from partners Ted Kim, Yong King, and Chef Chris Oh, the restaurant expands on the original Sawtelle location with nicer digs, an enlarged menu, and perhaps most importantly,
booze
.

Inside, things are much, much larger than what you're used to on the Westside, with seating for about 45 indoors, plus quite a few more on the patio.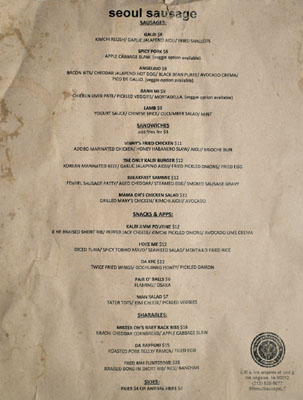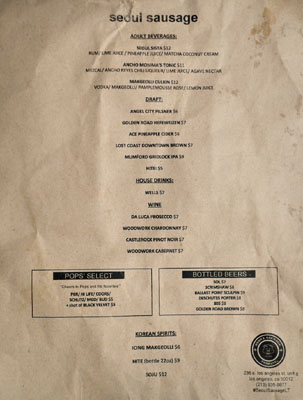 As far as the menu goes, you get all your O.G. S.S. favorites, joined by a large number of newer, theme-appropriate creations. To drink: a trio of cocktails, six beers on draft (plus a few more in bottles), a smattering of wine,
makgeolli
, and soju, natch. Click for larger versions.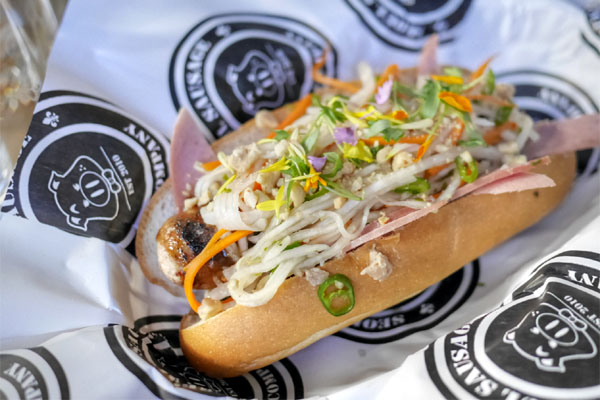 Banh Mi [$9.00]
| chicken liver pate/ pickled veggies/ mortadella
We began with one of the new items, an ostensibly bánh mì-inspired preparation. It did recall the traditional Vietnamese sandwich, with the liver in particular adding an earthiness to the dog while pickles provided the necessary crunch and acid. Nice snappiness from the actual sausage, too.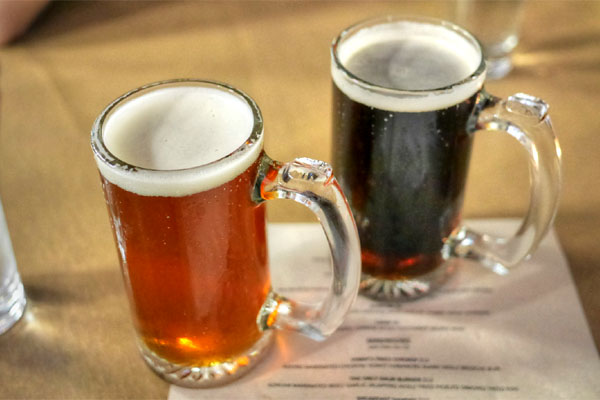 A couple beers to start. The
Mumford Gridlock IPA [$9]
was pretty prototypical of the style, really hoppy and piney to the smell, while the palate went sweet 'n' malty. On the other hand, the
Lost Coast Downtown Brown [$7]
tasted really, really nutty, with a malty backbone and subtle smoke.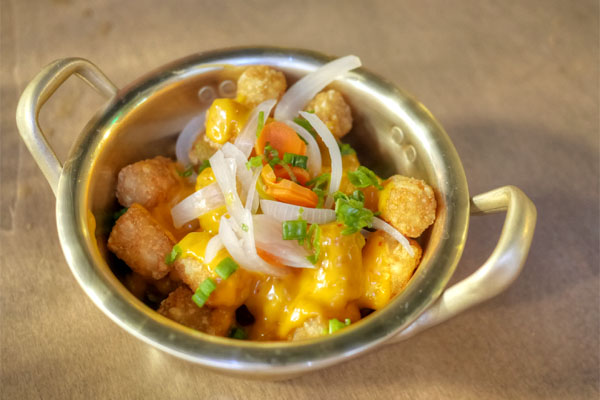 Man Salad [$7.00]
| tater tots/ kim cheese/ pickled veggies
I have a hard time saying no to tots, and the version here was exactly what I wanted. The actual taters were just like you remember from your childhood, and well-paired to the gooey, somewhat trashy nacho-esque cheese and tangy pickles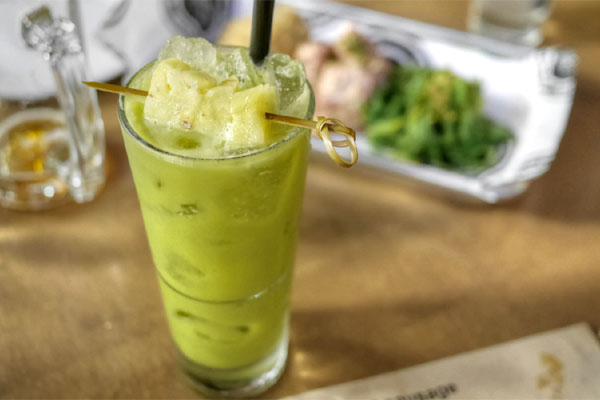 Seoul Sista [$12.00]
| rum/ lime juice/ pineapple juice/ matcha coconut cream
We made sure to try all three cocktails on the menu. The first was definitely the sweetest of the bunch, conveying loads of tropical coconut and pineapple, with nary a trace of the rum.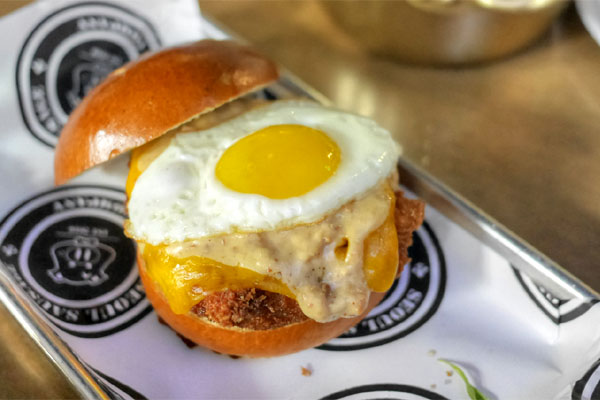 Breakfast Sammie [$12.00]
| fennel sausage patty/ aged cheddar/ steamed egg/ smoked sausage gravy
Given my fondness for breakfast food at night, this was a must-order, and didn't disappoint with its gratifying blend of early morning flavors. Sort of like a Sausage McMuffin with Egg, but cheffier.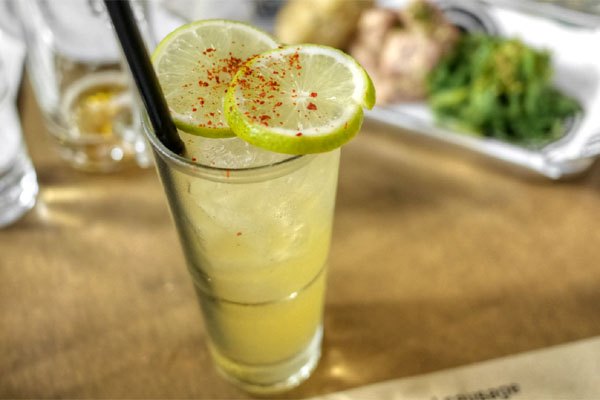 Ancho Momma's Tonic [$11.00]
| mezcal/ ancho reyes chili liqueur/ lime juice/ agave nectar
Mezcal made an appearance, but wasn't particularly apparent in this cocktail. I got lots of tartness initially, with a long finish loaded with heaps of spice.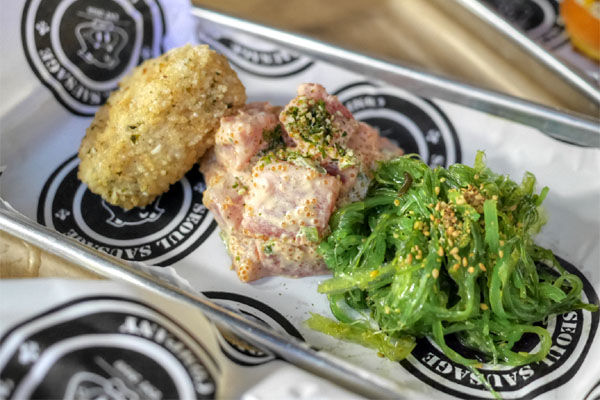 Poke Me [$12.00]
| diced tuna/ spicy tobiko mayo/ seaweed salad/ mentaiko fried rice
Next was a nod to LA's newfound poke trend. The fish seemed to call for more time spent marinating, though the creamy, roe-infused mayo did impart the necessary amount of brine. Loved the crispy, savory rice here (I'd enjoy it just by itself), as well as that superb seaweed salad.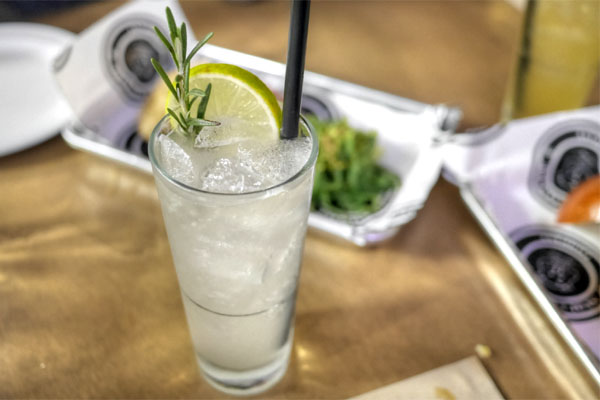 Makgeolli Culkin [$12.00]
| vodka/ makgeolli/ pamplemousse rose/ lemon juice
Our last cocktail featured one of the better punny names I've heard in recent times. It was also my favorite of the three, with some tasty grapefruit notes that commingled well with the rice wine.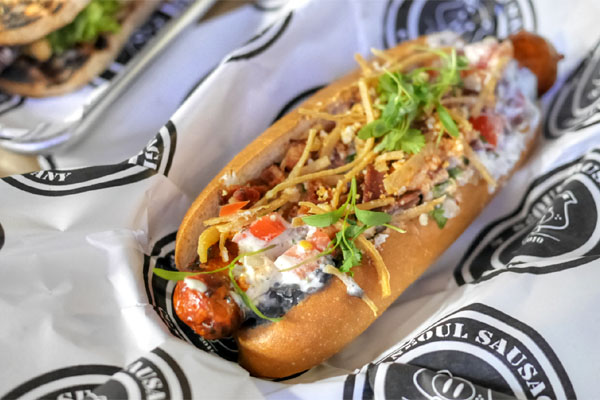 Angelino [$8.00]
| bacon bits/ cheddar jalapeno hot dog/ black bean puree/ avocado crema/ pico de gallo
A seemingly
pocho
-fied hot dog hit the mark. Again, great snap on the actual sausage, and the familiar flavors here definitely worked.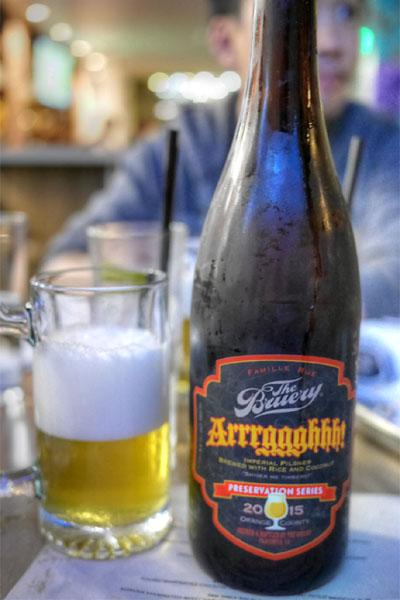 We cracked open a few bottles that we had on us. First came the
2015 The Bruery Arrrggghhh!
, an imperial pilsner brewed with rice and coconut. Coco-laced nose of course, with lots of ricey, lemony, grassy flavors up front leading to more sweet coconut toward the finish.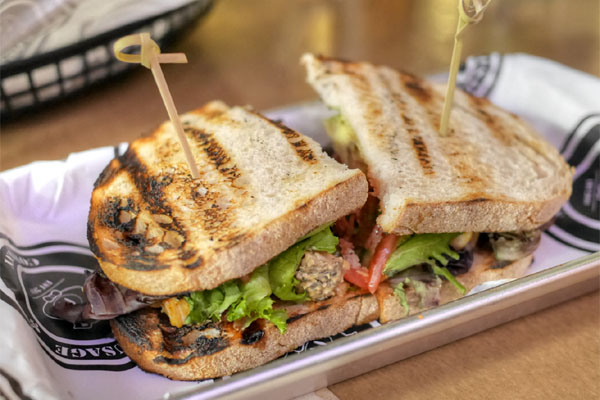 Mama Oh's Chicken Salad [$11.00]
| grilled mary's chicken/ kimchi aioli/ avocado
I'm a big fan of chicken salad, and the preparation here was to my liking. Great textures, with some bright, zesty flavors from the veggies and kimchi doing a nice job complementing the bird.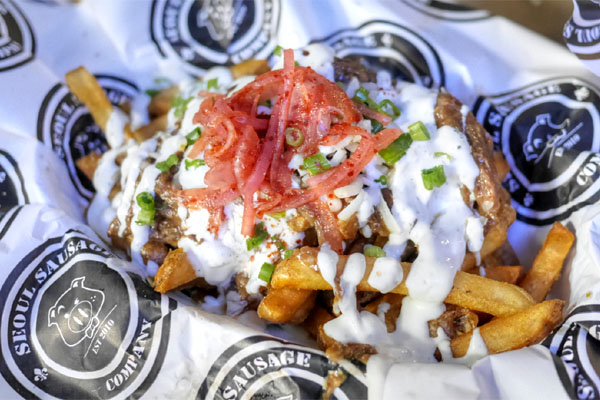 Kalbi Jimm Poutine [$12.00]
| 8 hr braised short rib/ pepper jack cheese/ kimchi pickled onions/ avocado lime crema
Short rib came out sweet, savory, and falling-apart tender, matched to the zippiness of the pickles while the crema bound it all together. Also of note were the fries, which were
super
crispy, like seriously some of the crispiest I've ever had.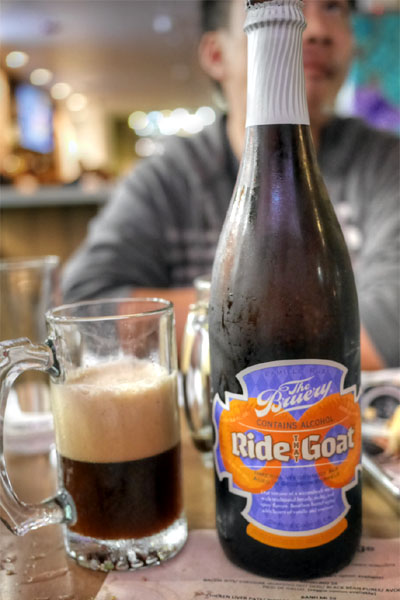 Next to drink was the
2015 The Bruery Ride That Goat
, an imperial weizenbock ale aged for a year in bourbon barrels. It was actually one of the best takes on the classic German wheat beer that I've tried. Think massive amounts of banana bread in the aroma. The taste followed, with more banana bread, dark malt, caramel, spice, and vanilla, the whole thing underpinned by an apparent booziness.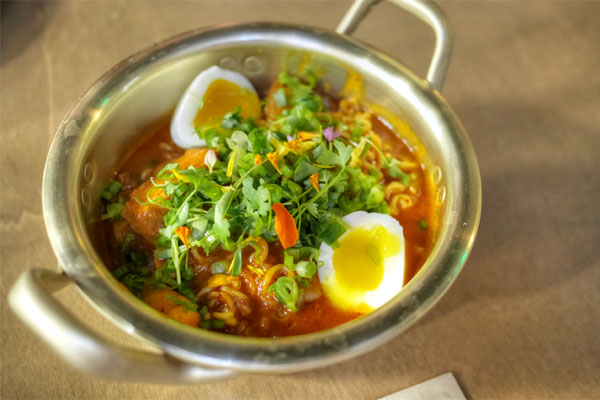 Da Rappoki [$15.00]
| roasted pork belly/ ramen/ fried egg
Here we had probably the most traditional Korean dish of the night, a combination of
ramyun
noodles and
tteokbokki
rice cakes referred to as
rappoki
. Great, spicy, classic flavors here, with the pork belly and runny egg adding even more richness.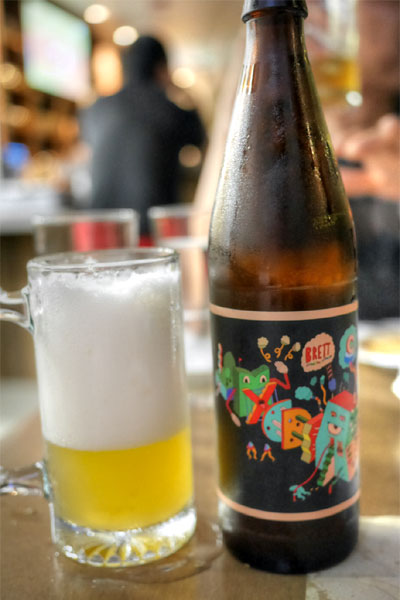 Moving to a lighter beer now, here was the
2015 Prairie Brett C.
, a farmhouse ale brewed with Cascade and Citra hops and a touch of sea salt, then conditioned with Brett. I found it refreshing, with lots juicy citrus at first, leading to more of that pungent, earthy Brett character, the salt layered on top of everything.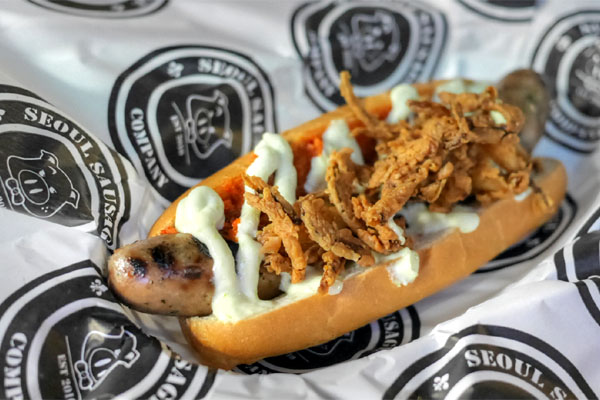 Galbi [$8.00]
| kimchi relish/ garlic jalapeno aioli/ fried shallots
Next, the kitchen send out this complementary sausage, supposedly to make up for some long waits according to our server. It was the original dog, the one that helped launch Seoul Sausage. The sweet-savoriness of galbi was captured, and went well with the tangy kimchi relish while shallots imparted a welcomed crunch to the dish.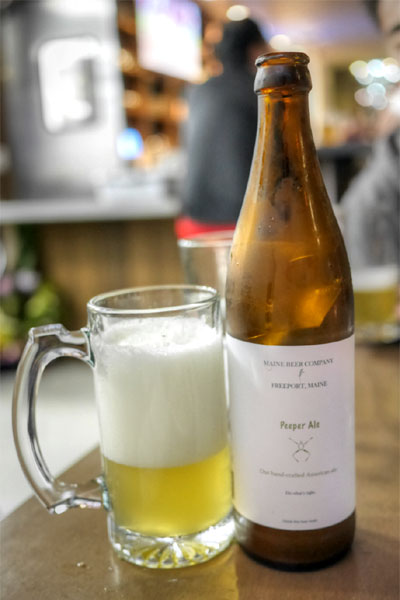 Our final drink was the
2015 Maine Beer Peeper Ale
, an American pale ale with Magnum, Amarillo, Cascade, and Centennial hops. Crisp and refreshing, with bitter hops on the front end transitioning to bright, juicy, citrusy flavors.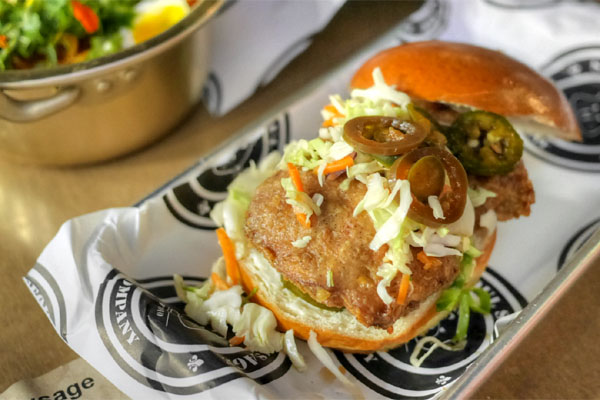 Vinny's Fried Chicken [$11.00]
| adobo marinated chicken/ honey habanero slaw/ aioli/ brioche bun
The requisite fried chicken sandwich made an appearance. I wanted more of that adobo seasoning on the bird, but it was still satisfying, and played perfectly with that crunchy slaw up top.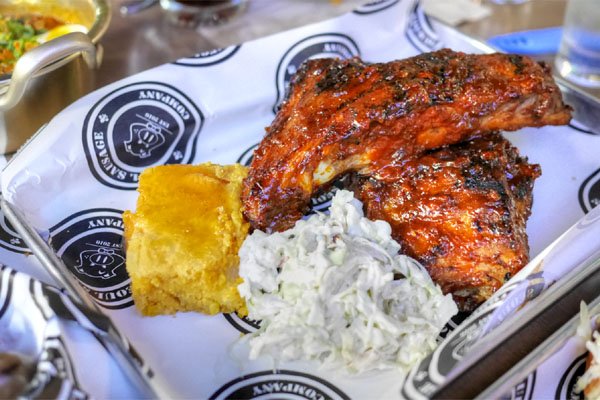 Mister Oh's Baby Back Ribs [$18.00]
| kimchi cheddar cornbread/ apple cabbage slaw
Last up was a rather larger portion of ribs, which featured what I think was
gochujang
all up in yo face. Very tasty, though a tad tougher than I would've preferred. Great slaw, and some very cheesy cornbread to boot.
No surprises here. Seoul Sausage delivered what it does best: comfort classics infused with an Asian-y flair. It's pretty much exactly what you'd expect, so if you liked what the guys were dishing out over on Sawtelle, you'll feel right at home here.