Dune (Los Angeles, CA)
Dune Restaurant
3143 Glendale Blvd, Los Angeles, CA 90039
323.486.7073
www.dune.kitchen
Sat 11/14/2015, 09:15p-10:10p

The last time I was in Atwater Village was for
Canelé
back in '09, I'm pretty sure. What brought me back was Dune, a falafel-centric Middle Eastern eatery that soft-opened in mid-January. Named after Frank Herbert's epic novel, the restaurant comes to us from the guys behind Echo Park's Elf Cafe: Chef Scott Zwiezen, Astara Calas, and Evan Haros.

Dune resides in the tiny former home of Atwater Grill. Seating comprises just a few stools along the wall and window, as well as the public tables outside.

The menu features variations on a few core items, the signature falafel joined by lamb and your usual Levantine goodies. Click for a larger version.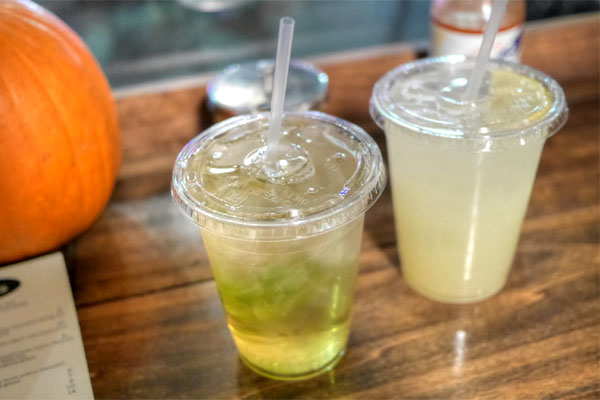 A couple drinks to start. The
Iced Moroccan Mint Tea [$2]
had a subtle astringency to it, finished by a layer of sweetness and minty undertones. The
Rosemary Lemonade [$3]
, meanwhile, was tart and refreshing, though I didn't get too much of the actual rosemary.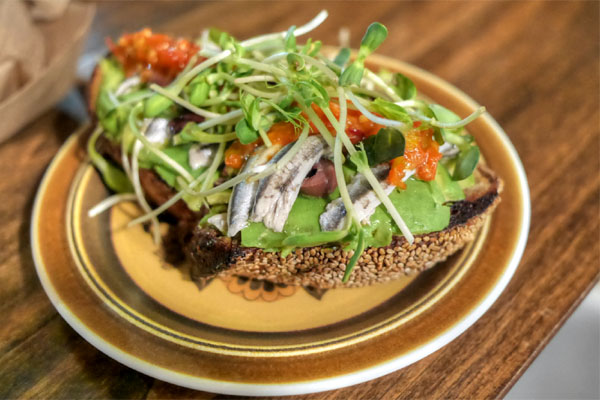 Bocquerones Toast [$10.00]
| Served on Bub and Grandma's sourdough with Moro Bay avocados. With preserved lemon and pepper salsa, kalamata olives and micro greens
We began with the
boquerones
toast, which was lovely. Excellent base of creaminess from the avocado to pair with the anchovies, moderated by the sweetness of the salsa while sprouts provided a delightfully bitter accent. I have to give specials props to the bread here too, baked by Andy Kadin of
Bub & Grandma's
using
Grist & Toll
whole grain flour. It was one of the best breads I've had in a while: crispy on the outside, fluffy on the inside, slightly tangy with a great, countering nuttiness from all the sesame.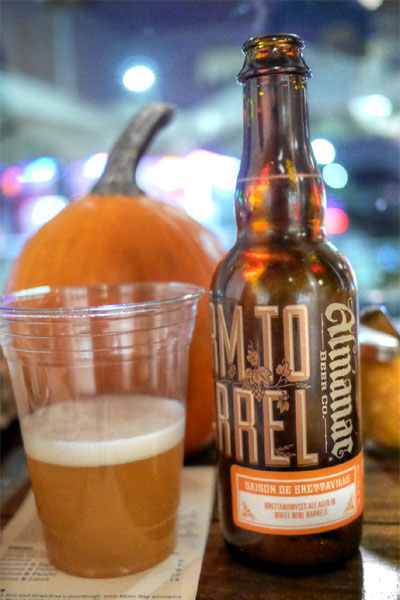 BYOB time, starting with the new
2015 Almanac Saison De Brettaville
, a Brett ale aged in white wine barrels. This smelled great, with lots of juicy, tropical, stone fruit, citrusy notes backed by an undercurrent of tartness. The taste was more sour, more funky, more vinous, with an oaky, Brett-y quality to it.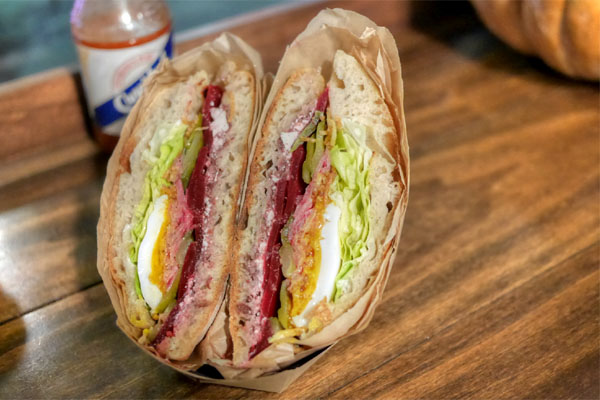 Pickled Beets Sandwich [$9.00]
| Bub and Grandma's ciabatta, toum, pickled beets, capers, kalamata olives, marinated onions, Bulgarian sheep feta, 8 minute egg, shoestring potatoes, seasonal greens
The sandwich was even better, despite having beets. The root vegetable was beautifully presented, its earthy sweetness evened out by the pickles and olives along with the lactic tang of that feta. I loved the additional luxuriousness provided by the egg, and those crunchy-salty potato bits were spot on too.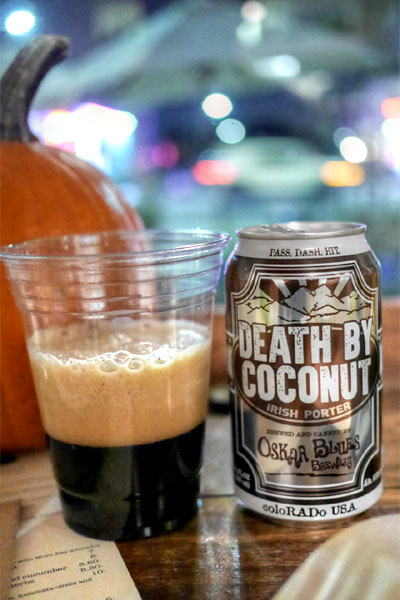 The
2015 Oskar Blues Death By Coconut
was an Irish porter made with desiccated coconut and dark chocolate. The nose was full of sweet, but unfortunately artificial-smelling coconut and slight chocolate-y malt. On the palate, I found the beer thin and lacking in body, with a noticeable tartness and smoky quality; there was less coconut, and it still didn't taste quite right. Doesn't even come close to
Funky Buddha's Last Snow
or
Perrin's No Rules
, two benchmarks of the coconut porter style.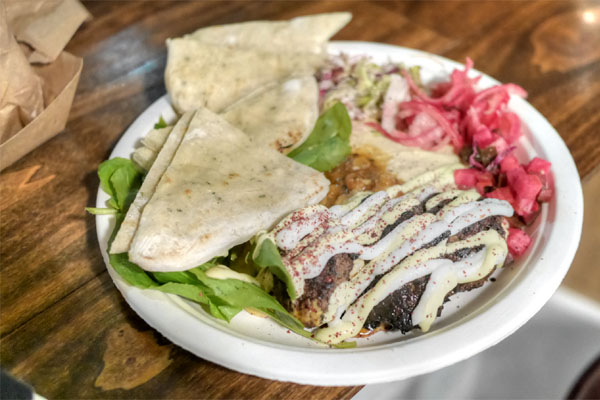 Hummus & Lamb Plate [$14.00]
| Served with a side of house flat bread, house pickles, marinated cabbage and onions, olives, seasonal greens
The lamb delivered, arriving super flavorful, slightly herby, and well-charred, meshing swimmingly with the lines of lemony yogurt on top. The hummus, pickles, and flatbread were all on point as well, making for a gratifying plate indeed.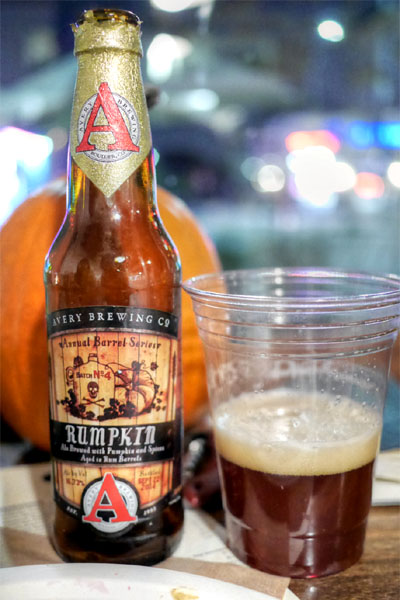 Our final beer was the
2014 Avery Rumpkin
, a pumpkin ale spiced with nutmeg, cinnamon, and ginger, then aged in rum barrels. I found it apropos for the season, all spicy and sweet and malty and oaky, with a huge boozy backbone.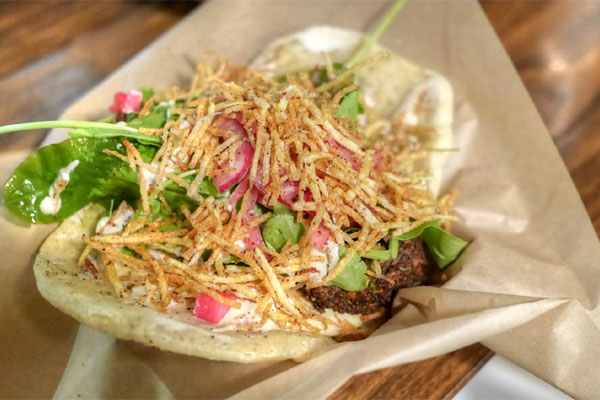 Organic Green Herb Falafel Sandwich [$8.00]
| House flat bread, hummus, house pickles, marinated cabbage and onions, tahini sauce, shoestring potatoes
We ended with the signature sandwich, and it didn't let us down. The falafels themselves were just as you'd want: crunchy on the outside, well-textured, gritty, but moist on the inside, with a great nutty-herby savor. They worked beautifully in the sandwich, serving as a base for all the creamy, bright, tangy, minty flavors at play. Delicious and superbly integrated.
Dune managed to exceed expectations, serving up some pretty flawless, robustly-flavored, deeply-satisfying Middle Eastern-inspired fare. And the falafels, yes, just might've been the best I've had. Finally, another reason to come up to Atwater.