Takaya Yakitori Izakaya (Costa Mesa, CA)
Takaya Yakitori Izakaya
891 Baker St, Costa Mesa, CA 92626
714.557.8715
www.takayacostamesa.com
Tue 10/27/2015, 07:30p-09:50p

A meet-up with an old college roommate of mine called for a casual spot in the Costa Mesa area, and after perusing a few options online, we both settled on Takaya. The restaurant is apparently an offshoot of an izakaya first established in Tokyo in 1980. It opened Stateside here in July 2012 (in the old Hana No Ki space), though from what I understand, new ownership took over in May 2013.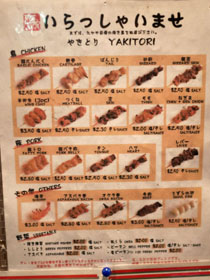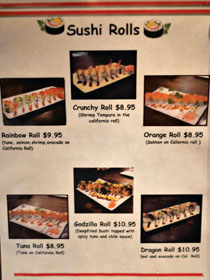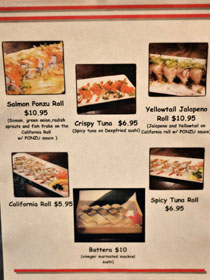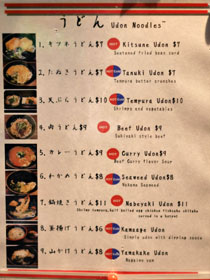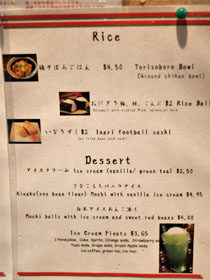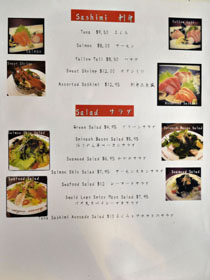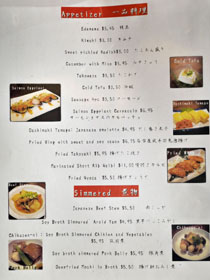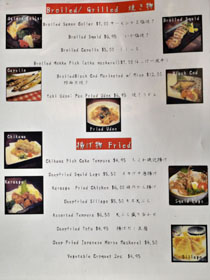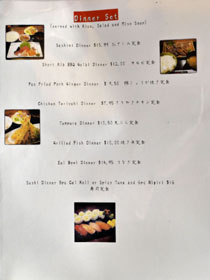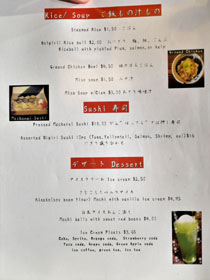 Takaya's menu is fairly extensive, with lots of izakaya-appropriate dishes on offer, headlined of course by the yakitori/kushiyaki selection. Click for larger versions.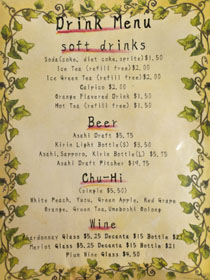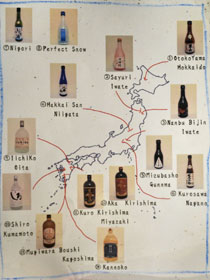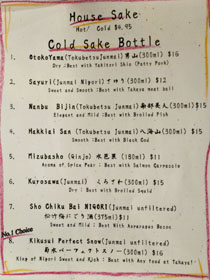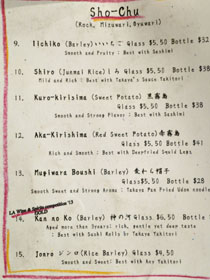 The drink menu, unsurprisingly, focuses on sake, shochu, and beer. Click for larger versions.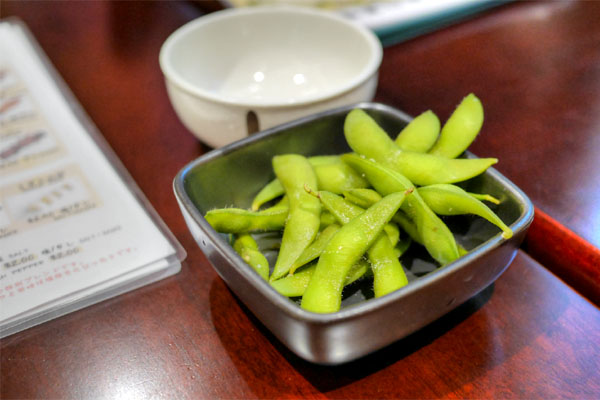 First was the complementary edamame. Pretty standard, but enjoyable.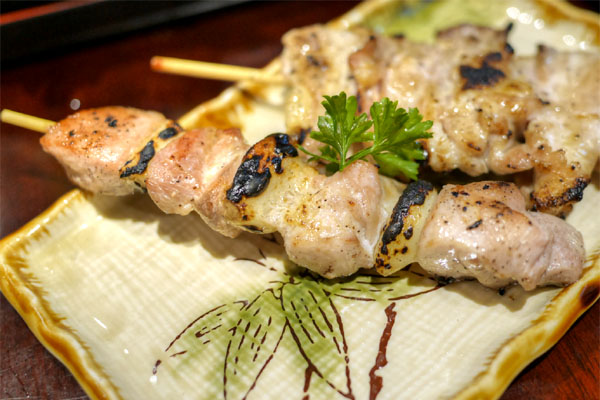 Garlic Chicken [$2.50]
| salt
We got right into the yakitori, and our first skewer was one of my favorites: juicy, flavorful, and well-charred, with an additional kick from the garlic.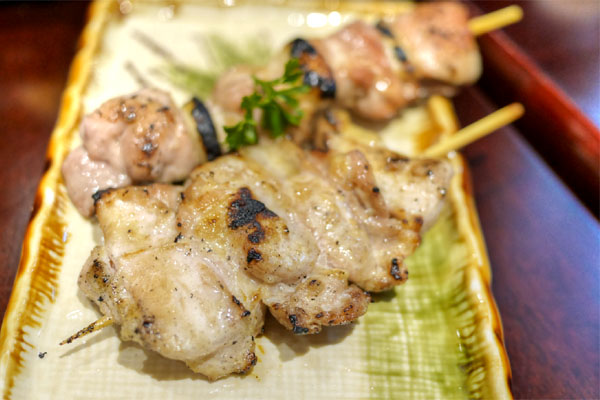 Cartilage [$2.50]
| salt
Nankotsu
was just as you'd expect, all crunchy and cartilaginous.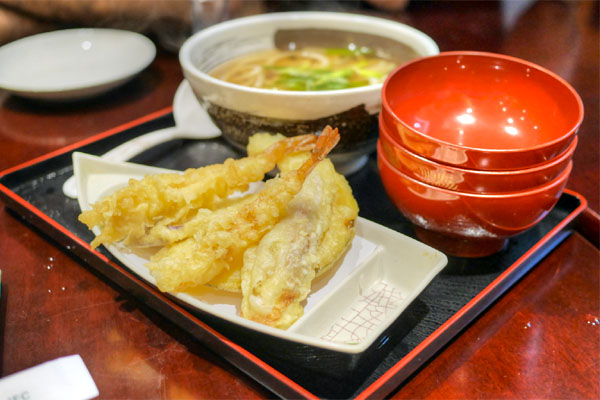 Tempura Udon [$10.00]
| shrimps and vegetables
We had a few non-yakitori dishes as well. Udon came out slick and slippery, in a tasty broth, while the tempura was crispy and to our liking too.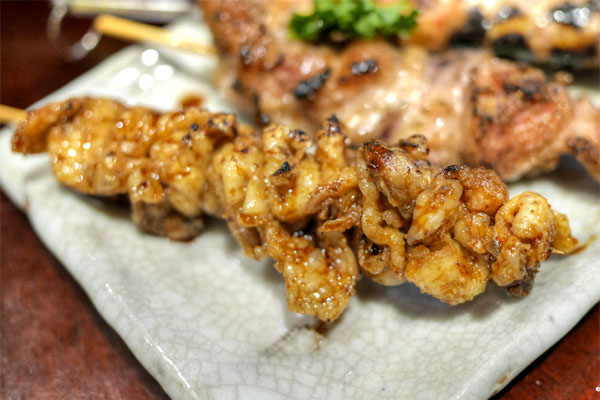 Skin [$2.30]
| sauce
The skin, or
torikawa
, conveyed just a bit of chew, while its savory flavors were matched by the sweet-ish
tare
sauce.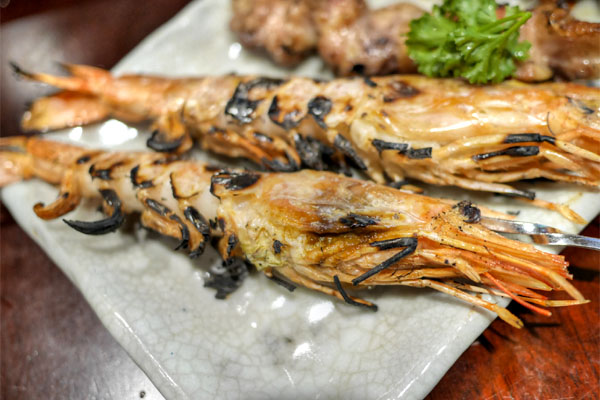 Shrimp [$3.20]
| salt
Shrimp weren't overdone fortunately, and conveyed a welcomed smokiness and salinity. And yes, I made sure to suck the heads, natch.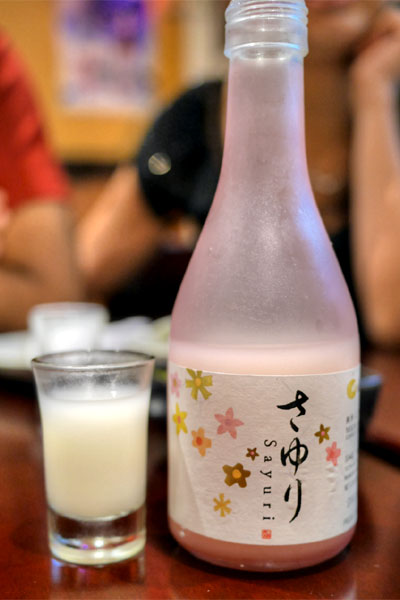 The
Sayuri Junmai Nigori [$12]
was an unfiltered sake: viscous, sweet, floral, and utterly easy-drinking.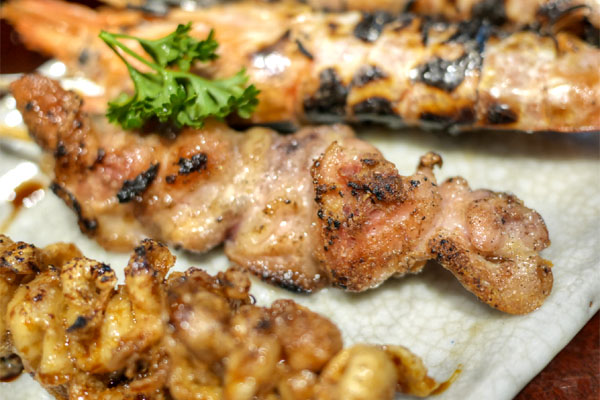 Tail [$2.50]
| salt
Another favorite was the
bonjiri
, one of the most richly flavored cuts and delightfully textured, a combination of fatty and firm consistencies.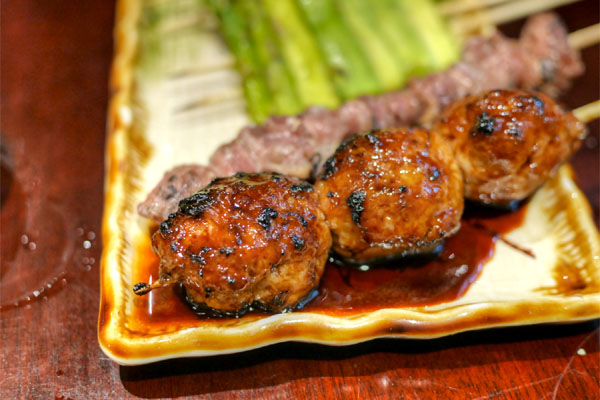 Meatball [$2.50]
| sauce
Tsukune
were homey and sweet, and quite the crowd pleaser.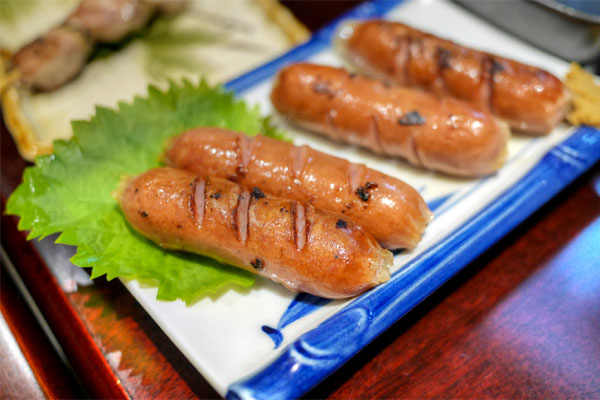 Sausage 4pc [$3.50]
Snappy and juicy, these guys were almost reminiscent of Lit'l Smokies.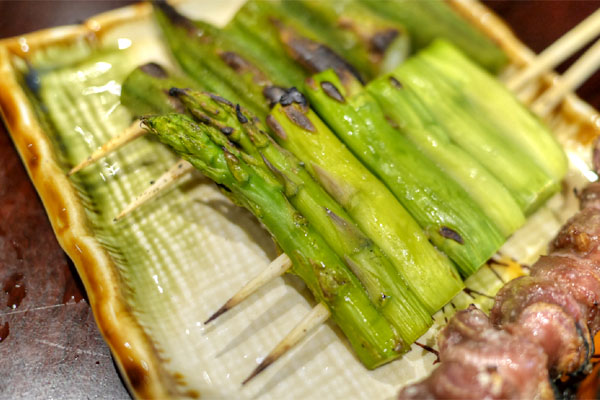 Asparagus [$2.00]
| salt
Asparagus showed off its trademark bitterness and crunch, though I wanted more char.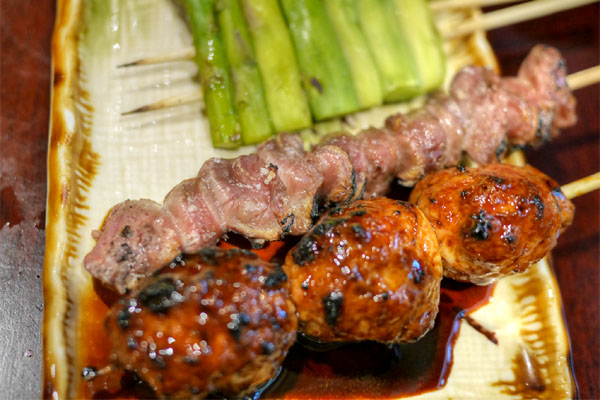 Gizzard [$2.50]
| salt
Sunagimo
arrived crunchy and grainy as expected, with a nice hit of salt.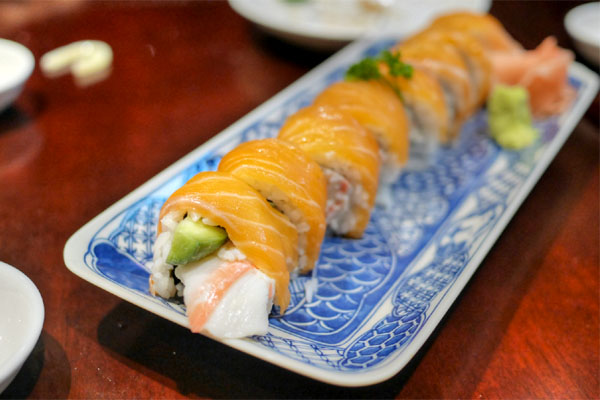 Orange Roll [$8.95]
| salmon on California roll
I normally eschew rolls, especially at an izakaya, but one of my dining companions insisted that we get this. It's basically your typical California roll, but with the addition of salmon.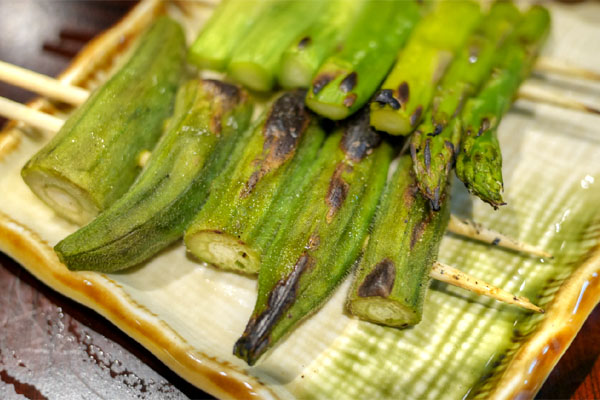 Okra [$2.00]
| salt
I thoroughly enjoyed the okra, which had a great crunch and smoke, and just enough of that mucilaginous character.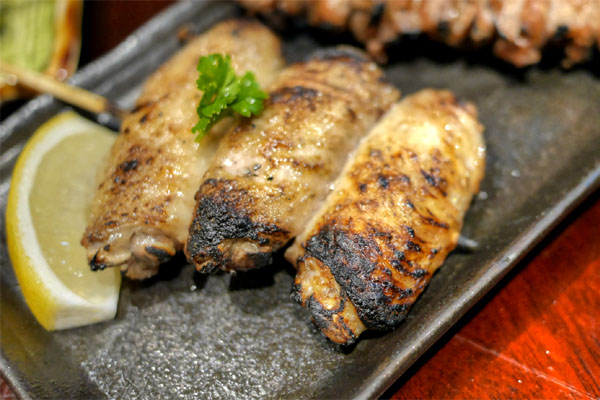 Wing (3pc) [$3.50]
| salt
Tebasaki
was another highlight--super juicy and savory, with a fantastic char.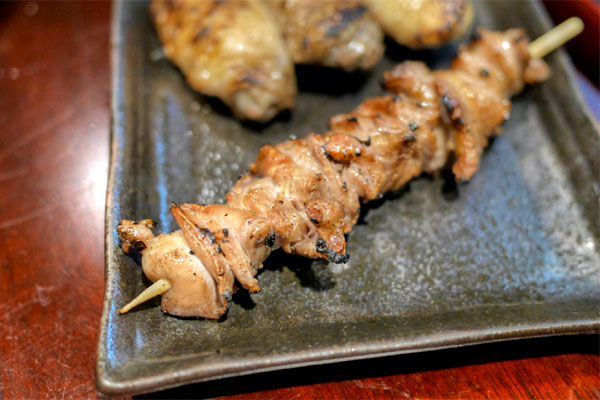 Gizzard Skin [$2.50]
| salt
Last up was the
ginkawa
, chewier than the standard gizzard, but also more flavorful.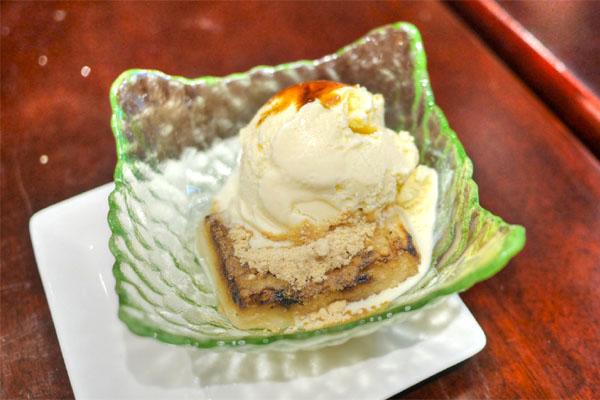 Kinako (Soy Bean Flour) Mochi with Vanilla Ice Cream [$4.95]
Time for a lone dessert. I was a fan of the sweet-nutty
kinako
powder and how that paired with the ice cream. The mochi, however, was quite a bit tougher than I'd like (lots of chewing was required to get through it).
This was sort of an impromptu meal, but I was generally pleased with Takaya. It's doesn't reach the levels of a
Kokekokko VIP
, but was still very tasty throughout. A solid choice if you're in the area.