Alexander's Steakhouse (Pasadena, CA)
Alexander's Steakhouse
111 N Los Robles Ave, Pasadena, CA 91101
626.486.1111
www.alexanderssteakhouse.com
Fri 10/30/2015, 07:50p-12:00a

Los Angeles' steak game was upped at the end of July with the debut of Alexander's, part of a small chain of steakhouses founded in 2005 in Cupertino by James Chen and Chef Jeffrey Stout. The restaurants have been well-received generally, even garnering Michelin stars a few years back, and are unique in that their menus feature distinctly Japanese influences. Each Alexander's is given a degree of autonomy with the menu, and heading things up in Pasadena is Executive Chef Matt Bata.
About the Chef
: Bata initially studied accounting, but got into the culinary field after moving to Las Vegas. He attended the Le Cordon Bleu College of Culinary Arts, and worked in the pastry department at Treasure Island during his time there. After two years, he transitioned to a prep cook role at T.I.'s Social House, and then moved to sister restaurant Company American Bistro as sous, under Executive Chef Marc Zimmerman. In 2010, Bata followed Zimmerman to San Francisco to open the second Alexander's outpost, where he stayed until leaving to start work on this Pasadena location.


Alexander's' location was formerly occupied by McCormick & Schmick's, which closed in September 2014. The space now features a sleeker, less stuffy, less woody aesthetic, though it's still steakhouse appropriate and rather large, with no less than three private dining rooms and a semi-private patio.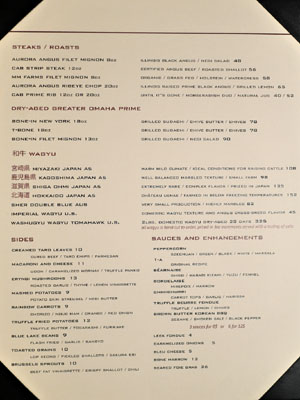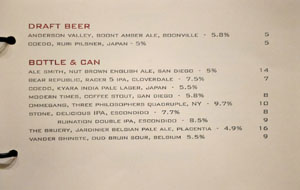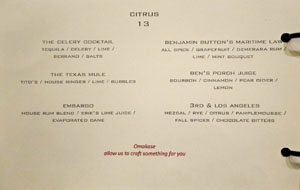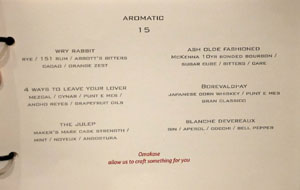 The menu follows the familiar steakhouse format, but the actual food definitely veers Japanese-y. Steaks are dry-aged on-site, and the restaurant features the most comprehensive wagyu selection that I've encountered. Unusually, there's also an eight-course tasting menu option at $175 plus $75 for pairing, as well as a Chef's Table with custom menus starting at $185pp. To imbibe, you get an American-focused wine list apropos for the concept, replete with a lot of the big names (and big prices), while cocktails are the work of
Julian Cox
mentee Erik Lund, who was previously behind the stick at
Republique
,
MessHall
, and
Rivera
. Click for larger versions.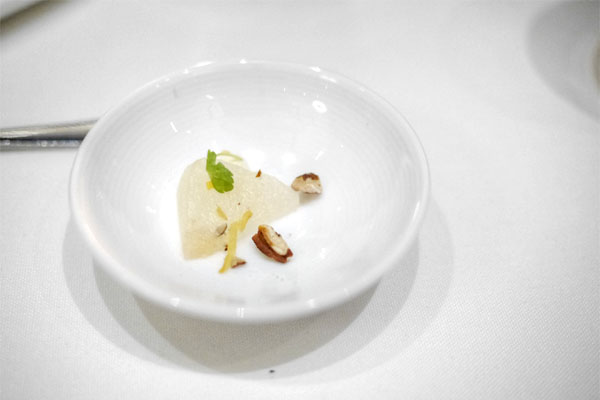 Our amuse bouche comprised a wedge of sweet compressed pear with bits of walnut.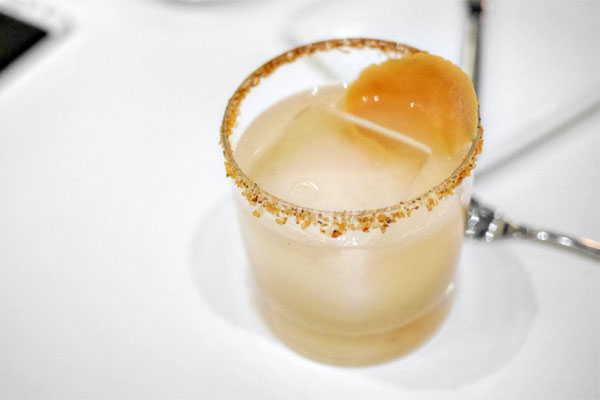 3rd & Los Angeles [$13.00]
| Mezcal / Rye / Citrus / Pamplemousse / Fall Spices / Chocolate Bitters
I'm not sure what the significance of the intersection is (near the new
Seoul Sausage
), but whatever the inspiration, it made for a good cocktail. Lots of autumnal sweet spice on the nose, intertwined with citrus, while the taste brought notes of grapefruit alongside alcoholic heat, with the rim contributing salt on the back end.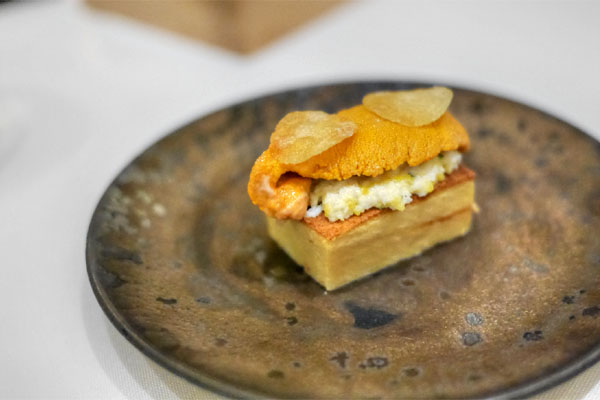 Uni Tamago [$9.00]
| Uni / Tamago / Egg Salad / Potato Chips / Celery
One of my favorite bites was this little number, which combined sweet, dense, eggy tamago with lush, ocean-y uni, the two elements joined together seamlessly by that herby egg salad.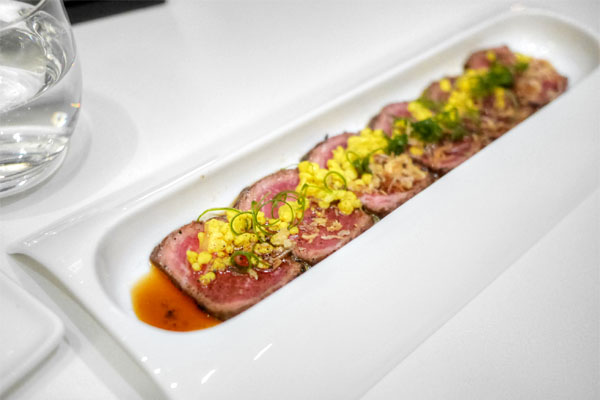 Dry Aged Tataki [$13.00]
| Burdock Root / Charred Onion Ponzu / Egg Yolk / Negi
The tataki was heavy-handed with regard to the ponzu, which had a strong sweet-savory relish that somewhat overshadowed the beef.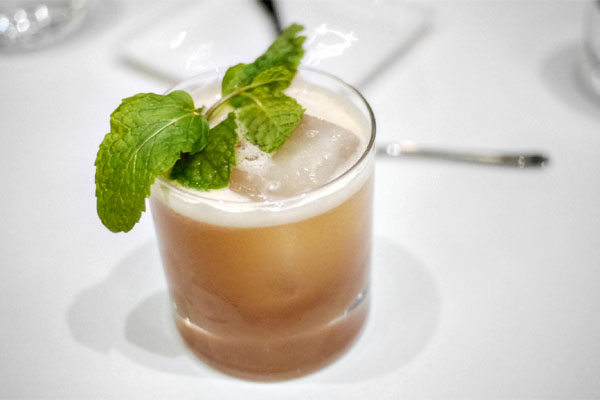 Benjamin Button's Maritime Law [$13.00]
| All Spice / Grapefruit / Demerara Rum / Lime / Mint Bouquet
Another solid drink, this one with aromas of spice-n-mint and a taste that went savory, floral, autumnal, with a fantastic richness to it.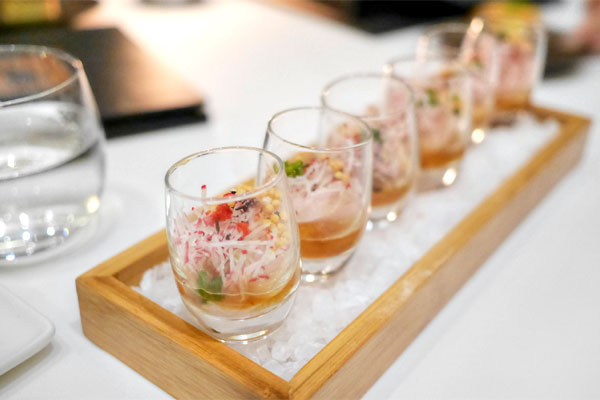 Hamachi Shots 3.0 [$24.00]
| Dashi / Avocado / Fresno / Ponzu / Negi / Arare
Hamachi was tarted up by the liberal application of dashi and ponzu, with the radish and onion providing a much needed lightness to the fatty fish. Excellent crunch and umami from the rice crackers too.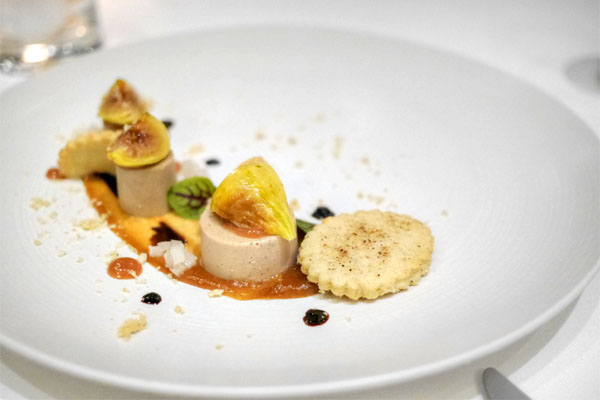 Chilled Foie Gras [$24.00]
| Cardamom / Date Puree / Roasted Fig / Truffle Balsamic / Ritz
Foie was as silky as you'd want, with subtle, finessed flavors. However, the various accompaniments went overboard when it came to sweetness and spicing, masking some of the inherent goodness of that liver.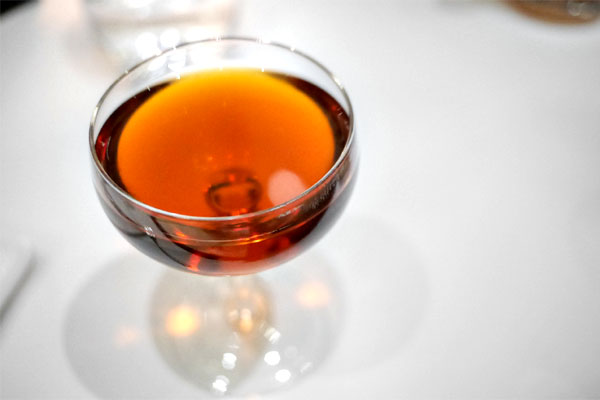 4 Ways to Leave Your Lover [$15.00]
| Mezcal / Cynar / Punt e Mes / Ancho Reyes / Grapefruit Oils
The booziest cocktail of the evening delivered, with an underpinning of heat and spice that really meshed well with the bittersweet flavors present.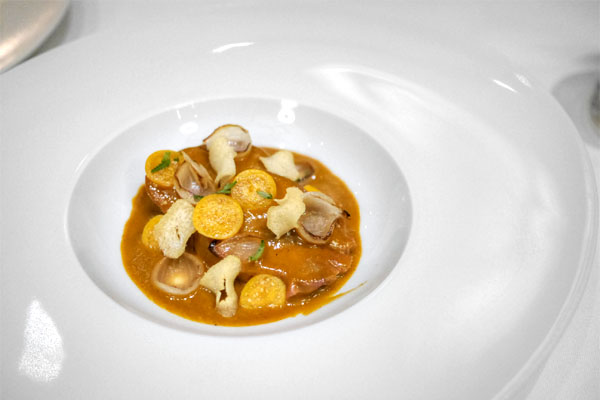 Braised Veal Tongue [$16.00]
| Makhani Sauce / Gooseberries / Pearl Onion / Crispy Garlic
Tongue was properly tender, accompanied by an Indian-esque sauce that almost veered Japanese curry-esque at points. Nice counterpoints from the onion and gooseberries as well.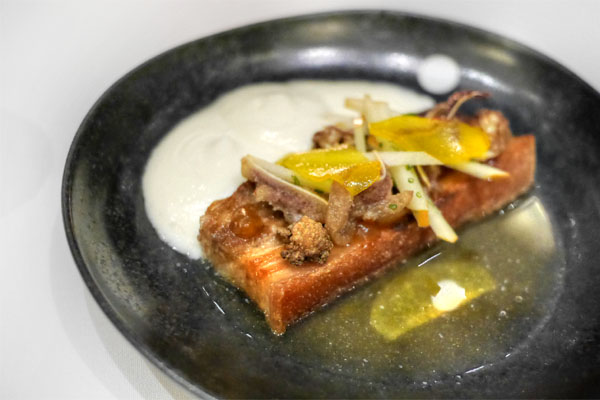 Grilled Cook's Pork Belly [$18.00]
| Pear Cream / Burnt Honey Gel / Cumin Dashi / Saffron Pears
Pork belly displayed a deft mix of lean, fat, and crispy skin. I was unsure of all that pear cream on the side, but fortunately it didn't become overwhelming with its sweetness.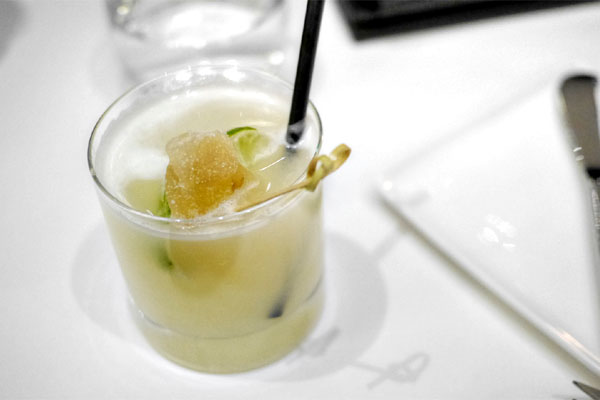 The Texas Mule [$13.00]
| Tito's / House Ginger / Lime / Bubbles
The lightest of our four cocktails, this one gave up a massive amount of ginger up front, subsequently evened out by the tartness of lime. Refreshing.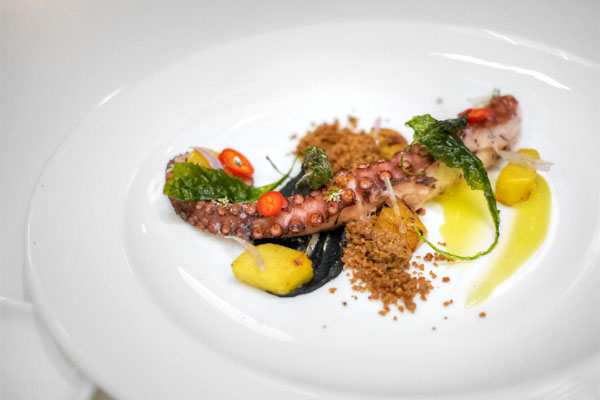 Grilled Octopus [$19.00]
| Pepitas Ash Romesco / Roasted Garlic / Kale / Coriander
Octopus came out super tender, though it would've been nice to have some more char and crispiness on the outside. I really enjoyed the romesco though, which had a great ashy character that really permeated the dish.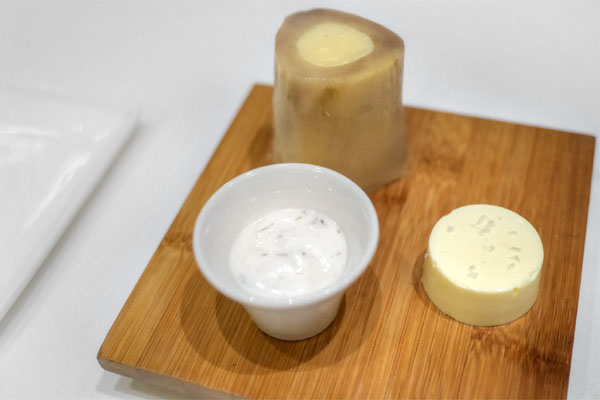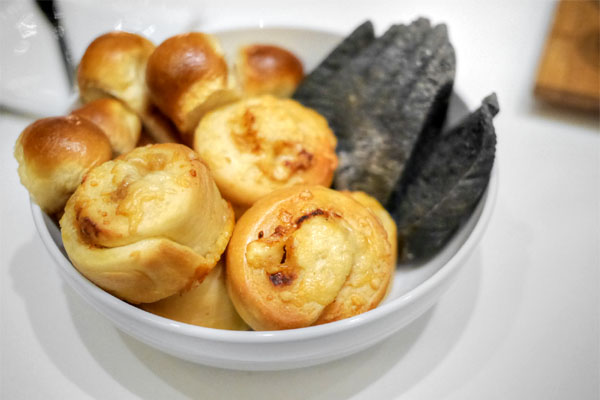 Bread service came relatively late in the meal, but was on point. Varieties included Manchego Cheese Rolls, sweet-mild Japanese Milk Bread, and briny Japanese Squid Ink Baguettes. Meanwhile, accoutrements comprised Rendered Beef Fat, Honey Butter served in a bone, and Salted Strauss Organic Butter.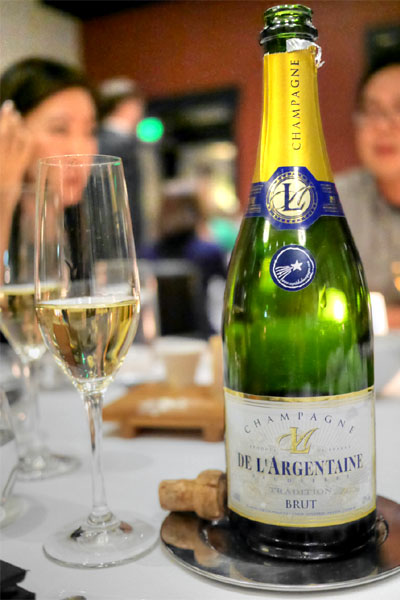 We moved into wine at this point, starting with some grower bubbly, the
De l'Argentaine, Blanc de Noirs, Champagne, NV [$100]
. An atypical Champagne composed solely of Pinot Meunier, it was rather lovely: notes of sweet apple abound on the nose, along with a backbone of toast; taste followed with sweet, rich fruit underscored by a sharp breadiness.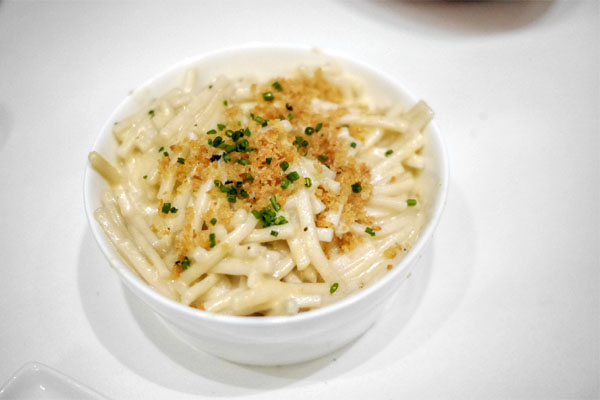 Macaroni and Cheese [$11.00]
| Udon / Caramelized Mornay / Truffle Panko
In our first side dish, short sections of udon made for an unconventional take on your classic mac & cheese. I found it lighter, less overtly cheesy than usual, with a strong umami presence.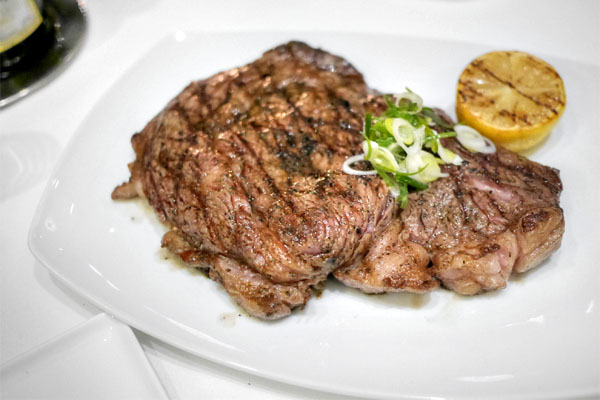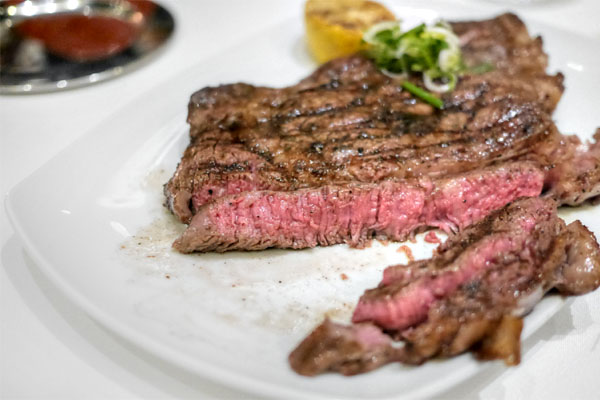 Aurora Angus Ribeye Chop 20oz [$65.00]
| Illinois Raised Prime Black Angus / Grilled Lemon
Getting into the steak now, the rib eye was a fine specimen, arriving tender, juicy, flavorful, with well-integrated marbling and a particularly apparent pepperiness. Great with a squirt of lemon too.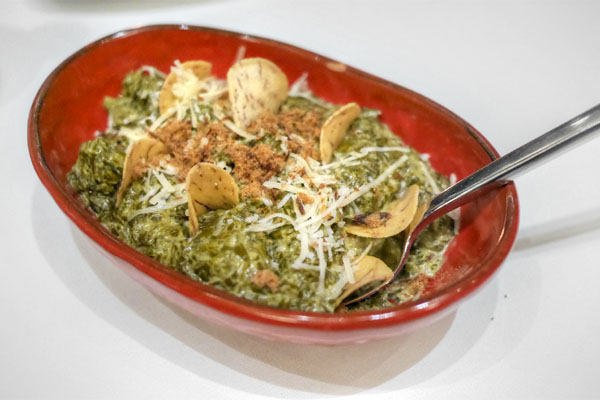 Creamed Taro Leaves [$10.00]
| Cured Beef / Taro Chips / Parmesan
Now this was something new. Creamed taro leaves made for a fitting substitute for your typical creamed spinach. The leaves were bitter, earthy at first, with a slight coconut-y sweetness coming in later.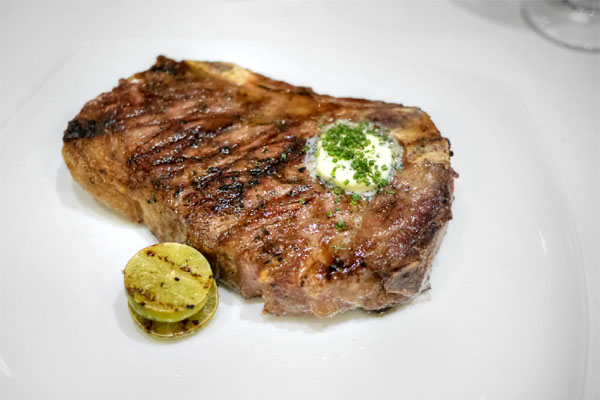 Bone-In New York 18oz [$78.00]
| Grilled Sudachi / Chive Butter / Chives
The dry-aged prime strip was up next, and not surprisingly, it wasn't quite as melty or tender as the preceding rib eye. Rather, it showed off a purer, more focused beefiness, complemented by a great touch of charring.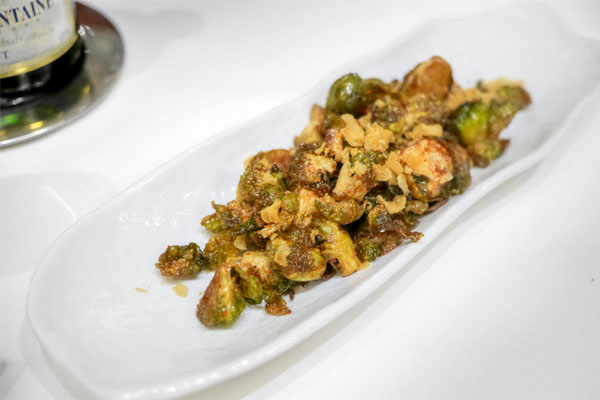 Brussels Sprouts [$10.00]
| Beef Fat Vinaigrette / Crispy Shallot / Chili
Brussels were very good, crunchy and bitter and smoky, with a spot on sweet-n-sour quality.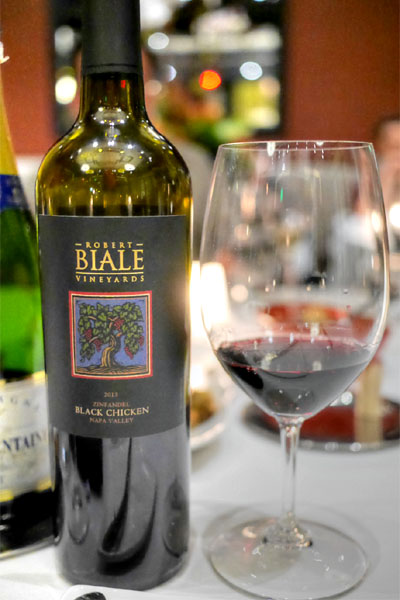 Red wine duties were handled by the
Robert Biale, The Black Chicken, Napa Valley, CA, 2013 [$95]
. A big, bold Zinfandel, the wine exuded tons of jammy dark berry fruit and peppery spice, moderated by a persistent acidity. Tasty.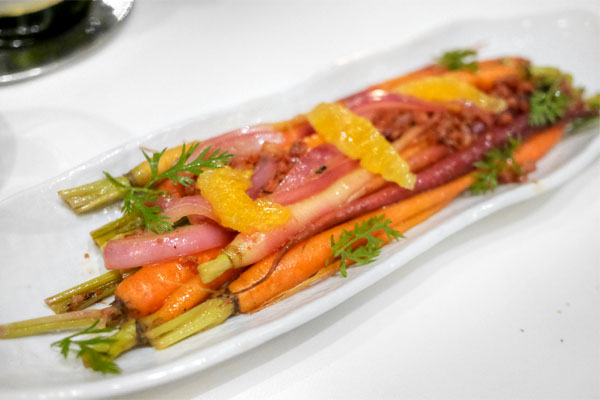 Rainbow Carrots [$9.00]
| Chorizo / Nouc Mam / Orange / Red Onion
Sweet, crisp carrots were amped up by the pungency of fish sauce while chorizo imparted salt and spice. Great zestiness from the red onions, too.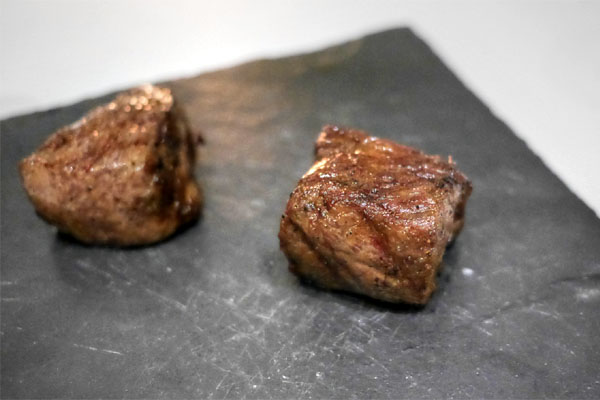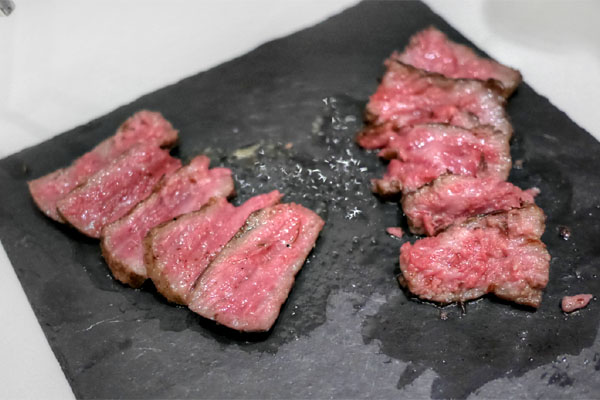 Kagoshima Japan A5 [$98.00/3oz]
| Well Balanced Marbled Texture / Small Farm
Hokkaido Japan A5 [$152.00/3oz]
| Château Uenae / Farmed in Below Freezing Temperatures
Time for Japanese beef. For comparative purposes, we opted to sample the highest and lowest priced cuts. Kagoshima wagyu (on the left) is perhaps the most common type here in the States, and I've had it a number of times already. It didn't let us down tonight with its melty consistency, char savor, and rich, smoky, lingering, almost ham-like flavors. On the other hand, I don't think I'd
ever
encountered Hokkaido beef before, so it was a pleasure to be able to sample it. The meat was definitely fattier, and even more melt-in-your-mouth, with an foie gras-like unctuousness that lasted long on the palate--wow.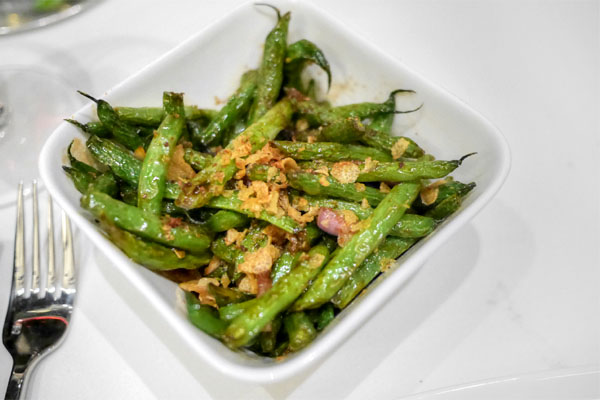 Blue Lake Beans [$9.00]
| Flash Fried / Garlic / Sansyo
Green beans made for my favorite of the sides. Excellent crunchiness here paired with some deeply savory flavors.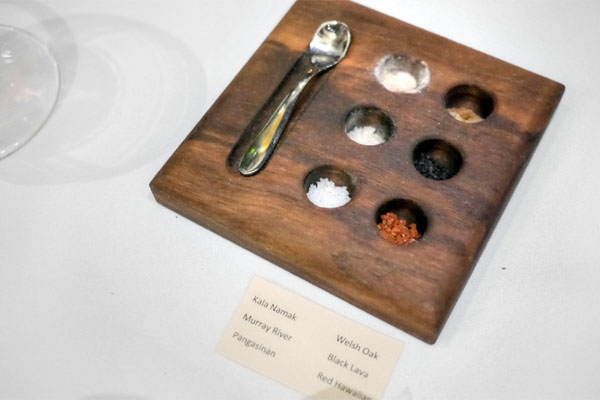 Along with the wagyu came a sampling of six salts: Kala Namak, Murray River, Pangasinan, Welsh Oak, Black Lava, and Red Hawaiian. My favorite was the Kala Namak from India, which had a strong sulfur component that recalled hard-boiled egg. I was also a fan of the Welsh Oak and its distinct smokiness.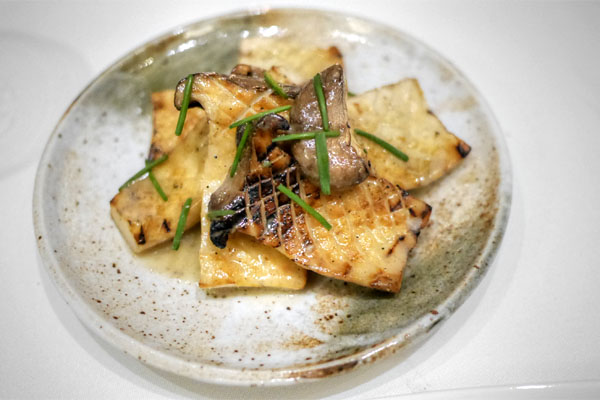 Eryngi Mushrooms [$13.00]
| Roasted Garlic / Thyme / Lemon Vinaigrette
King trumpets were wonderfully springy to the bite, with a great citrusy zest from the vinaigrette to balance out their inherent umami flavors.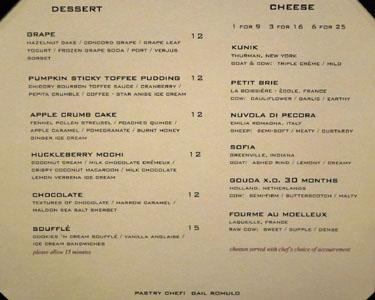 Desserts were a must of course, and definitely more interesting than usual. They're the charge of Pastry Chef Gail Romulo, a French Culinary Institute ('06) and CIA ('10) grad who worked at Lever House, Chinatown Brasserie, and Park Avenue Café in New York as well as The Pluckemin Inn in New Jersey before joining the Alexander's team in September 2011. Click for a larger version.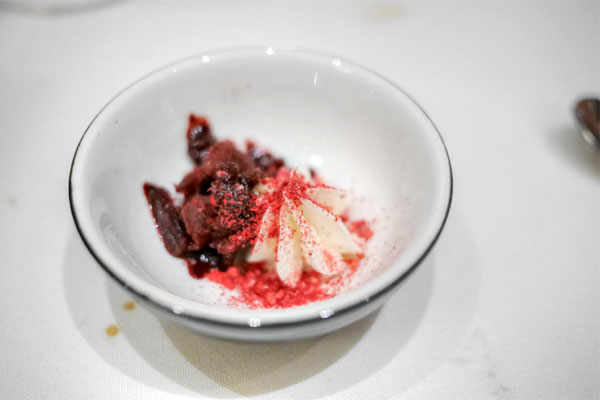 A dessert amuse combined thick, creamy, tangy frozen yogurt with raspberries and a berry granita.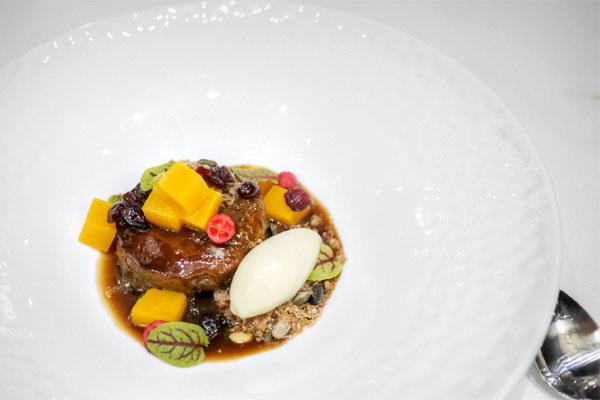 Pumpkin Sticky Toffee Pudding [$12.00]
| Chicory Bourbon Toffee Sauce / Cranberry / Pepita Crumble / Coffee - Star Anise Ice Cream
The sticky toffee pudding was a crowd pleaser, coming out properly sugary and loaded with rich autumnal spices. Nice bit of zippiness from the star anise ice cream to match.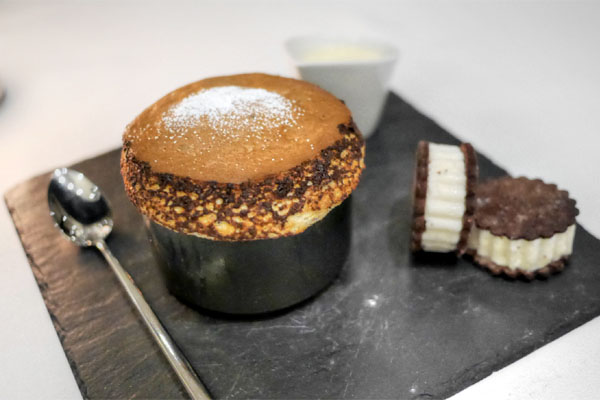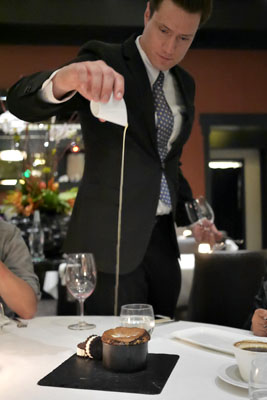 Soufflé [$15.00]
| Cookies 'n Cream Soufflé / Vanilla Anglaise / Ice Cream Sandwiches
The soufflé didn't quite taste like cookies & cream to me--I got more of a corn sweetness with chocolate--though I did enjoy it. Good job here with the mini ice cream sandwiches to boot.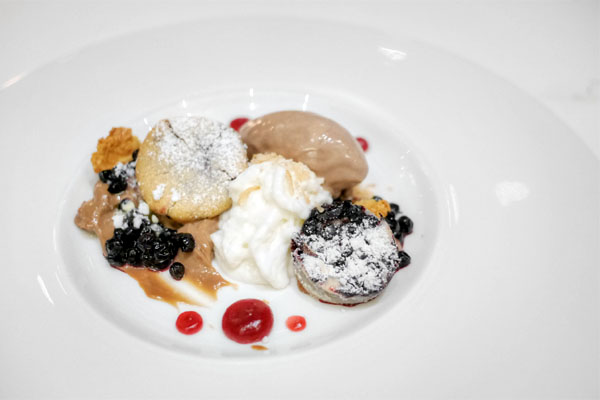 Huckleberry Mochi [$12.00]
| Coconut Cream / Milk Chocolate Crémeux / Crispy Coconut Macaroon / Milk Chocolate Lemon Verbena Ice Cream
Mochi did an admirable job conveying the sweet-tartness of huckleberry, and I definitely appreciated that lemon-y kick from the ice cream too.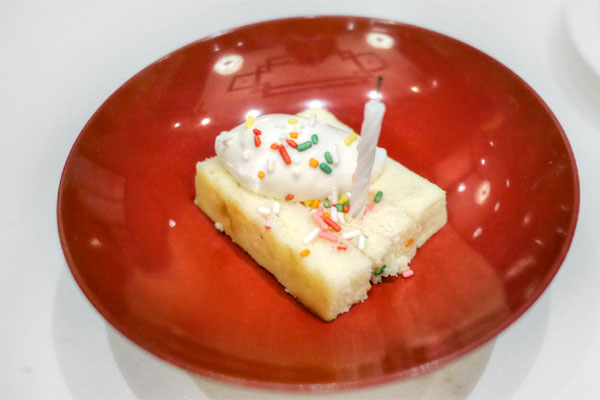 A birthday cake was done in the "Funfetti" style, which I somehow missed out on during my childhood.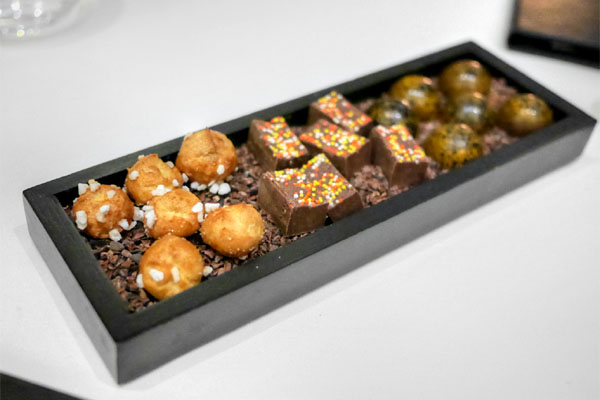 Mignardises consisted of airy chouquettes, some super-dense housemade fudge with sprinkles, and hefty salted caramel bonbons.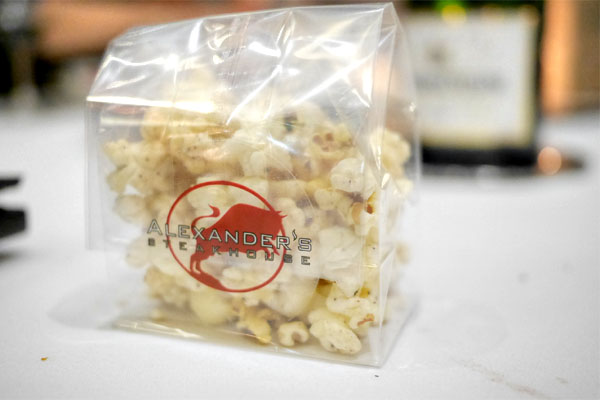 Our parting gift was a bag of Brown Butter-Cinnamon-Sugar Popcorn that tasted eerily similar to Apple Jacks cereal (but in a good way).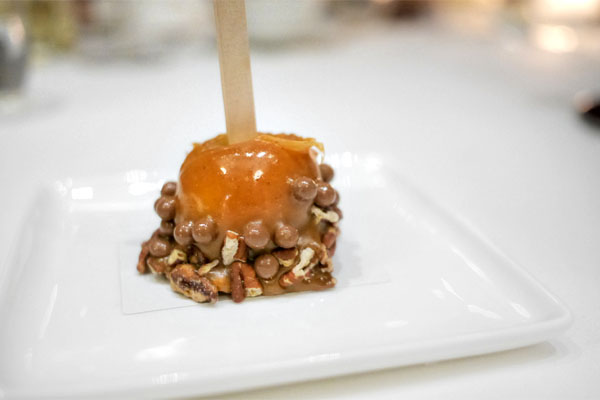 In preparation for Halloween the following day, the kitchen was in the midst of whipping up Miniature Caramel Candied Apples and offered us a sample. It was as good as any I've had, with the pecan and chocolate crunchies working perfectly alongside that crisp, juicy apple.
A worthy addition to the Los Angeles steakhouse scene, just as I suspected. The steaks themselves were thoroughly enjoyable, and I especially appreciated the expanded array of wagyu offerings, the largest I've seen. Sides and starters were more intriguing than usual, thanks to the Japanese thread running through them, though a few of the dishes could've used some refining. Even so, taking into account the cocktail program and the level of service, I have no problem placing Alexander's alongside the top steakhouses in the Southland.