Button Mash (Los Angeles, CA)
Button Mash Barcade
1391 Sunset Blvd, Los Angeles, CA 90026
213.250.9903
www.buttonmashla.com
Thu 11/05/2015, 08:10p-12:25a
When we last caught up with Thi and Nguyen Tran, the two were winding down operations over at the
Grand Star in Chinatown
. After they vacated the spot, the Starry Kitchen couple launched a
#SaveOurBalls Kickstarter
campaign (which unfortunately failed to meet its goal), landed a cookbook deal, and also started delivering food through UberEats. The most promising SK-related news, though, was the announcement that they'd signed on to do the food program at Button Mash, a new arcade bar in Echo Park. The place is the brainchild of friends and video game enthusiasts Gabriel Fowlkes and Jordan Weiss, and debuted on October 21st after being in development since late 2013.

The roughly 4,000-square-foot building used to house shoe retailer Warehouse Shoe Sale. It's been reworked by
Design, Bitches
, the local firm behind The Oinkster Hollywood,
Superba Food + Bread
,
Superba Snack Bar
, Coolhaus, Grill 'Em All, and Status Kuo. There's a fun, vaguely 80s theme going on with the space (replete with
Joseph Harmon
-penned wallpaper), which seats about 90 across distinct dining room, bar, and arcade areas. Speaking of said arcade, it features a rotating selection of 30 classic uprights chosen from the personal collection of the owners, while you'll also find pinball machines courtesy of Jim Belsito.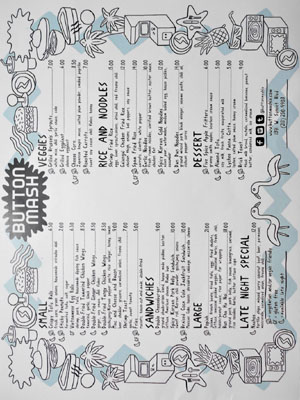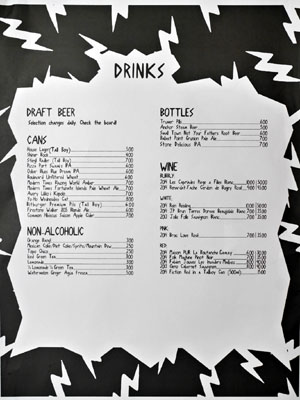 The Button Mash menu features a number of beloved Starry Kitchen classics, joined by a slew of newer, never-before-seen dishes. Drink-wise, we get a dozen beers on tap, a few more in cans/bottles (though nothing terribly interesting), as well as a small list of wines, available by the glass or bottle. Click for larger versions.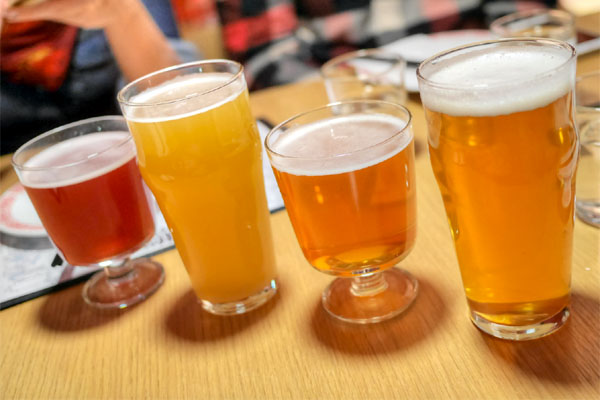 Starting things off was a quartet of beers from the draft list. Left to right, we had:
Black Market Tradecraft Series: Blackberry Sour [$8]: A lightweight Berliner; refreshing with sweet-tart fruit and a bit of lacto tang.
Avery Liliko'i Kepolo [$7]: Sweet tropical fruit intermixed with graininess and a hint of yeast from this passion fruit-laced witbier.
Smog City Weird [$8]: A five-grain saison with sage, this one wasn't to my liking with its unpleasant mix of herbal, dank, and nutty flavors--weird indeed.
Stone Go To IPA - Lemon Peel & Vanilla Bean [$8]: Tasty, with aromas of juicy citrus and pine leading to flavors of lemon and a persistent bitterness; not much vanilla though.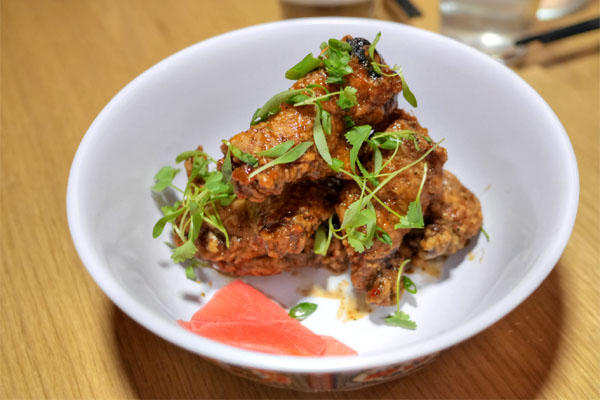 Double-Fried Tamarind Chicken Wings [$8.50]
| tamarind, garlic, black pepper
Wings were as good as any I've had: sweet, savory, wonderfully peppery, with a perfectly placed herby accent. Excellent crunch on the chicken, too.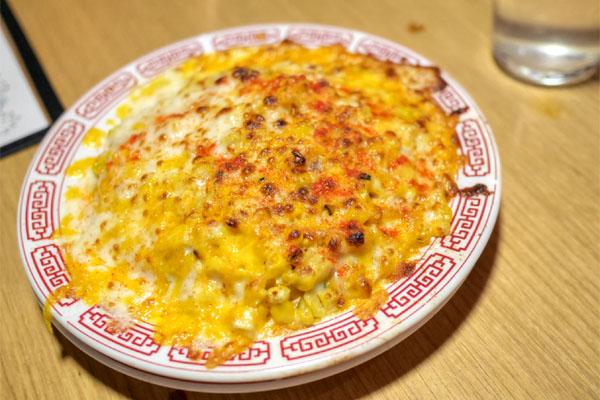 Cheese Corn [$8.50]
| Japanese kewpie mayo, salted plum powder, smoked paprika
The cheese corn also made a strong showing. The sweetness of the corn was definitely there, and paired beautifully with the char and paprika notes present while mayo helped bind it all together.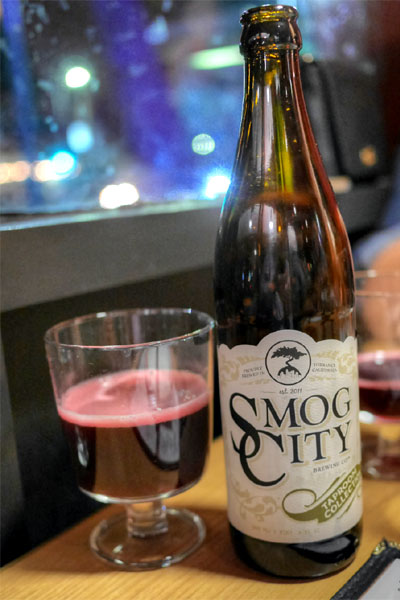 It doesn't seem like a proper Starry Kitchen experience without some BYOB action, so here we were. First up was the
2015 Smog City Black Currant Saison
, bottle #69 of a mere 20 case release from early November. It was damn tasty: floral and jammy on the nose, while the palate went jellied grape and semi-sweet, with a superb tart, tannic quality joined by an undercurrent of barnyard.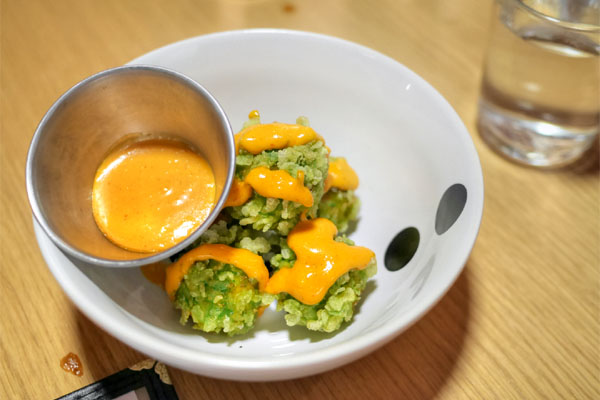 Crispy Tofu Balls [$6.50]
| fresh corn, green onions, housemade sriracha aioli
The balls that started it all were better than ever. Gorgeously-textured, a tad herby, and with tingling heat from the sriracha. Yes, you want these
in yo' mouf
, as Nguyen would say.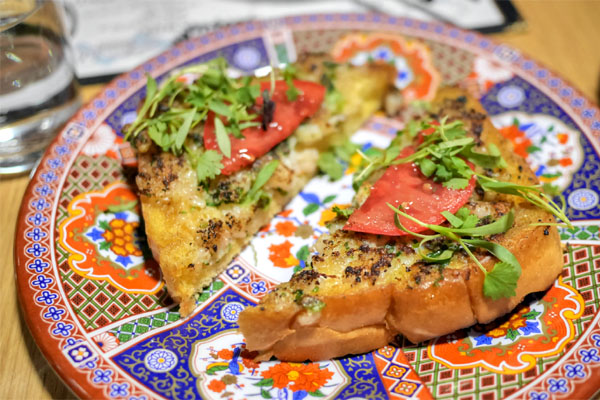 Shrimp Toast [$7.00]
| garlic, sweet tomato
The toast was a standout, really doing a bang-up job conveying the ocean-y brine of the shrimp while the herbs up top worked as a spot on counterpoint.
Our next beer was the
2015 AleSmith Reforged
, a barrel-aged blend of Wee Heavy Scotch ale, Speedway imperial stout with coffee, and Old Numbskull barleywine ale created in celebration of the brewery's 20th anniversary. This wasn't shy in the flavor department, as you'd imagine. I got tons of brown sugar and malt in the aroma, which transitioned to more malt, chocolate, and vanilla on the tongue, set over notes of oak and bourbon in the background.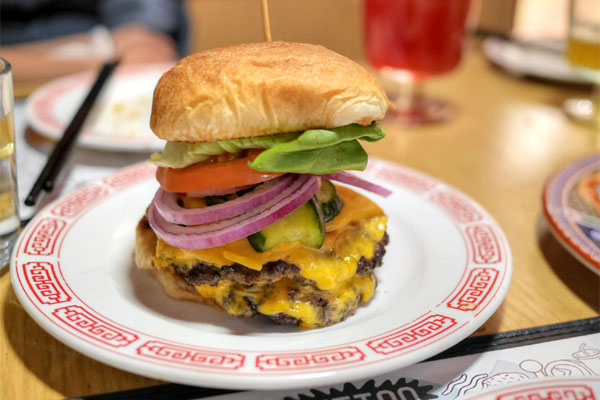 Double Cheeseburger [$9.00]
| ground chuck+sirloin blend, house made pickles, boston lettuce, American cheese, Bimbo bun
In a world of schmancy burgers, the Trans decided to go classic, and it paid off. Just a great combo of meat and cheese here, with the pickles and veggies doing their job in moderating all that goodness. Yum.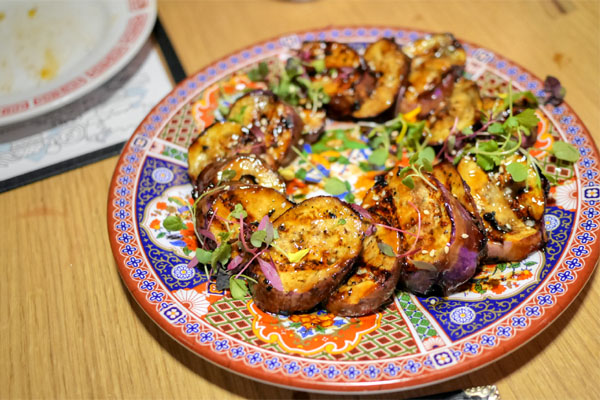 Grilled Eggplant [$6.00]
| chinese eggplant
Eggplant didn't disappoint, coming out firm and hearty to the bite, teeming with savory-sweet-Asian-y flavors and a nutty accent from the sesame.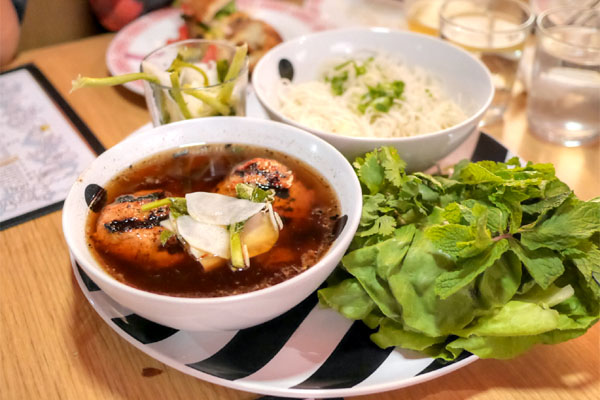 Bun Cha Ha Noi [$18.00]
| ground pork, pork belly, fish sauce, lemongrass, caramel, rice noodles, herbs, butter lettuce cups
Bún cha
is one of Nguyen's favorite dishes (besides
ca kho to
of course), and the version tonight delivered, big time. The pork meatballs were pretty stellar, all sweet and charred and delicious. Taken with the
nuoc cham
, daikon, herbs, and noodles, it made for some damn good eatin'.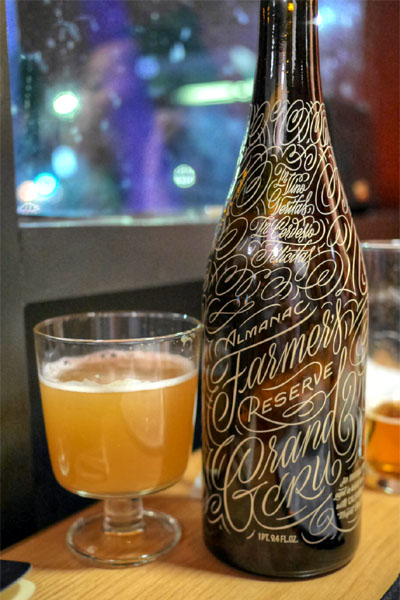 Our lone sour was the new
2015 Almanac Farmer's Reserve Grand Cru
, an imperial sour blonde with Muscat Blanc grapes aged in French oak barrels for a year. This was a nice one, very funky and fragrant and lemony to the smell, with the palate going tart and acidic, with the sweetish, vinous character from the Muscat shining through.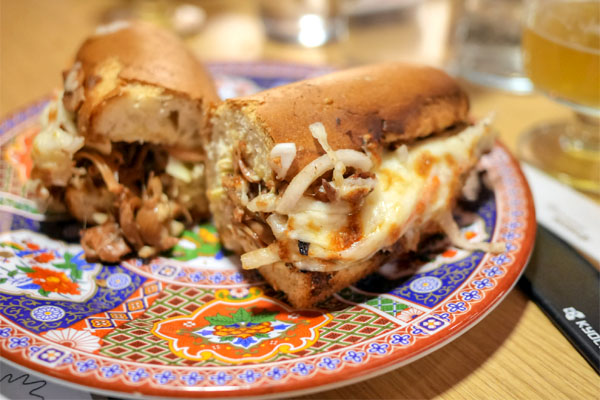 Braised Coca Cola Jackfruit Sandwich [$10.00]
| Mexican Coke, hoisin, shredded cabbage, mozzarella cheese
I've only had jackfruit a handful of times, and certainly never in sandwich form. It worked out better than I expected though, serving as a fitting vessel for all the sweet, savory flavors here, the cheese working to add the necessary potency to the dish.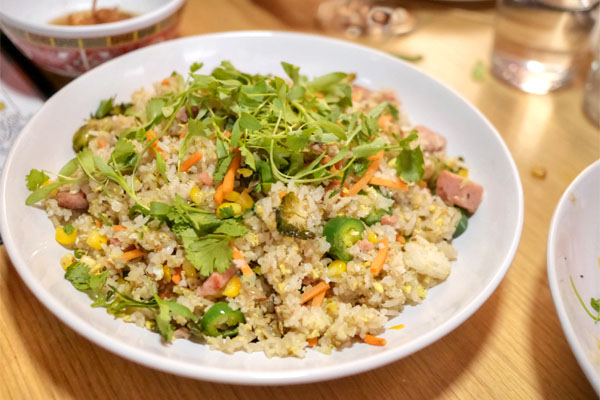 Spam Fried Rice [$14.00]
| carrots, cilantro, white pepper
You can't go wrong with a Spam-enhanced fried rice. Really satisfying, with a great spice and herbiness over the comforting goodness of the canned pork product. I just wanted to keep eating.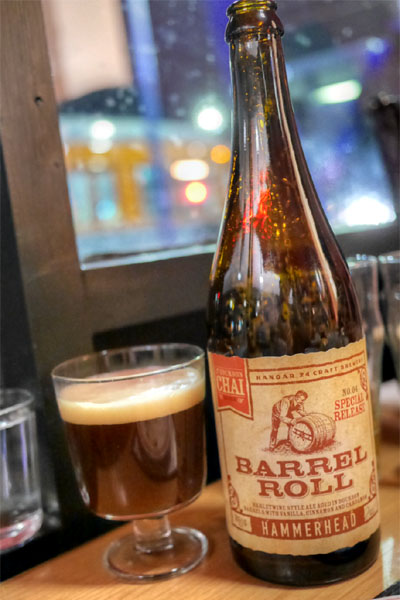 Next to drink was the
2015 Hangar 24 Barrel Roll No. 4 Hammerhead - Bourbon Chai Edition
, a limited release barleywine aged in bourbon barrels with vanilla, cinnamon, and cardamom. It wasn't shy on the chai, that's for sure, delivering massive amounts of sweet, warm, aromatic spice, set against a classic backdrop of malt, caramel, brown sugar, and bourbon notes.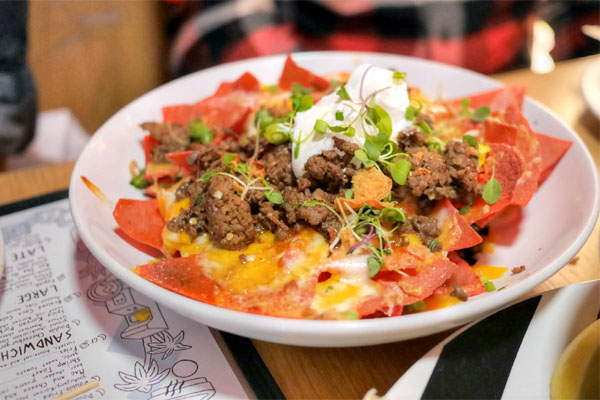 Nachos [$12.00]
| tortilla chips, minced curry coconut beef, beer, parmesan, mozzarella, caramelized onion, fresno chili
A late night special, the nachos showed off a great bit of spicing on the meat, and were just the right amount of trashy.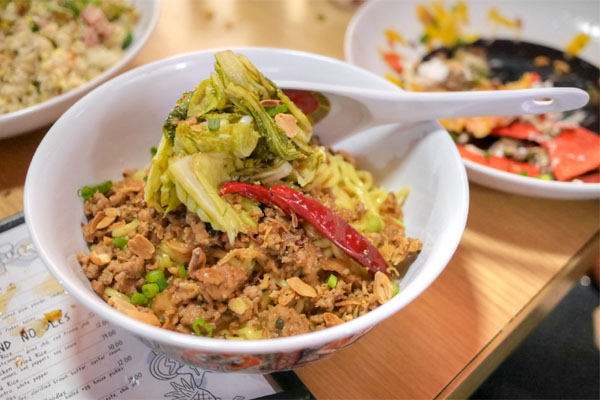 Dan Dan Noodles [$14.00]
| ground minced pork, black vinegar, sesame paste, chili oil, sichuan pepper corns
This take on
dandanmian
hit the mark as well with its mouthwatering combination of bittersweet, tangy, spicy flavors alongside that super tasty ground pork.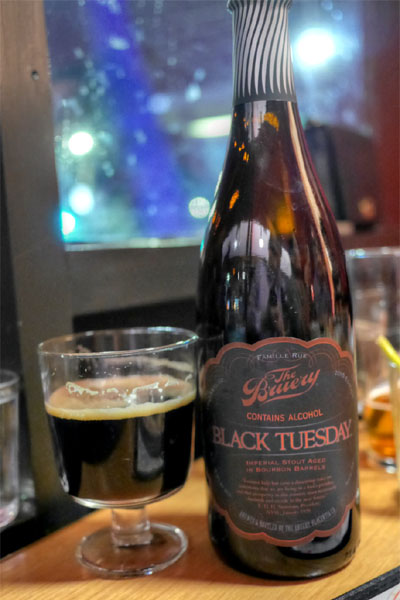 Our final beer was the
2015 The Bruery Black Tuesday
, an imperial stout aged in bourbon barrels. Huge amounts of dark fruit both on the nose and the tongue, commingled with rich malt, brown sugar, oak, and a prevalent tartness, the booziness peeking through just slightly. Surprisingly drinkable despite its huge 19.9% ABV.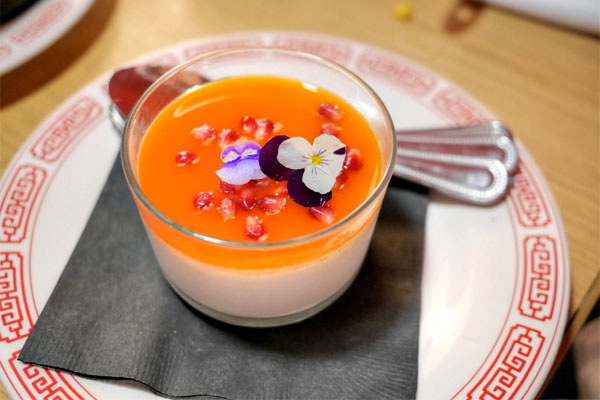 Lychee Panna Cotta [$5.00]
| lychee, salted plum sauce, heavy cream
Time for dessert. First was the panna cotta, which displayed a base of sweet, creamy, fragrant flavors, all set against a piquant layer of plum on top.
Five Spice Apple Fritters [$6.00]
| granny smith apples, bourbon cream sauce
Fritters were properly fluffy, tart, with bountiful sweet spicing. Even better with a dab of the boozy-ish dipping sauce.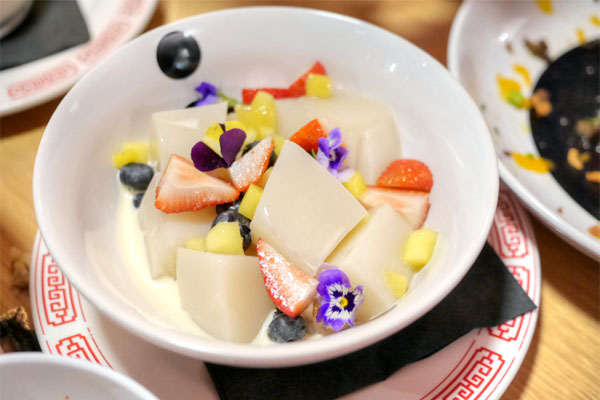 Almond Tofu [$5.00]
| soy milk, fresh fruits, evaporated milk
Almond jelly was one of the better ones I've had: sweet, a bit nutty, and well-complemented by the accompanying milk and fruit.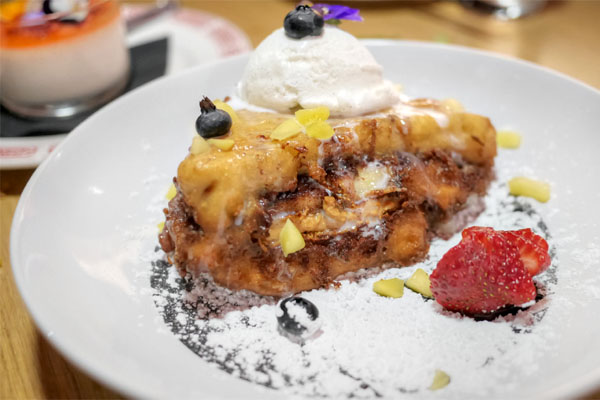 Brick Toast [$9.00]
| thick milk bread, nutella, caramelized bananas, peanut butter, condensed milk, ice cream
The heftiest of the desserts, the brick toast was my favorite of the bunch with its gratifying mix of sugary, nutty flavors and strong banana presence.
In terms of the food, this was some of Starry Kitchen's most confident yet, a mash-up of pan-Asian and bar food classics that definitely works given the concept of Button Mash. There's just some delicious, comforting cooking going on, and it was great to see the Trans back in action. As for the arcade component of the place, my dining companions seemed to be satisfied with it as well (I'm not much of a gamer myself), so chalk this up as another score for Echo Park.