Viviane (Beverly Hills, CA)
Viviane Restaurant at the Avalon Hotel
9400 West Olympic Blvd, Beverly Hills, CA 90212
310.407.7791
www.vivianerestaurant.com
Thu 10/29/2015, 08:20p-12:15a
When we last encountered Michael Hung, he was dishing out steak tartar at
Plate by Plate
, representing
Faith & Flower
. He left the place just days later though, and word quickly came that he would be teaming up with Stephane Bombet once again for another project. That project soon revealed itself to be Viviane, set in Proper Hospitality's Avalon Hotel, a 1949-era property that was once quite popular with the Hollywood set from what I understand. The restaurant opened on October 25th, and features the Chef's Californian take on traditional European/American cuisine. In addition to Hung and Bombet, Francois Renaud's on board as Managing Partner and Wine Director, while General Manager duties are being handled by Emmanuel Faure (
Acabar
, The Little Door, The Pacific Club, SoHo House,
Craft
, L'Orangerie, Seeger's).


Viviane takes over the old home of Oliverio, which shuttered after the departure of Chef Mirko Paderno (he left at the end of July to work on Officine BRERA with the
Factory Kitchen
guys). The space has been revamped by Kelly Wearstler to a mid-century California modern sort of vibe, with lots of turquoise and neutral tones abound. A marble bar anchors one end of the dining room, and there's poolside seating as well if you prefer.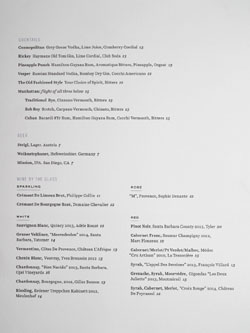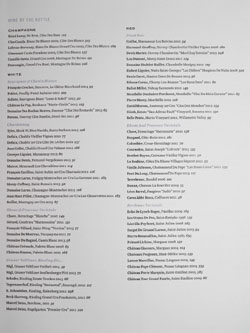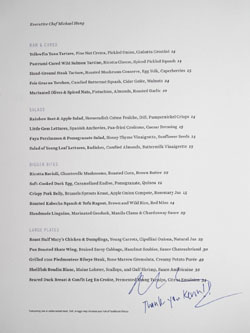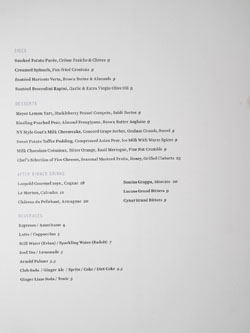 As for the menu, it's all about Hung's Cal-Continental fare in the usual progression of smaller plates, large ones, and sides. And since we're in a hotel, breakfast, lunch, and brunch options are also available. Desserts, meanwhile, were designed by Consulting Pastry Chef Bill Corbett, while running the day-to-day is Yuko Ikeda, who previously worked at
Hinoki & the Bird
, Lady M, Eleven Madison Park, and Payard Patisserie. To drink, you get throwback cocktails from Bar Director Ryan Wainwright, and a French-leaning wine list from Renaud. Click for larger versions.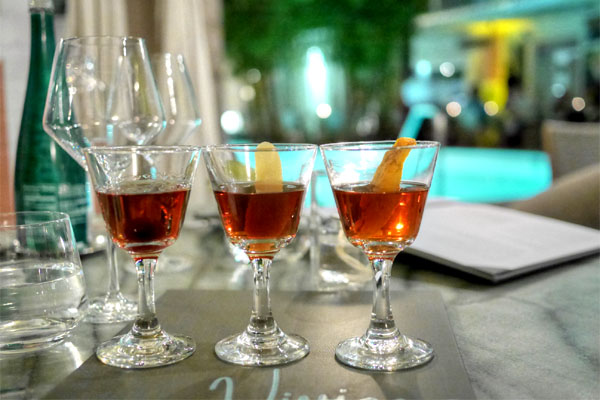 Manhattan [$15.00]
| flight of all three below
When there's a Manhattan flight on the menu, you have to take it (left to right):
Cuban | Bacardi 8Yr Rum, Hamilton Guyana Rum, Cocchi Vermouth, Bitters: My favorite of the three. Loads of dark cherry and spice set over a base of boozy rum.
Traditional | Rye, Cinzano Vermouth, Bitters: Strong citrus aromas at first, leading to bittersweet flavors and rye spice, with a persistent alcoholic heat.
Rob Roy | Scotch, Carpano Vermouth, Chinato, Bitters: Strong bitter and herbal nose, the taste really showing off the smokiness of the Scotch.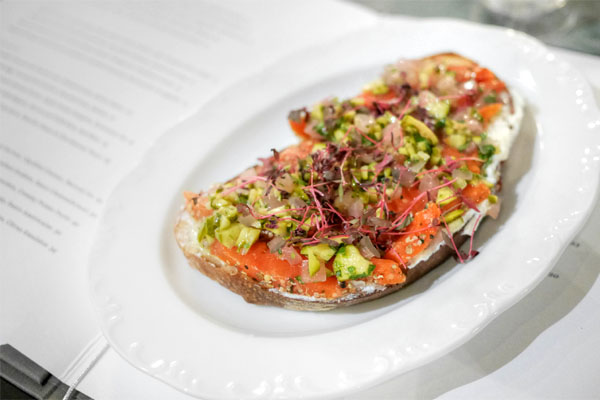 Pastrami-Cured Wild Salmon Tartine [$14.00]
| Ricotta Cheese, Spiced Pickled Squash
Salmon came smoky and spicy, its pastrami-esque flavors tempered by the creamy ricotta. Great crunch from the toast as well.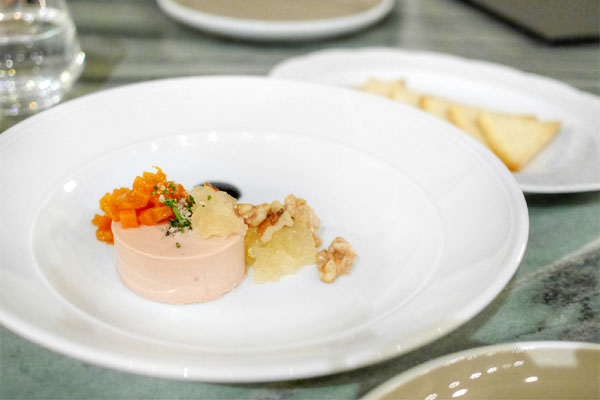 Foie Gras au Torchon [$24.00]
| Candied Butternut Squash, Cider Gelée, Walnuts
Foie was silky smooth, delicately liver-y, with the squash and cider providing just enough sweetness and a countering punch of acidity. Very nice.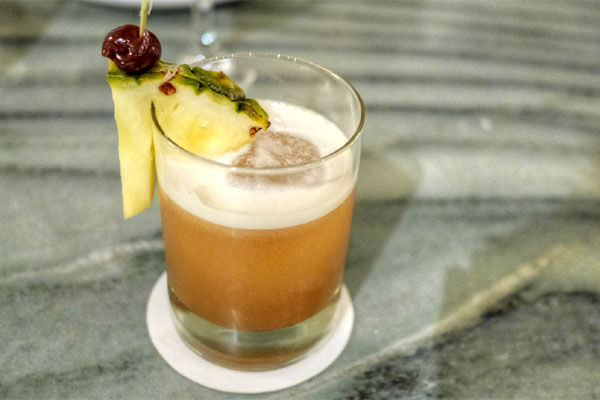 Pineapple Punch [$13.00]
| Hamilton Guyana Rum, Aromatique Bitters, Pineapple, Orgeat
Tons of sweet, tropical spice in this viscous, richly-flavored cocktail made it all go down easy.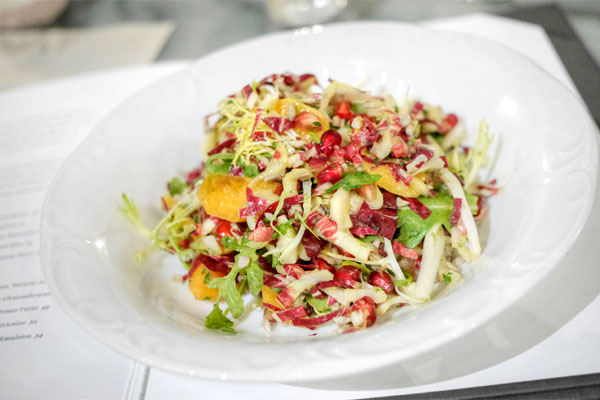 Fuyu Persimmon & Pomegranate Salad [$14.00]
| Honey-Thyme Vinaigrette, Sunflower Seeds
We really enjoyed the juicy, fruity flavors from the pomegranate and persimmon and how they matched up against the bitterness of the greens. Great nutty crunch on the back end from the pepitas too.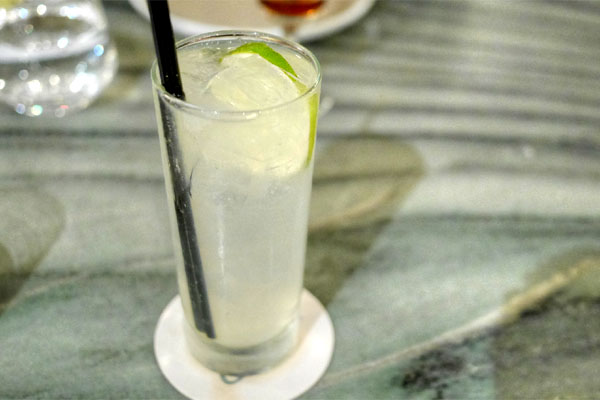 Rickey [$13.00]
| Haymans Old Tom Gin, Lime Cordial, Club Soda
Light, invigorating, with a focused lime tartness and the botanicals coming in on the midpalate.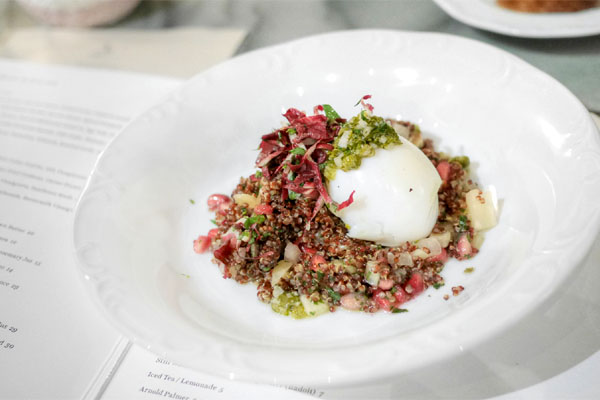 Soft-Cooked Duck Egg [$12.00]
| Caramelized Endive, Pomegranate, Quinoa
Think a mish-mash of nutty quinoa, bitter endive, and juicy pomegranate seeds, all enveloped by the lushness of a runny egg. Yum.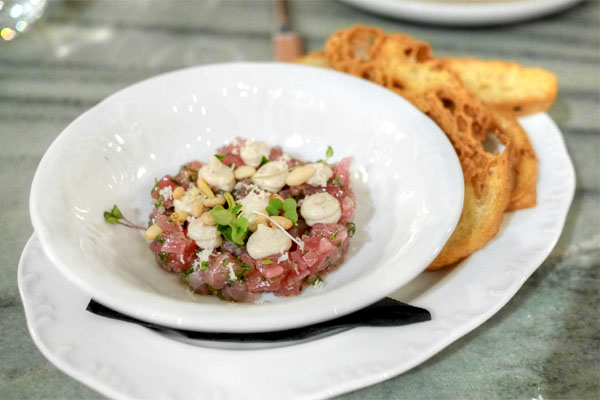 Yellowfin Tuna Tartare [$14.00]
| Pine Nut Crema, Pickled Onion, Ciabatta Crostini
The tuna tartar was one of the more interesting versions I've had, with the springy, supple cubes of fish infused with a persistent herbiness while
pinoli
imparted a creamy, overarching nuttiness. Excellent bread here in addition.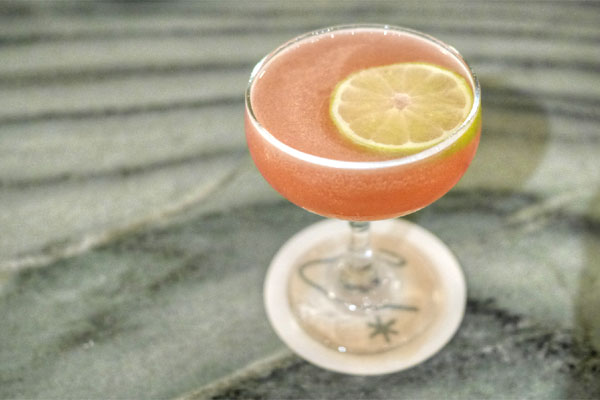 Cosmopolitan [$13.00]
| Grey Goose Vodka, Lime Juice, Cranberry Cordial
I tend to avoid Cosmos due to their associated stigma stemming from
Sex and the City
. However, I channeled my inner Carrie tonight and got one. It was about what you'd expect: sweet, almost candied, with a strong citric counterpoint and the vodka well-hidden.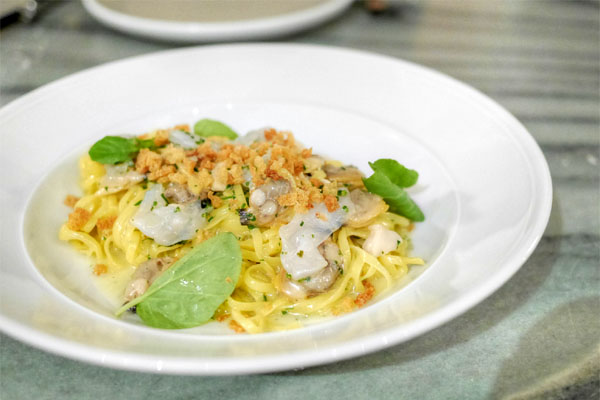 Handmade Linguine [$29.00]
| Marinated Geoduck, Manila Clams & Chardonnay Sauce
Linguine was buttery and briny, the inherent salty goodness of the geoduck and clams well conveyed. Very tasty.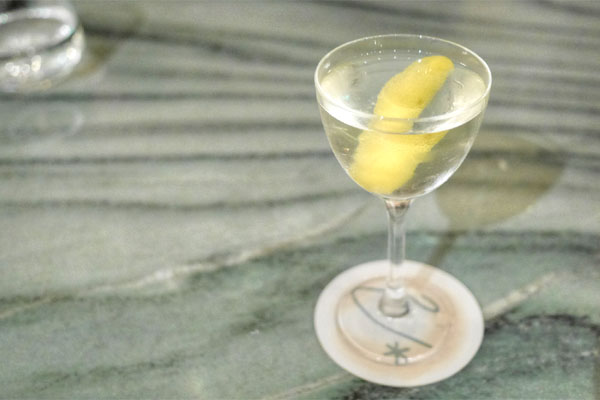 Vesper [$12.00]
| Russian Standard Vodka, Bombay Dry Gin, Cocchi Americano
The most bracing cocktail of the night. Citrusy and botanical on the nose, with more gin character coming through on the palate, joined by an undercurrent of sweetness.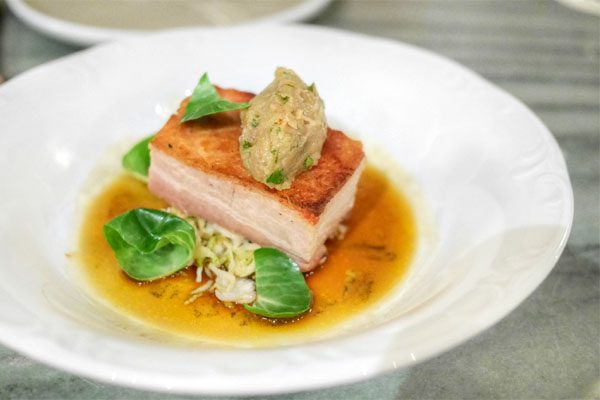 Crispy Pork Belly [$15.00]
| Brussels Sprouts Kraut, Apple Onion Compote, Rosemary Jus
Belly arrived rich, fatty, and crispy on the outside, with a strong fragrant quality from the rosemary. I definitely appreciated the bitterness from the Brussels, though I wasn't as keen on the fruity compote.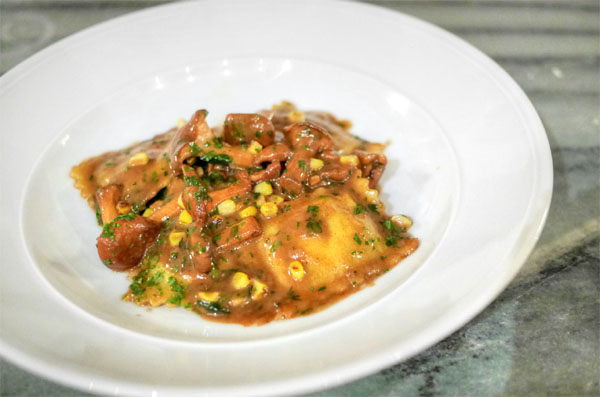 Ricotta Ravioli [$22.00]
| Chanterelle Mushrooms, Roasted Corn, Brown Butter
Sort of an appropriate dish for fall, with dark, sweet, autumnal flavors evened out by the light, lactic tang of ricotta.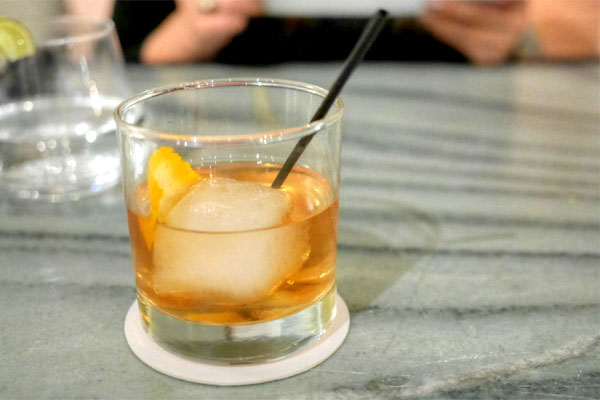 The Old Fashioned Style [$12.00]
| Your Choice of Spirit, Bitters
For our last cocktail, we went bartender's choice and got an Old Fashioned made with Ancient Age bourbon and orange bitters. I thoroughly enjoyed the end result, which was uncommonly citrus-y and perfume-y on the nose, with a smooth palate that showed off some great floral, vanilla-laced flavors.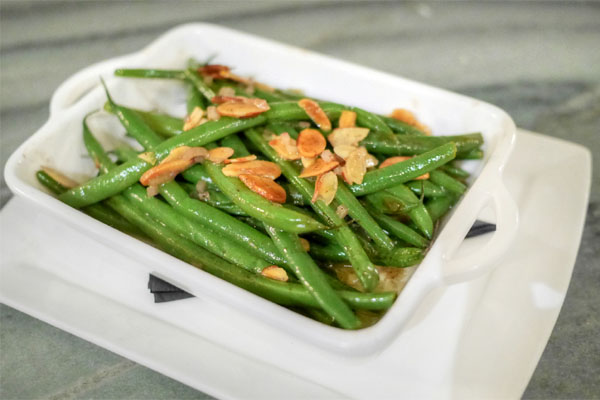 Sautéed Haricots Verts [$9.00]
| Brown Butter & Almonds
Green beans were crisp and waxy, with a pervading nuttiness.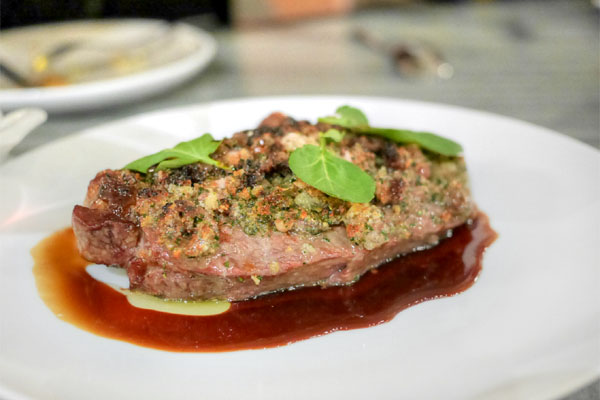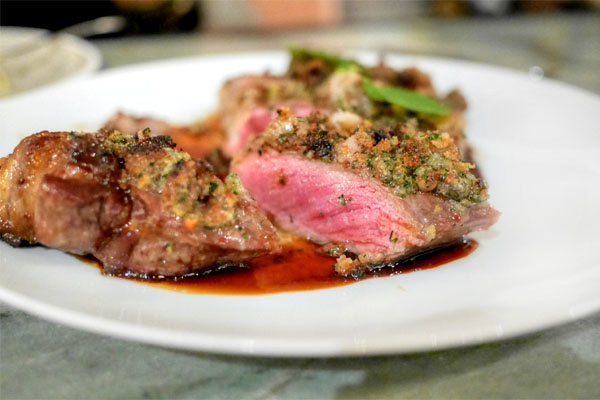 Grilled 12oz Piedmontese Ribeye Steak [$49.00]
| Bone Marrow Gremolata, Creamy Potato Purée
Hung then sent out the rib eye, a highlight of the meal for all of us. Great flavor and juiciness from the beef, with the gremolata imparting a welcomed zestiness to the mix. And texturally, the steak was one of the smoothest, finest-grained examples I've had, even recalling seared ahi tuna at moments.
Wine time. The
Pierre Morey, Monthélie 2012 [$128]
worked itself out with the steak just fine. Earthy, meaty aromas with a trace of forest floor; taste was definitely on the more rustic side, with berry fruit, barnyard, and a strong acidity.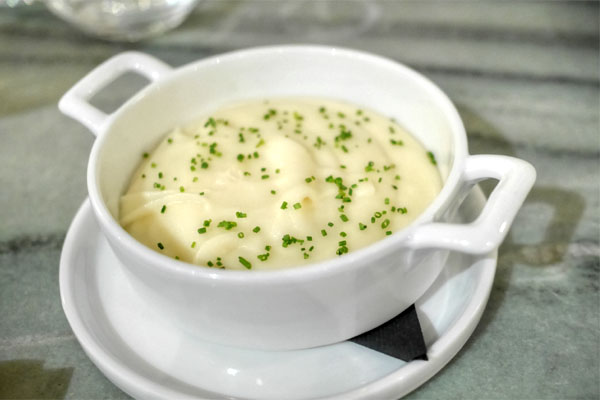 Smoked Potato Purée [$9.00]
| Crème Fraîche & Chives
Potatoes were lovely: silky with just the right amount of smoke and chive zing.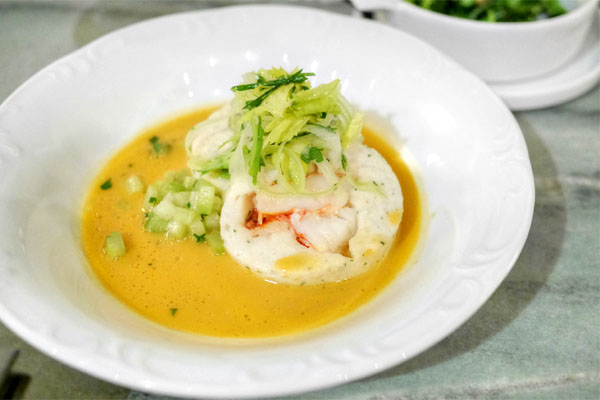 Shellfish Boudin Blanc [$32.00]
| Lobster, Scallops, and Gulf Shrimp, Sauce Americaine
A white sausage definitely showed off the ocean-y flavors of the shellfish, with their natural brine enhanced by a generous helping of that américaine sauce. Smart use of celery as a counterpoint here, though I would've liked a more substantial texture on the boudin.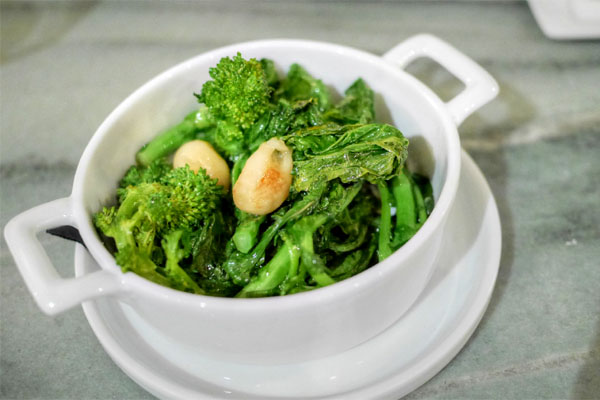 Sautéed Broccolini Rapini [$9.00]
| Garlic & Extra Virgin Olive Oil
Broccoli raab was crunchy and particularly bitter, with the garlic serving to even out the strong flavors present.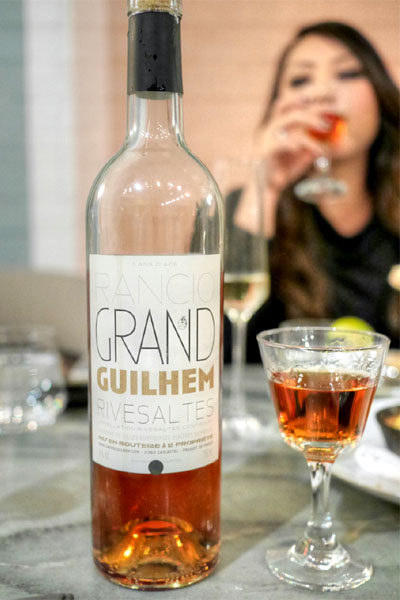 Faure then brought over some
Grand Guilhem Rivesaltes Rancio
. It was a delightful wine--deeply aromatic, with a palpable sweetness offset by its oxidative character.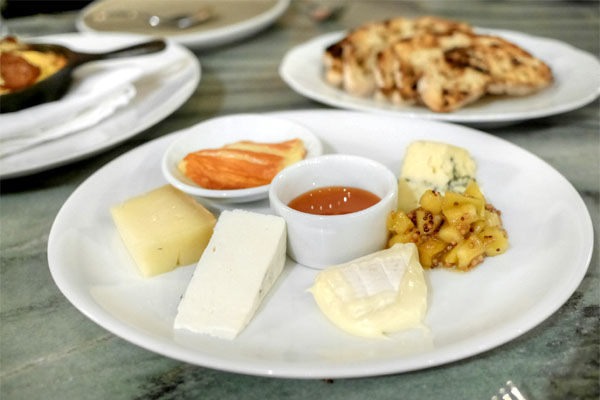 Chef's Selection of Five Cheeses [$23.00]
| Seasonal Mustard Fruits, Honey, Grilled Ciabatta
Cheese came with acacia honey and apple mostarda. Clockwise from bottom-right, we had:
Robiola: Properly creamy, with a delectable mushroom-y funk and tang.
Valençay: Chalky on the palate; mildly-flavored and slightly nutty, with a bit of fruitiness on the finish.
Ossau-Iraty: Great texture from this sheep's milk cheese from Basque Country; nutty and somewhat grassy.
Époisses: One of my favorite cheeses: very pungent, funky, sharp, salty.
Rogue Creamery Oregon Blue: Relatively approachable for a blue, with your traditional sweet-salty, earthy flavors present, but subdued.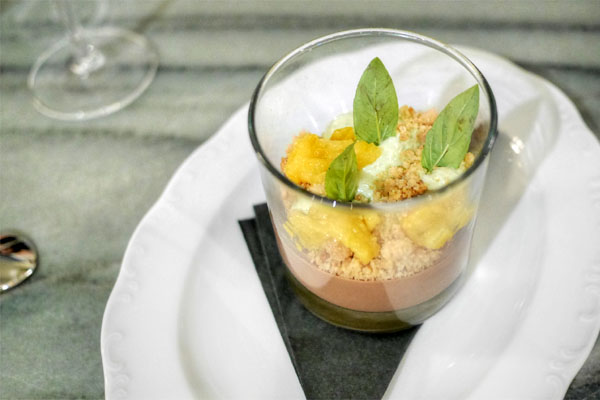 Milk Chocolate Crémieux [$9.00]
| Bitter Orange, Basil Meringue, Pine Nut Crumble
Our first dessert was almost
Jordan Kahn
-esque in its presentation, and tasted the part too, with its juicy citrus and nutty notes layered over a base of not-too-sweet chocolate.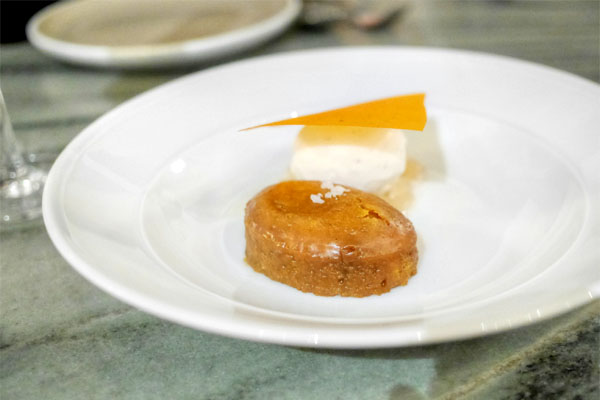 Sweet Potato Toffee Pudding [$9.00]
| Compressed Asian Pear, Ice Milk With Warm Spices
Lots of spices--almost South Asian in nature--in the pudding here, all balanced out by the herbal, coconut-y ice milk.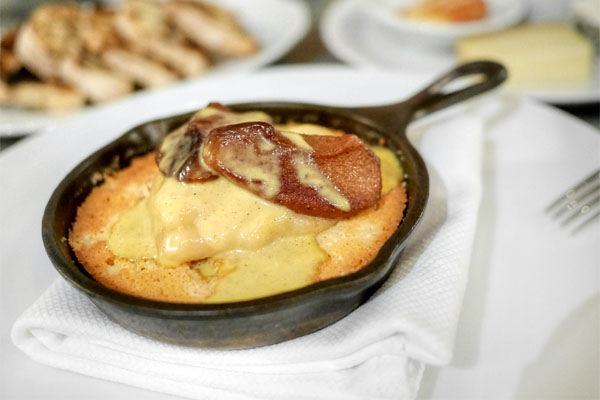 Riesling Poached Pear [$9.00]
| Almond Frangipane, Brown Butter Anglaise
Apropos for the season, with the rich, sweetly-spiced fruit pairing well with the crusty frangipane, the anglaise tying it all together neatly.
It looks like Hung and company have done a nice job with Viviane. They've got a sort of new school-old school thing going on here, with cooking that's classic in essence, but with the advertised seasonality and modernity in play. It makes for food that's familiar but interesting enough, and a big step up from the fare that you'd typically expect in a hotel setting like this.