Ham Ji Park (Los Angeles, CA)
Ham Ji Park Restaurant
3407 W 6th St, Los Angeles, CA 90020
213.365.8773
Fri 11/20/2015, 08:20p-10:00p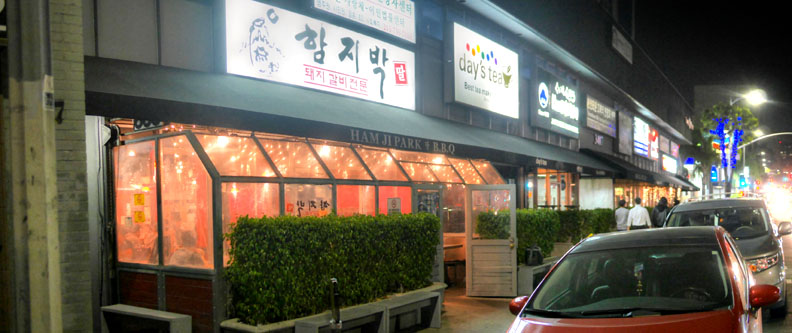 One of Koreatown's most beloved restaurants is no doubt Ham Ji Park. Named after the
hamjibag
, a sort of large wooden platter used to serve food, the restaurant was started by one Hwa Shin Kim, a South Korean native who came to the US in 1989 at age 50. After working at restaurants in K-Town, she opened the original Arlington Heights location of Ham Ji Park in 1993. This second
ttal
("daughter") outpost on 6th, meanwhile, debuted in late 2002.

Inside, things are cozy, convivial.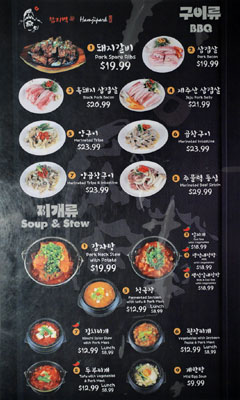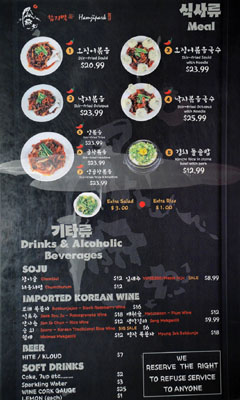 Ham Ji Park isn't your typical Korean BBQ joint. Although you can order items to cook on the tabletop grill, pretty much everybody's here for the
dwaeji galbi
(grilled in the kitchen) and
gamjatang
. Click for larger versions.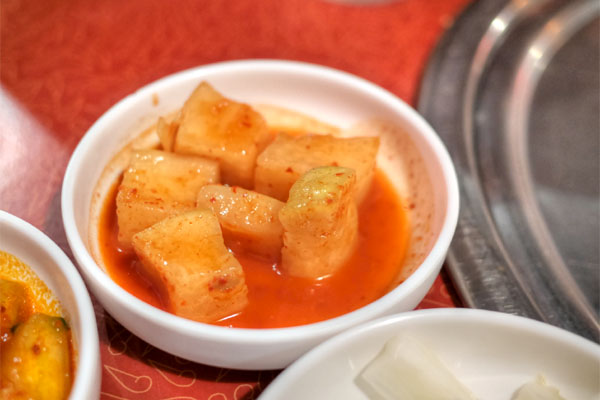 The
banchan
selection's small, but solid. I found the
mu
-based
kkakdugi
softer and funkier than usual.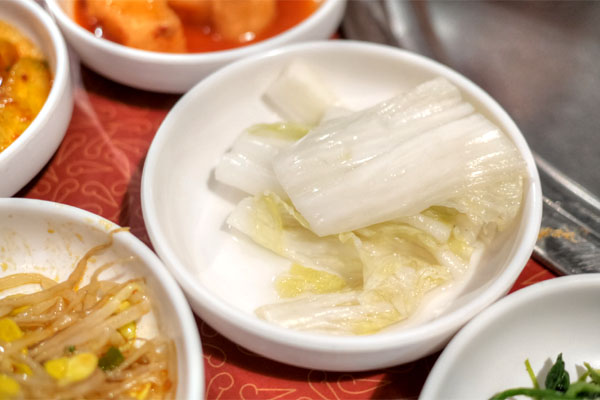 Baek kimchi
was crunchy and mild.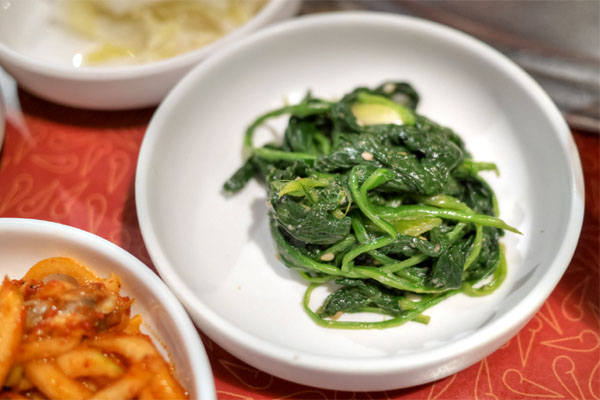 Spinach (
sigeumchi namul
) was about what one would expect, showing off the astringency of the veggie.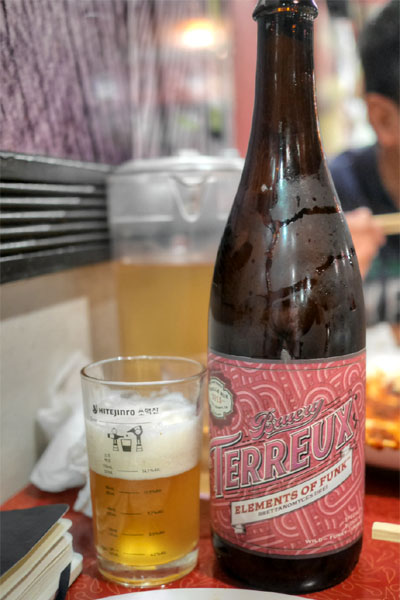 Given the tepid beverage selection, we BYOB'd it, unsurprisingly. Corkage was advertised at $20 to us, though we didn't end up getting charged. First to drink was the
2015 Bruery Terreux Elements of Funk: Brettanomyces Drei
, a saison-ish blonde ale that was the first in a four part series meant to showcase the characteristics of different strains of
Brettanomyces
. I quite enjoyed the beer, finding a sweet, juicy, fruity nose and a flavor profile that went floral, funky, and tart, with a nice bittering element.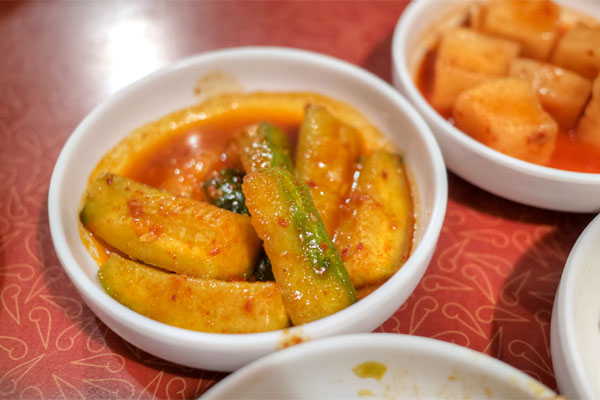 Oi kimchi
was less crunchy than usual, and slightly on the sweet side.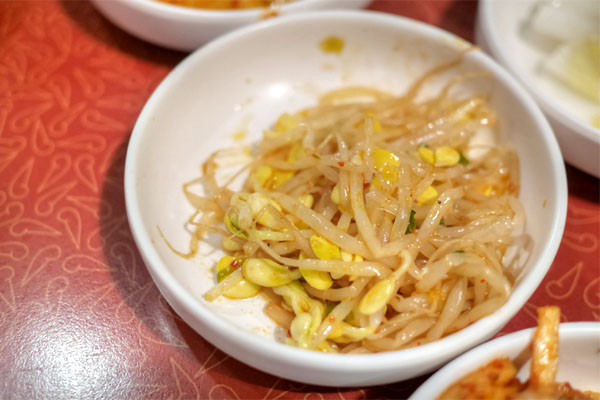 I found the
kongnamul
properly crisp, with a smidge of spiciness to it.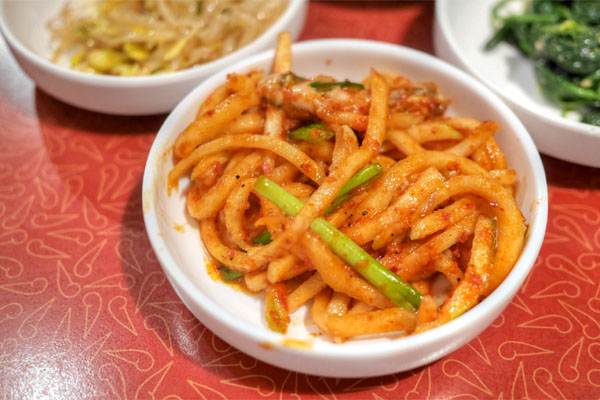 My favorite of the sides was probably the crunchy, spicy, almost oyster-y
musaengchae
(radish salad).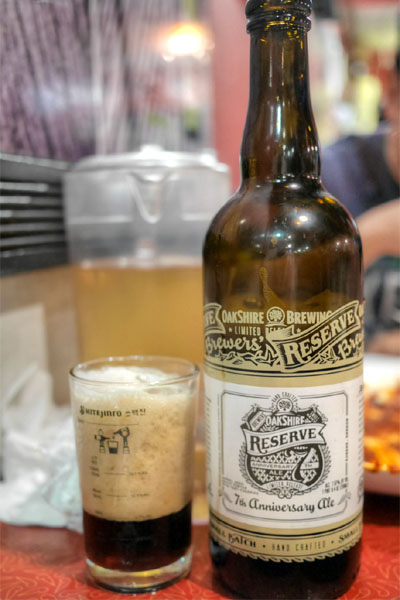 My second beer was the
2013 Oakshire 7th Anniversary Ale
, a blended, barrel aged Baltic porter with tart cherries. Not much nose, but the taste was definitely there, with notes of sour cherry over a base of chocolate, oaky malt. Not bad.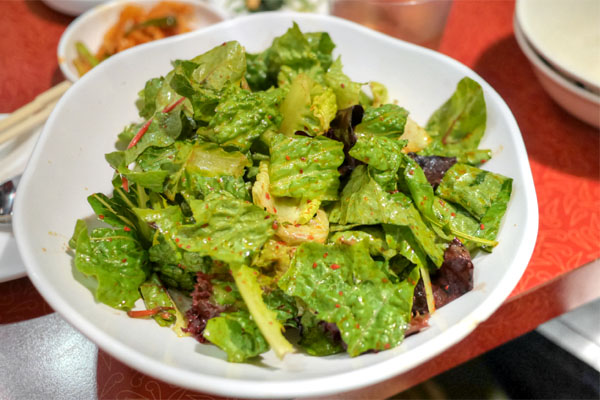 The requisite salad came out light 'n' bright.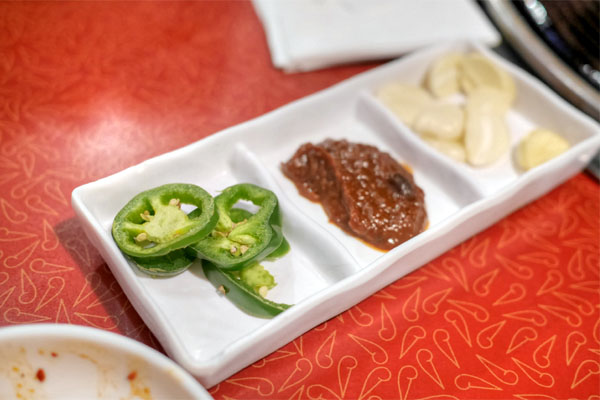 Of course, you gotta have your jalapeño,
ssamjang
, and raw garlic.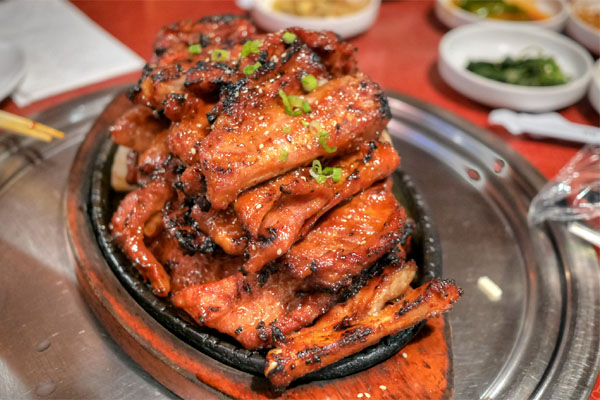 Pork Spare Ribs [$19.99 x 2]
And here we come to the dish that's sustained Ham Ji Park for over 20 years: a double order of their signature
dwaeji galbi
. These were no joke, and some of the tastiest pork ribs I've ever had, the meat arriving tender, yet still with a bit of bite, and teeming with sweet, savory, porky flavors paired with notes of bitter char, caramelization, and a touch of heat from the
gochujang
marinade. A must try.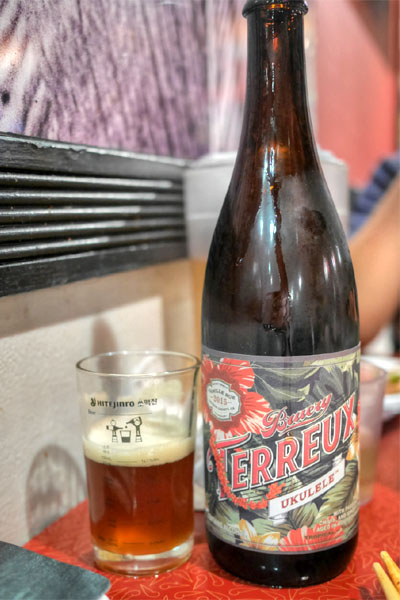 Ostensibly inspired by a cocktail called the Passion Chili Whiskey Fizz, the
2015 Bruery Terreux Ukulele
was another sour, brewed with passion fruit, ghost chilies, and ginger, then aged in bourbon barrels. It was a unique beer to be sure, with a base of alcoholic heat and passion fruit sweetness overlaid with creeping ginger notes and pricks of peppery heat.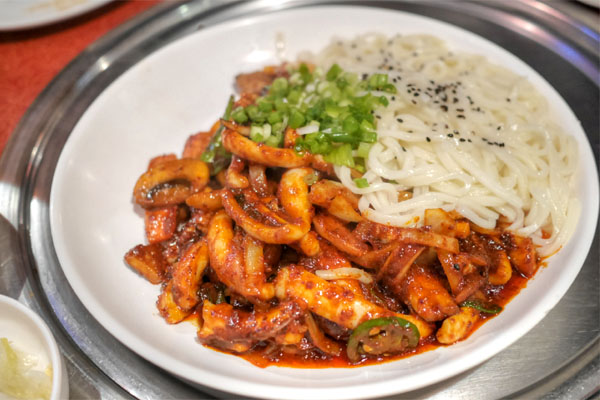 Stir-fried Squid with Noodle [$23.99]
Ojingeo bokkeum
hit the mark as well. Great texture on the actual squid here, and I was a big fan of the permeating, earthy spice in the dish, offset by the use of comparatively mild
somyeon
noodles.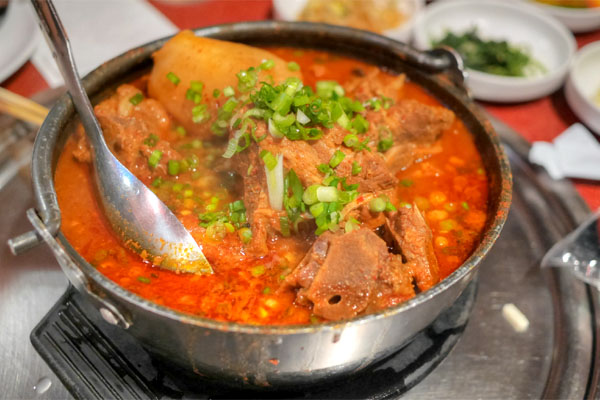 Pork Neck Stew with Potato [$19.99]
Ham Ji Park's known for having some of the best
gamjatang
in town, and I can see why. The pork itself I found rich, tender, and satisfying, but the broth was even better, imbued with all manner of spicy, deep, tart, funky nuances. I eagerly ladled the remaining liquid over my rice.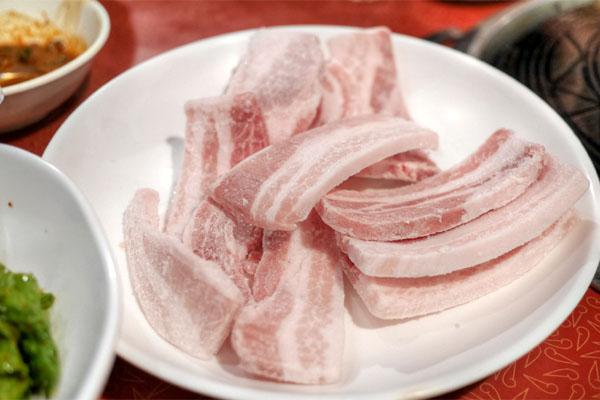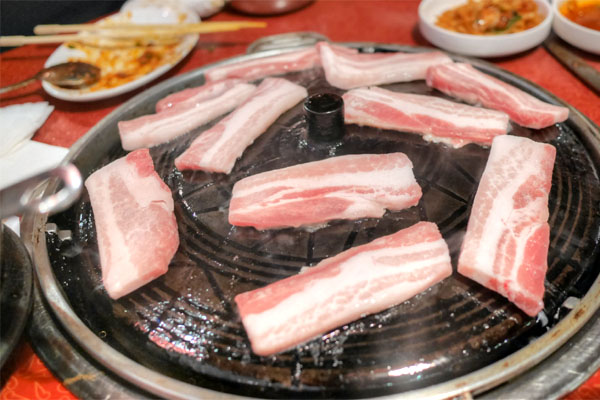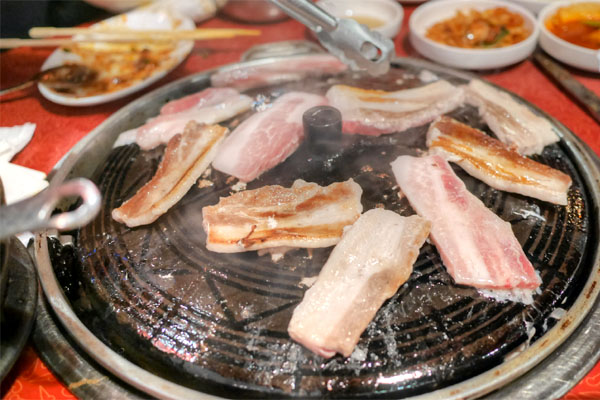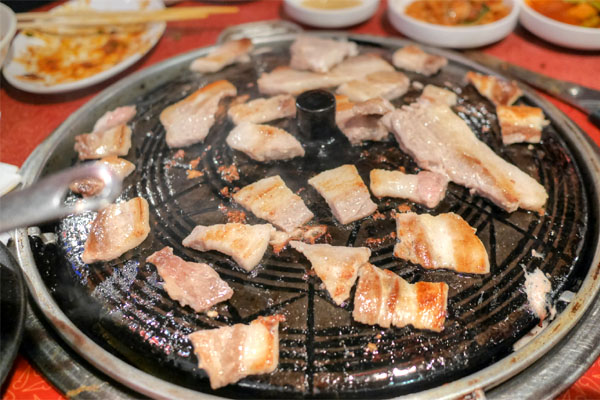 Jeju Pork Belly [$21.99]
At this point, we ordered up a plate of
samgyeopsal
, supposedly sourced from the famed Jeju
heuk dwaeji
(black pig). The belly arrived frozen, but cooked up nicely and ate perhaps a touch leaner than usual, with a pronounced, but somehow more austere porkiness. Great with a dab of
chamgileum
(sesame oil).
Our final beer was the
2012 Founders Bolt Cutter
, a blended, bourbon barrel-aged, American-style barley wine created to celebrate the brewery's 15th anniversary. I got aromas of bitterness commingled with sugary malt, while the flavor was even maltier, nutty, with an almost candied sweetness to it finished by a pronounced spicy character.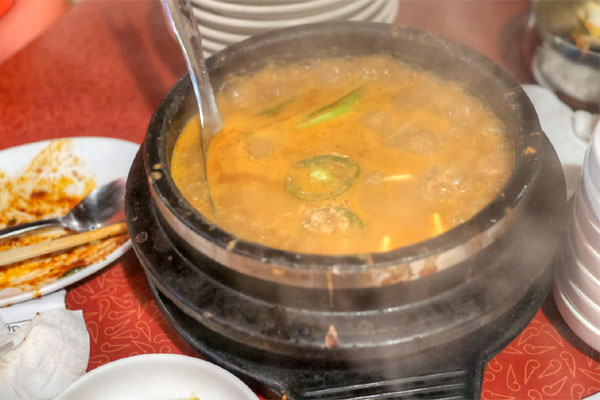 Fermented Soybean with Tofu & Pork Meat [$12.99]
Finishing things off was certainly the most polarizing dish of the meal:
cheonggukjang jjigae
. A stew made with some super ferment-y soybeans, this was
intense
, and not in a pleasant way, but in a sweatier-version-of-
natto
way. I managed to finish my bowl, but not without difficulty. An acquired taste to be sure.
The pork ribs here were once deemed one of the most iconic dishes in LA, and I can understand why. They're worth seeking out, and have no doubt withstood the test of time. You could say the same about that
gamjatang
, too. In the end, Ham Ji Park's a staple of the K-Town dining scene, and there's a damn good reason why it's been perpetually popular for over two decades.