Hanjip (Culver City, CA)
Hanjip Korean BBQ Restaurant
3829 Main St, Culver City, CA 90232
323.720.8804
www.hanjip.com
Thu 11/19/2015, 07:55p-11:15p

Stephane Bombet's been on a tear recently. He and François Renaud debuted
Viviane
with
Michael Hung
nary two weeks ago, and they've already dropped another one on us. Announced back in July, Hanjip opened on November 2nd with none other than Chef Chris Oh (
Seoul Sausage
,
Escala
, the upcoming Nomad Kitchen) at the helm. The idea here is to offer up a higher-end KBBQ experience, the sort of thing that's long been the domain of
Kang Hodong
and its ilk, but has rarely strayed too far from K-Town.

Hanjip takes over the old home of Lunch, which shuttered at the end of June. The space has been completely redone, rendered in dark wood and contrasted by gleaming ductwork overhead and stark Eames chairs underbottom. The place can get smoky though, so do be prepared for that.




As for Hanjip's menu, it definitely veers toward the fancier, non-AYCE end of the spectrum. You get a small selection of beef in your usual incarnations, a few types of Duroc pork, as well as your more interesting cuts such as hamachi collar and that oft-Instagram'd tomahawk steak. You also have accompaniments (e.g.
kimchi jjigae
,
gyeran jjim
), and in addition, apparently there's a "secret" menu with your pig's trotters, pig head, and so on. To drink, you get a typical array of beer and soju along with a smattering of wine. Corkage is $30, though we didn't end up being charged (we definitely made it a point to share with the staff). Click for larger versions.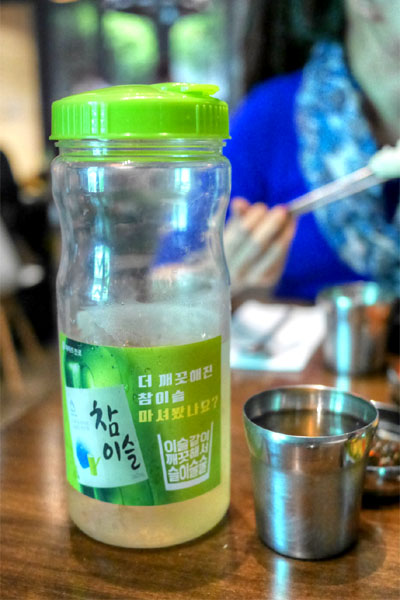 Bitter, roasty
boricha
barley tea, replete with the plastic bottle.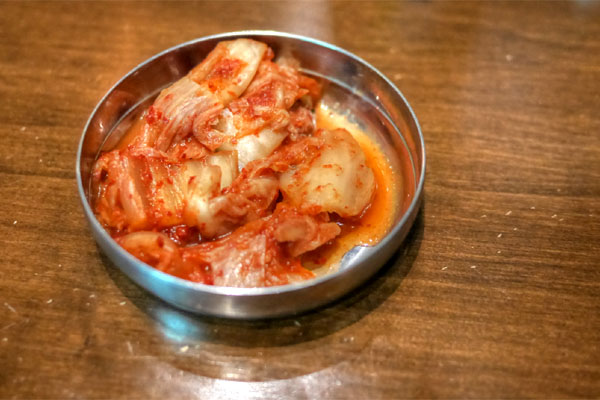 Getting into the
banchan
, we had of course a pretty prototypical
baechu kimchi
.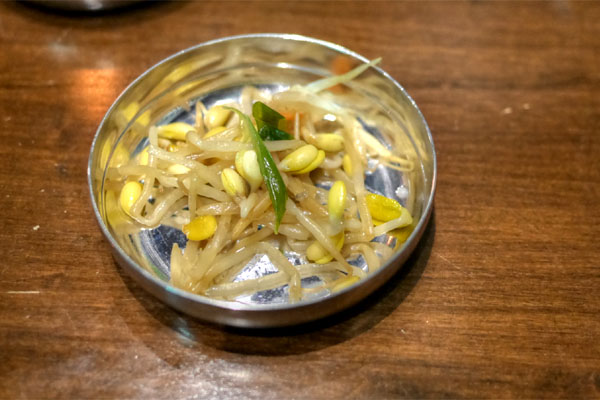 Kongnamul
were crisp and somehow "greener" tasting than usual.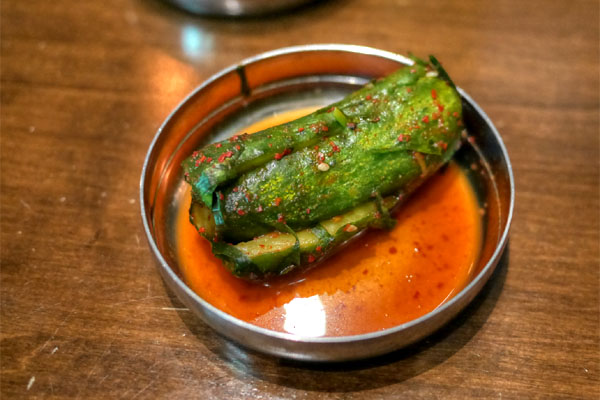 Oisobagi
conveyed the crunchiness of cucumber nicely.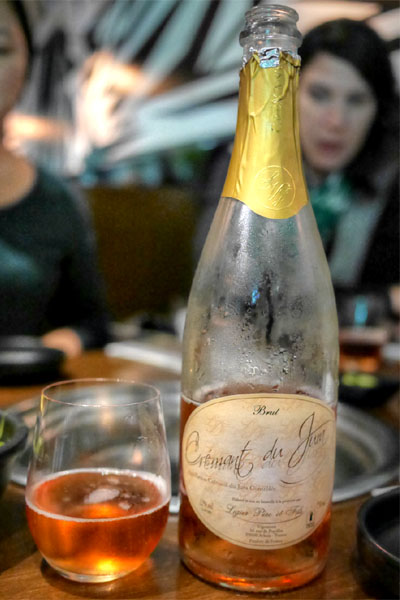 Drink-wise, we began with some bubbly off the list, the
Ligier, Crémant du Jura Rosé [$44]
. Really aromatic nose on this one, with lots of sweet apple pie-like spice, while the taste was more austere: dry, minerally, with a sustained acidity.
The potato salad came extra creamy, and sweeter than what I typically find.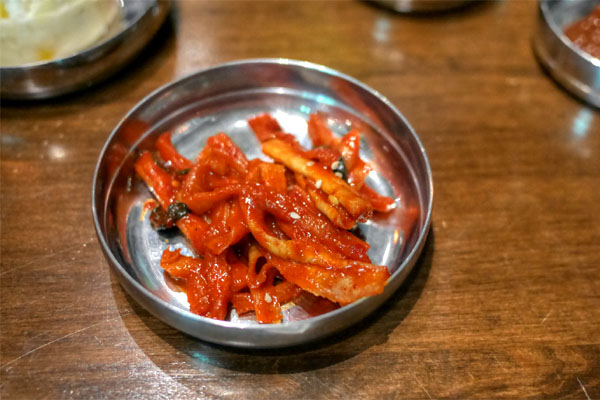 Doraji muchim
(spicy bellflower roots) showed off a great texture and earthy heat.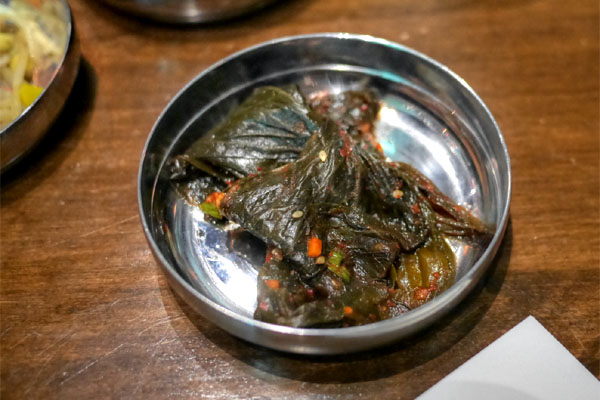 The most interesting of the
panchan
was the
ggaennip
(perilla), which had a mintiness to it complemented by sweetness and a hefty, contemplative spice.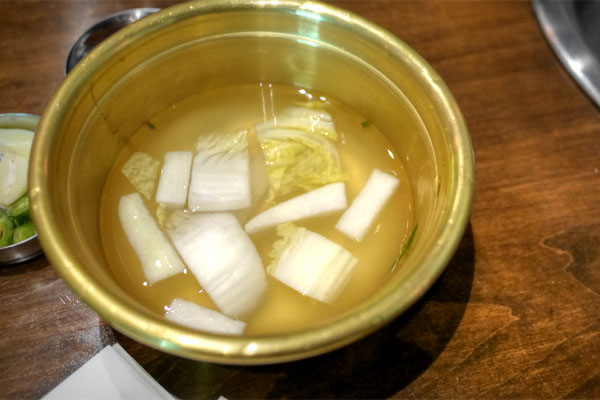 Watery
mul kimchi
was seemingly saltier than usual, though still crunchy and refreshing.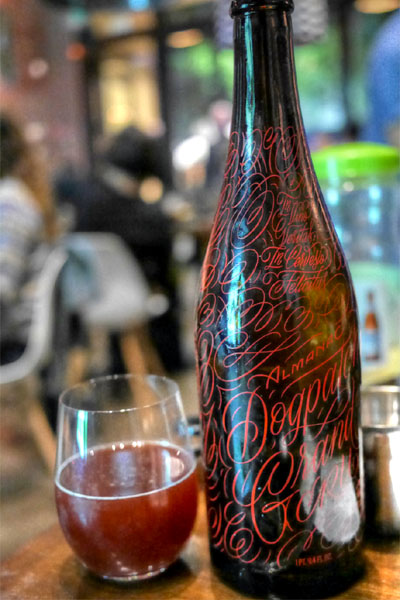 With the wine drunk up, we moved on into our BYOB beers, starting with the
2015 Almanac Dogpatch Grand Cru
, an imperial sour ale aged in red wine barrels with Zinfandel, Syrah, Tannat, Petite Sirah, and Tempranillo grapes. It was lovely, with a nose of fruity, grapey sweet spice and flavors that went distinctly vinous, tannic, oaky, tart, with a persistent yeastiness in the background.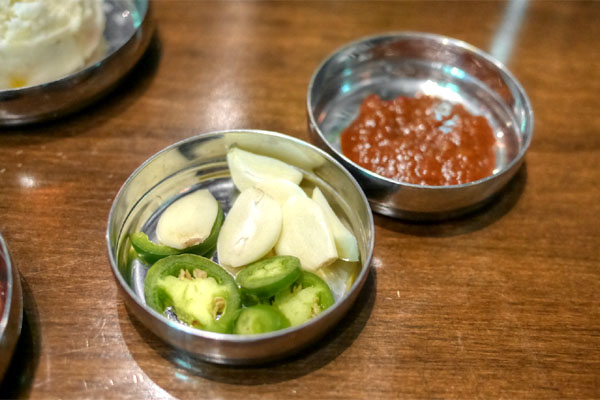 Typical accoutrements of jalapeño, garlic, and
ssamjang
.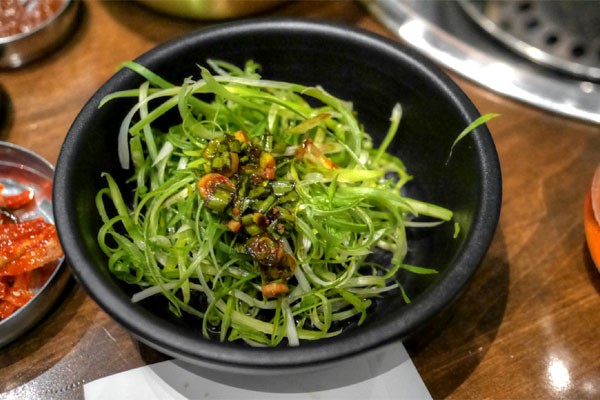 A zippy shaved green onion (
pa
) salad kicked up by a dollop of spicy condiment.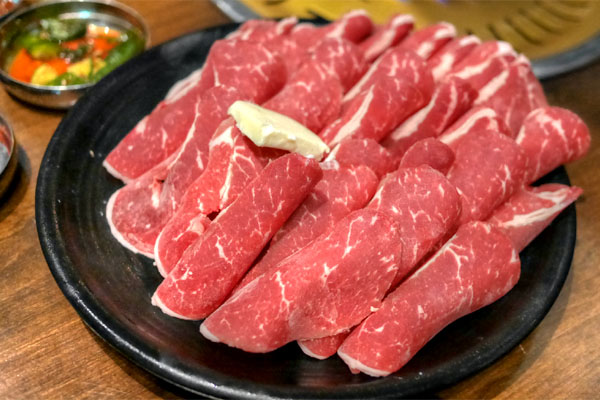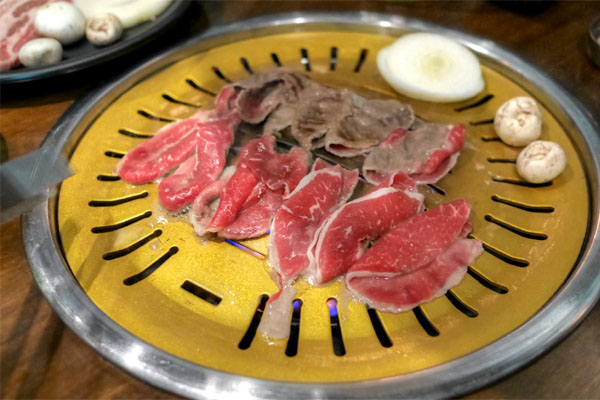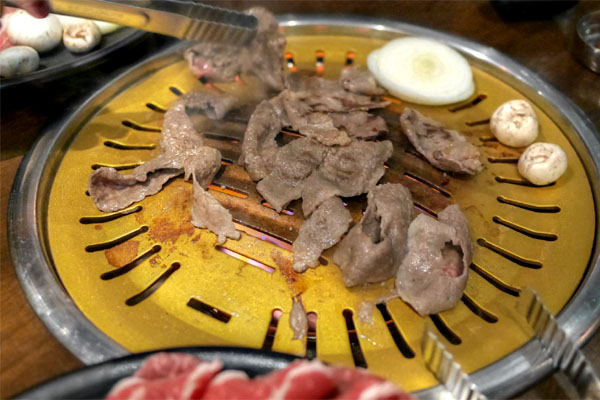 Sliced Brisket [$23.00]
| cha-dohl
Meat time. First up to the plate was good ol'
chadol bagi
. The brisket seemed slightly thicker than usual, so be careful with overcooking. Cook this a bit rarer, and you'll be rewarded with tenderness and a balance of beefy and char flavors.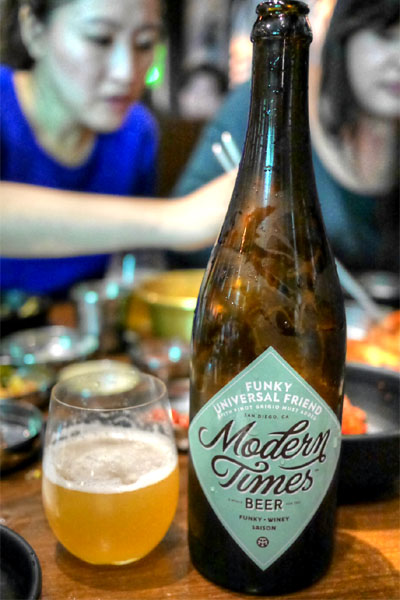 Next to drink was a saison, the newly-released
2015 Modern Times Funky Universal Friend with Pinot Grigio Must
, another winey beer. Smelled of juicy stone fruit with a strong hoppy quality. Tasted bitter, funky at first, with an almost candied midpalate and vinous undercurrent, while the finish was distinctly grapey. A great effort.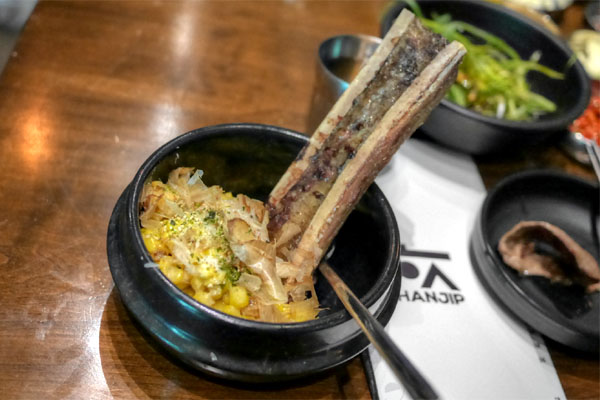 Bone Marrow Corn Cheese [$15.00]
| w/ shaved parmesan & bonito flakes
The ubiquitous corn cheese was properly sweet, and less cheesy compared to a more traditional prep, thus letting the actual corn shine more. The kernels were further enhanced by the marrow, while
gasseuobusi
(
katsuobushi
) imparted even more umami. And yes, there was some bone luging involved after we finished.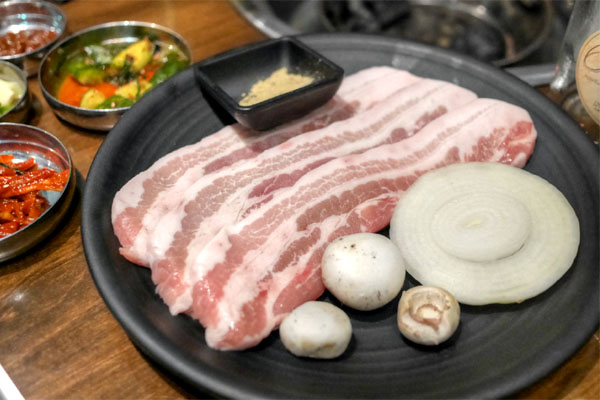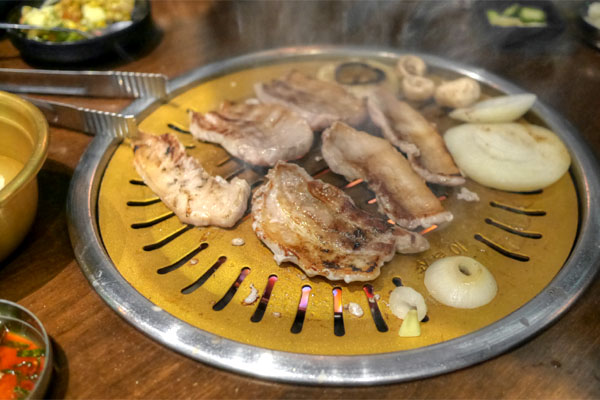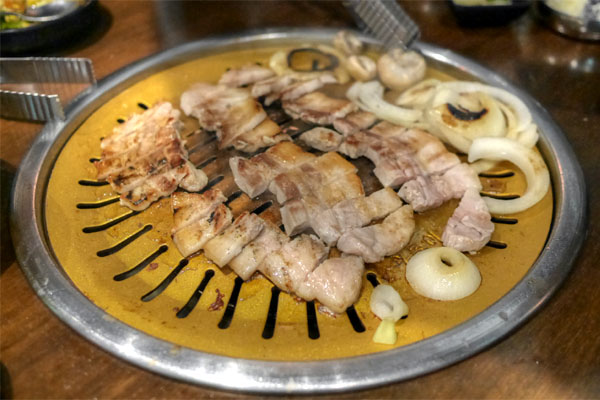 Pork Belly [$26.00]
| sam-gyup-sal
Handsome strips of
samgyeopsal
cooked up slick 'n' fatty, slightly gelatinous, and tender, with a delectable mix of porky and char flavors. Yum.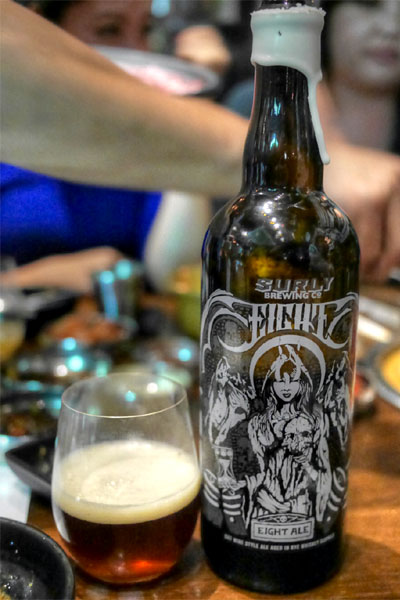 Moving to a heavier beer, we had the
2014 Surly Eight Ale
, an oat wine brewed with milk sugar and aged in High West rye whiskey barrels, created for Surly's 8th anniversary. Aromas of tangy, sweet, honeyed malt; taste followed with more smooth, sugary malt, spice, booze, wood, and creamy vanilla.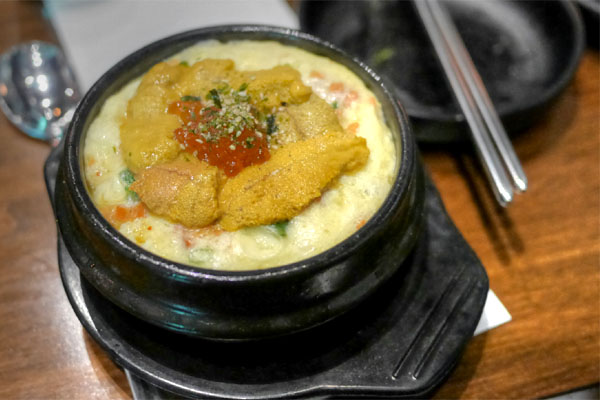 Uni Steamed Egg [$19.00]
| w/ salmon roe
Hanjip's take on
gyeran jjim
delivered. I found this a denser presentation, with the lush, briny sweetness of the
seong-ge
pairing beautifully with the egg, the salmon roe adding some great pops of salinity.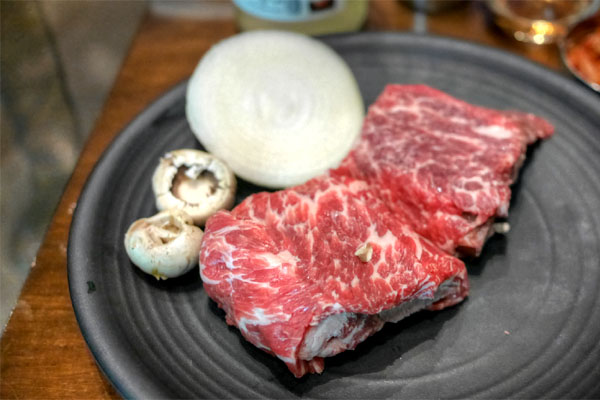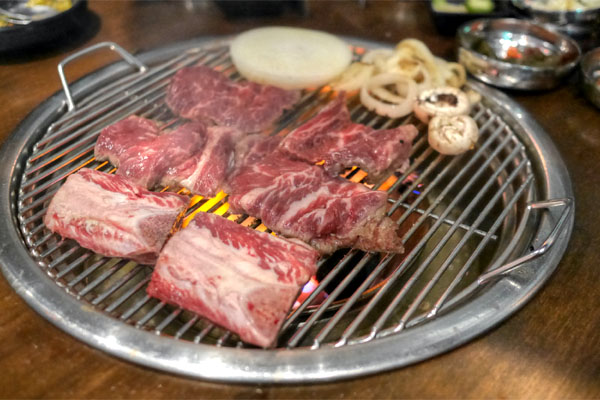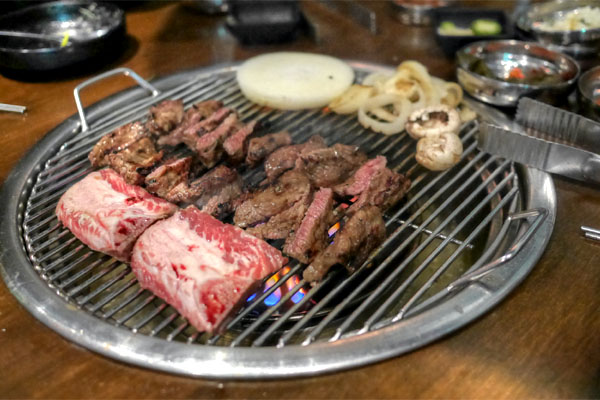 Boneless Short Rib [$34.00]
| saeng-gal-bi
Saeng galbi
was a standout: tender, juicy, well-charred, dripping with boatloads of beefy goodness. Definitely one to order.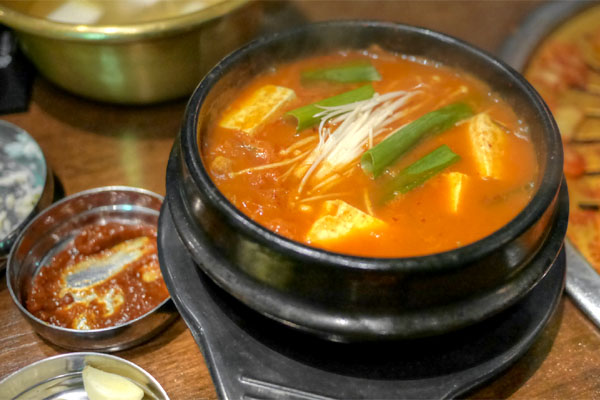 Kim Chi Stew [$12.00]
| in roasted bone broth
Of course we had to sample the
kimchi jjigae
, a classic, comforting version of the spicy stew.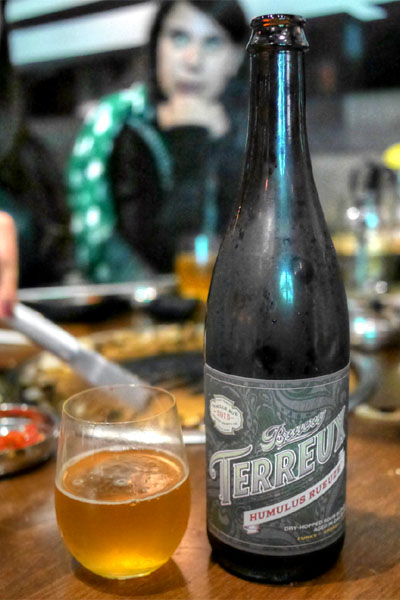 The
2015 Bruery Terreux Humulus Rueuze
was a blended, Hallertau Blanc dry-hopped sour blonde ale aged in oak barrels, made in the style of a Belgian gueuze. I really enjoyed it, finding a nose of juicy, sweet, tropical fruit backed by a strong bitterness, with the palate coming in with more juicy stone fruit, hops, grassiness, and funk.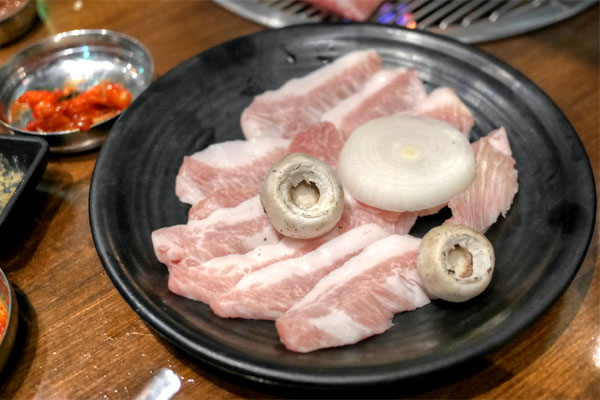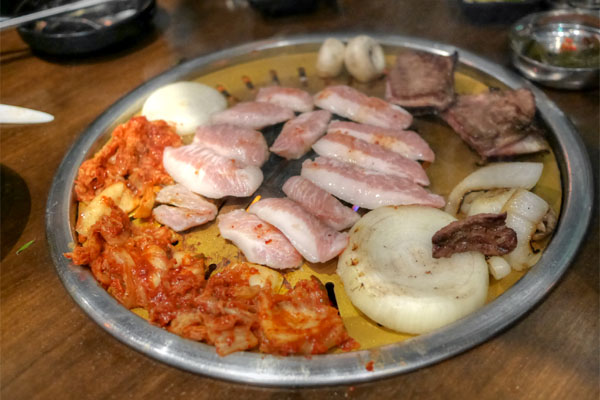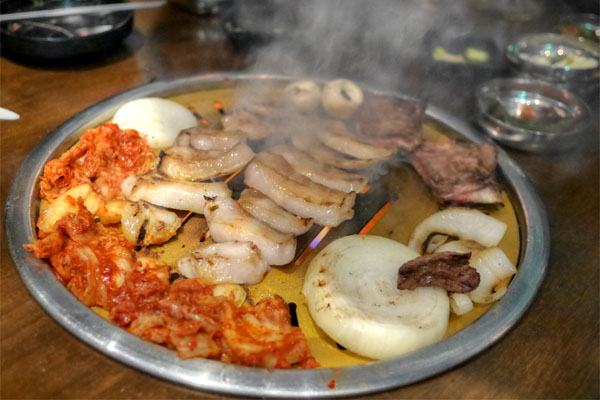 Pork Neck / Jowl [$26.00]
| han-jong-sal
Hangjeongsal
was a treat, with a superb chew to it along with a great fattiness and char, not to mention a massive amount of porkiness.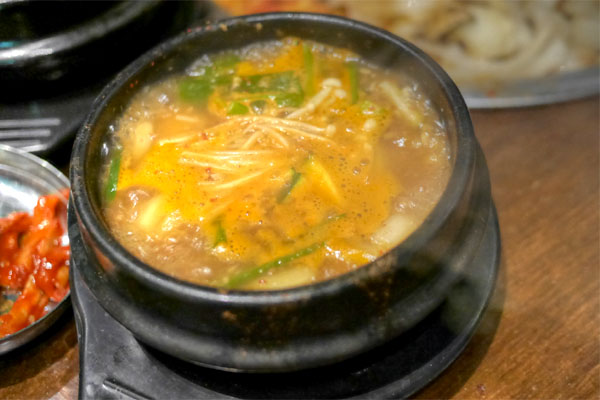 Soy Bean Stew [$10.00]
| in roasted bone broth
I was a fan of the
doenjang jjigae
here, which showed off a funky, savory depth that really permeated the stew.
Next was the heftiest beer of the evening, the
2015 SweetWater Bourbon Barrel Aged Imperial Stout
. I got a nose of tartish, chocolate-y malt, while the palate was very smooth, malty, with a smokiness that pervaded everything.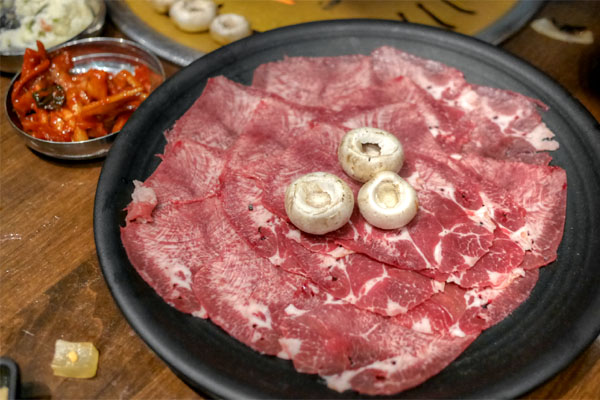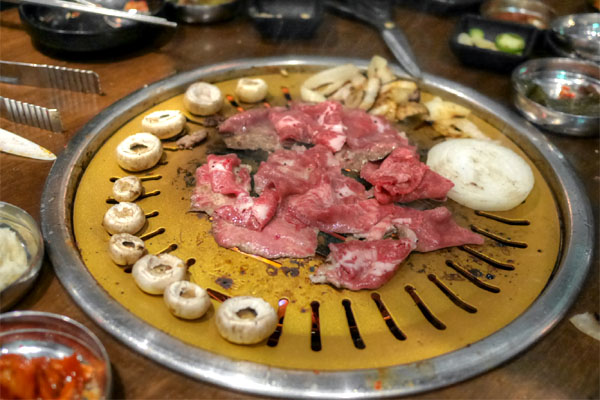 Beef Tongue [$28.00]
| hyeo-mit
Hyeo
hit all the right notes, arriving tender, slick, and
almost
unctuous. Even better with a squirt of lemon, which came courtesy of our expert-level server (poached from
Kang Hodong Baekjeong
).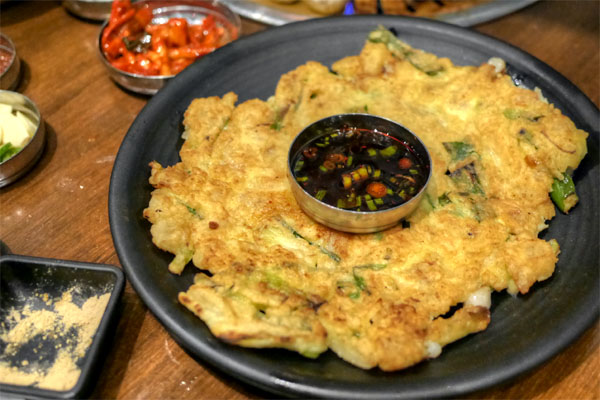 Seafood Pancake [$17.00]
| w/ rock shrimp and bay scallops
I'm a big proponent of
haemul pajeon
, and Hanjip's was perhaps the most seafood-centric preparation that I've had. The shrimp and scallops were front and center, their bite and brine both strongly conveyed.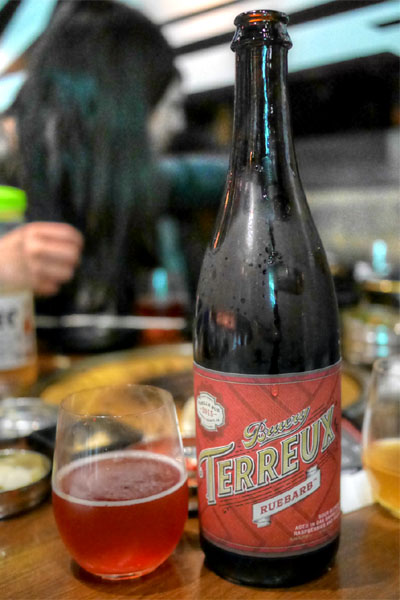 A sour blonde ale aged in oak barrels with rhubarb and raspberries, the
2015 Bruery Terreux Ruebarb
was arguably my favorite beer of the night, and certainly the prettiest. Huge nose of jammy, floral, almost Smucker's level fruit. The aroma was offset by the taste, which went tart, bright, acidic, crisp, with a fruity underpinning that never overwhelmed. A great interplay of sweet 'n' sour going on.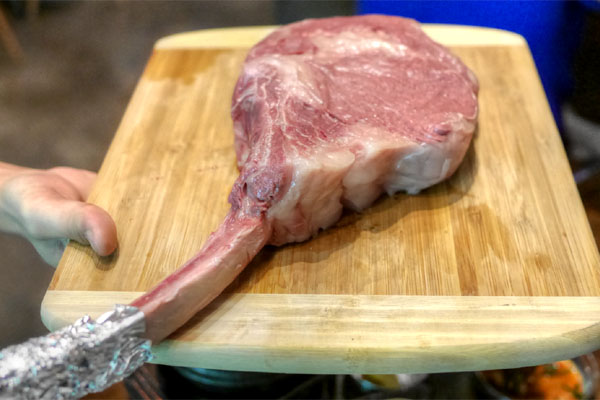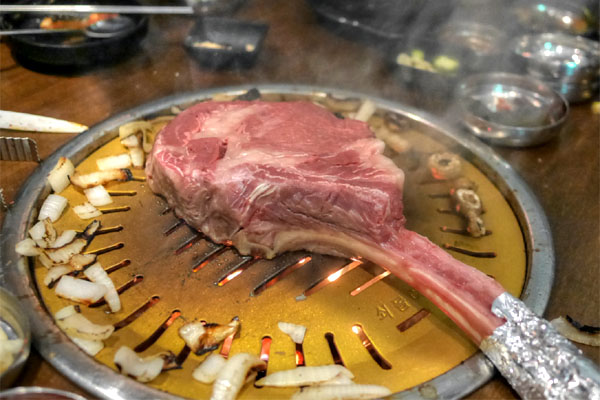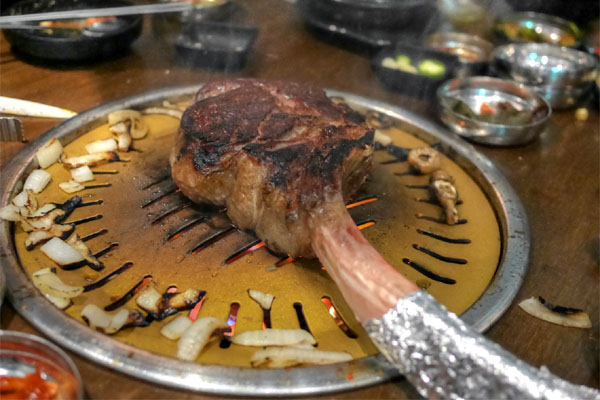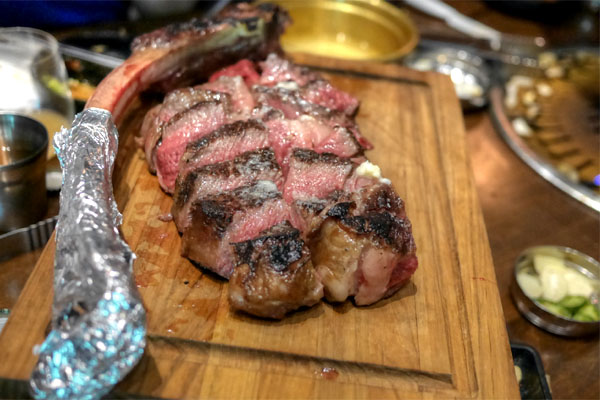 Tomahawk Steak [$120.00]
| w/ foie gras butter
Naturally, the meal's
pièce de résistance
was the three-pound, 30-day dry-aged prime rib eye. The steak came out partially cooked via sous vide, and was subsequently finished on the grill before being taken back in the kitchen for cutting and foie gras butter application. It was as damn tasty as you'd expect: well charred and super beefy, with deep, gratifying flavors transitioning to the lingering richness of that butter toward the back end.
With Hanjip, Oh and Bombet wanted to bring K-Town-style KBBQ outside of its native environs, and it looks like they've succeeded. I found the food up there with what you'd get at higher-end joints in Koreatown, with the additional benefit of some cheffier touches that you wouldn't typically find back east. And as for next steps, the team is already working on another outpost of Hanjip in Downtown, so look out for some legit
gogigui
to land in that underserved area in the coming year.