Maude (Beverly Hills, CA) [5]
Maude Restaurant
212 S Beverly Dr, Beverly Hills, CA 90212
310.859.3418
www.mauderestaurant.com
Tue 1/26/2016, 09:00p-11:30p
Time flies when you're eating out, apparently. It's been two years since Curtis Stone opened Maude at the start of 2014, and it's been well over a year since my last meal here, though it doesn't seem nearly that long. Since then, the restaurant's perpetually busy reservation line has been replaced by Nick Kokonas' Tock tickets system, which makes landing a table a bit less painful. The theme for January: carrots.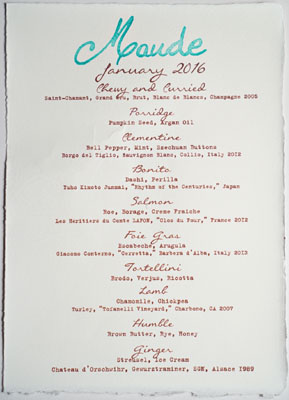 Maude's menu still features a monthly-changing ingredient spread over nine-ish courses, though prices have risen to $125 currently. Wine pairings, meanwhile, will add either $95 (Regular) or $125 (Reserve, what I ordered tonight) to the tab. Click for larger versions.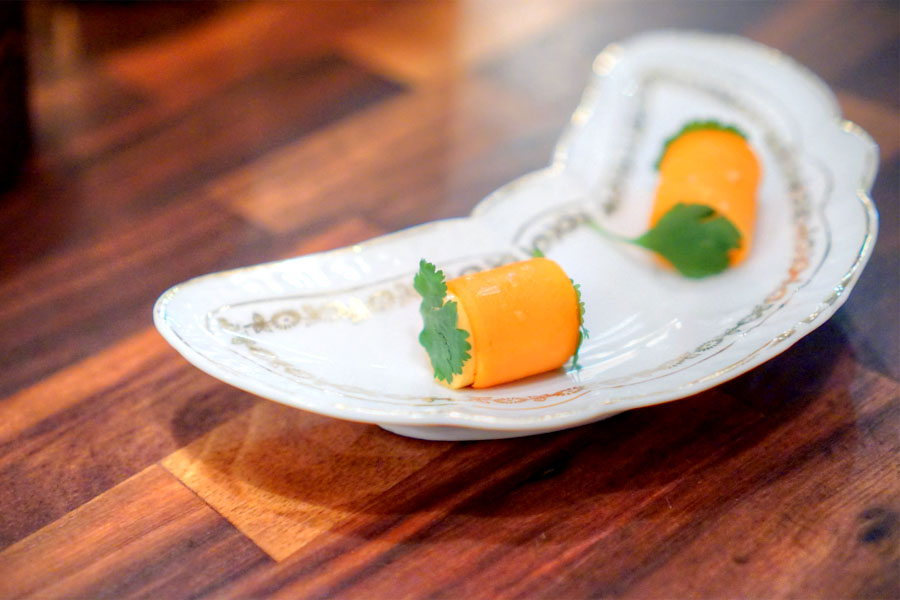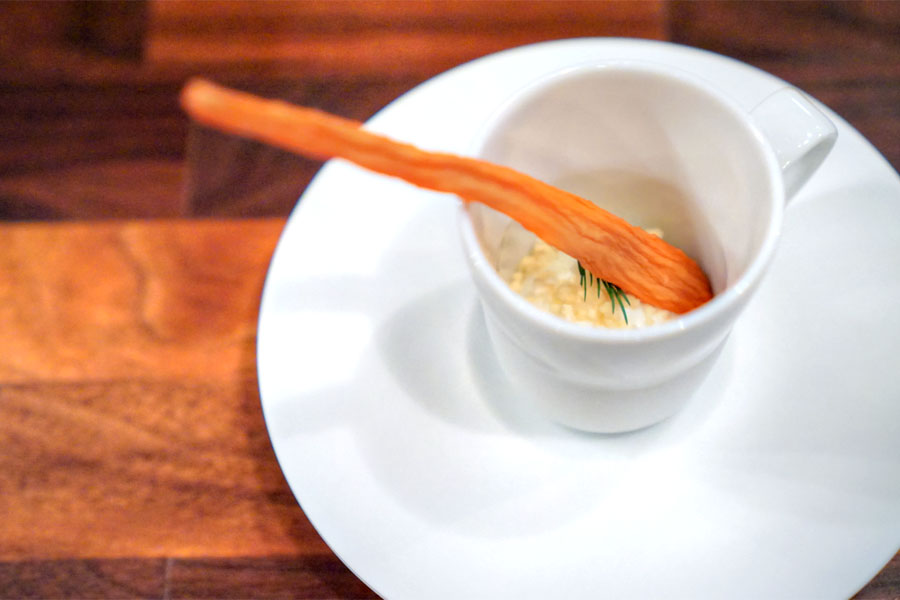 1: Chewy and Curried
Saint-Chamant, Grand Cru, Brut, Blanc de Blancs, Champagne 2005
Dinner commenced with a couple of amuse bouches. First came cylinders of coconut panna cotta, wrapped in curried carrot and capped with cilantro. Think sweet 'n' spicy at first, leading to the refreshingly zesty bite of the herb on the finish. This was followed by a braised-dehydrated carrot "chew" with a buttermilk and dill dip, which set the sugariness of the bendy vegetable against the lactic, almost nutty flavors of the condiment.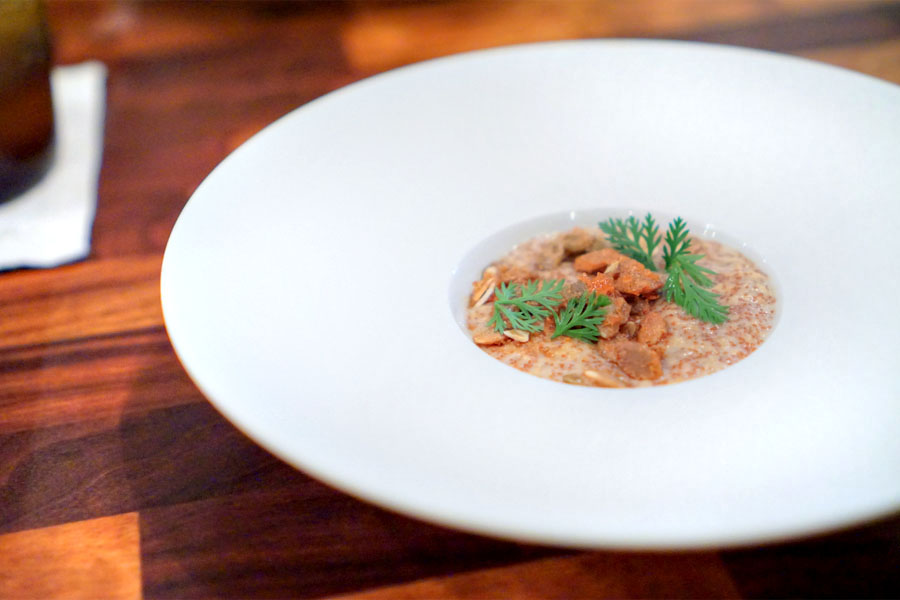 2: Porridge
| Pumpkin Seed, Argan Oil
Teff was combined with carrot, cumin, and pepitas in one of my favorites of the night. I found it a homey, cozy dish, with loads of earthy, nutty, savory flavors underscored by notes of carrot and finished with a wonderful kick of cumin. Particularly suited for the toasty, nutty, oxidative Champagne that was paired.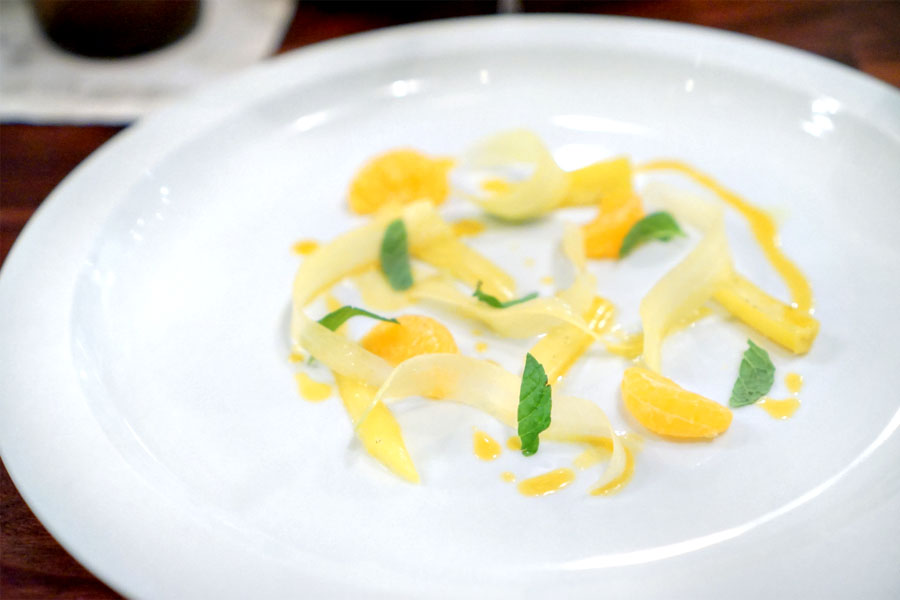 3: Clementine
| Bell Pepper, Mint, Szechuan Buttons
Borgo del Tiglio, Sauvignon Blanc, Collio, Italy 2012
Yellow carrot joined forces with clementine and a bell pepper reduction to make for a bright, bittersweet, delightfully crunchy dish with a sharp interplay between mint and citrus. I didn't get much from the advertised Sichuan vinaigrette, but the accompanying wine definitely made sense with its tropical fruit flavors and grassiness.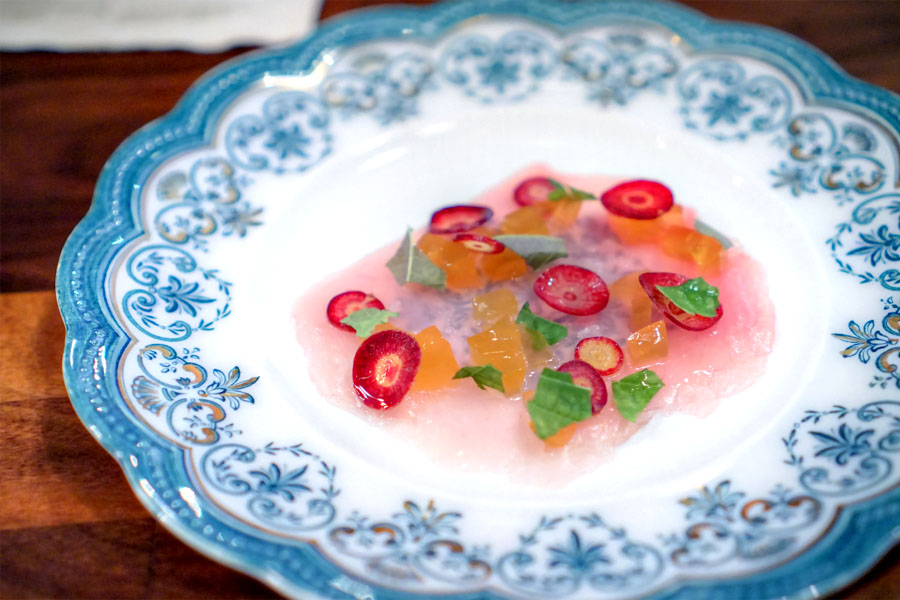 4: Bonito
| Dashi, Perilla
Yuho Kimoto Junmai, "Rhythm of the Centuries," Japan
Bonito carpaccio was another standout, the brine of the fish meshing perfectly with a bevy of sweet, herby nuances and a hit of dashi gelée-fueled umami on the close. It made sense to pair a fragrant, sweet, viscous sake with this.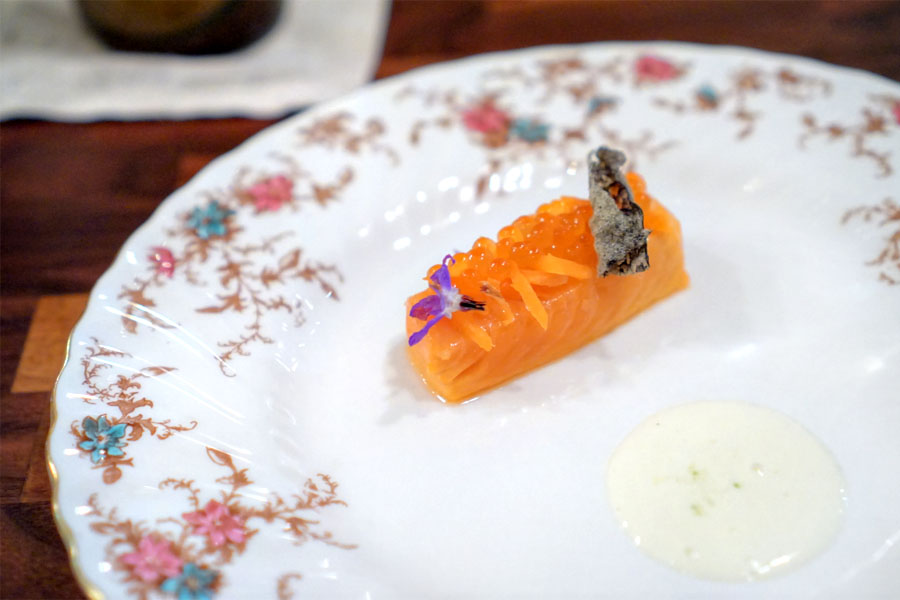 5: Salmon
| Roe, Borage, Creme Fraiche
Les Héritiers du Comte LAFON, "Clos du Four," France 2012
Cooked rare, the king salmon was a table favorite, an unabashedly melty, fatty, oceany preparation amped up by the salt and smoke of the carrot juice-marinated roe. Excellent crunch from the salmon skin, and I appreciated the lightness provided by the crème fraîche as well. It stood up well to the rich, oaky, citrusy Chard paired.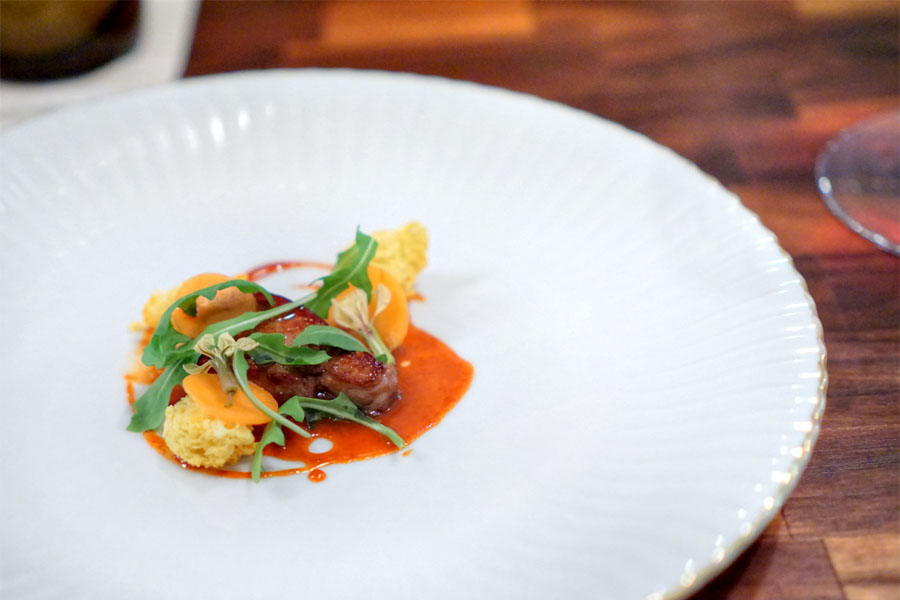 6: Foie Gras
| Escabeche, Arugula
Giacomo Conterno, "Cerretta," Barbera d'Alba, Italy 2013
A dish of seared foie showed off the lusciousness that you'd expect from the liver, commingled with the sweet, fruity heft of a Pedro Ximénez sherry glaze and a carrot juice-sprayed sponge cake. Thankfully, the presence of arugula leaves and blossoms imparted a trace of brightness to things. Not surprisingly, the dish called for a powerful wine as a pairing: a robust, fruity, floral Barbera.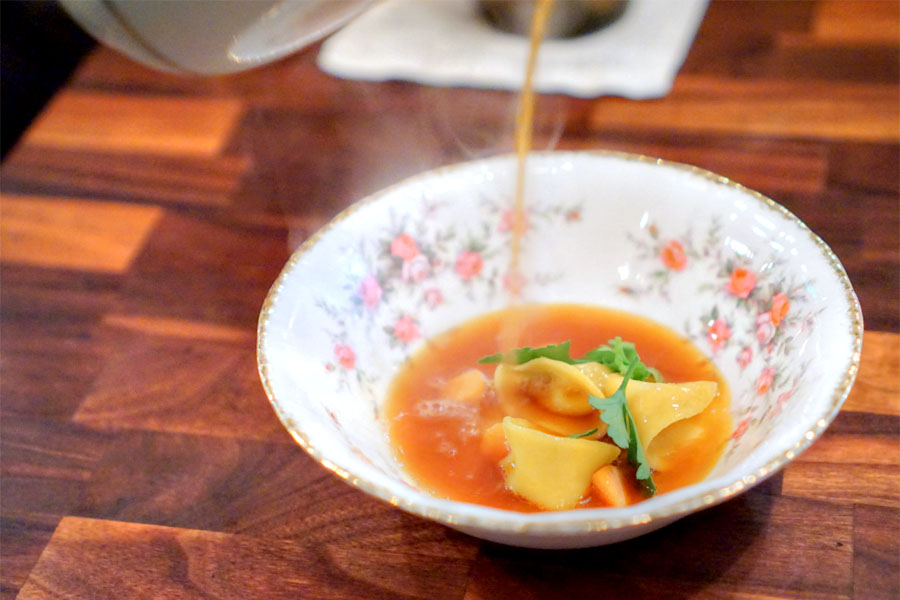 7: Tortellini
| Brodo, Verjus, Ricotta
Ricotta-stuffed tortellini shrewdly conveyed the soft, sweet character of the cheese, while sage and brown butter gave us comforting flavors and the parsley a welcomed herbiness. A caramelized carrot juice broth offered up an almost candied sweetness, one that was actually a bit much for me.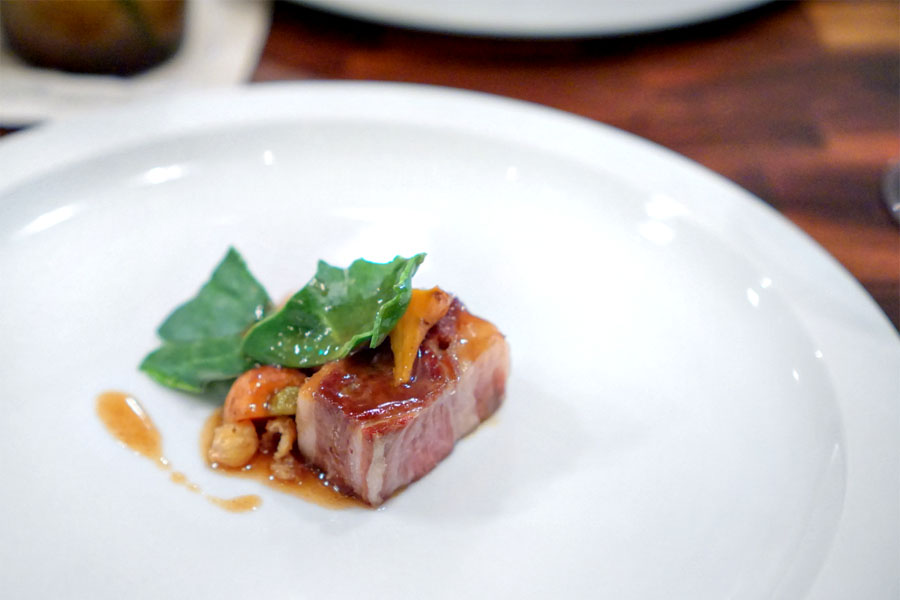 8: Lamb
| Chamomile, Chickpea
Turley, "Tofanelli Vineyard," Charbono, CA 2007
Lamb belly displayed all the deep, dark, fatty flavors that I wanted, and paired particularly well with the nutty crunch of chickpeas while braised carrot provided just enough earthy sweetness. Nice touch of bitterness too from the Swiss chard. The accompanying Turley was a musty, meaty, savory wine commingled with fruit, and matched up well with the lamb.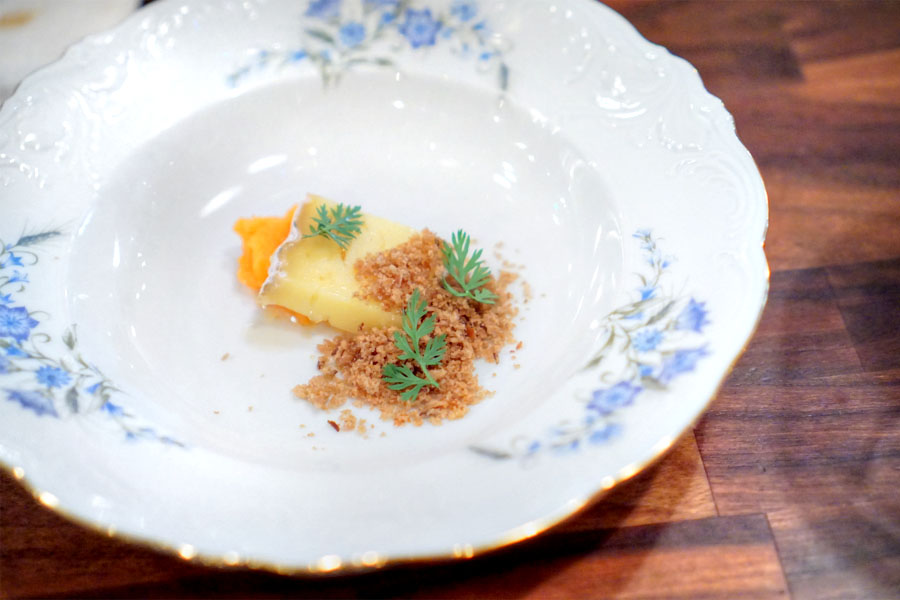 9: Humble
| Brown Butter, Rye, Honey
Our cheese course comprised a soft Jersey cow's milk varietal from Vermont. I found it nutty and salty and quite tasty against the sugary brown butter-poached carrot and honey vin, while rye bread crumbles were a crunchy, spicy complement.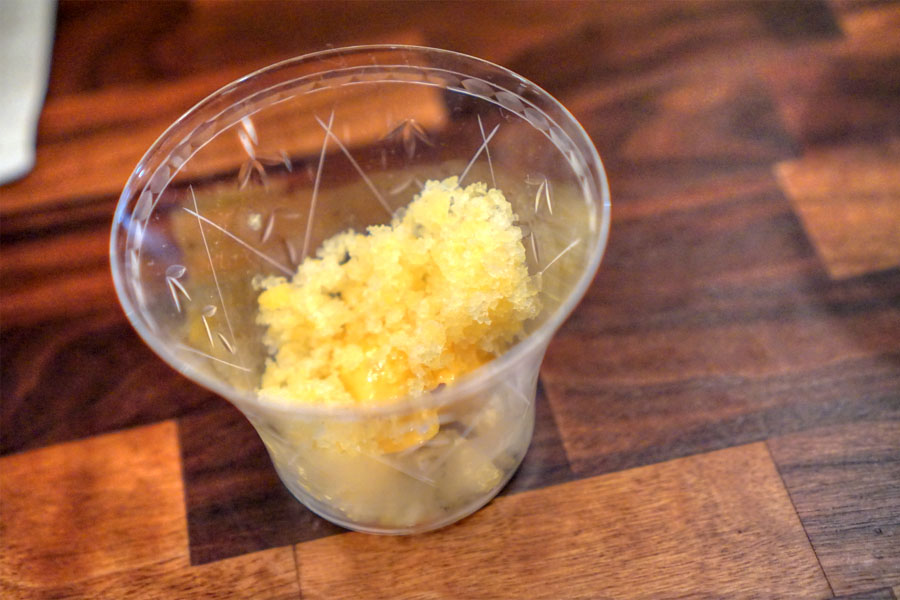 Pre-dessert was a carrot frozen yogurt with mandarin ice and olive oil. Superb true-to-life, in-your-face carrot flavor here, balanced out by the piquancy of the granité.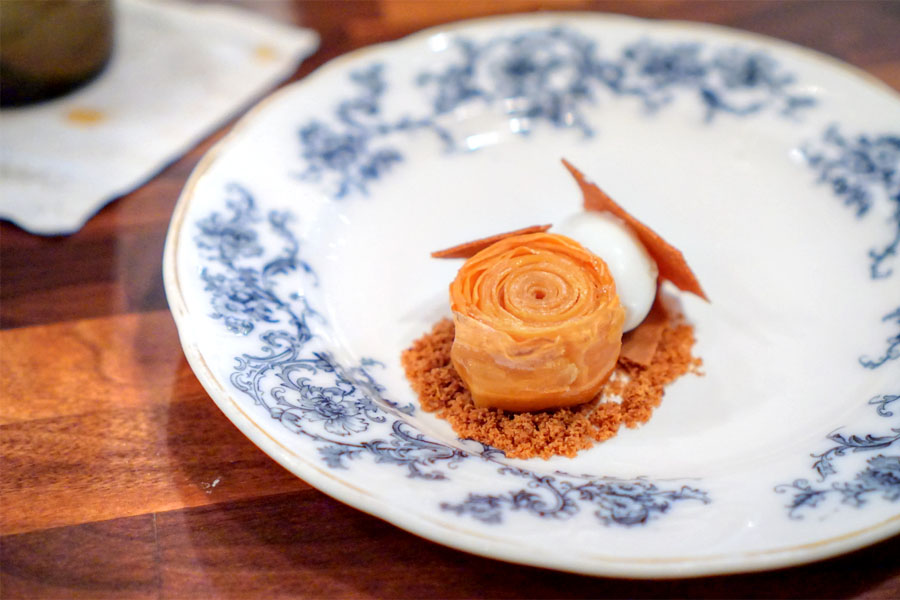 10: Ginger
| Streusel, Ice Cream
Chateau d'Orschwihr, Gewurztraminer, SGN, Alsace 1989
Dessert proper was a winner, playing the maple syrup-enriched carrot off of a zesty ginger ice cream in stellar fashion, all while gingersnap tuiles gave just enough textural contrast. A smart pairing with the super aromatic, floral, honeyed, tropical fruit-laced Gewürztraminer.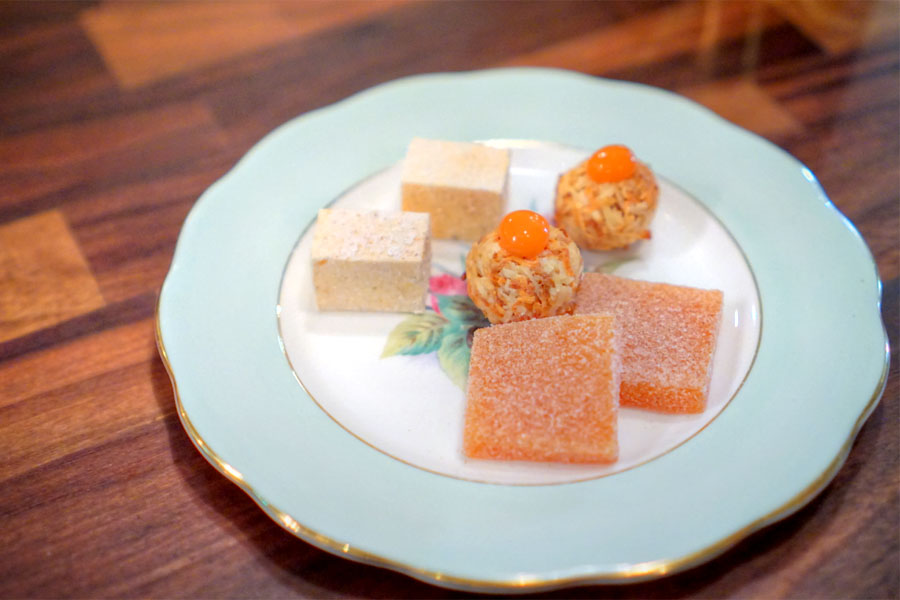 Mignardises were five-spice-carrot
pâtes de fruit
(my fav), carrot macaroons, and carrot-cardamom marshmallows.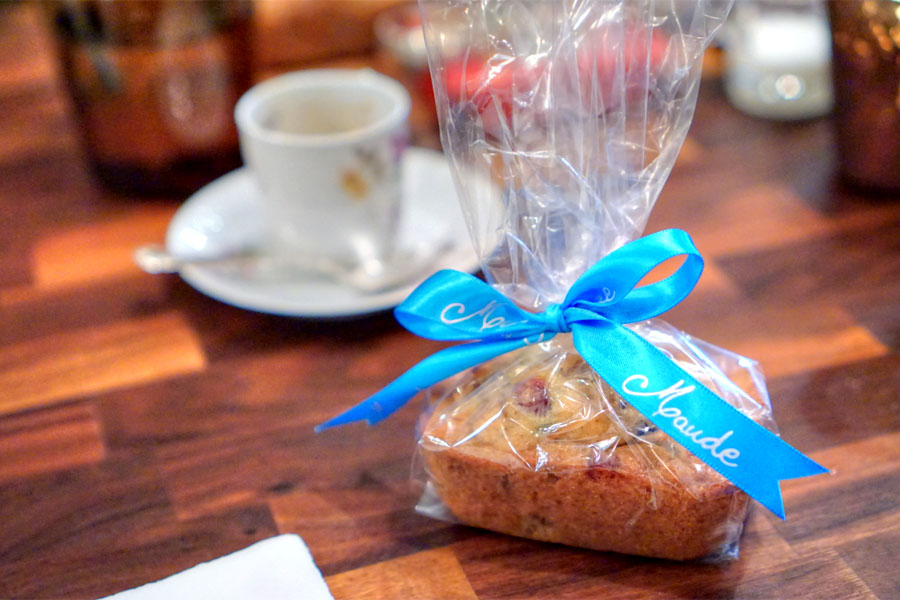 And to take away: carrot cake (what else?) with cream cheese and nuts.
I've actually never been a huge fan of carrots, though I ended up pleasantly surprised with the meal. The veggie tends to get overly sweet for me, but fortunately this was managed for the most part, but highlighted when appropriate. I'm actually excited about February, since it's going to be potato month and I'm fond of the staple crop in almost any preparation.