Yakitoriya (Los Angeles, CA)
Yakitori-ya Restaurant
11301 W Olympic Blvd, Los Angeles, CA 90064
310.479.5400
Sat 12/26/2015, 09:20p-11:15p

In terms of yakitori, Tomohiro Sakata's longstanding
Kokekokko
is often regarded as the standard bearer around these parts, at least if you have VIP status there. Another contender for the crown that I'd yet to try until now is Sawtelle's Yakitoriya. The place was opened in 1997 by Chef/Owner Toshi Sakamaki, who actually started working at Kokekokko when it opened in 1988. The restaurant's located inside the Olympic Collection, right next door to
Kiriko
and not far from
Butcher's Dog
.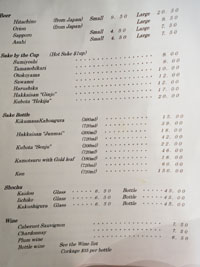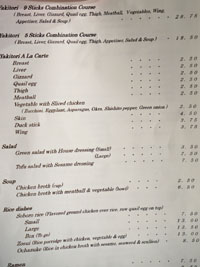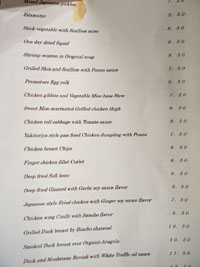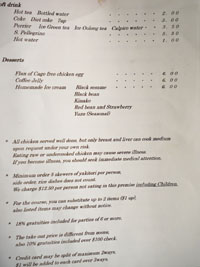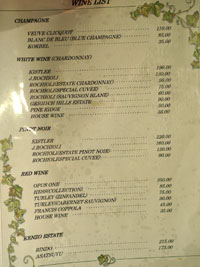 Menu-wise, we have a small selection of assorted Jidori chicken parts (grilled on
binchotan
, natch), along with your typical yakitori accompaniments, a separate list of more composed sides, and a few
specials
. Take note of the five skewer per person minimum, as well as the presence of off-menu skewers (described below). To drink, there's the usual beer suspects, some sake, shochu, and wine (some of it quite high-end). Corkage is an abnormally high $35. Click for larger versions.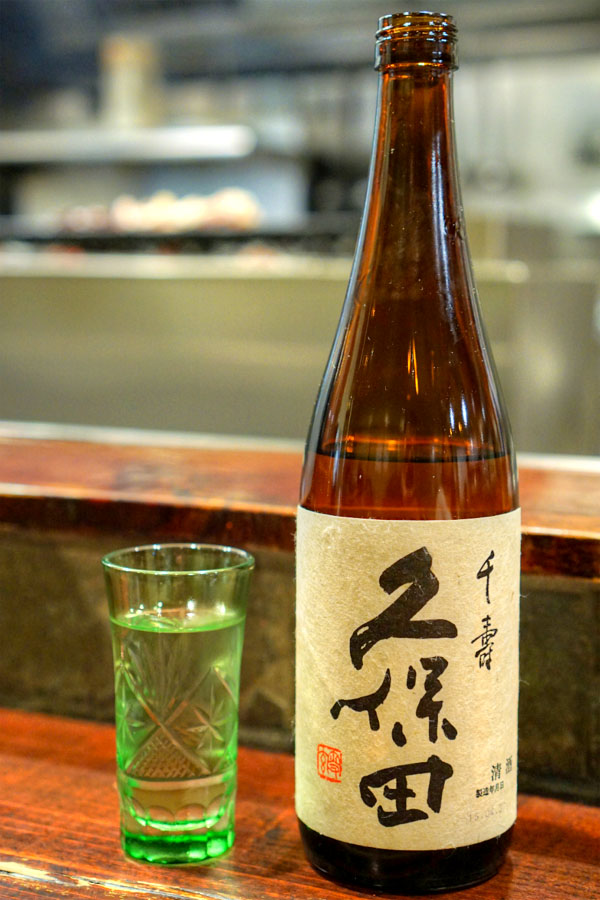 We opted for sake this evening, and first came the
Kubota "Senju" [$46]
. It went over well with me, giving up persistent notes of tropical fruit and spice on the nose, while the taste showed off a ricey sweetness with some heat creeping up on the back end.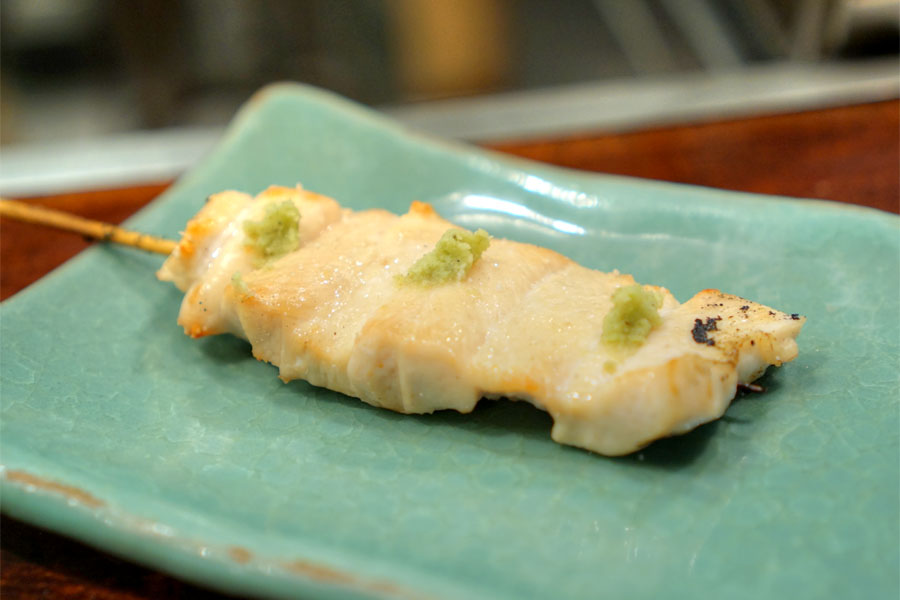 Breast [$2.50]
We got right into it with the
sasami
, a standout preparation with loads of flavor joined by well-placed accents of salt and wasabi. It was spot on texturally too, as I appreciated how the meat was cooked just under well-done.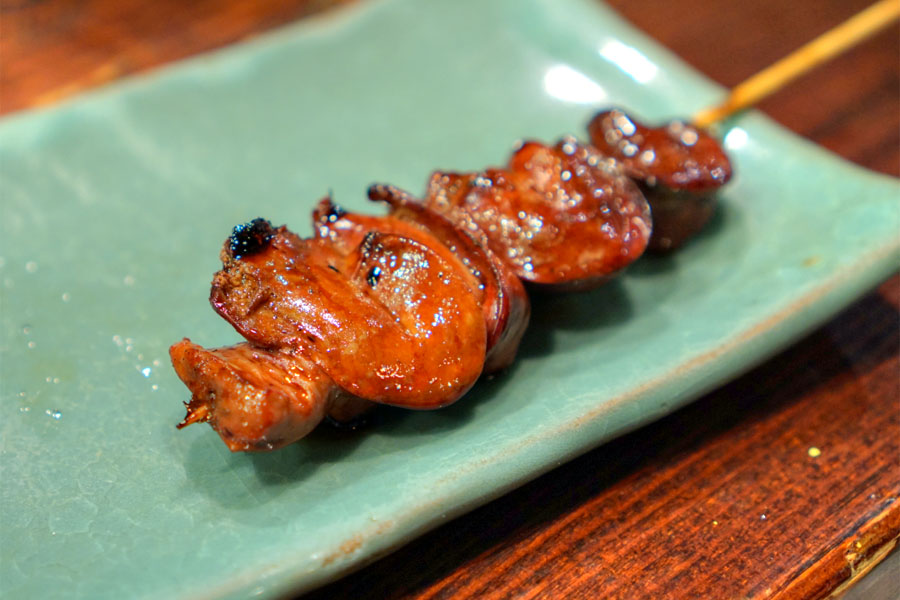 Liver [$2.50]
The was very likely the best
reba
I've had, with none of that dry, grainy character that you typically find with the organ. Instead, it came out creamy and mild, with soft liver-y notes backed by a good amount of char bitterness.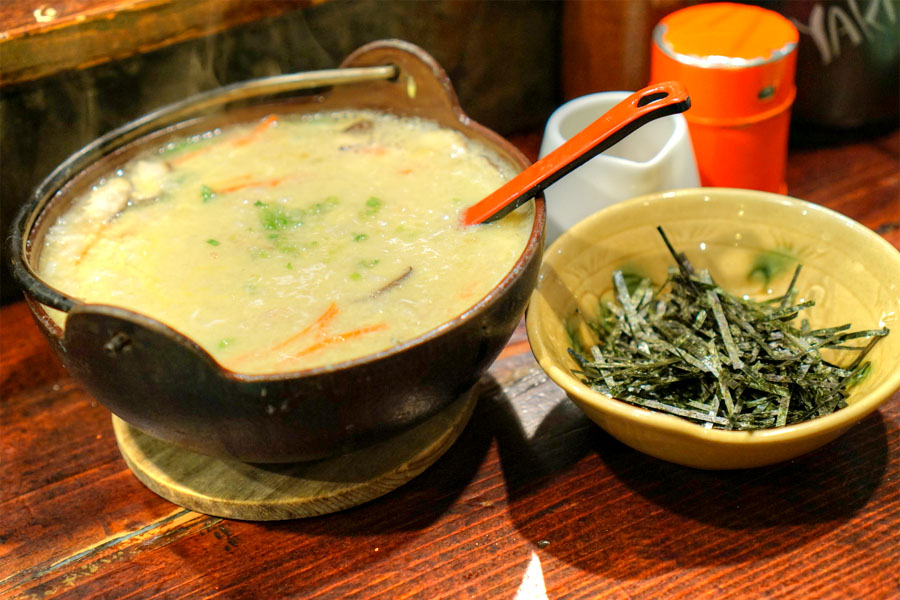 Zosui [$13.00]
| Rice porridge with chicken, vegetable & egg
A rice soup was homey at its core, with permeating chicken flavors augmented by umami notes from the seaweed.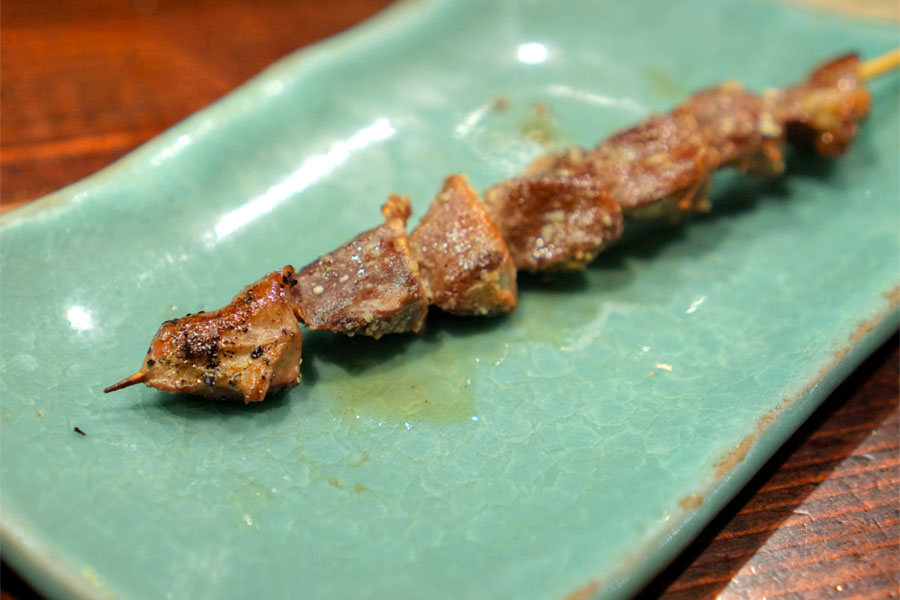 Gizzard [$2.50]
Sunagimo
was wonderfully crunchy and superbly complemented by elements of salt and smoke.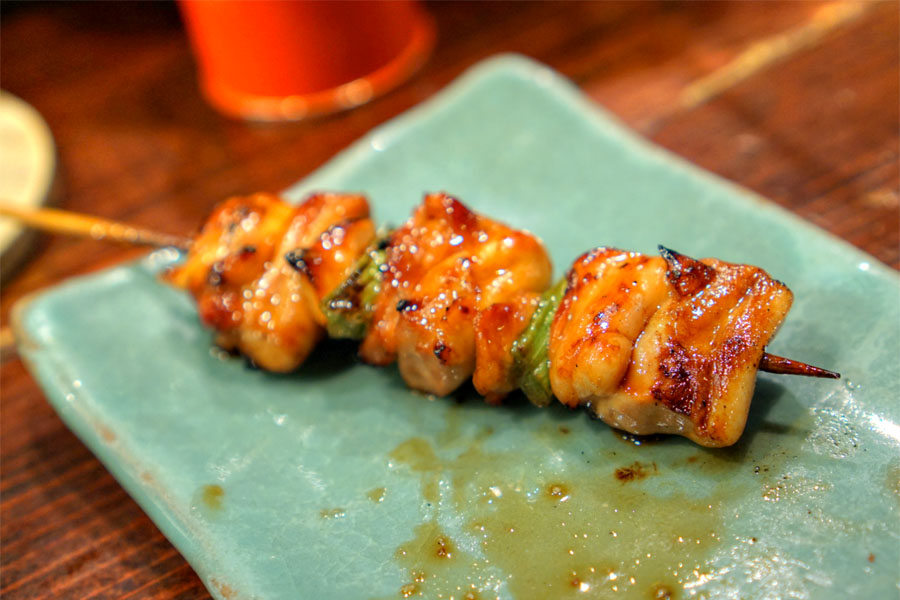 Thigh [$2.50]
Momo
was served in
negima
fashion, with the savory bird playing perfectly off of the astringency of those spring onions.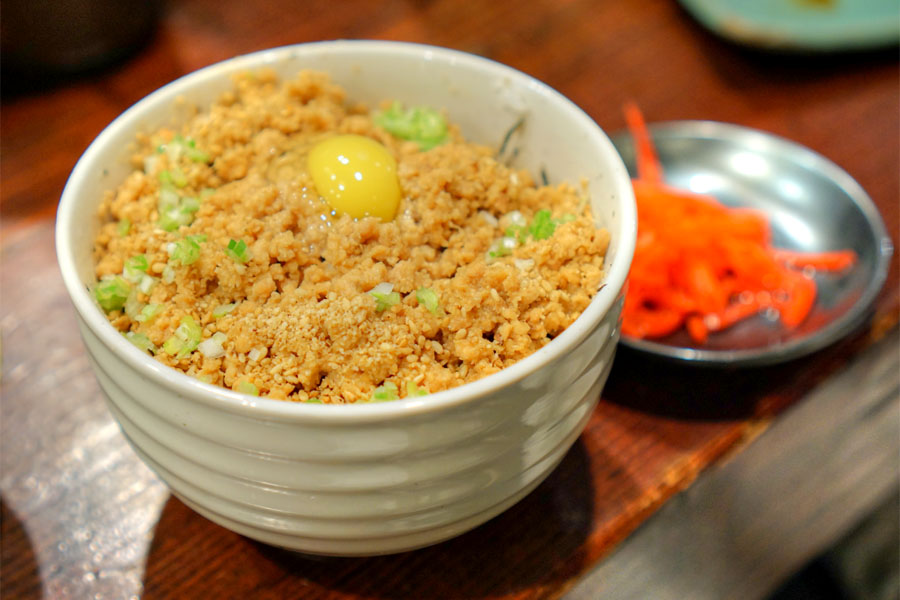 Soboro rice (Small) [$7.50]
| Flavored ground chicken over rice, raw quail egg on top
The
soboro donburi
was worth trying as well, a comforting, filling bowl with the chicken and rice melding seamlessly.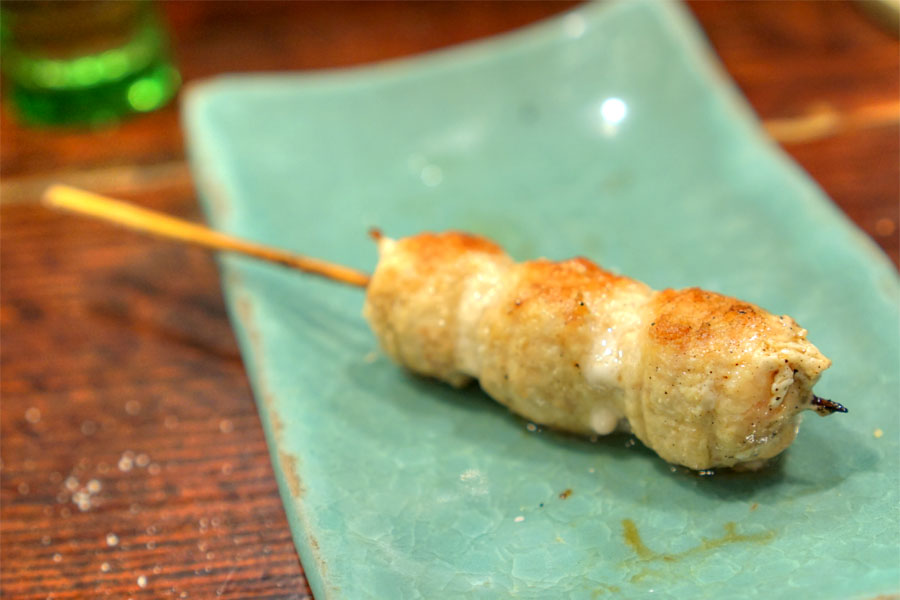 Meatball [$2.50]
The
tsukune
was lighter than usual, and also less sweet, instead offering up a delicious mix of smoky, savory, salty flavors.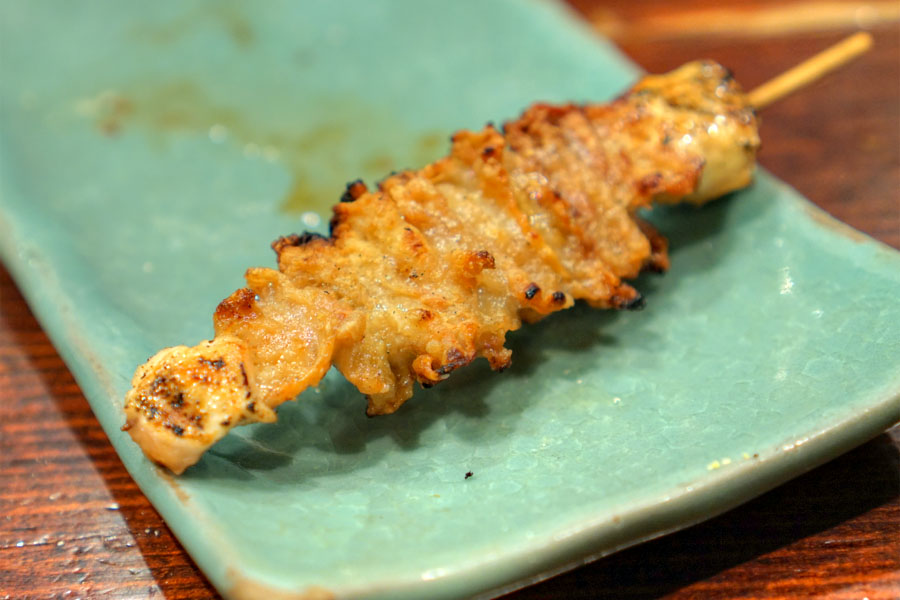 Skin [$4.50]
Kawa
was on point, a marriage between charred crispy bits and some more gelatinous textures.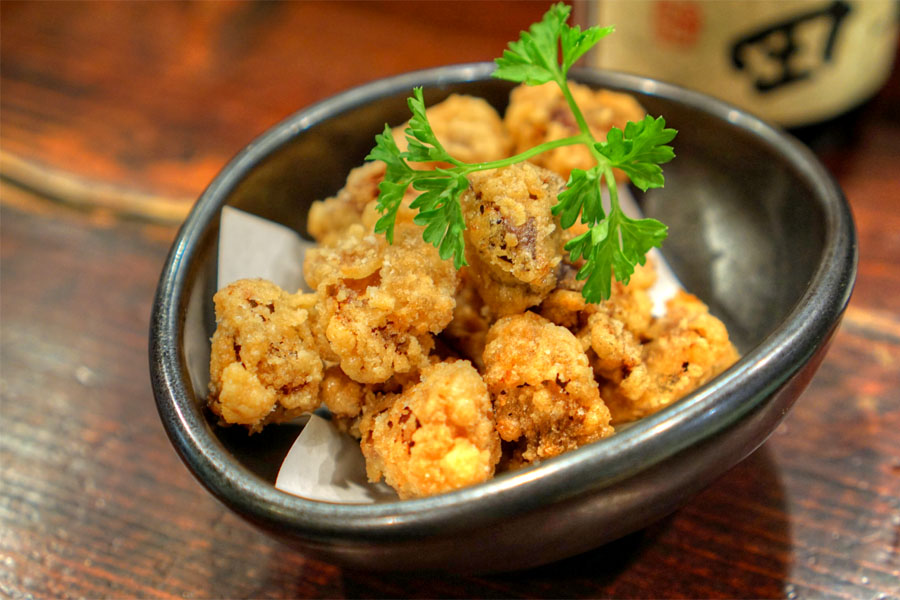 Deep fried Gizzard with Garlic soy sauce flavor [$5.50]
Fried gizzards were excellent, conveying that perfect combination of snap and crunch and savoriness that made me just want to keep popping these guys. Easily better than the versions you get at places like Gaam (sort of my baseline for the dish).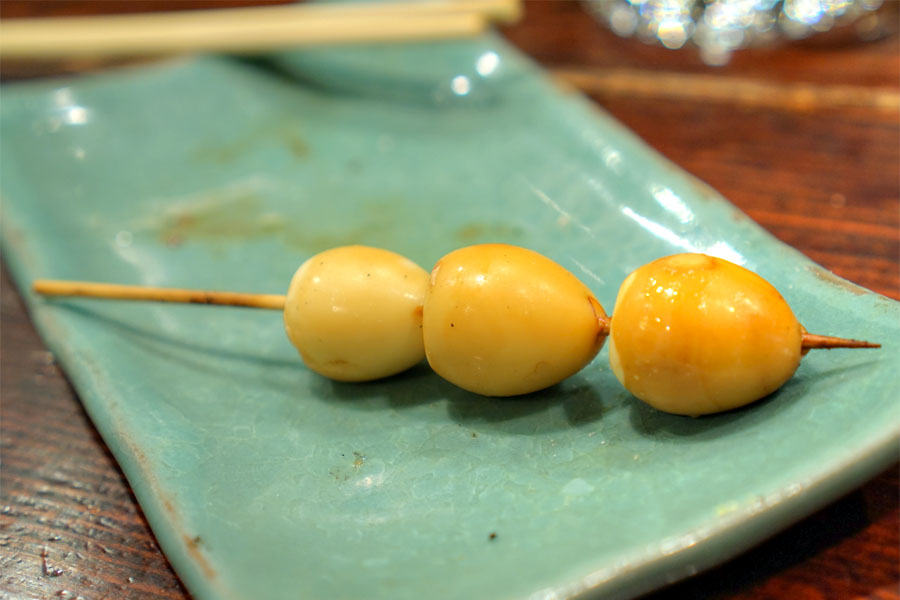 Quail egg [$2.50]
Uzuranotamago
could be likened to miniature hard-boiled eggs.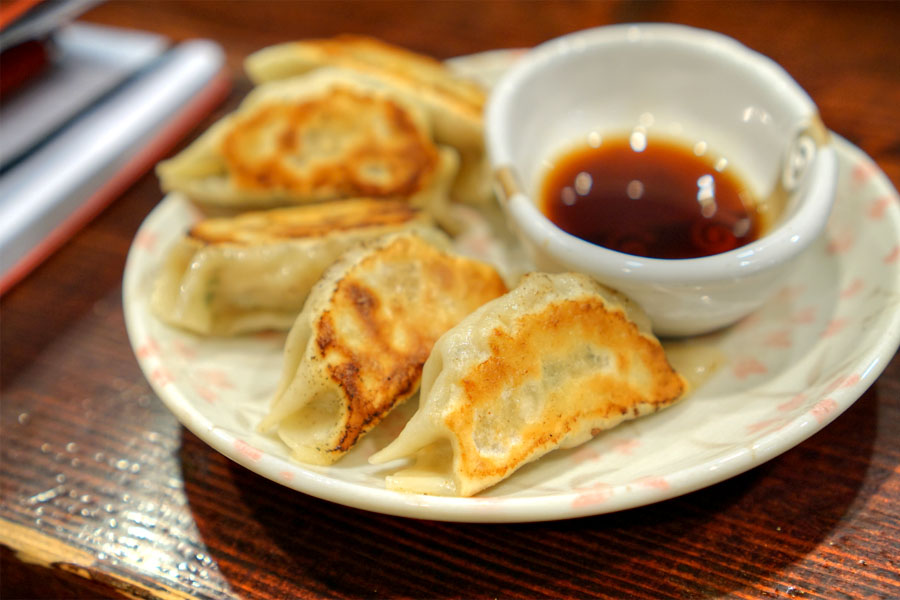 Yakitoriya style pan fried Chicken dumpling with Ponzu [$7.50]
I was a fan of the
gyoza
as well, their herbiness working well alongside the tangy ponzu.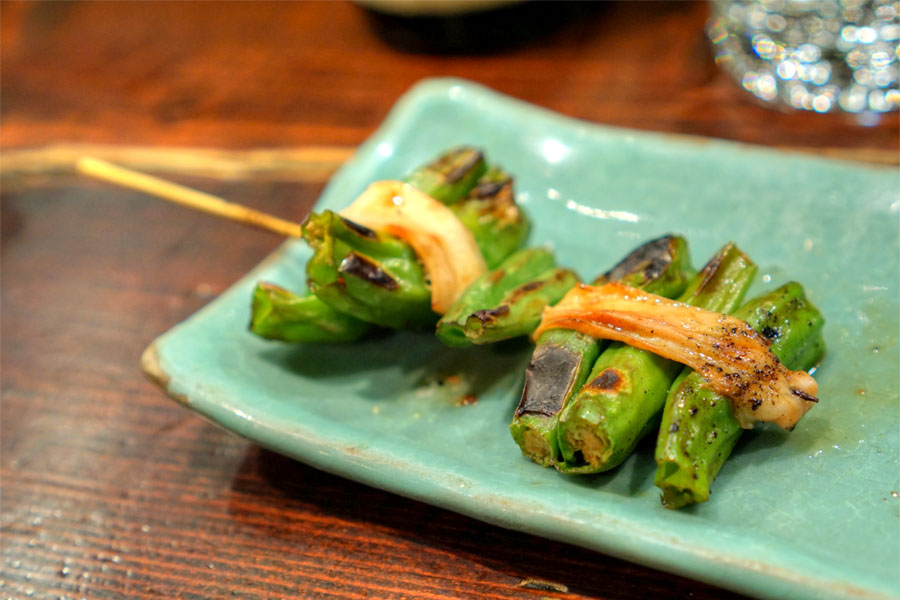 Shishito pepper with Sliced chicken [$2.50]
Shishitos possessed a good balance between heat and char, while ribbons of chicken served as a tempering component.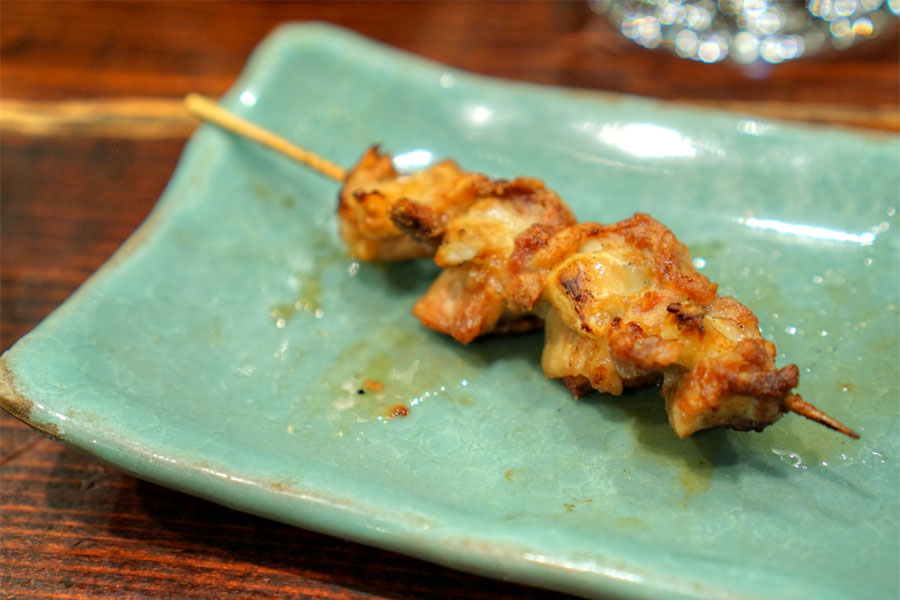 Cartilage
Nankotsu
had all the cartilaginous, crunchy textures that you'd want, along with a permeating smokiness.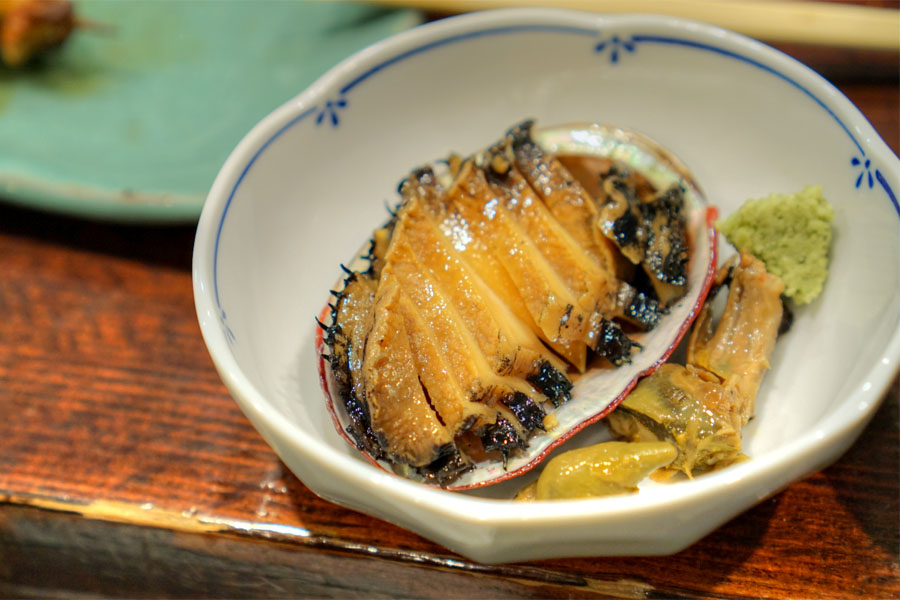 Steamed Abalone [$15.20]
Awabi
was deftly prepared--firm yet supple to the bite--with a subtle brine that was well moderated by that dab of wasabi on the side.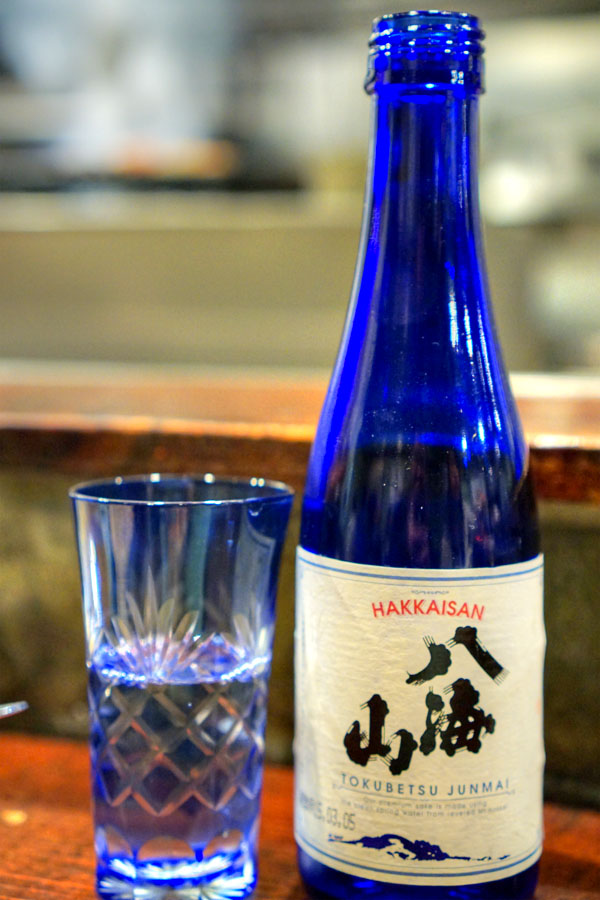 Next was a half bottle of the
Hakkaisan "Junmai" [$18]
. This was a heftier sake compared to the Kubota: aromas of rich, sugary rice and melon and flavors of the same, with an alcoholic heat peeking through at times.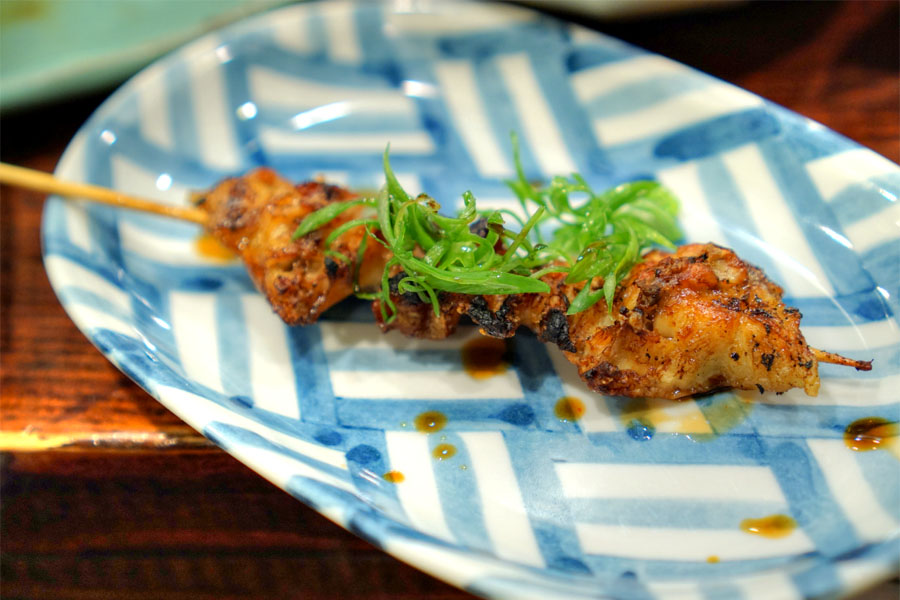 Tail
The
bonjiri
just might've been my favorite skewer of the night. It sort of had it all, with char, fat, savor, depth, and crunch showing up in perfect harmony.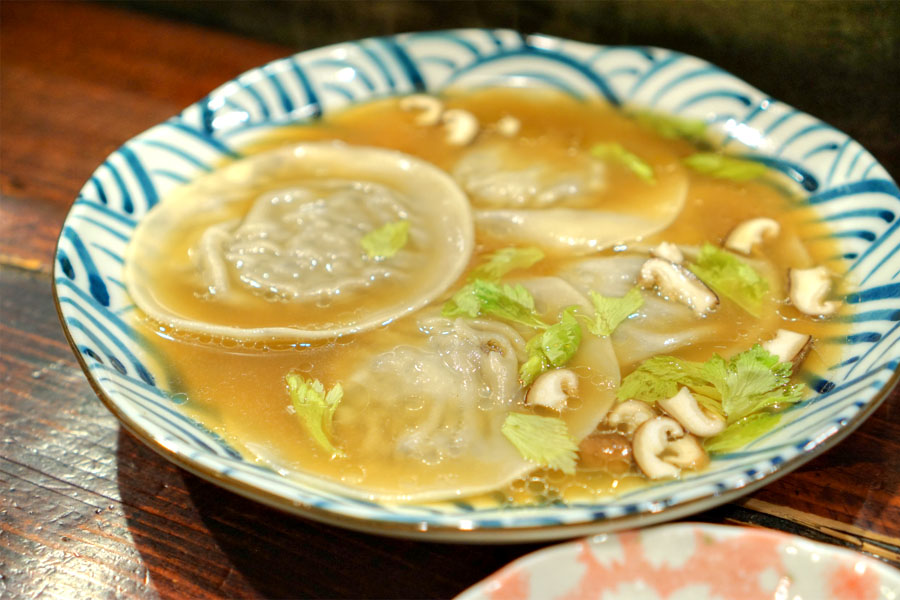 Duck and Mushroom Ravioli with White Truffle oil sauce [$11.50]
Ravioli were somewhat difficult to eat given their size, while flavor-wise they offered up rich mushroom amped up by pervasive notes of truffle.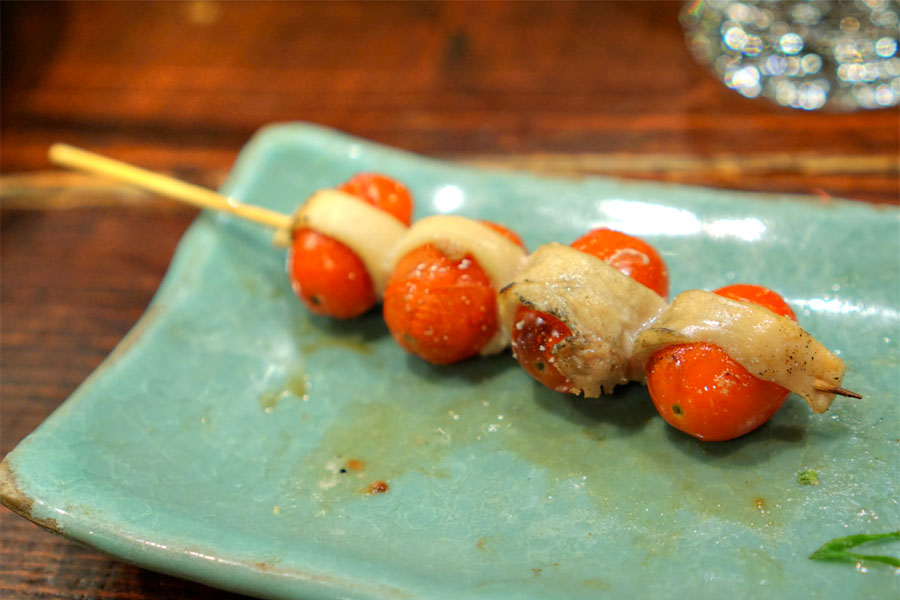 Tomato
Chicken and char worked as a counter to the juicy sweetness of the tomatoes.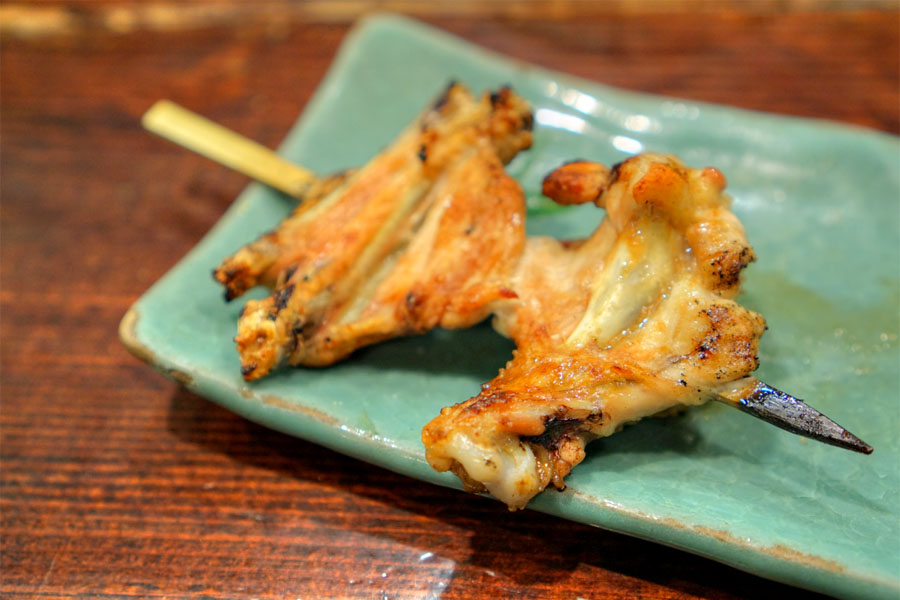 Wing [$3.75]
One of the more substantial skewers, the
tebasaki
was gratifying with its smoky, salty flavors and crunch.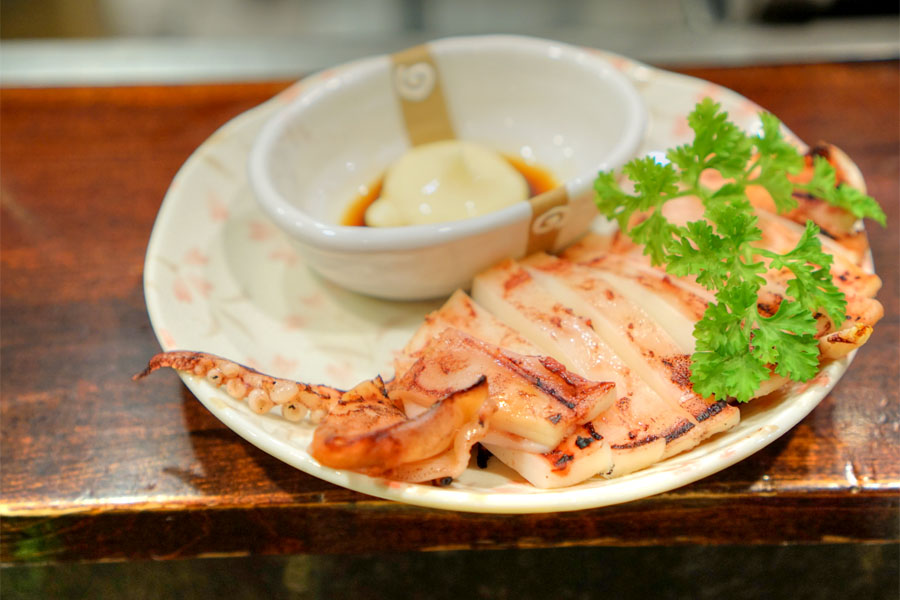 One day dried Squid [$8.50]
Squid was almost pillow-y to the bite, with a delicate brine that paired nicely with the creamy condiment on the side.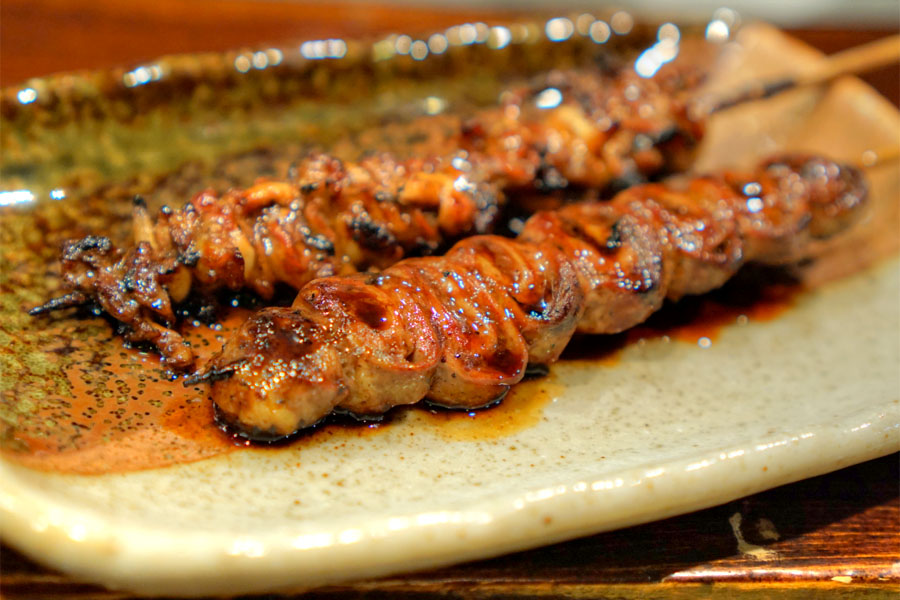 Special Heart
Toku hatsu
was delightfully springy, with a little more fat, a little more flavor compared to your usual heart.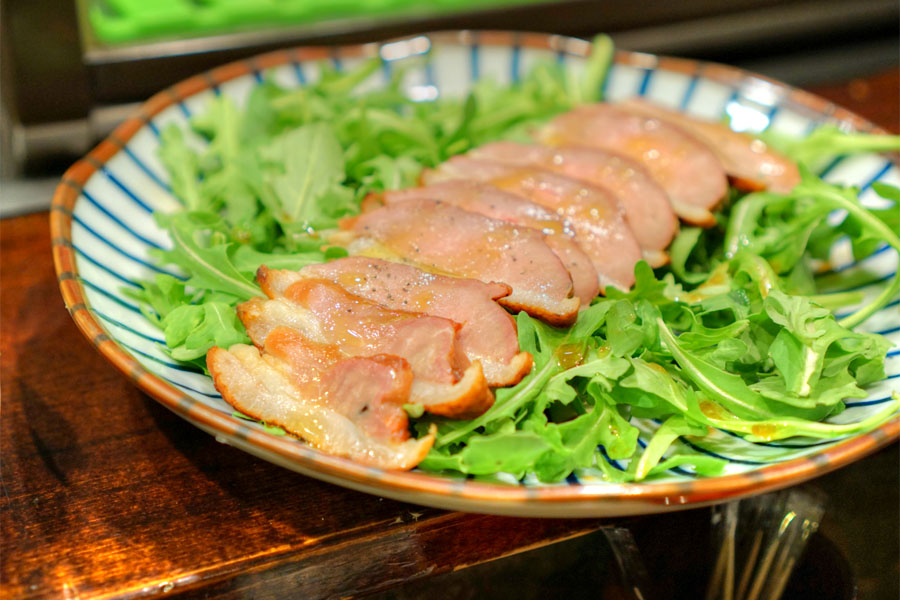 Smoked Duck breast over Organic Arugula [$10.50]
Duck was properly smoky, with an almost "hammy" taste to it, and went nicely alongside the zesty greens.
Special Special Heart
In comparison to the
hatsu
above, the
tokujo hatsu
's apparently made from the aorta and fat surrounding the heart, and was thus snappier to the chew, with a more intense flavor profile.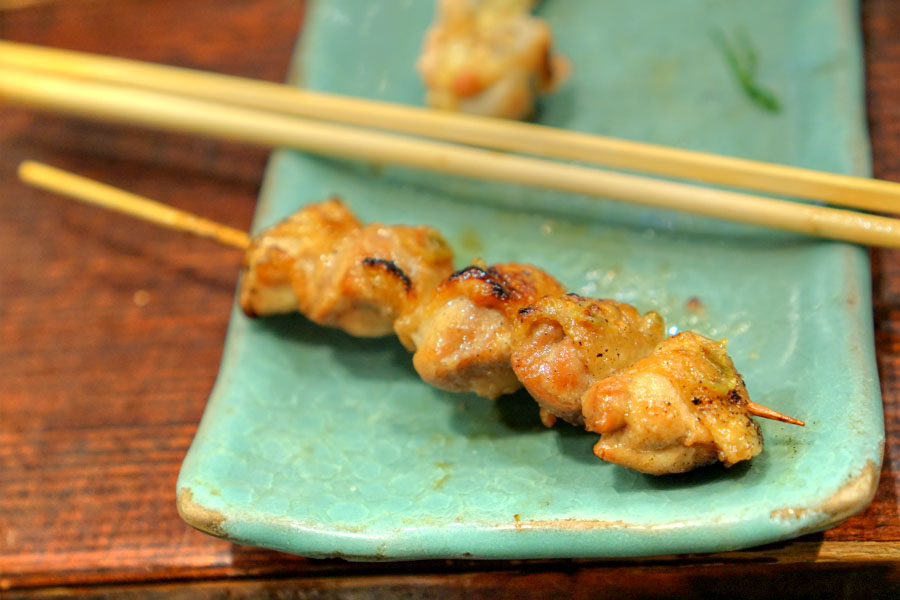 Chicken Oyster
Soriresu
(from the French
sot-l'y-laisse
) was another standout, like thigh meat but kicked up a notch in the flavor department and somewhat firmer in consistency. Great with the dabs of salty-spicy
yuzukosho
.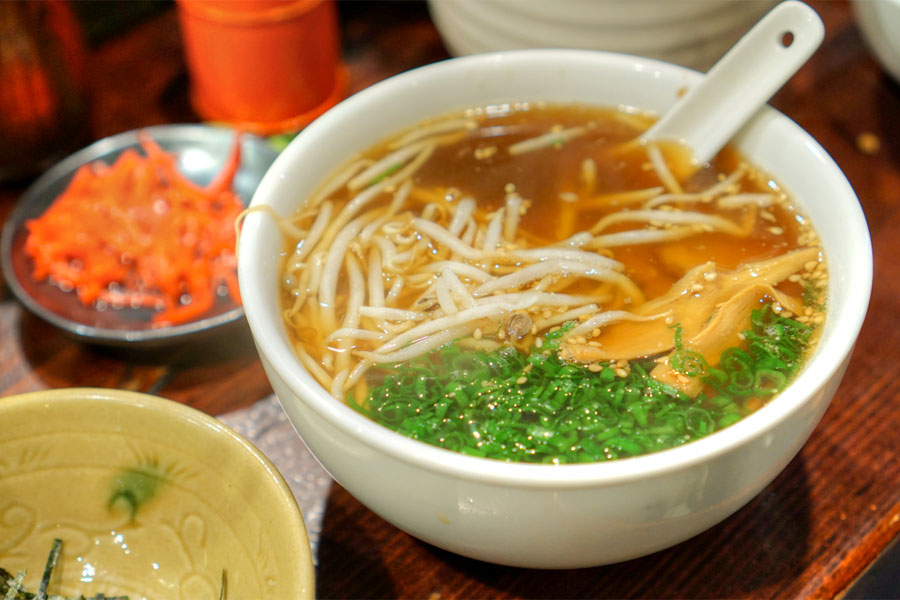 Soy Chicken Soup Ramen [$7.50]
A chicken ramen was relatively light, the bird complemented by umami-rich nuances of
shoyu
while the
moyashi
(bean sprouts) brightened the dish.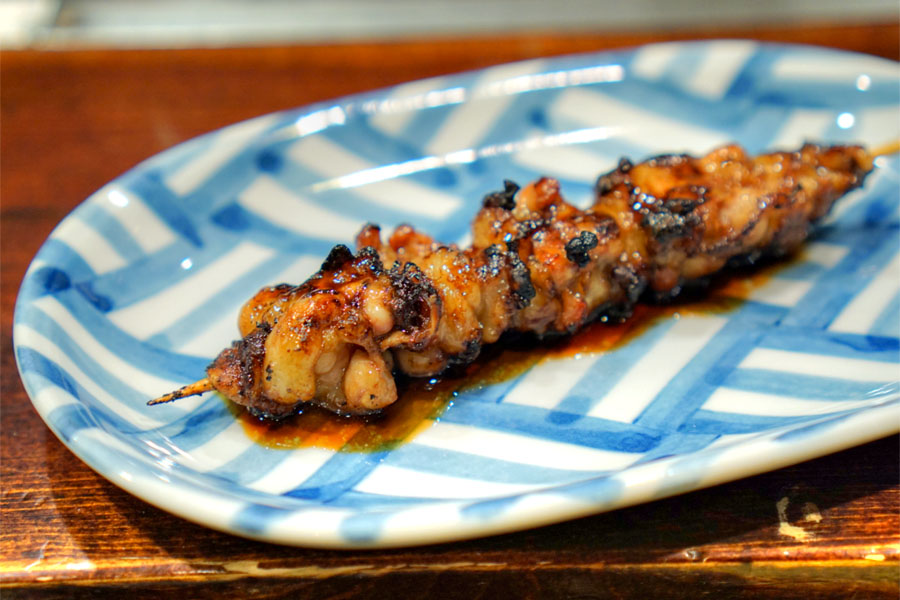 Sweetbreads
Otafuku
, or thymus, was also a highlight. I found 'em sweet and savory to the taste, while texturally they had a great interplay between their creamy interiors and charred crisp outsides.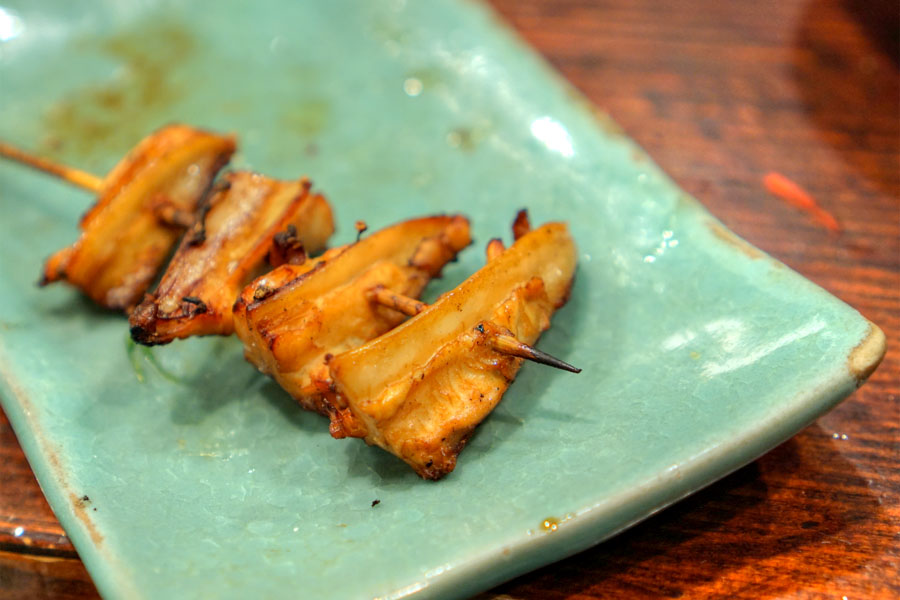 Breast Cartilage
We ended with the
yagen nankotsu
, another uncommon sight. In terms of consistency, they were somewhat more pliant compared to the
nankotsu
above, but still had a satisfying crunch, along with a stronger char character. I definitely preferred 'em.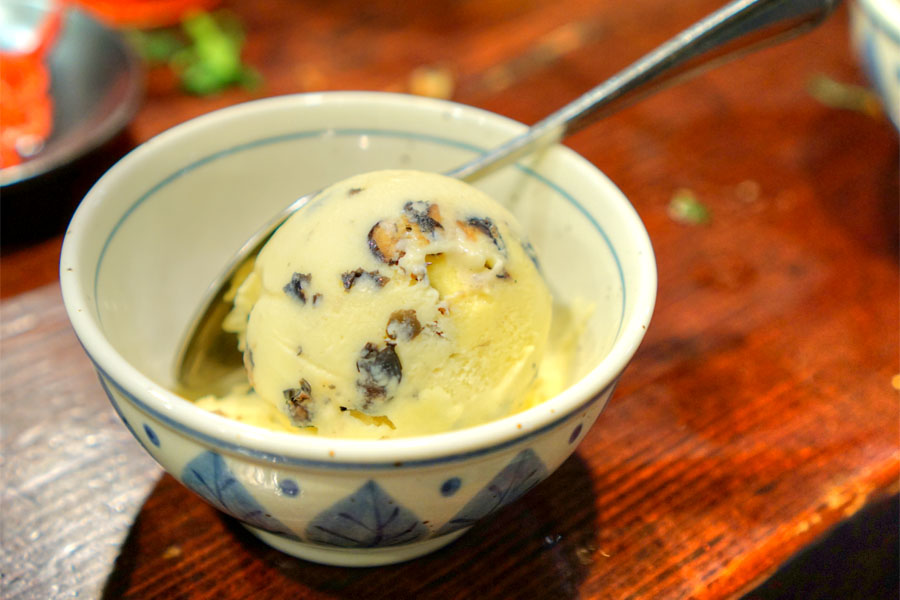 Black Bean Ice Cream [$6.00]
With the yakitori done with, we moved into a couple of the restaurant's homemade ice creams. The first featured black bean, which imparted some sweet, nutty flavors along with an interesting textural component. Very good.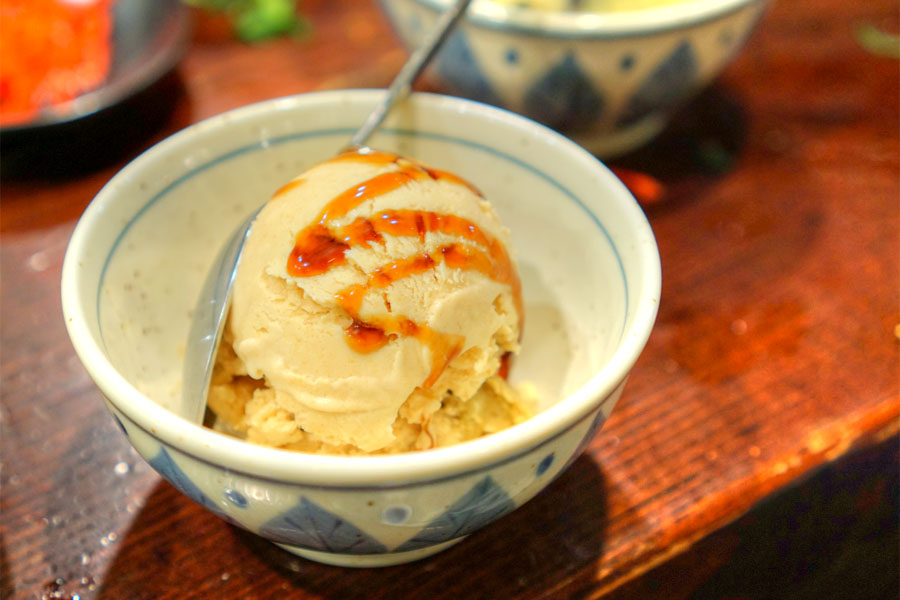 Kinako Ice Cream [$6.00]
This one just might've been a hair better though, the soybean flour bestowing some delectably roasty, nutty, grainy notes to the ice cream.
I left properly impressed with Yakitoriya. The depth of Toshi-san's experience and the quality of the chicken was plainly evident, and combined for what probably amounts to the best yakitori experience I've had. The skewers themselves were pretty much flawless, and the non-skewer items were definitely worth checking out as well. If you're a fan of yakitori, this place
needs
to be on your to-eat list.