Arc Food & Libations (Costa Mesa, CA)
ARC Restaurant
3321 Hyland Ave, Costa Mesa, CA 92626
949.500.5561
www.arcrestaurant.com
Fri 01/22/2016, 05:00p-07:20p

In terms of Orange County restaurants, one that's been making waves over the past couple years has been Arc, located inside the
South Coast Collection
shopping center that's also home to
Taco Maria
and
Pueblo
. The place is the work of Chef/Owner Noah von Blöm, and describes itself as a wood-fired American eatery of sorts, one in which everything is cooked over live fire.
About the Chef
: Noah Blom grew up in Newport Beach, and got his first industry job at age 14 working at The Ritz, a local, upscale eatery founded in 1977 by Hans Prager. After finishing up his studies at Santa Margarita Catholic High School in 1998, he moved to San Francisco and enrolled at the California Culinary Academy. Upon graduating from the CCA, Blom relocated to New York and cooked at Daniel Boulud's eponymous Daniel for five years. This was followed by a stint in Vermont, where he opened his first restaurant, a casual Latin American joint. It was a short-lived endeavor, and in 2006 he found himself working for Laurent Tourondel, during which time he helped debut 14 restaurants over a span of two-and-a-half years.
Blom then settled in the San Francisco Bay area, where he stayed for two years and helped open Garibaldis and a pizza place called Marzano. In 2010, the Chef returned to OC, finding employment at notorious cougar den Mesa. It was here where he would meet his future wife, Marin Howarth. The two quickly began working on restaurant concepts together, and eventually partnered up with Leonard Chan (Iron Press, California Shabu Shabu) to open Shuck Oyster Bar in August 2012 (note, however, that Blom sold his minority interest in Shuck in March 2015). This was followed by Arc in February 2013, also with Chan on board. Arc was well-received, with Blom being named "Chef of the Year" in 2013 by
The Register
, which was followed by an appearance on Food Network's
Chopped
.

Arc occupies a cozy 1,800-square-foot space that seats roughly 45. The restaurant was designed by Howarth (who also runs the FOH), and aims for a dark, wooden, apothecary-inspired vibe. Unsurprisingly, it's focused on the open kitchen and surrounding bar, but there's also a patio with fire pit outside.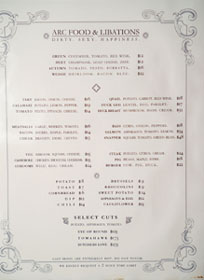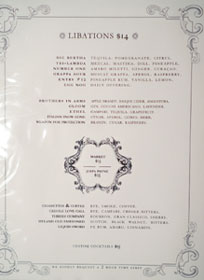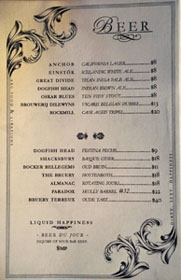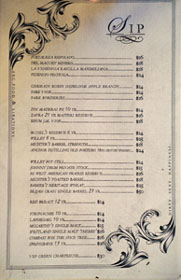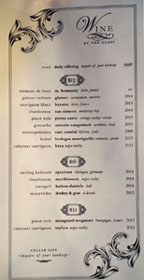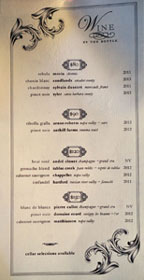 Arc's menu highlights a variety of simply-described, flame-kissed dishes, mostly smaller plates but also sides and a few larger format items. There are separate brunch and lunch menus, though no dessert of any sort is offered (à la
Taco María
). Drink-wise, cocktails are the star, a classic-leaning collection created by Bar Chef Koire Rogers. There's also a compact wine list, and a smattering of beer if that's more your thing. You also get free corkage as long as you limit it to one bottle per every two people. Click for larger versions.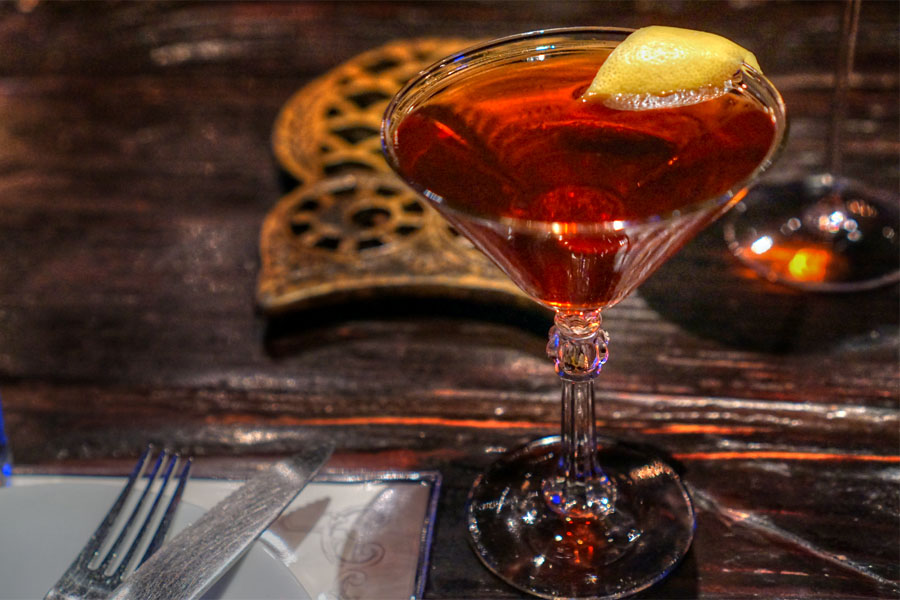 Creole Love Call [$14.00]
| Rye. Campari. Creole Bitters.
We tended toward boozier cocktails this evening, and got started with this Boulevardier-esque creation. It was lovely, heavy on the rye at first blush, with a distinct bittering element joined by countering notes of herbs and sweet dark fruit toward the back end.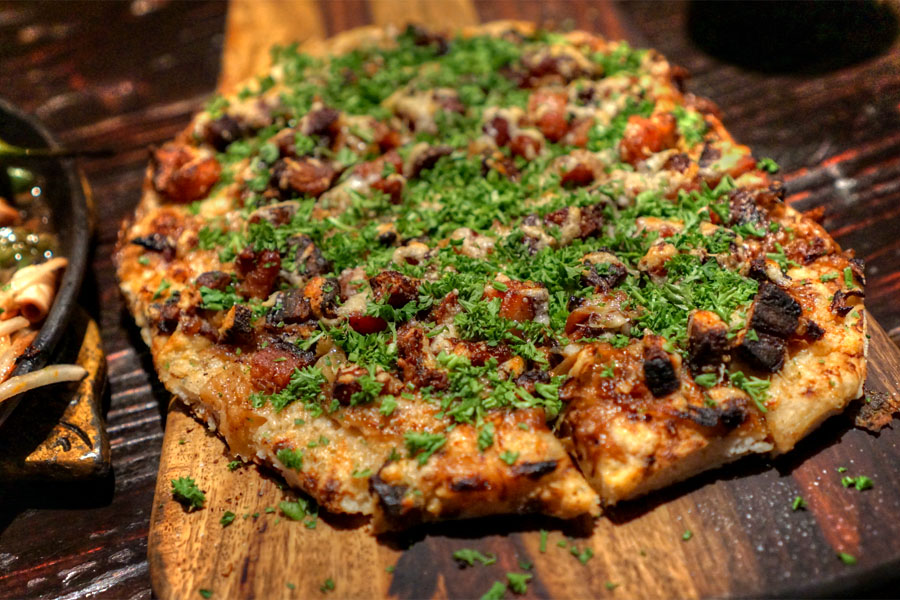 Tart [$16.00]
| Bacon. Onion. Cheese.
The tart worked, a classic combo of fatty, salty bacon set against the sweetness of onion, with the cheese bringing it all together.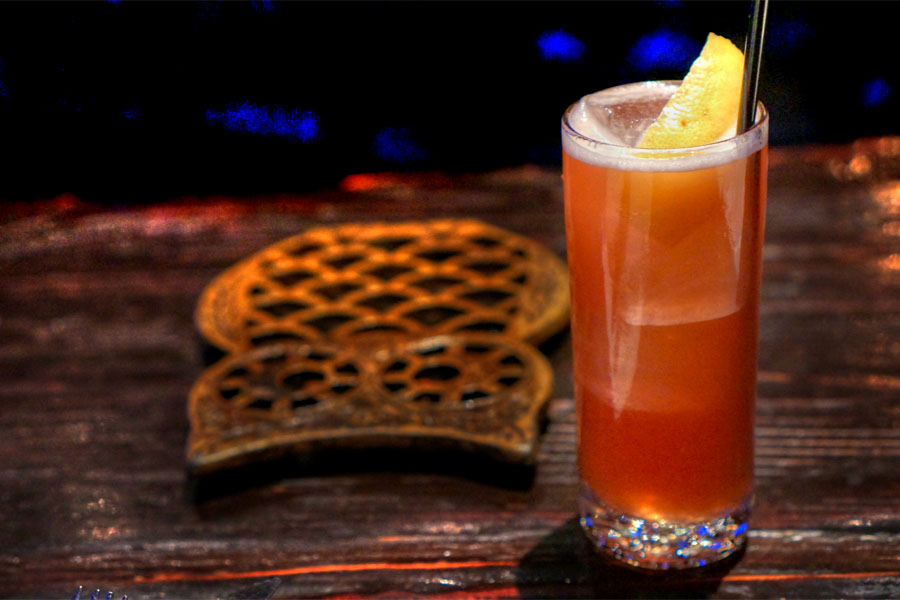 Market [$15.00]
Tonight's market-driven cocktail comprised fortified apple cider, gin, lime, falernum, and grenadine. It was delicious, with loads of sweet-tropical spice set against juicy, persistent apple all the way through.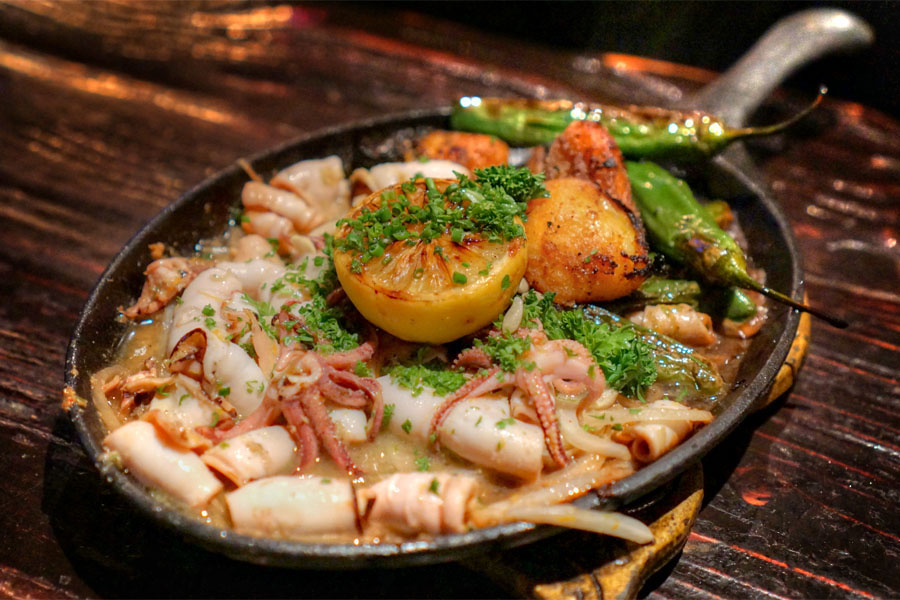 Calamari [$19.00]
| Potato. Lemon. Pepper.
Squid came out chewier than I would've liked, though it worked out taste-wise, with smoky, saline elements tempered by the acid from the lemon. Nice heartiness from the potatoes and heat from the shishitos as well.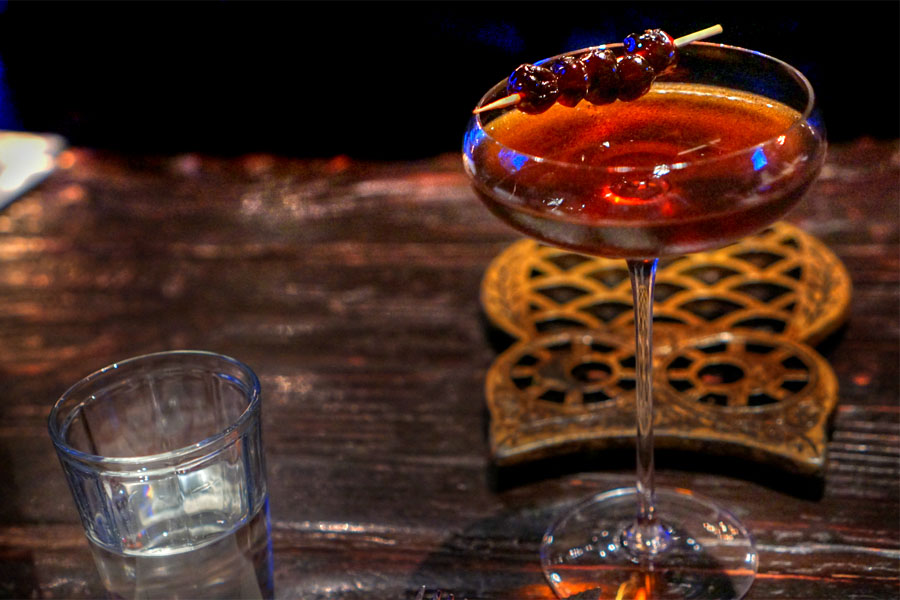 John Payne [$25.00]
This rather pricey cocktail brought together Michter's Toasted Barrel Finish bourbon, Amaro Abano, and Amaro Averna, all in a smoked glass. It was a superb combination: rich and viscous and
smooth
on the palate, with complex, bittersweet flavors and a back end imbued with nuances of dark fruit and sweet spice.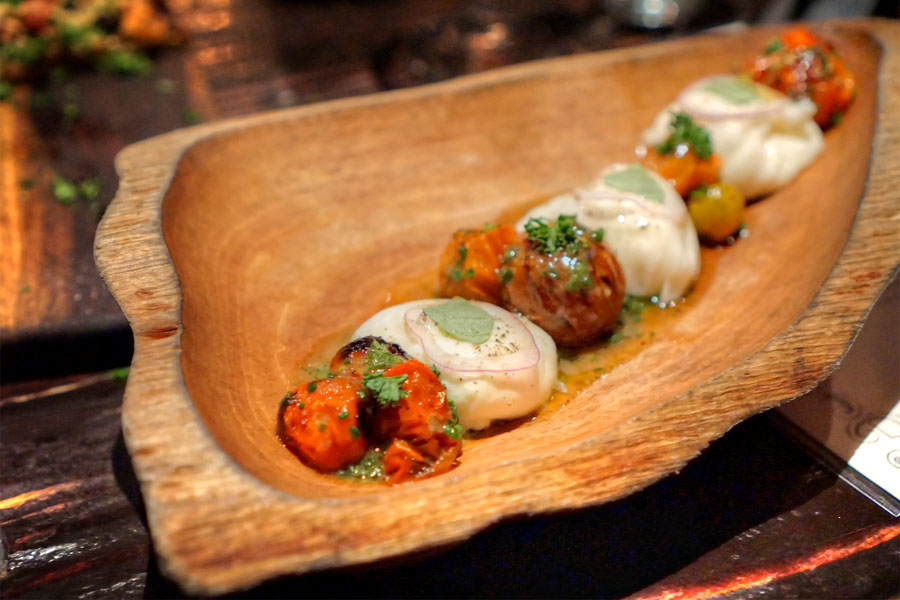 Autumn [$16.00]
| Tomato. Pesto. Burrata.
The quintessential pairing of tomato and burrata made sense here, the lush, creamy cheese well-accented by herby, zesty pesto.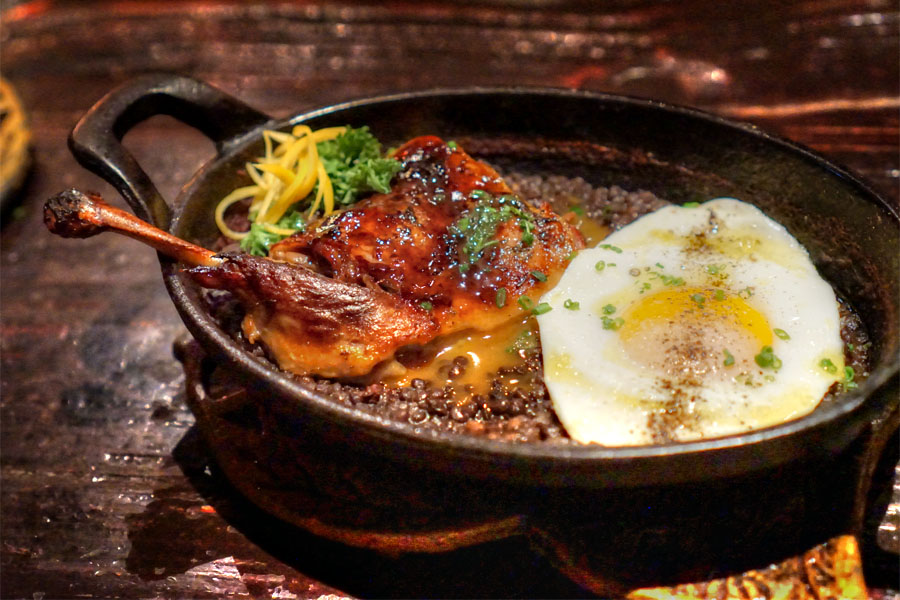 Duck Leg [$17.00]
| Lentil. Egg. Parsley.
Our first of two duck preparations brought out the leg, a near-falling-apart tender rendition nicely matched with the egg. I was a fan of the lentils, which lent an earthy tang to the dish.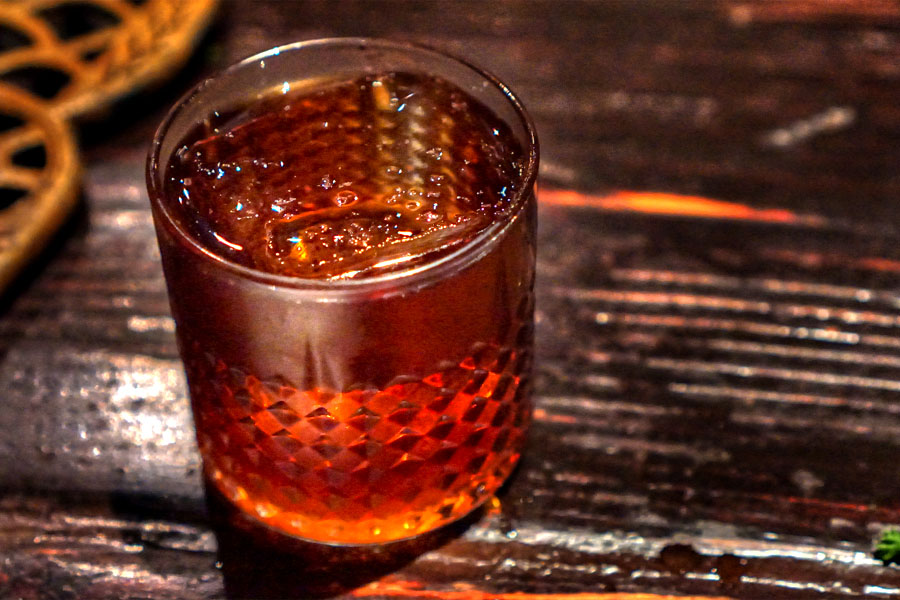 Cigarettes & Coffee [$14.00]
| Rye. Smoke. Coffee.
I've heard that this is one of Arc's most popular cocktails, and I can see why. It definitely went down easy, a thick, sticky drink with palpable smoky, bittersweet notes layered over its rye base.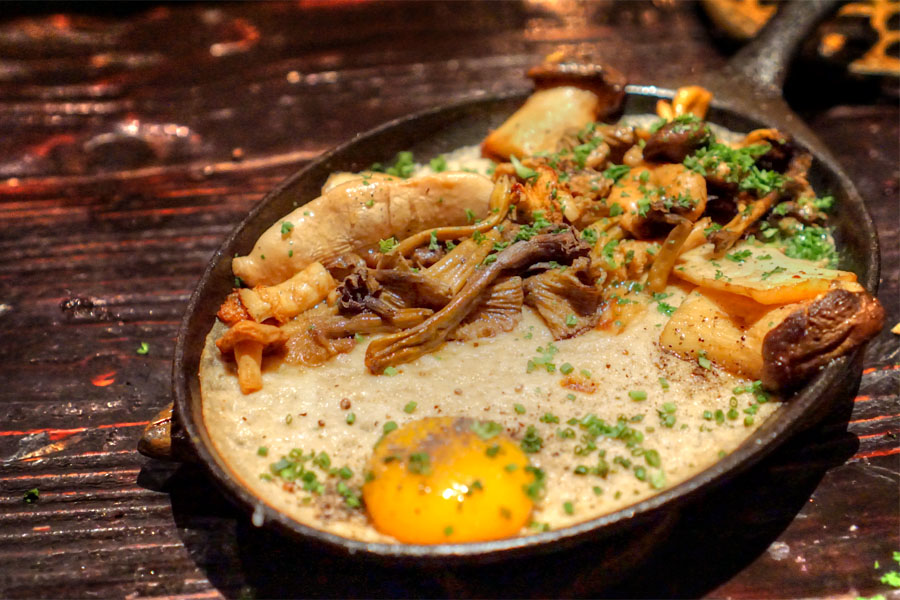 Shrooms [$24.00]
| Wild. Egg. Cream.
Mushrooms came in multiple forms, conveying varied textures but an overall musky, earthy flavor profile that worked well alongside the accompanying polenta(?).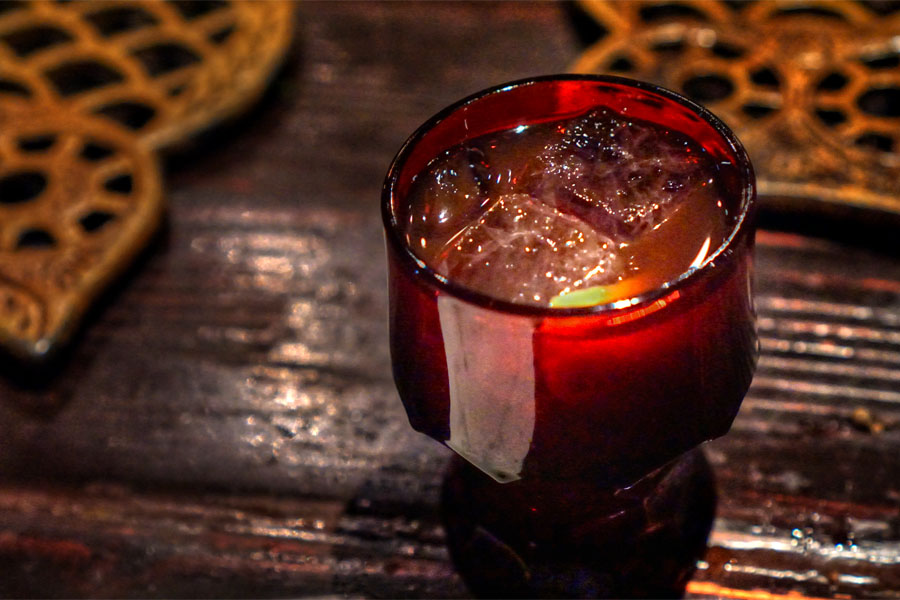 Liquid Sword [$14.00]
| PX Rum. Amaro. Cinnamon.
Our sole rum cocktail delivered, the PX working flawlessly as a stage for all the sugary, cinnamon-y flavors at play. Silky.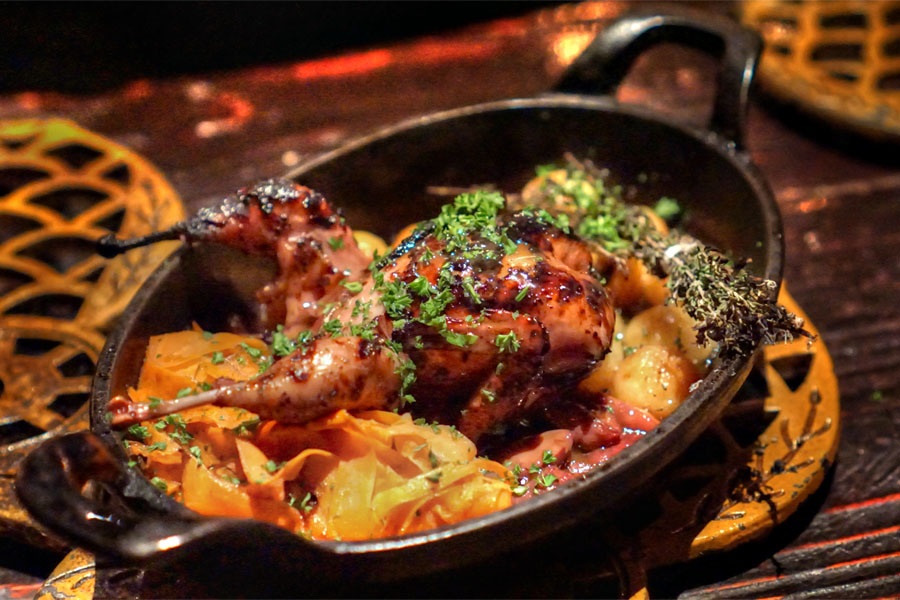 Quail [$18.00]
| Potato. Carrot. Red Wine.
Quail arrived whole, a particularly juicy, tender prep of the bird imbued with an interesting tinge of sweetness.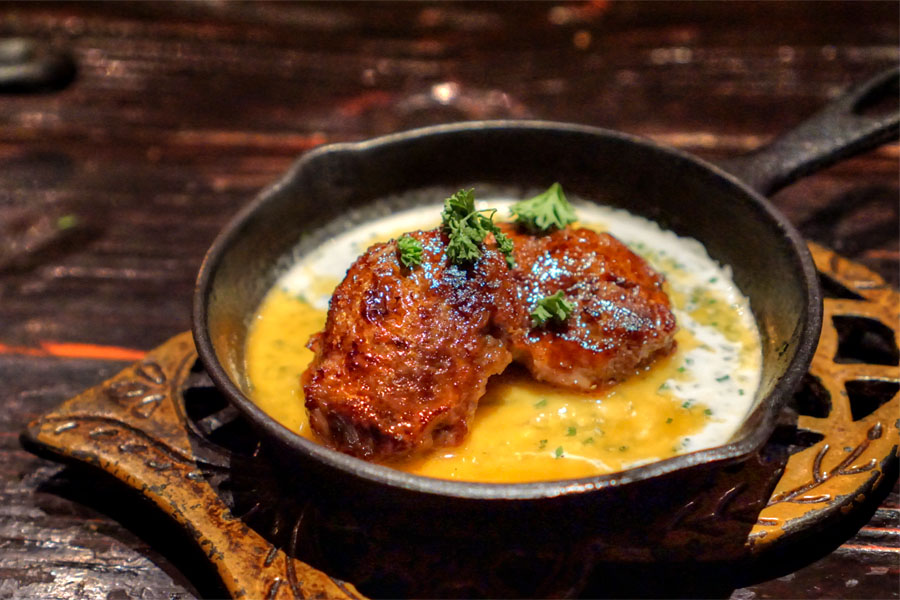 Cheek [$13.00]
| Brandy. Demi. Chives.
Pork cheeks were wonderfully sticky and supple, coming out loaded with your deep, dark, porky flavors and the richness of that demi-glace.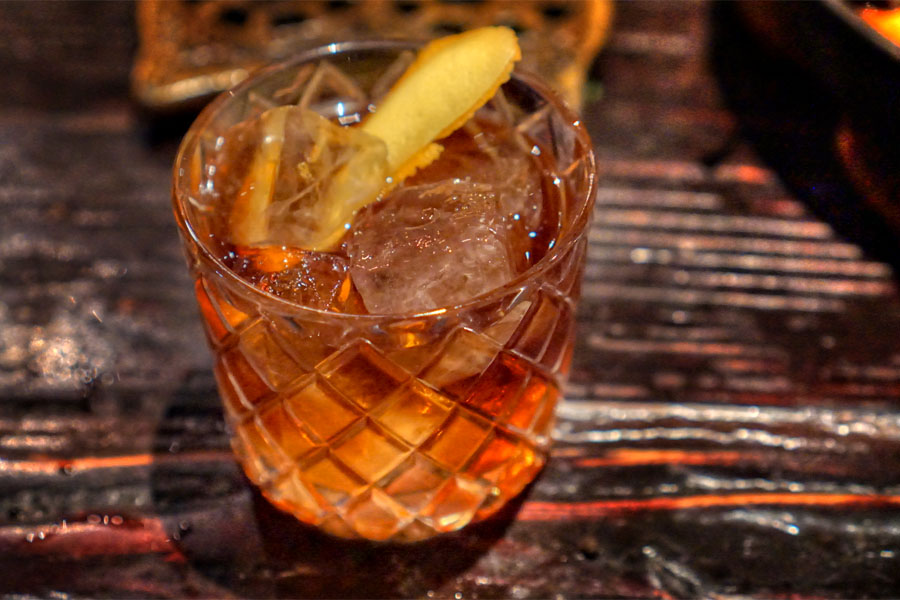 Hyland Old Fashioned [$14.00]
| Scotch. Black Walnut. Bitters.
Our final cocktail was a tasty one as well, fairly traditional at its core, bittersweet and citrus sure, but also with a subtle nutty character pairing with the potency of the Scotch.
Asparagus & Egg [$12.00]
Asparagus came out well-roasted, zippy, and complemented by all the rich, buttery flavors present.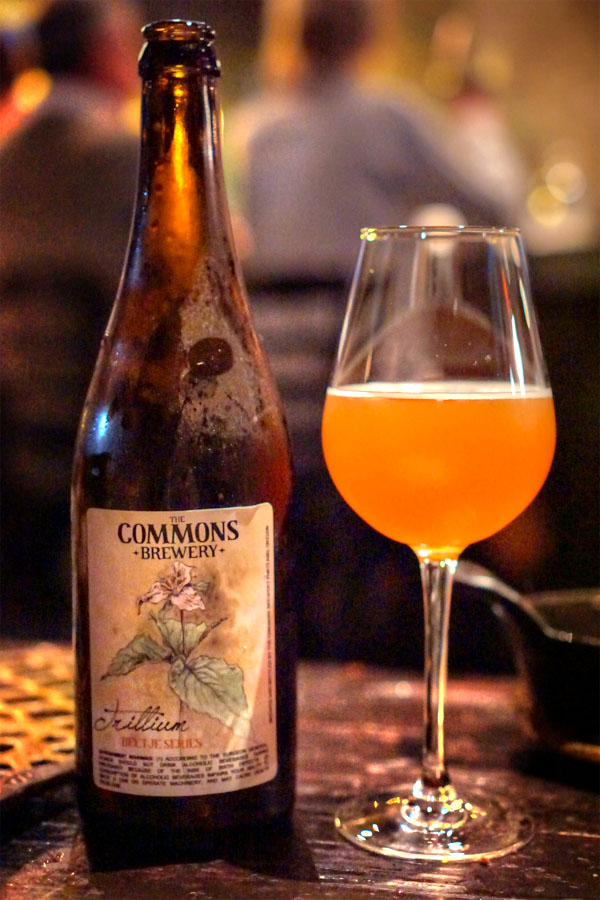 At this point we opened a couple beers, beginning with the
2014 The Commons Trillium
, a blended sour farmhouse ale aged in red wine barrels for over a year, with various strains of
Brettanomyces
, then dry-hopped with Meridian before bottling. I found it funky and vinous on the nose, while the palate brought more wine-like notes and earth along with a dry, yeasty quality. Nice.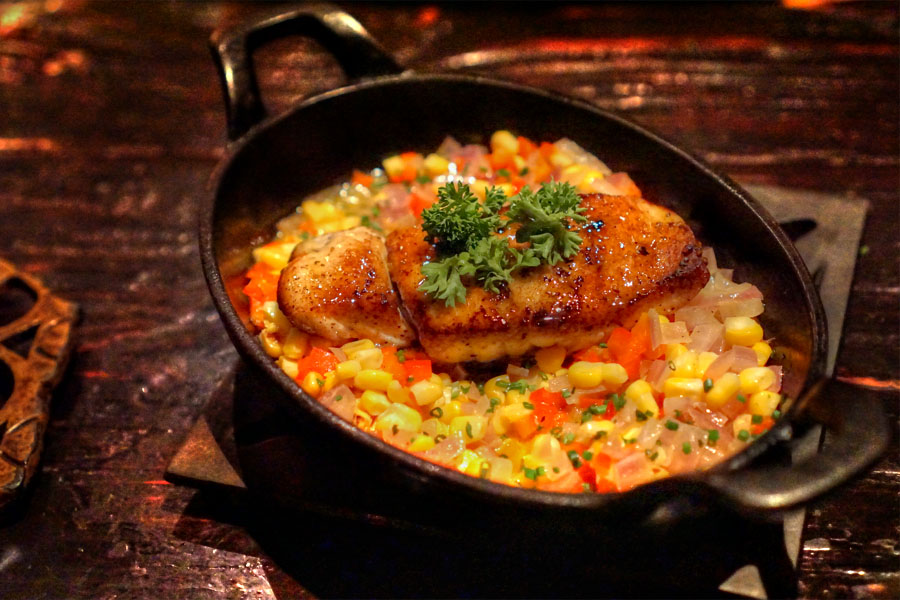 Bass [$18.00]
| Corn. Onion. Peppers.
Bass arrived juicy and super flaky, with some great savory, saline flavors that made sense when taken with the bright, crisp veggies.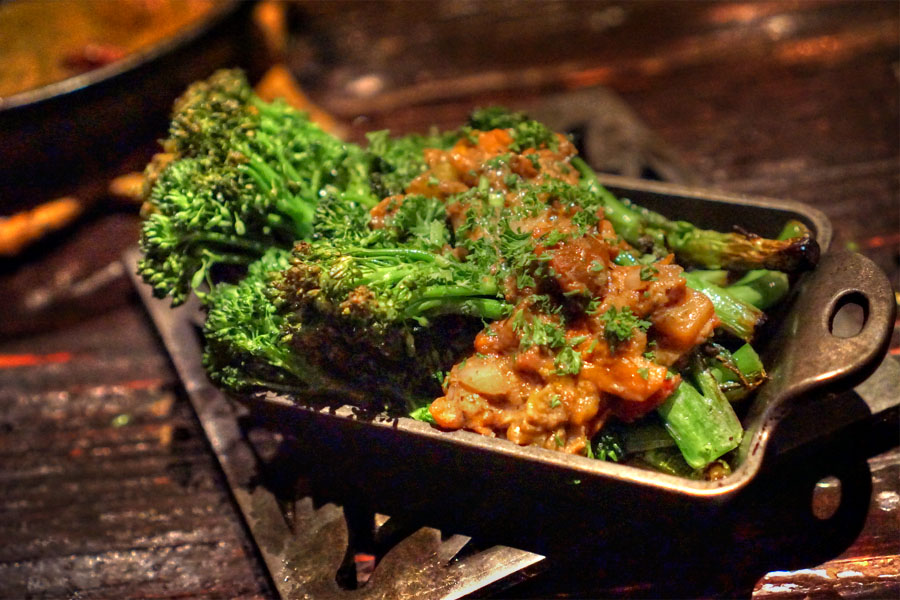 Broccolini [$9.00]
Broccolini was properly bitter, charred just a touch, and showed off a sweet-savory edge.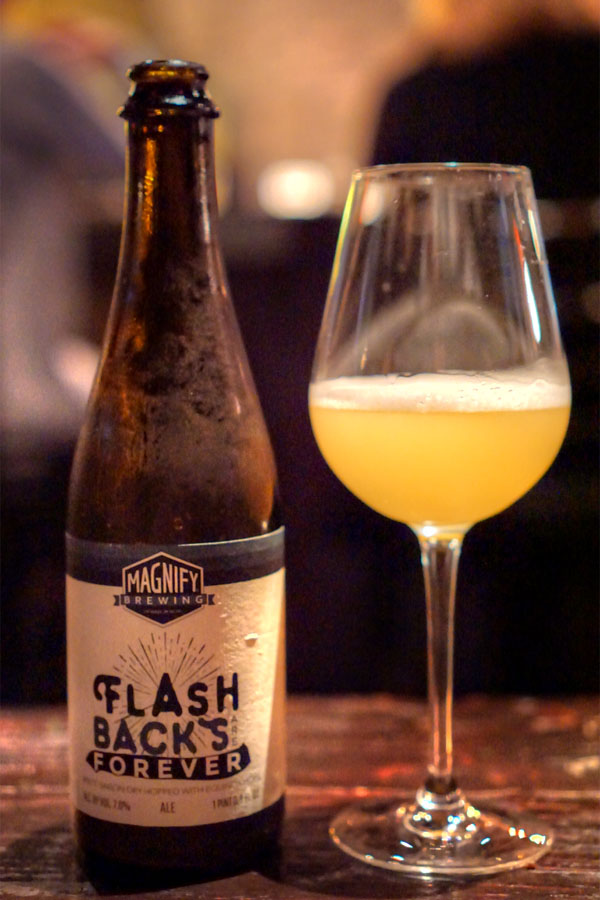 Next was the
2015 Magnify Flashbacks Are Forever
, a Brett saison aged in stainless for five months, then dry-hopped with Equinox. Think quite hoppy to the smell, with more hops showing up on the tongue, joined by a lovely floral character. Refreshingly crisp.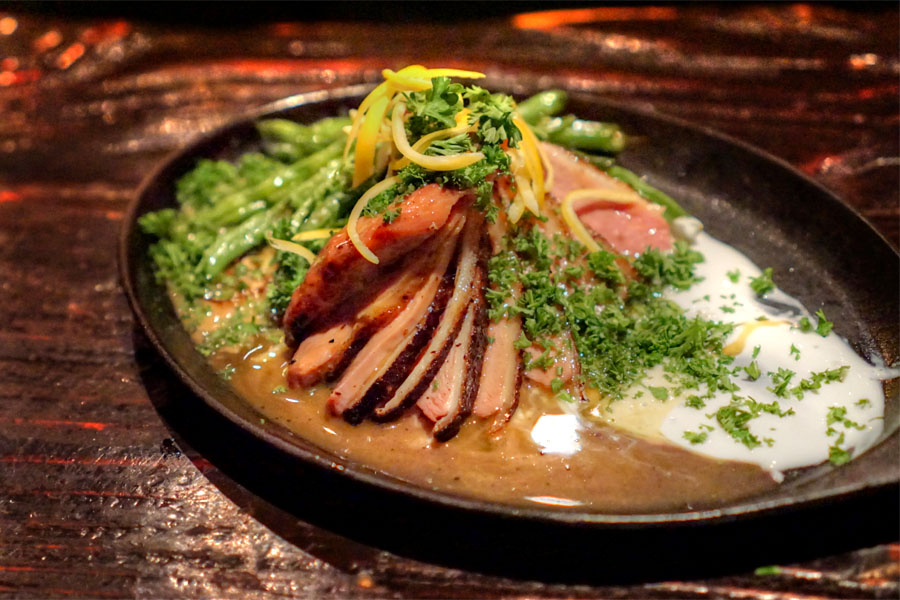 Duck Breast [$32.00]
| Mushroom. Hash. Cream.
Duck breast was a success, with a great hit of smoke and char to go along with the bird's inherently deep, savory flavors. Nice use of the greens to serve as a counterpoint.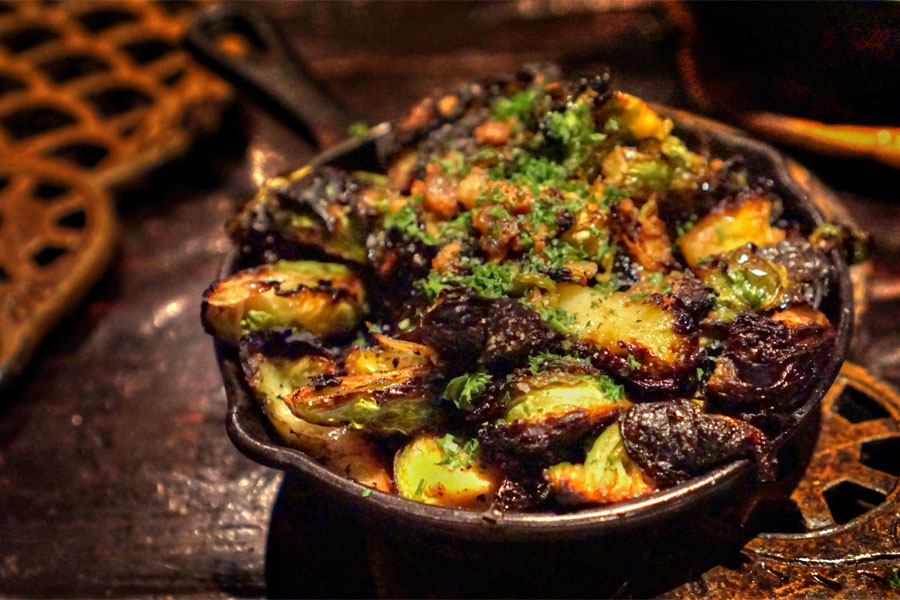 Brussels [$9.00]
Brussels were delightfully charred and bitter. Unfortunately, they were also softer than I wanted, lacking in that satisfying bite I look for with the sprouts.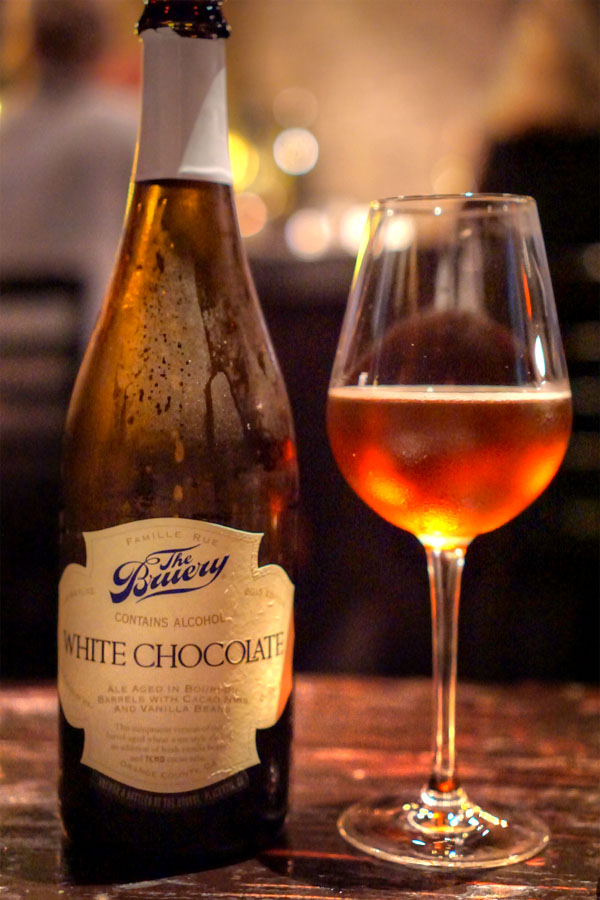 Last to drink was the
2015 The Bruery White Chocolate
, a wheatwine aged a year in bourbon barrels with TCHO cacao nibs and vanilla beans. The beer was a pretty convincing rendition of its namesake, with loads of sweet, chocolatey notes along with caramel, bourbon, and honey.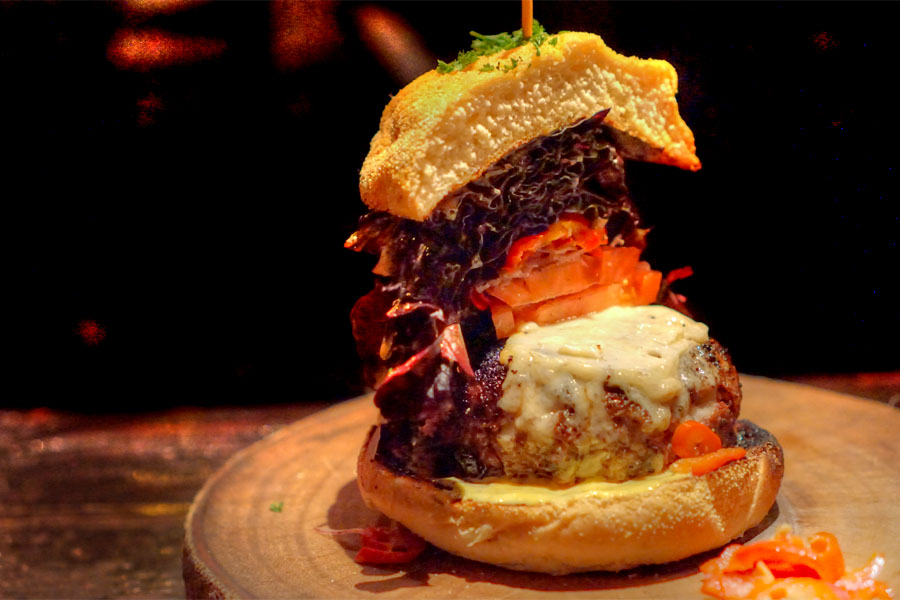 Burger [$22.00]
| Cow. Pig. Duck.
The burger was a tall one, featuring a loosely-packed yet super flavorful tri-meat patty that meshed swimmingly with the salty heft of cheddar. Fortunately, the veggies did provide some semblance of balance to things.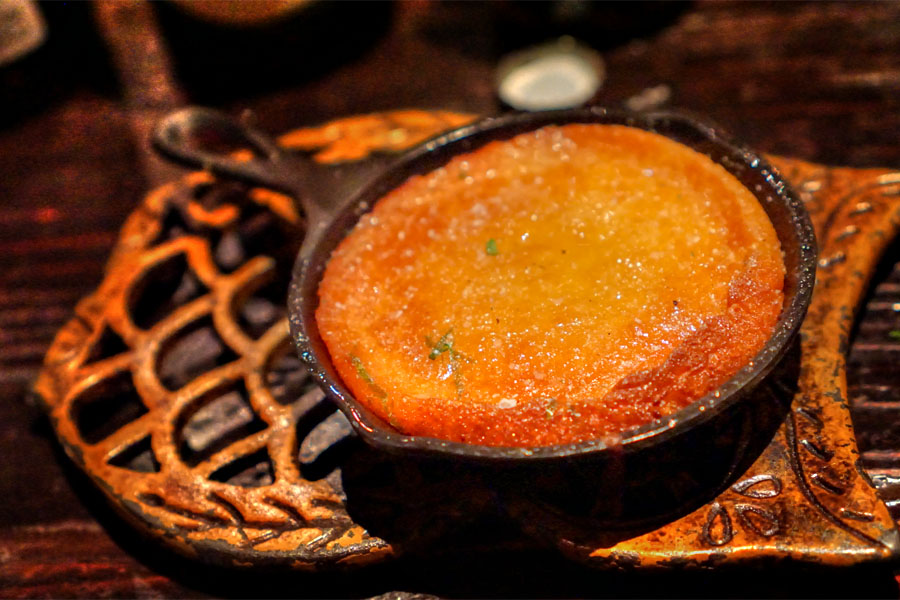 Cornbread [$6.00]
Since no dessert is served here, we ended with the most dessert-y item on the menu. We found it an especially sweet, buttery example of cornbread that did a reasonable job closing out the meal.
Arc certainly stayed true to its ethos of wood-fired, flame-focused cooking, delivering plenty of smoke 'n' char and big, robust flavors. There's a simplicity to the food, but also a thoughtfulness and elegance in the plates. It's an interesting concept, but one that's quite endearing. As for what's next for Blom, initial plans for a restaurant called Ash in Newport seem to have been put on hold. Rather, the team is working on two concepts located right next door to Arc. The first is
Restaurant Marin
, an all-day diner focused on seafood. The second, meanwhile, is
The Guild
, a members-only, old-school type private dining club replete with butler service. ETA for the pair: the first half of 2016.